Global Creators to Screen Films for Peace at Huis Ten Bosch Theme Park in Nagasaki
Huis Ten Bosch, a theme park in Nagasaki, will be screening 'ENLIGHTENMENT,' a film series for world peace from April 1 until April 28, 2022.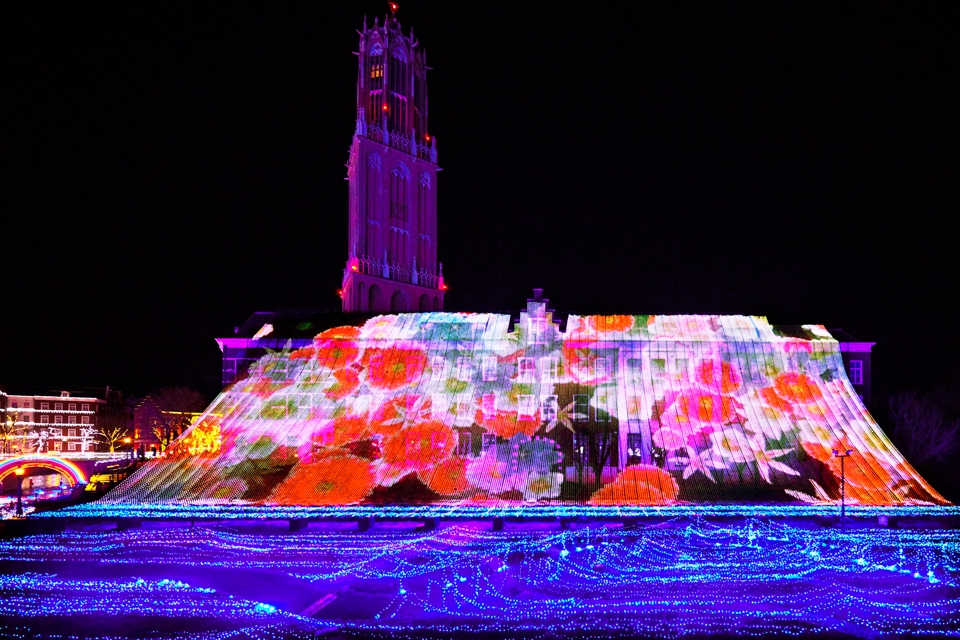 The event is taking place as a way to show support for the people of Ukraine and to pray for world peace by blending together short videos expressing love and compassion from video creators around the world. These videos are being projected on buildings and signage in countries around the world amidst the concerning current situation in Ukraine. 
The film has already been shown in more than 16 countries around the world and is now coming to Huis Ten Bosch, which boasts the world's largest illumination event with 13 million light bulbs.
Information
ENLIGHTENMENT
Running: April 1 – April 28, 2022
Screening Times: Twice a day at 20:00 and 21:00
Location: Jardim da Arte 'Waterfall of Light'
RELATED ENTRIES
NAKED GARDEN ONE KYOTO to be Held at Ninna-ji, a World Heritage Site

From December 10 until December 18, 2022, creative company NAKED will hold NAKED GARDEN ONE KYOTO at Ninna-ji! The event is part of a larger next-generation art project being held around Kyoto until Christmas Day.

This exhibition marks the first metaverse-centered event at Ninna-ji, and guests will be able to enjoy a virtual fashion show in collaboration with Jotaro Saito, a kimono designer from Kyoto. Participants will begin by creating their own avatar by snapping a photo of their face. After that, they will be able to choose a kimono by Saito to use as clothing for their avatar before taking to the runway with other visitors from all around Japan.

NAKED's goal is to bring traditional Japanese kimono culture into the digital space, and the company believes that this is only the beginning. In the future, NAKED hopes to bring other artists into the metaverse as well.
 

NAKED Distanced Lanterns


NAKED Tsukubai

Five-Storied Pagoda Projection Mapping


DANDELION PROJECT

Virtual Fashion Show


Limited Edition Paper Goshuin

This year's event also includes the DANDELION PROJECT, popular with art fans around the world. Created by Ryotaro Muramatsu, the art project has appeared in a number of towns and cities around the world, inviting participants to create flowers and send them around the globe digitally as a hope for peace. Visitors can use their smartphones to send dandelion fluff digitally to other participants around the world, sharing a wish for world peace. 

This year, the participatory art piece was installed in the main temple. Why not visit this stunning exhibition in Kyoto this winter? 

Information

NAKED GARDEN ONE KYOTO Ninna-ji
Venue: Ninna-ji (Five-storied Pagoda, Main Temple)
Running: December 10 – December 18, 2022
*No admission on December 17 due to a private event.
Hours: 17:30-21:30 *Last entry at 21:00
Official Site: https://garden.naked.works/kyoto/

Tokyo Tower to Open Winter Night View Projection Mapping Event by NAKED

Creative company NAKED has announced TOKYO TOWER CITY LIGHT FANTASIA ~2022 Winter~, an event bringing some incredible projection mapping technology to the main deck of the legendary Tokyo landmark. The event will start on November 18 and will invite guests to enjoy an illuminated winter night from far above the city.

 *Concept Image

NAKED has created some unique night-viewing experiences at Tokyo Tower in the past, combining the already beautiful cityscape with some new and exciting graphics themed for each season. For winter 2022, butterflies will take to the chilly night sky one after another, creating a show like no other for its three-minute span. This also serves as a great photo opportunity!

Enjoy Tokyo as it begins to shine for the holiday season!

Information

TOKYO TOWER CITY LIGHT FANTASIA ~2022 Winter~

Venue: Tokyo Tower Main Deck 2F, North Floor
Running: November 18, 2022 – February 12, 2023
Hours: 18:00~Close
Admission: Guests can enjoy the event by paying the standard price to visit the observation deck.

Official Site: https://www.tokyotower.co.jp/

Colorful and Cute Halloween Menu Now Available at Huis Ten Bosch in Nagasaki

Nagasaki's Huis Ten Bosch is now offering up some tasty and colorful autumn sweets! Visitors can enjoy the feel of an authentic European Halloween at the Netherlands-inspired theme park for a limited time only. 

Forest Fantasia Cafe's Sorciere Sweet Potato au Lait

Cafe Deli Plus's Halloween Party Parfait

Madame Chocolat's Special Halloween Parfait at the Former Residence of Madame Chocolat

Chestnut Witch Hat at Bikken Bikken

Akanbe Burger at Bikken Bikken

The Exciting Halloween Burger with Colorful Veggies and Pumpkin at dam

Jack-o'-lantern Shrimp Cheese Fondue at Gokuu

Halloween Lunch and Dessert Buffet at Anchors Lounge

Ghostly Forest Carnival Pasta at Pinoccio

Halloween Ghost Curry at Tottotto

This Halloween menu features a wide variety of seasonal ingredients. Why not enjoy the autumn season to the fullest by having your fill?

TOKYO LIGHTS 2022 International Projection Mapping Competition to be Held at Meiji Jingu

From September 17 until September 19, the TOKYO LIGHTS 2022 International Projection Mapping Competition will be held at Meiji Jingu! This will be the second such event and will bring together some of the most impressive and technologically advanced light displays from around the world to wow audiences.

The main event will be the 1-minute Projection Mapping Competition, in which competitors from around the world will project their art onto the historic Meiji Memorial Picture Gallery. In the Festival of Light area, a barrage of unique light shows will take visitors on a journey through a wonderful world of light and sound.

Image from Last Year's Event

The 19 Finalists

Light Shows at TOKYO LIGHTS 2021

The competition portion will feature a collection of short, one-minute projection mapping presentations. The theme chosen for 2022 is LIFE: Existence, living, and humanity.

 

19 finalists were chosen from 241 entries and 55 countries. Those unable to attend will be able to watch the event streamed on YouTube. The finalists for 2022 include Iran, Croatia, Spain, Poland, Hungary, Germany, Ukraine, two entries from Bulgaria and Thailand, five entries from China, and three entries from Japan. Don't miss the awards ceremony on the final day!

Information

TOKYO LIGHTS 2022 International Projection Mapping Competition

Venue: Meiji Jingu Gaien Seitoku Memorial Picture Gallery and Meijijingu Gaien Rubber Baseball Field (1-1 Kasumigaoka-cho, Shinjuku-ku, Tokyo)


Dates: 

September 17 – September 19 / 18:00-21:00

September 17-18 / International Competition (2 Performances)
Round 1: 18:30-19:20 / Round 2: 20:00-20:50

September 19 / International Competition (1 Performance) & Award Ceremony / 19:00-20:50


Official Site: https://tokyolights.jp

Kyary Pamyu Pamyu Collaborates with Nagasaki's Famous 'Hamburger Shop Hikari'

Kyary Pamyu Pamyu has made waves around the world since performing at Coachella, one of the world's largest music festivals, in April. 

Currently embarking on the second half of her 10th anniversary 31-show nationwide tour, the singer is gaining momentum as she aims for her solo concert at Nippon Budokan in October. As part of her tour, the singer has continued to energize Japan through the appeal of regional towns and cities with the LOCAL POWER JAPAN Project. At each tour location, the artist collaborates with a local company, creating special collaboration logos and products that have become the talk of social media. Details of Kyary's collab project in Nagasaki have been revealed after the artist performed in the prefecture on July 18.

In Nagasaki, the artist will collaborate with Hamburger Shop Hikari, a beloved local restaurant that originally opened in 1951. Sasebo burgers are well known in Japan, and all ingredients are sourced from Sasebo City in Nagasaki. These burgers are much larger than the burgers you may be used to and have become a local delicacy throughout the country.

After the war, a U.S. military base was established in Sasebo. The recipe for the Sasebo burger is said to have originated from a recipe found on this base in the 1950s. The collaboration with Hamburger Shop Hikari, known as the origin of these famous burgers, pays tribute to Kyary's new single Maybe Baby. The adorable visual shows a waitress at the shop delivering tasty burgers in a hurry.

A collaborative T-shirt is also on sale featuring the new logo and the singer's 10th-anniversary logo. The shirt is available on the LOCAL POWER JAPAN Project website for two weeks only starting July 17, so grab one while you can.

Information

Nagasaki's Hamburger Shop Hikari x LOCAL POWER JAPAN Project

Collaboration T-shirt

Price: ¥3,300 (Tax Included)

Where to Buy:

LOCAL POWER JAPAN Project Online Shop (https://store-localpowerjapan.com/)

Sales Period: July 17 – July 30, 2022
https://store-localpowerjapan.com/
Official Site: https://localpowerjapan.com

Projection Mapping by Hitohata to be Displayed in the Historic Center of San Marino

San Marino's Historic Center and Mount Titano were named UNESCO World Heritage Sites in 2008. On July 15, 2022, the digital communication company Hitohata and the University of the Republic of San Marino will team up to illuminate the Palazzo Publico Government Building through projection mapping.

The event was organized by ISSHO-NI San Marino and the Japan Cultural Association. 

This event will feature projection-mapped images of Japanese traditional culture on the Palazzo Pubblico, a building in the historic center of San Marino. 


The Republic of San Marino is the oldest existing republic in the world with a population of about 30,000 people, and it is surrounded by Italy on all sides.

Palazzo Pubblico is the town hall of the City of San Marino as well as its official Government Building. Built between 1884 and 1894, the Neo-Gothic structure is the setting for State ceremonies and is the seat of the Republic's main administrative body.

Footage of the projection mapping event will be shown in an official video at a later date, so stay tuned!

Information

UNESCO World Heritage Site – The Historic Center of San Marino and Mount Titano Palazzo Pubblico Projection Mapping
Running: July 15, 22:00~ (Local Time)
Venue: Palazzo Pubblico della Repubblica di San Marino, Contrada del Pianello, 47890 Città di San Marino, San Marino

NAKED's Projection Mapping Show at Tokyo Tower Illuminates the City at Night

Digital art collective NAKED has announced a new projection mapping show taking place at Tokyo Tower starting May 24! Welcome summer with the 'Tokyo Tower City Light Fantasia ~Summer Landscape 2022~ event on the second floor of the 150-meter-high main deck of the classic landmark.

In 2019, the company introduced the 'Tokyo Tower City Light Fantasia ~Cool Japanese Summer~ event, which has now been upgraded to a new version. Guests will now be treated to a colorful show highlighting the transition of the seasons in Japan from the rainy season to early summer to midsummer, filled with hydrangeas, sunflowers, and fireworks. Colorful flowers bloom in the rain giving way to a bright summer day complete with the sound of cicadas and bright white clouds in the sky. After the sun sets over the sunflower fields, fireworks light up the Tokyo sky.

The 'Tokyo Tower City Light Fantasia' nightscape event was planned, directed, and produced by NAKED, and began in 2014. By combining the night view from the observatory with projection mapping, guests can experience something one-of-a-kind.

Following the original launch of the event, it has traveled to towers and observatories around Japan including Abeno Harukas and the Nagoya TV Tower, playing off the particular characteristics of each locale.
 

This event isn't the only thing going on at Tokyo Tower this summer. Guests can also enjoy the DANDELION PROJECT by NAKED and Ryotaro Muramatsu in the northwest section of the second floor of Tokyo Tower's main deck. The project is based on the concept of world peace and harmony and was unveiled at Miyashita Park, Tokyo Tower, Gardens by the Bay in Singapore, and Nijo Castle in Kyoto in 2020. The networked art project invites guests to send their wishes for world peace on digital dandelion fluff to other locations where DANDELIONs are planted around the world, and these messages are delivered in real-time. 

Come enjoy this incredible night view while you can!

Information

CITY LIGHT FANTASIA ~Eternal Lights in TOKYO~

Venue: Tokyo Tower Main Deck (Height: 150m) 2F Facing North

Running: May 24 – September 4, 2022
Periods:
May 24 – June 5, 19:00 – Close
June 6 – July 18, 19:30 – Close

July 19 – August 21, 19:00 – Close

August 22 – September 4, 18:30 – Close
Fee: The event is included in the price of observation deck admission. 

Official Site: https://naked.co.jp

Toyokawa Inari to Bring Back Popular Naked YORU MO-DE Event in 2022

One of Japan's Three Great Inari Shrines, Toyokawa Inari in Aichi Prefecture, will be decorated in summer-themed lights from July 22 until August 8! The popular Naked YORU MO-DE event is coming back for 2022 after attracting over 40,000 visitors last year. 

Starting in 2021, Toyokawa Inari has held the Naked YORU MO-DE event monthly on the 22nd, the founding date of the shrine's founding. Using technology, Naked's artwork is updating the worship experience to fit into the 'new normal,' keeping social distancing in mind. 

Jihoukan Projection-Mapping – Summer Festival ver. 

Socially Distanced Art – Naked Distanced Lanterns, Summer Festival ver.

Naked Tsukubai – Summer Festival ver.

The theme for this new event is 'a summer festival for a new era.' Many of Toyokawa City's annual festivals, such as the Oiden Festival and the Mitama Festival, have been canceled since the spread of the coronavirus. This new kind of festival will pull inspiration from other local events and will feature handheld firework displays, a collection of gorgeous wind chimes, and tons of night stalls for guests to enjoy alongside Naked's digital artwork. The local handheld fireworks will be shown using projection mapping, and all of the fan-favorite Naked social distancing art projects will be transformed to suit the summer festival theme. The Naked Tsukubai hand sanitizing art project will show goldfish and fireworks in the palm of your hand, and the Naked Distanced Lanterns will be decorated with a summer firework pattern.

Information

Toyokawa Inari, One of Japan's Three Great Inari Shrines x Naked YORU MO-DE

Venue: Toyokawa Inari (1 Toyokawacho, Toyokawa, Aichi Prefecture)

Running: July 22 – August 6, 2022

*Held throughout the year starting on the 22nd of every month
Hours: 19:00-22:00
Official Site: https://event.naked.works/yoru-mo-de/

Midland Square Sky Promenade Digital Art Museum Crystal: Hanging Garden of Light Now Open

Hitohata has opened an incredible new experience in Nagoya! The Midland Square Sky Promenade Digital Art Museum Crystal: Hanging Garden of Light is open to visitors until May 17, 2022.


The event takes place at night at the Sky Promenade, an outdoor observatory on the 44th to 46th floors of Midland Square, the tallest building in the Tokai region. Using projection mapping, digital art inspired by jewelry covers the walls and floors, taking guests on a sensory adventure high above the Nagoya streets. Why not come enjoy this 360-degree night view of the city as the walls around you glitter like jewels?

Information

Midland Square Sky Promenade Digital Art Museum Crystal: Hanging Garden of Light

Dates: April 23 – May 17, 2022 / 19:00-22:00 (Last entry at 21:30)
Venue: Midland Square Observation Deck Sky Promenade
Official Site: https://www.hitohata.jp

NAKED to Hold Nighttime Cherry Blossom Event at Toyokawa Inari in Aichi Prefecture

Toyokawa Inari in Aichi Prefecture will be taken over by NAKED projection mapping and events with a spring theme from March 22 until April 3, 2022. 

NAKED Tsukubai – Spring Ver.

NAKED Distanced Lanterns – Spring Ver.

Projection-Mapping 'Sakura Pilgrimage' *Spring Exclusive

'Sando Illumination – Rim of Light' Spring Ver.

NAKED Flower Fortune Telling – Spring Ver.

The Tokyokawa Inari x NAKED YORU MO-DE is being transformed as spring approaches, and popular NAKED attractions are being reimagined with cherry blossoms in mind. The popular NAKED Tsukubai, in which guests have their hands purified with art, will show cherry blossoms blooming. The NAKED Distanced Lanterns, made to encourage social distancing, will also feature a sakura theme.





Visitors can also participate in Flower Fortune Telling, which has been very popular across social media. Why not come see the temple illuminated with cherry blossoms?

Projection-Mapping Event at Okazaki Castle in Aichi Prefecture Captured on Video

Okazaki Castle in Aichi Prefecture is one of the most beloved historical spots in Japan. The fourth-largest castle in the country and the birthplace of Tokugawa Ieyasu, the spot was illuminated by an impressive projection mapping event in early January. Now, thanks to a new video of the show, people around the world can experience it for themselves!


During the event, incredible images of the city's cultural assets and artworks were shone on the gate, including those by Reizi Tamechika. The region's popular Mikawa Fireworks made appearances as well, along with more modern digital art. The 16.4-meter wide and 11-meter high gate to the castle was also covered in brilliant lights!


Video Recording of Event

In 1959, Okazaki Castle's tower was reconstructed, and in 2006, the location was selected as one of the 100 best castles in Japan. Each floor inside the castle has a different theme, and the location's history is introduced through a collection of exhibits and a diorama theater. Guests can enjoy a panoramic view of the city from the observation room on the 5th floor


The creators of the event hope that visitors and viewers from around the world can experience Japanese culture, art, and tradition through digital entertainment.

Information

Okazaki Castle Main Gate Projection Mapping

Dates: January 8 – January 10
Address: Okazaki Castle in Okazaki Park (561-1 Kosei-cho, Okazaki City)
Official Site: https://www.hitohata.jp


Nordisk Village Goto Islands Glamping Facility to Offer Tent Saunas

The Nordisk Village Goto Islands glamping facility has started offering tent saunas to further heighten the guest experience. 

This is the first time a tent sauna has been offered in a lodging facility in the Goto Islands. The main body of the sauna tent is made by MORZH, and sauna enthusiasts will appreciate the well-researched specifications and execution.


A wood-burning stove is used in the sauna, and guests can adjust the temperature while enjoying the view of the dancing flames. The facility also offers an original aroma oil scented with Camellia and herbs, perfect for relaxation.

Zero gravity chairs are also available for outdoor air bathing, and visitors can enjoy lounging under the starry sky and swaying trees. Why not travel to these islands in Nagasaki Prefecture for your next getaway?