Zexy Kaigai Wedding magazine extra features Mario and Princess Peach on a marriage registration form!
Wedding information magazine "Zexy Kaigai Wedding" is collaborating with Nintendo's Super Mario Brothers. The magazine has released a special extra!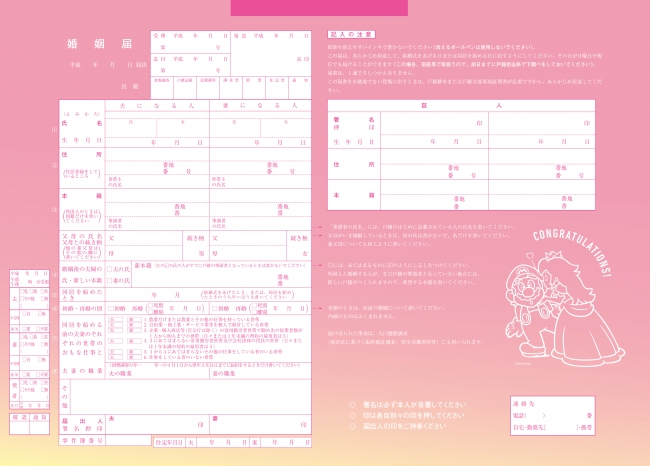 Marriage Registration Form
Zexy Kaigai Wedding was released on Wednesday 23rd August. Over more than 30 years, fans have grown a bond with the Super Mario Bros characters, who were born into the world in 1985. This edition, the familiar faces of Mario and Princess Peach will be making a special appearance!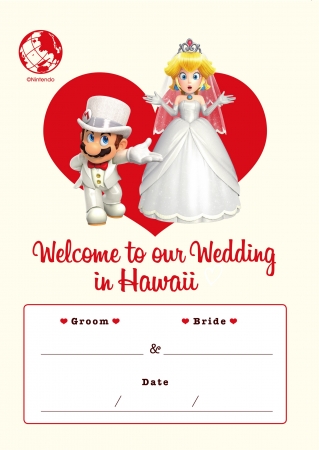 Travel brochure
※ The wedding version of Princess Peach and Mario appear in Nintendo Switch™'s software "Super Mario Odyssey" ⓒNintendo.(Nintendo Switch is a trademark of Nintendo).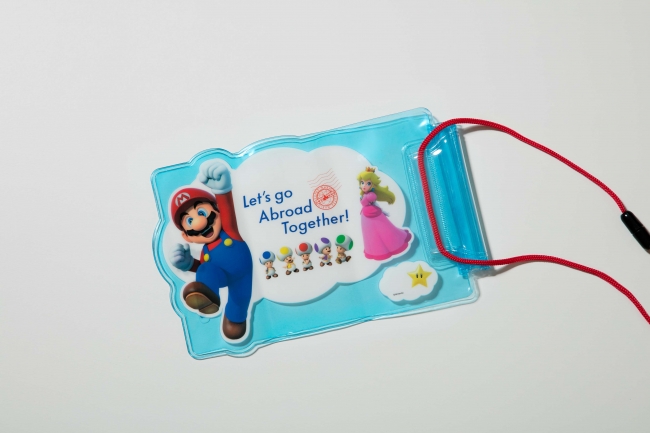 Waterproof case
In addition, the wedding-styled Princess Peach and Mario are set for Hawaii with the Hawaii-themed travel brochure. There is also a waterproof case included! In the travel brochure, Mario has transformed from a plumber in his usual overalls to a stunning and handsome groom! You must see!
This couple has been loved by the world for more than 30 years – the game star Mario with his high-pitched Princess… How about using your wedding registration form?!
■Information
Zexy Kaigai Wedding
Release date: 23rd August nationwide (Circulated mainly in the seven major cities, some areas may not be reached).
RELATED ENTRIES
Kyary Pamyu Pamyu Performs Theme Song for RPG Dark Tales ~Mirror and Mad Princess~

The smartphone game Dark Tales ~Mirror and Mad Princess~ was officially released on April 11, and the popular singer and talent Kyary Pamyu Pamyu performed the theme song for the title.

The dark RPG tells a tale of the loss of childlike innocence and was pre-downloaded over 1 million times. The theme song, Magical Mirror, was written and composed by Yasutaka Nakata.

Fans of the genre won't want to miss out on this mysterious mobile title!

Japanese Indie Game Label Yokaze to Hold Exhibition at Taipei Game Show

Japanese indie game label Yokaze will exhibit many anticipated upcoming titles at the 2023 Taipei Game Show. The event will be held in Taiwan from February 2 until February 5, 2023.

ghostpia


ghostpia's visuals mix warm, delicate art that would be fit for an illustrated children's book with glitch and noise effects, for a strangely nostalgic visual novel vibe. The story takes place in a snowy town where immortal "ghosts" live. When Sayoko, a girl who doesn't belong, meets Yoru, a newcomer to town, her world begins to change. Her thoughts begin to drift outside of the town, and certain events bring her back to a lost friendship. Filled with mystery and a bit of violence, this title is being touted as a movie you can read on PC.

Developer: Chosuido
Release Date: 2023
Platform: Nintendo Switch™/Steam, etc.
Website: https://ghostpia.xyz/

Recolit


Recolit is a pixel art mystery adventure game where players explore a strange town by following trails of light. After your spaceship crash lands in a mysterious place, you'll have to help the residents of the town as you explore and progress through the story.

Developer: Image Labo
Release Date: 2023
Platform: Steam/itch.io (Others planned)
Website: https://image-labo.com/recolit/

 

Kitsune: The Journey of Adashino

Kitsune: The Journey of Adashino is a 3D adventure game set in a mysterious version of Japan. One day, a fox girl and her frog friend find themselves on a mysterious island shrouded by darkness but for a few floating lights. Torii gates, food stall lanterns, and neon signs give light and color to the island. Something is lurking in the shadows, inching ever closer. Kitsune can use light to temporarily blind these demons, giving her enough time to find safe routes and hiding places. Be sure to enjoy this curious tale when it releases in the future!

Developer: Rias
Release Date: TBD
Platform: Nintendo Switch™/Steam (Others planned)
Website: https://www.foxandfrog.net/

Super Mario Apparel and Home Decor Now Available from gelato pique

Popular loungewear brand gelato pique will begin selling items from the Happy Mario Home Collection, the third installment of the SUPER MARIO meets GELATO PIQUE collection, on November 10. 32 items will be available at gelato pique stores nationwide, the official USAGI ONLINE store, and official Nintendo stores in Tokyo and Osaka. 

 

On November 4, the official gelato pique online store USAGI ONLINE launched a special page dedicated to Super Mario. 

Jacquard Pullover & Long Pants Set

Jacquard Shawl Cardigan

Patterned Shirt & Long Pants Set

Hoodie and Long Pants Set

[Bedding] (Single) 3-piece Set / BABY MOCO Jacquard Blanket

Snack Bowl & Mini Tongs Set / Cup

Patterned Pouch / Hand Towel & Pouch Set

BABY MOCO Series

Decorate your home and deck yourself out in your favorite Super Mario characters!

Information

gelato pique's Happy Mario Home Collection

Release Date: November 10, 2022

Where to Buy: gelato pique locations nationwide: https://gelatopique.com/Page/shoplist.aspx

[USAGI ONLINE STORE] Laforet Harajuku / Yokohama Joinus / Shinsaibashi PARCO / Naha Main Place / Entetsu Department Store / Toyota / Keihan Mall Kyobashi / Akita OPA


[Nintendo TOKYO] [Nintendo OSAKA] https://www.nintendo.co.jp/officialstore/

A portion of the collection will be sold at the Tokyo and Osaka Nintendo stores.

Nintendo OSAKA will begin selling items from the collection on opening day, November 11.


Japanese Card Game SCOUT Nominated for German Game of the Year Award

The card game SCOUT, designed by Kei Kajino and developed overseas by Oink Games, was nominated for the Spiel des Jahres Award in Germany on May 23, 2022. The yearly award is given to a card or board game and is known as the highest honor in the world of tabletop games. This is the second time in seven years that a Japanese-designed game has been nominated.

 

The Spiel des Jahres Award has been given out each year since 1979. There are three categories: Game of the Year, Kids' Game of the Year, and Complex Game of the Year. Three board or card games are nominated from among those released in Germany in the previous year, and one is awarded the grand prize. The last Japanese game to be nominated was Machi Koro, a board game that has become extremely popular among Western audiences. The grand prize winner will be announced on July 16.


What is SCOUT?

You have suddenly been appointed as the leader of a circus. Using the members of your circus you must put together a show that will beat out your rivals. Everyone on your team has a specific role. To fill in the gaps on your team, try to scout members away from other circus groups! With the addition of just one extra person you may set off an incredible chain reaction that helps you create a show that no other circus will be able to surpass. Will you battle with your current members? Or will you wait it out and try to recruit different ones?

You will feel amazing when you make the right choices in this speedy card game!

A new version has just been released for players purchasing the game from outside of Japan. In Japan, the original version was released by One More Game.

Theme Song for Initial D The Arcade Arcade Finally Hits Streaming Services

Initial D The Arcade is the tenth game in the Initial D series. Released in February 2021, one particular song from the title has struck a chord with fans. After a long wait, SCRAMBLE EYES by MOTSU vs A-One, has finally been released on streaming services starting May 25!

 

SCRAMBLE EYES is a fast-paced track blended with sharp vocals and engaging rap. The speedy song is perfect for Initial D, bringing to mind being behind the wheel and driving at top speed. Fans have called the song addictive, and even those who aren't a fan of the game have been applauding the track across social media. 

 

MOTSU and A-One have both provided comments following the song's release.

 

MOTSU

The name SCRAMBLE EYES was inspired by the bright headlights plowing through the darkness during a particular stage in Initial D The Arcade.

I'd be so happy if the listeners could get the same tingling sensation I felt when I met A-One for the first time.

A-One

I'm so thankful to be able to create music for Initial D, a series that brought me so much joy as a child.

And collaborating with MOTSU? I absolutely adore him, so I put all of my energy into this track.

If you work hard and don't back down, your dreams will come true.

But one of my dreams hasn't come true yet–playing this song live!

MOTSU, let's do it someday!

Please enjoy this track and really feel the speed and excitement as you race towards your goals!

 

In 2023, an anime adaptation of MF Ghost, the sequel to Initial D, is scheduled to premiere. The series takes place in the 2020s, when self-driving cars are normal Japan, and focuses on Kanata Livington, a Japanese driver who goes back to Japan after graduating at the top of his class at a racing school in England.

Touhou Project and One Night Werewolf Collaboration Items Now Available

ARMA BIANCA, an online store specializing in original goods, is now taking orders for limited-time collaboration items between Touhou Project and One Night Werewolf!

Lineup

One Night Werewolf Collaboration – Pixel Art Ver.

Acrylic Stand

Preorder Purchase Bonus

Acrylic Keychain

Preorder Purchase Bonus

Pin

Preorder Purchase Bonus

T-Shirt

Hoodie

Clear Folder

Mug

Pen

 

One Night Werewolf is a card game where players take on the role of a Villager, a Werewolf, or a number of special characters with unique abilities. The goal is to figure out who the Werewolves are and to kill at least one in order to win!

The Touhou characters featured in the collaboration include Reimu Hakurei, Marisa Kirisame, Cirno, Youmu Konpaku, Sakuya Izayoi, Satori Komeiji, Koishi Komeiji, Remilia Scarlet, Flandre Scarlet, and Kagerou Imaizumi. 

Story Game Series POLARIS to Get Second Installment 'Inside Blue' in Summer 2022

POLARIS, the story game label started by NOMEETS, will get a second installment titled 'Inside Blue' this summer. Preorders will open at Spring Game Market 2022 on April 23 and April 24, 2022.

POLARIS is a story game label launched in the winter of 2021. Players become characters in the story, sometimes cooperating and sometimes betraying each other to arrive at their own unique endings. An incredibly immersive experience, the first work 'RED LINE' sold 400 units at Winter Game Market 2021, gaining tons of positive reviews. The title has over 300 different endings and a unique design like no other title before.

 

The second title 'Inside Blue' follows a group of high school students trying to solve a summer murder mystery in a small town. This is a massive change from 'RED LINE,' which was set in a world filled with humans and vampires in conflict. By interacting with townspeople, attending summer festivals, and enjoying vacation, how will you solve this bizarre and terrifying mystery? 

Information

POLARIS-02: Inside Blue
Price: ¥6,000 (Tax Included)
Release Date: Summer 2022
Total Play Time: Around 150 minutes
Number of Players: 5 (No Gamemaster required)
Official Site: https://polaris.game

Princess Peach Joins the LEGO Super Mario Collection

LEGO Japan will release seven new products in the LEGO Super Mario series in Japan on August 1, 2022. Princess Peach will finally be making her appearance in the anticipated lineup with some fun new building sets!

LEGO Super Mario allows players to take on challenging LEGO courses filled with characters and coins from the popular video game series. The newest product will star Princess Peach from the Mushroom Kingdom.


Fans can enjoy sound effects and voices from the series as they build the new set. The Peach, Mario, and Luigi figures can be connected via Bluetooth, and players can greet each other and earn bonus coins by working together to defeat enemies. Two players can earn more coins when playing together, so be sure to invite a friend! 

The Peach Castle Challenge will be released on the same day. Will you be picking up any of these LEGO sets?

Information

71403 Peach: The Adventure Begins Starter Set
71404 The Goomba's Shoe
71405 Fuzzy's Sky Challenge
71406 Yoshi's Exciting Gift Challenge
71407 Peach's Power-Up Castle Challenge
71408 Princess Peach's Challenge
71409 Spike's Above the Cloud Challenge



Release Date: August 1, 2022 (Japan)

Available at Stores Nationwide

Official Site: https://www.lego.com/ja-jp/themes/super-mario/about?cmp=-shop

Azur Lane Celebrating 4th Anniversary with New Apparel Collection by ZOZOTOWN

To commemorate the 4th anniversary of the popular smartphone game Azur Lane, the fashion shopping site ZOZOTOWN has launched a limited apparel collaboration exclusive on their website. The Azur Lane Black Collection will be available until March 18, 2022.

Azur Lane is a side-scrolling shoot 'em up RPG set in an alternate timeline of World War II. Using cute female characters based on warships to battle, the game is popular with players of all ages. 

Items at a Glance

ZOZOTOWN × Azur Lane Hoodie

ZOZOTOWN × Azur Lane T-shirt

ZOZOTOWN × Azur Lane Acrylic Stand

ZOZOTOWN × Azur Lane Character Blanket

ZOZOTOWN × Azur Lane Tapestry

Bonus – Original Pin

Lottery Prize: Super Large 50cm Acrylic Stand (Not for Sale)





The Azur Lane Black Collection features seven popular characters from the game–Friedrich der Große, Vittorio Veneto, Belfast, Bremerton, Atago, Ajax, and Unicorn. The illustrations were provided by Modare, Yatsuha, and Rag Miwano and were created exclusively for the collection. In addition to apparel, fans can also pick up acrylic stands, blankets, tapestries, and more.

For every item purchased, customers will receive one original pin. A large acrylic stand will be given away to seven lucky winners, so good luck!


Live Puzzle Game, 'The Little Wizard and Monsters,' to be Held in Cosplay City Matsudo

Ready to put your thinking caps on? Gather your best friends and head to Matsudo City in Chiba (about 40 minutes from Tokyo Station) for the real puzzle-solving game 'The Little Wizard and Monsters ~Enter the Costume Contest, ya hear?~, taking place from December 4, 2021, until March 27, 2022. During the event, guests will have to search for clues in the area around Yabashira Station on the Shin Keisei Line, as well as the 21st Century Forest and Square Park. 

The 21st Century Forest and Square Park and Yabashira Station are both very familiar to those in their 20s and 30s who love pop culture, and this event was planned in the hopes that people would learn more about the area. While attempting to solve the puzzle, guests will find plenty of very Instagrammable spots and locations perfect for cherry blossom viewing as well!

Information

Live Puzzle Game 'Little Wizard and Monsters' ~Enter the Costume Contest, ya hear?~

Running: December 4, 2021 – March 27, 2022

*Closed Mondays and During New Years Holiday (December 29 – January 3)

Hours: 10:00-16:30

Free to Enter

Official Site: https://nazotoki-plus.com/

Mario, Pokemon, and Other Iconic Characters Dance Together at USJ's New Parade for Spring 2022

After a year on hiatus, Universal Studios Japan will be bringing back the daytime parade with the  'NO LIMIT! PARADE,' scheduled to be held for a year starting in Spring 2022.

 

 

The 'NO LIMIT! PARADE' is like a dance party, unifying each guest as one with the power of dance. The energetic entertainment turns everybody into "the protagonist."

In addition to well-known 

park characters like the Minions and Hello Kitty, Mario and his Nintendo friends will also be joining the parade from their home in the super popular Super Nintendo World™, bringing some Pokémon buddies along for the ride. The various worlds will collide to a range of party tracks, from 60's rock to modern EDM, with each character performing a representative dance.

By dancing with these iconic characters and entertainers, everybody can become "The Protagonist" – young or old! The grand finale of each parade truly pushes the meaning of NO LIMITS, with production exceeding all expectations. Each visitor will feel their mind and body growing "Super Energetic" from all the fun with this all-new entertainment experience!

Become one with the all-star cast at the 'NO LIMIT! PARADE!'

 WIZARDING WORLD and all related trademarks, characters, names, and indicia are © & ™ Warner Bros. Entertainment Inc. Publishing Rights © JKR. (s21)
Minions and all related elements and indicia TM & © 2021 Universal Studios. All rights reserved.
© Nintendo
TM & © 2021 Sesame Workshop
© 2021 Peanuts Worldwide LLC
© 2021 SANRIO CO., LTD. APPROVAL NO. EJ1100402
TM & © Universal Studios & Amblin Entertainment
© 2021 UNIVERSAL STUDIOS
©2021 Pokémon. ©1995-2021 Nintendo/Creatures Inc. /GAME FREAK inc.
TM & © Universal Studios. All rights reserved.

Universal Studio Japan to Expand Super Nintendo World with Donkey Kong Area

Since opening in March, Super Nintendo World at Universal Studios Japan has caught the world's attention, leading global game fans to pray even harder for Japan to reopen for tourism. Now, the park is scheduled to level up with a new Donkey Kong-themed area scheduled to open in 2024. 

Currently, Super Nintendo World is filled with Mario-inspired attractions, dining options, and shops, recreating some of the most memorable parts of the franchise in a larger-than-life way. The new Donkey Kong area will feature a roller coaster and more interactive experiences, as well as themed merchandise and food options. Guests will be able to walk through lush jungles, where Donkey Kong and his friends live. The creation of the new area will more than double the size of Super Nintendo World. 

Launched as an arcade game by Nintendo in 1981, Donkey Kong quickly took the world by storm, with games continuing to be released on Nintendo systems from the SNES to the Nintendo Switch. As of March 2021, the series has sold over 65 million units worldwide.

Comment from Nintendo's Shigeru Miyamoto

"I am very happy to be able to make the world of Donkey Kong a reality following the world of Mario. I am looking forward to creating a thrilling Donkey Kong experience with the amazing team at Universal. It will take some time until it is completed, but it will be a unique area for not only people who are familiar with Donkey Kong games but for all guests."

WIZARDING WORLD and all related trademarks, characters, names, and indicia are © & ™ Warner Bros. Entertainment Inc. Publishing Rights © JKR. (s21)
Minions and all related elements and indicia TM & © 2021 Universal Studios. All rights reserved. TM & © Universal Studios & Amblin Entertainment. TM & © Universal Studios. All rights reserved. © Nintendo