Zexy Kaigai Wedding magazine extra features Mario and Princess Peach on a marriage registration form!
Wedding information magazine "Zexy Kaigai Wedding" is collaborating with Nintendo's Super Mario Brothers. The magazine has released a special extra!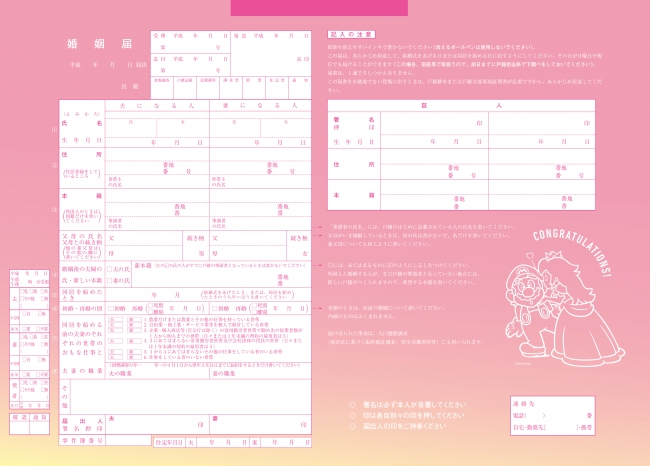 Marriage Registration Form
Zexy Kaigai Wedding was released on Wednesday 23rd August. Over more than 30 years, fans have grown a bond with the Super Mario Bros characters, who were born into the world in 1985. This edition, the familiar faces of Mario and Princess Peach will be making a special appearance!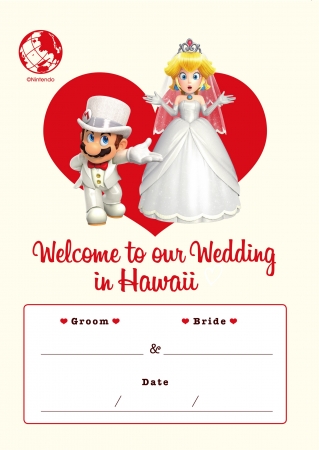 Travel brochure
※ The wedding version of Princess Peach and Mario appear in Nintendo Switch™'s software "Super Mario Odyssey" ⓒNintendo.(Nintendo Switch is a trademark of Nintendo).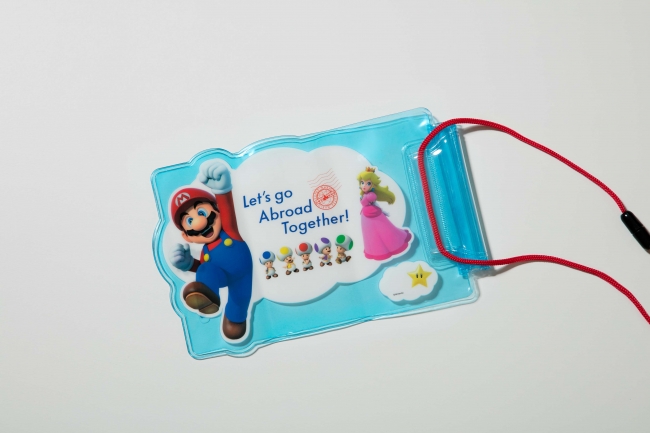 Waterproof case
In addition, the wedding-styled Princess Peach and Mario are set for Hawaii with the Hawaii-themed travel brochure. There is also a waterproof case included! In the travel brochure, Mario has transformed from a plumber in his usual overalls to a stunning and handsome groom! You must see!
This couple has been loved by the world for more than 30 years – the game star Mario with his high-pitched Princess… How about using your wedding registration form?!
■Information
Zexy Kaigai Wedding
Release date: 23rd August nationwide (Circulated mainly in the seven major cities, some areas may not be reached).
RELATED ENTRIES
Mario & Sonic at the Olympic Games Tokyo 2020 Unveils 5 Sports in the Game

As excitement is on the rise worldwide in anticipation for the Tokyo 2020 Games, the world just cannot wait for the release of the iconic Nintendo Switch™ game Mario & Sonic at the Olympic Games Tokyo 2020, which is due to be released very soon. Sega has just unveiled a small snippet of information on five events that are going to be included in the game which we are sharing with you today.

Tokyo 2020 100m

Aim for nothing but first place in the Tokyo 2020 100m. Increase your speed with the rapid push of a button. By building up your speed before the race starts and releasing it at the correct moment, you will get off to a dashing start. The "special dash" is a way to rapidly cut down on your time. 

Tokyo 2020 Rugby Sevens

This game will plunge you straight into the action. Work with your team of seven and use a range of tactics such as passes, strong tackles and kicks to get the upper hand. Carry the ball to the goalline to watch those points roll in. When your special gauge reaches its max power, you will be able to use a "super dash" ability to get the ball to the goalline if on the offense. If on defence, your special ability is the "special tackle", which will provide you with the power to whip the ball away from your opponent. These special abilities have the power to drastically turn the tables and are not to be taken lightly. This game features guest character Diddy Kong!

Tokyo 2020 Canoeing

Get your heart pumping with the thrill of competition while staying synchronised with your partner in a canoeing race. If your timing is perfect, you will pick up speed straight away. Team up with your friend and dive right into the fun. If you are falling behind, don't let your heart sink in despair. Paddle as much as you can and you will be able to catch up with the others in no time!

Toyko 2020 Equestrian Jumping

Let no hurdle taint your gracefulness as you soar through the sky and clear each one. You can take part in Equestrian Jumping individually or as part of a team. Be careful of sharp turns and hurdles! When you increase your speed, your stamina will drop, however, you will recover lost stamina with every hurdle you successfully clear. If you manage to clear lots of hurdles in succession, you will gain enormous amounts of speed and will be on your way to a record-breaking winner. You can also use a special dash once in this game. If you manage to use it while successfully striking a difficult pose, you will continue to zoom off to the finish line at high speed. This game features Larry Koopa as a special guest!

Tokyo 2020 Table Tennis

Face off in a singles match or team up with your friend for a doubles match. Your avatar will move automatically, allowing you to fully dedicate your brain power to using a range of techniques. Build up your power to change the speed and spin of the ball.Zazz has infiltrated this game to take part as a guest character!

Join in the Tokyo 2020 celebration fun with these new epic games!

TM IOC/TOKYO2020/USOC 36USC220506. © 2019 IOC. All

Rights Reserved. © NINTENDO. ©SEGA.

Information

Mario & Sonic at the Olympic Games Tokyo 2020™

Platform: Nintendo Switch™

Initial Release Date: November 1, 2019

Price: ¥5,990 (before tax)

Genres: Sports, action

Players: 1 – 4

* Play with up to 8 people when you play online.

*Nintendo Switch™ supports 2 – 4 local players.

Official Website: https://www.olympicvideogames.com/marioandsonic/jp/

Gamers! Rally Your Teammates For A New Quest: TOKYO GAME SHOW

The TOKYO GAME SHOW is in a league of its own. It is a mecca for gamers who cannot get enough of Japanese games and entertainment. This is where Japan's major game publishers from all kinds of platforms unite to put on an enormous exhibition. 

This includes the opportunity to explore games that are yet to be released as well as hear new announcements about the direction developers are steering the future of gaming. There's no lagging behind. This is a major event for the gaming industry, raking in leagues of heroes every year. 

On August 28, a total of 2,417 game booths were announced, which is the largest number the event has ever seen in its history. This event is home to games on a range of platforms including for console, smartphone and PC. The enormous variety of genres includes the most cutting-edge and latest trends including Esports, VR and much more.

For those of you who love cosplay, this event is your chance to finally meet your fantasy. The outside area of Hall 9 will have a Cosplaying Area Stage where two events will take place: a cosplay fashion show and a gathering. 

On Saturday 14th, Hall 1 event stage will hold the Cosplay Collection Night@2019 event where participants and event staff will take over the stage in game character cosplay. Spectating is free, so feel free to watch as each cosplayer dominates the entire stage, showing off their excellent craftsmanship and skills as they walk the runway and strike a pose definitely worth saving in your highlights! 

On Sunday 15th at 2:30 pm, cosplayers will take to the stage in units of two or more to put on a dance or combat show that you just cannot critically miss out on. 

Schedule:

September 14 (Sat)  From 12:00 ー Cosplay Runway  From 15:30 ー Cosplay Runway

September 15 (Sun) From 13:30 ー Cosplay Runway From 14:30 ー Cosplay Dance and Combat Shows From 15:30 ー Cosplay Runway

The Gathering is where cosplayers can interact with one another and have photos taken ー the perfect opportunity to send those friend requests. On September 14, a gathering dedicated to the Final Fantasy Tales Series will take place on the Cosplay Area Stage. On September 15, there will be gatherings for the Dynasty Warriors and Samurai Warriors series.

Schedule:

September 14  13:00-13:30 Final Fantasy Series Gathering  14:00-15:00 Final Fantasy Tales Series Gathering 

September 15 12:30-13:00 Dynasty Warriors and Samurai Warriors Series Gathering

More information on the exhibitions, booths and events will be announced on the morning of September 12 so please check it out. 

There is no better way to multi kill your time than to spend the entire day at TOKYO GAME SHOW 2019 ー get your tickets and GLHF!

Information

TOKYO GAME SHOW 2019

Event Information

Business Days*: September 12 & 13, 2019 (10:00~17:00)

*Business Days are open to industry and press only.

Public Entry*: September 14 & 15, 2019  (10:00~17:00)

*Doors may open at 9:30 am according to conditions on the day.  

Venue: Makuhari Messe (Mihama Ward, Chiba)

Exhibition Halls 1-11/ Event Hall/ International Conference Hall

Entry Fee: Advanced tickets: ¥1,500 (after tax)

On The Door: ¥2,000 (after tax)

Those under Elementary School age can enter for free (public entry days only)

Official Website: https://expo.nikkeibp.co.jp/tgs/2019/en/

Mario & Sonic at the Olympic Games Tokyo 2020 Release Date & Details Revealed

Sega has announced that Mario & Sonic at the Olympic Games Tokyo 2020 will be released on Nintendo Switch™ on November 1, 2019.

The upcoming sports video game is a crossover between Nintendo's Super Mario and Sega's Sonic the Hedgehog franchises which makes full use of the Joy-Con™ on the Nintendo Switch.

The latest trailer which dropped on Tuesday revealed that players will also be sent back in time to the Tokyo 1964 Olympics with a set of 10 games with classic 2D graphics. The game will also feature a Story Mode where players can compete in the Olympics and play a variety of mini games.

The game is now available for pre-order on the Nintendo eShop. If you pre-order the game you will be able to play the game immediately at midnight when it drops on November 1.

TM IOC/TOKYO2020/USOC 36USC220506. © 2019 IOC. All Rights Reserved. © NINTENDO. ©SEGA.

UNIQLO Releases Super Mario Bros. T-Shirts from UT Brand

UNIQLO released their new Super Mario Family Museum collection as part of their UT t-shirt graphic brand on April 1 at UNIQLO branches across Japan and via their online store.

Since the releases of the original Super Mario Bros. in 1985, Mario has continued to reign as one of the most symbolic and iconic video game characters of all time. UNIQLO pays their respect to the legendary plumber with this new collection which features classic designs from the game.

Men's Collection

This first white t-shirt bears a print of the original 8-bit Mario. Underneath him is the B Dash command, something which will be familiar to any gamer. This commands enables Mario to run. If you look to the right of the t-shirt you'll see part of Mario's figure―he's dashed off screen!

The next t-shirt has a chic black design with a pocket that features multiple Bullet Bills firing in all directions.

Another pocket design this time with a Chain Chomp poking its head out. We all have our memories with these feisty and irritable critters―one misstep or bad jump offers you as a meal to this crazy chomper.

Colourful stripes and a Yoshi egg decorate this t-shirt. Fans will be able to relate to the relief and excitement of seeing one of these shaking eggs.

Women's Collection

This Princess Peach t-shirt is available as part of the women's collection. A cute pink decorates the design which is complemented by a beautiful 2D graphic of Peach.

Mario has jumped on many boxes in his career and this one gives him a love heart. The t-shirt has simple black stripes against a white background which gives a French vibe to it.

At first glance you see polkadot, but upon closer inspection you'll notice they're actually Boos! They go perfectly with the pitch black background as they wait in the dark for Mario to walk by…

Kid's Collection

Similar to the t-shirt in the men's collection, this one has the jump command on it. If you line it up with the men's t-shirt it creates an image of Mario running and jumping!

Donkey Kong is another member of the Mario family, and only kids get his t-shirt. You'd better not steal his bananas.

Kids also get this exclusive bright green t-shirt with an adorable sleeping Yoshi on it. This one is perfect for easily-excitable children.

If you buy anything from this collection in-store it will come bagged in one of these question block shopping bags. These are limited in stock and are available on a first-come, first-served basis.

If you're in Osaka then you'll definitely want to stop by the Shinsaibashi branch of UNIQLO. The entire store (from March 29) is lit up to create an awesome looking 8-bit Mario! More characters are planned to show their faces on the building too  up until mid-April.

Which t-shirt are you eyeing up the most?

Information

"SUPER MARIO FAMILY MUSEUM" UT

Release Date: April 1, 2019

Price: Men's & Women's – ¥900 (Before Tax) / Kid's – ¥790 (Before Tax)

Available: At UNIQLO branches across Japan and their online store

Sizes: Men's (XS-4XL) / Women's (XD-3XL) / Kid's (100-160)

*Men's and women's XS and XXL-4XL sizes as well as kid's 100 and 160 sizes are available online only.

Product Page: www.uniqlo.com/jp/store/feature/uq/ut/nintendo-museum/

UNIQLO Official Online Store: https://www.uniqlo.com/jp/

©Nintendo

Detective Conan Skateboard Game Announced for Nintendo Switch™ Release

Detective Conan Skateboard Run: Kaito Kid and the Mysterious Treasure is the first ever Detective Conan game for the Nintendo Switch™ set to arrive on the Nintendo eShop sometime in April 2019.

A 3D skating action game, the title will coincide with the release of the newest Detective Conan film The Fist of Blue Sapphire hitting Japanese cinemas on April 12, 2019.

Play as Conan and jump on an engine-equipped skateboard to high jump, do tricks and shoot soccer.

The game is set in an enormous theme park built by Sonoko Suzuki's grandfather Jirokichi Suzuki. There are three areas and 30 stages to enjoy.

During the gameplay Kaito Kid will make a sudden appearance and try to knock Conan off his skateboard with giant balls, cards and other gimmicks.

Conan's comrades will make an appearance to give him support through 10 different skills.

Minami Takayama and Kappei Yamaguchi will lend their voices for Conan and Kaito Kid respectively.

Jump on your board and stop Kaito Kid from his antics!

Information

Detective Conan Skateboard Run: Kaito Kid and the Mysterious Treasure

Release Date: April 2019 (Subject to change without notice)

Price: ¥3,500 (Tax Included) <Download Edition>

Official Website: https://conanrun.tms-game.com

Detective Conan: The Fist of Blue Sapphire

Release Date: April 12, 2019

Official Website: https://www.conan-movie.jp/

©Gosho Aoyama / Shogakukan・Yomiuri Telecasting Corporation・TMS 1996 ©TMS

© 2017 Nintendo

The Nintendo Switch logo and Nintendo Switch are registered trademarks of Nintendo Co., Ltd.

Eevee Pokémon Tamagotchi to be Released by Bandai

Bandai have announced they will release two Tamagotchi centred on Eevee from the Pokémon franchise on January 26, 2019. They will be available at major toy shops, department stores and electronic stores in Japan.

Sized at an adorable 4cm in diameter, owners can look forward to raising their very own Eevee. This Pokémon is known by fans for its many elemental evolutions obtainable through various methods throughout the games. For example, when given a Thunder Stone it will evolve into Jolteon, or when levelled up near an Ice Rock it will evolve into Glaceon.

The same goes for your Tamagotchi Eevee. By feeding it, brushing it and through other activities after hatching from its egg you can transform Eevee into one of 8 possible evolutions. Eevee will also show different expressions and behaviours depending on how you treat it. Look after it lots and it will be happy, but ignore it and it will grow timid.

Catch your own Eevee-inspired Tamagotchi and raise it into your favourite evolution!

Information

Eevee x Tamagotchi

Release Date: January 26, 2019

Available: At toy shops, department stores, electronic stores and online in Japan

Price: ¥2,484 (Tax Included)

Tamagotchi Official Website: http://tamatv.com/

©BANDAI,WiZ ©2018 Pokémon. ©1995-2018 Nintendo/Creatures Inc./GAME FREAK inc.

New Tamagotchi Will Add New Marriage and Child-Rearing Functions

The newest entry to the Tamagotchi handheld pet series will be released in Japan on November 23, 2018 at toy shops, electronic shops and elsewhere across Japan including online.

Tamagotchi are a defining aspect of the 1990s and 2000s in Japan. They were first released in Japan in 1996 and the rest of the world in 1997 where they also became a huge hit. To date, more than 82 million devices have been sold worldwide.

Now, it has been announced that the new "Tamagotchi Meets" will be released for people to play whenever and wherever they want.

The Tamagotchi Meets adds much more to the fun of the original Tamagotchi whereby users must raise their own digital pets. The functions which allow for communication with users has been expanded greatly. If you have your pet marry they can have a child with the same gene as their parents which you can raise.

The Tamagotchi will go through three stages: infancy, a rebellious age and puberty before eventually growing into an adult where they reach the friend stage. If two Tamagotchi marry they will have a baby together. During the baby's infancy they will take on their parent's colour. In the rebellious age they will take on other physical elements of their parents including their heads, tails, wings and so on. When they reach the friend stage their face and bodies will grow to look exactly like their parents.

The Tamagotchi may inherit lots of traits from their fathers from infancy to puberty, but when they reach adulthood they may look like their mothers. Characteristics will also be passed down the family line and the Tamagotchi children may take on elements of their ancestors or look like their grandparents. Also, even though they may be born from their parents, some Tamagotchi's appearances will differ depending on how you raise them. There are many combinations and influences that will affect what kind of Tamagotchi you will get, so you can look forward to raising and communicating with all different kinds.

Tamagotchi Meets also introduces Bluetooth® to the series for the very first time so you link it with the Tamagotchi communication app releasing in November.

Information

Tamagotchi Meets App

Launching: November 2018

Price: Free

Compatible OS: iOS10.0 and above / Android 6.0

Tamagotchi Meets

Release Date: November 23, 2018

Price: TBC

Types: 2 (3 colours each)

"Fairy Tale Meets" Version – Pink, Blue, Yellow

"Magical Meets" Version – Purple, Pink, Green

Available: At toy shops, electronic stores, online and elsewhere in Japan

Capcom Officially Announces Mega Man Live-Action Movie

Japanese video game developer and publisher Capcom have officially announced the first-ever Hollywood live-action adaptation of the internationally acclaimed game franchise Mega Man.

Mega Man, known as Rockman in Japan, first arrived on the gaming scene in 1987 for the NES. Since then the game has spawned countless sequels and spin-offs with the entire series selling over 32 million copies (as of June 2018).

Even 30 years on, the franchise continues to be lauded and enjoy popularity with everyone from the younger generation and hardcore gamers for the character's iconic looks the tight gameplay.

As well as games, the series has given rise to merchandise, comics, an anime series and movie and more. The latest game in the main series Mega Man 11 was just released worldwide on October 2 and in Japan on October 4.

The live-action adaptation will be produced by Chernin Entertainment (Planet of the Apes series) along with Japanese-American actor Masi Oka (Heroes), directed and written by Ariel Schulman and Henry Joost (Paranormal Activity 3 and 4) and distributed by 20th Century Fox.

Information

Mega Man (Tentative Title)

Release Date: TBA

Mega Man 11

Platforms: PlayStation®4, Nintendo Switch, Xbox One, Microsoft Windows

Release Date:

Worldwide – October 2, 2018

Asia – October 3, 2018

Japan – October 4, 2018

※"PlayStation" is a registered trademark of Sony Interactive Entertainment Inc.

※"Microsoft" and "Xbox One" are registered trademarks of Microsoft Corporation and affiliated companies.

※"Nintendo Switch" is a trademark of Nintendo Co., Ltd.

We have covered in the past how popular squishies are in Harajuku, but squishies are about to be taken to the next level.

The new Mocchiri Pet Mocchi Maruzu was released on September 27 which is an electronic toy that combines the same material that squishies are made of.


Mocchi Maruzu is a cute new hamster character. He's a digital pet made from that same satisfying squishy material and has a liquid-crystal display on his belly which features an app where he will talk to you as well as mini games.


This unique toy changes the whole way liquid-crystal display games work. Instead of regular old electronic toy buttons you instead push Maruzu's round and squishy cheeks. This will make your pet hamster appear on the screen who you will interact with in various ways.

Maruzu can eat food, enjoys being squished, and can be raised from a baby into an adult hamster with 16 different traits. If you play with him he'll soften up to you, but if you don't he'll become frightened so be careful.

Coins can be collected in the mini games which can be spent on decorating Maruzu's bedroom. It's equipped with 12 different apps and games to be enjoyed.

Satisfy your squishy needs by raising your very own digital Mocchi Maruzu!

Information

Mocchiri Pet Mocchi Maruzu
Release Date: September 27, 2018
Price: ¥5,980 Each (Pre-Tax)
Available: At toy shops, electronic shops and elsewhere in Japan
Product Page: www.segatoys.co.jp/mocchi

©SEGATOYS

New 'Tales' Game Concept Trailer Features Original Music by Yasutaka Nakata

A concept trailer for the newest entry to the Tales video game franchise entitled Tales of Crestoria has been released and features original music by Yasutaka Nakata.

The Tales franchise is a series of fantasy role-playing video games developed by Bandai Namco that has shipped 16 million copies worldwide. The series first dropped in 1995 with Tales of Phantasia and since then has been sold in over 100 countries and regions.

Tales of Crestoria is a new game for smartphone. A concept teaser trailer and website have officially been made public.

The video is a thrilling collaboration with music producer Yasutaka Nakata that teases the start of a new adventure with an original protagonist.

Another version of the concept trailer was also released featuring the same scenes but from the protagonist's perspective. The 'Another Version' video is displayed vertically but can be viewed in full screen by accessing the official website via your smartphone.

More information on the new title will be revealed via the series' Twitter page and LINE account, so be sure to keep up to date.

Valkyria Chronicles 4: Play Two Chapters in Demo Launching via Nintendo eShop on September 13 – Save Progress Transferable

SEGA have announced that they will release a new playable demo of Valkyria Chronicles 4  on the Nintendo eShop on September 13, 2018. Save data on the demo will be transferable to the main game which is launching worldwide on Nintendo Switch™ on September 27, 2018.

 

Valkyria Chronicles 4 is a hand-drawn tactical role-playing game developed and published by SEGA with character designs by Raita Honjou, music composition by Hitoshi Sakimoto and the main theme song sung by Mai Kuraki.

The game has taken the series' iconic CANVAS engine that makes use of gorgeous watercolours and has made it even more detailed. It also features a fully recalibrated BLiTZ battle system to bring even larger and more engaging battlefields to players.

 

The new playable demo lets players complete the game up to chapter 2 of the main story. Progress will be transferable to the main game upon its release. Those who do transfer w ill receive an item to boost the status of their units.

Players who manage to complete the demo can challenge themselves to an extra mission for even more fun.

■Information

Valkyria Chronicles4
Compatible: PlayStation®4 / Nintendo Switch™
PS4® Version (Released March 21, 2018) *Japan only

Nintendo Switch™ Version (On Sale September 27, 2018) *Worldwide release

Genre: Tactical role-playing

Players: 1
Developer: SEGA CS3

Publisher: SEGA
©SEGA

Official Website:  http://portal.valkyria.jp/vc4/

*All company names and product names are registered trademarks of their respective companies.

Dragon Ball Super Themed Escape Game to Take Place in 8 Cities Across Japan

Escape game creators SCRAP have teamed up with Dragon Ball to bring fans a new collaborative event titled Chikyujin Shometsu Kara no Choudasshutsu ('Escape From Earthling Annihilation'). The event will take place in Tokyo, Kanagawa, Miyagi, Aichi, Fukuoka, Osaka, Okayama and Hokkaido until December 31, 2018.

Escape From Earthling Annihilation – Plot

The peace of the earth was snatched away in an instant.

The evil emperor Frieza suddenly appeared on the planet.

His goal: to acquire perpetual youth and longevity with the Dragon Balls and annihilate earth.

Goku―the planet's last resort―his powers too were taken by the Frieza Force.

For him to gain his strength back, he must gather all of the Dragon Balls before Frieza.

You must help Goku locate the Dragon Balls scattered around town and help maintain earth's peace!

An online campaign is also being held in Japanese for participants of the event. You need to post a photo taken of yourself at the event on social media with the relevant hashtag along with your wish. One random person will be selected to have their wish granted. You can write whatever you like in Japanese, such as ○○がほしい ('I want…'), ○○に会いたい ('I want to meet…'), ○○を体験したい ('I want to experience…') etc.

Experience Dragon Ball for real as you read in the manga by collecting the Dragon Balls and having your wish granted!

■Information

"Chikyujin Shometsu Kara no Choudasshutsu" (Escape From Earthling Annihilation)

City List

Tokyo (Ajito of SCRAP, Shimokitazawa Building): August 30, 2018 – December 31, 2018

Kanagawa (Ajito of SCRAP Yokohama): September 6, 2018 – December 31, 2018

Miyagi (Ajito of SCRAP Sendai): September 7, 2018 – December 31, 2018

Aichi (Nazo Complex Nagoya): September 10, 2018 – December 31, 2018

Fukuoka (Ajito of SCRAP Tenjin, Fukuoka): September 12, 2018 – December 31, 2018

Osaka (Ajito of SCRAP, Osaka Nazo Building): September 12, 2018 – December 31, 2018

Okayama (Ajito of SCRAP Okayama): September 14, 2018 – December 31, 2018

Hokkaido (Ajito of SCRAP Sapporo): September 14, 2018 – December 31, 2018

*Final dates at each venue subject to change.

Ticket Prices

Advance Tickets: ¥2,400

Advance Tickets With Super Sacoche Bag: ¥3,900

Same-Day Tickets: ¥2,900

*In the case that advance tickets sell out on a certain day, same-day tickets will not be available.

*Sacoche bags available with advance tickets only.

*You need to be connected to the internet to participate in this event such as via a smartphone or tablet (excluding feature phones). Any charges are the participant's responsibility.

Event Page (Japanese): http://realdgame.jp/dragonballsuper/

Wish Campaign

Application Date: 1st Round – August 30, 2018 to October 18, 2018 (*2nd round TBA)

Announcements: November 1, 2018

Application Conditions: Must be participating in Chikyujin Shometsu Kara no Choudasshutsu.

Present: Wish granted (1 person)

How to Apply

Step 1: Participate in the event.

Step 2: Have your photo taken while participating.

Step 3: Post your wish along with your photo and the hashtag #ドラゴンボール超脱出.

Step 4: Show that you have posted it to a member of staff.

Step 5: Fill in an application form.

Step 6: Write your wish on the application form and deposit it into the box.

*Only 1 person will be selected each round.

*A limit of ¥100,000 will be granted to fulfil the wish.