Popular Kamakura bakery GARDEN HOUSE CAFÉ has opened in Marunouchi, Tokyo!
On 30th August, popular  Kamakura bakery "GARDEN HOUSE" will be opening a new line of business in GRANSTA MARUNOUCHI, Tokyo called "GARDEN HOUSE CAFÉ" . To commemorate the grand opening, they will be collaborating with a number of bakeries in the city as part of the "Nihon No Pan" project.

Sister bakery GARDEN HOUSE CRAFTS is a leading select bakery shop in the city popular for its bread and pastries amongst other goods. GARDEN HOUSE is another sister bakery, and is the home of fresh deli food, salad, sandwiches and much more. Their popular café menu is great for casual eating. Now, we have GARDEN HOUSE CAFÉ  which is the third sister in the group! With a direct connection from Tokyo station, access couldn't be easier!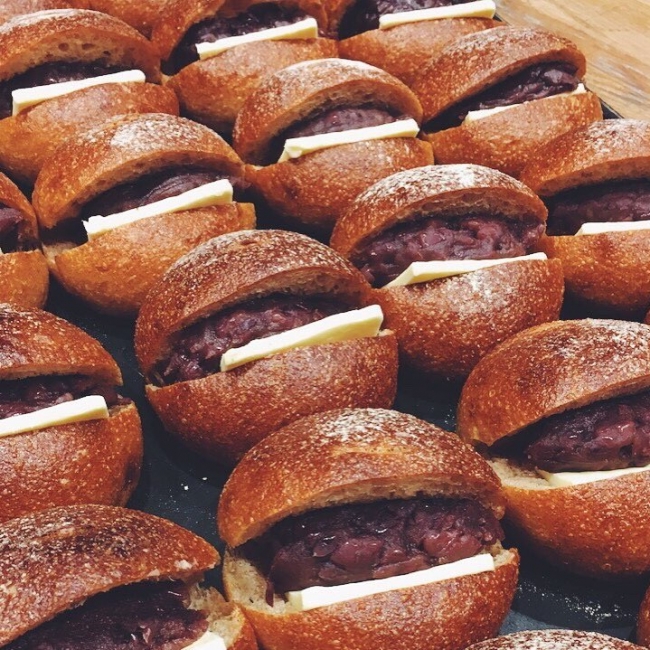 Tokachi azuki beans and salted butter wholegrain Marupan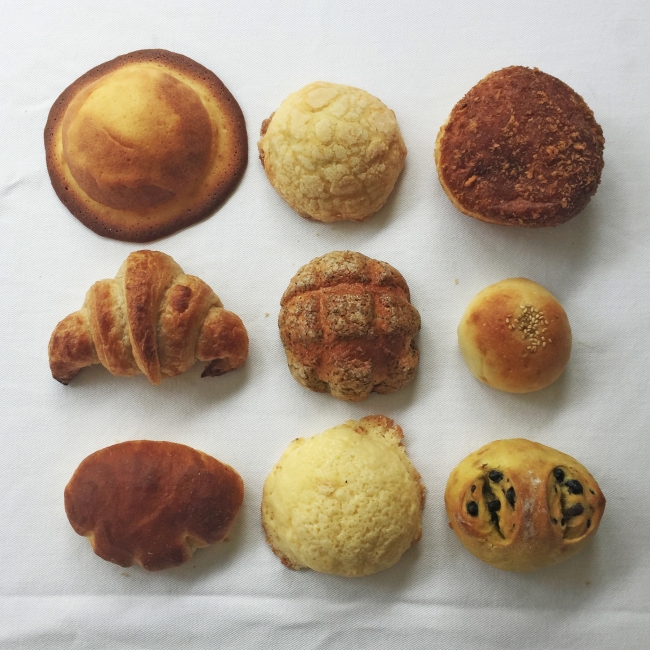 Nihon no Pan
To commemorate the grand opening, a collaboration with select bakeries is taking place called "Nihon No Pan". The collaboration is focusing on the unique breads that have developed in Japan and have firm roots in Japanese culture – kashipan (sweet buns) and souzaipan (stuffed buns). The shop will be focusing on three subtypes of Japanese bread – anpan (buns filled with anko beans), creampan (cream buns), melonpan (sweet melon-shaped bread), and currypan (curry-flavoured bread).
10 varieties of limited edition collaboration Japanese-style breads have been made for the commemoration. There are six "Nihon no Pan" branches, each sparkling with individuality. You will want to try all the varieties of bread!
Bakeries serving up Nihon no Pan and their specialties
GARDEN HOUSE CRAFTS: Tokachi azuki beans and salted butter wholegrain Marupan/ creampan*/ Ise matcha and white chocolate melonpan*
Significant Signifie: Anpan*/ creampan*/ melonpan*/ currypan*
Sora to Mugi to: White azuki bean/ creampan */ kodai wheat currypan*
Baba FLAT: Roasted soybean mochi anpan/ melonpan/ A5 wagyu currypan/ creampan
Réfectoire: Anpan*/ creampan*
Bakery SASA: Anpan/ creampan/ melonpan/ currypan
* Marunouchi GARDEN HOUSE CAFÉ opening commemoration goods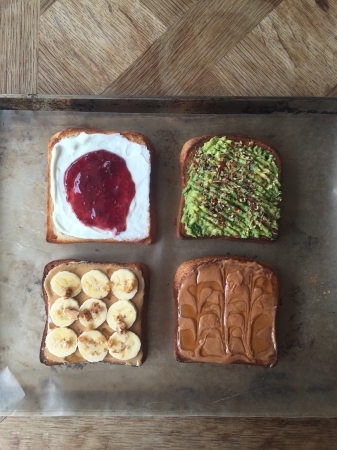 Toast from the breakfast menu 
At GARDEN HOUSE CAFÉ in Kamakura and Shinjuku, the bakery concept maintains the GARDEN HOUSE theme, but is more casual and includes a menu that uses specially selected ingredients. From 7am, you can get a quick power up from the morning menu. Sister store GARDEN HOUSE CRAFTS' best picks from the menu include the toast dishes that are made with bread cut fresh from the loaf. Avocado toast, peanuts and banana and much more – these breakfasts are made with ingredients that everyone loves!
Sandwiches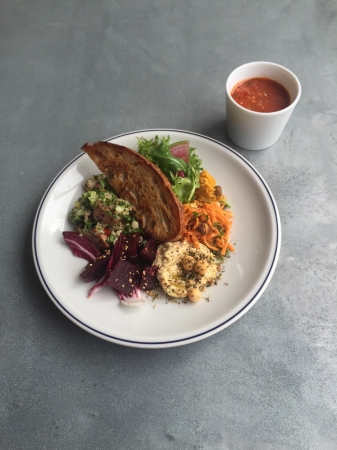 Deli plate
From 11:30, the grand menu takes to the scene and is made upon order, so you can enjoy freshly made sandwiches. The main eye-catcher here is 5-variety deli assortment plate which includes the tempeh (Indonesian-style soy beans), and is full of protein and vegetables.
You can also order salads and from the deli counter to take away!
Of course, you can order from the bread menu to take out at any point in the day – this runs alongside the deli and salad takeout menus, and the café time drinks and sweets menus.
With a direct link from the station, GARDEN HOUSE CAFÉ is an ideal daily stop for food If you are making a day trip, how about stopping by for a quick pick-me-up?
■Information
GARDEN HOUSE CAFÉ
Address:1-9-1, Marunouchi, Chiyoda, Tokyo – outside the ticket barriers of JR Tokyo station
Floor B1 GRANSTA MARUNOUCHI
TEL 03-6551-2677 (representative)
Opening hours: 7:00 – 22:00/ nonstop
≪Partner bakeries≫ (In alphabetical order)
Addict au Sucre(Tokyo Metropolitan University)
Baba FLAT(Takadanobaba)
BAGEL STANDARD(Naka-Meguro)
Bakery SASA(Sasazuka)
GO! Muffins go!(Nishi-Ogikubo)
GOOD TOWN DOUGHNUTS(Harajuku)
Haluta(Ueda)※
HOUTOU BAKERY(Yokosuka)※
HUDSON MARKET BAKERS(Azabu-Juuban)
Levain(Tomigaya)
REFECTOIRE(Meiji-jingumae)
Significant Signifie(Setagaya)
Sora to Mugi to(Ebisu)
※ Bakeries taking part
RELATED ENTRIES
This Week's Breakfast: French Toast at Bread, Espresso & in Omotesando

Once thing I do at least once a week without fail is treat myself out to some delicious food or dessert. It's very important time well spend in order to live a happy life.

Today, I went out for breakfast. I got up a little earlier than usual and headed to my favourite cafe, Bread, Espresso & which is located in Omotesando.

It's really easy to get to: it's just a 5-minute walk from the A2 exit of Omotesando Station. Mornings are quiet in Omotesando, you don't see many people walking around, so it feels like a completely different place compared to its busy streets during the day.

When you enter the cafe, the smell of freshly-baked bread is the first thing to hit your senses. I sat down on one of the comfy sofa-seats and ordered myself the French toast breakfast set.

There's plenty of space between tables, so it's an environment that's easy to kick back and relax in.

Inside and outside the cafe are cute signs with that day's recommended menu items written on them. Next time I visit I think I'll try one of the lunchtime desserts. That's what I daydreamed about while waiting for my French toast to arrive.

French Toast Set w/Drink – ¥800

The French toast has a subtly sweet scent. It's made with one of the cafe's popular foods: the butter-loaded bread known as "Muu."

The toast's crusts were nice and crunchy while the middle part was fluffy. The soft bread just melts in your mouth when taking a bite, and your taste buds are treated to the sweet flavour of the egg.

The toast is delicious as it is, and you can totally leave it at that and enjoy your morning breakfast. But if you want to take it to the next level then you can drizzle the accompanying honey over the toast, giving the sweetness an even richer flavour.

I'm usually not good with the characteristic sweet taste that honey has, or the bitterness layered into the overall flavour, but this honey was on the milder side so I really enjoyed it.

After my food, I enjoyed the cappuccino the barista beautifully made for me which comes as part of the set.

My 1-hour morning was spent even more relaxed than usual here. It's much different from lunchtime which is a much busier and hurried time, so I could sink in my chair and really enjoy my drink too.

Waking up early and enjoying a relaxing breakfast. That's all I did, but it helped ease my busy mind and soul. I'm a simple person, and I think I'll be able to face my week and work hard at it after this.

Today's Presents

Futsu Furu Fig Sandwich – ¥420

Futsu Uni Fruits – ¥400

I wanted to share the happiness between friends and family on this fine day where I got to eat a delicious breakfast. These sandwiches are packed full of fruits―seasonal fruits which are best enjoyed right now. If you're wondering what other sandwiches they sell then be sure to visit.

Writer: Sayuri Mizuno (MOSHI MOSHI NIPPON)

Translator: Joshua Kitosi-Isanga

Information

Bread, Espresso &

Address: 3-4-9 Jingumae, Shibuya, Tokyo

Business Hours: 8:00-20:00

No Fixed Holidays

Miffy Sakura Kitchen Opens Second Shop with Bakery in Yufuin

Miffy Sakura Kitchen, Arashiyama, Kyoto will open a forest-themed shop with an adjoined bakery in Yufuin, Oita on October 31, 2019.

As you enter the new shop, you will be immersed in its happy, warm and comforting atmosphere. Miffy Sakura Kitchen is popular for its Japanese-style kitchenware and miscellaneous goods which cannot be found anywhere else in Japan. The shop will also have an adjoining bakery area called Miffy Mori no Bakery, where customers order their favourite treats to take out. This includes the popular anpan bun, which is a bun containing sweet red bean paste. There will also be character-themed baked goods, soft serve ice cream, drinks and much more. 

You can order your delicious baked goods to go so you can explore the beautiful area of Yufuin, or you can choose to eat inside the bakery's beautiful and photogenic eating area. 

Miffy's good pal Boris will also be making an appearance at the brand new shop. His design will decorate some of the Miffy Sakura Kitchen-limited kitchenware and even some of the baked goods in the bakery. 

Information

Yufuin Miffy Mori no Kitchen/ Miffy Mori no Bakery

Address: 1503-8 Kawakami, Yufuin-cho, Yufu-shi, Oita

Opening Hours: 9:30 ー17:30 (subject to change)

Open all year round/

Grand opening: October 10, 2019

Miffy Sakura Kitchen Official Website: http://www.miffy-sakurakitchen.jp

Popular Tokyo Café Bakery BREAD, ESPRESSO & to Open in Fukuoka

Bakery café BREAD, ESPRESSO & has made quite a reputation in Omotesando, Tokyo for its stylish interior and delicious coffee and bread. The bakery café is now opening a new branch in Fukuoka called BREAD, ESPRESSO & HAKATA & on September 25th, 2019.

To commemorate 10 years in business, BREAD, ESPRESSO & will be opening their first ever branch in Hakata, Kyushu. The café bakery will be nestled between Hakata Station and CANAL CITY HAKATA. Whether you are a busy commuter looking for a heartwarming cup of coffee or a traveling tourist, the location is ideal for anyone looking for a quick rest stop. 

The new café bakery is approximately 165 m² in size, making it the largest branch. The shop is decorated with a pure white base theme and has the perfect comfortable environment to enjoy a coffee. 

Mu: ¥330 (after tax)

French Toast: ¥750 (after tax)

BREAD, ESPRESSO &'s popular Mu and French Toast will be on the menu along with Hakata-limited goods. If you are searching for some delicious bread in Hakata, please make your way to BREAD, ESPRESSO &.

Information

BREAD, ESPRESSO & HAKATA & (パンとエスプレッソと博多と)

Address: 101, 2-8-12, Hakata Ekimae, Hakata Ward, Fukuoka 

Opening Hours: 8:00 ー 20:00

No regular holidays. 

TEL:092-292-1190

Website: http://www.bread-espresso.jp/

Try Some Irresistibly Fluffy Flavoured Bread Made With the Finest Ingredients

Delicious Bakery Ippondo has opened up shop at 118 locations across Japan. To celebrate summer, Ippondo is currently selling different varieties of "Shokupan". Shokupan is a fluffy rectangular block of bread that the Japanese just cannot get enough of. This year, Ippondo has released two flavours of Shokupan, namely Hoji tea and Hokkaido Milk. They are also bringing back their Salt Shokupan and Ice Cream Shokupan that are usually released as summer-limited items and are a popular pick every time.

Hoji tea Shokupan: ¥340 (after tax)

In Uji, Kyoto, Japan-sourced wheat and specially selected tea leaves and stems are infrared-roasted and then used to make the Hoji tea for this bread. The bead is baked to perfection, leaving a mix of sweetness and faint bitterness as well as a beautiful aroma that will fill your mouth. It contains no caffeine, so even small children can enjoy this bread without any need for concern.  

Hokkaido Milk Shokupan: ¥320 (after tax) 

Ippondo will release their Hokkaido Milk Shokupan at the same time. This bread is made with 100% Hokkaido milk and no water. This is then combined with Hokkaido condensed milk for a deliciously mild, milky flavour and soft texture. This bread comes in a small size so that you can easily finish it off.

Salt Shokupan: ¥390 (after tax)

The Salt Shokupan is made using wheat sourced from within Japan and generous amount of luxurious calpis butter. This high-quality bread has a mild flavour and a crispy and light texture. You can enjoy it as it is, or toast it to really bring out the flavour of the salt.

Ice Cream Shokupan: ¥390 (after tax)

The Ice Cream Shokupan is made using generous amounts of pure and fresh calpis whipping cream, which does not harden even when cooled and melts in your mouth. To make a delicious sandwich, you could use ham or cheese, vegetables, and other cold ingredients for the perfect flavour combination.

In Japan, everyone looks forward to a slice of their favourite fluffy Shokupan to start off the day. This bakery is committed to making delicious bread that is both safe and made from high quality ingredients that are prepared with lots of care.

You just have to take a bite of Ippondo's freshly-made and delicious Shokupan!

The Premium Bread of Ginza Nishikawa Arrives in Japan's Tohoku Region

Ginza Nishikawa is a popular bread shop that opened its doors in Ginza last autumn. The store has announced that on June 27, it will open its 10th branch in Hirosaki, Aomori―the first to open in the Tohoku region.

The shop sells one product: a high-quality premium loaf whose water content Ginza Nishikawa are very particular about. The bread's chewy and slightly sweet taste is best enjoyed as it is―and on the first day. If left after the first day, you can enjoy a completely different tasting experience. This is because the water content decreases after day one. If toasted from the second day onward, the bread has a deliciously particular aroma which you don't get when the bread is soft.

This bread goes extremely well with Japanese ingredients and condiments, such as kinpira gobo (braised burdock root), nasu miso, narazuke pickles, pollock roe, shuto (pickled bonito entrails mixed with honey, mirin and sake), and so on.

Ginza Nishikawa also recommends eating the bread with alcohol, such as a light and slightly sour red or rosé, or a strong white. It also goes well with sparkling wine, especially brands from Japan. With cocktails, they recommend drinking fruity ones like peach, loquat, or yuzu. Bread is normally seen as a breakfast food, but this bread is also one to be enjoyed in the evening too.

Ginza Nishikawa's bread is handcrafted into delicious loafs that anyone can enjoy at anytime by their skilled bakers. The staff check the temperature of the weather and level of humidity to carefully calculate the rate of water absorption and fermentation time to ensure high quality results every time. And to make sure that the flavour and texture of the bread is exactly the same at every branch, the company created their own evaluation system.

The water in the bread is made with an alkaline ionizer which is what makes it so unique, giving it a smooth texture like silk.

The stores also sell four different cloths that wrap around a single loaf (¥1,296 tax included).

Be sure to stop by Ginza Nishikawa if you're passing through Aomori Prefecture.

Information

Ginza Nishikashi (Hirosaki Branch)

Grand Opening: June 27, 2019

Address: 1-2-9 Miyakawa, Hirosaki, Aomori Prefecture

Opening Hours: 11:00-18:00

*Reservations can be made from June 17, 2019 at 12:00 (JST) onward

Official Website: https://ginza-nishikawa.co.jp/

Presenting the Tokyo station bento lunch rankings to accompany your Golden Week travels!

Japan's favourite holiday Golden Week technically starts on Saturday 27th April. This year, the holiday stretches over a long 10 days and I'm sure there's many of you who will be taking the bullet train to travel or to visit your families! That's where Tokyo Station's best bento lunch rankings come in handy!

Gransta

1st place: Shrimp, crab & salmon bento (Tsukiji Sushi Sei, Marusei) ¥1,250 (price after tax)

This bento is packed with salmon and shrimp and pieces of crab meat. It's quite popular amongst girls!

 

2nd place: Beef in sweet ankake sauce served with fried rice (KAMONKA) ¥741  (price after tax)

Beef boiled in a special sweet ankake sauce and then dished up with fresh fried rice when the order comes in!

※ Sales may continue only until the start of summer.

3rd: place Ginger-fried pork bento (Asakusa Teppantei) ¥1,190 (price after tax)

The beef used is from Japanese Black cattle, which is sourced from within Japan. The strong ginger taste makes for a very adult-like flavour.

Ecute Tokyo

1st place: Large hamburg steak with kinako pork katsu bento (TSUBAME GRILL DELI)  ¥1,280  (price after tax)

You can enjoy both TSUBAME GRILL DELI's popular hamburg steak and pork katsu in one hearty serving!

※ Limited to Ecute Tokyo, only 50 of these bentos will be sold every day.

2nd place: Hifumi bento (Furusato ryouri Fukuzen) ¥1,350  (price after tax)

Flame-seared Kanzaki aged beef, sweet and spicy beef tendon boiled in soy sauce and Japanese pepper, and a hamburg steak made from beef and hakkinton (creamy, delicious pork), seasoned with shio-kombu. This is your chance to enjoy three different kinds of meat and deliciously seasoned kombu (kelp).

3rd place:  Yellowtail fish in teriyaki sauce and nori seaweed bento (Hakejyoyu Noribenyamanobori) ¥1,944 (price after tax)

This isn't too oily and the Japanese Amberjack yellowtail even remains plump and delicious when cooled. There are only a limited number of these bento and once they're gone, they're gone!

Extra:

Tokyo station bento: Nihombashi Daimasu, Tokyo  ¥1,680  (price after tax)

If you're looking for the perfect Tokyo ekiben (station-bought lunch box), this is it! It comes in a box with a beautiful Tokyo station print and retro wrapping. The contents are also delicious and carefully made, packed with the special flavours of an experienced bento-making shop.

Pop by to discover these lunches and enjoy the holidays!

Start your morning with one of Tokyo Station's 200+ delicious breads and pastries!

Tokyo Station City is a bread battleground where over 200 types of breads and pastries are sold. In this article we show you the top bread rankings at Gransta, ecute Tokyo and ecute Keiyo Street that serve up the perfect breakfast to start your day.

Gransta

 

1st Place – Curry Bread: ¥220 (Tax Included) @ BURDIGALA EXPRESS

Taking the No.1 spot in Gransta is BURDIGALA EXPRESS's curry bread cooked with spicy fillings.
*Tax-inclusive price to increase to ¥226 on April 1, 2019.

2nd Place – Croissant: ¥220 (Tax Included) @ BURDIGALA EXPRESS

A light and crunchy croissant wrapped delicately in rich butter.
*Tax-inclusive price to increase to ¥226 on April 1, 2019.

3rd Place – Pain au Chocolat: ¥240 (Tax Included) @ BURDIGALA EXPRESS)

Known as a "chocolatine" in southern France, this puff pastry-like delight is full of delicious chocolate.

*Tax-inclusive price to increase to ¥248 on April 1, 2019.

4th Place – Croissant B.C.: ¥292 (Tax Included) @ Daisy Tokyo

An almond cake wrapped in a croissant pastry and topped with cookie dough and almonds.

5th Place – Onion Curry Bread: ¥324 (Tax Included) @ Boulangerie Asano

This tasty curry bread is made with rich onions. The outside is crunchy without being greasy.

ecute Tokyo

1st Place – Tokyo Brick Bread: ¥287 (Tax Included) @ Tokyo Anpan Mame-Ichizu

Made to look like the red bricks of Tokyo Station this bread is filled with adzuki beans and a specially made cream before being stamped with the station's name.

2nd Place – Denmark Sausage Roll: ¥291 (Tax Included) @ Andersen

A soft rolled pierced with a Denmark sausage and topped with cheese perfect for lunch or just a quick bite to eat.

3rd Place – Tokyo Red Bean Paste Pancake: ¥480 (Tax Included) @ Tokyo Anpan Mame-Ichizu

A 'pancake sandwich' smothered in butter and packed with large-grained red beans from Tokachi District, Hokkaido.

4th Place – Tochiotome Strawberry Cream Anpan: ¥280 (Tax Included) @ Tokyo Anpan Mame-Ichizu

The strawberry cream is made with Tochiotome strawberries which have a full-bodied flavour. This is mixed with coarse sweet red bean paste to create something both delicious and cute-looking.

5th Place – Milk France: ¥172 (Tax Included) @ Andersen

This bread has a light and piquant texture to it and is filled with cream that has a milky flavour. The delicious taste of the cream with the bread gives it a distinct flavour.

ecute Keiyo Street

 

1st Place – Beef Stew: ¥292 (Tax Included) @ Boulangerie La Terre

An interesting mix that combines a chewy doughnut and slow cooked beef stew.

2nd Place – Happiness Calling Cream Bread: ¥195 (Tax Included) @ Boulangerie La Terre

The Jersey cattle milk used to make the custard cream filling is rich in flavour but light in texture. Everything is wrapped in a fluffy dough with a cute smiling face on it.

Chickpea Curry: ¥216 (Tax Included) @ Boulangerie La Terre

A curry doughnut stuffed with chickpeas. The slow cooked roux complements and bring out the flavours of the beef and vegetables even more.

Start your morning off with a hearty breakfast at Tokyo Station!

Follow on from last year's picks, Pansta ('Bread Star'), Japan's biggest community site for bread lovers across the country, has announced its list for this year's Bread of the Year. This year's winners includes a long line-up of 7 different breads.

<Baguette Category: Gold Prize>

Pick: Baguette Rabbit / Baguette Rabbit (Nagoya, Aichi Prefecture)

Nagoya's popular pastry shop Baguette Rabbit opened a branch in Tokyo in February this year to positive reception. Their iconic baguette, named after the shop itself, is made from wholewheat flour farmed in Mie Prefecture. It has a crispy texture and boasts a rich and deep flavour. When eating, it comes apart lightly and softly in the mouth. The sweetness from the wheat and its overall delectable flavour has captured the attention of bread lovers across Japan.

<Bread Category: Gold Prize>

Pick: Toshi's Shokupan / Toshi (Nikko, Tochigi Prefecture)

Toshi is located in Tochigi Prefecture surrounded by the lush natural environment of Nikko. Each and every ingredient that is utilised in making this bread is carefully considered, from the high quality wheat flour farmed in Hokkaido and natural water and sugar beet found in Nagano Prefecture to the salt from Okinawa. Their shokupan is delicate and fluffy from the inside all the way to the crust. If you decide to toast it you'll be greeted with a sweet taste and a delicious smell from the wheat.

<Croissant Category: Gold Prize>

Pick: Croissant / Pain des Philosophes (Shinjuku, Tokyo)

It's almost been a year since pastry master 榎本哲 opened Pain des Philosophes in Kagurazaka. Each and every layer of his croissants is remarkably thin and rolled together with the utmost delicacy before being cooked to a glossy and beautiful colour. Spread between the layers is velvety AOP verified butter that gives the croissant flavour and richness.

<Bagel Category: Gold Prize>

Pick: Bagels / OZO BAGEL (Chuo, Tokyo)

OZO's selection of firm bagels take the gold prize in the bagel category with their New York-style brown colour. The choices include plain, sesame, poppy seed, onion, and more – including the 'Everything Bagel' which, as the name suggests, is topped with everything. One of these bagels is as heavy as a loaf of bread.

<Sandwich Category: Gold Prize>

Pick: Fresh Cream Sandwich / KAWA (Arita District, Wakayama)

This rich sandwich from KAWA is coffee flavoured which is complemented by a sweetness from the fresh cream and strawberry jam inside. This has been a locally loved bread in Wakayama for many years.

<Curry Bread Category: Gold Prize>

Pick: 4 Flavour Curry Breads / Temma Curry  (Meguro, Tokyo)

Crafted by the cooks at curry house Temma Curry, this curry bread boasts four flavours packed with richness and a variety of spices. Each flavour has its own quality which will has you wanting a second and third. Each bread is fried fresh, and the outside is nice and crunchy, offering the perfect texture to enjoy with the full-bodied curry.

<Bread Roll Category: Gold Prize>

Pick: Bread Rolls / Morioka Coppe (Ichikawa, Chiba Prefecture)

Morioka Coppe is credited with leading the bread roll boom in Japan. One of their classic menu items is an original creation filled with 'Morioka jaja-men noodles.' It takes a large, soft and fluffy bread roll and stuffs it with noodles laced with a sweet, spicy and rich sauce. One bite and you'll want to order another.

Pansta lists the bests breads from all over Japan, so if you're a lover of bread then be sure to use it as reference and find your new favourite.

Koukyuu Shoku Pan, or "high quality bread" is something that's being picked up by various news and media outlets in Japan these days and something a lot of people in the country will have heard of.

Nogami is a shop in Osaka that is said to have first come up with this kind of bread, and now they're taking it to Tokyo. The new branch officially opened in the capital's district of Azabu-Jūban on November 15, 2018.

1 Loaf: ¥432 / 2 Loaves: ¥864 (Tax Included)

The first branch of Nogami first opened in Osaka in 2013 in an effort to deliver excitement to the people of Japan through bread. When it hit the market word spread with people praising it for its melt-in-the-mouth dough, its pleasantly soft texture and elasticity, and its delicious, sweet taste all meant to be enjoyed untoasted. A mere 5 years have passed since the shop first opened and now it boasts over 100 branches across Japan where they sell around 50,000 products in a single day.

Over 100 customers rolled up to the new branch in Azabu-Jūban on its first day proving its popularity. At no point was the shop not busy from the time it opened at 11am – and everything sold out before closing hours!

No eggs are used when making the bread. It is made from 100% high quality wheat flour from Canada. Each and every loaf is carefully made individually by the shop's pastry experts. Because Nogami was the first to create this bread it means they've been able to perfect it over a long period of time.

This "raw" bread as they call it has a taste and texture you can't get anywhere else. Try it yourself at the first ever shop in Tokyo.

Information

Nogami – Azabu-Jūban Branch

Address: Azabu KF Bldg. 1F, 1-9-7 Azabu-Jūban, Minato Ward, Tokyo

Opening Hours: 11:00-18:00

Closed: Tuesdays

TEL: 03-6441-3188

*There is a limited stock of this product at this branch each day.

Main Branch – Osaka Uehommachi

Address: 2-2 Uenomiyachō, Tennōji Ward, Osaka, Osaka Prefecture

Opening Hours: 11:00-18:00

Closed: Mondays (except on national holidays)

TEL: 06-6773-6488

*There is a limited stock of this product at this branch each day.

Nogami Official Website: http://nogaminopan.com/

Purple-Coloured Halloween Cat Bread Set Pouncing on Blue Jean Bakery in Osaka

For a limited time only, the Blue Jean cafe and bakery located in Hotel New Hankyu Osaka will sell its new 'Iro Neko Halloween Set' for 7 days from October 25.

Blue Jean has taken its popular cat bread, mixed it with more ingredients to make it even more delicious and made it purple. The set itself comes with the bread and some Halloween merch and goodies.

Iro Neko Halloween Set

The bread is grape flavoured and is mixed with dried cranberries and raisins. It comes decorated with bat and witch hat shaped sablé shortbread cookies. The set also includes pumpkin flavoured cat paw and financier baked desserts. It also comes with a cute blanket which will be very useful for the coming cold season.

Information

Iro Neko Halloween Set

Running: October 25, 2018 – October 31, 2018

*30 available per day on weekdays / 60 available per day on weekends

Price: ¥2,200 (Tax Included)

Available: Blue Jean Cafe & Bakery on floor B1F of Hotel New Hankyu Osaka

Selling Time: 8:00-22:00

TEL: 06-6372-5101

niko and … COFFEE is a cafe popular for its bread rolls, and they have announced an update to their menu which will see 6 new items added to the list on October 13.

The cafe is part of "niko and …", a lifestyle brand who also designed and manage the cafe. People have publicly expressed the great flavor and cute appearance of the cafe's bread rolls ever since they arrived in November 2016.

The new bread rolls to arrive at the cafe―bringing the total up to 12―is a mix of three sweet and three salty bread rolls with a range of different bases including cream cheese, custard and more.

Pick from Tiramisu, which is made with rich tiramisu cream and a homemade coffee syrup; Blueberry Rare Cheese, a mix of full-bodied rare cheese and juicy blueberries; Mentai Potato, which is filled with a potato salad made from a fusion of walleye pollack roe and potatoes, both from Hokkaido; Hire Katsu Taru Taru, a sweet and spicy mix of ingredients drizzled in lots of tartar sauce; and more.

Be sure to head to one of the niko and … COFFEE branches listed below from October 13 to try out these new delicious selections.

Information

niko and …COFFEE

On Sale: October 13, 2018

Price: From ¥300 (Tax Included)

Branches: niko and … TOKYO, LaLaport Ebina, LaLaport Fujimi, Aeon Mall Kofu Showa, Nara Family, Umeda HEP FIVE

Website: http://www.dot-st.com/nikoand/

New Otani Hotels Extends Sales Period of Dreamy Croissants

You've only got a small chance of being able to try the Amaou Crossaints at Satsuki, a pastry shop owned by New Otani Hotels Tokyo. That's because only 10 of these premium sweet croissants are sold per day. You've got to be quick, and luckily they have extended the sales period to run until July 16. Additionally, they are now selling a new mango croissant for the summer season.

Amaou Croissant

Shinsuke Nakajima is a Japanese pastry chef who created the Super Series, a name that has become synonymous with New Otani Hotels. The Amaou Croissant is a dessert croissant that was developed in January this year and the first in the series. Nakajima came up with the idea because he wanted to make something where it tastes like you're eating pure amaou, a type of strawberry. It looks luxurious, and everything from the pastry to the jam filling has been made to the utmost perfection thanks to Nakajima's skills. It takes much time and calculation to make just one of these croissants, to they limit sales to 10 per day. Once the behind-the-scenes story on the croissants' production hit TV they were covered across media sources and sold out straight away.

Mango Croissant

Mangoes are the king of summer fruits, and this new dessert croissant is packed with them. The center contains juicy and flavourful mango and passion fruit jelly. They're made using a special process that consists of cooking them at 200℃ in the oven. It's then sprinkled with white chocolate and freeze dried mangoes. When you sink your teeth into one of these it's just a refreshing explosion of delicious mango.

Almond Chocolate Croissant

A chocolate croissant made the Hotel New Otani way with a marzipan containing almonds and chocolate, and a specially-made dough.

Matcha Croissant

This croissant is very much Japane-esque, made with matcha flavoured marzipan, matcha jelly and strained bean paste. It also has white chocolate and salt obtained from burning seaweed. The green colour brings to mind the traditional Japanese-style gardens of Hotel New Otani which are 400 years old.

Which of this dreamy croissants do you want to try the most?

■Information

Mango Croissant / Amaou Croissant / Almond Chocolate Croissant / Matcha Croissant

Price: ¥800 each (pre-tax)

*10 per day

*Amaou Croissant available until July 16

Time: 11:00-21:00

Reservations / Enquiries

Hotel New Otani (Tokyo) Patisserie Satsuki

Address: The Main Lobby, 4-1 Kioicho, Chiyoda-ku, Tokyo

TEL: 03-3221-7252

Website: http://www.newotani.co.jp/tokyo/restaurant/p_satsuki/index.html?Psubid=1069