This Week's Breakfast: French Toast at Bread, Espresso & in Omotesando
One thing I do at least once a week without fail is treat myself out to some delicious food or dessert. It's very important time well spent in order to live a happy life.
Today, I went out for breakfast. I got up a little earlier than usual and headed to my favourite cafe, Bread, Espresso & which is located in Omotesando.
It's really easy to get to: it's just a 5-minute walk from the A2 exit of Omotesando Station. Mornings are quiet in Omotesando, you don't see many people walking around, so it feels like a completely different place compared to its busy streets during the day.
When you enter the cafe, the smell of freshly-baked bread is the first thing to hit your senses. I sat down on one of the comfy sofa-seats and ordered myself the French toast breakfast set.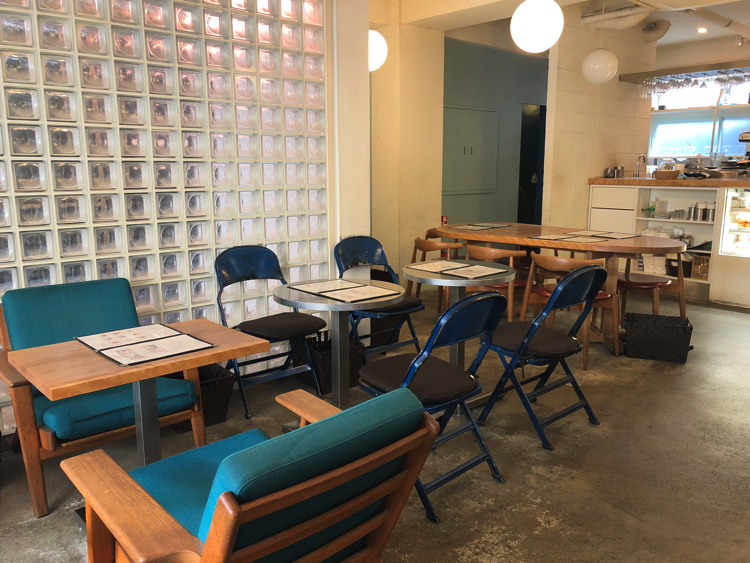 There's plenty of space between tables, so it's an environment that's easy to kick back and relax in.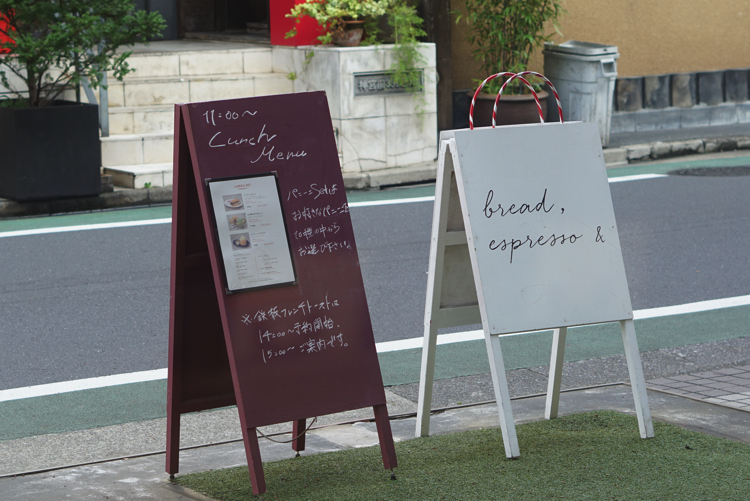 Inside and outside the cafe are cute signs with that day's recommended menu items written on them. Next time I visit I think I'll try one of the lunchtime desserts. That's what I daydreamed about while waiting for my French toast to arrive.
French Toast Set w/Drink – ¥800
The French toast has a subtly sweet scent. It's made with one of the cafe's popular foods: the butter-loaded bread known as "Muu."
The toast's crusts were nice and crunchy while the middle part was fluffy. The soft bread just melts in your mouth when taking a bite, and your taste buds are treated to the sweet flavour of the egg.
The toast is delicious as it is, and you can totally leave it at that and enjoy your morning breakfast. But if you want to take it to the next level then you can drizzle the accompanying honey over the toast, giving the sweetness an even richer flavour.
I'm usually not good with the characteristic sweet taste that honey has, or the bitterness layered into the overall flavour, but this honey was on the milder side so I really enjoyed it.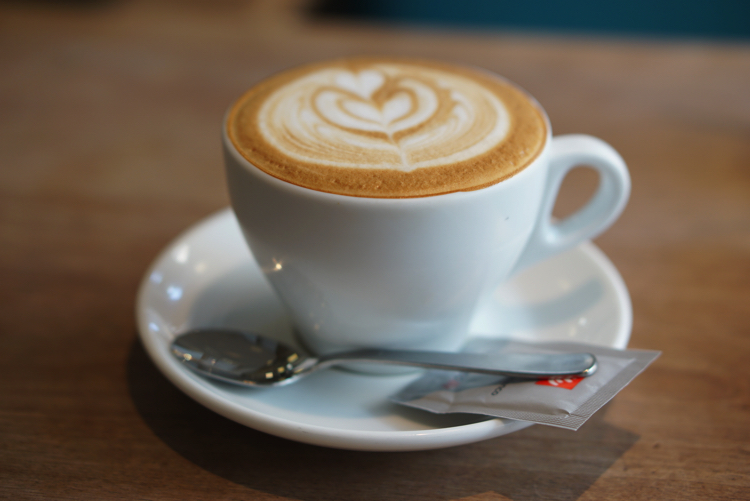 After my food, I enjoyed the cappuccino the barista beautifully made for me which comes as part of the set.
My 1-hour morning was spent even more relaxed than usual here. It's much different from lunchtime which is a much busier and hurried time, so I could sink in my chair and really enjoy my drink too.
Waking up early and enjoying a relaxing breakfast. That's all I did, but it helped ease my busy mind and soul. I'm a simple person, and I think I'll be able to face my week and work hard at it after this.
Today's Presents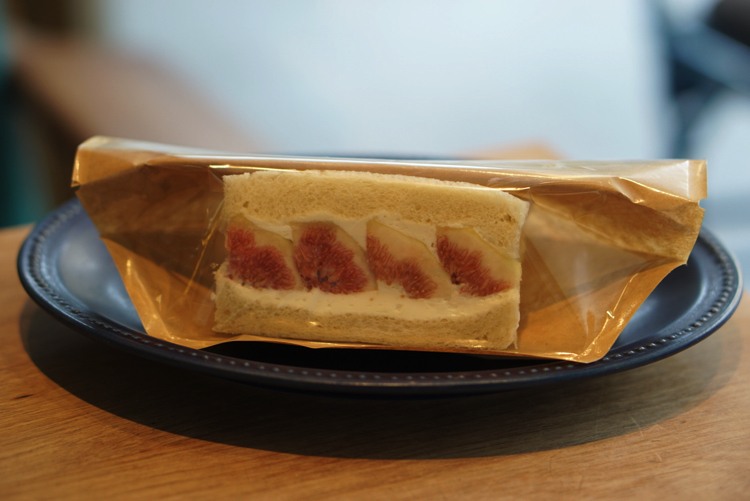 Futsu Furu Fig Sandwich – ¥420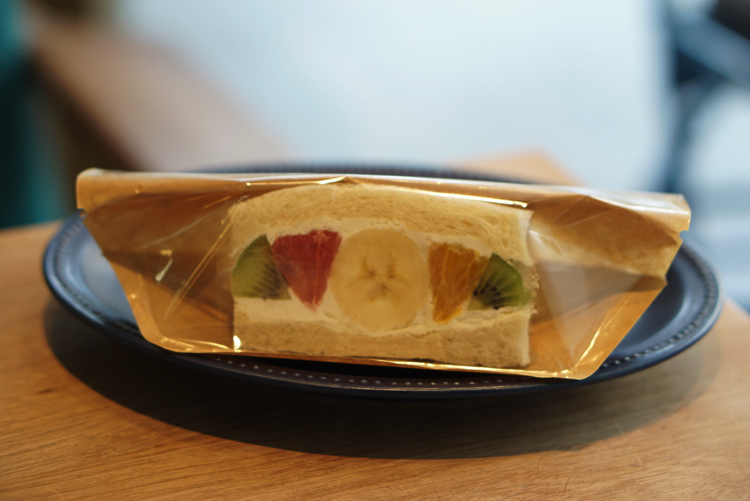 Futsu Uni Fruits – ¥400
I wanted to share the happiness between friends and family on this fine day where I got to eat a delicious breakfast. These sandwiches are packed full of fruits―seasonal fruits which are best enjoyed right now. If you're wondering what other sandwiches they sell then be sure to visit.
Writer: Sayuri Mizuno (MOSHI MOSHI NIPPON)
Translator: Joshua Kitosi-Isanga
Information
Bread, Espresso &
Address: 3-4-9 Jingumae, Shibuya, Tokyo
Business Hours: 8:00-20:00
No Fixed Holidays
RECOMMENDED ENTRIES
Tokyo Stroll: Indulge at Harajuku's Conveyor Belt Dessert Cafe 'MAISON ABLE Cafe Ron Ron'

MAISON ABLE Cafe Ron Ron is a new hot spot in Harajuku that has been popping up all over Japanese social media. It's so popular that it's common to see lines of people waiting outside to get in, and that's due to the fact that this is the world's first-ever all-you-can-eat conveyor belt dessert cafe!

MMN decided to visit the cafe to see what all the fuss was about. Unfortunately, it was raining on the day, but that didn't stop the smiles on girls' faces waiting outside for it to open which gleamed like a clear summer's day.

We visited the cafe with Japanese model Rinko Murata who has a weakness for sweet things and whose anticipation for this place was growing.

Upon entering the cafe you must first buy a ticket from the ticket machine. It costs ¥1,800 (tax included) for all-you-can-eat desserts and a drink.

This is the drink shelf. You can choose your favourite from a selection of colourful beverages that come in original bottles.

Rinko-chan picked out a photogenic-looking drink too!

If you stand against the pastel pink walls you can snap a cute photo from any angle!

Rinko-chan was quick in wanting to snap one. There are messages written over the walls too. It makes you want to take your dessert in hand and take lots of pictures.

The dessert lane stretches a sweet 38 meters. There are over 25 delights to choose from which appetisingly pass by one by one. They arrive crowning pastel coloured plates looking like precious gems and jewels. There's even light savoury food in addition to the sweet stuff.

You're allowed 40 minutes. Heaven begins as you sit down: pick, take a photo, tuck in and repeat.

Is this one an ice cream? It actually isn't – underneath the cone hides potato salad! This is one of the non-dessert light foods and is perfect for cleansing your palate. There's a meat ball burger, nikuman meat bun, popcorn and others too. (And keep in mind that items change depending on the season!)

All the sweets are bite-sized meaning you can enjoy lots of different kinds one after the other.

"Eating something this cute feels such a waste!" commented Rinko-chan.

Piling up the plates after you've finished is kinda fun too!

The shortcake dessert with the black cat wafer is the most popular. Only 10 of them come by in an hour. Rinko-chan was lucky enough to get her hands on one.

The cat has an iconic presence in the cafe. In fact, the "Ron Ron" in the cafe's name comes from French and refers to the purring sound a cat makes when it's happy.

There's a super cute girly powder room up on the second floor.

They have hair straighteners, makeup and other bits and bobs that customers are free to use. Use of the powder room isn't included within the time restriction of the all-you-can-eat service, so once you've filled your belly with treats you can hit it up, touch up your makeup and head out shopping.

If you're in Harajuku why not enjoy lots of desserts and a girly time over at MAISON ABLE Cafe Ron Ron?

MOSHI MOSHI NIPPON Social Media Campaign

Running: November 29, 2018 – December 4, 2018

We are giving away chekki photographs of Rinko Murata randomly to 2 lucky people who follow us on either our Instagram, Twitter or Weibo pages and share this article (or hit 'Like' on Instagram). Anyone from around the world can participate in this campaign, so get involved!

Writer: Ai Watanabe

Photographer: Haruka Yamamoto

Translator: Joshua Kitosi-Isanga

Information

MAISON ABLE Cafe Ron Ron
Address: 6-7-15 Jingumae, Shibuya, Tokyo
Business Hours: 11:00-19:00 (Last Orders 18:00)
TEL: 03-5468-8290
Price: ¥1,800 (Tax Included) w/drink [40 Minutes Allowed]

Website: https://cafe-ronron.com/

6 Must-Visit Little-Known Good Cafés in Omotesando

Omotesando―The hub for the latest trends and fashion in Japan, home to iconic landmark stores and sites aimed at the country's youth to cafés and restaurants that make you feel like a celebrity. Weekends are an especially busy time in the high-end avenue of Omotesando where shops and streets bustle with lines of locals and tourists out on shopping sprees.

Today we are joined by Japanese Instagrammer omao who's in-the-know when it comes to cafes, something you can tell with just one glimpse of their page. For those of you who are left wondering where to stop off for a coffee break or some lunch during your visit to the Omotesando and Harajuku area, omao is here to show you some stylish and little-known good spots.

Bread, Espresso &

At Bread, Espresso &, you can enjoy some seriously bread and coffee. This café and bakery offers both dine-in and takeout services. It's tucked away from the main street just a 5-minute walk from Omotesando Station's A2 exit.

On my visit this time, I ordered several different bread options. Everything looked so delicious that I felt spoiled for choice!

Red bean butter. There's no way on earth that could ever be unappetising. The pastry is super soft. Each individual order is packaged in its own bag which left a good impression with me in the hygiene department.

▼Bread, Espresso &

Address: 3-4-9 Jingumae, Shibuya, Tokyo

Business Hours: 8:00-20:00

No Fixed Holidays

Website: http://www.bread-espresso.jp/

CHAVATY

CHAVATY is a café specialising in milk tea. This one is also within just 5-minutes walking distance from the A2 exit of Omotesando Sation.

When I took this photo I ordered the tea latte and scone set. When you order an iced tea latte it comes in a cute bottle, but it was hot on this day so I got it hot. What surprised me from the get go was hot big the drink is! It's hugely satisfying, you really get your fill.

The houjicha latte I tried once was tasty too, but I was interested in the uva milk tea this time around. The scones were scrumptious as well! I particularly liked the honey-like fruit that comes with them.

▼CHAVATY

Address: Minami-Harajuku Bldg. 1F, 4-6-9 Jingumae, Shibuya, Tokyo

Business Hours: 10:00-20:00 (Last Orders 19:30)

No Fixed Holidays

Information: https://tabelog.com/tokyo/A1306/A130602/13224245/

montoak

montoak is a suspicious-looking building just an 8-minute stroll from Harajuku Station. It's my favourite spot; I've been here so many times.

The menu is delicious and there are lots of seats. My weakness is the Gorgonzola cheesecake.

▼montoak

Address: 6-1-9 Jingumae, Shibuya, Tokyo

Business Hours: 11:00-03:00

No Fixed Holidays

Website: https://www.montoak.com/

LATTEST

Another 5-minute stroller from Omotesando Station's A2 exit is LATTEST which I place in my top three favourite cafés in Omotesando. It can be a little hard to find, but it's a lot bigger than I thought.

I experienced their seasonal rose mocha. Simply amazing! Milk foam is just what I like. It's smooth and moist, and there's not a lot of it so it's not heavy. I like the coffee beans they use too. Cafés that have tasty mochas are just the best, right?

▼LATTEST

Address: LATTEST 1F, 3-5-2 Jingumae, Shibuya, Tokyo

Business Hours: 10:00-19:00

No Fixed Holidays

Website: http://www.lattest.jp/

The Local Coffee Stand

The Local Coffee Stand is sandwiched in the middle of Shibuya and Omotesando and about an 8-minute walk from Omotesando Station.

Their lattes are so, so good! First up, the foam is plump, and the sweetness of the milk really stands out. And the espresso, although it's full-bodied, isn't bitter and mixes deliciously with the milk. The coffee beans and food are both high-quality like that of a select shop, so I wanted to try eating and drinking everything they had.

I recommend the macadamia cookies. They have an eggy fragrance and are just mouth-watering.

I pretty much liked everything about this place.

▼The Local Coffee Stand

Address: 2-10-15 Shibuya, Shibuya Ward, Tokyo

Business Hours: Weekdays 8:00-20:00 / Weekends 9:00-19:00

No Fixed Holidays

Website: http://thelocal2016.com/

Franze & EVANS London

This is a popular Italian cafe-deli based in London. It's located away from the busy main street and can be reached in just 3-minutes from exit A3 of Omotesando Station.

During those awkward times when you want to eat a salad but want to eat cake too then this is the place you need to go. Their carrot cake is truly amazing, as is their salad. All the cakes they sell just seem to sparkle before you that it's nearly impossible to pick just one. The lemon cake caught my attention too…

It doesn't need to be said how great everything tastes, but the portions need to be mentioned as they are nice and hearty, and I love this place because of it.

▼Franze & Evans London

Address: Franze & Evans London 1F, 4-9-4 Jingumae, Shibuya, Tokyo

Business Hours: [Mon-Sat] 11:00-22:00 (Last Orders 21:30) / [Sun & Holidays] 11:00-21:00 (Last Orders 20:30)

No Fixed Holidays

Website: http://www.franzeevans.jp/#/

Did you enjoy these picks? omao has plenty of other recommendations and photos of coffee and desserts over on their Instagram page. If you're stuck for choice on what café to visit while in the city then be sure to follow them on Instagram.

Photo & Text: omao

Translation: Joshua Kitosi-Isanga

Popular Bean to Bar chocolate shop Dandelion Chocolate opens in Omotesando!

There's always a queue outside Bean to Bar chocolate specialist shop Dandelion Chocolate, Kuramae. Dandelion Chocolate has just opened in Omotesando with a new concept!

Kuramae's Bean to Bar chocolate specialist shop Dandelion Chocolate has opened in Omotesando with a new concept ー they sell chocolate, desserts, drinks and much more. Each one of these sweet treats is of a single origin that you can enjoy in the same area as it was produced. If you take a seat inside the cafe and order from the cade menu, you will receive a marshmallow!♡

The cacao fruit smoothie is made from the exotic cacao fruit. If you break through a husk of cacao fruit, the insides are white. I bet there's barely anyone out there who's tried the hidden fruit of cacao!

There are three kinds of chocolate eclair. Each chocolate is made with specially selected and prepared ingredients to fully embrace the unique origin of the chocolate and enhance its flavours. The flavors are; Zorzal Comunitario Dominican Republic​, Maya Mountain Belize andCahabon Guatemala!

They also serve Omotesando-limited soft serve ice cream such as chocolate, the delicious and nutritious nibu milk, and mix! Please come try them!

They also serve Omotesando-limited soft serve ice cream such as chocolate, the delicious and nutritious nibu milk, and mix! Please come try them!

Information

Dandelion Chocolate Bean to Bar Lounge Omotesando GYRE

GYRE B1 HAY TOKYO, 5-10-1, Jingumae, Shibuya, Tokyo

TEL: 03-5962-7262
RELATED ENTRIES
PEANUTS Cafes and Diners Across Japan Release Christmas-Limited Snoopy Courses

If you're a Peanuts fan, you can't miss out on the gorgeous Christmas menu which will served up at the PEANUTS Cafe Nakameguro, PEANUTS DINER Yokohama and PEANUTS DINER Kobe from December 2 – 25. 

Order the Christmas Dinner course for a large angus beef steak drizzled with a sweet and tangy sauce made of berries and raspberry vinegar.

After your dinner enjoy the luxurious Christmas desserts plate of bite-sized treats such as a soft and tender canelé and sweet madeleine. The plate is decorated with a Christmas Snoopy pick where Snoopy's face can be seen peeking through a wreath. 

You don't have to book in advance but we recommend you do. This can be done via the links in the information section below.

Order the Salmon Cheese Gratin Christmas Plate for a luxurious course of mains, salad and dessert all on one tray. The sautéd salmon is the steal of the show as it sits in a bath of creamy stew and is topped with a generous layer of cheese. This is served alongside fluffy bread branded with Christmas designs that will definitely put you in the Christmas spirit. A Snoopy pick replaces the traditional cherry on the sundae that will leave you with a sweet aftertaste after your meal.

The White Hot Chocolate is the perfect way to ward off the cold of winter. Like a white blanket of snow, white chocolate milk fills the cup and is topped with the traditional colours of Christmas. Allow yourself to be soothed by the drink's mild sweetness.

Make the most of your Christmas with Snoopy and friends. 

© 2019 Peanuts Worldwide LLC

Information

Christmas Dinner Course

Price: ¥3,900 (Before Tax) Per Person

Locations: PEANUTS DINER Yokohama and Kobe

Reservations:

PEANUTS DINER Yokohama: http://www.peanutsdiner.jp/christmas_2019

PEANUTS DINER Yokohama and Kobe: http://www.peanutsdiner.jp/christmas_2019_kobe

* Reservations can also be made on the day.

Salmon Cheese Gratin Christmas Plate

Price: ¥2,500 (Before Tax)

Location: PEANUTS Cafe Nakameguro

White Hot Chocolate

Price: ¥800 (Before Tax)

Location: PEANUTS Cafe Nakameguro

PEANUTS Cafe Nakameguro

Address:  2-16-7 Aobadai, Meguro-ku, Tokyo

Official Website: http://www.peanutscafe.jp/

PEANUTS DINER Yokohama

Address: MARINE & WALK YOKOHAMA 2F, 1-3-1 Shinko, Naka Ward, Yokohama, Kanagawa 

Official Website: http://www.peanutsdiner.jp/

PEANUTS DINER Kobe

Address: PEANUTS HOTEL 1F, 1-22-26 Nakayamatedori, Chuo Ward, Kobe, Hyogo

Website: http://www.peanutsdiner.jp/kobe/

KIRBY CAFÉ to Release 15 More Café-Style Arrangements of Kirby Songs on CD

The KIRBY CAFÉ will be releasing its second CD soundtrack called Sound of Kirby Café 2 on December 12. The soundtrack will be available to purchase from the KIRBY CAFÉ and KIRBY CAFÉ THE STORE in Japan.

The KIRBY CAFÉ has only ever been a temporary café that makes an appearance now and again. However, it is finally sticking around for good from December 12. To celebrate, the café has a whole lineup of new songs. 

HAL Laboratory, Inc. is the official sound team behind the Kirby's Dream Land game series They have carefully selected 15 original songs from the game and arranged them specifically for use in the café.

A team of six musicians, some of which are new, got together to create a variety of Kirby song arrangements. From sophisticated yet relaxing cafe-style songs to cute songs which represent the pop colours of the mains and desserts, each song perfectly preserves the catchy features of the original. From the careful song selection, the sound direction was done by Kirby's Dream Land's general director Shinya Kumazaki from HAL Laboratory, Inc.

​The KIRBY CAFÉ and store are also giving away free stickers decorated with the special design on the CD. These stickers are in limited supply and can only be obtained by purchasing the soundtrack from the café or official store. Information on general sales and online sales will be announced in the future. 

Whether you're cosying up on the couch or on the way to work, let the ​KIRBY CAFÉ's official soundtrack create the perfect atmosphere for you. 

© 2019 HAL Laboratory, Inc. /Nintendo

Information

Sound of KIRBY CAFÉ 2

Release Date: December 12, 2019

Price: ¥2,200 (Before Tax)

Contents: 1 CD, Card Jacket, 6-Page Leaflet

Catalog Number: KBCI-00014

Sound of KIRBY CAFÉ 2 Special Website (Japanese Only)

Indulge in Omotesando This Christmas With Q-Pot CAFE.'s Afternoon Tea Set

Christmas is almost here, and at Q-pot CAFE. in Omotesando, the festivities have already begun as they begin serving a selection of special Christmas-exclusive menu items. These will be available until December 25.

Q-pot. is known for its accessory brand, which features jewellery made to look like sweets and desserts. It is also known for the Q-pot CAFE. which flips that concept, instead making sweets and desserts that look just like real accessories.

I visited Q-pot CAFE. to treat myself to their exciting Christmas afternoon tea.

Q-pot. Omotesando is a 7-minute walk from Omotesando Station's A2 exit. You'll spot the entrance by its sparkly illuminations as pictured above.

The cafe is split into seven concept rooms, such as Melt, Chocolate, BisQuit, SAKURA, and so onーso you can pick which sounds good to you and sit there. It also gives a reason to go back more than once!

The Story of Sweet Kingdom Afternoon Tea Set ¥2,400 (Tax Included/Drink Included)

The afternoon tea set: an indulgence any cafe-lover craves for at least once. And since Christmastime is coming, you want to enjoy a little treat too, right? Well, this two-tiered set comes with desserts, sweets, and some light food too.

The top plate includes gingerbread man pops, cupcakes, vanilla panna cotta, and macarons.

The gingerbread man pops are filled with caramel ganache, while the red velvet cupcakes topped with pistachio cream and made to look like a Christmas tree. The panna cotta is also sprinkled with dragees to look like stardust.

The macarons are strawberry and melon flavoured. The melon one has a particularly rich flavour and contains red melon pieces. This macaron is so popular that there are people who go to Q-pot CAFE. just to sink their teeth into one of them.

The bottom plate contains some hearty and crunchy  croissants filled with roast beef, mini tomatoes, and broccoli. It also comes with a side of rich cheese soup with onions and potatoes inside.  It's a great palate cleanser after the desserts.

Pistachio Cream Tea Latte ¥750 (Tax Included) *Also sold separately

The drink that's served with the afternoon tea set is a Christmas-only pistachio cream tea latte.  It's a latte made with one of the cafe's original flavoured tea brews called "Flower Garden." The tea ensures the drink isn't overly-sweet and leaves it with a mild flavour. It also comes with a holly-shaped cookie. This drink is also available to order separately from the drinks menu.

The set comes with a special fairy tale-like Christmas lunch mat.

CHRISTMAS CAKE ~The Story of Sweet Kingdom~ ¥3,800 (Tax Included)

The cafe is also selling a cake that looks like something out of a children's picture book. It's topped with a coconut meringue snowman, gingerbread man, and strawberry Santa. This would make a great addition to a home party.

Saku Saku Meringue ¥600 (Tax Included)

Take away some crunchy snow-white meringues too, so addictive you won't be able to stop after just one!

The cafe is also selling a Christmas collection of their dessert-like accessories too.

Christmas Tree Cupcake: Necklace ¥10,000/Bag Charm ¥8,000 (Before Tax)

The Christmas tree cupcake features a chocolate cookie-like base topped with a realistic pistachio cream adorned with pearls.

Strawberry Santa Claus: Necklace ¥10,000/Bag Charm ¥8,000 (Before Tax)

Check out these adorable bright-red strawberry Santas too!

Q-pot CAFE. has lots of other Christmas food and accessories in addition to these too, so if you're in Tokyo anytime from now up to Christmas Day, then be sure to visit.

Writer: Ellie (MOSHI MOSHI NIPPON)

Translator: Joshua Kitosi-Isanga

Information

Q-pot. Omotesando

Address: 3-4-8 Jingumae, Shibuya, Tokyo

Opening Hours: 11:00-20:00 (Last Orders 19:30)

Closed: New Year's Holidays

Official Website: https://www.q-pot.jp/eng/

Pompompurin Cafe Reveals Christmas Menu For Harajuku, Yokohama & Umeda Branches

The Harajuku, Yokohama and Umeda branches of the Pompompurin Cafeーthe cafe chain centred on Sanrio's popular character Pompompurinーis serving up two cute Christmas menu items this year from December 1 to 25.

*Food names below are translated from Japanese

Hurry Up Santa – Pompompurin Cheese Keema Curry – ¥1,290 (Before Tax)

This rich and spicy keema curry is made with Parmesan cheese, cheddar cheese, and natural cheese. The colourful stars are made from carrot and paprika, while the spiralled Christmas cheese is a combination of spinach and mashed potato. Purin is made of rice and is waiting in anticipation for Santa to deliver his present. You'll see he's holding a stocking which is a made from bread and walleye pollack mayo. A hearty dish that is both delicious and adorable

Snowman Pompompurin – Snow Covered Chocolate Tart ¥1,190 (Before Tax)

Pompompurin has turned into a vanilla ice cream snowman and is standing next to a pistachio cream Christmas tree. They are both atop a rich chocolate tart. This cute dessert is like a Christmas garden straight out of a children's picture book.

If you decide you want to spend your Christmas with Pompompurin this year, then you'll receive a free lunch mat when you order food and a free coaster when you get a drink. These are both limited in quantity, so don't miss out!

©1996, 2019 SANRIO CO., LTD. APPROVAL NO.S603310

Information

■Pompompurin Cafe Harajuku

Address: CUTE CUBE HARAJUKU 3F, 1-7-1 Jingumae, Shibuya, Tokyo

Opening Hours: 11:00-21:00 (Food Last Orders 20:00 / Drinks Last Orders 20:30)

Access: 3-minutes on foot from the Takeshita Exit at Harajuku Station

TEL: 03-5786-0770

■Pompompurin Cafe Yokohama

Address: Yokohama Sotetsu Square, 2-1-5 Minamisaiwai, Nishi-ku, Yokohama-shi

Opening Hours: 10:00-21:00 (Last Orders 20:30)

Access: 5-minutes on foot from West Exit at Yokohama Station via JR

TEL: 045-311-6750

■Pompompurin Cafe Umeda
Address: Hankyu Sanbangai South Wing B2F, 1-1-3 Shibata, Kita-ku, Osaka-shi
Opening Hours: Weekdays 11:00-22:00 (Last Orders 21:30) / Weekends & Holidays 10:00-22:00 (Last Orders 21:30)
Access: 3-minutes from Osaka Station via JR
TEL: 06-6292-7140

Pompompurin Cafe

Official Website: http://pompom.createrestaurants.com

This Week's Breakfast: Warming Up With Asa Kayu at Asora no Chaya in Ise

One thing I do at least once a week without fail is treat myself out to some delicious food or dessert. I find it very important time well spent in order to live a happy, fulfilling life.

During a business trip to Ise, I decided to treat myself to some breakfast in the coastal city. I got up nice and early and went to pray at the Toyo' ukedaijingu of Ise Grand Shrine before making my way to Asora no Chaya to order some of their Asa Kayu ("Morning Porridge") to warm myself up since I was feeling a little cold.

Asora no Chaya is about an 8-minute walk from Ise Stationーwhich by the way is the closest station to the Toyo' ukedaijingu of Ise Grand Shrineーand just a minute's stroll from the inner shrine itself.

At the entrance they had "Asa Kayu" written on the door as pictured above. The cafe itself is located on the second floor.

The cafe has wood-based decor, and the windows are nice and big, letting lots of natural light seep in. From the window I could see Ise Grand Shrine which I prayed at just moments ago. It's a place where you can wind down and relax.

I ordered the "Mike no Asa Kayu Awabi" (in Japanese: 御饌の朝かゆ 鮑). I found out that the word mike is used to refer to precious, sacred food. Apparently, your good fortune will increase if you eat it after praying to the god of food at the Toyo' ukedaijingu.

Mike no Asa Kayu Awabi (御饌の朝かゆ 鮑) – ¥2,040 (Tax Included)

My meal arrived in a wooden box. When I opened it, I was happy to see that I not only received the porridge, but other small plates and bowls of food too.

I was charmed by how shiny the rice was in the sunlight. To eat the thin rice porridge, you add the awabi, pickled vegetables, kombu, bonito broth and other ingredients.

The rice porridge is easy to digest and warms you up to the coreーthe perfect way to relax on a cold day. The combination of the tender bonito and the smooth porridge is a match made in heaven. It's a very simple dish with no unnecessary additions. It has a gentle flavour that makes your mind and body just wind down and relax.

As well as the rice porridge, the meal comes with other healthy foods too like dried fish, soft boiled egg and vinegared ingredients. For dessert, you get zenzai which is a type of sweet soup. This is a very special breakfast you can only experience here at this cafe, coupled with a view of Ise Grand Shrine, all in the early morning.

Whenever I wake up early, it feels like I'll have a very different start to the day than usual, but spending my morning in Ise, praying at Ise Grand Shrine and eating kayu porridge at Asora no Chaya had me holding my head high.

This morning, it was the start of another new day, and I began it feeling dignified.

Today's Souvenir

Awabi Gohan no Moto – ¥1,300 (Tax Included)

I wanted to share the happiness between friends and family on this fine day where I got to eat a delicious breakfast. This Awabi Gohan no Moto is an easy way to enjoy awabi. You took it together with rice to make awabi rice. Being able to purchase awabi, which is a high quality ingredient, at this price is an absolute steal.

Writer: Sayuri Mizuno (MOSHI MOSHI NIPPON)


Translator: Joshua Kitosi-Isanga

Information

Asora no Chaya

Address: Ise Sekiya Honten Floor 2F, 13-7 Honmachi, Ise, Mie Prefecture

Closed: Wednesdays

Opening Hours: Asa Kayu 7:30-10:00 / Lunch 11:30-14:30 / Cafe 7:30-17:00 (Until 16:00 on weekdays)

Official Website: https://www.asoranochaya.com

Instagram-Worthy New York Christmas Lunch and Dessert Buffet Jollies Up Omotesando, Tokyo

BAR & GRILL DUMBO is a restaurant heavily inspired by the Brooklyn neighbourhood town of Dumbo in New York. They will be adding a sprinkle of New York Christmas magic to the menu from November 7 – December 25, 2019 with the Christmas New York lunch and dessert buffet.

The buffet table will be filled with irresistibly cute and delicious desserts. From the Statue of Liberty to Brooklyn Bridge, the background is lined with skyscrapers and New York's most iconic landmarks. 

The S'more Bar is the perfect opportunity to toast your own marshmallows. Sandwich your molten marshmallow between two crackers to enhance your New York Christmas experience. 

Put your icing skills to the test at the Iced Biscuits Corner where you can enjoy decorating your own biscuits to your liking.

There is more than just desserts, however. You must try the Christmas gratin, which is garnished with a jolly green Christmas tree made from romanesco broccoli. There is also a DUMBO Caesar Salad in the shape of a wreath, a delicious Roast Turkey Breast dish and much more. 

Make sure to pop down to Omotesando for a jolly New York-style Christmas celebration.

Information

Christmas in New York Lunch and Dessert Buffet

Running: November 7 – December 25, 2019

Location: BAR & GRILL DUMBO, The Strings Omotesando Floor 2

Address: The Strings Omotesando, 3 Chome-6-8 Kitaaoyama, Minato City, Tokyo

Running: 15:00 – 16:30 (90-minute time slot)

Buffet Photography Times: 14:45 – 15:00

Prices: Adults:¥4,500/ Children: ¥2,250 *Tax and Service Charge Included)

Reservations: www.strings-hotel.jp/omotesando/event/sweetsbuffet/

10 Things You Can Do at the MOSHI MOSHI ROOMS Hotel in Harajuku | Foodie Edition

MOSHI MOSHI ROOMS is a hotel accommodation service run by MOSHI MOSHI NIPPON located in Harajuku and bookable via Airbnb. Our hotel isn't just popular for sleep, however: it has become a hot spot with stylish girls who get together and use it as a party space. 

Today we'll be looking at the different ways you can have fun when staying at our pink paradise room SAKURA. 

 

Girls' Night In Edition: https://www.moshimoshi-nippon.jp/262308

Birthday Party Edition: https://www.moshimoshi-nippon.jp/264752

【8】Extend your adventures to the rooftop 

The rooftop of MOSHI MOSHI ROOMS can be used freely by our guests. There are tables and chairs and even a hammock so make yourself comfortable. We particularly recommend spending a morning here. Enjoy bathing in the morning light on our spacious rooftop right below the clouds and make some good memories eating breakfast with your friends. 

*Please note that the rooftop is not accessible when booked.


MOSHI MOSHI ROOMS is located near a number of breakfast foodie favorites including Bread, Espresso & and whyte which have made their fame on Instagram. How about a baked good and a drink to enjoy on the rooftop with your friends?

【9】Barbeque it up on the rooftop with zero preparation


There is still more to your rooftop adventures. There is a barbeque course which you can enjoy without having to prepare anything at all. The barbeque course includes meat, fish, vegetables, dessert and even more luxurious dishes. The course even comes with a selection of drinks so you can spend less time preparing and more time enjoying.

This course is available to book for groups of six people or more. You can even invite your friends who are not staying at MOSHI MOSHI ROOMS so feel free to invite many people. Find out more about what's on the menu here. 

【10】Feast out with your foodie friends near MOSHI MOSHI ROOMS: Recommendations from locals

Where do the locals and people working in Harajuku choose to eat out? As our office is located in Harajuku, we have plenty of knowledge to share with you:

Just a five-minute walk from MOSHI MOSHI ROOMS lies the Okonomiyaki restaurant Sakura Tei. From the beautiful interior decoration and wonderful atmosphere to the delicious food, this restaurant should be on your food adventure list. As many foreigners eat here, the staff can even speak in multiple foreign languages. Make use of Sakura Tei's simple guide on how to make okonomiyaki and put your skills to the test. 

KAWAII MONSTER CAFE TOKYO is one of the landmarks of Harajuku. Welcome to the vivid world of bright pop colours where you will be staring in awe at everything from the decorations to the food and drinks. Some of the crazy meals to satisfy your kawaii cravings include rainbow pastas and cakes. Don't leave without getting your hands on some KAWAII MONSTER CAFE-limited merchandise! Your meal will also be interrupted by the Monster Girls who will put on an incredibly fun performance for you. 

Seaweed from the well-established shop Maruyama Nori and only the freshest and luxurious fish is used to make these temaki sushi. The seafood used in these temaki sushi rolls is of a quality that you won't find at a conveyor belt sushi restaurant so if you are looking for a new experience of sushi, make sure to stop by.

If your burger cravings get to you then cafe Hohokam is for you. The interior is spacious and there is even terrace seating, creating a refreshing atmosphere. From mozzarella to barbeque to cheese, the menu is full of different flavours and is filling enough to leave any foodie fully satisfied.

Harajuku is a kawaii ice cream shop hot spot. The shops serve up a range of toppings and will fill your cone with heaps of colours and fun flavours. A trip to an ice cream shop in Harajuku is an adventure in itself. When you're done with dinner and the sweet cravings kick in, let the kawaii ice cream shops of Harajuku be your saviour. 

MOSHI MOSHI ROOMS is located at the heart of Harajuku and is surrounded by great places to shop, eat, sightsee and much more. Enjoy a stay at MOSHI MOSHI ROOMS and embark on a wild Harajuku adventure.

Information

MOSHI MOSHI ROOMS

Address: 2-18-7 Jingumae, Shibuya Ward, Tokyo  

Access: 8-minute walk from Meiji-jingumae Station (Harajuku), Tokyo Metro
Website: https://rooms.moshimoshi-nippon.jp/

Make Your Own Matcha Drink and Try Black Bean Butter Toast in Nakameguro, Tokyo

If you're looking for a cool café experience in Tokyo then head to Nakameguro for a goldmine of craft beer taprooms, coffee roasters and restaurants. One café to consider adding to your list of must-go places is music café and wine bar epulor. The café has added a number of exquisite and unique items to its menu this November including a matcha drink, black bean paste and butter toast and craft cola.

Take a seat and admire the walls of old records which create a soothing artistic atmosphere while sipping your cup of the café's specialty hand drip coffee or sommelier-selected wine as the music of old records fills the air. When you have finished, feel free to take a gander at the gallery corner to appreciate the cafés art. 

The November menu introduces a high-quality matcha by UK brand Matchæologist®, providing the opportunity to make and enjoy your own matcha drink. From the high-quality rich flavour to the contemporary design of the tea vessel, Matchæologist® lives up to its reputation as artisanal matcha green tea specialists.

Fans of epulor's popular Red Bean Paste and Butter Toast are in for a treat as the café is now serving up the Black Bean Paste and Butter Toast. The bread is a charcoal bread from the bakery Lotus baguette, which uses only natural yeast, Japan-produced wheat and no additives. The binchotan charcoal used to prepare the bread is a traditional charcoal which has been used since the Edo period. The appearance is just as striking as its taste. 

The café has also started to sell Japan's craft cola TOMO COLA. The cola is spiced with flavours from around the world including kola nut, nutmeg, Japanese herbs and Japanese citrus fruits. This natural cola contains no additives so you can indulge in the taste of nature and enjoy a unique flavourful experience of Japan. 

epulor is the perfect spot to enjoy a luxurious moment of relaxation during your busy day while immersing yourself in an artistic and cultural experience. 

Information

epulor

Address: ESCENARIO AOBADAI Floor 1, 1-19-10,Aobadai, Meguro, Tokyo

Opening Hours: 11:00 – 24:00

Closed: Mondays

Website: http://www.epulor.jp/

Tokyo Stroll: The Café That You Want to Visit to See Someone #12 – 'J-COOK' in Gaiemmae

In this edition of The Café That You Want to Visit to See Someone, I visited J-COOK in Gaiemmae, a place I visited one time while off work which ended up in me wanting to absolutely feature it in the series!

It's just a 5-minute stroll from Gaiemmae Station.

The cafe enjoys lots of sunlight, which is brightened further by all the plants scattered through the shop. The cafes I have visited to date are often a little darker with only a little light seeping through the windows to create a certain atmosphere, and they are wonderful, but this was the first I have ever visited with so might light and so many plants. The air felt clear, adding to the level of comfort in the cafe, perhaps because there are so many plants adorning the interior.

The cafe also has a space with a slightly more darker light and atmosphere on the left side. I haven't sat in that area yet, so I think I'll try it out on my next visit.

When I come to J-COOK, my eyes always wander over to the marzipan creations (¥450).

These ones here were actually all individually handmade by the owner's husband from the early morning.

If you look really closely, you'll notice all the dog designs are different. When ordering, get to pick out which one you want, so try finding your perfect pup!

I had mine together with an iced coffee (¥450). The sweet marzipan is a delicious combination with the bitterness of the coffee.

I also got some potted cream (¥450). It's kind of like a Japanese custard pudding with just a moderate amount of sweetness.

I had mine with a bit of brandy which had fragrant vanilla notes. They've had this brandy for 33 years since the store first opened.

The cream was sensational, and the gentle notes linger afterwards.

They have a lot of different homemade soups too which are perfect for the coming cold weather. I got the New Orleans-style gumbo soup. It's spicy with clam and okra in it.

Relaxing jazz music plays in the cafe while you sit and enjoy your drink and meal.

J-COOK is a wonderful little cafe run by a husband and wife. When I first came, the wife came and talked to me. She's super friendly, and although it was our first meeting, she made me feel really comfortable and welcome. She must be full of happiness, which in turn naturally gives people who visit the strength to be positive and work hard.

I reckon their smiles have saved a lot of people.

I can't wait to visit again!

Writer/Model: Ema Tanioku

Photographer: Haruka Yamamoto

Design: Yuko Abe (ASOBISYSTEM)

Translator: Joshua Kitosi-Isanga

Information

J-COOK

Address: 3-36-26 Jingumae, Shibuya, Tokyo

Opening Hours: [Tue-Sat] 8:00-22:00 (Last Orders) / [Sun] 11:00-18:00 (Last Orders 17:30)

Closed: Mondays

Official Twitter: @jcookjp

BABYMETAL Collaborates On Fashion Designer Yohji Yamamoto's Ground Y Collection

2019 is the year of BABYMETAL, with their latest album METAL GALAXY having dropped in October and making them the highest Japanese group/artist to place on the Billboard Top 200 in the US in 56 years. As they continue knee-deep in their ongoing world tour, you might be wondering what else they have in the pipeline.

Well, we can confirm that for you right here and now: they have teamed up with internationally-lauded Japanese fashion designer Yohji Yamamoto on his revolutionary Ground Y collection which boasts a genderless and ageless style.

Pre-sales of the collection will take place at the new Shibuya PARCO which is set to open on November 22. This will be followed by sales at GINZA SIX, Laforet Harajuku, and the online store THE SHOP YOHJI YAMAMOTO.

The collection will bring together the unique world of BABYMETALーa band which has won love the world over and has featured as guest acts on many tours of international artistsーand Yohji Yamamoto, a rebel and innovator in the fashion industry whose DNA is woven into the Ground Y line. The inspiration for this jet black collaborative collection is "galaxy," an homage to BABYMETAL's latest record METAL GALAXY.

There are numerous items in the collection, including a jumbo cut and sewn embroidered with both the BMD FOX APPAREL logoーBABYMETAL's official apparel brandーand the Ground Y logo. There's also a big hoodie featuring a 360° print and BABYMETAL's logo, a draped silk satin long shirt, and more.

MASATOSHI YAMASHIRO snapped the photos in this photoshoot, a Tokyo-based photographer who started his career in LA and New York and works with fashion magazines, advertisements, and more.

Information

Ground Y feat.BABYMETAL "GALAXY" Collection

Items: Long Shirt / Shirt Dress / Jumbo Cut & Sewn / Big Cut & Sewn / Big Hoodie / Big Sweater

Prices: Cut & Sewn ¥25,000-¥28,000 / Hoodie ¥35,000 / Sweater ¥38,000 / Shirt Dress ¥110,000-¥120,000 (All prices tax-excluded)

Release Date: November 28, 2019 (Pre-sales bein at Ground T Shibuya PARCO on November 22, 2019)

▼SHOP INFO:

Ground Y GINZA SIX (Floor 4F, 6-10-1 Ginza, Chuo Ward, Tokyo)
Ground Y LAFORET HARAJUKU (Floor 1F, 1-11-6 Jingumae, Shibuya, Tokyo
Ground Y FaSoLa STARS (Narita International Airport 1, Passenger Terminal Central Building Floor 3F, Narita, Chiba)
Ground Y SHIBUYA PARCO (Floor 2F, 15-1 Udagawacho, Tokyo) *Opens November 22, 2019
THE SHOP YOHJI YAMAMOTO: http://theshopyohjiyamamoto.jp/JP/shop/c/c20

Idol Group Keyakizaka46 Themed Cafes to Open in Harajuku, Osaka & Nagoya

The new cafe TOKYO BOX CAFE&SPACE will open in Omotesando, Harajuku on November 21, 2019.

The cafe will serve as a space to promote artists, franchises and more by collaborating with them. For the grand opening, the cafe's first collaboration will be with Japanese idol group Keyakizaka46 which will run for a limited period from November 21, 2019 to January 13, 2020. The collaboration will subsequently move to Osaka and Nagoya where it will open on November 22 and 28 respectively.

The names of cafe menu dishes below are translated from Japanese.

Cafe Menu

Break the Cheese! – ¥1,690

This cheesy pasta dish is made with crispy cheese, the spaghetti is bathed in a rich cheese sauce, and the plate is finished with delicious seafood. Break the cheese up and tuck in!

Black Vegetable Curry – ¥1,590

The quirk of this veggie-packed meal is the black colour of the curry. Topped with okra, tomatoes, Japanese mustard greens, sunny-side up egg and more, this nutritional dish is sure to fill your belly.

2 People Season Pancakes – ¥1,790

For the sweet-tooths out there, they can look forward to forking into some chocolatey pancakes lathered sweetly in blueberry sauce and blueberry cream. Between the pancakes are fruits and chocolate to create a pancake sandwich, and adorning the plate is more chocolate, fruit, and blue dragées.

Humility! Kindness! Bonds! Shining Brightly, Keyakizaka46 Parfait – ¥1,690

Named after one of the group's catchphrases, this matcha parfait is green which is a colour that symbolises Keyakizaka46. It's piled with chocolate, macarons, ice cream, warabimochi and more for a truly hearty and mouth-watering dessert.

Late-Night Herb Tea – ¥890

During those nights when you can't fall asleep, there's nothing better than some refreshing herbal tea.

Matcha Milk That Stays Hot Even When It Blows In The Wind – ¥890

Nothing beats a cup of hot matcha milk during the cold weather. Coloured green like the group's iconic colour, this gorgeous, garden-like beverage is sure to warm up your mind and body.

Exclusive Merchandise

T-Shirt (White) – ¥3,100

Acrylic Keyring – ¥900

Tote Bag – ¥1,800

Bonus Items

Those who book a table in advance  (¥650 per person, tax excluded) and order something from the menu will randomly receive one of 26 possible trading cards pictured above.

If you order something from the food or dessert menu, you'll also receive one of 26 possible signed mini cards, chosen randomly.

Finally, if you get a drink, you can get one of these 8 possible coasters, also chosen randomly.

This is just a small peek into what's to come at the cafesーthere are more drinks, dishes and merchandise to get your hands on, so don't miss out.

*All listed menu item prices do not include tax

*All listed merchandise items include tax

*Photos are for illustrative purposes only

©Seed & Flower LLC.

Information

Keyakizaka46 Collaboration Cafe

Dates/Locations:

TOKYO BOX CAFE&SPACE (6-3-7 Jingumae, Shibuya, Tokyo) / November 21, 2019 – January 13, 2020 (Closed December 30-January 3)

Shinsaibashi contact (1-6-24 Kitahorie, Nishi Ward, Osaka) / November 22, 2019 – January 19, 2020/2019 (Closed December 31-January 1. Open later on January 2 from 14:00.)

NAGOYA BOX CAFE&SPACE (LACHIC Floor B1F, 3-6-1 Sakae, Naka Ward, Nagoya, Aichi) / November 28, 2019 – January 19, 2020 (Closes early on December 31 at 18:00. Closed January 1-3)

Table Reservations

Now open at all branches. Price: ¥650 (Before Tax). Includes bonus item.

Keyakizaka46 Official Website: http://keyakizaka46-cafe.jp

Laforet Harajuku Announces 2019 Christmas Market, Menu & More

Laforet Harajuku is set to hold LAFORET CHRISTMAS 2019 from November 15 to December 25. Stores throughout the shopping centre will sell various holiday season fashion items that make perfect Christmas gifts, and up on the second floor at GOOD MEAL MARKET, you can look forward to the Laforet Christmas Menu.

All customers who spend over ¥3,000 (tax included) from November 15 onward will receive an original mirror, and those who spend over ¥5,000 (tax included) from December 14 onward will receive an original handkerchief. Both of these items will be available on a first-come, first-served basis until December 1 at Dinalog in Laforet Museum Harajuku.

Additionally, the main Christmas visual for this year's event was designed by Japanese art director YUNI YOSHIDA.

A two-day market will take place on Saturday December 14 and Sunday December 15 in Laforet Museum Harajuku titled Laforet Market vol.9 "Christmas."

CHRISTMAS GIFT

If you're searching for the perfect surprise gift to friends, family, a special someone or yourself, you're bound to find a fitting match for them during the event as stores in Laforet Harajuku display their Christmas goods in their windows.

Kailijumei/5F

Kailijumei 2019 Christmas Coffret – ¥5,500 (Tax Included)

Charles Chaton/4F

Flower Frill Cushion – ¥5,500 (Tax Included)

JUEMI Syncretic/1F

e.m.OrganicCollegeStarRing – ¥24,200 (Tax Included)

Les Merveilleuses LADURÉE/1F

Limited Edition Rose Ladurée – ¥13,200 (Tax Included)

CHRISTMAS FOOD "Laforet Christmas Menu"

"Pink" is the themed of the Christmas menus being whipped up at Laforet's restaurants.

Chipoon /2F

Tomato Soy Milk Cream Noodles – ¥935 (Tax Included)

This vegan noodle dish combines the full-bodied taste of soy milk with refreshing tomatoes to create a tempting mild flavour.

machi machi /2F

Strawberry Cheese Tea (Taro Topping) – ¥858 (Tax Included)

A fusion of Jasmine green tea and fresh strawberries to create a unique and delicious beverage.

Cafe de paris /B1F

Kumono Smoothe – ¥605 (Tax Included) / Whipped Cream Topping +¥110 (Tax Included)

Cafe de paris opened on November 1 and will be selling their exclusive cute drinks.

Laforet Market vol.9 "Christmas"

The Laforet Market is an opportunity for 40 shops to come together to sell fashion, food and miscellaneous Christmas goods. There will be workshops carried out be creators and artists, performances, and more.

If you'll be in Harajuku the holiday season then don't pass up the opportunity to visit Laforet Harajuku this Christmas.