This Week's Breakfast: French Toast at Bread, Espresso & in Omotesando
One thing I do at least once a week without fail is treat myself out to some delicious food or dessert. It's very important time well spent in order to live a happy life.
Today, I went out for breakfast. I got up a little earlier than usual and headed to my favourite cafe, Bread, Espresso & which is located in Omotesando.
It's really easy to get to: it's just a 5-minute walk from the A2 exit of Omotesando Station. Mornings are quiet in Omotesando, you don't see many people walking around, so it feels like a completely different place compared to its busy streets during the day.
When you enter the cafe, the smell of freshly-baked bread is the first thing to hit your senses. I sat down on one of the comfy sofa-seats and ordered myself the French toast breakfast set.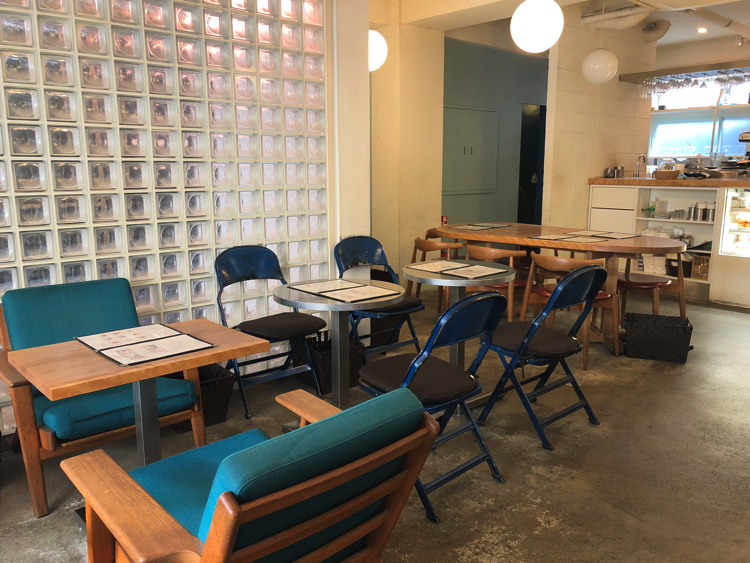 There's plenty of space between tables, so it's an environment that's easy to kick back and relax in.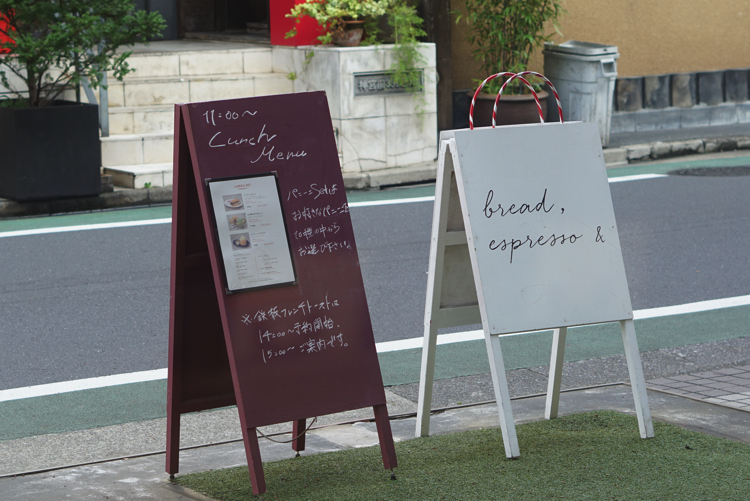 Inside and outside the cafe are cute signs with that day's recommended menu items written on them. Next time I visit I think I'll try one of the lunchtime desserts. That's what I daydreamed about while waiting for my French toast to arrive.
French Toast Set w/Drink – ¥800
The French toast has a subtly sweet scent. It's made with one of the cafe's popular foods: the butter-loaded bread known as "Muu."
The toast's crusts were nice and crunchy while the middle part was fluffy. The soft bread just melts in your mouth when taking a bite, and your taste buds are treated to the sweet flavour of the egg.
The toast is delicious as it is, and you can totally leave it at that and enjoy your morning breakfast. But if you want to take it to the next level then you can drizzle the accompanying honey over the toast, giving the sweetness an even richer flavour.
I'm usually not good with the characteristic sweet taste that honey has, or the bitterness layered into the overall flavour, but this honey was on the milder side so I really enjoyed it.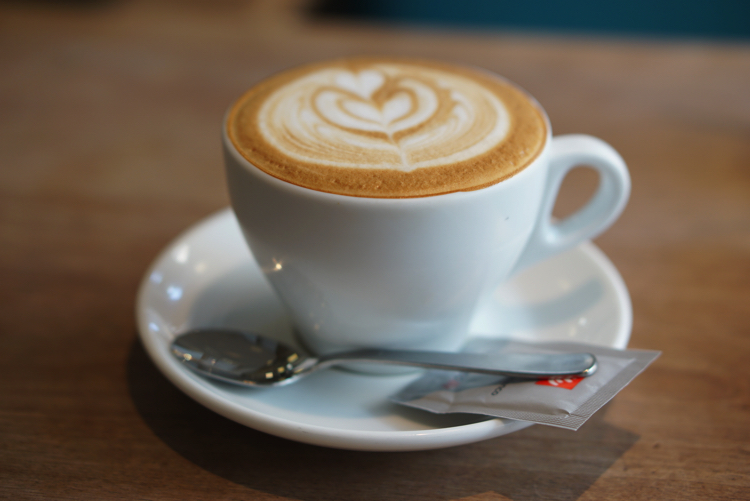 After my food, I enjoyed the cappuccino the barista beautifully made for me which comes as part of the set.
My 1-hour morning was spent even more relaxed than usual here. It's much different from lunchtime which is a much busier and hurried time, so I could sink in my chair and really enjoy my drink too.
Waking up early and enjoying a relaxing breakfast. That's all I did, but it helped ease my busy mind and soul. I'm a simple person, and I think I'll be able to face my week and work hard at it after this.
Today's Presents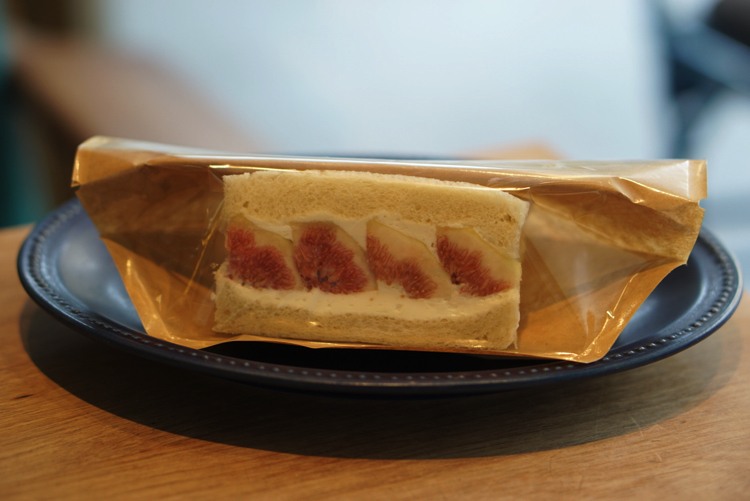 Futsu Furu Fig Sandwich – ¥420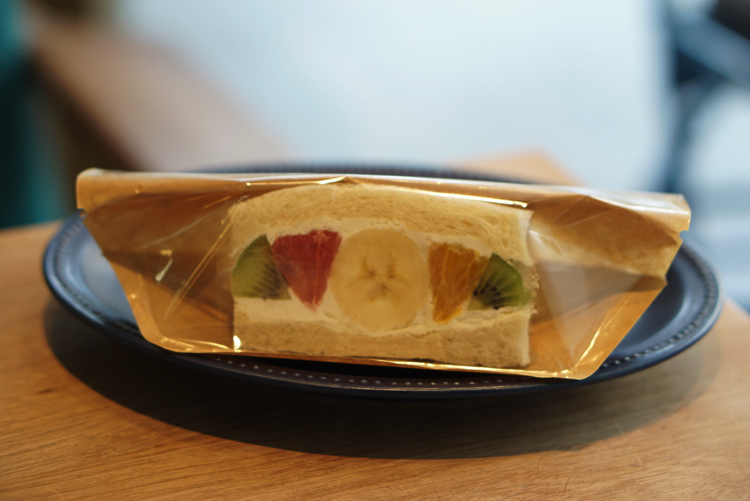 Futsu Uni Fruits – ¥400
I wanted to share the happiness between friends and family on this fine day where I got to eat a delicious breakfast. These sandwiches are packed full of fruits―seasonal fruits which are best enjoyed right now. If you're wondering what other sandwiches they sell then be sure to visit.
Writer: Sayuri Mizuno (MOSHI MOSHI NIPPON)
Translator: Joshua Kitosi-Isanga
Information
Bread, Espresso &
Address: 3-4-9 Jingumae, Shibuya, Tokyo
Business Hours: 8:00-20:00
No Fixed Holidays
RECOMMENDED ENTRIES
Tokyo Stroll: Indulge at Harajuku's Conveyor Belt Dessert Cafe 'MAISON ABLE Cafe Ron Ron'

MAISON ABLE Cafe Ron Ron is a new hot spot in Harajuku that has been popping up all over Japanese social media. It's so popular that it's common to see lines of people waiting outside to get in, and that's due to the fact that this is the world's first-ever all-you-can-eat conveyor belt dessert cafe!

MMN decided to visit the cafe to see what all the fuss was about. Unfortunately, it was raining on the day, but that didn't stop the smiles on girls' faces waiting outside for it to open which gleamed like a clear summer's day.

We visited the cafe with Japanese model Rinko Murata who has a weakness for sweet things and whose anticipation for this place was growing.

Upon entering the cafe you must first buy a ticket from the ticket machine. It costs ¥1,800 (tax included) for all-you-can-eat desserts and a drink.

This is the drink shelf. You can choose your favourite from a selection of colourful beverages that come in original bottles.

Rinko-chan picked out a photogenic-looking drink too!

If you stand against the pastel pink walls you can snap a cute photo from any angle!

Rinko-chan was quick in wanting to snap one. There are messages written over the walls too. It makes you want to take your dessert in hand and take lots of pictures.

The dessert lane stretches a sweet 38 meters. There are over 25 delights to choose from which appetisingly pass by one by one. They arrive crowning pastel coloured plates looking like precious gems and jewels. There's even light savoury food in addition to the sweet stuff.

You're allowed 40 minutes. Heaven begins as you sit down: pick, take a photo, tuck in and repeat.

Is this one an ice cream? It actually isn't – underneath the cone hides potato salad! This is one of the non-dessert light foods and is perfect for cleansing your palate. There's a meat ball burger, nikuman meat bun, popcorn and others too. (And keep in mind that items change depending on the season!)

All the sweets are bite-sized meaning you can enjoy lots of different kinds one after the other.

"Eating something this cute feels such a waste!" commented Rinko-chan.

Piling up the plates after you've finished is kinda fun too!

The shortcake dessert with the black cat wafer is the most popular. Only 10 of them come by in an hour. Rinko-chan was lucky enough to get her hands on one.

The cat has an iconic presence in the cafe. In fact, the "Ron Ron" in the cafe's name comes from French and refers to the purring sound a cat makes when it's happy.

There's a super cute girly powder room up on the second floor.

They have hair straighteners, makeup and other bits and bobs that customers are free to use. Use of the powder room isn't included within the time restriction of the all-you-can-eat service, so once you've filled your belly with treats you can hit it up, touch up your makeup and head out shopping.

If you're in Harajuku why not enjoy lots of desserts and a girly time over at MAISON ABLE Cafe Ron Ron?

MOSHI MOSHI NIPPON Social Media Campaign

Running: November 29, 2018 – December 4, 2018

We are giving away chekki photographs of Rinko Murata randomly to 2 lucky people who follow us on either our Instagram, Twitter or Weibo pages and share this article (or hit 'Like' on Instagram). Anyone from around the world can participate in this campaign, so get involved!

Writer: Ai Watanabe

Photographer: Haruka Yamamoto

Translator: Joshua Kitosi-Isanga

Information

MAISON ABLE Cafe Ron Ron
Address: 6-7-15 Jingumae, Shibuya, Tokyo
Business Hours: 11:00-19:00 (Last Orders 18:00)
TEL: 03-5468-8290
Price: ¥1,800 (Tax Included) w/drink [40 Minutes Allowed]

Website: https://cafe-ronron.com/

6 Must-Visit Little-Known Good Cafés in Omotesando

Omotesando―The hub for the latest trends and fashion in Japan, home to iconic landmark stores and sites aimed at the country's youth to cafés and restaurants that make you feel like a celebrity. Weekends are an especially busy time in the high-end avenue of Omotesando where shops and streets bustle with lines of locals and tourists out on shopping sprees.

Today we are joined by Japanese Instagrammer omao who's in-the-know when it comes to cafes, something you can tell with just one glimpse of their page. For those of you who are left wondering where to stop off for a coffee break or some lunch during your visit to the Omotesando and Harajuku area, omao is here to show you some stylish and little-known good spots.

Bread, Espresso &

At Bread, Espresso &, you can enjoy some seriously bread and coffee. This café and bakery offers both dine-in and takeout services. It's tucked away from the main street just a 5-minute walk from Omotesando Station's A2 exit.

On my visit this time, I ordered several different bread options. Everything looked so delicious that I felt spoiled for choice!

Red bean butter. There's no way on earth that could ever be unappetising. The pastry is super soft. Each individual order is packaged in its own bag which left a good impression with me in the hygiene department.

▼Bread, Espresso &

Address: 3-4-9 Jingumae, Shibuya, Tokyo

Business Hours: 8:00-20:00

No Fixed Holidays

Website: http://www.bread-espresso.jp/

CHAVATY

CHAVATY is a café specialising in milk tea. This one is also within just 5-minutes walking distance from the A2 exit of Omotesando Sation.

When I took this photo I ordered the tea latte and scone set. When you order an iced tea latte it comes in a cute bottle, but it was hot on this day so I got it hot. What surprised me from the get go was hot big the drink is! It's hugely satisfying, you really get your fill.

The houjicha latte I tried once was tasty too, but I was interested in the uva milk tea this time around. The scones were scrumptious as well! I particularly liked the honey-like fruit that comes with them.

▼CHAVATY

Address: Minami-Harajuku Bldg. 1F, 4-6-9 Jingumae, Shibuya, Tokyo

Business Hours: 10:00-20:00 (Last Orders 19:30)

No Fixed Holidays

Information: https://tabelog.com/tokyo/A1306/A130602/13224245/

montoak

montoak is a suspicious-looking building just an 8-minute stroll from Harajuku Station. It's my favourite spot; I've been here so many times.

The menu is delicious and there are lots of seats. My weakness is the Gorgonzola cheesecake.

▼montoak

Address: 6-1-9 Jingumae, Shibuya, Tokyo

Business Hours: 11:00-03:00

No Fixed Holidays

Website: https://www.montoak.com/

LATTEST

Another 5-minute stroller from Omotesando Station's A2 exit is LATTEST which I place in my top three favourite cafés in Omotesando. It can be a little hard to find, but it's a lot bigger than I thought.

I experienced their seasonal rose mocha. Simply amazing! Milk foam is just what I like. It's smooth and moist, and there's not a lot of it so it's not heavy. I like the coffee beans they use too. Cafés that have tasty mochas are just the best, right?

▼LATTEST

Address: LATTEST 1F, 3-5-2 Jingumae, Shibuya, Tokyo

Business Hours: 10:00-19:00

No Fixed Holidays

Website: http://www.lattest.jp/

The Local Coffee Stand

The Local Coffee Stand is sandwiched in the middle of Shibuya and Omotesando and about an 8-minute walk from Omotesando Station.

Their lattes are so, so good! First up, the foam is plump, and the sweetness of the milk really stands out. And the espresso, although it's full-bodied, isn't bitter and mixes deliciously with the milk. The coffee beans and food are both high-quality like that of a select shop, so I wanted to try eating and drinking everything they had.

I recommend the macadamia cookies. They have an eggy fragrance and are just mouth-watering.

I pretty much liked everything about this place.

▼The Local Coffee Stand

Address: 2-10-15 Shibuya, Shibuya Ward, Tokyo

Business Hours: Weekdays 8:00-20:00 / Weekends 9:00-19:00

No Fixed Holidays

Website: http://thelocal2016.com/

Franze & EVANS London

This is a popular Italian cafe-deli based in London. It's located away from the busy main street and can be reached in just 3-minutes from exit A3 of Omotesando Station.

During those awkward times when you want to eat a salad but want to eat cake too then this is the place you need to go. Their carrot cake is truly amazing, as is their salad. All the cakes they sell just seem to sparkle before you that it's nearly impossible to pick just one. The lemon cake caught my attention too…

It doesn't need to be said how great everything tastes, but the portions need to be mentioned as they are nice and hearty, and I love this place because of it.

▼Franze & Evans London

Address: Franze & Evans London 1F, 4-9-4 Jingumae, Shibuya, Tokyo

Business Hours: [Mon-Sat] 11:00-22:00 (Last Orders 21:30) / [Sun & Holidays] 11:00-21:00 (Last Orders 20:30)

No Fixed Holidays

Website: http://www.franzeevans.jp/#/

Did you enjoy these picks? omao has plenty of other recommendations and photos of coffee and desserts over on their Instagram page. If you're stuck for choice on what café to visit while in the city then be sure to follow them on Instagram.

Photo & Text: omao

Translation: Joshua Kitosi-Isanga

Popular Bean to Bar chocolate shop Dandelion Chocolate opens in Omotesando!

There's always a queue outside Bean to Bar chocolate specialist shop Dandelion Chocolate, Kuramae. Dandelion Chocolate has just opened in Omotesando with a new concept!

Kuramae's Bean to Bar chocolate specialist shop Dandelion Chocolate has opened in Omotesando with a new concept ー they sell chocolate, desserts, drinks and much more. Each one of these sweet treats is of a single origin that you can enjoy in the same area as it was produced. If you take a seat inside the cafe and order from the cade menu, you will receive a marshmallow!♡

The cacao fruit smoothie is made from the exotic cacao fruit. If you break through a husk of cacao fruit, the insides are white. I bet there's barely anyone out there who's tried the hidden fruit of cacao!

There are three kinds of chocolate eclair. Each chocolate is made with specially selected and prepared ingredients to fully embrace the unique origin of the chocolate and enhance its flavours. The flavors are; Zorzal Comunitario Dominican Republic​, Maya Mountain Belize andCahabon Guatemala!

They also serve Omotesando-limited soft serve ice cream such as chocolate, the delicious and nutritious nibu milk, and mix! Please come try them!

They also serve Omotesando-limited soft serve ice cream such as chocolate, the delicious and nutritious nibu milk, and mix! Please come try them!

Information

Dandelion Chocolate Bean to Bar Lounge Omotesando GYRE

GYRE B1 HAY TOKYO, 5-10-1, Jingumae, Shibuya, Tokyo

TEL: 03-5962-7262
RELATED ENTRIES
HARAJUKU App Launches Collaboration with Love Live! Super Star!! at Famous Takeshita-dori

From May 20 until June 5, 2022, AppBank is bringing fans of Love Live! Superstar!! a special treat in collaboration with the HARAJUKU app! By launching the app at a check-in spot in Harajuku, users can win a limited-edition Love Live! toy at random, such as acrylic keychains or pins.

App Splash Page

HARAJUKU Map

Random Toy Screen

For those winning a toy, the item can be picked up in front of the CUTE CUBE HARAJUKU Love Live! Superstar!! Wall Panel or at YURINAN Harajuku Takeshita-dori Yu-rin An. In celebration of the event, CUTE CUBE HARAJUKU will be featuring Love Live wall panels during this period, so be sure to go get some great pictures!

Cat Illustration Series mofusand Inspires Themed Cafes in Tokyo and Osaka

Popular on LINE and other texting apps and illustrated by Jyuuno, mofusand is a curious collection of cute and slightly surreal cats. As with most things that go viral in Japan, these adorable characters will be featured in a themed cafe for a limited time! The Tokyo location will open on May 19 and the Osaka location will welcome visitors starting May 26, 2022.

Cafe Visitor Bonus: Sticker (6 varieties)

Drink Order Bonus: Coaster (6 varieties)

Menu

Fried Shrimp Sandwich Plate

Grilled Vegetable Curry

Nyanko Burger

Salmon Mentaiko Cream Pasta

Taiyaki

Nyanko Parfait

Black Cat Pancake

Nyan Lime Nata de Coco

Green Nyanko Float / Yello Nyanko Float / Blue Nyanko Float

Nyanko Cafe Latte / Nyanko Milk Tea

Merchandise

Sticker

Clear Folder

 

All menu items draw inspiration from the many mofusand characters and are perfect for posting on social media! Special bonuses will be given to those visiting the cafe and making select purchases, and a merchandise corner will be selling limited-edition goods featuring new artwork!

©mofusand

Information

mofusand cafe

Venue/Dates: 
Tokyo

BOX cafe&space Shinjuku Mylord #2

May 19 – July 10, 2022
Shinjuku Mylord 7F (1-1-3 Nishishinjuku, Shinjuku-ku, Tokyo)

Osaka

kawara CAFE&DINING Shinsaibashi

May 26 – June 19, 2022
Shinsaibashi Opa 9F (1-4-3 Nishishinsaibashi, Chuo-ku, Osaka) 

Reservations / Official Site: https://mofusand-cafe.jp
mofusand cafe Official Twitter: @mofusand_cafe

BT21 Amusement Park Event to Open in Tokyo, Osaka, and Fukuoka

NAMJATOWN, a theme park located in Ikebukuro, Tokyo, will be holding a special BT21 event from May 14 until June 12, 2022! The 'BT21 MerryLand ~Welcome to our Dreamy World!~' event celebrates the popular LINE FRIENDS characters, and guests can enjoy lots of games and treats!



The event recreates MerryLand, an amusement park in the BT21 member's dreams. Guests can participate in three unique mini-games inspired by amusement park attractions, along with a stamp rally and riddle-solving game! Original merchandise and menu items will also be available.

Original Mini-Games

BT21 MerryLand Spinning Ferris Wheel / BT21's  Whirling Teacups ♪ / The Full Stomach Yum-yum Wagon

Mini-Game Prizes

A Prize: Relaxing Cushion (7 varieties)

B Prize: Bandana (7 varieties)


C Prize: Mini Acrylic Stand (7 varieties, random)


D Prize: Character Pin (7 varieties, random)

*The design for A Prize and B Prize will differ depending on the mini-game.
(Guests can choose the design for each game.)
*For C Prize and D Prize, the design is the same for all mini-games.

Venue Exclusive Project! Rally Game

Rally Game Prizes

Participation Prize: Mascot Rubber Charm (7 varieties, random)
*Prizes are the same for each Rally Game.

Original Merchandise

Original Food & Drinks

Soft Drink with Acrylic Coaster / Fortune Latte (14 varieties) / Icing Cookie (7 varieties)


Those unable to attend the event can head to the Namco Parks Online Store to play some web-based mini-games offering the same prizes! Certain pieces of merchandise will also be available for purchase online.

Following Tokyo, the event will head to HEP FIVE in Osaka from July 2 until July 24 and Canal City Hakata in Fukuoka from August 5 until August 28.

©Bandai Namco Amusement Inc.

Information

BT21 MerryLand

Tokyo Event
Venue: NAMJATOWN
Address: Sunshine City World Import Part Building 2F/3F (3-1-3 Higashi-Ikebukuro, Toshima-ku, Tokyo)
Running: May 14 – June 12

Osaka Event
Venue: Hugood! from NAMJATOWN
Address: HEP FIVE 9F (5-15 Kakudacho, Kita-ku, Osaka)
Running: July 2 – July 24, 2022

Fukuoka Event
Venue: Namco Canal City Hakata
Address: Canal City Hakata South Building B1F (1-2-74 Sumiyoshi, Hakata-ku, Fukuoka)
Running: August 5 – August 28, 2022

Online Sales / Online Lottery Wheel

 https://parks2.bandainamco-am.co.jp/ 
Sales Period: May 16, 11:00 – June 13, 23:59

Official Site: https://event.bandainamco-am.co.jp/cx/bt21-merryland/ 

Fendi and Harajuku Omotesando Keyaki-kai Collaborate on #FendiTsunaguOmotesando Art Project

Italian luxury fashion brand Fendi has teamed up with Harajuku Omotesando Keyaki-kai on a new street art project! 'TSUNAGU – Omotesando Street Art Project' was unveiled on April 29, 2022.

 

The project, which aims to improve the city's scenery and share positive messages, is on display in Omotesando, a popular area with young people. The canvas is the formal site of the Oriental Bazaar, an iconic part of Omotesando for over four decades. Under the theme of 'hope,' three young artists will be displaying their artwork in a massive temporary enclosure on the site. Hopefully, Japan really will open tourism soon so that guests from around the world can enjoy these inspiring pieces!

The first piece of art was unveiled on April 29 and was drawn by Dai Tamura, a young Japanese artist who has attracted worldwide attention after becoming an illustrator for the NBA. The dynamic and powerful compositions vividly depict endangered animals and plants alongside delicate flowers to symbolize hope for the futures of these beautiful creatures. 



Be sure to keep an eye out for the next installation coming soon!

Information

TSUNAGU – Omotesando Street Art Project

Location: Oriental Bazaar Former Site

Address: 5-9-13 Jingumae, Shibuya-ku, Tokyo

Official Site: http://www.fendi.com

Special Shop to Open in Tokyo and Kanagawa to Celebrate the Release of Dragon Ball Super: Super Hero

A special pop-up store celebrating the upcoming Dragon Ball Super: Super Hero film is coming to four locations in Tokyo and Kanagawa! The film is scheduled to be released on June 11, 2022, and fans can pick up some exclusive merchandise at Shinjuku Station, Kawasaki Station, Ikebukuro Station, and Akihabara Station. The dates are listed below!

Exclusive Products

Special Bonus

Product Lineup

Shop Displays

The pop-up shop will feature exclusive items decorated with popular imagery from the Dragon Ball series. Fans will also be able to grab some home goods themed around the Capsule House where Bulma lives!

As a purchase bonus, customers spending ¥2,500 or more will receive a special holographic sticker!

Each venue will be decorated, so enjoy taking some photos with your family and friends.

Information

DRAGON BALL POP-UP STORE BY FLOWERING

Locations/Dates: 

Shinjuku Station / April 25 – May 8

Kawasaki Station / May 17 – May 24

Ikebukuro Station / June 1 – June 9

Akihabara Station / June 14 – June 23

Official Site: https://www.jr-cross.co.jp/

Kyary Pamyu Pamyu Collaborates with 153-year-old Kimuraya Bakery for LOCAL POWER JAPAN Project

Last month, Kyary Pamyu Pamyu performed on the Gobi Stage at Coachella, one of the largest music festivals in the United States. Her Weekend 1 performance was streamed live worldwide and trended on Twitter in both the U.S. and Japan. After an accident during the second weekend left the singer alone on stage, many wondered if she could pull of a dazzling performance. Kyary's joy and excitement completely transfixed the massive crowd, and the artist has drawn praise from around the world for her talent and passion.

Kyary has returned to Japan to continue her 'Kyary Pamyu Pamyu 10th ANNIVERSARY JAPAN TOUR 2022 CANDY WAVE,' seeing the singer performing 30 shows across Japan. On May 7, she'll perform at LINE CUBE SHIBUYA in Tokyo.

In conjunction with the nationwide tour, the LOCAL POWER JAPAN Project was launched to energize Japan through the appeal of regional towns and cities and has been attracting major attention. To celebrate the Tokyo leg of the tour, a new Tokyo collab has been announced!

Kyary is teaming up with Kimuraya Sohonten, a bakery that has been in business for over 150 years. The brand is known for inventing the anpan sweet bun in 1874. Given how much this simple food has influenced Japanese culture, it seems appropriate to team up with Kyary–the singer has brought Japanese influence around the world and continues to inspire fans with her creativity and sweetness. 

For the collaboration, fans will be able to purchase the aptly-named 'Ninjari Anpan,' based on Kyary's hit song Ninjari Bang Bang released in 2013. The limited-edition set includes five different flavors of anpan and shows Kyary in her ninja attire on the box. Concertgoers can purchase these sweets at the show on May 7, and they will also be available at select Kimuraya stores and online.

A collaborative T-shirt is also on sale featuring the new logo and the singer's 10th-anniversary logo. The shirt is available on the LOCAL POWER JAPAN Project website for two weeks only. Support Japanese businesses and pick one up while you can!

Idol Group Shiritsu Ebisu Chugaku to Open One-Day 'Ebisen Cafe' in Omotesando

The popular idol group Shuritsu Ebisu Chugaku will open a one-day-only cafe in Omotesando on May 1, 2022! The location will open in conjunction with CookpadTV, which hosts the popular show 'Shiritsu Ebisu Culinary Institute.'

The members of Shiritsu Ebisu Chugaku are passionate about cooking, making this the perfect project. Since October 2021, the girls have streamed their cooking stories and ideas on CookpadLive, and now, they're ready to put their hearts and souls into each and every item on this cafe menu. Visitors will also be able to purchase original merchandise on-site and see some of the member's costumes! 


Reservations for the cookpadLive Ebisen cafe are required, and the lottery for reservations is open now. Some of the menu items and original goods offered at the cafe are also available for purchase on cookpadLive's official E-commerce site, so don't worry if you aren't able to attend in person on May 1!

The cookpadLive Ebisen Cafe will feature a special lunch time, dinner time, and cafe time. The nine members of Shiritsu Ebisu Chugaku will appear in three teams for each session.

BTS Characters 'TinyTAN' to Appear at Cafes in Tokyo, Yokohama, Osaka, Nagoya, and Miyagi

The popular BTS chibi characters TinyTAN will be featured at TinyTAN Cafe locations in five cities for a limited time! Nine locations will be open across Tokyo, Yokohama, Osaka, Nagoya, and Miyagi starting April 21, 2022.

The TinyTAN characters were designed by the seven members of BTS to embody their "second selves."

Select Cakes: ¥990

Fruits Deco Style: Strawberry, Fruits Deco Style: Mango, Fruits Deco Style: White Grape: ¥1,760


The menu is packed with desserts, including seven different types of cakes each inspired by a member of TinyTAN.

American Sundae Style Chocolate Cookie, American Sundae Style Caramel Nuts, American Sundae Style Pistachio Honey: ¥1,870

Afternoon Style Tea: ¥3,190

The Afternoon Style Tea includes a base plate that can be customized with guest's favorite fruits and chocolates. Two types of TinyTAN Select Cakes will also be included to share!

Ham (2 types) & Scrambled Egg Peanut Butter Sandwich: ¥1,760

Cafe Style Drink & Cake Set *Prices vary based on drink selection.

Guests can choose from colorful bagel sandwiches, pancakes, and open sandwiches, along with a selection of sweet drinks to match each meal.

Bonuses

Acrylic Stand (7 varieties, random): ¥1,320

Sticky Note Roll: ¥880, Acrylic Nameplate (7 varieties): ¥990 each


Original cafe merchandise and special offers will make visiting the TinyTAN Cafe even more exciting!

© BIGHIT MUSIC. All Rights Reserved

Information

TinyTAN CAFE

Tokyo, Omotesando: BOX cafe&space Omotesando

April 21 – June 5, 2022

Pine Under Flat B1F (5-13-2 Jingumae, Shibuya-ku, Tokyo)

Tokyo, Shinjuku: BOX cafe&space Lumine EST Shinjuku

April 28 – July 3, 2022

Lumine EST Shinjuku B1F (3-38-1 Shinjuku, Shinjuku-ku, Tokyo)

Tokyo, Harajuku: BOX cafe&space Harajuku Alta

April 21 – June 5, 2022

Harajuku Alta 3F (1-16-4 Jingumae, Shibuya-ku, Tokyo)

Tokyo, Omotesando: BOX cafe&space Omotesando Hills

April 21 – June 26, 2022

Main Building, B3F (4-12-10 Jingumae, Shibuya-ku, Tokyo)

Kanagawa, Yokohama: Collabo_Index Lumine Yokohama

April 22 – June 19, 2022

Lumine Yokohama 6F (2-16-1 Takashima, Nishi-ku, Yokohama)

Aichi, Nagoya: BOX cafe&space Nagoya LACHIC #1

April 28 – June 5, 2022

LACHIC B1F (3-6-1 Sakae, Naka-ku, Nagoya)

Osaka, Umeda: BOX cafe&space HEP FIVE

April 28 – June 5, 2022

HEP FIVE 7F (5-15 Kakudacho, Kita-ku, Osaka)

Osaka, Shinsaibashi: Shinsaibashi contact

April 29 – July 3, 2022

1-6-24 Kitahorie, Nishi-ku, Osaka

Miyagi, Rifu: BALLER:S

April 27 – June 26, 2022

AEON MALL Shin-Rifu South Building 2F (3-1-1 Shinnakamichi, Rifu, Miyagi)

Reservations Open

Reservation Fee: ¥660 (Includes Bonus)

TinyTAN CAFE Official Site: https://tinytan-cafe.jp/

MOSHI MOSHI ROOMS HARAJUKU Announces 'My Ty Rooms Harajuku' Collaboration

ASOBISYSTEM, a company aiming to broadcast Japanese pop culture from Harajuku to the rest of the world, has teamed up with Rokuyon Corporation for a special collaboration! Rokuyon manages unique private accommodations throughout Shibuya in Tokyo, and with help from Meteor APAC, the Japanese distributor of Ty's beloved Beanie Baby stuffed animals, a new collaboration room will be available to book for a limited time only.

MOSHI MOSHI ROOMS HARAJUKU, a home-sharing facility produced by ASOBISYSTEM, is offering a Ty-inspired room from April 23 until May 22, 2022. The room looks more like an art gallery than a guest house and was designed by Ty's content director Harris.

Children can enjoy a number of Ty amenities, while adults will enjoy taking home a Ty A3-sized tote bag to remember their unique visit. Those taking the tote bag will be able to fill it with all the Ty stuffed animals they want for only ¥1,650 (Tax Included)!

A social networking campaign exclusively for guests will also be underway soon! Those posting with the hashtag #moshimoshirooms and #ty will receive one free Ty plush toy!

Information

My Ty Rooms HARAJUKU

Available: April 23 – May 22, 2022

Address: MOSHI MOSHI ROOMS HARAJUKU (2-18-7 Jingumae, Shibuya-ku, Tokyo)

Access: 8-minute walk from Meijijingu-mae Harajuku Station on the Tokyo Metro Chiyoda Line/Fukutoshin Line

Reservations: https://www.airbnb.com/rooms/47207073 

xxxHOLiC Exhibition Opens at WITH HARAJUKU HALL to Mark Upcoming Live-action Film

A special xxxHOLiC exhibition will open at WITH HARAJUKU HALL in Shibuya on April 29, 2022! The event is being held to celebrate the release of the live-action xxxHOLiC film on the same day. 

Written and illustrated by the manga group CLAMP, xxxHOLiC ran from 2003 until 2017 in Weekly Young Magazine and Bessatsu Shonen Magazine. The series has been a best-seller, with over 14 million copies in circulation, and has been adapted into an anime series, anime film, and live-action television series. An all-male stage play aired in Tokyo in September 2021. The upcoming xxxHOLiC film is the first live-action film adaptation by photographer Mika Ninagawa. This exhibit will include behind-the-scenes footage and images along with a puzzle-solving game!

Exhibition

©2022映画「ホリック」製作委員会 ©CLAMP・ShigatsuTsuitachi CO.,LTD./講談社

Exhibition Hall 

©2022映画「ホリック」表裏世界没入展実行委員会©CLAMP・ShigatsuTsuitachi CO.,LTD./講談社 Photo by Mika Ninagawa

Guests will be able to see stills, costumes, props, and artwork from the upcoming film, as well as a 'visit to the wish-granting shop!' Take some pictures at an incredibly detailed photo spot, and check out images of the film's incredible cast. xxxHOLiC will star Ryunosuke Kamiki, Kou Shibasaki, Tina Tamashiro, Daoko, Serena Motola, and many more beloved stars.

*Hokuto Matsumura, who plays Shizuka Doumeki, will not be featured in the exhibition.

xxxHOLiC Puzzle Solving Game 'The Mysterious and Curious Tale' 

Get ready for a completely original new mystery game! Players will transform into the characters of xxxHOLiC to solve a mystery assigned to Yuko Ichihara and Kimihiro Watanuki. What's the real cost of making a wish? 

©2022映画「ホリック」製作委員会 ©CLAMP・ShigatsuTsuitachi CO.,LTD./講談社

Information

xxxHOLiC Behind the Scenes Exhibition Supported by WITH HARAJUKU

Address: WITH HARAJUKU HALL (1-14-30 Jingumae, Shinjuku-ku, Tokyo)
Access: 1-minute walk from Harajuku Station on the JR Yamanote Line, a 1-minute walk from Meijijingumae Station on the Tokyo Metro Chiyoda Line/Fukutoshin Line

Running: April 29 – May 15, 2022

Hours: 10:00-16:30 (Last entry at 16:00) *Open 10:00-19:00 from May 9 – May 13 (Last entry at 18:30)

xxxHOLiC Puzzle Solving Game 'The Mysterious and Curious Tale': 17:30-19:30 (Area closes at 20:00) *Open 20:00-22:00 from May 9 – May 13

Official Site: https://xxxholic-movie-event.com

Tasty Half-Moon Sandwiches Coming in Second Doraemon Tokyo Banana Collaboration

Doraemon Tokyo Banana Half-Moon Sandwiches are coming on April 1, 2022! These tasty snacks come in a pack of eight and are sure to make the perfect gift.

This release of Doraemon Tokyo Banana is celebrating the 30th anniversary of the Tokyo Banana brand and the 50th anniversary of Doraemon. Why not enjoy your daily snack time with these cute treats?

Each sandwich is filled with chocolate-banana cream with the dough baked into a crispy, savory crust with a winking Doraemon on both sides.

©Fujiko-Pro,Shogakukan,TV-Asahi,Shin-ei,and ADK ※画像はイメージです

History of OSAMU GOODS to be on Display in 'OSAMU GOODS 45th Anniversary Exhibition'

Palette Club, a school for illustrators located in Tsukiji, will be holding a 45th Anniversary exhibition for OSAMU GOODS! The characters were created in 1976 by Osamu Harada, who is from Tsukiji, and Dusty Miller. Items featuring these adorable characters are still incredibly popular to this day.

Exclusive Merchandise

Rare original drawings, prints, and goods from the 1970s to the 1990s, as well as Dusty Miller store bags and fan club newsletters, will be on display during the event. Those more nostalgic about these characters and those new to them will both find something to enjoy!

Information

OSAMU GOODS 45th Anniversary Exhibition

Running: April 12 – May 22, 2022

Hours: 13:00-19:00 (Last Entry at 18:30)
*Closed Mondays
Admission: Free

Venue: Palette Club School (4-11-10 Tsukiji, Chuo-ku, Tokyo)

Information: https://www.osamugoods.com/