Popular Australian Artist MULGA to Collaborate with CA4LA for Second Time
Hat brand CA4LA is collaborating with popular Australian artist MULGA on a new collection! Mulga is celebrating the 10th anniversary of his first solo exhibition. Items from the collection will be available at CA4LA stores nationwide (excluding outlet stores), the CA4LA online store, and ZOZOTOWN starting May 13, 2022.
Lineup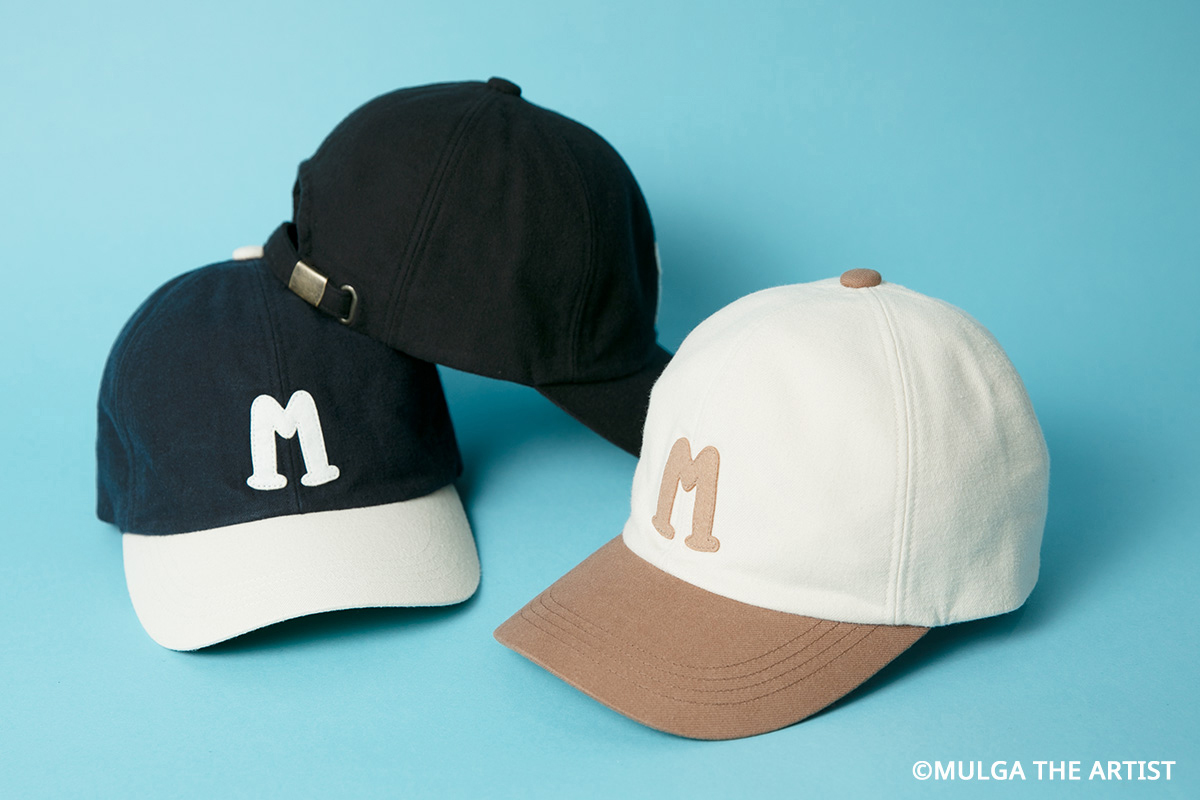 This marks the second collaboration between the two. Items in this collection are perfect for summer, with bright and colorful decorations commonly found in MULGA's works. Customers will receive a commemorative 10-year anniversary MULGA magnet with each hat purchase. Each magnet was designed by the artist to express his gratitude to his fans for supporting him for the last decade.

The artist will also be holding a canvas exhibition at CA4LA's Shibuya store from May 13 until May 31, 2022. Those visiting the exhibition will be able to purchase artwork, so be sure to attend if you have the chance!
Information
MULGA × CA4LA
Release Date: May 13, 2022
Where to Buy: CA4LA shops nationwide (excluding outlet stores), CA4LA Online Shop, ZOZOTOWN
MULGA Canvas Art Exhibition
Running: May 13 – May 31, 2022
Venue: CA4LA Shibuya (Frame Jinnanzaka Block H, 1-2F, 1-18-2 Jinnan, Shibuya-ku, Tokyo)

RELATED ENTRIES
PAC-MAN Celebrates 42nd Birthday with Theme Song, Music Video, and Fortnite Collaboration

PAC-MAN is one of the most important characters in video game history, so celebrating his birthday is a given! Bandai Namco has announced a number of projects to take place in 2022 based on the theme of 'Be PAC-TIVE!!'

PAC-MAN Official Theme Song, We are PAC-MAN!

The 'Be PAC-TIVE' initiative wants to inspire people to eat well and live well, and to place more importance on cultivating a healthy body and mind. PAC-MAN's circular shape is also symbolic of a circle of friends, harmony, the spirit of cooperation, and the shape of the planet we all inhabit. Who knew that a simple character and game like PAC-MAN could be so deep?


We are PAC-MAN! (Japanese ver.):  https://youtu.be/JKque0N2bww
We are PAC-MAN! (English ver.): https://youtu.be/5_JzxszEpmc
We are PAC-MAN! (Chinese ver.): https://space.bilibili.com/287390748

PAC-MAN MUSEUM+ Commemorative T-Shirt

The PAC-MAN MUSEUM+, which includes 14 classic and modern titles from the PAC-MAN universe, will soon be available. New T-Shirts commemorating the release will be available on Amazon starting May 23. The birthday version of the shirt will be released on June 23, and will feature the key visual alongside a festive newly-drawn illustration. 

Collaboration with Popular Online Game Fortnite

PAC-MAN will also be teaming up with the globally-popular online game Fortnite starting June 2! Players will be able to purchase items with a PAC-MAN motif.

It's likely that you haven't played a PAC-MAN game in a while, so why not pick one up for old times' sake?

PAC-MAN MUSEUM™+ & ©BANDAI NAMCO Entertainment Inc.
"PlayStation"および"PS4"は、株式会社ソニー・インタラクティブエンタテインメントの登録商標または商標です。
Nintendo Switchは任天堂の商標です。
STEAM および STEAM ロゴは、米国およびまたはその他の国の Valve Corporation の商標およびまたは登録商標です。

Tokyo Revengers and Rascal the Raccoon Collaboration Goods Coming in August

This August, collaboration merchandise between the popular series Tokyo Revenger and the character Rascal the Raccoon will be available at anime and hobby shops nationwide and Chugaionline. Preorders are open now!

Pin (12 varieties)

Acrylic Stand – Mini Character Ver. (6 varieties)

Acrylic Figure Stand (6 varieties)

Stuffed Animal Phone Strap (6 varieties)

Masking Tape

Stickers

Rubber Heart Keychain (6 varieties)


The new collection includes adorable items featuring newly-drawn illustrations of everyone's favorite characters spending time together. Fans won't want to miss grabbing items with their favorite Tokyo Revengers character dressed up as Rascal!

©和久井健・講談社/アニメ「東京リベンジャーズ」製作委員会
©NIPPON ANIMATION CO.,LTD.

Rhythm Game BlackStar ~Theater Starless~ Gets Collaborative Event at Toei Kyoto Studio Park

Toei Kyoto Studio Park will be holding a special collaboration with the rhythm game BlackStar ~Theater Starless~ for a limited time, from June 4 until July 10, 2022.

Goods Lineup

Newly-drawn Illustrations

Mini Characters

The Theater Starless Uzumaki Branch will be open inside the park during the event period. 26 themed cast members will even be greeting guests! 


A stamp rally will be taking place along the Keifuku Randen Tram Line and during the event, a special train featuring a newly-drawn illustration of the five main characters and 26 mini-characters will be running through the streets of Kyoto!

Limited tickets will be sold for a number of collaborative events being held in the park, so be sure to grab yours while you can!

©DOUNUTS

Information

BlackStar ~Theater Starless~ in Uzumaki

Running: June 4 – July 10, 2022

Venues: Toei Kyoto Studio Park, Arashiyama Station, etc.
Official Site: https://blackstar-uzumasa.jp/
Official Twitter: @Blackstar_uzms

Sanrio Characters Inspire Limited Edition Sweets at Ministop Convenience Stores

Japanese convenience store chain Ministop has just released some original sweets inspired by Sanrio's most popular characters! The sweets are served up in adorable glasses and are only available while supplies last.

Sanrio Characters Black Tea Brownie

Design: Kerokerokeroppi, Hello Kitty, Tuxedo Sam, Marroncream

Sanrio Characters Chocolate Brownie

The pastel-colored glasses have a retro feel and can be reused as drinking glasses or containers for homemade sweets. Sustainable and adorable, come grab these brownies while you can!

Ⓒ 2022 SANRIO CO.,LTD

Information

Ministop x Sanrio Characters

Black Tea Brownie / Sanrio Characters Chocolate Brownie  

Price: ¥465 (Tax Included)

Available: May 19 – June 2, 2022 

Gelato Pique Announces Collaboration with Twin Pandas Xiao Xiao and Lei Lei

The Japanese loungewear brand gelato pique has launched a new series inspired by the twin pandas Xiao Xiao and Lei Lei living at Ueno Zoo! The adorable new items went on sale on May 12, 2022. 

The Ueno Zoo is the oldest zoo in Japan. Located in Taito-ku, it was first opened in March 1882.

To commemorate Xiao Xiao and Lei Lei's first birthday, gelato pique has created an incredible collection of loungewear and sundries. A portion of the proceeds will be given to the Giant Panda Conservation Support Fund to support education regarding pandas and conservation activities at the zoo.

Xiao Xiao & Lei Lei Collaboration

Roomwear Set

Panda Blanket

Panda Multi-use Cover

gelato pique Original Panda Series

Panda Hoodie & Shorts Set

Panda Print T-Shirt / Shorts / Dress

Panda Glass

Small Panda Reuseable Bag

Online Exclusives

3-piece Panda Set

gelato pique Sleep

3-piece Panda Print Bed Set (Single) / Pillow Case with Panda Ears / Panda Nightcap / Panda Rug

The Panda Series celebrates both the cute twin pandas at Ueno Zoo and all other pandas around the world. Still an endangered species, gelato pique wants to help these big animals however they can. The new collection's theme is "happy time at home."

Panda lovers shouldn't miss grabbing something cozy from this new collection!

Touhou Project and One Night Werewolf Collaboration Items Now Available

ARMA BIANCA, an online store specializing in original goods, is now taking orders for limited-time collaboration items between Touhou Project and One Night Werewolf!

Lineup

One Night Werewolf Collaboration – Pixel Art Ver.

Acrylic Stand

Preorder Purchase Bonus

Acrylic Keychain

Preorder Purchase Bonus

Pin

Preorder Purchase Bonus

T-Shirt

Hoodie

Clear Folder

Mug

Pen

 

One Night Werewolf is a card game where players take on the role of a Villager, a Werewolf, or a number of special characters with unique abilities. The goal is to figure out who the Werewolves are and to kill at least one in order to win!

The Touhou characters featured in the collaboration include Reimu Hakurei, Marisa Kirisame, Cirno, Youmu Konpaku, Sakuya Izayoi, Satori Komeiji, Koishi Komeiji, Remilia Scarlet, Flandre Scarlet, and Kagerou Imaizumi. 

A BATHING APE Releases Dragon Ball Z Majin Buu Collection

Japan's top streetwear brand A BATHING APE is releasing a new collection inspired by Dragon Ball Z! The two first collaborated in 2016 starting with imagery inspired by Son Goku's childhood. In June 2020, the company released a collection themed around the Cell arc.

Lineup

The newest collection was inspired by the final arc of the series, the Buu Saga, expressed in the style of BABY MILO.


The main characters from the series–Goku, Vegeta, Majin Buu, and Piccolo–are all depicted in BABY MILO style. In addition, characters such as Mr. Satan and Uub appear, perfect for more hardcore fans wanting to see lesser-known characters represented.


The lineup includes a coach jacket and hoodie featuring newly-drawn illustrations inspired by the final episode. Don't miss this special collaboration!

Information

A BATHING APE x Dragon Ball Z

Release Date: May 21, 2022
Where to Buy: A BATHING APE Authorized Retailers, BAPE.COM Web Store

For Preorder
Coach Jacket

Preorders start May 21, 2022 (Preorders will end when the item is sold out.)
Item to ship in early July
*Regular items and preorder items cannot be purchased in one order.

Official Site: https://bape.com/pages/dragon-ball-z

Ariake Garden at Izumitenku Bathhouse in Tokyo Collaborates with Love Live! for the Third Time

Ariake Garden at the Izumitenku public bath facility in Tokyo will be teaming up with Love Live! Nijigasaki High School Idol Club for the third time! The new collaboration will begin on June 6, 2022, and will include towels decorated with brand-new illustrations of the girls in yukata. Special drinks will also be for sale.

Original Merchandise

Love Live! Nijigasaki High School Idol Club Towel

Izumitenku Bathhouse Original Bath Salts (Set of 2, Yukata version) / Includes random sticker (Yukata version)

Original Drawstring Bag

Collaboration Drinks

Why not come enjoy the world of Love Live while relaxing in a natural hot spring?

HARAJUKU App Launches Collaboration with Love Live! Super Star!! at Famous Takeshita-dori

From May 20 until June 5, 2022, AppBank is bringing fans of Love Live! Superstar!! a special treat in collaboration with the HARAJUKU app! By launching the app at a check-in spot in Harajuku, users can win a limited-edition Love Live! toy at random, such as acrylic keychains or pins.

App Splash Page

HARAJUKU Map

Random Toy Screen

For those winning a toy, the item can be picked up in front of the CUTE CUBE HARAJUKU Love Live! Superstar!! Wall Panel or at YURINAN Harajuku Takeshita-dori Yu-rin An. In celebration of the event, CUTE CUBE HARAJUKU will be featuring Love Live wall panels during this period, so be sure to go get some great pictures!

XLARGE Releases Dragon Ball Collaboration Collection Featuring Popular Characters

Fashion brand XLARGE has announced a new collaboration to commemorate the upcoming release of Dragon Ball Super: Super Hero in theaters. The film will see the return of the Red Ribbon Army, which Gohan, Piccolo, and other popular characters will have to defeat. Check out the collection below–is your favorite fighter in the lineup?

Collection

XLARGE×DRAGON BALL GOHAN S/S TEE

XLARGE×DRAGON BALL PICCOLO S/S TEE

XLARGE×DRAGON BALL CAPSULE CORP JUMPSUIT

XLARGE×DRAGON BALL ANDROID18 S/S TEE

XLARGE×DRAGON BALL BULMA S/S TEE

XLARGE×DRAGON BALL TRUNKS S/S TEE


The collection includes T-shirts featuring Gohan, Piccolo, Bulma, Android 18, and Trunks. Items will be available online and in select stores nationwide!


Information

XLARGE x Dragon Ball

Online Store
https://calif.cc/blogs/feature/220518xl_dragonball

Lottery: May 18, 12:00 – May 19, 11:59

*Winners to be Announced on May 20, 12:00

ZOZO
https://zozo.jp/shop/xlarge/
Available May 21, 12:00~

Available in-store: 

XLARGE locations nationwide, XLARGE/X-girl locations (excluding outlets)

May 21~

*The XLARGE x DRAGON BALL Capsule Corp Jumpsuit will only be available at the calif online store and ZOZOTOWN.

Niponbashi Takashimaya's Le Cafe de Joel Robuchon Collaborates with Gaspard and Lisa on Limited Time Menu

Le Cafe de Joel Robuchon, located inside Niponbashi Takashimaya, is now offering a special menu in collaboration with the French children's book characters Gaspard and Lisa! These items will be available until May 31, 2022.

Collaboration Menu

Gaspard and Lisa Plate

Strawberry Galette with Gaspard and Lisa (Served with coffee or tea)

Exclusive Merchandise

Original Pouch

Coaster

 

Visitors can enjoy a Gaspard and Lisa plate complete with two adorable mini-burgers served with fries and strawberry panna cotta. Those wanting a dessert can grab a buckwheat flour galette covered in strawberries!

The location will be decorated with Paris-themed illustrations from the Gaspard and Lisa picture books during the collaboration, and customers will receive an original pouch and limited edition coaster as order bonuses. Be sure not to miss this little slice of France in Tokyo! 

©2022 Anne Gutman & Georg Hallensleben / Hachette Livre

BTS, New Era, and MLB Collaboration Items Available at BAYFLOW

Lifestyle brand BAYFLOW has launched a triple collaboration collection! Stores nationwide are now selling items created by the popular South Korean idol group BTS, headwear and fashion brand New Era, and the MLB, the world's premier professional baseball league.

Dynamite 

Butter

Black Swan 

The designs in this collection incorporate the coloring and artwork found on the covers of the BTS singles Black Swan, Dynamite, and Butter, with the MLB logo. Fans can grab baseball caps, bucket hats, and t-shirts inspired by each song.

BAYFLOW began selling these new items in stores nationwide starting May 13, 2022. In addition, two New Era pop-up shops are open for a limited time at BAYFLOW Kichijoji and AEON Mall Kawaguchi!

Information

BTS x New Era x MLB
Release Date: May 13, 2022
Where to Buy: BAYFLOW stores nationwide
List of Stores: https://www.dot-st.com/m/bayflow/CSfMbStoreListPage.jsp

*Not available at the web store, ZOZOTOWN, or Rakuten.

New Era Pop-up Store
Locations: BAYFLOW Kichijoji, AEON Mall Kawaguchi

Dates:
At BAYFLOW Kichijoji until May 31
At AEON Mall Kawaguchi until June 6

Official Site: https://www.bayflow.jp/