HOSHINOYA Taketomi Island Offering Relaxing Starry Sky Plan for a Limited Time
HOSHINOYA Taketomi Island, a resort in Okinawa Prefecture, is offering a special plan from June 1 until August 31, 2022. The Hoshizora Sparkling Stay Plan is perfect for anyone wanting to relax under a starry sky. Taketomi Island has the honor of being Japan's first protected starry sky area, meaning that not too many manmade lights can be incorporated into building designs. Under the theme of 'miisurin,' meaning 'sparkling eyes' in the local dialect, guests can enjoy a retreat from modern life as they gaze up at the night sky while enjoying spa treatments, delicious food, and plenty of other ways to relax.
Spa Treatment
Brunch
Mulberry Tea
Three Ways to View the Starry Sky
Floating Beneath the Stars
On the first night of your stay, enjoy relaxing in a pool beneath the glittering night sky. A staff member will gently rock your body from side to side to induce a state of deep relaxation.
Star Walk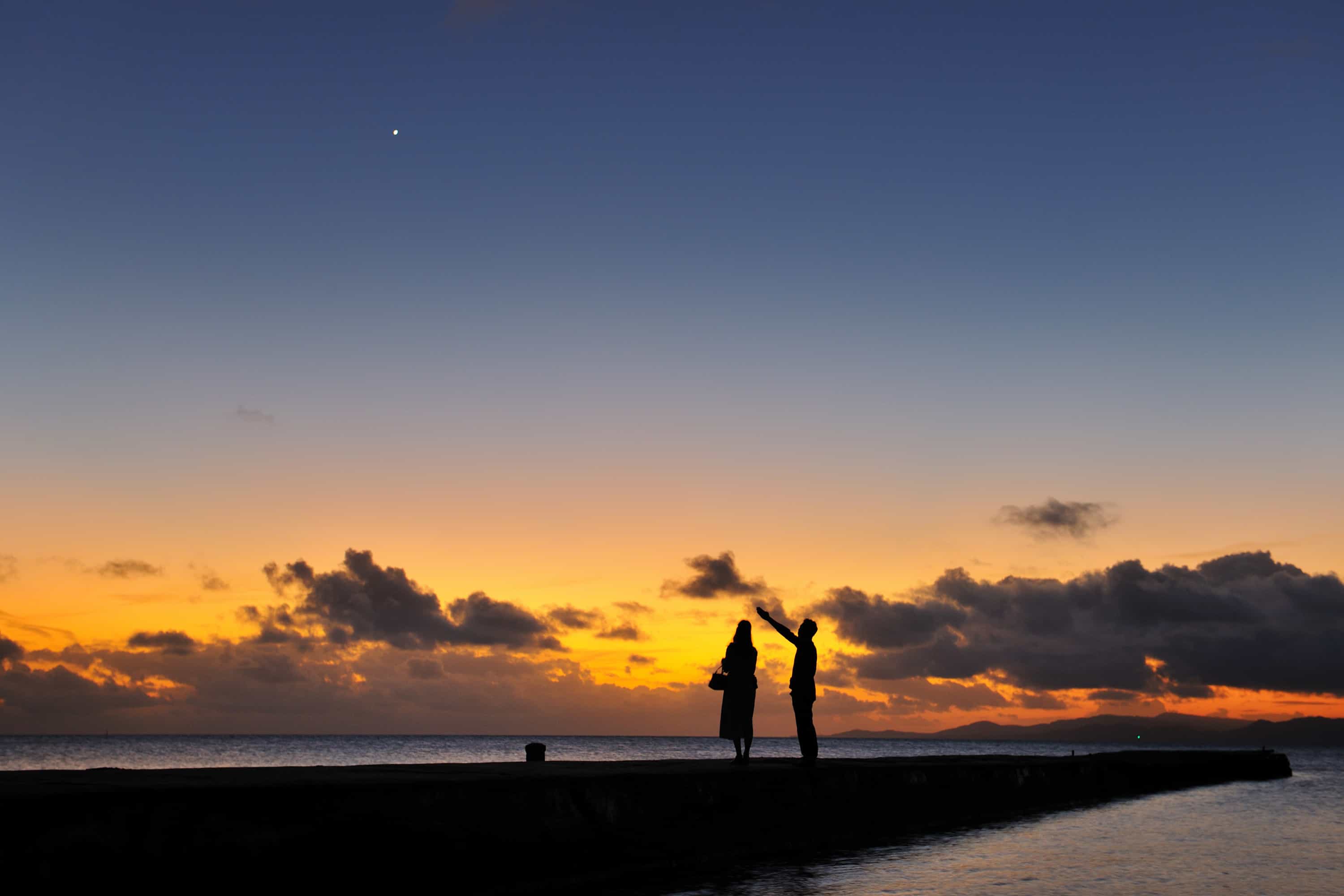 On the second night, enjoy leaving your room at dusk to walk along the shore and find the first star in the night sky. Along with a staff member who is well-versed on stars and astrology, visitors will head towards the West Pier, a tangible cultural property, to watch the sunset.
Private Deep Breathing Course
After walking along the beach, guests will sit on Kondoi Beach beneath the shimmering sky to stretch and participate in relaxing deep breathing. Enjoy the sound of the crashing waves while all of your tension drifts away.
Information
Hoshizora Sparkling Stay Plan
Available: June 1 – August 31, 2022
Details/Reservations: https://hoshinoya.com/taketomijima/
*Reservations accepted up to 14 days in advance.
RELATED ENTRIES
Hoshinoya Karuizawa Unveils Special Anniversary Plan on the Ice

Each Hoshinoya location has its own unique theme, and all offer an extraordinary experience. Hoshinoya Karuizawa, a resort in Nagano Prefecture, has opened reservations for the Starry Winter Anniversary Plan, allowing couples to celebrate their love away from the hustle and bustle of the city beneath the dazzling winter sky. The staff at the resort will assist couples in celebrating the special day at various locations around the resort, and a custom-made photo tour will also be included!

Surrounded by rich nature at the foot of Mt. Asama, Karuizawa reaches low temperatures in winter, creating beautiful scenery dotted with icy trees and snow glistening in the sunlight. This plan is perfect for those who want to escape the stresses of the current pandemic. 

A Special Seat on the Ice

The Karuizawa Wild Bird Sanctuary is located directly beside Hoshinoya Karuizawa and houses the Kera Pond at the entrance. Used as an outdoor skating rink during the winter months, a large two-person seating area is erected on the ice which can only be reserved for couples. Lovebirds can enjoy champagne, dried fruits, and cheese as they gaze up at the starry sky. 

Guest Rooms Decorated for the Celebration

With rooms offering spectacular nature views, couples can enjoy herbal tea, sweets, and flower arrangements only included in this special plan. The flowers may be taken home, and the sweets include florentines made with miso, a specialty of the Shinshu area. They are said to be 'sweets that bring happiness,' and may be the key to many more happy years together!

Custom-Made Photo Tour

The landscape around the resort pays homage to traditional Japanese landscaping and includes terraced rice paddies, rivers, and unique vegetation. The custom-made photo tour is a private tour limited to one group, in which couples stroll around the grounds with a photographer to take photos at these spectacular locations. These will be made into an album with the Hoshinoya Karuizawa logo. 

Hoshinoya Tokyo Offers New Safe & Mask-Free Dining Experience Using 'Lantern Partitions'

Hoshinoya hotels each offer a unique experience with their own theme. The Otemachi-based Yoshinoya Tokyo has announced the new "Tokyo Lantern Dinner," which has been proposed to suit the 'New Normal' of the Covid-19 generation. The new dining option was opened to customers from October 13 2021 and blends the new rules of restaurant partitions and mask wearing with Japanese culture, using lantern partitions to allow customers to enjoy their food with peace of mind. Customers can remove their mask as they sit under the lantern partition, which lights up your face and meal with a soft glow, meaning you can safely enjoy conversation and see your partner's face as you talk and eat. Conveniently, the lantern also prevents splashing, making eating out in the Covid-19 era even easier! 

The Lantern Partition was Developed with a Long-Established Lantern Company

Nippon Cuisine ~Fermented~

The partition lanterns were created by Kojima Shoten, a long-established lantern shop based in Kyoto which was founded in the Kansei-Edo period. The original lantern-shape was crafted by the professionals, from the structure all the way to the painting. The unique shape of this elastic lantern allows customers to enter and exit freely, and part of the lantern has been made using a 0.15mm transparent vinyl meaning that face-to-face conversations can be held with ease. In addition, the lantern is equipped with a light that gently illuminates the face and food of the person seated beneath it.

 

 

Yoshinoya Tokyo usually only accepts dining reservations from those staying at the hotel, but customers can now invite non-guests specifically to enjoy the main meal together.  They have prepared a variety of options for meetings and events that previously couldn't meet up due to the Covid situation, such as meetings between families before marriage, anniversaries, birthdays, business dinners, and more. 

 

 

Hoshinoya Tokyo is a Japanese Inn that respectfully combines the comforts of the modern day with traditional Japanese culture. The dining room, located on the first basement floor, offers 'Nippon Cuisine' made using a combination of Japan's historical fermentation culture and French cooking techniques.  The menu includes a wide variety of ever-popular fermented foods and seasonings, such as soy sauce and miso, along with preserved foods such as pickles and salted fish. The lactic acidosis bacteria found in these foods is referred to as a "Good Bacteria," known for its positive effects on the body and its ability to regulate gut bacteria. 

The taste and nutritional value of each meal has increased due to fermentation and aging, using seasonal ingredients from around Japan and French cooking techniques to bring out the flavor, resulting in a new and original taste. 

 

Why not check out Hoshinoya Tokyo and experience this new-era Japanese dining experience for yourself?

Information

Tokyo Lantern Dinner

Available From: October 10 2022 

Reservations: https://hoshinoya.com/tokyo (Must be made at least five days in advance)

Capacity: One group per day

Experience 600 Years of Historical Culture with the Tanadui Festival Accommodation Program

The HOSHINOYA Taketomi Island Resort in Taketomi, Okinawa will be holding the Tanadui Program between September 1 and October 12 2021. The special program will be held to mark the Tanadui Festival, an event that has been listed as an event of cultural importance and allows visitors to experience the deep, historical culture of Taketomi Island.

Taketomi is an island with it's own unique culture with a selection of festival rituals, including food offerings to pray for prosperity and abundant harvests. The Tanadui Festival is the largest on the island and has been designated an event of cultural importance, running for over 600 years. Every year, throughout the seventh and eighth days of the festival, a stage is assembled in Yomochi Utaki to host over 80 traditional performances, each dedicated to the Gods and deities. On Taketomi Island, the phrase "Kashikusaya Utsugumidu Masaru" is key to the local lifestyle, roughly translating to "cooperation over all." Join in the 'Spirit of Utsugumi (cooperation)' as the whole island practices and prepares for the festival – even those who have moved further away will return home to join in.

Focus Points

Bountiful Harvest Lunch – Get to know, touch, and cherish the five grains harvested on Taketomi Island


Enjoy a lunch that has been made using millet, wheats, beans, potatoes, and rice, which are said to be the five grains of Taketomi Island. Before lunch, you can join in the harvesting of potatoes grown on-site. Taketomi Island has no mountains or rivers as it was formed through the raising of coral atolls, making it difficult to grow crops. As distribution was unpopular in the past, the lack of crop growth meant that there was no food to live off. It is because of this that festivals, including the Tanadui Festival, were first held. They are used to pray for plentiful harvests and the traditions are upheld to this very day. During this event, you can harvest potatoes while learning about the history and land.

The lunch plate uses French techniques to propose a fun and new way of enjoying the five grains while retaining their simple sweetness; A sweet wheat risotto, shimadōfu soup, a harvest potato Dengaku (fried potatoes cut into cubes and sprinkled with sugar), plus desserts that can be enjoyed with peanuts. This delicious lunch allows you to get to know, touch, and cherish the five grains of Taketomi Island.  

 

Price: ¥7,260 (Per person, tax & service charge included)

Capacity: Two groups per day

Hours: 12:30 ~ 14:00

Location; Field, Dining Room

 

Traditional Iiyachi Making Tour in collaboration with the islanders and HOSHINOYA Taketomi Island

Iiyachi is a traditional rice cake-like food that is eaten during the Tanadui Festival. Originally the Iiyachi was made using only materials found on the island, but thanks to modern development and tourism, plus the decline of agriculture, it is now regularly made using materials cultivated on other islands. HOSHINOYA Taketomi Island has worked hard to inherit the traditional production method. This year they will be challenging themselves by making Iiyachi using both traditional methods and local agriculture, cultivating millet and azuki beans to use in the recipe. Iiyachi is made by combining the ingredients in a large Shinme Pot to boil and steam. The resulting food is then kneaded out by a group of people while it is turned with a spatula. 

This is an opportunity to get up and close with the island's traditional culture which is only visible once a year during the festive period. Iiyachi making is an important job to the islanders, overflowing with enthusiasm and commitment to the Tanadui Festival.

Price: Free

Date: October 7

Location: Azumaya Garden

 

Teedun Dress-Up Experience

Here you can try on the outfits worn by the traditional performers who participate in the Tanadui Festival. The traditional costumes are only worn during the festival and have been passed through families for generations, usually unworn by anybody who isn't native to the island. During the experience you will be offered a commemorative photo, perfect to take home as a memory of your trip to Taketomi Island. 

Price: ¥1,210 (Per group, tax & service charge included)

Hours: 10:30 ~ 12:30

Location: Yuntaku Lounge

Teedun-banashi

Here the staff will introduce you to the festivals roots, the culture that started it, and the history of the island, with photos to assist. You will be taught all about the 600 year history of the Tanadui Festival and the "Kashikusaya Utsugimi Domasaru" spirit. During the program, you can also learn about daily life on the island, full of festival excitement and traditional Okinawan scenery.

Price: Free

Hours: 20:45 ~ 21:15

Location: Yuntaku Lounge

One Moment on the Island ~Iiyacha~

A selection of traditional Okinawan snacks will be served in the Yuntaku Lounge, offering the visitors a special moment on the island. There are two seasonings available for the sweet and simple Iiyachi: Andansuu, a sweet oil miso that is popular in Yaeyama, and shrimp salt, made from Japanese Tiger Prawns found in the beautiful oceans surrounding the island.l

 

Price: Free

Hours: 14:00 ~ 16:00

Location: Yuntaku Lounge

Tanadui Festival Breakfast


Enjoy a unique Tanadui breakfast packed full of the fruits of the harvest, with millet mixed Juushii rice, Awa Miso Andansuu, and Pindako made using garlic and octopus from the island.  You'll be wide awake with this vibrant breakfast and its auspicious menu. 

Price: ¥4,235 (Per person, tax & service charge included) 

Hours: 7:00 ~ 10:30

Location: Dining Room

Experience 600 years of history for yourself with this unique program! 

Hoshinoya Kyoto Hotel Holds Special Tale of Genji Event

Located deep in the mountains of Arashiyama, Kyoto Prefecture, Hoshinoya is a traditional resort in which every room has a magnificent river view. On November 29 and 30, the hotel will hold a limited autumn leaf viewing event exclusive for guests. The event itself draws inspiration from the dance of autumn leaves from the classic book The Tale of Genji, and will take place in Hoshinoya's garden, home to a 400-year-old Japanese maple tree. The area of Arashiyama was beloved by aristocrats during the Heian period for its natural landscapes and deep red leaves on display in autumn. 

Feature 1

During the Autumn Leaf Viewing in The Tale of Genji, Hikaru Genji dances among the falling autumn foliage. Arashiyama has also been the subject of many poems through the ages, including one by Emperor Shirakawa, who famously wrote "Follow the Oi River, and you will soon see the maple trees of Arashiyama." The 400-year-old maple tree in the back garden of Hoshinoya Kyoto majestically spreads its branches during the autumn months, and looks like something pulled from a painting. Visitors can imagine Hikaru Genji's graceful dance as they look out into the elegant scenery. 

Feature 2

Hikaru Genji's elegant 'Dance of the Blue Sea Waves,' described in the classic book, is said to be so graceful and impressive that it brought tears to the audience's eyes. As traditional instruments are played in the back garden, dancers will sway in traditional costumes, each spectacularly embroidered and detailed. The Old Japanese Court Music to be performed was originally established during the Heian period (794-1185), and is registered by UNESCO as a piece of intangible cultural history. 

How would you like to experience a piece of classical literature brought to life before your very eyes?

Information

Hoshinoya Autumn Leaf Viewing

Running: November 29 – November 30

Time: 9:30-10:30

Price: Free *Accommodation fee not included.

Reservations: At the front desk until 20:00 the day before the event, or online at https://hoshinoya.com/kyoto/

Location: Hoshinoya Kyoto

*For hotel guests only.


Official Site: https://hoshinoya.com/

Experience Early Morning Japanese Sword Training On Tokyo Skyscraper

HOSHINOYA Tokyo, a ryokan in Tokyo, introduced a new experience for guests last Tuesday which invites them for some early morning kenjutsu sword training atop a 160-meter tall building to refresh the mind and body. This Japanese swordsmanship practice teaches not only the large movements, but the breathing techniques used too. It requires the full use of the entire body coupled with lung-stimulating controlled breathing. Since the practice takes place on a towering site, your vision is unobscured, allowing you to see afar while bathing in the morning rays. You can also spot many famous Tokyo buildings too including Tokyo Skytree and Tokyo Tower.

The area surrounding Otemachi where HOSHINOYA Tokyo is located is mostly made up of office buildings and business skyscrapers in the modern day, but it was formerly home to the daimyo's main Tokyo mansion where samurais resided during the Edo Period. During the Bakumatsu at the end of the Edo Period, there was an establishment called Edo Sandai Dojo where swordsmen went to train. The town flourished as a site for honing your skills with a sword. HOSHINOYA Tokyo's sword training experience is a nod back to that time and a chance for people to get their bodies moving in a safe environment during sedentary COVID-19 times.

Early Morning Practice in the Sky

1. An original practice created by HOSHINOYA Tokyo that combines swordsmanship and deep breathing

Participants will be taught by a master of Hokushin Ittō-ryū, a form of ko-ryū old-school sword fighting. They will begin by learning how to hold and operate a bokutō wooden sword as well as foot movements before the proper practice begins. They will learn about being conscious of the tanden, the point below the navel that's a focus point for internal medatitive techniques, as well as sword techniques such as makkōgiri which is a large slice with the sword from top to bottom, dōgiri which is cutting horizontally, kesagiri which is a diagonal slash, and more. All of this is not only to teach sword fighting, but take relieve tension and stress too by utilising the whole body.

2. Soak up the sights of the cityscape basked in the morning light

The practice takes place on a helicopter landing pad atop an enormous skyscraper. From the building, you can see Akihabra, Shinjuku, Ikebukuro, and many other areas and districts of modern day Tokyo which serves as an interesting combination while practicing a traditional Japanese art.

Information

Early Morning Practice in the Sky

Plan Title in Japanese: 天空朝稽古

Running: From June 1, 2021 all year
Times: 6:45-7:45
Price: Free

Booking: Please book the day before at HOSHINO Tokyo's reception by 21:00
Capacity: 6
Requirements: Must be a guest staying at HOSHINOYA Tokyo

Official Website: https://hoshinoya.com/


*Please note the activity schedule is subject to alteration or cancellation depending on weather conditions

Experience a Front Row Seat of Karuizawa's Tranquil Forests at HOSHINOYA

HOSHINOYA Karuizawa has announced a special summer plan for guests called "Mori no Hotori cafe&Bar ~Suijo no Tokutoseki~" (Cafe & Bar by the Forest ~Special Seats on the Water~). The midsummer evening plan is available for one group per day and takes place at the hotel's cafe and bar which sits by a forest and faces the Kera-Ike Pond. It invites guests to relax under the starry night sky on the water and enjoy the sounds of nature while enjoying drinks and bites to eat.

Japan is known for its summer hot summers. However, Karuizawa enjoys a cooler climate, so evenings dip to around 20°C for a comfortable temperature.

Stargazing on top of the water

HOSHINOYA Karuizawa is connected directly to Karuizawa Wild Bird Sanctuary. At the entrance, by the Kera-Ike Pond, is the hotel's Mori no Hotori cafe&bar which is open all year. The cafe/bar fusion is surrounded by Karuizawa's lush forests, and it's here that guests can enjoy sitting on specially-prepared seats on the water. It will feel like they are walking on water as they approach their seats where they can take their shoes off and sit on the tatami mats to gaze at the stars.

Calm the heart with an enchanting performance

When you walk up the stairs that face Kera-Ike from HOSHINOYA Karuizawa, your ears will be met with the enchanting sound of crystal bowls which add a mysterious depth to the natural sounds of the forest, spiriting guests away to another wonderful world.

Indulgent drinks and food

Guests can pick from a range of drinks and bites to eat scented with fruits, wood, and other natural fragrances of the forest. There arw six drinks to choose from including a gin and tonic made with lindera umbellata, a type of camphor, as well as a whisky made with ripe fruits. Food includes chocolate made from lindera umbellata and kuma bamboo grass, cherry blossom and walut chips, and more.

Information

Cafe & Bar by the Forest ~Special Seats on the Water~

Japanese Plan Name: 森のほとりcafe&bar ~水上の特等席~

Running: July 1, 2021 – August 31, 2021
Book Here: https://hoshinoya.com/karuizawa/

*Bookings must be made 5 days in advance

Requirements: Must be aged 20+ years / HOSHINOYA Karuizawa guests only
Time: 20:00-21:00
Capacity: 1 group of two people per day

Notes: Will not take place if it rains

Official Website: https://hoshinoya.com/

Enjoy Breakfast Fruits While Gazing at Mount Fuji at this Glamping Experience

HOSHINOYA Fuji, a hotel which opened as Japan's first glamping resort, has announced the Glamping Fruits Breakfast summer plan which is set to run from June 20 to August 31.

HOSHINOYA Fuji is located in Japan's prefecture of Yamanashi, a place that enjoys a bounty of fruit cultivation. Yamanashi has been called the "Fruit Country," offering a variety of different fruits. In fact, it has been the biggest producer of peaches, grapes, and plums in Japan for over 10 year. The glamping masters of HOSHINOYA Fuji have had knowledge bestowed on them from the growers of these sweet gems who have advised on the safety and best ways to prepare land for fruit growing, characteristics of fruits grown throughout the year, and other means of support. Now, guests at HOSHINOYA Fuji are set to serve these fruits to guests at breakfast this summer.

Dine outdoors from a terrace with a breathtaking view

Guests will enjoy their breakfast out on a sofa on a private terrace that overlooks Mount Fuji and Lake Kawaguchi. With the support of the hotel's Glamping Master, food will be prepared outdoors using a skillet and burner. The main dish is roasted peaches made with bacon and fresh herbs. The salty bacon and sweet peach make for a delightful combination. Best of all, ingredients and condiments are all prepared for guests in advance so they can enjoy a hands-free outdoor experience.

Indulge in high quality fruits

Eight varieties of fruit are available during the breakfast experience including peaches, Shine Muscat, pione, and more. And only the tastiest fruit is served to customers.

An optional tour is available with the plan which offers guests a chance to depart HOSHINOYA Fuji early in the morning to visit a peach farm in the city of Fuefuki. Guests are given exclusive access to the farm where they can learn all about how the peaches are grown from the farmers. At the end, they can tuck into some freshly-picked peaches with a glass of sparkling wine in hand.

Information

Glamping Fruits Breakfast
Running: June 20, 2021 – August 31, 2021
Location: HOSHINOYA Fuji / Fuefuki Peach Farm
Time: 7:30-10:00
Capacity: One group of up to 3 people per day
Bookings/Details: https://hoshinoya.com/fuji/ (Bookings must be made 2 weeks in advance)
Note: Ingredients and menu subject to change

HOSHINOYA Tokyo's New Hotel Plan Lets Guests Cool Down in the Summer With an Edo Period Stay

HOSHINOYA Tokyo is shining the spotlight on Japan's Edo period culture once again this summer with a new hotel stay experience, Edo Suzumi ("Edo Cooling Down"), which will run from June 1 to August 31.

Air cons are common in Japan, but they didn't exist during the Edo Period. The people of Edo therefore had to find alternatives for cooling down during the hot Japanese summer heat. HOSHINOYA Tokyo's new hotel plan will showcase just this by preparing special guest rooms for cooling off, making tsuri shinobu ornamental plans, making tea with both Japanese and Chinese ingredients, and more. Desserts made with sweet sake, something which townsfolk enjoyed drinking during the cool summer evenings, will also be served when the sun sets.

Edo Suzumi: 3 Things to Look Forward to

1. Guest rooms specially prepared with the Edo Period in mind

Guest rooms will be decorated with cool indigo-dyed cloth. They will also feature a number of things that the people of Edo observed to cool down during the summer blaze, such as goldfish, tsuri shinobu, seasonal flower prints, and more. The colour blue reminds one of water and so when seen it is said to make one feel cooler by reducing the pulse, number of breaths, and blood pressure.

Guests will be able to make their very own tsuri shinobu, a decorate hanging fern made from moss and bamboo which is suspended like a wind chime to create the same refreshing sensation during summer.

2. HOSHINOYA Tokyo's new Suzumi Seats cool you off in the evenings

In the evenings, water will be sprayed on the hotel plaza floor, in the same area as where the new Suzumi Seats are. During the Edo Period, people would lay out suzumidai seats and sit outdoors in the evenings when the temperature drops. At HOSHINOYA Tokyo, guests can do the same while enjoying a sweet sake parfait made with seasonal peach compote and edamame mousse. Sweet sake has a good balance of glucose and amino acid, and so people during Edo times would drink it to replenish nutrients and cool down their body.

3. New tea blends with Japanese and Chinese ingredients

Ice was a valuable resource during the Edo Period, and so it's said that many people would drink hot drinks during the summer and cool off by sweating. Various ingredients were sold for making tea in the towns, such as loquat, liquorice, cinnamon, and more, which would be mixed together. Guests will be able to try making their own original tea blends.

Summer cooling was a big part of Edo culture and a way of life that was experienced using all of the senses, such as hanging chimes and ferns, observing goldfish, and more. This unique life can now be experienced at HOSHINOYA Tokyo this summer.

Information

Edo Suzumi

Japanese Plan Title: 江戸涼み滞在

Running: June 1, 2021 – August 31, 2021

Where: HOSHINOYA Tokyo
Bookings: https://hoshinoya.com/tokyo/ (Must be made 14 days in advance)

Price: From ¥59,000 (1 room for 2 people. Tax, service charge, and accommodation not included)

Capacity: 1 group of up to 2 people per day

Notes: For guests of HOSHINOYA Tokyo staying in the Kiku (菊) rooms
Official Website: https://hoshinoya.com/en/

Go Diving in Fuji Five Lakes' Lake Mototsu in Summer 2021

This summer, glamping resort HOSHINOYA Fuji is offering guests a diving experience into the crystal clear Lake Mototsu, the third largest of the Fuji Five Lakes. The diving tour comes as a chance for people to reconnect with nature during the troubling COVID-19 times – to unwind and refresh.

A magical scene of lava, large trees, and freshwater fish

Lake Mototsu is one of Japan's most popular freshwater diving spots. There are restrictions in place for for boats when riding across the beautiful lake, which shimmers crystal clear because of water welling rather than flowing. Divers will be able to spot lake prawns, tachysurus nudiceps, and other lake life which sprouted during the Jōgan eruption in 864. Lava poured from Mount Fuji and created a space for the lake to form. Other sights under the lake include towering trees standing silently over 10-meters in height, water spurting up from holes, and more.

An expert guide will take you to the diving spots

The lava belt

Water swells from the holes

Submerged trees sit silently

Divers will be taken on a tour by a well-versed guide with 21 years in the industry who will lead them to spots based on guests' interests. The experience welcomes both beginner and veteran divers.

An afternoon nap in the forest tents

Due to the breathing control and water pressure that diving exerts, rest is important, and so HOSHINOYA Fuji has prepared a place for divers to enjoy an afternoon nap. They can enjoy the sounds of the forest as they lay suspended between the trees in a hammock-like tent.

Information

Freshwater Diving

Running: July 1, 2021 – August 31, 2012

Where: HOSHINOYA Fuji

Times: 11:00-18:00
Capacity: One group per day (up to two people)

Price: ¥35,000 per person (doesn't include tax, service charge, or accommodation fee)
Bookings: https://hoshinoya.com/fuji/  *Must be made 3 weeks in advance

Enjoy a Picnic Under Okinawa's Starry Night Sky on Taketomi Island

HOSHINOYA Taketomi Island, a hotel resort in Okinawa, is bringing back its night time picnic plan this year where guests can sit on sofas by the beachside with the gorgeous starry sky overhead. The plan is called "Hoshi Furu Yoru no Teingaara Picnic" (Starry Night Milky Way Picnic). Teingaara (てぃんがーら) is Okinawan for the Japanese word for Milky Way (Ama no Gawa, 天の川). It will run from June 1 to August 31.

Gaze at the Milky Way beside the tranquil seaside

Aiyaru Beach is just a five-minute walk from HOSHINOYA Taketomi Island, and it's here where guests can enjoy a breathtaking view of the Milky Away. The beach is situated away from any hustle and bustle, and not many people visit at night, allowing for a chance to enjoy the sound of the waves. Plus, there aren't many days when people have picnics when the moon is out, meaning guests can enjoy a more quiet and private picnic under the moonlight on a comfy sofa.

A fancy picnic inspired by the Milky Way

Tuck into a very special picnic based on the Milky Way made with Taketomi Island's famous Japanese leek, papaya, purple yam, and other delicious veggies as well as island tofu cream and miso. The set comes with a sparkling wine which captures the deep hues of the night sky.

A conversation with the stars

An expert on the Ishigaki Island and the stars will take guests on a journey through the stars, offering commentary on the island's beauty and culture.

In March 2018, the Yaeyama Islands, which includes Taketomi Island, were recognised by the non-profit organisation International Dark‑Sky Association as Japan's first International Dark Sky Park for its distinguished quality of starry nights. The Yaeyama Islands have a lower latitude than Tokyo meaning many more stars can be seen in the sky. Summertime is the best season for enjoying its stars too.

Information

Hoshi Furu Yoru no Teingaara Picnic"

Japanese Plan Name: 星降る夜のてぃんがーらピクニック

Running: June 1, 2021 – August 31, 2021

Closed: June 20-25, July 19,-24, August 7-22.

Times: 20:00-21:30

Price: ¥30,000 per group (does not include tax, service charge, or accommodation fees)

Capacity: 1 group of two people per day
Bookings: https://hoshinoya.com/taketomijima/

*Bookings must be made 14 days in advance

*Picnic will not run if the weather is bad

*Picnic ingredients subject to change depending on stock

HOSHINOYA Tokyo Recreates an Edo Period Festival For Summer 2021

This summer, the Japanese ryokan inn HOSHINOYA Tokyo is once again hosting its "Tokyo Midsummer Night's Banquet" event which brings Edo period culture to the modern day in the form of a traditional festival with entertainment and food.

Tokyo Midsummer Night's Banquet: 4 Things to Enjoy

1. The new HOSHINOYA Tokyo Sake Bar

For a limited time only, the new HOSHINOYA Tokyo Sake Bar is opening on the first floor of the inn which will serve an izakaya-style experience to guests who can expect to enjoy Japanese sake together with various otsumami foods to enjoy with alcohol provided by restaurants nearby in Kanda, Nihonbashi, and Ningyocho. There will be old-timey noren entry curtains, lanterns, and other little decorations to give it that Japanese summer festival vibe. Staff will also be clad in traditional happi coats.

2. HOSHINOYA Ennichi

At the inn lobby and entrance, guests will be welcomed straight into the heart of the summer festival experience coupled with Edo culture. When evening settles in, the calm atmosphere will be transformed with the sound of lively music reminiscent of a Japanese matsuri orchestra. Guests can enjoy a range of activities from Edo times, such as 'fishing' for a flower as pictured above.


Location: HOSHINOYA Tokyo lobby and plaza

Times: 17:00-21:00

Price: Free

3. A very special menu for guests staying at the inn

Enjoy a range of Edo period foods like conger eel, refreshing cold sea bream chazuke perfect for the summer weather, and more. Food is served in guest rooms so they can enjoy a private dining experience.

Location: Guest Rooms

Times: 17:00-21:00

 4. Rental yukata service for that real Japanese summer vibe

Use the inn's rental kimono service to pick out a summery yukata and obi sash to look beautiful and get into Japanese summer festival mode. Guests can walk in and around the inn as well as around the local district of Otemachi.

Time: 10:00-18:00
Price: ¥5,000 per person

Bookings: Mandatory
Book Here: https://hoshinoya.com/tokyo/

Information

Tokyo Midsummer Night's Banquet

Running: July 1, 2021 – August 31, 2021

Where: HOSHINOYA Tokyo

Conditions: Guests only

Official Website/Yukata Rentals: https://hoshinoya.com/tokyo/

HOSHINOYA Kyoto Announces Traditional Boat Ride Experience With Musical Performance For Guests

HOSHINOYA Kyoto has announced that this summer it will hold its Kyo no Ohayashibune boat-riding service which allows one group of guests to rent a boat on which they will ride down the Ōi River and enjoy a traditional musical performance while tucking into some chimaki bamboo-wrapped cake, a confection seen only during the run of Kyoto's Gion Matsuri festival.

Experience 1: Traditional hayashi orchestra aboard a Heian aristocratic boat

One group of guests will board their rented boat at Togetsu Bridge and be taken down the river where they can enjoy the verdant expanse of the valley while listening to a traditional Japanese Gion hayashi musical performance. The Ōi River was formerly a river boated down by Heian nobles who would have waka poetry and orchestral music performed to them on board. HOSHINOYA Kyoto guests will also be able to feel like a Heian aristocrat with this exclusive experience.

Experience 2: The sounds of Konchi Kichin

Konchi kichin is another Japanese term to express Gion hayashi musical performance. These performances are composed of Japanese gongs, flutes, and taiko drums, which are played on yamaboko floats by several dozen people during processions at the Gion Festival. The boat ride will recreate this experience so guests can enjoy the performance more up close as well as learn how to play the gong.

Experience 3: A taste of chimaki

Guests will be able to feel like they are at the Gion Festival by kicking back and enjoying a cup of green tea together with a chimaki, a traditional bamboo-wrapped cake that's only served at the festival. These cakes are often used to decorate the entrances of people's houses in Kyoto to ward off illness and disasters.

Gion Matsuri is one of Japan's three biggest festivals. It has been around for over 1,000 years and last a month. When July hits, the Japanese Gion hayashi orchestras begin popping up around the city signalling the start of the festival. It's a summer tradition of Kyoto and one which can now be enjoyed on board a special boat experience.

Information

HOSHINOYA Kyoto – "Kyo no Ohayashibune"

Japanese Service Name: 星のや京都「京のお囃子舟(はやしぶね)」

Running: July 2021 (July 2nd, 3rd, 9th, 10th, 30th, and 31st)

Times: 17:30-18:30

Boarding Point: HOSHINOYA Kyoto

Notes: Guests only

Bookings: https://hoshinoya.com/kyoto/

*Bookings must be made 3 days in advance