MOSHI MOSHI FESTIVAL, an event under the "MOSHI MOSHI PROJECT" umbrella, aims to deliver pop culture from Japan to the world, held their Singapore installment from Sept. 5 (Sat.) – 6 (Sun.) at the *SCAPE The Ground Theatre / *SCAPE Playspace, wowing a total of 7,500 J-pop culture fans.
Live performances were held on both days at the *SCAPE The Ground Theatre with the first act being TEMPURA KIDZ. Impressing the crowd with their immaculate moves, they performed hit tunes "Miira Killer" and "LOLLiPOP," making the crowd roar ecstatically from the beginning to finish. Calling out "We love Singapore!" to wrap their set up, the crowd cheered and set them up for a great finish.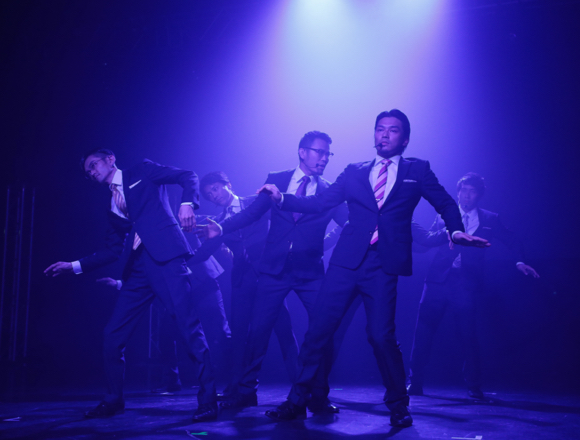 WORLD ORDER took stage after the adorable KIDZ, making an elaborate entrance on stage with their exhilarating dance performance, prompting the crowd to go wild. After performing "WORLD ORDER," Genki Sudo took the mic to MC in English, where his humor-filled introductions to the members made the venue boom with laughter. As the group entered the latter half of their set, the group kept the audience on their toes with solo dance performances followed by their signature tunes "FIND THE LIGHT" and "MACHINE CIVILIZATION." Despite this being their first performance in Singapore, their brilliantly concocted performance completely entranced the audience – with Sudo speaking out "Are you Having a good time?" the audience gave a huge uproar to end the set.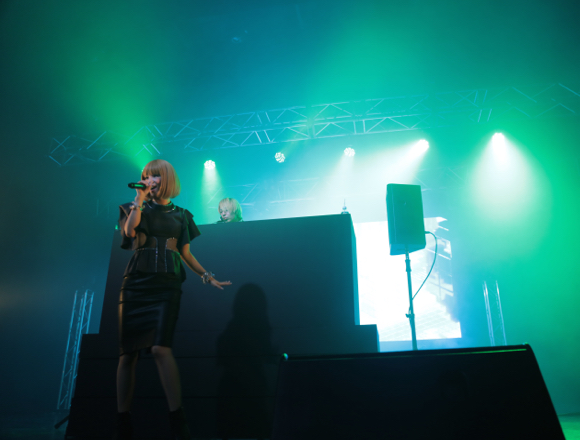 The final act of the Sept. 5 was CAPSULE. Kicking it off with "more more more," they followed up with "Another World" and "Hero." Toshiko Koshijima kept the floor's energy alive whilst Yasutaka Nakata showcased his DJ prowess. The audience held their hands up in the air and danced the set away, completely immersed in the pounding beat. Koshijima called out, "Are you ready? Here we go!" and the setlist entered the latter half, including tracks such as "Starry Sky," "Love or Lies" and "Sugarless GiRL." They left the stage and entered once again to play their encore, "Glider," when WORLD ORDER joined them on stage. Only at MOSHI MOSHI FESTIVAL could this kind of collaboration take place. By the time the show saw its end, the floor had reached the peak of its excitement.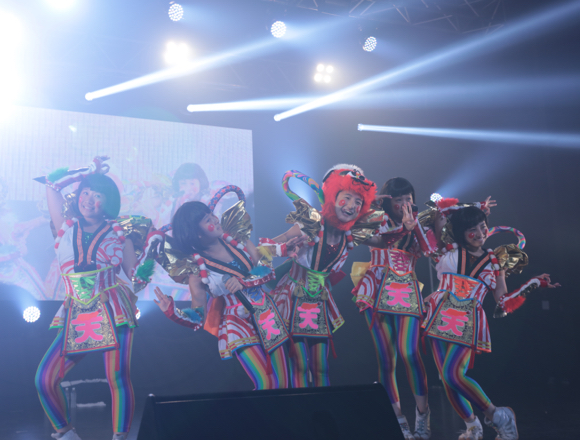 TEMPURA KIDZ were also the first one up on Day 2. Showing up with different outfits than the previous day, they took stage with a completely different setlist, including songs such as "Mask Mask" and "Happy Natsumatsuri," heating up the floor just as they did on Day 1.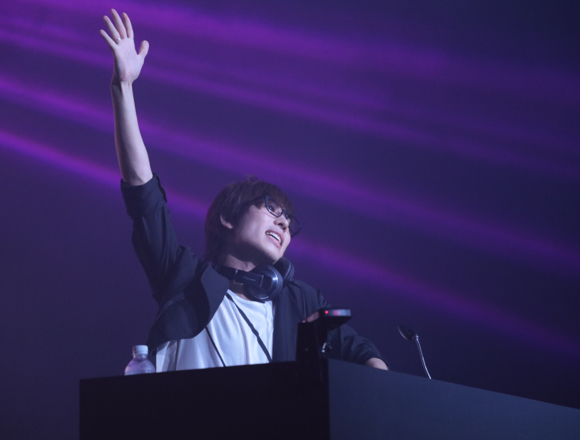 The second act of the day was Hachioji P, starting off with "Electric Love feat. Hatsune Miku," the DJ didn't hesitate to bring in his latest track "Little Scarlet Bad Girl feat. Hatsune Miku" into the first half of their set. "This is so much fun! Do you guys like Vocaloid? Let's keep the energy up!" he called out, and the energy continued to rise as he performed "Desktop Cinderella feat. Hatsune Miku" from his latest album, and left the audience feeling more than fulfilled.
kz(livetune) took the stage next. Starting off with a mash-up of his mega-hit track "Tell Your World" and Porter Robinson's "Sad Machine," the crowd immediately went wild. "CLICK" followed and the crowd saw no stopping of the euphoric wave that had washed over the floor. He then called Anna Yano onto stage, where they performed the livetune-produced "Shape My Story" together. Claiming this is her "first time singing it," she went on to perform the opening theme song to anime, MILPOM★, "Milky Rally." This pleasant surprise, needless to say, brought huge delight upon the crowd.
The final act for Day 2 was yanaginagi. They got the audience up on their feet by calling "Jump, jump!" and started off with "Beedoro Moyou." This being their third performance in Singapore, they claimed "it was awesome how we could come back to Singapore to perform!" and went on to perform their ever-popular "Haru Modoki." Prepping the audience beforehand with the words, "We'll take you on a wild ride in the latter half!" they started off with "Zoetrope," immersing the crowd in the music all the way to their last track, "Mitsuba no Musubime." There couldn't have been an act that could have wrapped the night up better than yanaginagi.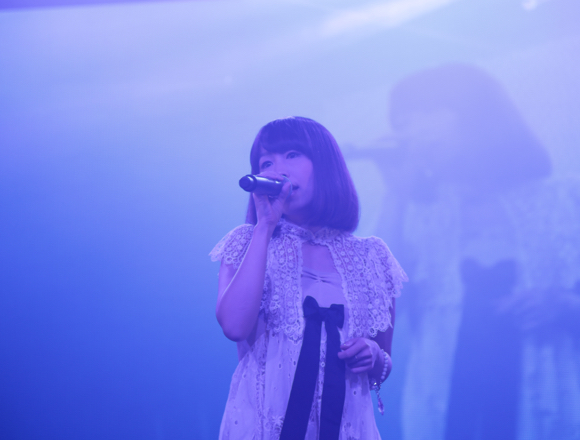 The *SCAPE The Ground Theatre that transformed into a live venue by night, and hosted free events during the day of Sept. 6 (Sun.) where BPM15Q, USAGI, PCF(Keitan/Tadanon/TAKUMA), matsushita, Anna Yano and AMIAYA performed on stage as well as JSTO. Fashion shows took place on the stage as well, making the audience call out for more of the freshest J-culture.
The *SCAPE Playspace opened up admission-free booths on both days – models and artists performed on the mini stage set up inside the venue, which invited a huge crowd to get a glimpse of the great freebies.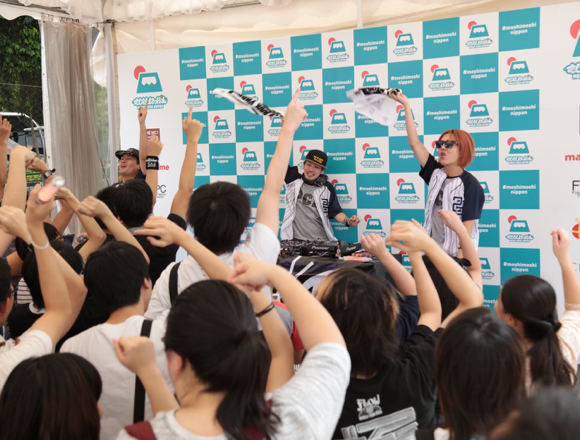 The booths included a free Karaoke "LIVE DAM" booth where performing artists also made surprise appearances, whereas the "COOL JAPAN FUKUOKA" booth showcased the appeal of Fukuoka prefecture, and the "marukome x MOSHI MOSHI NIPPON" booth gave away free samples of the traditional Japanese soup – miso soup. Furthermore, free photo-shoots were held at the "CHEERZ" booth making use of the BPM15Q, the "EXIT TUNES" booth kept the mini stage energized, the "GOLD RUSH" booth bought in whatever you had to bring in, and the "JAPAN SHOPPING FESTIVAL" booth introduced J-fans to Japan's shopping festivals. The lineup of booths doesn't stop there – the festival also had ready the anime-short "MILPOM★" booth, as well as the "MOSHI MOSHI NIPPON" booth where they pleased fans with their MOSHI MOSHI NIPPON original "Gudetama" items as well as other Japan-themed souvenirs, making it an irresistible shopping experience for all visitors alike.
"MOSHI MOSHI NIPPON FESTIVAL 2015" will be held in Paris and London in October, and in Tokyo this November! Don't miss out on the J-pop-culture-filled fest!
《Information》
■Details on upcoming "MOSHI MOSHI NIPPON FESTIVAL 2015" events
・MOSHI MOSHI NIPPON FESTIVAL 2015 in PARIS
Date:Oct.3(Sat.)- 4(Sun.)
Location:Paris, France
Venue:Le TRIANON
Ticket information:http://www.fnacspectacles.com/place-spectacle/manifestation/Variete-internationale-MOSHI-MOSHI-NIPPON-TRMOS.htm#/calendrier
Lineup:
Oct. 3(Sat.)CAPSULE / Yasutaka Nakata(CAPSULE)/ BOOM BOOM SATELLITES
Oct. 4(Sun.)WORLD ORDER / Charisma.com / TEMPURA KIDZ
・MOSHI MOSHI NIPPON FESTIVAL 2015 in LONDON
Date: Oct. 11(Sun.)
Location:London, U.K.
Venue:Roundhouse
・MOSHI MOSHI NIPPON FESTIVAL 2015 in TOKYO
Date: Nov. 6th (Fri.) – 8th (Sun,), 2015
6th: Open 4PM (main stage opens at 5PM and starts at 6PM)
7th & 8th 12PM (main stage opens at 12PM and starts 2PM)
Venue: Tokyo Metropolitan Gynasium (1-17-1 Sendagaya, Shibuya-ku, Tokyo)
▼Participating artists
6th【MOSHI ANI】
TEMPURA KIDZ・Runa Haruna・May'n・yanaginagi・Yun*chi …and more
7th【MOSHI POP】
Caramel・Cupitron・Silent Siren・sora tob sakana・TEMPURA KIDZ・Shiho Namba・Niji no Conquistador・NEKO PUNCH・Hanae・Natsume Mito・Musubizm・Tsukasa Mogamigawa・Yamaguchi Kassei Gakuen・Lovely★DOLL …and more
8th【MOSHI COOL】
Leaders・AMIAYA・m-flo(DJ SET)・CAPSULE・Charisma.com・CTS・Suiyobi no Campanella・TEMPURA KIDZ・vivid undress・Una・RAM RIDER・WORLD ORDER …and more
▼Participating models(listed in Japanese alphabetical order)
7th【MOSHI POP】
Fumiko Aoyagi・Hiko Achinami・AMIAYA・Hitomi Ueno・Misa Kimura・Ren Koseki・Natsuko Kondo・Saki Sato・Saki Shibata・Hikari Shibata・Ayumi Seto・Shiho Takechi・Rina Tanaka・Ema Tanioku・Eri Tanioku・Asaka Taniguchi・Mai Nakaseko・Culumi Nakada・Himezawa・POCHI・MANON・Rinko Murata・Anna Yano・Yuna Yabe・Una・Yura・YuRi…and more
▼JAPAN FOOD FESTIVAL(Free admission)
Niku Fes …and more
▼Admission(All prices include tax)
Advanced one-day ticket (6th) ¥4,320 (7th or 8th) ¥4,860
7th & 8th two-day ticket ¥8,100
Three-day ticket ¥10,800
Non-Japanese can enter the festival for free with a passport and an advance registration
>>Register now!
MOSHI MOSHI NIPPON FESTIVAL 2015 in TOKYO Official Site
http://fes15.moshimoshi-nippon.jp
MOSHI MOSHI NIPPON FESTIVAL 2015 in TOKYO Official Site (English)
http://fes15.moshimoshi-nippon.jp/en