Long-Established Sake Brewery in Yamagata Prefecture Helps Create SAKE COLA
Aiming to create a new kind of drinking culture, Aika in Gunma Prefecture has started preorders for SAKE COLA, a new cola liquor, on the crowdfunding site Makuake. 
People love cola for its strong carbonation, sweetness, and distinctive spicy flavor. SAKE COLA has a complex, multi-layered aroma and refreshing sweetness offering a unique taste that no one has tasted before.
In creating SAKE COLA, the company attempted to keep the authentic sweetness of sake. To this end, they decided to work with Rokkasen, a long-established sake brewery in Yamagata. 
Rokkasen's authentic rice-based shochu Goujoppari is brewed in the cold like sake and distilled like a ginjo sake. It has a beautiful citrus aroma and tastes similar in sweetness despite having zero sugar.
Using Goujoppari as a base, malted rice is used to produce a mild, natural sweetness, and the spices added to the drink meld with the citrus scent to create a flavor defying imagination.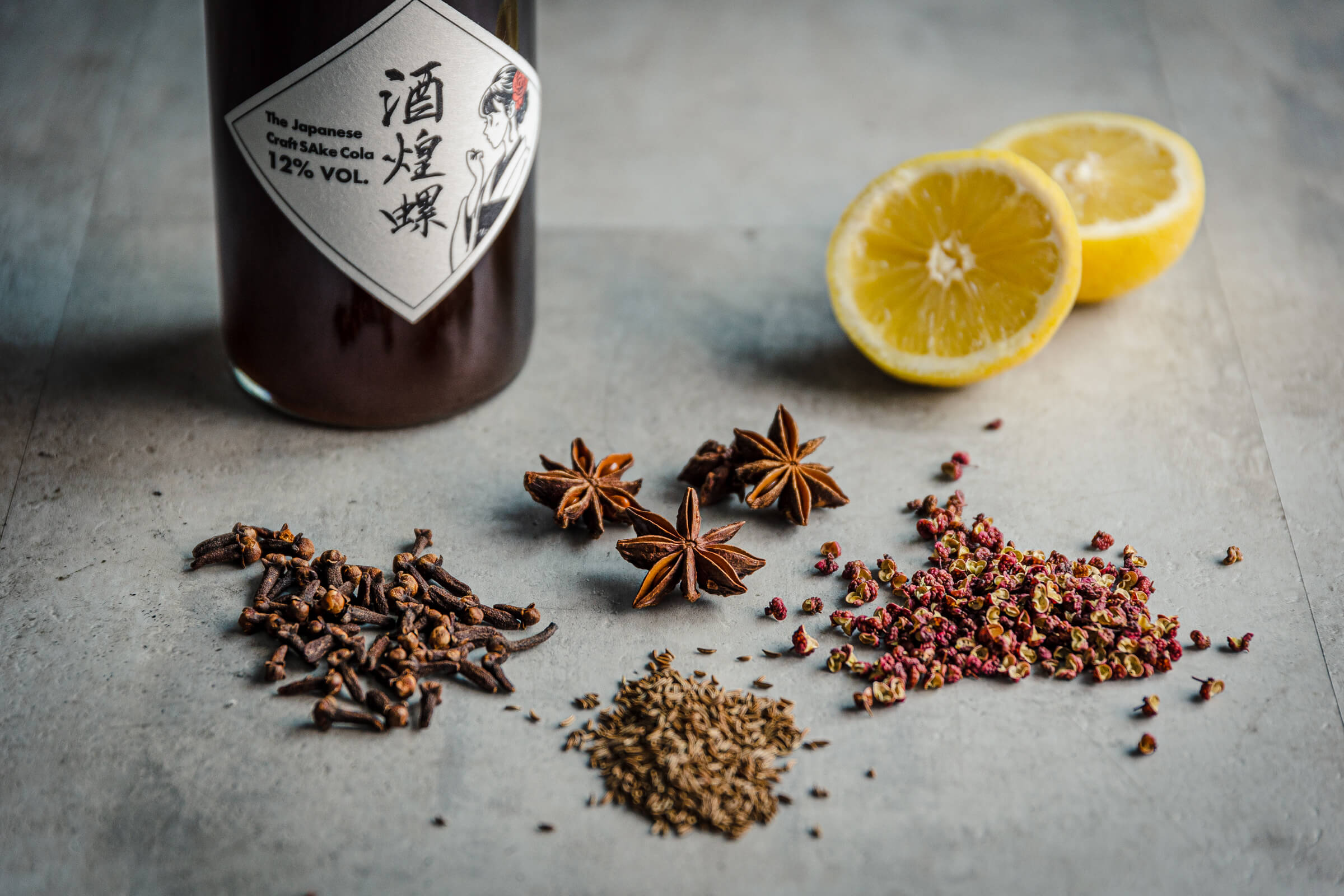 The flavor and aroma of SAKE COLA spread in the mouth, with the spices and herbs lingering on the tongue. The spices were mixed by Hayashi Oki, who studied in Alsace, France before working as a pastry chef at one of Tokyo's top patisseries. 
Mace, the key spice, is characterized by its sweet and somewhat pungent aroma. It's used to recreate the caramelized taste that is found in most cola.
Along with that, tonka beans, containing the natural sweeteners Vanillin and Coumarin, were blended into the mix to create a soft, lingering flavor. Customers are sure to enjoy it from the first sip to the last.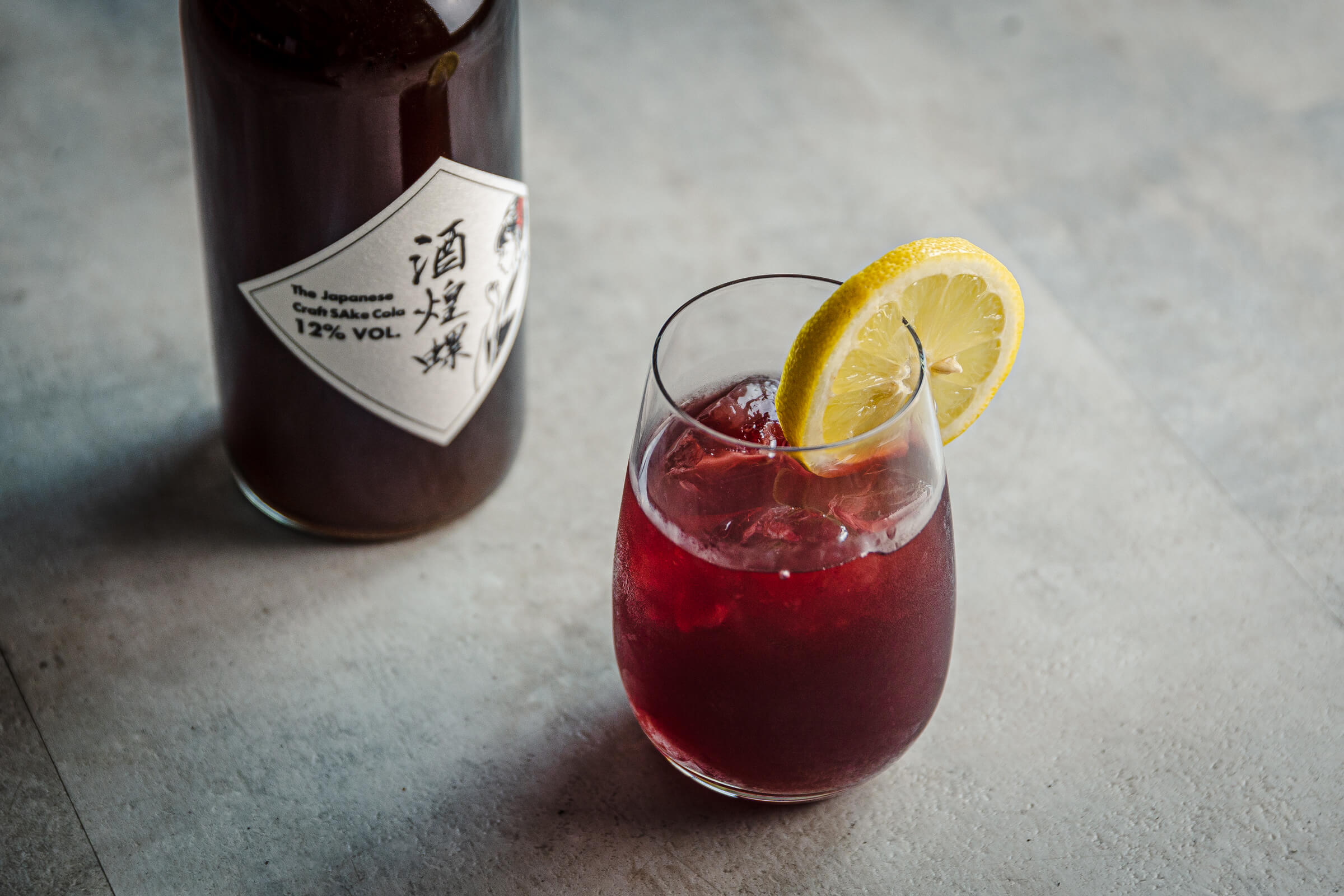 SAKE COLA can be enjoyed at any time. It's perfect for enjoying as an aperitif, and it can also be enjoyed with a meal, like beer or wine. 
Like whiskey, it can also be enjoyed while relaxing after a meal. At Christmas time, it can be added to warm red wine or served as an affogato with ice cream and a splash of liqueur. How would you like to try this unique creation?
RELATED ENTRIES
Teppanyaki and Yakiniku Restaurant Honten Yamashina Opens in Ginza

On July 18, the upscale teppanyaki and yakiniku restaurant Honten Yamashina opened a new location in Ginza! The hybrid restaurant has taken over the entire top floor of GINZA PLACE, which is directly connected to Ginza Station. Overlooking the Ginza 4-chome intersection, it's a gorgeous place to enjoy some authentic Japanese cuisine. 

Honten Yamashina mainly uses fully-matured Omi beef, the highest grade available among Shiga Prefecture's top-tier beef, from Okazaki Farm. The cows are allowed to fatten for a considerable amount of time and live stress-free lives for over 40 months. Less than 1% of all Wagyu cattle are shipped after 24 months of age, and this delectable meat is characterized by its sharp taste and fattiness. 

Luxurious Wagyu and Sea Urchin Sushi

Early Summer Plate to Enjoy with Seasonal Flowers

Selected Extra-thick Beef Tongue Steak Made with Refined Attention to Detail

Grilled Spiny Lobster Made on a Charcoal Grill

The Playful Yamashina Wagyu Slider

Melt-in-your-mouth Sweet Amala Tomato (Vegetable of the Day)

Hand-selected Omi Beef Steak

Truffle Omurice

Japanese-style Teppanyaki

Guests can enjoy authentic Japanese teppanyaki cuisine with a modern twist. While sitting at the contour, visitors will enjoy a live performance by Taku Osada, a teppanyaki chef with over 20 years of experience.  

The wide variety of meat can be enjoyed in a number of different ways, whether it be raw, grilled, stewed, or properly cooked. From tongue and rump to filet and sirloin, you won't leave hungry. Visitors can also enjoy seafood and seasonal Japanese vegetables along with their meat, and the flowers and leaves that adorn each plate will change depending on the time of year.

In addition to rare teppanyaki dishes like skirt steak and 3cm-thick beef tongue, Honten Yamashina also offers some playful dishes such as sliders. As the temperature differs on different parts of the steel cooking plate, each item can be cooked to a temperature that maximizes its specific flavor. Honten Yamashina also has a massive cellar housin over 1,000 bottles of wine and hard-to-find spirits. 

Japanese-style Yakiniku

For those looking for a more private experience, guests can enjoy yakiniku in a completely separate room. Each private room has a grill that will cook meat to the perfect temperature, and only at Honten Yamashina can you enjoy fully-matured Omi beef. The signature cutlet sandwich is made with chateaubriand cooked at a low temperature and deep-fried in a thin batter, then served on crispy bread with a soft, fluffy interior.

Teppanyaki and yakiniku are typically thought of as meat-based dishes, but the restaurant can accommodate vegetarian guests if contacted in advance. 

When Japan opens up to tourism, will you be visiting this incredible restaurant in the heart of Tokyo?

Anime Series Chibi Maruko-chan Inspires New Sake from Hatsukame Brewery in Shizuoka

Last year, Hatsukame Sake Brewery, a staple in Shizuoka Prefecture, released a collaborative special edition sake featuring Papa Hiroshi from the anime series Chibi Maruko-chan. The collab makes sense, as the anime series takes place in Shizuoka Prefecture. Bottles sold out incredibly fast, so it's no wonder that the brewery has now opened orders for the 2022 batch! The special products will be available on June 4, just in time for Father's Day. Customers can choose from the Junmai Ginjo or Junmai Daiginjo varieties.

Junmai Ginjo Papa Hiroshi Vintage 2022

Junmai Daiginjo Papa Hiroshi Vintage 2022

The Junmai Ginjo Papa Hiroshi Vintage 2022 was made with water, rice, and yeast from Shizuoka, where the series takes place. With a refreshing aroma and a gentle sweetness derived from the Homarefuji rice, the flavor is sure to arouse your palate!


The original label featured on the bottle shows Papa Hiroshi enjoying local sake with tuna sashimi from Shizuoka with Mt. Fuji in the background. All bottles will come with a paper box featuring a similar design. The turtle on the label is the symbol of Hatsukame Brewing! It's recommended that customers drink their sake with local tuna–it's the perfect combination.

The Daiginjo variety is made from rare Aiyama rice, known as the 'Diamond of Sake Rice.' Polished and carefully prepared by hand, the aroma of the sake is reminiscent of tropical fruits. The final product has a rich sweetness.

Last year's label showed Papa Hiroshi in a Kimono watching the first sunrise over Mt. Fuji. Be sure to grab a bottle to experience the taste of Shizuoka! Only 223 bottles will be available, so be quick!

©さくらプロダクション/日本アニメーション ©Hatsukame Sake Brewery Co., Ltd. ©Nexus Co., Ltd.

Information

Junmai Daiginjo Papa Hiroshi Vintage 2022

Now available to order
Release Date: June 4, 2022 *After the release date, orders will be shipped within 3 weeks from the order date.
Where to Buy: Saketsunagi Online Shop https://saketsunagi.base.shop

 

Limited Edition Sake Released Alongside NFT Art to Share the Value of Japanese Spirits with the World

Two incredible new Junmai Daiginjo bottles, the highest-quality sake, have been released in limited quantities. Hitou ASCENDING and Touka ILLUMINATING were made by sustainable means and incorporate NFT art to share the process of sake creation with the world.

 

While sake companies keep traditional Japanese production methods alive, some are seeking to solve problems in the sake industry by turning to current technology, like the blockchain and NFTs. In this age of convenience and automation, this particular sake maker is aiming to show the true value and authenticity of Japanese craftsmanship to the rest of the world. 

Certain types of sake can only be made and enjoyed at certain times of the year, as they are not suitable for storage at room temperature and can only be consumed for a brief period to get the best taste. Many sake fans around the world might not be aware of this, so the new NFT collaboration aims to educate!

 

The bottles contain unique ukiyo-e NFT art prints of a dragon and phoenix on the bottle, respectively. Those who purchase a bottle will also find the year of production and bottle number etched onto the glass with lacquer. Be sure to keep the bottle even after the delicious sake is gone!

Story

Rice / Tobe Rice
In Tokamachi, Niigata Prefecture, farmers have been cultivating this unique brand of Koshihikari rice without the help of pesticides or fertilizers for over two decades. The rice is called the best in all of Japan, and one-third of its yield is used to make sake.

Water / Pure Groundwater

The Japan Median Tectonic Line, also known as the 'Dragon's Vein,' is a massive fault line that is home to numerous sacred sites, including  Suwa Grand Shrine, Toyokawa Inari Shrine, Tenkawa Benzaiten Shrine, Ise Grand Shrine, and the Koyasan Mountain. The groundwater found here is some of the purest found in Japan and flows from the Bungui Pass in Ina, Nagano Prefecture. The pass has been featured in many publications as one of the most famous power spots in Japan.

Brewing / Ono Brewery

While dealing with some of the harshest winter weather in Japan, the brewery has continued to create sake the old-fashioned way–with human hands. For the creation of these two bottles, the brewers took on the challenge of making a very small amount of sake, something they had never done before. Based on the concept of "making the most of the environment," the rice was prepared in a special room with no air conditioning under the watchful eye of the master brewer.

Bottle Art/ Ukiyo-e Artist, Shun
The art displayed on the bottle is printed in a unique way, allowing it to be put on display separately. The Japanese-style art is perfect for the collaboration and was inspired by one specific hope: that a new path will open to those who work hard after the many difficulties and troubles caused by the pandemic.

Bottle Making / Maruyoshi Kosaka Wood & Urushi Works


The circular label symbolizes the moon (water) and the sun (fire), each representing a world where different values are not only accepted but welcomed. Hand-painted and made with pure platinum and gold leaf by the talented craftsman at Maruyoshi Kosaka Wood & Urushi Works in Shiojiri, Nagano, these advanced painting techniques are sure to impress.

Each Bottle Features the Brewing Year, Number Printed in Lacquer

Marked with a unique serial number, all proceeds from the sales of these special sakes will be used to maintain and promote sustainable agriculture, support sake brewers, and bring traditional Japanese craftsmanship to the world.

Information

Junmai Daiginjo – 'Hitou ASCENDING,' 'Touka ILLUMINATING'

Limited Quantity
Official Site: https://hitoutouka.com/

Flower Miffy Juice Garden in Asakusa Offering Limited-Time Drink Perfect for Early Summer

Flower Miffy Juice Garden, a drink stand inspired by Flower Miffy, a florist version of the Dutch character Miffy, has begun selling the perfect drink for the early summer weather. The Marguerite Cream Soda is on sale now at the Asakusa location.

Marguerite Cream Soda

Flower Miffy Glass Vase Flower Frame

The Marguerite Cream Soda features refreshing lemon soda topped with sliced lemon, thick vanilla ice cream, a Miffy cookie and a marguerite flower. Visitors can also find a special Miffy glass vase at the Asakusa store for a limited time, perfect for displaying flowers at home.


Come enjoy shopping for Miffy goods while sipping a refreshing beverage this summer!

Illustrations Dick Bruna Ⓒ copyright Mercis bv,1953-2022 www.miffy.com

Information

Flower Miffy Juice Garden
Address: Flower Miffy Juice Garden Asakusa
Limited Time Beverage: Marguerite Cream Soda
Available starting April 28, 2022
Official Site: https://www.benelic-flower.com

Kyary Pamyu Pamyu Collaborates with 252-year-old Tsujun Brewery for LOCAL POWER JAPAN Project

Celebrating the 10th anniversary of her major label debut, Kyary Pamyu Pamyu is having a busy year. The artist will perform at this year's Coachella, one of the largest music festivals in the United States, and released her first full-length album in three years 'Candy Racer' in October 2021.  On January 16, Kyary embarked on the largest tour of her career, 'Kyary Pamyu Pamyu 10th ANNIVERSARY JAPAN TOUR 2022 CANDY WAVE,' which will see the singer performing 30 shows across Japan. In conjunction with the nationwide tour, the "LOCAL POWER JAPAN Project" was launched to energize Japan through the appeal of regional towns and cities, and has been attracting major attention. After concluding her performance in Kumamoto on March 6, Kyary is now collaborating with a local business in the area.

 

In the center of Yamato, a city in Kumamoto, lies the Tsujun Bridge, an important cultural property. The local Tsujun Brewery derived its name from this landmark and has been in business for 252 years. A special collaboration logo has transformed the breweries logo into an homage to Kyary's 2014 third original album, Pika Pika Fantajin. Commemorative T-shirts featuring the new logo are also on sale! 

A special beverage inspired by Kyary is also available. Despite coming from a brewery, this amazake is alcohol-free!

While the beverage is branded with Kyary's likeness, this particular Ama-no-Tamuzake Hotarumaru is a big seller for the brewery. Made from Kumamoto rice and purified at a nearby shrine, this sweet beverage is sure to lift your spirits, just like Kyary's music. This drink is also more nutritious than other alcohol, containing no sugar or additives, and can be enjoyed by children. Each purchase also comes with an original shopping bag, making it the perfect souvenir!

VTuber Group 'Sake Boys' Features Alcohol-inspired Talents, Holds Competition Between Members

Sake Boys, a VTuber project that reimagines alcoholic beverages as cute virtual personalities, held a team competition on February 25, 2022. Information about the new male trainees has also been released! Those who did well during the competition will be recognized as fully-fledged Sake Boys. 

Teams

Kuro Team

[From Left: Kuro (Kensho Ono), Alfie (Ryo Muraoka), Rico (Daiki Kobayashi)]

Kuro, a cat who happens to be the God of Alcohol, leads this team. The feline always does things by the book, but the other members hope to improve their skills by taking on tons of new challenges!

Shiro Team

(From Left: Yasaka (Sonosuke Hattori), Draft (Daisuke Mannami), Shiro (Toru Itoga), Shaoxing (Mizuki Chiba)]

Fellow God of Alcohol Shiro tends to do whatever he wants, and this team isn't exactly what you'd call 'cohesive.' This group sticks together for the sake of music, as they often are in charge of music projects and singing videos.

Chacha Team

[Left: Cassieh (Akira Orihara), Trights (Masaru Ino), Soubi (Norihito Hase), Chacha (Yu Mizushima)]



Led by God of Alcohol Chacha, this group is made up entirely of geniuses. With lovely voices, these boys are in charge of talk radio.

 

Sake Boys includes characters inspired by alcohol from around the world. These are the perfect VTubers to watch while enjoying a drink, and will keep you from feeling lonely or sad if you're at home drinking alone! Personifying these characters has been a joy for this talented cast and aims to bring joy to those still having trouble with the current state of the world.

 

On the Sake Boys YouTube channel, viewers can enjoy the many unique talents of these 11 members, including singing, chatting, quiz shows, and cooking. As the name would suggest, they also explain the intricacies of brewing! Be sure to check it out! 

 © Imagineer Co., Ltd.

Information

Sake Boys 'Heavenly Tasting Challenge'

Official YouTube: https://www.youtube.com/channel/UC0aN-lCr_sF1o3Zs-D4en8Q
Official Twitter: https://twitter.com/sakedanshi_ch

Official Site: https://sakedanshi.jp/

Schedule

March 4 – Cha-Cha Team Round 1 Assignment Due

March 8 – Kuro Team Round 1 Assignment Due

March 11 – Shiro Team Round 1 Assignment Due

March 13 – Exam

March 15 – Cha-Cha Team Round 2 Assignment Due

March 18 – Kuro Team Round 2 Assignment Due

March 22 – Shiro Team Round 2 Assignment Due

March 25 – Announcement of Exam Results

March 29 – Announcement of Heavenly Tasting Challenge Results

Kyary Pamyu Pamyu Bento Sold as Part of LOCAL POWER JAPAN Project

Celebrating the 10th anniversary of her major-label debut, Kyary Pamyu Pamyu is back in the news. The artist will perform at this year's Coachella, one of the largest music festivals in the United States, and recently released her first full-length album in three years 'Candy Racer' in October 2021.  On January 16, Kyary embarked on the largest tour of her career, 'Kyary Pamyu Pamyu 10th ANNIVERSARY JAPAN TOUR 2022 CANDY WAVE,' which will see the singer performing 30 shows across Japan. In conjunction with the nationwide tour, the "LOCAL POWER JAPAN Project" was launched to energize Japan through the appeal of regional towns and cities. This exciting project is popping up all across the news! 

Following a T-shirt collaboration with a 156-year-old kamaboko shop in Kanagawa, Kyary has teamed up with Gunma-based ekiben maker Oginoya, known for their famous Toge no Kamamaeshi–a pot of iron-kettle-cooked koshihikari rice soaked in a special sauce, chicken, shiitake, quail eggs, and chestnuts. That's right–the singer now has her own tasty bento!

The special Kyary Pamyu Pamyu Toge no Kamameshi is packaged in an adorable pink clay pot with a paper cover boasting a new collaborative logo in the style of the singer's 2011 single Tsukematsukeru. The new bento boasts more of the artist's favorite foods, including extra chicken, mushrooms, edamame, bamboo sprouts, and pickled ginger. The signature quail eggs were given a cute pink hue by being slightly pickled, and some sour umeboshi were added–one in the bento and one on the side. 

The bento was sold at the Gunma show, and currently, all items sold on the Local Power Project (with the exception of the bento) have completely sold out. Talk about a major success!

A new T-shirt collaboration has also been announced, featuring the new pink and purple color scheme and Kyary's 10th-anniversary logo. 

Information

LOCAL POWER JAPAN Project × Oginoya's Toge no Kamameshi

Collaboration T-shirts Available until February 11, 2022

T-shirts / Official Site: https://localpowerjapan.com

Aomori's Be Easy Brewing and UNITED ARROWS Release Collaborative Craft Beer

UNITED ARROWS has released its first craft beer in collaboration with Be Easy Brewing, located in Hirosaki City, Aomori Prefecture. The brew is available at the UNITED ARROWS BOTTLE SHOP, which sells select alcoholic beverages from both Japan and abroad. 'Apple Pie Ala Mode' went on sale starting January 2 at the UA BAR on the first floor of the UNITED ARROWS Harajuku flagship store, H BEAUTY AND YOUTH, and the California General Store. 

Be Easy Brewing offers a selection of unique and constantly changing beers using ingredients found in Aomori like apples, strawberries and Tsugaru rice. From IPAs to wheat ales, the company is always experimenting with different styles. This strange collaboration was born after UNITED ARROWS expressed a fascination with the high quality and incredible taste of Be Easy Brewing's beers.

'Apple Pie Ala Mode' is a Berliner Weisse with a slightly sour taste combining apple juice, cinnamon, and vanilla. 

Information

Apple Pie Ala Mode
Price: ¥770 (Tax Included)
Size: 350ml
ABV: 5.5%
Where to Buy: UA BAR(UNITED ARROWS Bar Harajuku 1F), H BEAUTY AND YOUTH, California General Store

※The UA BAR will serve the beer on draft for a limited time.
※There will be no lottery for in-store sales. The beer will be available to purchase starting January 2, 2022.
※Available while supplies last.

Japanese traditional confectionery brand OKOSHIYA TOKYO opens in Marunouchi Building

Japanese traditional confectionery Okoshiya Tokyo, a brand specializing in okoshi (rice cake), opened in the Marunouchi Building on December 15, 2021.

OKOSHIYA TOKYO is a brand specializing in okoshi, operated by a small Japanese confectionery manufacturer in downtown Tokyo which is celebrating its 60th anniversary. OKOSHIYA TOKYO opened in Tokyo's Marunouchi Building as a store where customers can directly purchase the long-established okoshi, which has been sold only through the online store.

OKOSHIYA Maple Almond(60g)

aun 18 pieces (6 types x 3 pieces)

OKOSHIYA TOKYO's crispy okoshi is a new texture that can be eaten easily. The sweetness is kept low so that you can enjoy the natural flavor of the ingredients. It has a nostalgic and comforting taste.

Marunouchi (3 types x 3pieces) *Marunouchi Building Limited Edition

There are many theories about the origin of the word "okoshi", but it comes from the word "koshi", which means "to rise", and has been eaten as a confectionery for good luck. It can be used as a "friendship blessing" for friends who meet again after a long absence, a "cheering blessing" for those who are working hard towards their dreams and goals, a "love blessing" for a beloved partner, or to " bring good fortune" to newlyweds who are starting a new chapter in their lives. Let's convey not only the delicious taste but also your feelings to your loved ones through OKOSHIYA TOKYO's okoshi.

Information

OKOSHIYA TOKYO

Where: B1 1-4-2 Marunouhi, Chiyodaku, Tokyo, Maru Biliding B1F

Access: One-minute walk from Marunouchi South Exit of JR Tokyo Station, directly connected to Tokyo Station on the Marunouchi Line.

Opening Hours: Weekdays/Saturday 11:00~21:00 /Sunday/Bank Holiday 11:00~20:00

Official site: https://okoshiya.official.ec/

Adorable Hamster-shaped Cakes from Kyoto Now on Sale

Aoki Koetsudo, a 129-year-old confectionery shop in Kyoto, and 2:00, a Kyoto-based company specializing in unique products, have come together to create some incredibly cute hamster-shaped cakes. These pastries are called monaka, and feature azuki bean jam filling sandwiched between two crisp wafers made from mochi. Each set includes 6 wafers, six helpings of bean jam, and a bag of nuts, so customers can enjoy creating the pastries themselves! 

How to Enjoy Hamster Monaka

Fill the Hamster-shaped monaka with as much azuki jam as you like. 

Cover the monaka with the wafer and add one of the nuts provided. 

Paint the eyes and ears with chocolate to give each pastry some personality!

Gyoza Festival 2021 Opens at Nagoya PARCO

Pan-fried dumplings, or gyoza, can be found all over Japan from fine restaurants to convenience stores. They're cheap, easy to consume, and incredibly tasty. Those able to make it to Nagoya PARCO by December 26 can experience this year's Gyoza Festival, bringing together some of the best examples of creative and mouthwatering gyoza in the country. 

A number of participating restaurants within Nagoya PARCO have developed unique gyoza-centric menus, including Kimchi Gyoza from Yansando, Chicken Wing Gyoza with spicy tartar sauce from Kyoto Shijo Kuon, and Spicy Gyoza from ANDY CURRY, participating in the event for the first time. Yummy Hawaiian Barbeque is also offering nine new menu items only found at Nagoya PARCO, including Gyoza Pie. 

Participating Shops

Yansando Ueno Honten

ANDY CURRY

Nagoya Chicken Noodle Shop

Longhu Patio

Kyoto Shijo Kuon

FUJIYAMA55 RAMEN STAND​

Okuyama Yasuzou Himonoterasu

Yummy Hawaiian Barbeque

Information

Gyoza Festival 2021

Running: November 26 – December 26, 2021

Location: Nagoya PARCO West Building 7F

Official Site: http://www.parco.co.jp

Niigata Prefecture Unveils Rurouni Kenshin Collaboration Sake

Rurouni Kenshin is one of the most popular anime and manga series around the world, hitting the scene in Japan back in 1994. Original manga author Nobuhiro Watsuki spent most of his childhood in Nagaoka, Niigata prefecture, an area known throughout the country for its delicious rice. Harasho, a liquor store in Nagaoka, has announced a new collection of Rurouni Kenshin-themed sake to celebrate the series. 

The Rurouni Kenshin manga series was originally serialized in Weekly Shonen Jump from 1994 until 1999. The sequel, Rurouni Kenshin: The Hokkaido Arc, is currently ongoing in Jump Square. The series has been a smash hit, selling over 72 million copies and inspiring both animated and live-action film adaptations and an anime series. 

The sake will be produced at three distilleries in Nagaoka city, and each of the three will feature unique characteristics. Each label features imagery from the manga series and would make the perfect gift for fans (as long as they are of age!) 

Information

Rurouni Kenshin x Niigata Sake Series

Fukusen Natural Sake: ¥1,350

Koshino Hakugan Ginjo Sake: ¥1,500

Ofuku Shuzo Ginjo Sake with No Added Alcohol: ¥1,800

Special 3-bottle Set: ¥4,650

Number of Bottles Released: 2,000 of each type, special 3-bottle sets available until sold out

Preorders Now Open

Release Date: December 1, 2021

Details: https://echigo.sake-harasho.com/shopbrand/ct332/

Where to Buy: 

Online Store: https://echigo.sake-harasho.com/

Liquor stores part of the Echigo Meimon Collective

Major tourist facilities in Niigata Prefecture