AMBUSH® Announces Second Astro Boy Collaboration Collection in Extremely Limited Quantities
On July 29, AMBUSH® will launch some special collaboration items inspired by the legendary series Astro Boy! These items are available in extremely limited quantities. 
Astro Boy is a sci-fi hero manga set in the future starring the titular 100,000 horsepower character Astro Boy. A kindhearted robot, Astro Boy uses his strength to save people from danger, and the character's more human-like qualities highlight the relationship between people and technology. AMBUSH® is looking to the future, using Astro Boy to highlight what they think the days ahead will bring.
Astro Boy x AMBUSH Figure(Produced by Bait Inc)
Only 50 Pieces Available
©︎TEZUKA PRODUCTIONS     

Astro Boy x AMBUSH Necklace (Produced by Bait Inc)
Only 300 Pieces Available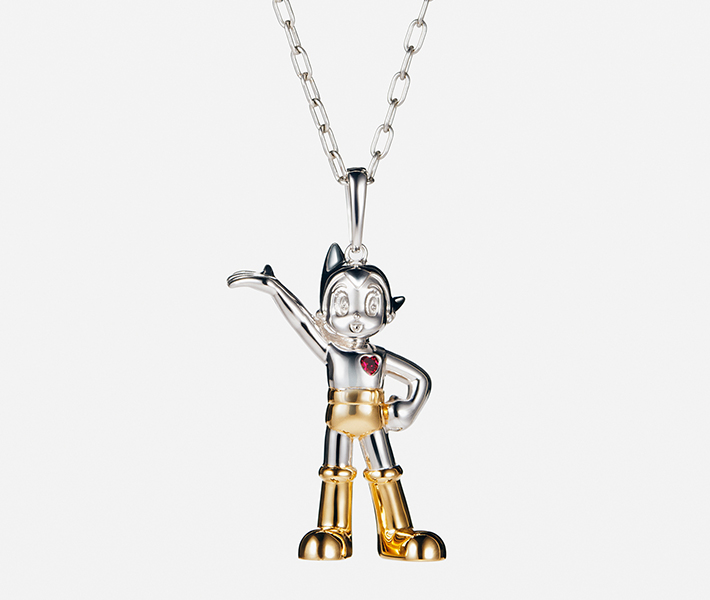 ©︎TEZUKA PRODUCTIONS


This collection features an all-black Astro Boy figure by Bait and a necklace perfect for daily wear. Both show the character in his iconic pose and emphasize the heart detail carved into his chest, symbolizing his humanity. 
Don't miss these exclusive items before they're gone!
RELATED ENTRIES
BE@RBRICK, BABY MILO, and Furniture Maker Karimoku Collaborate on New Figure

BAPE's iconic BABY MILO, Medicom Toy's BE@RBRICK figure, and upscale furniture shop Karimoku are coming together for a unique collaboration. On August 6, a 400% size wood figure will be available at the BAPE.com Web Store, the Toy Medicom online store, and select retailers.

Karimoku x BABY MILO® x BE@RBRICK 400% (Height: 280mm)

Overlapping wood tones make this a must-have for BE@RBRICK collectors.

Information

BE@RBRICK x Karimoku x BABY MILO® HORIZON

Release Date: August 6, 2022

Where to Buy: BAPE.com Web Store, project1/6, Tokyo Skytree Town Solamachi Store, 2G, Medicom Toy Online Store

Details: https://bape.com/pages/karimokubearbrick-horizon

ONE PIECE FILM RED Inspires Collaboration Event with Raku Spa

From August 18 until September 19, 20 Gokurakuyu and Raku Spa locations will hold a special collaboration to celebrate the release of ONE PIECE FILM RED. 

Goods

Menu

During the event, a new bath will be available each weekend. Guests can enjoy fragrant baths inspired by Luffy, Zoro, Nami, Usopp, Sanji, Shanks, and Uta. Check the website to see which baths will be available at which locations!

Those visiting can find some new merchandise featuring exclusive illustrations made for the campaign and a tasty menu inspired by One Piece characters, so don't miss it!

Q-pot Announces 8th Sailor Moon Collaboration Collection

Q-pot, an accessory brand whose products are made to look like tasty desserts, will be collaborating with Sailor Moon for the eighth time! To celebrate Sailor Moon's 30th anniversary, new items will be available at select Q-pot locations and the Q-pot Online Shop starting August 5, 2022.

Accessory Lineup

Sailor Moon is part of our history. These meltingly sweet accessories will bring back plenty of beautiful childhood memories. 

Cosmic Heart Ganache Cupcake: ¥13,860 / Bag Charm: ¥12,760 (Tax Included)

This seemingly melt-in-your-mouth sweet and sour strawberry chocolate is topped with a clear and juicy jelly. The Cosmic Heart Ganache Cupcake represents the classic Cosmic Heart Compact and is perfect for any fan.

Prism Heart Macaron Necklace: ¥17,600 / Bag Charm: ¥16,500

The long-awaited Prism Heart Macaron is here! Sailor Chibi Moon's transformation item, the Prism Heart Compact, has been reborn as a tasty macaron, perfect to pair with any outfit!

Makeup Whipped Cream Charm Necklace: ¥30,800 / Ring, Earrings, Charm: ¥6,050 each (5 varieties / 1 piece)

Sailor Moon's transformation items from past generations have been reimagined alongside some tasty whipped cream! This nostalgic set will bring back tons of happy childhood memories. Each of the five whipped cream charms is removable, and these items can also be purchased as charms, rings, or earrings.

Sailor Moon Melty Memories Toy Box Necklace: ¥27,500 / Earrings: ¥12,100 (3 varieties)

The Sailor Moon Melty Memories Toy Box looks like a toy box turned upside down, and is filled with the Transformation Brooch, Moon Stick, Crystal Star Compact, Cosmic Heart Compact, and Spiral Heart Moon Rod.

Each of these pieces are perfect for longtime Sailor Moon fans, or as gifts for someone special in your life. The necklace also features a star and heart-shaped design with asymmetrical left and right chains.

To celebrate this eighth collaboration, customers will also be able to snag some special bonuses. Those spending ¥44,000 or more (including tax) will receive a light-up accessory stand. To celebrate Sailor Moon's 30th anniversary, fans will receive their purchases in a special box decorated to look like a cake.

Come celebrate the 30th anniversary of Sailor Moon with some gorgeous accessories and sweets!

Information

Q-pot. x Sailor Moon 8th Accessory Collection

Order Period: August 5 – August 21, 2022

Where to Buy: Q-pot. Omotesando / Q-pot. Takashimaya Shinjuku / Q-pot. Tokyo Skytree Town Solamachi / Q-pot. Ikspiari / Q-pot. LUCUA (Osaka) / Q-pot. Online Shop (12:00PM~)

Items will be available from early December.

Q-pot. Online Shop: https://shop.q-pot.jp/

*Only accessories and bonuses are available to order. 

These items will not be available at other Q-pot stores or Q-pot CAFÉ locations. 

*The Q-pot. International Online Shop will not offer these products. 

*The Q-pot. Online Shop does not ship outside of Japan. We apologize for the inconvenience. 

*Q-pot Café products, including Sailor Moon collaboration sweets and goods, will not be eligible for a bonus gift.

Matsuzaki Shoten to Hold First Collaboration Between Ginza's Matsuzaki Senbei and Cat's ISSUE

Matsuzaki Shoten will hold a special collaboration event between Ginza's Matsuzaki Senbei and Cat's ISSUE starting on August 6, 2022. The Cat's Festival 2022 will be an incredible event for cat lovers, and guests will be able to grab some special hand towels and bowls produced exclusively for the festival. In addition, there will be an exhibition of works by Ayako Ishiguro, a picture book artist associated with Cat's ISSUE.

Ginza's Matsuzaki Senbei x Cat's ISSUE

This Japanese-style hand towel features illustrations of unique cats based on the concept color of Matsuzaki Shoten, the main Matsuzaki Senbei shop in Ginza.

Ginza's Matsuzaki Senbei x Cat's ISSUE

Matsuzaki Senbei's flagship product has been decorated with cat illustrations, each painted by hand. During the event, customers can choose four of their favorite pieces from a total of nine different patterns and pack them in a box wrapped with beautiful paper with a special design.  Guests can also purchase these goods separately. 

Collaboration with Ayako Ishiguro, a Picture Book Artist Specializing in Monster Art

This comical cat scroll created by Ayako Ishiguro will be on display during the exhibition. Hand towels made in collaboration with Ishiguro will also be on sale. These have previously been sold to huge fanfare.


If you love cats and classic Japanese art, this is the event for you!

Information

MATSUZAKI Cat's ISSUE – Cat Festival 2022
Running: August 6 – August 21, 2022
Venue: Matsuzaki Shoten (4-13-8 Ginza, Chuo-ku, Tokyo)
Details: https://cats-issue.com/

PROJECT [ATOM 2003-2023] Begins, Features Art by French Creator Victor Kaito

AAAA Artists & Creators, a creative project aiming to connect people, has launched PROJECT [ATOM 2003-2023] under the supervision of Tezuka Productions. In Osamu Tezuka's vision of the 21st century, Astro Boy was born in 2003. In the year 2023, the popular animated series will celebrate its 60th anniversary. 

The key graphic art for the project was influenced by street culture and was provided by Victor Kaito, who is largely active in Paris, France.

PROJECT [ATOM 2003-2023] aims to collaborate with a number of companies and products and will continue celebrating Astro Boy through the next year and beyond. Looking towards the next 20 years, what will Tezuka Productions create next? Fans of this piece of Japanese pop culture history won't want to miss out on what the project does next, so keep checking back here for more information. 

Comment from Kaito


"Anime and manga are representative of Japanese pop culture, and they are both incredibly popular with French youth as well. I've been reading Osamu Tezuka's Astro Boy since I was a small child, and the character, who was born in 2003, is turning 20. I feel like the world depicted in the Astro Boy series has become a reality. Looking back over the last two decades and looking 20 years into the future, how will science and technology be used to help the environment? How will it make life better for people? I tried to think like Astro Boy when I pondered these questions, and that's how my art came to be." 

©Tezuka Productions
©GLOBE. VICTOR KAITO

Chainsaw Man Manga Series Collaborates with Tasaki Jewelry, Pop-up Event to Open in Nagoya

Matsuzakaya Nagoya will hold a special collaboration pop-up between the popular manga Chainsaw Man and the fine jewelry brand Tasaki from July 27 to August 2, 2022. Fans of the series won't want to miss seeing these exquisite pieces in person! The event is also celebrating the launch of 'danger,' one of Tasaki's new iconic items. 

At the venue, guests can peruse a selection of Tasaki's fine jewelry, including the new 'danger' collection which was inspired by the beauty of insectivorous plants. This is a perfect mix with Chainsaw Man, which has captivated audiences around the world with its unique plot, savage content, and one-of-a-kind characters. Fans won't want to miss out on these manga-inspired pieces perfect for everyday wear. A special visual for the pop-up was drawn by the original author of the series Tatsuki Fujimoto. 


Also on display at the venue will be a special Pochita figure, whose chainsaw will be lavishly set with pearls.

Chainsaw Pendant & Ear Cuff (One Ear)

Chainsaw Man Pendant

Pochita Pendant

Pochita Pendant

Power Necklace

These collaboration jewelry pieces inspired by characters and motifs from Chainsaw Man will be available in limited quantities at the venue, so don't miss it!

©TASAKI

Information

Tasaki x Chainsaw Man Pop-up

Running: July 27 – August 2, 2022

Venue: Matsuzakaya Nagoya

Sailor Moon Eternal Film and Sanrio Characters Collaboration Goods Announced

Sailor Moon is celebrating its 30th anniversary this year, and Sanrio is paying homage to the recent Sailor Moon Eternal film series with a cute new collection! The Sailor Moon Eternal x Sanrio Characters series will be released sequentially starting August 18, with items available at Sanrio stores nationwide, department store Sanrio corners, and the Sanrio online shop.

Sailor Moon Eternal was a two-part film released in early 2021. A sequel two-part film, Sailor Moon Cosmos, will release in Japan in the summer of 2023. 

The new merchandise features newly-drawn designs of six Sailor Scots, Hello Kitty, My Melody, Cinnamoroll, Kuromi, Marroncream, and Pompompurin. 

Sailor Moon Eternal x Hello Kitty Super Sailor Moon Mascot Keychain: ¥3,300

Sailor Moon Eternal x My Melody Super Sailor Chibi Moon Mascot Keychain: ¥3,300

The new items will combine popular Sailor Moon characters with beloved Sanrio characters. This collab was originally announced back in January. Super Sailor Moon teams up with Hello Kitty, Super Sailor Chibi Moon is topped with a My Melody ribbon, and fans can find goods featuring more adorable pairings!

Sailor Moon Eternal x Sanrio Characters Mascot Keychain (6 varieties): ¥2,750 each

Sailor Moon Eternal x Sanrio Characters Flat Pouch: ¥1,485

The merch lineup includes keychains, pouches, and more goods that will be both functional and fashionable in your daily life, especially if you're a long-time Sailor Moon fan.

Sailor Moon Eternal x Sanrio Characters Secret Acrylic Stand (11 varieties): ¥693 each

Four secret acrylic stands will be available, featuring the four outer Sailor Soldiers. These will include Super Sailor Uranus and Little Twin Stars (Kiki), Super Sailor Neptune and Little Twin Stars (Lala), Super Sailor Pluto and Pochakko, and Super Sailor Saturn and My Sweet Piano. These will be sold randomly, so you might need to grab a few before you get the characters you want!

Illustrator Macoto Takahashi's Works on Display in New Tokyo Exhibition

Starting on July 20, the Nihonbashi Mitsukoshi store will be celebrating illustrator Macoto Takahashi's 88th birthday with a special exhibition. The event will display many of Takahashi's works, featuring beautiful girls and festive flowers. 





For over six decades, Takahashi has been drawing princesses and girls to turn heads, each of them full of life and captivating coquettish energy. With fans around the world, the artist dominated the Showa period with his pieces which were frequently on the covers of girls' manga magazines. With the artist's 88th birthday coming up next month, this exhibition will focus on many of Takahashi's original paintings, as well as his recent collaborations with apparel brands such as COMME des GARCONS and Anna Sui. 

Original Illustration – Elaine's Flowers

Flowery Mademoiselle II

Original Illustration – Sunflower Prayer

 

"I want people to feel warm and healed when they see my works. I want them to feel euphoric. Euphoria brings peace, and it cultivates mutual respect for each other," Takahashi said about his works. His recent work Sunflower Prayer, on display at the exhibition, shows a Ukrainian girl in a traditional costume wishing for peace.

"I'm an artist, so I was able to convey my hope for peace through my work. I hope that you'll also express your desire for peace in any way that you can," Takahashi said. This work painted by the 87-year-old is a major highlight of the event.

Original Illustration – The Prince and His Dog

Original Illustration – Fairy-Tale Wedding

Takahashi's original paintings often sell out quickly due to their popularity. During this massive event, the largest number and widest variety of the artist's works will be displayed and sold. The lineup is packed with highlights, ranging from works made during the 1990s to the creator's latest works from 2022.

Goods

To commemorate the event, new goods featuring nostalgic illustrations seen on girls' magazine covers in the 1970s will be available, including stationery, buttons, and more.

ⒸMacoto Takahashi

Space Brothers Manga Inspires Collaboration Event at Shibuya Scramble Square

Shibuya Scramble Square will host a special collaboration event with the manga series Space Brothers from August 5 until August 28, 2022. The event itself will take place on the SHIBUYA SKY observation deck and the 12th-floor event space Scene12.

The popular manga series Space Brothers has sold over 28 million copies since it began serialization in 2007. After 15 years, the story is approaching its climax, with the two main characters finally landing on the moon. With fans of the series anxiously awaiting the story's conclusion, the event will be the perfect place to celebrate. It will be split into two areas: the Shibuya Space School and the Space Cafe.



Shibuya Space School will take place on the SHIBUYA SKY observation deck, and is a fun and educational production that will teach visitors about space using VR and an exhibition of equipment used in space travel. Guests can also enjoy a photo spot featuring the moon over Shibuya, an astronomical observation class for both parents and children, and a talk show about the thrill of space travel.

Cafe Menu


On the 12th floor, guests can visit the Space Cafe. Inspired by a 1970s coffee shop, the location is the perfect spot for fans to mingle, read Space Brothers, or partake in some space-inspired treats exclusive to the event.

Collaboration Goods

Event

A selection of exclusive Space Brothers merchandise and collaboration goods will be available, and the editor of the manga will also be giving a talk during the event. Those who want to test their knowledge can also take part in a quiz competition, so don't miss out!

Jonas Blue Releases New Single Featuring Japanese Boy Band BE:FIRST

English DJ and producer Jonas Blue has released a new track featuring the popular boy band BE:FIRST! Don't Wake Me Up feat. BE:FIRST was released on July 13, 2022. 

If you're unfamiliar, BE:FIRST is a seven-member dance and vocal group created during THE FIRST boy band audition. Organized by BMSG, a company founded by popular rapper SKY-HI, the group has steadily been amassing fans around the world.

  

Blue released Don't Wake Me Up at the beginning of 2022 as a part of his new collaborative project titled 'Together.' The project centers around the themes of unity and positivity, and the artist hopes to collaborate with a number of global artists throughout 2022. The original version of Don't Wake Me Up was a joint project with the American boy band Why Don't We. 

"We've been listening to Jonas Blue forever, so getting to collaborate with him is unreal," BE:FIRST said. "Big respect to Jonas Blue and Why Don't We! I hope we can help create a new Don't Wake Me Up for the fans!" 

 

This remix is BE:FIRST's first collaboration with a foreign artist. Jonas Blue will also be performing at Fuji Rock Festival '22 later this month.

Recently, BE:FIRST announced that they would be releasing their first album, BE:1, on August 31, 2022. It will contain 15 tracks, and some of Japan's top up-and-coming producers contributed to the album, including Chaki Zulu, KM, Sunny Boy, UTA, and Ryosuke "Dr. R" Sakai. 

 

Check out the new track, blending Jonas Blue's clean production and BE:FIRST's catchy Japanese lyrics!

Da-iCE Member Sota Hanamura and FAKY's Lil' Fang Team Up for Orient Anime Opening Theme

The second cour of the Orient anime series began airing on July 11, and the opening theme is here. The song, titled Break it down, was created by Da-iCE member Sota Hanamura and FAKY's Lil' Fang. Check out the lyric video below!



Break it down Lyric Video

The Orient manga series was written and illustrated by Shinobu Ohtaka, the creator of the popular Magi series. It was serialized in Weekly Shonen Magazine from May 2018 to January 2021 before being moved to Bessatsu Shonen Magazine. The story follows 15-year-old Musashi during an alternate version of Japan's Sengoku Period where the country is ruled by demons. While many believe the demons to be their saviors, Musashi knows the truth. 

 

Upon the release of the powerful opening track, social media exploded with excited comments, with many noting that the collaboration was unexpected and the two singers are some of the most powerful in recent memory.

Hanamura previously wrote the lyrics for Promise, the theme song for the Kamen Rider 50th anniversary movie Kamen Rider: Beyond Generations, as well as Break Out, the opening theme for the first season of Orient, which was performed by Da-iCE. Lil' Fang wrote the lyrics for It's a small world, the theme song for the 36th Annual East Japan Women's Long Distance Relay Race, as well as the theme songs for the film Rika and the drama series Rika -Rebirth-.

The lyrics were inspired by the characters in the series, and it's clear that both artists truly love Orient and feel strongly about its story and message. The lyric video depicts Musashi's courage as his group takes on the largest battle of their lives. 

 

Have you been keeping up with the anime series? Be sure to check out the theme song on your favorite music streaming service now!

Attack on Titan-Themed Tea Time Event to be Held at Animate

From September 17 until October 2, Animate will hold the 'Soldier's Tea Time' collaboration event with popular characters from the Attack on Titan series.

Goods

Animate Exclusive Box Purchase Bonus

Pin (8 varieties)

Mini Signboard (8 varieties)

Acrylic Stand (8 varieties)

Event Purchase Bonus – Bromide (8 varieties)



During the event, fans can purchase tons of exclusive items featuring newly-drawn illustrations of Levi, Eren, Erwin, and Jean. Purchase bonuses will also be given to those snagging merchandise.

Come have a cup with these handsome soldiers!

©諫山創・講談社/「進撃の巨人」The Final Season製作委員会 ®KODANSHA