BE@RBRICK, BABY MILO, and Furniture Maker Karimoku Collaborate on New Figure
BAPE's iconic BABY MILO, Medicom Toy's BE@RBRICK figure, and upscale furniture shop Karimoku are coming together for a unique collaboration. On August 6, a 400% size wood figure will be available at the BAPE.com Web Store, the Toy Medicom online store, and select retailers.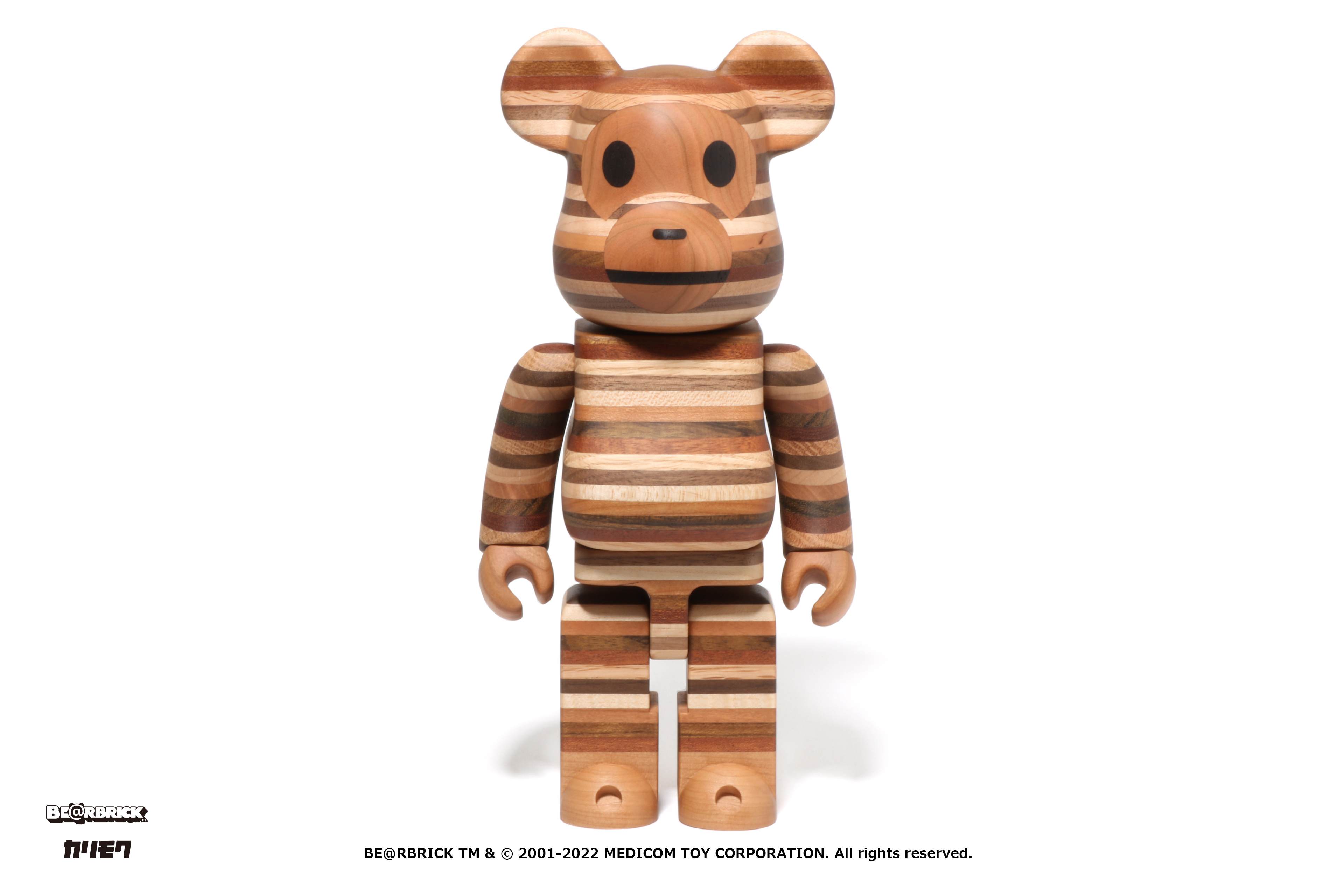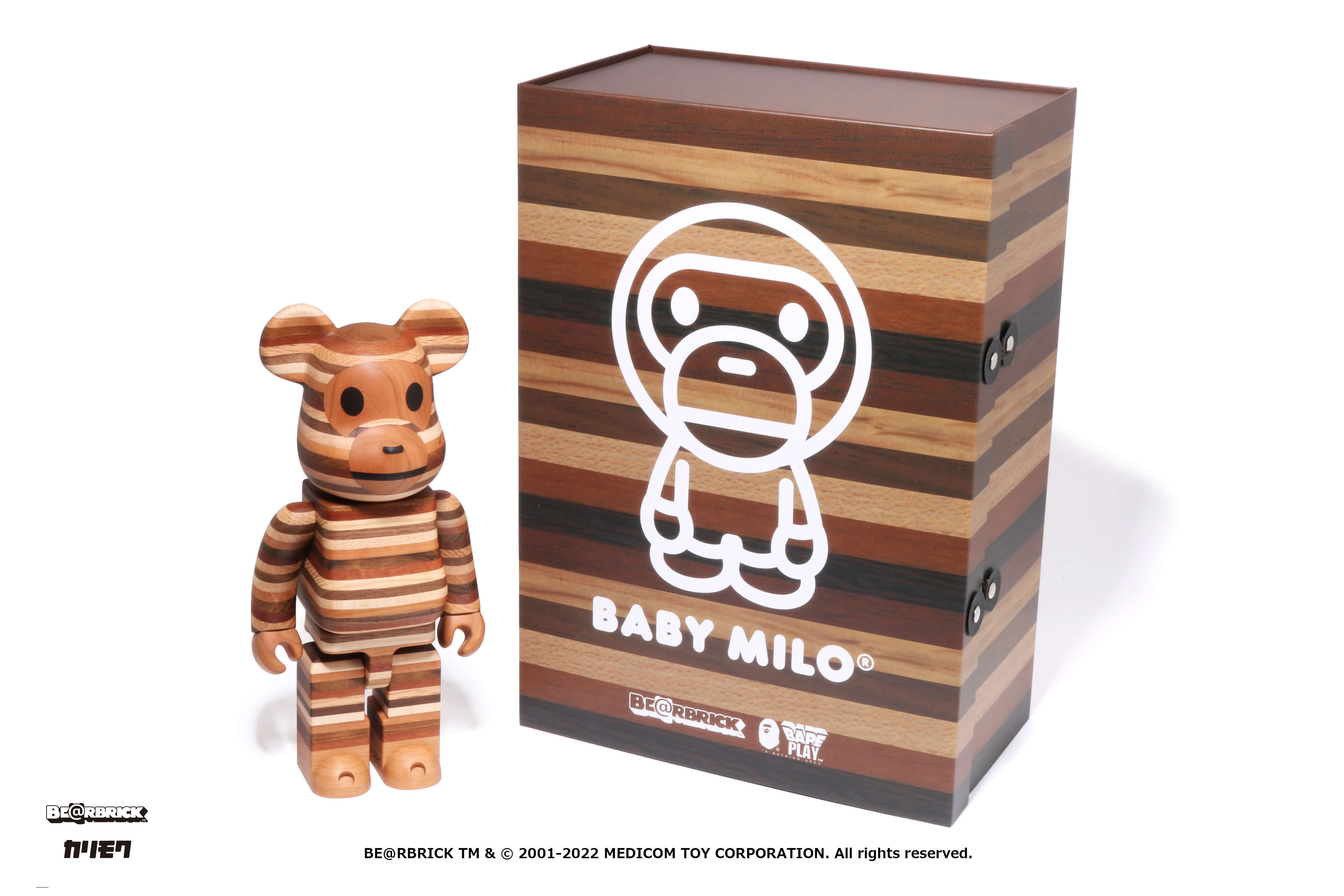 Karimoku x BABY MILO® x BE@RBRICK 400% (Height: 280mm)
Overlapping wood tones make this a must-have for BE@RBRICK collectors.
Information
BE@RBRICK x Karimoku x BABY MILO® HORIZON
Release Date: August 6, 2022
Where to Buy: BAPE.com Web Store, project1/6, Tokyo Skytree Town Solamachi Store, 2G, Medicom Toy Online Store
Details: https://bape.com/pages/karimokubearbrick-horizon
RELATED ENTRIES
SUNNY ONLY 1 Releases New Single 'WASH IT' Co-written by Close Friends and Fellow Musicians

On August 16, SUNNY ONLY 1 released her new digital single WASH IT.

In April, the accomplished artist released her first single in two years, So What? SUNNY ONLY 1 is also an active member of the Tokyo-based girls' creative collective bala, and her previous release Dance like a monkey feat. Mori attracted plenty of attention. A collaboration with close friend Mori from the musical group DONGURIZU, the song was featured on Spotify's official Electropolis playlist.

WASH IT, concluding the trilogy of solo single releases from SUNNY ONLY 1 this year, was co-written by Kyoichi Mikuriya and Hiroto Sugawara of the band Eiji, along with rapper KOHKI. These artists are close friends of SUNNY, and the track itself is a party tune filled with Afro-funk and disco beats that capture the hustle and bustle of the underground scene. WASH IT was produced by Noah Ings, an up-and-coming producer from London who also worked on SUNNY ONLY 1's previous release.

[Comment from SUNNY ONLY 1]
"This is the last song of the trilogy. It's the funkiest song I've ever written and I made it while partying with my friends, so I hope you'll have a listen while you're vibing and feeling good!"

Information

WASH IT – SUNNY ONLY 1 (Digital Single)
Release Date: August 16, 2023
Streaming URL: https://orcd.co/wash_it

Special Thanks:
Kyoichi Mikuriya (Eiji)
Hiroto Sugawara (Eiji)
KOHKI
SENA
MASAO
yoxen
kawasaki

Licaxxx's Tokyo Community Radio Releases First Digital Compilation Album Inspired by the "sessions" Training Program

On June 29, SESSIONS COLLECTION VOL. 1 was released. This is the first digital compilation inspired Tokyo Community Radio's recent training program "sessions." DJ and Beatmaker Licaxxx runs the online radio platform, and the training sessions have seen incredible success, inspiring new musicians to grow and improve.

"sessions" is a training program focused exclusively on dance music. Participants work closely with DJs and other active music creators to hone their skills and share unique experiences. The main goal of the program is to teach more about current technology and to share real-world examples that can help participants thrive. Sharing actual problems that current artists are facing and how to overcome them is also a popular part of the program.

Club (RDC) and Red Bull, inviting guests to embark on a 3-day/2-night training camp in Izu to hone their DJ and dance music skills. Artists from all over Japan were selected from an open call and gathered to create new works individually or in groups after listening to advice and having discussions with track makers active in several different genres.

A ton of music produced during the "sessions" program is included on TCR's first 18-track digital compilation album. In addition to the 14 artists that participated, Stones Taro, Carpainter, Pharakami Sanders, and Licaxxx worked with FELINE to create a track as well. This genre-crossing compilation album by the next generation of Japan-based artists is a must-hear for active DJs, and a behind-the-scenes look at the training camp is available on TCR's official YouTube channel.

TCR will also be hosting events in Tokyo and Osaka this weekend with re:lax, a unit comprised of DJ/producers re:ni and Laksa from the UK. Keep an eye out for more details!

Information

Tokyo Community Radio Digital Compilation Album
SESSIONS COLLECTION VOL. 1
Release Date: June 29, 2023
Streaming URL: https://tokyocommunityradio1.bandcamp.com/album/sessions-collection-vol-1

Featured Artists: abentis / Carpainter / ETV / K8 / LICAXXX&FELINE / mah-ble soda / natsumi hirota / NirBorna / Pharakami Sanders / Pine / QUNIMUNE / SEKITOVA / Stones Taro / Syunto / tanakana / Terax / TIMER feat. plan i / yokinist

<About Tokyo Community Radio>
TCR is a distribution platform based in Tokyo that focuses on introducing both local DJs and up-and-coming DJs from around Japan. The program features all musical genres and showcases both DJ mixes and live performances. In featured podcasts, DJs talk about their music, hobbies, and interests, allowing fans the rare chance to learn more about their favorite creators. The station also cooperates with community radio stations in other Asian cities and supports DJs and artists from Asia and beyond when they visit Japan. In addition to regular DJ sessions and podcasts, TCR also collaborates with corporate events, produces music events, and matches DJs to places and brands.

SUNNY ONLY 1 Releases 'Dance like a monkey feat. Mori,' a Collaboration with DONGURIZU

On June 14, SUNNY ONLY 1 released her new single Dance like a monkey feat. Mori.

In April 2023, the artist released So What?, her first single in two years. The well-established creator is also a member of the Tokyo-based girl artists and creators' collective bala.

The new song features rapper Mori from DONGURIZU, a long-time friend of the group.

Following the electroclash revival heard in her previous work, the new alternative dance track features notes of post-punk and old-school style. Mori brings his distinct style to the song, and listeners are sure to experience the chaotic mood found in the Tokyo Underground scene.

Information

Dance like a monkey feat. Mori – SUNNY ONLY 1 (Digital Single)
Release Date: June 14, 2023
Streaming URL: https://orcd.co/a8b3ke9

<Profile>
Mori
Born in 1998, Mori is a rapper with DONGURIZU and also handles the group's artwork. In January 2023, he released his first solo track YAZAWA composed by Shinichi Osawa. In addition to modeling for C.P. Company, GAP, and other apparel companies, he has appeared on the popular Red Bull programs 64Bars and RASEN. Funny and stylish, the rapper has been amassing more and more fans. Mori also won the top prize in the '100 Famous Views of Empathy' contest hosted by Gekidan Hitori and sponsored by SLUSH-PILE.

MANON Releases 'L.M.S.N,' a Collaboration with NY-based Artist Kyunchi

Starting in October 2022, artist MANON released new music for four consecutive months. Continuing her exploration of the HyperPop genre, her new track L.M.S.N feat. Kyunchi is now streaming.

MANON is known for releasing music with up-and-coming artists, and for this new track, she's collaborated with NY-based HyperPop artist Kyunchi. L.M.S.N was composed by trackmaker Kiraku, who also worked on MANON's previous release. The song is a Gal anthem, packed with Kiraku's signature sound and 'Gal Rap' performed by MANON and Kyunchi.

Kyunchi

MANON

<Comment from MANON>

"I've wanted to collab with Kyunchi for so long, and it's finally happened.

When I go to parties, I have a habit of being loud and not holding back, so people tend to shoot me these judgmental looks. But I don't care! I always think "LET'S MAKE SOME NOISE!!" This song is just that–it's us doing what we want to do at the moment. ⭐️That's the vibe.

I feel like gals from the 2010s are all about YOLO–they give off this super strong vibe. That's what I was trying to channel in this track, but then Kyunchi's bad bitch rap made it so much more intense. The jacket was also inspired by blinged-out images from the 2010s and was made by Kiraku's friend onumi!

When you hear this song, be sure to MAKE SOME NOISE!!"

Information

L.M.S.N feat. Kyunchi – MANON (Digital Single)

Release Date: May 24, 2023

Streaming URL: https://orcd.co/lmsn

Lyrics: MANON, Kyunchi / Prod.: Kiraku

■Kyunchi Profile

Kyunchi is a New York-based, candy-coated, gender-bending, post-modern, hyperpop, scene kid. Not bound by age, gender, nationality, or religion, the artist debuted in 2019 with Kyunshi Shopping Spree, produced by Ayesha Erotica. In April 2022, they released Mecha Angel Genesis♡, produced by writer syva of Codomo Mental INC. WORLDWIDE☆GIRL feat. nonamera was released on August 31, produced by syva and featuring nonamera on vocals.

Instagram: @kyunchi.jp
Spotify: Kyunchi

ATARASHII GAKKO! Named as Ambassadors for NIKE Gamma Force

Nike's Gamma Force line, a modern interpretation of classic 80s sneakers, will be available at ABC-MART and ABC-Mart Online. To celebrate the launch, a new visual and collaborative video featuring the members of ATARASHII GAKKO! have been released.

In the video, the girls are seen performing a flashy dance while wearing shoes from the Gamma Force line. The featured song, SUKI LIEwas featured on the group's new EP ICHIJIKIKOKU and in standard ATARASHII GAKKO! style, the members express themselves freely while holding absolutely nothing back.

Information

ATARASHII GAKKO! x Gamma Force Bonus Campaign
Those who purchase shoes from the Gamma Force line at ABC-MART stores or online will receive original stickers featuring ATARASHII GAKKO! One sheet will include special edition stickers, including key visuals and illustrations of the members wearing Gamma Force and their signature socks.

Special Site
https://www.abc-mart.net/shop/e/e1000650w/

*One sticker sheet per purchase will be available while supplies last
*Bonus campaign begins May 11 both in stores and online
*The campaign will end once all stickers are gone

bala Releases Remix of 1st Single 'barla' Featuring BBY NABE

In March, the Tokyo-based girl artists and creators' collective bala released its first single, barla. On April 26, a remixed version of the track featuring BBY NABE was released on streaming services.

The song barla, produced by Shinichi Osawa (Mondo Grosso) and written by Kenmochi Hidefumi (Wednesday Campanella), first dropped on March 8. The song has been well-received for its stylish music video highlighting the unique backgrounds and interests of each member. The remix features BBY NABE, a bilingual rapper who is the same age as the members. His song PINK SWEET was a viral hit, and the artist is known for producing music across several different genres. barla (feat. BBY NABE) is an anthem for the current generation featuring the rapper's catchy flow over a dance tune that brings back the house sound of the late 90s.

Information

barla (feat. BBY NABE) – bala (Digital Single)
Release Date: April 26, 2023
Streaming URL: https://orcd.co/o6xar5r

Kyary Pamyu Pamyu to Release 'CANDY CANDY (Moe Shop Remix), Artist to Perform Solo Concert at Hibiya Open Air Concert Hall in July

A Moe Shop Remix of Kyary Pamyu Pamyu's legendary song CANDY CANDY, originally released in 2012, will appear on streaming services on April 21.

Moe Shop is a DJ and trackmaker whose one-of-a-kind sound is influenced by French electronica and Japanese pop music. Having amassed a global following, the creator claims to be greatly influenced by Yasutaka Nakata, Kyary Pamyu Pamyu's producer.

CANDY CANDY (Moe Shop Remix) is the second remix to be released by the Harajuku star. In 2020, Ninja Re Bang Bang (Steve Aoki Remix) was released to massive fanfare. The new pop tune has a completely different vibe than the original, and fans won't want to miss it.

Recently, it was announced that Moe Shop would be performing as the opening act for the three U.S. dates of Kyary Pamyu Pamyu's POPPP world tour starting in May. The two artists will also be collaborating on a special YouTube Live, allowing fans from around the world to participate in the festivities. The jacket illustration for the single, created by illustrator Natsumi Yoshida, has also been unveiled.

After the world tour concludes, Kyary Pamyu Pamyu will hold a special solo concert on July 15 at the Hibiya Open Air Concert Hall. 'Kyary Pamyu Pamyu Special Live 2023 ~Midnight Sun~' will be held to commemorate the 100th anniversary of the venue.

Information

CANDY CANDY (Moe Shop Remix) – Kyary Pamyu Pamyu
Release Date: April 21, 2023
Streaming URL: https://moeshop.fanlink.to/candy-candy-remix-jp

<Solo Concert Information>
Celebrating 100 Years: Kyary Pamyu Pamyu Special Live 2023 ~Midnight Sun~
Date: July 15, 2023
Venue: Hibiya Open Air Concert Hall
Time: Open at 16:30 / Show starts at 17:30
*No admission for preschool-aged children

■Tickets
KPP Club Member Pre-sale: April 17, 18:00 ~ April 24, 23:59
URL: https://kyary.net
Front Block Reserved Seats: ¥9,900 (Tax Included) *Only available to KPP Club members, bonus merchandise included
General Reserved Seats: ¥5,500 (Tax Included)

Sponsor: Hibiya Open Air Concert Hall 100th Anniversary Executive Committee
Planning/Production: ASOBISYSTEM Co., Ltd.

Contact:
HOT STUFF PROMOTION
050-5211-6077
https://www.red-hot.ne.jp/

<World Tour Information>
Kyary Pamyu Pamyu WORLD TOUR 2023 -POPPP-
May 15 – New York|Webster Hall
May 17 – Los Angeles|The Novo
May 19 – Chicago|Anime Central
June 2 – Barcelona|PRIMAVERA SOUND 2023 Parc del Forum
June 5 – Paris|Cabaret Sauvage
June 7 – London|London EartH Hall
June 9 – PRIMAVERA SOUND 2023 Ciudad del Rock

Special Tour Website
https://wt2023.kyary.asobisystem.com/

HARAJUKU COLLECTIVE, a Collaboration Between Hot Topic & Studio Ghibli, Gets Pop-Up Store at Shinsaibashi PARCO

Last year, the HARAJUKU COLLECTIVE collaboration appeared at AF Gallery in Harajuku from August 10 until August 28, garnering massive acclaim from fans. The collection is now being sold at Shinsaibashi PARCO until March 12, 2023.

HARAJUKU COLLECTIVE is a Studio Ghibli-inspired apparel collection by the popular American counterculture chain Hot Topic. Bringing more Japanese culture to the ongoing Studio Ghibli collaboration launched in 2014, Hot Topic stores began selling original items produced by nine Japanese creators and brands, as well as some original American items produced by Hot Topic's executive designers.

The lineup of Japan-original items includes T-shirts, tote bags, and other items featuring exclusive artwork by up-and-coming creators. These items depict beloved characters from Studio Ghibli's works, as well as logos created for the collaboration. Fans won't want to miss grabbing these unique items!

 

Details on the Previous HARAJUKU COLLECTIVE Pop-Up Store: https://www.moshimoshi-nippon.jp/ja/625747

Rilakkuma 20th Anniversary Cafe Be Held in Omotesando, Tokyo in March and April

To commemorate the 20th anniversary of Rilakkuma and his adorable friends, the Rilakkuma 20th Anniversary Cafe will open in Omotesando, Tokyo from March 9 until April 16, 2023. You'll want to come and spend a peaceful time looking back at two decades of everyone's favorite lazy bear!

The menu features colorful and festive dishes inspired by Rilakkuma, Korilakkuma, Kiiroitori, and Chairoikoguma. The characters express their thanks for 20 successful years, and fans can enjoy floats topped with Rilakkuma and friends wearing ribbons and topped with ice cream, a jelly soda inspired by Chairoikoguma and his friends in the honey forest, and a hot drink inspired by Rilakkuma's favorite pudding.

Menu

Rilakkuma's Honey Mustard Hamburger

コリラックマのクリームパスタ

Korilakkuma's Cream Pasta

Kiiroitori's Egg Burger

Chairoikoguma's Cheese Curry 

Rilakkuma and Friend's Celebratory Cake

Congratulatory Flower Parfait

You Can Choose♪ Rilakkuma and Friends Mini Ice Cream

You Can Choose♪ Rilakkuma and Friends Floats 

Honey Forest Jelly Soda

Relaxing Pudding Drink

Take-Out Drink Bottle

Original Merch

Acrylic Clip (7 varieties, random)

Acrylic Keychain (5 varieties, random)

Mini-Bottle / Muddler with Charm (4 varieties)

Lunch Tote / Drawstring Bag

Acrylic Stand with Clip / Cork Coaster

Stuffed Animal

In addition, the cafe will offer original goods, special offers, and a Twitter campaign to celebrate Rilakkuma's 20th anniversary.

Come enjoy the elaborate original menu and goods while sharing memories at this limited time themed cafe!

©2023 San-X Co., Ltd. All Rights Reserved.

Information

RILAKKUMA 20th Anniversary Cafe
Venue: BOX cafe&space Omotesando
Running: March 9 – April 16, 2023
Address: Pine Under Flat B1F (5-13-2 Jingumae, Shibuya-ku, Tokyo)
Reservation Fee: ¥715 (Tax included) *Reservations include bonuses.
*Reservations can be made for up to four guests per application.

Online Shop: https://rilakkuma20th-cafe.jp/online_store/
Sales Open: March 9, 15:00 – April 16, 23:59
(Items will ship starting in early May 2023.)
Official Site: https://rilakkuma20th-cafe.jp

ShowMinorSavage, Formed by SOTA and MANATO of BE:FIRST and Aile The Shota, Releases Long-Awaited 1st EP

ShowMinorSavage, a new unit formed by BMSG's Aile The Shota along with SOTA and MANATO from BE:FIRST, have released their first EP! ShowMinorSavage was added to all major streaming services on February 22, 2023.

The three artists met at a BMSG audition and immediately hit it off, sharing similar musical backgrounds and interests. Unsurprisingly, they formed ShowMinorSavage soon after.

Their unit name comes from their intention to transform minor acts in the music scene into major acts, showing how savage they can be. Their first EP was created with this idea very much in mind.

ShowMinorSavage / SUPER ICY (Prod. Chaki Zulu) -Music Video-

The EP features the first songs produced under the group name ShowMinorSavage, including No Cap Navy, a song sampled from SKY-HI's Nanairo Holiday created by the three members, and Thinkin' bout you, a dope hip-hop track expressing the member's love and featuring a vocal loop by TRILL DYNASTY. The groovy and extremely danceable song SUPER ICY was produced by Chaki Zulu.

The major debut of ShowMinorSavage is sure to create waves in the music scene, and you won't want to miss it!

Dance Vocal Group BALLISTIK BOYZ Release New Track 'Drop Dead' with Popular Thai Group TRINITY

BALLISTIK BOYZ, currently busy training in Thailand, released a new track titled Drop Dead feat. TRINITY on February 16. This marks the group's first time collaborating with a popular Thai artist, and to commemorate the occasion, the music video has also been released on the High Cloud Entertainment YouTube channel.

In September 2022, BALLISTIK BOYZ moved their base of operations to Thailand to realilze the group's motto of "music has no borders." The group has since appeared at a number of live events, including the OCTO POP FEST in October 2022 and the BIG MOUNTAIN MUSIC FES 12, one of the largest festivals in Southeast Asia.

Drop Dead feat.TRINITY – BALLISTIK BOYZ from EXILE TRIBE (Music Video)

Drop Dead feat. TRINITY was created following an encounter with TRINITY, a popular T-pop group that shares the same aspirations as the BALLISTIK BOYZ. The group is known for blending pop and rap with addictive Trap and EDM beats, and this new track shares the feelings many experience while chasing their dreams. Designed to give listeners a bit more fighting spirit, it's perfect for blaring when you need a pick-me-up.

The music video tells the story of how BALLISTIK BOYZ and TRINITY met in a foreign land, taking on the world stage and trying to make it where many challengers have lost their dreams and given up. Filmed in spectacular locations across Thailand, the video has plenty of cinematic flair.

Footage from the song's recording sessions can be seen on the New School Breakin', a brand-new reality show on High Cloud Entertainment's YouTube channel. Fans can also see the first collaboration performance between the two groups during the BIG MOUNTAIN MUSIC FESTIVAL 12.

Comment from BALLISTIK BOYZ

"We're proud to announce the release of our first international production, Drop Dead!!

 This time around, we collaborated with TRINITY, an incredible group from Thailand. Fusing together J-pop and T-pop, we're aiming to bring Japanese music to the rest of Asia, and from Asia, we want to spread to the rest of the world. This song really shows off our determination in the music, lyrics, and choreography!

This is our first attempt at completely English lyrics, and I think it gives a brand new feel to the BALLISTIK BOYZ. I hope you'll listen to it and check out the music video!

We'll continue to work hard to take this song to the next level, so please continue to support us!"

Information

Drop Dead feat.TRINITY – BALLISTIK BOYZ from EXILE TRIBE
Stream and Download: https://ldh.lnk.to/Drop_Dead_feat_TRINITY

New School Breakin' (Reality Show)
BALLISTIK BOYZ from EXILE TRIBE & PSYCHIC FEVER from EXILE TRIBE, who restarted their activities in Thailand aiming to be active on the world stage, will take on new challenges in the reality show New School Breakin'. Popular Thai actors and artists appear in the series, taking on tons of unique missions and challenges as the members of BALLISTIK BOYZ work towards achieving their dreams.

How to watch: https://youtu.be/uNLXPiln5tE

Jimmy Choo Announces 30th Anniversary Sailor Moon Collection Available Worldwide

Jimmy Choo has announced a new collection to commemorate the 30th anniversary of the internationally beloved Sailor Moon series.

Feminine style and power are important themes in Sailor Moon, and these inspiring elements are incorporated into Jimmy Choo's beautiful shoes and accessories. The collection will include items inspired by Sailor Moon, Sailor Mercury, Sailor Mars, Sailor Jupiter, Sailor Venus, and Luna. These superheroines created by Naoko Takeuchi are ready to take the main stage, and there's no doubt that fans around the world will be clamoring to get their hands on these items next week.

Sailor Moon boots/ VARENNE QUAD XS

Sailor Mercury ankle boots

Sailor Mars patent pumps

Sailor Jupiter boots

 Sailor Venus platform pumps

Each pair of shoes comes in a specific color inspired by one main character, instantly recognizable to fans. This collection was inspired by the limited-edition custom-made Sailor Moon boots released last year, with a pair shown off at the Sailor Moon Museum in Roppongi. With Jimmy Choo's signature kick heel, Sailor Moon's iconic crescent moon jewel, and bright pink all-over crystal embellishment, the boots unite the worlds of Sailor Moon and Jimmy Choo and give off some serious feminine energy.

Items in this exclusive collection will be available to purchase worldwide on Valentine's Day, February 14. Major Jimmy Choo flagship stores will also be decorated in Sailor Moon style, and the collection's limited-edition packaging will shimmer in the colors of the rainbow. In addition to fashion, Jimmy Choo has also collaborated with DJ Honey Dijon to create two remix tracks inspired by Sailor Moon.

If you grew up with Sailor Moon, you'll want at least one pair of these stylish shoes!

Information

JIMMY CHOO x PRETTY GUARDIAN SAILOR MOON COLLABORATION
Worldwide Release Date: February 14, 2023
Japan Release Date: February 15, 2023
http://www.jimmychoo.jp/