HOSHINOYA Kyoto will hold an event titled, "Datsu Degital Taizai / Fuyu" in which one can visit the world heritage Kiyomizudera with the Buddhist monk.
The river-viewing inn located on Arashiyama, Kyo "HOSHINOYA Kyoto" will hold a two-day and one-night program "Datsu Degital Taizai / Fuyu."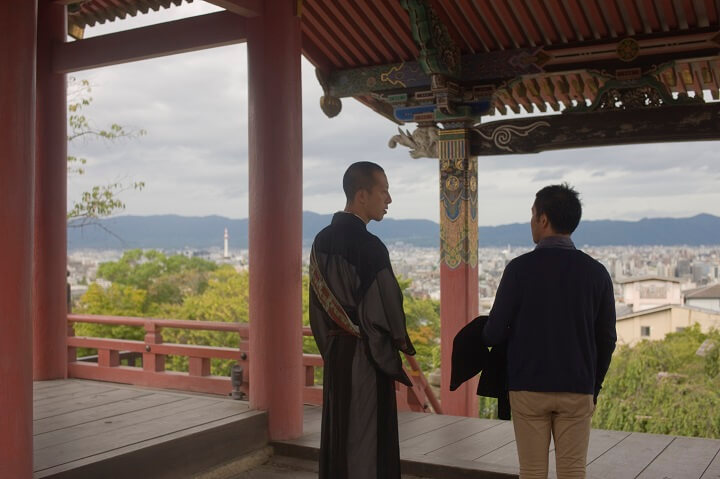 "Datsu Degital Taizai" is a program at which one can regain oneself by experiencing the nature of Kyoto and by refraining from using digital gadgets such as cell phones or PCs. The program also offers a massage, riverside meditation program and an aroma program so that that one can refresh ones body and mental capacities.
On the last day of the program, a visit to the west entrance of Kiyomizudera which cannot be entered by regular tourists is scheduled and one can learn about the Buddhist architecture and the history of Kiyomizudera.
The winter season is a good season to visit temples and shrines in Kyoto since there are not so many tourists around.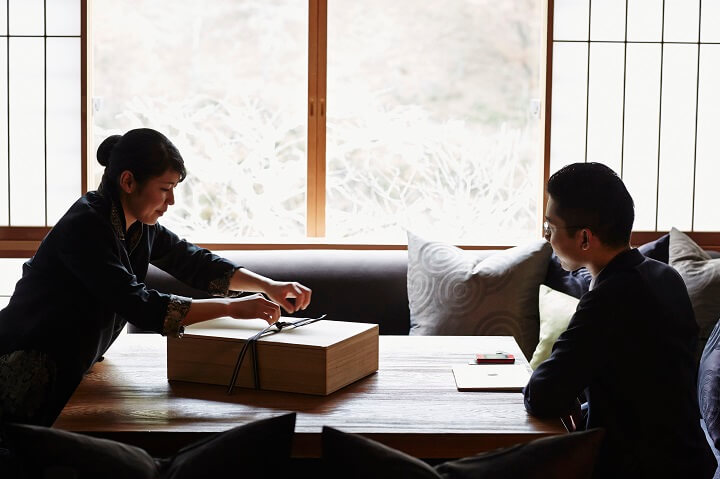 Let's have a gorgeous and quite time by participating "Datsu Degital Taizai / Fuyu."
■Information
Date: December 1st, 2017 to February 28th, 2017 (program not offered during some days in this period)
Target: the users of HOSINOYA Kyoto
Reservation: two weeks in advance
Group limit: One group per day (One group is one to two persons)
Address: Hoshinoya Kyoto – 〒616-0007, 11-2, Ganrokuyama, Arashiyama, Nishikyoku, Kyotoshi, Kyoto
Kiyomizudera (40 minutes by car from HOSHINOYA Kyoto)
Price: 40,000 yen (per person, 10% of tax and service fee are included) ※Lodging fee is not included
The contents of the service: Welcome dessert, massage (60 minutes), riverside meditation, aroma meditation, visiting Kiyomizudera and hearing a talk by a Buddhist monk
Detailed information:http://hoshinoyakyoto.jp/#/activity/005037
Schedule example
【First day】
15:00 check in
15:00 deposit digital gadgets
16:00 welcome dessert
17:00 massage
19:30 dinner
【Second day】
08:30 riverside meditation
09:15 breakfast (extra fee)
10:30 aroma meditation
12:00 check out
13:30 visit Kiyomizudera with a Buddhist monk
RELATED ENTRIES
Kyo no Ondokoro Marutamachi: Rent An Entire Kyoto Townhouse to Yourself

Kyo no Ondokoro Marutamachi is set to open in the Goshominami area of Kyoto on April 25, 2020. The single-accommodation hotel is a complete renovation of a traditional Kyoto-style townhouse.

Kyo no Ondokoro Marutamachi comes as the 7th branch of hotels from Kyo no Ondokoro. It's a single building to rent for up to 4 people, who can enjoy taking a soak in the man-made carbonated spring bath which is kind to the skin and hair, using the soft water shower, and getting ready in the spacious makeup corner. It's the perfect getaway for girl groups travelling together.

The hotel is in a convenient location for sightseeing in the ancient capital of Kyoto. The building has been completely renovated to adapt to modern lifestyle while still retaining those traditional elements of a Kyoto townhouse that was built during the Meiji Periodーand in an area that's rich in traditional scenery.

The lounge space sofa seats are inspired by Japanese rock gardens

The lounge space, which connects the second-floor bedrooms and the washitsu Japanese-style room, are furnished with unique round sofas. All the rooms open up to each other so guests can enjoy the company of each other during their travel stay.

Hinoki cypress artificial carbonated spring bath

Amenities

The round bath is made from hinoki cypress, and the carbonated water lets you stay glowing and nice and warm after you step out of it. The bathroom is also stocked full of amenities like shampoo courtesy of popular brand THREE.

Up to four people can apply their makeup together in the makeup corner

The makeup corner is big enough to sit four people so they can get ready for their day or night out together while chatting.

Colourful art pieces also adorn the walls of the makeup room, Japanese-style room and elsewhere to add a touch of beauty to them.

If you're planning a trip to Kyoto with the girls then why not book at Kyo no Ondokoro Marutamachi when it opens on April 25?

Information

Kyo no Ondokoro Marutamachi

Address: 341-2 Shōshōiotabichō, Nakagyō-ku, Kyoto, 604-0873

Grand Opening: April 25, 2020

Price: ¥30,000 per night

Bookings: Opened on March 27, 2020

Offcial Website: https://www.kyo-ondokoro.kyoto/en/

Experience Hanami and Cherry Blossoms With Digital Art at FLOWERS BY NAKED 2020 – Sakura –

FLOWERS BY NAKED is an annual flower-themed digital art event held by NAKED Inc. As part of this year's event, FLOWERS BY NAKED 2020 – Sakura –, a special addendum event entitled "Nijo Castle Sakura Matsuri" will take place during the evenings at the World Heritage Site Nijo Castle From March 20 to April 12 this year.

FLOWERS BY NAKED is an interactive digital art experience. It has been held at Nijo Castle during the autumns of 2018 and 2019, but this will be the event's first time being held in Kyoto during the spring season. 2020's theme is cherry blossoms, and this will be showcased in a number of wonderful ways.

Prologue | NAKED BIG BOOK

"NAKED BIG BOOK, a monument of the beginning of this exhibition, will show collaboration works by an artist Ryotaro Muramatsu and a photographer LESLIE KEE. LESLIE KEE contained energy into photographs as the quiet expression, and Ryotaro Muramatsu reinterprets his works to dynamic photography art.​"

Arrival of Spring | Kara-mon Gate (Important Cultural Property)

"Projection mapping expresses the coming of Spring on Karamon-Gate as an important cultural property."

Flowers Wall ~ SAKURA ~ | Inner Moat

"Projection mapping of impressive sakura on the moats in Nijo-jo Castle. The landscape will transition following sakura."

Sakura Droplets | Seiryu-en Garden

"A mystical space surrounded by real sakura where bubbles confined spring fragrance float as the sakura droplet.​ ​"

The event is working on countermeasures against the coronavirus, such as installing disinfectants and having staff wear masks. It requests that visitors take normal measures against the infection such as cough etiquette and washing your hands. Click here for more information.

Information

FLOWERS BY NAKED 2020 −Sakura− World Heritage Nijo-jo Castle

Running: March 20, 2020 – April 12, 2020
Opening Hours: 18:00-21:00 (Closed at 22:00)
Location: Nijo-jo Castle
Admission Fees:

Early Bird Tickets (Available until March 19, 2020) / Junior High School and Older ¥1,000, Elementary School Students ¥800
General Tickets (March 20, 2020 – April 12, 2020) / Junior High School and Older ¥1,400, Elementary School Students ¥800
*All prices above include tax. Free for preschoolers. Disability discount available.

Official Website: https://flowers.naked.works/2020nijojo-sakura/

Popular Yakiniku Restaurant Futago to Open New Branch at THE JUNEI HOTEL in Kyoto

FTG Company, which operates 74 restaurants inside and outside Japan, is set to open its new restaurant Nikukappou Futago at THE JUNEI HOTEL Kyoto in Higashiyama, Kyoto on March 27, 2020 where it will serve authentic Japanese wagyu beef and full courses.

THE JUNEI HOTEL Kyoto is a small luxury tourist hotel housing eleven rooms in total, including its Bamboo Suite. Bamboo can be found throughout all the rooms as part of the hotel's concept: "A sojourn embraced by bamboo in a moonlit space." The rooms, as well as the hotel interior overall, showcases beautiful traditional handiwork using bamboo.

Inside Nikukappou Futago

Nikukappou Futago fuses traditional Japanese elements with modern ones. It features half-size eating areas as well as private areas. Customers can expect their private dining experience to include freshly-cooked full courses with high quality Japanese wagyu and seasonal ingredients.

Menu in Japanese *Menu will change monthly

Nikukappou Futago's concept is "A relaxed adult's Iki." The word iki here refers to a range of different meanings in Japanese, like "sophistication," "breath," "spirit," and "life." The restaurant will work to serve a hospitable service that enables each and every person to enjoy that iki that lives inside them.

Foie Gras & Wagyu Filet Mouthful Bowl

Wagyu Loin & Kyoto Vegetable Shabu-shabu

The course is made with seasonal ingredients and vegetables. Plus, in using a range of cooking methods, the original flavour meat of the meat is intensified.

Wagyu Sirloin Sumiyaki

Enjoy a selection of high-quality rare wagyu cuts like sirloin, filet, loin, and more. You can also enjoy a selection of classic Japanese dishes like yakiniku, shabu-shabu, and sukiyaki, all in one course.

Like the changing seasons in Kyoto, the menu will be altered every month to bring something new. Discover your iki and enjoy a great meal at Nikukappou Futago.

Information

Nikukappou Futago THE JUNEI HOTEL KYOTO

Address: THE JUNEI HOTEL KYOTO Floor 1F, 4-139 Honmachi, Higashiyama Ward, Kyoto
Grand Opening: March 27, 2020
Opening Hours: 17:00-23:00  (Last Orders 22:00)
No Fixed Holidays

Seats: 32 (6 Half-Size Rooms / 2 Private Rooms
TEL: 075-525-0052

Course Price: ¥11,000 (Tax and service charge not included) *Course menu to change each month

Official Website: https://nikutei25.com/

Only Kyoto's Locals Know About This Beautiful Hidden Firefly Spot

Last year, The GrandWest Arashiyamaーa hotel in Arashiyama, Kyotoーhosted a special firefly tour to huge success. It was so well received that the hotel is bringing the tour back again this year. It will be held for three days, from May 29 to 31, with bookings available starting this month.

The tour was particularly well-received with foreign guests who were staying at the hotel, and who had never seen a firefly before. It takes place after sunset, where hotel staff take guests on a mini tour to a little-known-good-spot that only the locals know about where you can see fireflies in Kyoto.

The idea behind the tour was conceived by a hotel staff member who lives in Kyoto and spotted the fireflies at a nearby temple. That staff member had never seen fireflies before, and it was the first time since moving to Kyoto that they'd seen them in the wild like that. The number of wild fireflies is actually decreasing each year in Japan, and converselyーdespite them being a symbol of summertime in Japanーthe number of people who have never actually seen them is on the rise. The tour was created to tackle this fact by having hotel guests experiencing a part of Japanese summer.

The target audience for the 2019 tour was parents with small children, which was to be held for three days, but the number of bookings shot up for the entire duration, with 80% of them being from hotel guests from foreign countries. Numerous guests from China said that they had seen fireflies in anime and games before, and that kids and adults knew about them, but that there aren't many places in China where you can see them for real so many of them had never seen them.

Fireflies can only inhabit places where the water is clean. Because of this, it's becoming harder to see them not just in Japan, but around the world. This includes Kyoto, where the number decreases year by year. If you're travelling to Kyoto at the end of May, then don't miss out on this rare and exciting opportunity.

Information

Mini Firefly Tour

Running: May 29, 2020 – May 31, 2020

Time: Departing from the hotel at sunset (after 17:00)

No. of People: 5 per day (first-come, first-served bookings)

Price: Free

*In the case of rain, the tour will not go ahead
雨天:中止

The GrandWest Arashiyama Official Website: https://www.grandwest.kyoto/en/

7 Must-Visit Cherry Blossom Spots in Kyoto For Hanami | 2020 Edition – MOSHI MOSHI NIPPON

The warmer weather is growing ever closer as we start to approach spring, and in Japan, that means the cherry blossom season is right around the corner. Today, we are joined by Instagram user Macchan-san who has provided us with some picturesque photos of places Kyoto for this Top 7 list of must-visit locations in the ancient capital to see the cherry blossoms this year.

Gion Shirakawa


Gion Shirakawa is a place that delivers on expectations when visiting Kyoto, with its rows of traditional houses, stone pavements, and maiko whom you're sure to meet. This area is also lit up with illuminations during the cherry blossom season, which is perfect when you're listening to the sound of the flowing Shirakawa River while gazing to your heart's content at the cherry blossoms.

▶ Gion Shirakawa

Address: Shirakawa River, Higashiyama Ward, Kyoto (Between Kawabata Shopping Arcade and Gion Tatsumi Bridge)

Closest Stations: 5-minutes on foot from Gion-Shijō Station (via Keihan Electric Railway) / 10-minutes on foot from Sanjō Station (via Keihan Electric Railway) / 10-minutes on foot from Kyoto-Kawaramachi Station (via Hankyu Railway)

Official Website: http://gion-yoisakura.com/

Former Main Building of the Kyoto Prefectural Office


The Former Main Building of the Kyoto Prefectural Office is listed under Japan's list of Important Cultural Properties. It is the oldest building among existing government buildings in Japan. The courtyard is home to towering shidare-zakura cherry blossom trees, which captivate those who visit the building. The view of the buildingーwhose exterior is like that of a western mansionーtogether with the cherry blossoms is a sight to behold.

▶ Former Main Building of the Kyoto Prefectural Office

Address: Yabunouchicho, Kamigyo Ward, Kyoto

Open: Tuesdays-Fridays (and every 1st, 3rd, and 5th Saturday)

Closed: Public Holidays and New Year Holidays

Opening Hours: 10:00-17:00

Closest Station: 10-minutes on foot from Marutamachi Station

Official Website (Japanese): https://www.pref.kyoto.jp/qhonkan/

Shojuin


Shojuin is famous for its beautiful heart-shaped window located in the reception hall. During the cherry blossom season, the window is dyed a pink colour. It is also lit up in the evenings, but you need to book a place in advance to see it. Places are allocated randomly. You can book on the official website.

▶ Shojuin

Address: Kawakami-149 Okuyamada, Ujitawara, Tsuzuk District, Kyoto

Opening Hours:  9:00-16:30 (April-September)

Price: ¥500 (Includes tea and confection)

Official Website: http://shoujuin.boo.jp/

 

Access:

①Reachable by Keihan Uji Bus (Numbers 180, 182 or 184) from Uji Station and Shin-Tanabe Station. Get off at Ichumae Bus Stop (維中前)

②10 minutes by the Okayamada Community Bus or taxi

Sewaritei


Sewaritei is a very popular spot for celebrating Hanami in Japan with its rows of cherry trees that span 1.4km along the park. From the Sakura Deai Kan observation building, you can soak up the breathtaking view of 220 individual cherry blossom trees. When they are in full bloom, it's like walking through a tunnel of them, providing a romantic atmosphere.

▶ Sewaritei

Address: Yawata Zaioji, Yawata 614-8307, Kyoto Prefecture

Closest Station: 10-minutes on foot from Iwashimizu-Hachimangu Station (via Keihan Main Line)

Official Website: https://www.city.yawata.kyoto.jp/0000000479.html

Fushimi Jikkokubune Boats


Fushimi Jikkokubune is an opportunity to board an Edo Period-style boat. It departs from Bentenbashi, and takes passengers on a relaxing journey to observe Kyoto's nature as well as the cherry blossoms. The departing times are fixed and limited, so be sure to check the official website in advance.

▶ Fushimi Jikkokubune Boats

Address: 247 Minamihamacho, Fushimi Ward, Kyoto

Times: Check the official website

Closest Station: 5-minutes on foot from Chushojima Station (via the Keihan Main Line)

 

Official Website: https://kyoto-fushimi.or.jp/ship/

Fushimi Port Park


There is a walking course offered at Fushimi Port Park which lets you take in all of its sights. I recommend going for a Hanami walk when the cherry blossoms are in full bloom.

▶ Fushimi Port Park

Address: Yoshijima Kanaidocho, Fushimi Ward, Kyoto

Closest Station: 3-minutes on foot from Chushojima Station (via the Keihan Main Line)

Official Website: http://kyoto-park.or.jp/fushimi/

Fushimi Deai Bridge


This bridge appeared in the anime film I Want to Eat Your Pancreas. It's a very beautiful spot where the cherry trees reflect off the surface of the water below the bridge. The location's sights are the same as they were in the past too.

▶ Fushimi Deai Bridge (in Japanese: 伏見出会い橋)

Address: 911 Kitahamacho, Fushimi Ward, Kyoto

Closest Station: 9-minutes on foot from Chushojima Station (via the Keihan Main Line)


Did you enjoy this list? If you're planning a trip to Kyoto this spring, be sure to use these picks as reference for your Hanami and cherry blossom destinations. And if you're looking for more places to visit in Kyoto, then follow Macchan on Instagram

Photos: Macchan

THE HIRAMATSU Kyoto is a New Luxury Hotel On Muromachi Street Renovated From a Traditional Townhouse

The new luxury hotel THE HIRAMATSU Kyoto is set to open along Muromachi Street in Kyoto on March 18, 2020.

"Explore and indulge your curiosity" is the hotel's concept

The hotel aims to create a place that encourages guests to explore and indulge their curiosities, and one that welcomes and treasures its guests in a way that only THE HIRAMATSU Kyoto can.

Built from a traditional Edo Period Kyoto-style townhouse

THE HIRAMATSU Kyoto sits pretty much in the heart of Kyoto, and is just a three-minute stroll from Karasuma Oike Station. It faces Muromachi Streetーa street that has long thrived when it comes to trade. The hotel is renovated from an old townhouse that has been around since the Edo Period, and it has been made sure that it hasn't lost that traditional design.

Nakamura Sotoni Komu: A contemporary craftsman

To progress with the renovation work, THE HIRAMATSU KYOTO called on board the executive building director of Kyoto's famous craftsman company Nakamura Sotoni Komu, who lent their skill to effect the effort.

Information

THE HIRAMATSU Kyoto

Grand Opening: March 18, 2020

Address: 361 Sanjo Agaru Ennogyojacho, Muromachi-dori, Nakagyo Ward, Kyoto
Access: 15-minutes by taxi from Kyoto Station / 3-minutes on foot from Karasuma Oike Station (via Kyoto Municipal Subway)

Official Website: https://www.hiramatsuhotels.com/eng/kyoto/

Goldfish Bar to Open at HOSHINOYA Kyoto For a Limited Time This Summer

HOSHINOYA Kyoto's Salon & Bar KURA is being transformed into the new Kingyo Bar ("Goldfish Bar") for a limited time from July 1, 2020 to August 31, 2020. HOSHINOYA is a chain of luxury ryokan managed by Hoshino Resorts with the Kyoto branch located in Arashiyama, Kyoto.

The gorgeous new Kingyo Bar submerges guests amongst schools of fish, and takes on the Japanese custom of "cooling off," with goldfish bowls hanging gracefully from the ceiling. Customers will be able to feel cooled off as they observe the goldfish during the summer evenings deep in Arashiyama.

Enjoy the cool evenings of Arashiyama

HOSHINOYA Kyoto's goal is for people to fully enjoy the ancient capital's summertime, hence the revamp of Salon & Bar KURA into Kingyo Bar. Fish bowls will dangle from the ceiling, which will swim elegantly, their forms illuminated by the warm light of the lamps. Customers can enjoy watching the goldfish dance while sipping on one of the bar's original cocktails.

Arashiyama is known for its history as a summer resort for the Imperial Household during the Heian Period. Since ancient times, watching goldfish has long been a creative way of cooling down from the heat of summer amongst the people of Kyoto, and you'll get to do just that at Kingyo Bar.

See traditional crafts come to life as you admire the fish

The goldfish suspended on long string in their fishbowls are strung in such a way to meet your gaze. Enjoy the twinkling light reflecting from the bowls while the goldfish, with their cute round bodies and long fins, swim around in their cool water.

Sip on cocktails

Two original cocktails will be served: the Ukikusa ("Floating Weed") and the Kyo-kago ("Kyoto Fawn"). The Ukikusa includes a crushed jelly made from Japanese pepper tree buds and mint and is topped off with a lemon liqueur and sparkling wine. The flavour and fragrance of the wine comes through after the refreshing notes of citrus fruits and herbs. The Kyo-kago includes a yoghurt granita and a strawberry and red shiso liqueur. This is combined with Bikkuri Gyoten, a foamed junmaishu.

Catch shadow goldfish to take home

Try your hand at catching goldfish with this fun game. Japanese paper is layered over the top of a fish tank to create a shadow effect. Goldfish scooping is a staple of Japanese summer festivals, and this version puts a spin on the game.

Information

Kingyo Bar

Running: July 1, 2020 – August 31, 2020
Price: Free Entry / Drinks from ¥1,000 (tax and service charge charged separately)
Reservations: Not required
Location: Salon & Bar KURA (HOSHINOYA Kyoto)
Opening Hours: 21:00-23:30
For: Guests of HOSHINOYA Kyoto only

Official Website (English): https://hoshinoya.com/en/

Cherry Blossom Themed Sumikko Gurashi Store to Open at Ginkaku-ji Temple in Kyoto

The all-new Sumikko Gurashi Dou store is set to open permanently at Ginkaku-ji Temple in Kyoto on March 19, 2020.

Ginkaku-ji is a famous temple in Kyoto that was first built in 1490. It lives as a representation of the Higashiyama culture which flourished towards the end of the Muromachi Period. In 1994, it was designated as a World Heritage Site. The temple stands as a famous tourist spot of Kyoto.

Glasses Case – ¥1,500 / Contact Lenses – ¥1,100 / Mini Towels – ¥600 / Hanging Plush Toys – ¥1,100 / Cookies – ¥1,000 (All prices are pre-tax)

The new Sumikko Gurashi Dou store will be based entirely on the Sumikko Gurashi characters created by San-X. "Sumikko Gurashi" translates roughly to "life in the corner." The shop will take on a cherry blossom theme, where you can get your hands on exclusive and licensed products.

Sumikko Gurashi Yaki Takeout Cup (Contains 6) – ¥300 / Sumikko Gurashi Yaki Omiyage Bag (Contains 12) – ¥700 / Tapioca Drinks (3 Flavours) – ¥500 / Ice Cream (3 Flavours) – ¥500 (All prices are pre-tax)

There's also takeout food and drinks, like sweet and fluffy baby castella sponge cake, tapioca drinks, soft serve ice cream, and more.

And of course, the entire store will be adorably decorated in all things Sumikko Gurashi to ease your soul. If you're travelling to Kyoto and Ginkaku-ji Temple, then make sure you pop into Sumikko Gurashi Dou.

©2020 SAN-X CO., LTD. ALL RIGHTS RESERVED.

Kyoto Aquarium to House 20 Types of Jellyfish With New 'Jellyfish Wonder' Area

Kyoto Aquarium is currently undergoing a large-scale renovation and is set to reopen on April 29, 2020.

When it reopens, visitors will be able to visit the new jellyfish area, called "Kurage Wonder" (Jellyfish Wonder), which will span 350㎡ in width and 40 meters in length. It will house the largest number of different species in western Japanーup to 20ーwith around 5,000 individual jellyfish to see, like the northern sea nettle and pacific sea nettle.

The area begins at 10 individual water tanks where you can see how moon jellyfish change and grow. It then moves onto the 6.5 meter circumference "GURURI" panorama tank which offers a 360° view of 1,500 moon jellyfish.

This tank is entered through an arch, which once you pass through leads you under the tank where your vision is filled with the sight of countless moon jellyfish.

The new "Kyoto Jellyfish Research Lab" has also been built where guests can observe the staff breeding and researching jellyfish on a day-to-day basis. Enjoy hearing how the jellyfish are cared for behind the scenes while chatting together with the staff. Various other activities you can participate in will be introduced in the future too.

Discover the wonderful world of jellyfish at the newly-renovated Kyoto Aquarium.

Information

Kyoto Aquarium

Address: 35-1 Kankijicho, Shimogyo Ward, Kyoto

Reopening: April 29, 2020

Access: 15-minutes on foot west from Kyoto Station's Central Exit / 7-minutes on foot from Umekōji-Kyōtonishi Station via the JR San'in Main Line

Official Website: https://www.kyoto-aquarium.com/en/

Japan Coronavirus: Studio Ghibli Museum, Sanrio Puroland & Other Facilities Close Temporarily

A number of facilities in Japan have announced temporary closures to help stop any possible spreading of the coronavirus. Please check the following closures if you're planning a trip to Japan in February or March. New information is rolling out all the time, so for the latest updates, please check the official websites for each establishment listed below.

Last Updated: February 28, 2020 at 00:51 (JST)

Tokyo Disneyland® and Tokyo DisneySea® 

Closed: February 29 – March 15, 2020

The parks plan to reopen on March 16, 2020, however this will be decided following consultation with concerned administrative agencies and will be announced on their official website. If you have purchased tickets valid during the parks' closing dates, please refer to the links below.

 

Tokyo Disney Resort Official Website: https://www.tokyodisneyresort.jp/en/index.html

Tokyo Disney Resort Online Tickets and Reservations: https://reserve.tokyodisneyresort.jp/en/top/?language=en

Snoopy Museum

Closed: February 29 – March 13, 2020

Information on ticket refunds is provided on the museum's official website.

Snoopy Museum Official Website:https://snoopymuseum.tokyo/s/smt/page/english?ima=0000

Sony Music Roppongi Museum

Closed: February 29 – March 13, 2020

Information on ticket refunds will soon be provided on the museum's official website. The TYPE-MOON Fate / stay night-15 years of history Exhibition will be extended until April 19, 2020.

TYPE-MOON Fate / stay night-15 years of history Exhibition Official Website: https://type-moon-museum.com/

Sony Music Roppongi Museum Official Website: https://smrm.jp/

---

Sanrio Puroland

Closed: February 22, 2020 – March 12, 2020

The park is scheduled to reopen on March 13, 2020, but this is subject to change depending on the circumstances of the coronavirus and news published by the government.

▶Refunds

・Pre-booked Tickets

Tickets valid between the dates February 22, 2020 – March 12, 2020 will have their validity period extended to September 30, 2020.

・Original Passports

Passport tickets valid between the dates February 22, 2020 – September 29, 2020 will have their validity period extended to September 30, 2020.

・Pre-booked PUROPASS

Payments for PUROPASSES bought between the dates February 22, 2020 – March 10, 2020 will be cancelled.

・Anniversary Time

Payments for Anniversary Time tickets for the dates February 22, 2020 – March 10, 2020 will be cancelled. Those who paid with cash will be refunded via registered mail.

Official Website (English): https://en.puroland.jp/

Official Website (Japanese): https://www.puroland.jp/

Ghibli Museum

Closed: February 25, 2020 – March 17, 2020

▶Refunds

Refunds are applicable for tickets dated between January 22, 2020 – March 30, 2020.

Refunds will be paid in full between February 15, 2020 – March 31, 2020.

Official Website (English): http://www.ghibli-museum.jp/en/

Official Website (Japanese): http://www.ghibli-museum.jp/

Toei Animation Museum

Closed: February 26, 2020 – March 18, 2020

The museum's reopening is subject to consideration depending on the circumstances of the coronavirus. It will be announced via the museum's official Twitter page and website.

Official Website: https://museum.toei-anim.co.jp/

Asahi Beer Oyamazaki Villa Museum

Closed: February 22, 2020 until further notice

Official Website (English): https://www.asahibeer-oyamazaki.com/english/

Official Website (Japanese): https://www.asahibeer-oyamazaki.com/

 

Kyoto National Museum

Closed: February 22, 2020 until further notice

All events, the museum shop Benrido, and the museum cafe Maeda Coffee, have also closed temporarily.

Official Website (English): https://www.kyohaku.go.jp/eng/index.html

Official Website (Japanese): https://www.kyohaku.go.jp/jp/index.html

ARASHI EXHIBITION "JOURNEY"

Closed: February 22, 2020 – March 9, 2020

Location: Osaka Culturarium at Tempozan

Official Website: https://arashiexhibition.jp/

Sanrio Harmony Land

Closed: February 22, 2020 – March 12, 2020

Official Website (English): https://www.harmonyland.jp/english/harmony/harmony.html

Official Website (Japanese): https://www.harmonyland.jp/welcome.html

Universal Studios Japan

Closed: February 29, 2020 – March 15, 2020
The park's reopening will be determined after serious consideration of the current condition of the coronavirus situation. The announcement of the park's reopening will be made on the USJ's official website and social media. Information on handling of tickets during the break period will be posted on the official website on February 28, 2020 at 21:00 (JST).

Official Website (English): https://www.usj.co.jp/e/

Official Website (Japanese): https://www.usj.co.jp/

Hirakata Park

Closed: February 29, 2020 – March 18, 2020
All planned events during the park's closure have been cancelled and/or postponed until further notice. The park plans to reopen on March 19, 2020 subject to the current condition of the coronavirus situation. Updates will be posted on the official website. Refunds for winter season tickets will be announced at a later date.

Official Website (English): http://www.hirakatapark.co.jp/en/

Official Website (Japanese): http://www.hirakatapark.co.jp/

Numerous other sports and cultural events will also close for two weeks commencing February 26, 2020. If you're travelling to Japan in February and March, please check the websites of any places you plan to visit during your trip to see if they are open.

HOSHINOYA Guguan Chosen as Best New Hotel in the World by Travel + Leisure Magazine

HOSHINOYA Guguan, a ryokan in Taiwan managed by Japanese ryokan operator Hoshino Resorts, was picked as one of Travel + Leisure's "The Best New Hotels in the World (The It List)" on February 20, 2020.

Travel + Leisure is a New York-based travel magazine. "The Best New Hotels in the World (The It List)" shines a light on hotels around the world that have newly-opened or have been renovated that year.


HOSHINOYA Guguan opened on June 30, 2019 as the first Taiwan-based luxury hot spring resort produced by Hoshino Resorts, which manages 41 branches outside Japan. It is also the second overseas branch of the company's "HOSHINOYA" brand, whose concept is "taking a break from the modern world." It's located on the outskirts of Taichung in Guguan which is home to natural hot springs. There, it co-exists and blends in naturally with the landscape. All guest rooms have open-air baths, so guests can enjoy the warm water together with the breeze in a spacious environment. They also offer various programs for guests to enjoy Guguan's culture and natural environment.

If you're planning a trip to Taichung, why not consider staying with HOSHINOYA Guguan?

Information

HOSHINOYA Guguan

Address: 424, Taiwan, Taichung City, Heping District, 東關路一段溫泉巷16號
TEL: 0570-073-066 (HOSHINOYA Booking Centre)

Official site:https://hoshinoya.com/

Flower Themed Projection Mapping Show to Take Place at Kyoto National Museum

A special projection mapping show directed by NAKED is set to take place at Kyoto National Museum from March 6, 2020 to March 15, 2020. This breathtaking light performance is entitled "Light & Food Ensemble 2020 ~Evening Flower Banquet Directed by NAKED~".

The special evening performance is part of the Kyoto Higashiyama Hanatourou 2020 event, which is centred around lanterns.


NAKED aims to bring new light on Kyoto's gorgeous evenings with an incredible display of music, lights and projection mapping at Kyoto National Museum's gardens. Lasting 10-15 minutes, projection mapping will spread cross the wall of the Meiji Kotokan Hallーan Important Cultural Property of Kyoto with a history spanning over 120 yearsーwith kaleidoscopic patterns including yuuzenzome, or "Yuzen silk printing," which is used on kimono displayed in the museum.

Meiji Koyokan Hall has been protected since the Meiji Period. Spectators will be able to witness a story unfold of beautiful flowers over the generations through music and lighting.

The entire garden will be lit up and bring life to many great spots for taking photos. This special event will allow visitors to experience the cool spring evening like never before. It will also see the first ever display in collaboration with Oniwa Ueji, which has a 250+ year history and is part of Higashiyama's culture.

There will also be food available to eat at the event full of the flavours of Kyoto. Enjoy ticking into dishes you won't be able to taste anywhere else.

Information

Light & Food Ensemble 2020 ~Evening Flower Banquet Directed by NAKED~

Location: Kyoto National Museum

Running: March 6, 2020 – March 15, 2020
Time: 18:00-20:30 (Last Entries 20:00)
*Open until 21:30 (Last Entries 21:00) on Fridays and Weekends
*Kyoto National Museum will close at 17:00 (Last Entries 16:30) on March 6, 7, 13, and 14
Official Website: http://ensemblekyoto.com/