AEON to releases new line of Christmas cakes – cakes for your pets, a cake shaped into Naomi Watanabe's face and more!
Aeon Retail Co., Ltd. are to begin orders for their original Aeon Christmas cakes starting from October 1st at almost 400 "Aeon" and "Aeon Style" stores in Honshuu and Shikoku, as well as on their online shop.
The Aeon Christmas cakes fall in line perfectly with this year's trend of Instagrammable foods. The team have created photogenic and eye-catching delights that will sit as the main event on tables everywhere.
The cake made in collaboration with Naomi Watanabe captures her expression and everything about her. Complete with colourful macarons, chocolate sunglasses and kawaii lips, the resemblance is uncanny! This cake is made to decorate your table in a pop-fashion.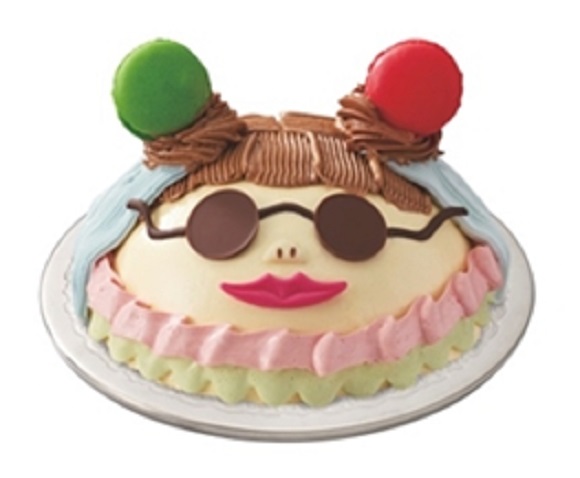 Naomi's Face Cake produced by Naomi Watanabe
Price: ¥3,500 (w/ tax ¥3,780)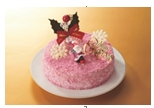 The need for low-carb and low-sugar goodies grows greater every year. This cake contains cream made with tofu and açaí as well as dark cherry. There's also a subtle hint of tomato in there, adding huge depth to the layering flavours. This one is lavish with healthy ingredients.
Price; ¥3,500 (w/ tax ¥3,780)

Made using no eggs, milk or wheat, this cake comes in 3 different types featuring characters for people to enjoy, especially kids. These cakes are exclusively delivery-only.
Pet cakes are getting more popular every year in Japan. That's right – cakes for your pets. There are 3 types for pet cakes and 1 type for pet dogs. This year's "Neko-chan Cake Set" includes easy-to-eat cakes with cream cheese bases for your pets to lick. Includes all cats' favourite cat powder.
Price: ¥1,500 (w/ tax ¥1,620)
Celebrate your Christmas this year with one of these gorgeous cakes. There's a cake for every and any setting!
■Information 
AEON Christmas Cakes
Order: October 1st to December 18th
Available: Around 400 "Aeon" and "Aeon Style" shops in Honshuu and Shikoku. Also available on the Aeon online shop.
Collection:
Home delivery will be between December 16th to December 24th
In-store collection will be between December 20th to December 25th
RELATED ENTRIES
Bandai Candy Releases Second Round of Family-Sized Demon Slayer Tarts

Bandai Candy has begun selling the second round of Demon Slayer-themed tarts! This time, the family-sized treats will feature the taste of two varieties of cheesecake, and will be available at select AEON, AEON Style, MaxValu, and Daiei locations throughout Japan.

Each tart features characters from the popular Demon Slayer anime series with smiles on their faces. With a two-layered structure, customers can enjoy the flavor of baked cheesecake and gelatin cheesecake. Characters included are Tanjiro, Nezuko, Zenitsu, Giyu, Inosuke, Kyojuro, Shinobu, and Kanao.

(C)吾峠呼世晴/集英社・アニプレックス・ufotable

Information

Demon Slayer Big Tart Round Two ~Two Types of Cheesecake~

Price: ¥537 each (Tax Included)

Available Now

Where to Buy: 

AEON / AEON Style (Honshu, Shikoku, Kyushu)

MaxValu (Kanto, Hokuriku, West Japan)

Daiei's Chilled Dessert Corner

※Products only available in limited quantities. 

※Only available at participating stores.

Details: https://www.bandai.co.jp/candy/products/2021/4549660736721000.html 

Starbucks Reserve® Roastery Tokyo Launches Second Edition of Collaboration Collection with Ron Herman

Starbucks Coffee Japan has launched the second product in its "double the love" collection, the first collaboration with fashion brand Ron Herman, at Starbucks Reserve® Roastery Tokyo.

Castanets (white and navy) ¥2,200 each / Guiro ¥3,960/ Bell ¥4,400

The theme of "double the love" expresses the moment when you and your loved one can feel the love by choosing and giving a gift while thinking of the joy on the face of the recipient. For the second edition, under the theme of "sharing together," a variety of musical instruments made of wood, such as castanets, guiro, and bells, as well as wooden ornaments are available to make your time with family and loved ones more enjoyable.

Ornament heart/star (red, navy, white) ¥1,320 each

Wooden ornaments in the shapes of stars and hearts can be hung on the tree or used as decorations to accentuate your room, adding to the Christmas spirit! As you reflect on this year, spend a happy time with your family and loved ones, thinking of each other and overflowing with love.

With the desire to deliver a heartwarming moment of sharing and caring for each other, the greeting card workshop "Make your gift double of your love" is scheduled to be held online from 10am on December 18 and at RHC Ron Herman Kawasaki on December 19. While drinking coffee, think of the face of the person you are sending a gift to, and spend a moment making a greeting card to express your feelings.

Information

double the love Collation

Stores: Starbucks Reserve Roastery Tokyo (STARBUCKS RESERVE(R) ROASTERY TOKYO), Starbucks Online Store.

*As for the limit on the number of items sold, each person can purchase up to 10 items per product.

 

Special Event 'Make your gift double of your love'

Online Event: December 18, 2021 from 10:00 for 1 hour.

Join Here: rtmp://a.rtmp.youtube.com/live2

Where: RHC Ron Herman Kawasaki

When: December, 19, 2021.

https://ronherman.jp/news/2404

Peanuts Cafe and Peanuts Diner Locations to Offer Special Christmas Menu

Six Peanuts Cafe and Peanuts Diner locations across Japan are currently offering a special Christmas menu inspired by the world of Snoopy until December 25, 2021. 

Christmas Stew Set with Bonuses: ¥3,520 (Tax Included) 

Participating Locations: Peanuts Cafe Nakameguro, Snoopy Museum, Nagoya, Sunny Side Kitchen

Nagameguro:https://www.peanutscafe.jp/product_nakameguro_xmas2021/
Snoopy Museum:https://www.peanutscafe.jp/product_smt_xmas2021/
Nagoya:https://www.peanutscafe.jp/product_nagoya_xmas2021/
Sunny Side Kitchen:https://www.peanutscafe.jp/product_sunnysidekitchen_xmas2021/

Christmas Hamburger Set with Bonuses: ¥3,960 (Tax Included) 

Participating Location:Peanuts Diner Yokohama

Reserve:http://www.peanutsdiner.jp/product_yokohama_xmas2021/

Woodstock's Merry Christmas Plan: ¥4,950 per person (Tax Included)

Participating Location: Peanuts Cafe Nakameguro

Reserve:

https://www.peanutscafe.jp/product_nakameguro_sproom_xmas2021/
*Price per person based on two-person reservation. 

*Reservations can be made up to two days in advance.

Snoopy's I CAN'T WAIT Christmas Parfait: ¥1,430 (Tax Included)

Snowy Christmas Latte ~Cheesecake Flavor~: ¥880 (Tax Included) 

Those who order a special food set will receive a tote bag with an adorable Snoopy and Woodstock design. 

(C) 2021 Peanuts Worldwide LLC (短縮形 (C) 2021 Peanuts)

Information

Snoopy's Christmas Menu

Available: December 10 – December 25, 2021

Participating Locations: Peanuts Cafe Nakameguro, Peanuts Diner Yokohama, Peanuts Diner Kobe, Peanuts Cafe Snoopy Museum, Peanuts Cafe Nagoya, Peanuts Cafe Sunny Side Kitchen

Official Site: http://www.snoopy.co.jp/

HOLOLIVE x TOKYO SKYTREE TOWN(R)" to Launch Collaborative Cafe and Merchandise.

A limited time event featuring the VTuber group "Hololive" will be held at Tokyo Skytree Town(R) from December 17, 2021 to January 31, 2022. It will feature a variety of special activities, including a riddle-solving event, a photo spot on the Tokyo Skytree(R) Observation Deck, and a pop-up store and concept cafe in the official TV station store, Tree Village.

Concept Cafe

【Christmas Menu】Running: December 17~December 25.

【Winter Manu】Running: December 26~January 31, 2022.

【Member Motif Drink】Running: December 17~January 31, 2022.

Merchandise


The original merchandise limited to the event includes "acrylic stand" and "New Year's Eve udon set" featuring newly drawn illustrations of Sora Tokino and 10 other VTubers from "Hololive" in Christmas costumes and kimonos.



In addition, there will be a lottery to win a "life-size acrylic stand (installed on the watchtower deck)" with a special illustration for the 2nd anniversary. The products will be available at the event from December 17 and online from January 1, 2022.

Don't miss this special Christmas event with Horolive!

Ⓒ 2016 COVER Corp.
ⒸTOKYO-SKYTREE

Yokohama Spaghetti & Cafe Offering Afternoon Tea with Cute Miniatures

If you're looking to feel like a kid again, Yokohama Spaghetti & Cafe is offering a chance to have afternoon tea with some adorable miniatures in a dollhouse atmosphere. The popular set will be reimagined during December to feature a Christmas motif, and is the perfect backdrop for Twitter or Instagram pictures!

'Afternoon Tea for 'me' and 'my friends,' drink included: ¥1,380 per person (Tax Included)

The set includes seven beautiful desserts crafted by a pastry chef and features seasonal fruit. Whether you enjoy tea and cakes by yourself or with friends, feel free to take pictures of the miniatures for a jolt of cuteness. 

Information

Yokohama Spaghetti & Cafe

'Afternoon Tea for 'me' and 'my friends' 

Available: Daily after 15:00

No reservations needed

Address: Tokyu Square 1 B1F, 2-3-2 Minatomirai, Nishi-ku, Yokohama (Connected to Minatomirai Station)

Hours: 11:00-21:00 

Official Instagram: https://www.instagram.com/hama.spa/

New Year's Mini-Cakes Available for Preorder from Ginza Cozy Corner

Ginza Cozy Corner, a popular cake store in Tokyo, has started accepting preorders for its beautiful selection of New Years' mini-cake sets, called Sweets Osechi. In Japan, osechi refers to traditional foods eaten on New Years Day, which come in a special box, not unlike a bento box. Of course, they aren't usually packed with sweets, but these look absolutely scrumptious. 

In 2011, Ginza Cozy Corner started the 'First Sweets' tradition to invite people to welcome the new year by enjoying some sweets after finishing the traditional osechi dishes. This is when the idea of Sweets Osechi was born, sure to put a smile on your face going into 2022!

9-piece Sweets Osechi: ¥2,400 (Tax Included) 

12-piece Sweets Osechi: ¥3,000 (Tax Included) 

This year's selection includes tarts featuring the Chinese zodiac sign of the Tiger and the first sunrise of 2022. Each set will come in a special box in a bright red design perfectly exemplifying the holiday spirit!

Information

Sweets Osechi

Preorders Now Open

*Preorders will close as soon as items sell out. 

*Preorders can only be made in-store. Online preorders will not be accepted. 

Official Site: https://www.cozycorner.co.jp/

Universal Studios Japan Celebrates 20th Anniversary with Special Christmas Event

Prior to the event's commencement on November 26, Universal Studios Japan released a press preview to highlight this year's Christmas event, including images of the first Christmas tree in two years since the pandemic began. This year's theme is 'NO LIMIT!' and will also celebrate the park's 20th year of operation. 

The popular stage show NO LIMIT! will feature a special Christmas theme, with popular park characters like Elmo, Snoopy, Hello Kitty, and others clad in holiday costumes. The collaboration with popular girl's band NiziU has been a major hit so far and will feature their original song FESTA! The goal of the event is to kick off a year filled with smiles. 

The 20th Anniversary NO LIMIT! Christmas tree stands at the center of Gramercy Park, offering guests an excellent view from all sides. Be sure to snap a photo with your friends and loved ones to start 2022 off right!

WIZARDING WORLD and all related trademarks, characters, names, and indicia are © & ™ Warner Bros. Entertainment Inc. Publishing Rights © JKR. (s21)
Minions and all related elements and indicia TM & © 2021 Universal Studios. All rights reserved.
© Nintendo
TM & © 2021 Sesame Workshop
© 2021 Peanuts Worldwide LLC
© 2021 SANRIO CO., LTD. APPROVAL NO.  EJ1111901
TM & © Universal Studios & Amblin Entertainment
©吾峠呼世晴/集英社・アニプレックス・ufotable
© Sony Music Labels Inc./JYP Entertainment.
TM & © Universal Studios. All rights reserved.

Manga Artist Macoto Takahashi Collaborates With Tsudanuma PARCO for Christmas Event

Legendary shojo manga artist Macoto Takahashi is collaborating with Tsudanuma PARCO in Funabashi, Chiba, for the 2021 Christmas event from November 19 until December 25, 2021. The creator recently released an art book featuring many of his works titled 'Macoto Takahashi's Jewelry Box.' An exhibition featuring mini-prints and mini-panels of works featured in the book will also be held, and merchandise will be on sale both on-site and online. 

Main Visual

Window

After his debut in 1953, Takahashi published the manga series Arashi wo Koete and Princess Anne. His signature style of depicting glittering stars in the eyes of his protagonists would have a lasting influence on other manga artists. In the 1960s and 1970s, he was at the helm of many magazine covers and illustrations for popular girls' manga magazines like Nakayoshi, Shojo Friend, and Margaret. Despite his classic style, his works are still largely popular today. The main visual for the event 'Lucky Star' features a girl in a red Christmas-themed costume surrounded by animals, blue snowflakes, and delicate lace.

Information

MACOTO CHRISTMAS 2021

Running: November 19 – December 25, 2021

Location: Tsudanuma PARCO 1F Entrances, Windows (Christmas Decorations) /

B Building 4F, In front of ACADEMIA Kumazawa Bookstore, Next to Escalators (Exhibition / Shop)

Online Store: https://kaeru.parco.jp/shop/detail/shop000027204/

gelato pique café Releases its Christmas Collection Including New Menu and Goods

gelato pique café launched its Christmas collection for limited time only from November 24 to December 26.

Brown Bear Caramel Crêpe

Raspberry Caramel Cheesecake Crêpe

Caramel and Hazelnuts Hot Chocolate

Eco Bag with Chocolate Bear (Small Size) 

Mug with Chocolate Bear

The theme for gelato pique cafe's Christmas Sweets 2021 is "Brown Bear Caramel Christmas – With Pique Bear and Rich Caramel- and three new sweets and drinks are available, including a crepe topped with an adorable chocolate "Pique Bear". As well as the food menu, two types of original goods, eco-bags and mugs, featuring the chocolate bear topping are available at gelato pique cafes nationwide and gelato pique official online store.

DA PUMP & Lead Collaborate with w-inds. on 'The Christmas Song,' Track Now Streaming

Dance vocal group w-inds. has released a new song perfect for the holiday season! The Christmas Song (feat. DA PUMP & Lead) is now available to stream. The track is from the group's upcoming original album 20XX "We are,' scheduled to be released on November 24, 2021. 

 

The release has already become a trending topic in Japan. This year w-inds. is celebrating 20 years since their debut. Their first time serving as opening act was at a DA PUMP's concert, while Lead performed as the opening act for the first time at a w-inds.'s concert. The three groups are, as expected, very close friends at this point, and this Christmas track is filled with good vibes only. The jacket artwork was designed by U-YEAH from DA PUMP, and each singer wrote lyrics for their respective parts. 

The music video for the song will premiere on November 27 at 20:00, after the release of the album 20XX "We are." 

The Christmas Song (feat. DA PUMP & Lead) / w-inds.(Official Music Video)
https://youtu.be/3uE9FhIv-dU  *Video will premiere on November 27, 20:00

 

On December 29, the w-inds. Online Show 20XX "We are" will be held, marking nine months since the duo's last online show. 

Hotel MIMARU Offering Christmas Room in Collaboration with Awesome Store

Lifestyle shop Awesome Store is collaborating with the MIMARU hotel chain to create a secluded and supremely cozy Christmas Room. The special room will only be available from December 1 until December 25, 2021. Each spacious room features a kitchen and is decorated with plenty of holiday goodness, making it the best place to spend the Christmas season with family and friends. 

Original tableware from Awesome Store will be left in each room, so guests can easily throw a Christmas party by having food delivered or grabbing takeout. There's no need to decorate, as the space will be completely overrun by ornaments and garlands. How would you like to spend Christmas here? 

Information

Awesome Store Christmas Room

Available: December 1 – December 25, 2021

Participating Hotels:
MIMARU Tokyo Akasaka

MIMARU Tokyo Nihombashi Suitengumae

MIMARU Tokyo Ueno Okachimachi

MIMARU Tokyo Ueno Inaricho

Reservations/Official Site: https://mimaruhotels.com/

Chibi Maruko-chan Celebrates 35 Years With Christmas Event at Minato Mirai

Popular anime and manga series Chibi Maruko-chan is turning 35 this year, and to celebrate, everyone's favorite mischievous schoolgirl is teaming up with Yokohama Landmark Tower for a Christmas celebration! The Landmark Christmas 2021 Happiness Holidays ~Enjoy a Grown-Up Christmas with Maruko~ will be held from November 11 until December 25, 2021. 

Stamp Rally Bonus

Original Sticker

Original Wallpaper

500 lucky winners will receive a limited-edition original tote bag!

Collaboration Menu & Merchandise

BUSINESS LEATHER FACTORY

Sky Cafe (located in the Sky Garden on the 69th floor of Yokohama Landmark Tower)

CHOCOLABO (Landmark Plaza 1F)

Flora Restaurant & Banquet Hall

Chibi Maruko-chan x Yokohama Royal Park Hotel Special Course

Chibi Maruko-chan x Yokohama Royal Park Hotel Kids Menu

Coffret Delicatessen & Lounge

Noguchi's Favorite Salad with Cod and Salmon Roe, served with Maruko Croutons

Tama-chan's Favorite Melon Caprese

The Chibi Maruko-chan manga series began in 1986, and was serialized in the popular shojo manga magazine Ribon until 2018. Written by Momoko Sakura, it tells the everyday life of the third-grade troublemaker Maruko and her family. The series is set in the Irie district in Shimizu, now a part of Shizuoka City, where Momoko Sakura was born. 

A number of heartwarming Maruko-themed decorations and exhibits will be set up around the Landmark Tower, with collaboration merchandise available at a pop-up shop and food available at specific restaurants during the event period. A stamp rally will also ask guests to go on a quest to find Maruko and her friends, and by collecting all of the stamps digitally, guests will receive a coupon for free admission for one adult to the Sky Garden observation floor (69F), along with an original Maruko-chan sticker. 500 winners will be selected by lottery to receive a limited-edition tote bag, and participating in the rally will get you an original wallpaper. 

Information

Chibi Maruko-chan x Minato Mirai Strolling Stamp Rally at Landmark Plaza / MARK IS Minato Mirai

Running: November 11 – December 25, 2021

Location: Landmark Plaza, MARK IS Minato Mirai

Installations: 

Landmark Plaza: In front of the see-through elevators on BF2, beside Cafe Mauka Meadows on 2F, beside Kyoto Kaiseki Minokichi on 4F

MARK IS Minato Mirai: B4F Eki-mae Plaza, 5F Event Space

Hours: 11:00-12:00

Chibi Maruko-chan Collaboration Menu/Merchandise

Running: November 26 – December 25, 2021

Location: Yokohama Landmark Tower, MARK IS Minato Mirai, Yokohama Royal Park Hotel

Flora Restaurant & Banquet Hall

Running: November 26 – December 25, 2021

Location: B1

Hours: 11:30-14:00 (Last Order)

Coffret Delicatessen & Lounge

Running: November 26 – December 25, 2021

Location: 1F

Hours: 11:00-20:00