"Hello Kitty" and "Papaya Togen S" will collaborate! A bath additive which makes your skin smooth and shiny will be released.
The Hello Kitty bath additive, "Papaya Togen S Hello Kitty" will be released in  drugstores throughout Japan from the 16th of September, 2017 (Sat).
。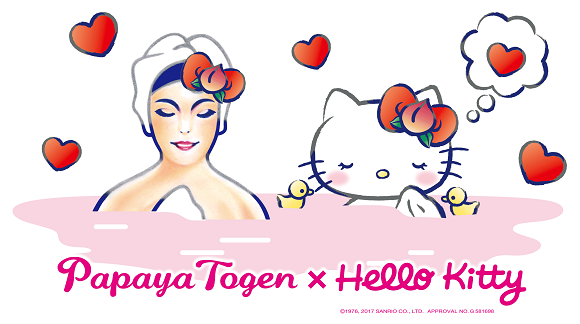 The long, "best seller" product which was released 60 years ago with an illustration of beautiful woman taking a bath on the package called "Papaya Togen S" will collaborate with Hello Kitty. The new product comes in a cute pink package and has a peach scent.
The cute illustration of Kitty taking a bath wearing a peach-colored ribbon is proof that Kitty is a friend of the woman and can be seen only on the package of the new product. The soft peach scent and clear-pink colored hot water will offer you a soothing bath time.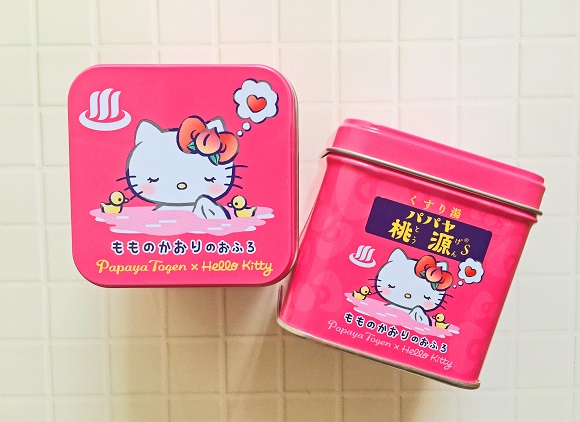 Let's have a "cute" bath time by using "Papaya Togen S Hello Kitty" ♡
■Information 
Papaya Togen S 70g can Hello Kitty
Price: 420 yen (tax not included)
Content: 70g (the product comes with a measuring spoon)
Effective for:  heat rush, chapped skin, bruise, sprain, stiff shoulder, neuralgia, eczema, chilblains, hemorrhoids, Sensitivity to cold, back ache, rheumatism, recovery from exhaustion, skin-crack, chapped skin, sensitivity to cold before or after giving birth.
※  sulfur, which is corrosive to bath hadware is not included in this product.
Special website: http://www.goshu.co.jp/yourtogen/
RELATED ENTRIES
2021 Sanrio Character Ranking: Cinnamoroll Takes Home the Crown For the Second Year in a Row

Sanrio announced the final results and winners of the 36th Sanrio Character Ranking, an annual event where fans vote for their favourite Sanrio character to see who is the most popular. A total of 21,346,750 votes were submitted for 2021.

2021 Sanrio Character Ranking: General Ranking

Comments from the Winners

1st Place: Cinnamoroll
"I'm going to treasure this feeling forever! Thank you all for your support!♪"



2nd Place: Pompompurin
"Thanks so much for cheering me on!♡ I'm so grateful for all the love!"



3rd Place: Pochacco
"I can't believe I got 3rd again this year! It's thanks to all your support! I'm going to try hard next year too!"

2021 Sanrio Character Ranking: Collaboration Category

This year sees Cinnamoroll take the top spot for the second year in a row. In the first round-up of announcements, Cinnamoroll was already at number one, but in the second round-up he dipped to 2nd place. That didn't stop him however as after gaining over 2.3 million votes, he grabbed that shiny crown once again. Pompompurin, who is celebrating his 25th anniversary this year, came in 2nd again, and Pochacco in 3rd again. Hello Kitty, who ranked 5th last year, came in 6th place this year – a place she kept since the second round-up. SHOW BY ROCK!! who will commemorate her 10th anniversary next year came in 8th once again. Kuromi, who received much love from overseas fans this year, climbed from last year's 7th to 5th this year, making it the first time she has clocked in the Top 5 spot in 11 years. Cogimyun came in 10th after coming in 13th last year, making it her first time in the Top 10.

The Collaboration Category, which began in 2013, saw 27 entrees from different businesses and creators. Popular creators Azuki and Hapidanbui took 1st place this year.

Sanrio Character Ranking 2021 to Announce Winner in Collaboration With Tokyo Girls Collection

Sanrio has announced that the announcement ceremony for the winner of the 2021 Sanrio Character Ranking will take place in collaboration with Tokyo Girls Collection (TGC), a semi-annual fashion festival in Tokyo, on June 8. The event will be streamed live on Hello Kitty and TCG's respective LINE accounts, as well as Sanrio's official YouTube account, so that more people can tune in to this year's announcement and see which of Sanrio's characters will take the crown.

80 characters are participating in this year's Sanrio Character Ranking which will be announced in order from 80 to 1. This year also sees the return of the sub-award categories including Collaboration. Hosting the event as MC is tarento and actress Nao Asahi and the Japanese comedy duo Wagyu ga Tsutome.

But the winner announcement is not the only event scheduled for 2021's ranking. Since this time is a collaboration with TGC, there will be a fashion runway where popular models will show off their looks, a live performance with JO1 and the Sanrio characters, a rap battle, and more.

Fashion Runway: Famous models display the Sanrio character aesthetic

On the fashion stage, a line-up of well-known Japanese models will serve fashion inspired by Sanrio's most famous characters including My Melody, Kuromi, Little Twin Stars, and Pompompurin.

Marie Iitoyo and Maika Yamamoto will use a real-time composite photography system as they dress up as the adorable My Melody and her rival Kuromi. Serving the dreamy star-filled world of Kiki and Lala are Kaane and Sakura Saiga, Yoshiaki & Michi, and Rikariko. For the Pompompurin section, which is themed on the golden retriever's daily life, we have Nana Kato, Ami Komuro, Natsuki Deguchi, Sachi Fujii, and Roy. But that's not all as Sakachin, Yuki Higashihara, and Reina, who won the LINE LIVE auditions to appear on this year's fashion runway, will also appear.

A heated rap battle between the Sanrio characters

In the rap battle, KIRIMI-chan, Kuromi, Kogimyun, and Pompompurin will go head to head against special guests Tsukasa Saito of comedy duo Trendy Angel and Yuriyan Retriever. 

The Sanrio cast join music artists for a concert

The adorable Cinnamoroll, who is also expanding his work as an idol, will perform alongside JO1, while Hello Kitty will sing with singer-songwriter Sonoko Inoue.

A new virtual experience using the latest technology

Japanese digital advertising company CyberAgent, who produced virtual events and 3DCG content, will be using the latest in 3DCG and XR tech to blur the lines between reality and the virtual space with an interactive experience, such as people's comments on social media and the video displaying in real time, and more.

Sanrio Character Themed Afternoon Tea and Cafe Items Arrive at EGG & SPUMA

The Shinjuku branch of EGG & SPUMA is now hosting "Sanrio Characters CAFE," a menu of food and drink themed on Sanrio's beloved characters. Running until August 31, the cafe has also been decorated in colourful and cute Sanrio designs.

Receive a free coaster with your order

The menu line-up features lots of fruits, including the Cinnamoroll crème brûlée which is served on weekdays only, fruit sandwiches which will include My Melody themed ones this month and June, Hello Kitty and Keroppi ones in July, and Little Twin Stars in August. There's also fruity jelly and more.

If you're a Sanrio fan look to indulge a little more, then there is also a two-tiered afternoon tea set. The upper plate includes Kiki & Lala sandwiches, a Keroppi tart, the Cinnamoroll crème brûlée, and more. On the bottom plate there is Hello Kitty apple jelly, My Melody strawberry caprese salad, Kuromi canapé, and so on. There will also be special pancakes and a jelly dessert arriving in June which must be booked in advance.

Which of these Instagram-worthy delights do you want to tuck into?

Information

Sanrio Characters CAFE
Address: EGG & SPUMA Shinjuku Lumine EST (Floor 8F), 3-38-1 Shinjuku, Shinjuku-ku, Tokyo,  160-0022
Running: May 15, 2021 – August 31, 2021

Opening Hours: 11:00-20:00 (Last Orders 19:00)
TEL: 03-6273-0255
Official Website: http://www.salt-inc.co.jp/egg-and-spuma/

2021 Sanrio Character Ranking: Pompompurin Takes 1st Place in Interim Results

Votes for the 2021 Sanrio Character Ranking opened on April 9. Fans around the world have been voting for their favourite characters to win this year. The winner is set to be announced on June 8, but results of 1st place to 10th place for the second round-up have been revealed. These interim results were collected from votes placed online, in Sanrio's Ichigo Shimbun magazine, and Sanrio's online shop.

Taking the number one spot of the interim results is Pompompurin who made his debut 25 years ago. In 2nd place is Cinnamoroll, who is not far behind in the voting numbers. In 3rd is Pochacco, in 4th is My Melody, and in 5th is Kuromi. These characters are usually ones to rank high each year. Hello Kitty has moved up two places from the first round-up to 6th. Yoshikitty, the character representing music artist YOSHIKI, is in 8th.

Entering the Top 10 for the first time ever is Kogimyun in 9th place. There's still a little ways to go until votes close on May 24, so it could still be anyone's game. The winner will be announced online on June 8 at 19:30 (JST).

Comments from the Top 3 (Translated by MMN)

1st Place: Pompompurin

"Wow, 1st place! Thanks for all your support♪ I'm super happy, so lemme tell you something! I found an island that's shaped like me! The world we live in sure is exciting. My dream is to go there with you all after getting 1st place♪"

2nd Place: Cinnamoroll

"Thanks so much for your support! I love you all, and I want you to see me become an idol, stand on a big stage, and sing and dance for you♪"

3rd Place: Pochacco

"I'm still in 3rd place from the first round-up! Thank you, allll♪ It's all thanks to your support. Make a stop with me on our walk. If I'm together with you all, we're sure to see a brand new world. Keep supporting me, okay?"

Top 5 Characters Ranking Analysis

1st Place: Pompompurin

Pompompurin has been in the Top 3 for several years in a row. He last took 1st place in 2016. This year marks the 25th anniversary of his debut. He's looking to be number one after five long years.

2nd Place: Cinnamoroll

Cinnamoroll is a very busy individual, even making a CD debut. He first took 1st place in 2017 and has done three times in total. Will he take home the top spot again like last year?

3rd Place: Pochacco

Pochacco finally entered the Top 3 again last year for the first time in 23 years. This veteran character actually achieved this feat five years in a row between 1991-1995. Will 2021 be his year?

4th Place: My Melody

My Melody has been in the Top 5 for 24 years in a row. She has gone up one place since the first round-up. She has been in the Top 3 every year since 2017.

5th Place: Kuromi

Also known as My Melody's rival, Kuromi has seen a huge increase in popularity in recent years, and her place in the Sanrio Character Ranking has surged. Will she enter the Top 3 for the first time ever and beat her biggest rival, My Melody!?

Voting at the Sanrio Character Ranking is open to fans around the world. Hurry and make your vote before they close on May 24!

©'21 SANRIO S/F·G 著作(株)サンリオ

Information

2021 Sanrio Character Ranking Interim

Vote Deadline: May 24, 2021

Final Result Announcement: June 8, 2021 @ 19:30 (JST)

Vote Here: https://ranking.sanrio.co.jp/en/

Sanrio's Hello Kitty Inspires Cute Robot Set by LOVOT

GROOVE X's home robot series LOVOT is set to launch its first collaboration with Sanrio's beloved character Hello Kitty on May 17 with the release of a limited-edition set of two robots.

Yellow nose sold separately

The Hello Kitty x LOVOT original set comes with a charm (pictured far right)

Dress up in a cute Hello Kitty outfit


Those who purchase this set receive an original cloissone ware charm, each of which has a unique serial number on it. There's also a cute Hello Kitty outfit for dressing up your robot. The base of these robots, all of which are handmade individually, are coloured white like Hello Kitty and features her cute whiskers and red ribbon.

LOVOT launched four years ago and began selling its home robots in December 2019. This marks the company's first tie-up with Hello Kitty, a character known to all around the world.

2021 SANRIO CO., LTD. APPROVAL NO. S620221

Hello Kitty Diamond Necklaces Released by Japanese Luxury Jewellers U-TREASURE

Japan's luxury character jewellery brand U-TREASURE, which creates accessories for character-loving adults, released a new collection of Hello Kitty-inspired necklaces on Tuesday which are available for a limited time until May 25.

The necklaces feature a simple design with a single diamond stone tipped with Hello Kitty's ribbon. The necklaces come in various versions including platinum, yellow gold, pink gold, and also silver with cubic zirconia. The collection is available to purchase at U-TREASURE's concept store in Ikebukuro and their online shop.

<Hello Kitty Ribbon Necklaces> Platinum 950: ¥88,000 / K18 Yellow Gold, K18 Pink Gold: ¥88,000 / Silver & Cubic Zirconia: ¥16,500

©2021 SANRIO CO., LTD.

Hello Kitty x INTERGRATE Design Cosmetics Releasing This Spring

Shiseido's self-makeup brand INTERGRATE is set to release select beauty products with limited-edition Hello Kitty packaging on May 21. The theme of the collection is Meet "LOVELY." In the run up to its release, Hello Kitty cans can enjoy three filters of the popular Sanrio character over on INTERGRATE's official Instagram page.

INTERGRATE Limited-Edition Pro Finish Foundation Special Set K (2 Types) | ¥1,430 Each (Tax Included)

Colour palette

INTERGRATE Limited-Edition Pro Liquid Special Set K | ¥1,760 Each (Tax Included)

Colour palette

INTERGRATE Limited-Edition Water Jelly Crush Special Set K (2 Types) | ¥2,200 Each (Tax Included)

Colour palette

INTERGRATE Limited-Edition Triple Recipe Eyes Special Set K (2 Types) | ¥2,200 Each (Tax Included)

Colour palette

The limited-edition designs feature Hello Kitty and her cute friends who are ready to help you apply your makeup. The collection focuses on three each of INTERGRATE's iconic foundations and eye shadows. This includes the Pro Finish series which has foundation in a compact case, durable liquid foundation, and water jelly crush. Pick from three foundations too which come in a triple set. For this limited-edition collaboration, you can enjoy the pink PK704 and brown BR703, both of which are popular colours.

Sanrio Announces 60th Anniversary Exhibition 'The Beginning of Kawaii'

From Hello Kitty to Pompompurin, Cinnamoroll, My Melody, and more – Sanrio's internationally adored cast of characters can be universally agreed to be representatives of Japan culture of 'kawaii.' In celebration of Sanrio's 60th anniversary, the company have announced an exhibition centred on the beginning of kawaii culture. The event will take place at TOKYO CITY VIEW from September 17, 2021 to January 10, 2022.

60th Anniversary Sanrio Exhibition: The Beginning of Kawaii is currently taking place at Matsuzakaya Art Gallery in Nagoya until June 12 and will move to Ōita Prefectural Art Museum where it will run from July 10 to September 5 before heading to TOKYO CITY VIEW.

 

© 2021 SANRIO CO., LTD. APPROVAL NO. SP610376

This exhibition will not only look back over Sanrio's 60-year history, but will also dive into how Japan's culture of 'kawaii' came about. Fans of Sanrio and Japan's kawaii can expect product and design showcases, in-depth explanations, and more.

Over 800 products, documents, and materials related to Sanrio will be presented, many of which will shine a spotlight on some of their most famous characters out of their roster of 400, such as Hello Kitty and My Melody, and other characters that might not be known to those outside Japan such as best friends Patty & Jimmy.

What to look out for at Sanrio's 60th anniversary exhibition

Unforgettable Tower by Sebastian Masuda

Sebastian Masuda, a pioneer of kawaii culture, will showcase his symbolic art pieces at the event at TOKYO CITY VIEW's observation deck, combining his iconic work against a breathtaking background.

 

The Beginning of Kawaii

Learn about the history of Sanrio's culture of kawaii, beginning as a service to 'move people's hearts' through gifts and products. Visitors will get a chance to see the secrets of Sanrio's iconic style which draw a line under fancy products from other companies.

There will also be a chance to see Japanese illustrators Takashi Yanase, Ado Mizumori, and Rune Naito's work with Sanrio.

The Birth of the Characters

What makes something kawaii or not kawaii? Why do characters not necessarily need to have a story to become so popular? These questions are more will be answered as the exhibition looks at the birth of Sanrio's characters.

Sanrio's Characters

How did their hit characters come to be? During the 1980's, Japan was a warzone for characters. Sanrio changed how characters became popular, moving from characters that were popular with everyone to creating characters that people wanted for themselves – their own personal characters. Discover how Sanrio's long list of characters came about, including ones that have stood the test of time and ones that have declined in popularity.

Ichigo Shimbun

Ichigo Shimbun is a magazine published by Sanrio all about Sanrio and their characters – a familiar read to all fans in Japan. The magazine will be featured at the exhibition.

Hello Kitty: The Character Who Turned Into a Global Icon

Hello Kitty is known the world over, with even Lady Gaga having worn a dress of Hello Kitty plush toys in the past. This dress will be exhibited at the event, amongst many other things related to Sanrio's global idol.

A Battle Between Artists

Artists from various artistic background will participate in the exhibition by creating a range of different Sanrio works. Participating artists and their specialities include Ryūsuke Fukahori (objects), Hajime Nakatomi (bamboo art), Takaya Mori (sculptor), Mio Hashimoto (sculptor), and Risa Fukui (paper cut-outs).

Information

60th Anniversary Sanrio Exhibition: The Beginning of Kawaii

Running: September 17, 2021 – January 10, 2022

Where: TOKYO CITY VIEW (Roppongi Hills Mori Tower Floor 52F)

Address: 6-10-1 Roppongi, Minato-ku, Toky0

Price: TBA

60th Anniversary Sanrio Exhibition: The Beginning of Kawaii Official Website: https://sanriocharactermuseum.com/

Sanrio x Odakyu Romancecar Merchandise Collection Released

The Romancecar Museum in Japan opened its doors to the public on Monday, and as a special collaboration, the museum has teamed up with Sanrio to release an exclusive collection of merchandise featuring Hello Kitty, Pochacco, Cinna,oroll, Pompompurin, Badtz-Maru, and other characters by Sanrio.

Hello Kitty Plush Box | ¥3,080 (Tax Included)

Train Car Model Magnets: SE 3000/SSE 3000/NSE 3100/LSE 7000/HiSE 10000/RSE 20000/VSE 50000/GSE 70000 – ¥550 Each (Tax Included)

Sanrio Characters Souvenir Bag | ¥880 (Tax Included)

The line-up includes a Hello Kitty plush packaged in a box inspired by the GSE 70000 Odakyu Romancecar train model, a selection of magnets, a bag with the Sanrio characters wearing train staff uniform, and more.

©️ 2021 SANRIO CO., LTD.
©️ 2021 Odakyu Electric Railway Co., Ltd.

Sanrio Releases Google Search AR Feature With Hello Kitty, Pompompurin And Other Characters

Sanrio released their own Google AR features which has Hello Kitty, Pompompurin, Little Twin Stars, and Cogimyun appear as AR characters when you search their names in Japanese on Google. The release comes in response to fans being unable to meet with their favourite characters at various events and at Sanrio's parks. The function is available until the end of 2021.

When users type Hello Kitty (ハローキティ) on their smartphones into Google and press the AR button on the search engine, she will appear on their screens and say a message either in Japanese or English. Pompompurin and Cogimyun's messages are only in Japanese, while the Kiki and Lala sing a theme song when you enter Little Twin Stars.

Spend time with your favourite characters in all situations

©'21 SANRIO S/F・G 著作(株)サンリオ

Rurouni Kenshin x Hello Kitty Collaboration Launching to Promote Manga's Upcoming Live-Action Films

In promotion of the forthcoming live-action films Rurouni Kenshin: The Final and Rurouni Kenshin: The Beginning, both of which will be released on April 23 and June 4 respectively this year, the series is rolling out a collaboration with Sanrio's globally-beloved character Hello Kitty on April 14.

Original Merchandise

Rurouni Kenshin x Hello Kitty Plush Toys (2 Designs) | ¥3,850 Each (Tax Included)

Rurouni Kenshin x Hello Kitty Plush Toys (4 Designs) | ¥2,750 Each (Tax Included)

Rurouni Kenshin x Hello Kitty A4 Folder Set | ¥495 (Tax Included)

Rurouni Kenshin x Hello Kitty Bottle | ¥1,540 (Tax Included)

Rurouni Kenshin x Hello Kitty Tote Bag | ¥2,200 (Tax Included)

Rurouni Kenshin x Hello Kitty Ballpoint Pens & Mechanical Pencils (2 Designs) | ¥770 Each (Tax Included)

Rurouni Kenshin x Hello Kitty Hand Towels | ¥1,430 (Tax Included)

Rurouni Kenshin x Hello Kitty Pins (6 Designs) | ¥330 Each (Tax Included)

Rurouni Kenshin x Hello Kitty Acrylic Stands (8 Designs) | ¥715 Each (Tax Included)

Rurouni Kenshin x Hello Kitty Sweets Paradise Collaboration Cafe

Menu Excerpt

Kenshin Hello Kitty Beef Bowl / Battousai Hello Kitty Omurice

Enishi Hello Kitty Orange Crepe / Tomoe Hello Kitty Anmisu / Kaoru Hello Kitty Strawberry Pancake

Acrylic Mascot Key Rings

10 Designs

Plush Toys

This marks the second collaboration between Rurouni Kenshin and Hello Kitty, the first taking place back in 2014 in promotion of Rurouni Kenshin: The Legend Ends. Fans can get their hands on a collection of cute merchandise with Hello Kitty dressed as various characters from the series, as well as tuck into a themed menu which will first be served at Sweets Paradise Ueno ABAB from April 22 before rolling out to six more Sweets Paradise branches in Japan.

©和月伸宏/集英社 ©2020 映画「るろうに剣心 最終章 The Final/The Beginning 」製作委員会

Hello Kitty Themed Restaurant HELLO KITTY SMILE Launches 3rd Year Anniversary Event

The Hello Kitty-themed media art venue and restaurant HELLO KITTY SMILE is celebrating 3 years since its opening on Awaji Island back in April 2018 with a special anniversary event that's running from March 20 to May 31.

Challenge yourself to puzzles in the Princess's Palace of the Dragon King

Enjoy a musical performance with the Smile Parade

Win Hello Kitty freebies

Tuck into the anniversary menu

Hello Kitty Afternoon Tea | ¥3,500 (Tax Included)

Acrylic photo frame with every menu order

Acrylic photo frame with every menu order

HELLO KITTY SHOW BOX

There are many exciting things happening to celebrate the 3rd anniversary of HELLO KITTY SMILE, from performances and events to exclusive merchandise, a themed menu, and more. But that's not all, as visitors have the chance to win tickets to the HELLO KITTY SHOW BOX theatre restaurant. Only ten groups can win per day for the duration of the celebrations.

Ⓒ2021 SANRIO CO., LTD. APPROVAL NO. L617982

Information

HELLO KITTY SMILE 3rd Anniversary Event

Running: March 20, 2021 – May 31, 2021

Opening Hours: 10:00-19:00

Closed: Tuesdays

Address: 177-5 Nojimahirabayashi, Awaji, Hyogo Prefecture

Official Website: https://awaji-resort.com/hellokittysmile/