Musical Program Sizuk to Perform Opening Theme for Upcoming Anime Series 'The Iceblade Sorcerer Shall Rule the World'
Sizuk, a music project started by composer Shunryu, has officially launched! The composer is known for his contributions to anime and idol music, and in this new project, Shunryu will collaborate with illustrators, lyricists, singers, and other talents to produce original content.
For the project's debut single, Dystopia will serve as the opening theme for the anime series The Iceblade Sorcerer Shall Rule the World, scheduled to premiere in January 2023. The lyrics were written by Shoko Fujibayashi and arranged by John Kanda (PENGUIN RESEARCH), with a jacket illustration by SOLANI. It was sung by AYAME, the vocalist of the rock band AliA.
The song will be released as a digital single on January 6, 2023. Be sure not to miss the anime series either!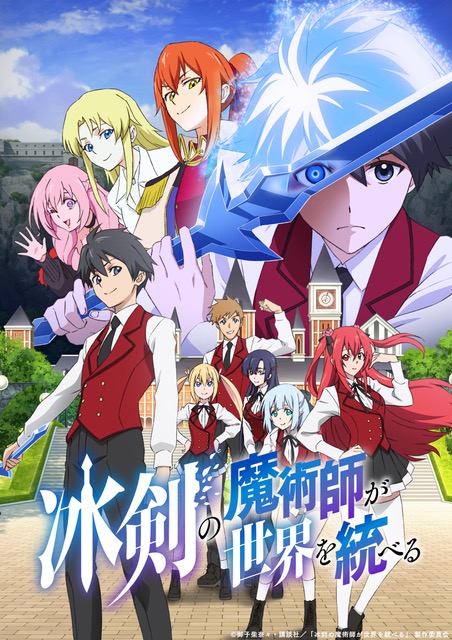 ©御子柴奈々・講談社/「冰剣の魔術師が世界を統べる」 製作委員会
RELATED ENTRIES
Licaxxx's Tokyo Community Radio Releases First Digital Compilation Album Inspired by the "sessions" Training Program

On June 29, SESSIONS COLLECTION VOL. 1 was released. This is the first digital compilation inspired Tokyo Community Radio's recent training program "sessions." DJ and Beatmaker Licaxxx runs the online radio platform, and the training sessions have seen incredible success, inspiring new musicians to grow and improve.

"sessions" is a training program focused exclusively on dance music. Participants work closely with DJs and other active music creators to hone their skills and share unique experiences. The main goal of the program is to teach more about current technology and to share real-world examples that can help participants thrive. Sharing actual problems that current artists are facing and how to overcome them is also a popular part of the program.

Club (RDC) and Red Bull, inviting guests to embark on a 3-day/2-night training camp in Izu to hone their DJ and dance music skills. Artists from all over Japan were selected from an open call and gathered to create new works individually or in groups after listening to advice and having discussions with track makers active in several different genres.

A ton of music produced during the "sessions" program is included on TCR's first 18-track digital compilation album. In addition to the 14 artists that participated, Stones Taro, Carpainter, Pharakami Sanders, and Licaxxx worked with FELINE to create a track as well. This genre-crossing compilation album by the next generation of Japan-based artists is a must-hear for active DJs, and a behind-the-scenes look at the training camp is available on TCR's official YouTube channel.

TCR will also be hosting events in Tokyo and Osaka this weekend with re:lax, a unit comprised of DJ/producers re:ni and Laksa from the UK. Keep an eye out for more details!

Information

Tokyo Community Radio Digital Compilation Album
SESSIONS COLLECTION VOL. 1
Release Date: June 29, 2023
Streaming URL: https://tokyocommunityradio1.bandcamp.com/album/sessions-collection-vol-1

Featured Artists: abentis / Carpainter / ETV / K8 / LICAXXX&FELINE / mah-ble soda / natsumi hirota / NirBorna / Pharakami Sanders / Pine / QUNIMUNE / SEKITOVA / Stones Taro / Syunto / tanakana / Terax / TIMER feat. plan i / yokinist

<About Tokyo Community Radio>
TCR is a distribution platform based in Tokyo that focuses on introducing both local DJs and up-and-coming DJs from around Japan. The program features all musical genres and showcases both DJ mixes and live performances. In featured podcasts, DJs talk about their music, hobbies, and interests, allowing fans the rare chance to learn more about their favorite creators. The station also cooperates with community radio stations in other Asian cities and supports DJs and artists from Asia and beyond when they visit Japan. In addition to regular DJ sessions and podcasts, TCR also collaborates with corporate events, produces music events, and matches DJs to places and brands.

Five-Member Band Kroi Releases New Digital Single 'Fuurai' Featuring Members of Zainichi Funk

Kroi is a five-member band blending a wide mix of musical styles, from R&B and funk to soul, rock, and hip-hop. The group has just released their new digital single Fuurai on all major streaming services.

The song will also be included in Kroi's second major EP MAGNET scheduled to be released on March 29, 2023.

The song is vastly different than Hard Pool released last month, featuring a relaxing melody and vocals and lyrics by Uchida. Fuurai shows off the true range of Kroi's music.

Fuurai also features performances by members of Zainichi Funk, a band that participated in Kroi's Live Tour 2021-2022 "Dig the Deep." Motoi Murakami (Trumpet), Gentle Kubota (Trombone), and Takehide Hashimoto (Sax) appear on the track.

Fuurai (Music Video)


The music video for Fuurai has also been released.

Takuto Shimpo, who has directed many of Kroi's past music videos and stage productions, returned for Fuurai.

The many locations seen in the video match the music perfectly, and fans will want to head to YouTube right away.

Kroi will release its second major EP MAGNET on March 29, 2023.

Information

Fuurai – Kroi (New Digital Single)

Streaming Date: February 22, 2023
https://lnk.to/fuurai

MAGNET – Kroi (2nd Major EP)
Release Date: March 29, 2023
https://pony-canyon.lnk.to/magnet

[Order Bonuses by Shop]

・Tower Records, TOWER mini, Tower Records Online: Kroi x Tower Records Original Sticker

・HMV/HMV&BOOKS Online: HMV Original 'magnet' Sticker (50mm x 70mm)

・Amazon.co.jp: Mega Jacket

・Rakuten Books: Original Acrylic Keychain (50 x 50)

・Seven Net Shopping: Original Pin

・Other CD Shops: Original Sticker

*The number of available bonus items is limited.

*Some stores may not participate in the promotion, so please check beforehand.

*If you pre-order online, be sure to place your order from the bonus cart to receive the order bonus.

Profile

Kroi is a five-member band blending a wide mix of musical styles, from R&B and funk to soul, rock, and hip-hop.

Formed in February 2018, the band debuted with the single Suck a Lemmon. In June 2021, Kroi released its first album LENS.

In addition to music, each member is involved in a variety of cultural activities including modeling, design, and music production.

Official Site: https://kroi.net

Soundtrack for BLUE GIANT Jazz Manga Film Adaptation Coming Soon

In 2013, Shinichi Ishizuka's BLUE GIANT manga series hit the scene. Serialized in Big Comic, the series has sold over 9 million copies to date. Readers have fallen in love with the author's depiction of emotion and Ishizuka has even influenced the real-world jazz scene with his creation. BLUE GIANT will be adapted into an anime film coming to theaters on February 17, and the staff's dream of bringing real jazz at max volume to the masses will finally come true.

The world-renowned pianist Hiromi Uehara oversaw the film's music. The authentic jazz heard in the film's trailer has already become a hot topic, and the original soundtrack will be released on February 17, the same day as the film's release.

Hiromi Uehara has been a close friend of Shinichi Ishizuka for years, and even before the film adaptation was announced, she had privately composed an original song for JASS, the trio formed by the main character Dai Miyamoto. Uehara wrote, performed, and produced the entire soundtrack including the songs FIRST NOTE, N.E.W., and WE WILL.

  

Saxophonist Tomoaki Baba will play the saxophone for the character Dai, who aspires to be the best sax player on Earth. Auditions were held in cooperation with Universal Music, featuring leading players from Japan and abroad. Baba was an easy choice, wowing judges with his large sax and powerful performance. Shun Ishiwaka, the drummer of the band Millennium Parade, will play the drums for Dai's classmate Shunji Tamada.

 

More than 30 top-class classical and jazz musicians participated in the soundtrack's production, including a string section conducted by Miho Hazama and led by members of Hiromi Uehara's Piano Quintet.

Hiromi Uehara also wrote the original track BLUE GIANT, used as the film's end-roll song. "When I was doing the recording for this film, this melody suddenly popped into my head. I became obsessed and immediately wrote it down," Uehara said. "I was so inspired by the BLUE GIANT film that I created this song that same day. Of course, I had to title it the same thing!"

The soundtrack contains 29 songs and is perfect for listening to while you enjoy a quiet winter night at home. Don't miss it!

Vickeblanka Releases Live Video of Black Clover Anime Theme Song 'Black Catcher'

Singer Vickeblanka has released a live performance video of Black Catcher, the opening theme song for the anime series Black Clover. On January 25, 2023, the singer will release Vickeblanka presents RAINBOW ROAD -Ki- on Blu-ray and DVD.

Black Catcher – Vickeblanka (from「RAINBOW ROAD -Ki-」LIVE DVD&Blu-ray on sale January 25, 2023)

Black Catcher serves as the 10th opening theme for Black Clover. The song has been ranked in Spotify's Top 10 Most Played Japanese Songs Overseas for three consecutive years and has been streamed over 160 million times. The accompanying music video has been viewed over 50 million times.

Vickeblanka appeared in the recent Shochiku Tokyu New Year's drama series Kaden Samurai Special Stop! Chuushingura. At the start of the series, the main character Shijuro Kanenashi plays a yakuza in prison after being falsely accused of a crime. The series co-stars Kenichi Takito who was surprised by Vicke's powerful performance.

Treasure, the theme song for the regular drama series, is also being used as the theme of this special.

Vickeblanka presents RAINBOW ROAD -Ki- will be released on Blu-ray and DVD on January 25, 2023. This was the singer's first arena concert, featuring a rare 19-track setlist including encores.

The live show includes signature tracks like Masshiro, Ca Va?, and ULALA, as well as an encore performance of the song Changes. The concert release also includes a 2-CD set of live recordings from the performance. The asymmetrical stage featured a unique acoustic setup that is fully captured in this incredible set.

In addition to the standard edition, a Limited First Edition will include a 52-page photobook with rare images from the rehearsal.

Those who preorder through the French Link fan club will receive a special rubber band, and an A3-size calendar poster on a first-come, first-served basis. 55 people who preorder by midnight on January 6 will win an A3-size calendar poster autographed by Vickeblanka himself.

Information

Vickeblanka presents RAINBOW ROAD -Ki-
Release Date: January 25, 2023
Preorder: https://vickeblanka.lnk.to/RAINBOWROAD_DVDBD

●DVD+2 CDs
Limited First Edition
Sleeve with 52-page photobook
Product Number: AVBD-27616/B~C
Price: ¥8,000 (Excluding tax)

●Blu-ray Disc+2 CDs
Limited First Edition
Sleeve with 52-page photobook
Product Number: AVXD-27617/B~C
Price: ¥8,000 (Excluding tax)

●DVD+2 CDs
Product Number: AVBD-27618/B~C
Price: ¥6,000 (Excluding tax)

Official Site: https://vickeblanka.com/

LE SSERAFIM's First Japanese Single 'FEARLESS' Available to Stream

LE SSERAFIM, a girl group produced by BTS's label HYBE, released FEARLESS -Japanese version- on download and streaming sites on December 15. The full single will be released on January 25, 2023.

LE SSERAFILM is a five-member girl group consisting of Kim Chaewon, Sakura, Huh Yunjin, Kazuha, and Hong Eunchae. This is the first girl group produced by HYBE and SOURCE MUSIC, who have both worked with a number of global artists.

The original Korean track FEARLESS spent 19 consecutive weeks on the U.S. Billboard charts, setting a record for K-pop idols. The music video received over 100 million views within its first 100 days of release.

Numerous Campaigns Underway Now

In conjunction with the advance release of the Japanese version of FEARLESS, a playback campaign was launched on Rakuten Music starting December 15. Those playing the song can receive an original postcard. A social media sharing campaign is also underway–those sharing the song from select music streaming services on Twitter or Instagram with the hashtag #FEARLESS will be entered to win an original sticker.

A LINE MUSIC playback campaign will also begin on December 21. Participants will be selected by lottery to take place in an online event with random members of LE SSERAFIM. All participants will also receive an original LINE Talk background image, so be sure to take part! More details will be released soon, so keep an eye out.

XG's 2nd Single 'MASCARA' Debuts at #1 on iTunes Charts in 17 Countries

Japanese hip-hop R&B girls group XG released their second single MASCARA on June 29, 2022. In only a few short weeks, the track has made big waves around the world.

MASCARA managed to reach #1 on the iTunes Song Chart (Alternative) in 17 countries. It also reached #25 on the WorldWide iTunes Song Chart, which combines results from 175 countries around the world. On the Billboard JAPAN HOT 100 chart for July 6, MASCARA ranked 48th. The CD Box was sold out within one week of its release.

Since the song's release, the group has appeared on a series of popular Korean music shows such as Mnet's MCOUNTDOWN, KBS 2TV's MUSIC BANK, and MBC's Show! Music Core. XG's performance on MCOUNTDOWN on June 30 has already been watched over 1.39 million times, while their performance video from SBS's THE SHOW on July 5 ranked first in Japan on YouTube's fastest-rising ranking. The girls have an incredibly strong stage presence and are scheduled to appear on five music programs in a row going forward. This is unprecedented for a Japanese girl's group. 

Fans of the group have been posting dancing videos on TikTok and YouTube since the song was released, and many posts describe the choreography during the chorus as the 'shuriken dance.' 

On July 11, a making-of video from the set of the MASCARA visual was released on YouTube, showing off the girl's individual personalities. 

XG – MASCARA (Photoshoot | Behind The Scenes)

XG – MASCARA (Official Music Video)

With tons of new content incoming and tons of popularity already growing worldwide, expectations are high going forward, so keep an eye on XG!

Debut Song from18-Year-Old AI Singer ERROR Featured on TV Show Junk Sports

Amadeus Topline is a music creation app, and a certain song created using the software has been selected as the ending theme for Fuji TV's Junk Sports. The song Kotoba is the debut song of 18-year-old ERROR, who made her debut in the singing audition Power of Song in July 2022. By using Amadeus Topline, creators can shorten the very time-consuming process of finding a good melody during the composition process. 

ERROR Track #1 – Kotoba


 

Amadeus Topline is a powerful and simple melody creation app that allows music creators both novice and professional to compose songs in minutes. The melodies created by the AI can then be exported to outside music software to be polished.

Theme Song for Initial D The Arcade Arcade Finally Hits Streaming Services

Initial D The Arcade is the tenth game in the Initial D series. Released in February 2021, one particular song from the title has struck a chord with fans. After a long wait, SCRAMBLE EYES by MOTSU vs A-One, has finally been released on streaming services starting May 25!

 

SCRAMBLE EYES is a fast-paced track blended with sharp vocals and engaging rap. The speedy song is perfect for Initial D, bringing to mind being behind the wheel and driving at top speed. Fans have called the song addictive, and even those who aren't a fan of the game have been applauding the track across social media. 

 

MOTSU and A-One have both provided comments following the song's release.

 

MOTSU

The name SCRAMBLE EYES was inspired by the bright headlights plowing through the darkness during a particular stage in Initial D The Arcade.

I'd be so happy if the listeners could get the same tingling sensation I felt when I met A-One for the first time.

A-One

I'm so thankful to be able to create music for Initial D, a series that brought me so much joy as a child.

And collaborating with MOTSU? I absolutely adore him, so I put all of my energy into this track.

If you work hard and don't back down, your dreams will come true.

But one of my dreams hasn't come true yet–playing this song live!

MOTSU, let's do it someday!

Please enjoy this track and really feel the speed and excitement as you race towards your goals!

 

In 2023, an anime adaptation of MF Ghost, the sequel to Initial D, is scheduled to premiere. The series takes place in the 2020s, when self-driving cars are normal Japan, and focuses on Kanata Livington, a Japanese driver who goes back to Japan after graduating at the top of his class at a racing school in England.

Up-and-Coming Boy Band INI's 2nd Single to be Released in April

Boy band INI, created during the second season of PRODUCE 101 JAPAN, will release their second single on April 20, 2022. 

 

INI initially debuted on November 3, 2021, with the release of their debut single A. The group's most popular track, according to a national poll, was Rocketeer, which is still used to promote the boy's activities. The group's debut single surpassed a half-million copies sold and reached the top spot on the Oricon Weekly Single Chart. INI also won the Favorite Asian Artist award at 2021 MAMA, one of the world's largest K-pop award shows, and Best New Artist at the Japan Record Awards.

 

NIGO Releases 'Arya feat. A$AP Rocky' from the Album 'I KNOW NIGO'

Fashion icon and innovator NIGO, who serves as the artistic director of KENZO as of September 2021, will release his first solo album 'I KNOW NIGO' on March 25, 2022. The first single from the album Arya features popular American rapper A$AP Rocky and is now available to stream. The album is being produced in collaboration with Stephen Victor, and Pharrell Williams is serving as the executive producer. A teaser trailer for the music video has also been uploaded to NIGO's official YouTube channel. 

 

Arya ft. A$AP Rocky Official Music Video Trailer: 

 

Steven Victor commented on the upcoming album in a new interview. "Originally, we were only going to do two songs featuring Pharrell and Pusha T, but once we started reaching out to other artists they all said yes! We decided to make a five-track EP, and it just evolved from there into a full album," he said.

 

In a comment regarding 'I KNOW NIGO,' rapper Pusha T called it the 'Album of the Year.' Expect more information in the near future!

Ai Higuchi Announces Album Title and Track List for Upcoming March Release

Ai Higuchi has officially released the title and tracklist for her upcoming fourth original album, scheduled for release on March 2, 2022.

The album will be titled 'Saiaku Saiai.' ('My Worst Beloved').  Since her indie days, Higuchi has been a fan of using four-character idioms as her album titles. Higuchi will also be performing in Tokyo and Osaka in March. 

A total of 11 tracks will be featured on the album, including Akuma no Ko, the ending theme song for Attack on Titan The Final Season Part 2. Other tracks include Massarana Daichi, Kanashii Uta ga Aru Riyuu, Kyouri, and Yamerunara Ima. The DVD included with the limited edition includes Ai Higuchi's 5th Anniversary Solo Rakugo performed last year. 

Earlier this month, Higuchi released the ending theme for Attack on Titan The Final Season Part 2, which has become a massive global hit. The non-credit ending theme video is now available on YouTube and was viewed more than 5 million times in only five days. Be sure to give it a watch!

Information

'Saiaku Saiai'

Release Date: March 2, 2022
Limited Edition [CD+DVD] / ¥4,950 (Tax Included)
Standard Edition [CD Only] / ¥3,300 (Tax Included)

Preorder: lnk.to/higuchiai_CD

Official Site: https://www.higuchiai.com/

Beloved 19-year-old singer Ado finally released her first album on January 26. 'Kyougen' is now available to stream on major platforms. The album includes the massively popular track Usseewa, which has nearly 75 million plays on Spotify alone. 

The album includes 14 tracks, including Giragira and Odo, which have been streamed over 100 million times, as well as Aitakute, Lady Maid, and Yoru no Pierrot. Seven new songs are also included. The album comes in four formats: the Complete Limited Edition includes a figure and book; the Limited Edition includes a book and DVD; the First Run Limited Edition comes with an acrylic charm; and the Standard Edition includes only the CD. The cover was created by ORIHARA. 

 

Those purchasing the album will be entered to win tickets to Ado's first solo concert to be held at Zepp DiverCity Tokyo on April 4, 2022!