A course to experience "Kabuki"(Japanese traditional drama performed by male actors) called "Kabuki Taro" will be opened at Nihonbashi
This course is an original program where beginners of kabuki can enjoy kabuki. The name of the course is "Kabuki Taro" where students can learn the movements of kabuki. They will offer this course under the concept of "teaching kabuki movements which resonate with one's mind and body."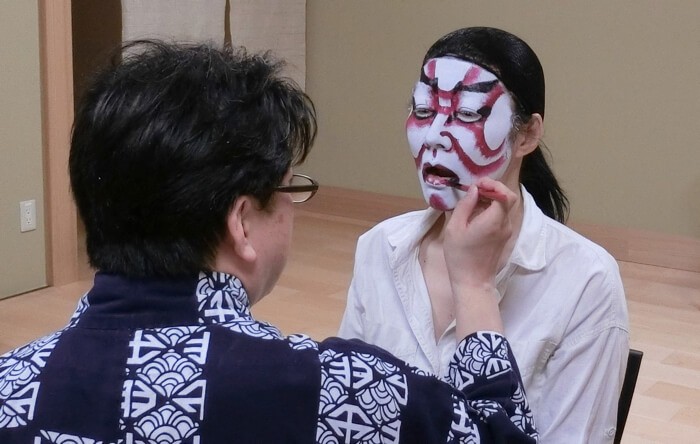 Kabuki Taro is a course which will teach the movements of kabuki, not just the teaching the knowledge and methods of enjoying kabuki. Students can learn the movements and lines of kabuki by the lecturers. Kabuki Taro will offer "kabuki lessons" based on various themes and viewpoints.
The course which will be offered by "Kabuki Taro," located in the center of "Nihonbashi" which is the center of Edo culture, is a suitable program for persons who want learn the movements and knowledge of kabuki from scratch.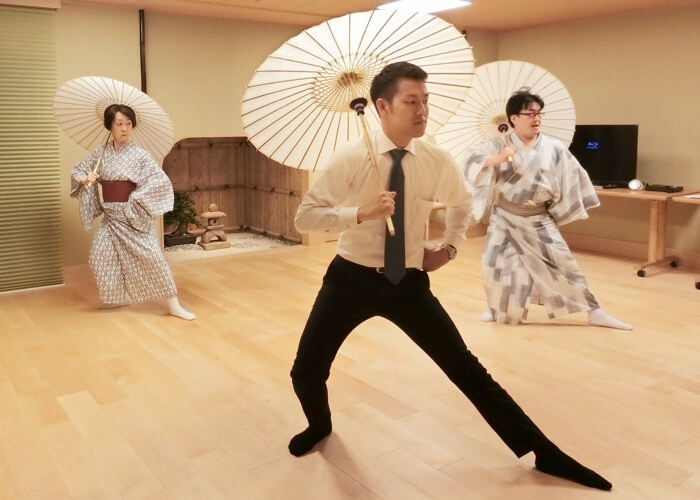 Below are some comments by some students.
"I never thought I could experience kabuki."
"It is interesting to learn about kabuki by learning the actual movements. The lessons makes me want to learn more about kabuki."
"Reading the lines aloud is a good way to relieve stress."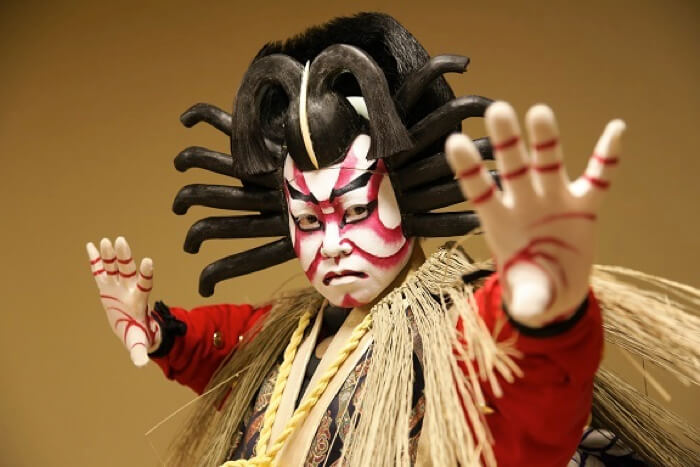 Let's gain a deep understanding of kabuki at "Kabuki Taro."
◼︎Information
Kabuki Taro
Address: 7F of Sleepy Nihonbashi Building, 4-1-13, Honcho, Nihonbashi, Tyuoku, Tokyo
Business hours: 10,13 (Fri.), 16 (Mon.) / 19:00 to 20:45 (one hour and 45 minutes)
11,13 (Mon.), 29 (Wed.), 12,13 (Wed.), 20 (Wed.)
※Please ask us directly RE business hours after November and the schedule after January.
TEL:03-6262-5151( info@kabukitaro.jp )
URL: http://kabukitaro.jp
RELATED ENTRIES
Onoe Matsuya and Ukon Onoe Team Up for Traditional Japanese Art Experience 'Kabuki Derby'

The 89th Tokyo Yushun, or Japanese Derby, is scheduled to take place on May 29, 2022. Ahead of the event, a special site featuring Kabuki actors Onoe Matsuya and Ukon Onoe was opened on May 12. That's right–it's time for the Kabuki Derby!

Celebrating its 89th year, the Japanese Derby is considered one of the finest horse races in the world. To make this traditional and prestigious event even more exciting, a collaboration with the traditional Japanese performing art of Kabuki is getting people talking.

Tokyo Yushun Kabuki Simulation Game

In the Kabuki Derby, visitors can enjoy tons of unique content made with Onoe Matsuya and Ukon Onoe. The site's racing game even has a completely original story! Trivia quizzes related to the Derby and obstacle courses will also provide hours of fun.

Special Video: Home Horse Racing!

Special Video: Instant PAT!

Special Video: Full House Derby

In the original videos, both Kabuki actors appear as brothers in the Edo Period. The two are sure to make you smile with their performances, as they explain what they do on their days off and show off how fun horse racing can be.

Horse Designer

There will also be a Twitter campaign where you can win prizes depending on the results of the Japanese Derby. Be sure to tune in and root for your favorite horse!

Information

Kabuki Derby
Available May 12, 2022


Kabuki Actor Somegoro Ichikawa VIII Becomes Brand Ambassador for Shu Uemura Japan

Shu Uemura Japan has announced that Kabuki actor Somegoro Ichikawa VIII will be the brand ambassador for its popular cleansing oil and other cosmetic items.

Shu Uemura products are all crafted in Japan and the brand exemplifies the Japanese spirit of perfection, care, and tradition. This advanced technology and cutting-edge design philosophy is a perfect match for Somegoro Ichikawa, who is incredibly passionate about Japanese artistry through his work in kabuki theater. This collaboration is bringing kabuki, a 400-year-old art form, to the mainstream, infusing it with modernity.

Comment from Somegoro Ichikawa


"I'm honored to have been chosen to serve as an ambassador for Shu Uemura Cleansing Oil, which I personally use on a regular basis. What can we do to pass on Kabuki and other Japanese traditions to future generations? I feel a strong connection between my own ideas and challenges and those of the Shu Uemura brand." 

Long-Standing Kyoto Tea Wholesaler Yamamasa Koyamaen Opens Cafe in Tokyo

TZEN, a company dedicated to promoting traditional Japanese culture around the world, has teamed up with Yamamasa Koyamaen, a tea wholesaler in business since the Edo period, to open a new matcha cafe in Tokyo!

ATELIER MATCHA, a quick walk from Ningyocho station, is harnessing the concept of 'the third wave of matcha,' serving up premium matcha in a cozy atmosphere. 

MATCHA Cookies & Cream Shake: ¥748 (Tax Included) 

MATCHA with Warabimochi and Red Bean Topping: ¥748 (Tax Included)

MATCHA Jelly Cider: ¥660 (Tax Included)

MATCHA Granola and Yogurt Latte: ¥715 (Tax Included)

MATCHA Cotton Candy Milkshake: ¥748 (Tax Included)

MATCHA Affogato: ¥660 (Tax Included)

MATCHA Shot (Espresso Style): ¥220 (Tax Included) / MATCHA Water: ¥275 (Tax Included) / MATCHA Green Tea: ¥330 (Tax Included)

Supreme MATCHA Terrine: ¥660 (Tax Included)

(This is a partial menu, all prices are for those dining in.)

Matcha is becoming popular around the world. ATELIER MATCHA was created to offer customers a unique experience which showcases the true taste and culture of this beloved tea grown in Japan. 

Yamamasa Koyamaen is a Kyoto institution, cultivating and grinding matcha tea leaves for 160 years. Over 1,000 tea retailers, department stores, domestic and international trading companies and hotels stock their high-grade matcha, gyokuro, sencha, and other specialty teas, making them one of the most recognized and respected names in this traditional Japanese art. The company even prefers to call themselves a 'studio' rather than a 'factory', using the 800-year history of tea cultivation in Uji, Kyoto as a starting point to create their masterpieces. 

ATELIER MATCHA is Yamamasa Koyamaen's first cafe, and also the company's first experience selling directly to consumers. 

Blending the highest-grade matcha with locally made sweets, the cafe hopes customers will enjoy these original creations while surrounded by the relaxing aroma of tea. 

The matcha used in the cafe includes signature Yamamasa Koyamaen blends, including Ogurayama and Tennozan, both varieties often used in tea ceremonies. For a limited time, the cafe is offering a single-origin blend with one rare variety of matcha, as well as a beverage made with tencha, which are the leaves used to make matcha before being ground down in a stone mortar. Visitors can also enjoy gyokuro and hojicha teas, made from carefully selected leaves. 

Pulling recipes from Yamamasa Koyamaen's book 'Kyoto Uji-Koyamaen: Simple Matcha Drinks to Enjoy at Home,' the menu features refreshing drinks blending the traditional with the modern, with unexpected combinations of soda, fruit and yogurt. Seasonal drinks will also be making an appearance, including shaved ice in summer and chocolate drinks in winter. 

The name MATCHA SHOT packs a punch, using matcha instead of espresso for a needed pick-me-up. MATCHA WATER, a refreshing cup of watered-down tea, offers a way to fully enjoy the fullness and more hidden flavors of this popular Japanese tea. 

As expected, ATELIER MATCHA also has a sweets menu set to impress: these sweet treats feature only the best, created with the top 0.03% of total national matcha production. This insanely high-quality matcha is a part of Yamamasa Koyamaen's ultimate matcha experience project, titled "ALL FOR ONE," which provides these rare leaves to some of the country's top professionals in various fields. 

At opening, only limited qualities of the Supreme MATCHA Terrine, made by well-known pâtissier Toshi Yoroizuka, will be available. 

These authentic matcha creations are perfect for a hot summer's day, or as a gift for a friend. When in Tokyo, don't miss it!

Information

ATELIER MATCHA 

Address: 1-5-8 Nihonbashi Ningyocho, Chuo Ward, Tokyo 103-0013, Japan

Access: 30-second walk from Ningyocho Station/5-minute walk from Suitengumae Station

Open Date: August 2, 8:00

Hours of Operation: 8:00-19:00 (Last order 18:30)

Closed on Tuesdays (Open daily throughout August) 

Phone Number: 03-3667-7277

Official Site: https://ateliermatcha.com/

Uji Matcha and White Peach Shaved Ice Gets Served at Nihonbashi E-Chaya in Tokyo For Summer

Eitaro Sohonpo Co. Ltd. has released two new seasonal shaved ice desserts at Nihonbashi E-Chaya in Tokyo for summertime.

Uji Matcha Yamamotoyama x Eitaro | ¥660

Made with Uji matcha from Yamamotoyama and honey from Eirato, this shaved ice is topped with adzuki beans from Hokkaido. A refreshing delight for the hot Japanese summer that's not overly sweet.

Peach & Cream Cheese | ¥660

This flavour is made with lots of white peach puree from Yamanashi along with fresh peach pieces and Eitaro's honey. It's finished with cream cheese from Hokkaido and peach fluffy cream. Another perfect pick for cooling down this summer.

Information

Nihonbashi E-Chaya

Address: Eitaro Bldg. 1F, 1-2-5 Nihonbashi, Chuo-ku, Tokyo

Opening Hours: [Mon-Fri] 8:00-16:00 / [Sat] 10:00-16:30

Closed: Sundays/Public Holidays

Official Website: https://www.eitaro.com/

*These desserts are eat-in only

Tokyo's Craft Chocolate Shop nel Releases Cacao Kintoki Shaved Ice Desserts

nel craft chocolate tokyo, a craft chocolate shop located in Nihonbashihamacho, Tokyo, released two chocolate shaved ice desserts last Wednesday for the hot summer season. The desserts are also being sold at Saryo Tsukikage, a restaurant inside the hot spring ryokan Yuen Bettei Daita in Setagaya.


Left: Cacao Kintoki | Right: White Cacao Kintoki

Cacao kintoki is a type of shaved ice made with specially-selected cacao beans from Vietnam. It uses a 'bean to bar' method where the shaved ice is made from scratch, roasting the beans fresh to create the dessert.

The two new treats at nel use a chocolate base and add cacao pulp to the mix, adding a natural fruity flavour derived from the bean. Each is also served with a special cacao sauce for extra flavour. The white cacao version is made by combining with in-house white chocolate. It also comes with an Okinawan passion fruit and cacao pulp sauce, resulting in a sour kick and refreshing taste.

Saryo Tsukikage

The open-air baths at Yuen Bettei Daita

A special matcha version of this shaved ice can also be enjoyed while bathing in the open-air baths at Yuen Bettei Daita. It's made with nel's homemade white chocolate as well as dark chocolate, cacao pulp, and specially-selected yame matcha from Shimokita Chaen Ōyama, a cafe in Setagaya.

Gaspard and Lisa Themed Menu to be Served in Tokyo

The popular French characters Gaspard and Lisa are getting their own themed menu at Le Cafe la Boutique du Joel Robuchon in Tokyo. The menu will be served from April 24 to May 9 and takes inspiration from Anne Gutman and Georg Hallensleben's children's book series.

Gaspard and Lisa One Plate & Cocktail Set | ¥3,300 (Tax Included)

Non-Alcoholic Strawberry & Lychee Cocktail | ¥990 (Tax Included)

Strawberry Galette (With Coffee or Tea) | ¥2,420 (Tax Included)

Coasters

Pouch

The first 500 customers who order something from the menu will receive a free coaster, and those who spend over ¥5,000 will get a special pouch.

Enter the charming world of Gaspard and Lisa with this cute themed menu.

(C) 2021 Anne Gutman & Georg Hallensleben / Hachette Livre

Information

Le Cafe la Boutique du Joel Robuchon x Gaspard and Lisa

Running: April 24, 2021 – May 9, 2021

Where: Le Cafe la Boutique du Joel Robuchon (Nihonbashi Takashimaya S.C. Floor 2F)

Opening Hours: 10:30-19:30 (Last Orders 18:30)

Reservations: 03-5255-6933

Official Website: https://www.robuchon.jp/

Watch Gifu Prefecture's 'Jikabuki' Local Kabuki Theatre Plays On YouTube

As part of this year's Gifu, Land of Clear Waters Ji-Kabuki All-Star Performance 2020, Gifu Prefecture has posted a special commentary video over on the official YouTube channel of Gifu Seiryu Bunka Plaza which combines footage from two local kabuki plays held this year.

The local kabuki of Gifu

Japan is home to 200 jikabuki, or 'local kabuki,' preservation organisations, 30 of which can be found in Gifu Prefecture. Gifu is one of the most active regions for jikabuki in the whole of Japan. The prefecture also has 9 historical shibai-goyas, or playhouses, some of which are over 100 years old.

Gifu, Land of Clear Waters Ji-Kabuki All-Star Performance 2020

https://www.youtube.com/channel/UCx_NJKW7JOicMjhzfqBC1hQ 

Gifu Seiryu Bunka Plaza made the decision to postpone the 11 jikabuki performances that were scheduled to take place January to July 2020 this year. They are being rescheduled for 2021, so for now people can enjoy the content over on their official YouTube channel.

Tokyo's Art Aquarium Museum in Nihonbashi Announces Christmas Event

Having only held annual summertime events up to now, Art Aquarium Museum in Nihonbashi, Tokyo, is celebrating Christmas for the first time this year with a series of holiday season festivities.

The Aquarium's first Christmas tree

Art Aquarium Museum will display its very first Christmas tree for the event indoors near the entrance. The tree artwork was created by Hidemoto Kimura using 550 colourful crystals that have been made to look like goldfish. Made from venetian glass, he had them shipped himself from Italy. They are strung in 10 different colours which glow and glisten to create a romantic atmosphere.

Artwork Name: Natale di Pesce D'oro
Running: December 1, 2020 – December 27, 2020
Location: Art Aquarium Museum entrance

Pair tickets for Christmas with alcohol


Pair Ticket (2 People) + 2 Drinks | ¥4,600 (Tax Included)

Those arriving in twos can buy Pair Tickets which come with two alcoholic or non-alcoholic beverages so you can plunge into the magical underwater world of the aquarium while enjoying a drink.

Buy Tickets: https://ticket.artaquarium.jp/en/
Running: November 24, 2020 – December 27, 2020
Validity Period: December 1, 2020 – December 27, 2020
Drinks Menu:

[Alcohol] COEDO Beer / Marihana / Louis Raison Rouge Délice

[Non-Alcoholic] Sanpellegrino Pompelmo / Grapefruit

Christmas menu served up in the lounge and cafe

2-Person Hors d'oeuvre With 2 Drinks | Online Booking ¥4,200, Same-Day ¥5,000 (Tax Included) | Serving: December 18, 2020 – December 25, 2020

The aquarium's lounge restaurant is serving an hors d'oeuvre for pairs of Japanese and western food together with two drinks.

2-Person Christmas Sweets Plate With 2 Drinks | Online Booking ¥3,300, Same-Day ¥3,850 (Tax Included) | Serving: December 1, 2020 – December 27, 2020

The cafe is serving up plate of assorted desserts, perfect for a post-aquarium date.

Christmas Special Cocktail | ¥2,200 (Tax Included) | Serving: December 1, 2020 – December 27, 2020

Both the restaurant and cafe are also serving a seasonal cocktail of chocolate, strawberries, cranberries, and champagne jelly for a sweet and refreshing mix.

Information

Art Aquarium Museum Christmas Event

Address: 1-3 Nihonbashihoncho, Chuo Ward, Tokyo
Opening Hours: 10:00-21:00 (Until 20:00 in December)
No Fixed Holidays
General Admission: Adults (13 and over) ¥2,300 (Tax Included) / After Dark Ticket: Adults (13 and over) ¥2,000 (Tax Included)

*Free for 12 and under
Official Website: https://artaquarium.jp/en/

Demon Slayer: Kimetsu no Yaiba Collaborates With Kyoto's Famous Kabuki Theatre Minami-za

Minami-za, one of the most respected kabuki theatres in Japan, has announced a special exhibition in collaboration with the TV anime series Demon Slayer: Kimetsu no Yaiba which will run from November 6 to 23.

Minami-za is the oldest theatre in Japan and is registered as a Tangible Cultural Property of Japan. The Demon Slayer exhibition will feature displays, decorations, and a range of exclusive merchandise.

Lobby Exhibit

Fans will find a range of character boards displayed at the entrance lobby to Minami-za with the characters donning traditional kabuki attire.

Special Stage Photo Spots

Cut-outs of the main cast of characters will be displayed on stage. People will be able to stand up on stage and take photos with the characters in this unique collaboration with kabuki.

Signboard

An original signboard will be displayed at the entrance to Minami-za.

Free Bonus Items

All customers who visit the theatre will receive one of these 18 possible coasters for free.

Merchandise

Those who hold a ticket to the event will be able to purchase a selection of original merchandise at the theatre. The items will also be sold online at Shochiku Kabuki-ya Honpo.

Teabags (4 Flavours) | ¥800 (Tax Included)

Special teabags will also be sold at the Tokyo and Kobikicho Square branches of Shochiku Kabuki-ya Honpo as well as their online website between October 21 and 23.

Tickets to the event are available via Lawson in Japan.

©Koyoharu Gotouge/Shueisha・Aniplex・ufotable

Information

Demon Slayer: Kimetsu no Yaiba x Minami-za
Location: Minami-za (Hashihigashizumecho, Higashiyama-ku, Kyoto)
Running: November 6, 2020 – November 23, 2020 (Closed November 9 and 16)
[Tue-Thur] 15:00-20:00 (Last Entries 19:00)

[Fri-Sun] 10:00-20:00 (Last Entries 19:00)
Tickets: https://l-tike.com/kabukimetsu_minamiza/
Official Website: https://www.kabukimetsu.com/

Watch Legendary Kabuki Actor Ichikawa Ebizo XI Perform at Tomioka Silk Mill Online

Japanese kabuki actor Ichikawa Ebizo XI, the eleventh holder of the famous Ebizo name, is set to perform at Tomioka Silk Mill, one of Japan's World Heritage Sites, and it will be streamed online.

Tomioka Silk Mill is the oldest modern silk reeling factory in Japan. Ichikawa Ebizo XI will perform two kabuki plays there: the long-celebrated Kotobuki Shiki Sanbaso and Ebizo's famous piece Otokodate Hana no Yoshiwara.

This is a special one-night-only opportunity to see a legendary perform at such historical location.

Review | ART AQUARIUM MUSEUM: A Magical Place Swimming With Life

ART AQUARIUM MUSEUM officially opened permanently in Nihonbashi, Tokyo, on August 28, 2020. Before that, it was simply an exhibition that was held around Tokyo which brought together over 10 million visitors throughout its run, exhibiting goldfish in a variety of breathtaking ways.

We visited ART AQUARIUM MUSEUM together with Japanese model Yuna Yabe to take a deeper dive into what lies within those doors.

ART AQUARIUM MUSEUM can be found in Nihonbashi, an area of which served as one of many places where ART AQUARIUM previously held its exhibitions. Nihonbashi is steeped in tradition and is actually the place where Japan's goldfish culture spawned from during the Edo Period.

ART AQUARIUM was conceived and is managed by Hidetomo Kimura, an author and general producer. It's a collaboration between art, design, and entertainment, all fused into an aquarium to create a completely unique experience. The museum has taken what was once a pop-up exhibition and expanded it many-fold, housing close around 30,000 goldfish.


The aquarium is divided into different areas each with its own unique theme that plunges visitors into a multitude of fantastical worlds. One of the must-sees when visiting ART AQUARIUM MUSEUM is the masterful Oiran works—giant goldfish bowls as pictured above—which are inspired by the red light district of the Edo Period.

Perhaps the most striking and gorgeous part of the Edo Period was Hanamachi, the districts where geisha worked. The high-ranking courtesans, known as Oiran, engaged in what was known as the Oiran Dochu, or procession of the courtesans, and this too has been captured at the museum in the designs of the beautiful fish tanks in this area.


Another unmissable part when visiting the aquarium are the Goldfish Shrines, towering fish tanks lined up like a column of water trees which make for an incredible viewing experience.

The lighting and music is ever-changing, and so transports visitors into a completely different realm every time. It can be one way one moment, and in the next instant it changes entirely.


From the second floor you can overlook the fish shrines with dynamic 3D visuals in the background. These visuals change depending on the season, so you'll be in for a treat however many times you visit.

There are countless works of goldfish art scattered throughout the aquarium—too many to count, so your eyes will never grow tired.


Suigian Lounge – Old Pine Tree Area

ART AQUARMIUM MUSEUM even has its own dining lounge where guests can enjoy a meal while gazing at a painting of old pine trees, a cultural property of the Edo Period said to have been painted by those of the Kano school of Japanese painting. Traditional performances are also carried out on the stage for diners.


These drinks are ¥1,200 each (before tax)

Every five days, a new line-up of cocktails is served at Suigian Lounge. Japan used to be divided into 24 sekki rather than the now-used four seasons of springs, summer, autumn, and winter. These were further divided into 72 Kō, which are five days apart each. That's where the lounge gets its idea for changing its cocktails every five days. So you're sure to find an interesting flavour on every visit.


Kagyo Ryoran – Joy Area 

Kagyo Ryoran is a separate cafe lounge at the aquarium where they serve authentic Japanese sweets in collaboration with famous confectionery shops.


From Left Clockwise: Goldfish Sarasa ¥750 / Palet D'or Cacao Soda ¥900 / Echire Butter & Cream Castella ¥800 / lohasbeans coffee Matcha Tiramisu ¥850 / Goldfish Jelly ¥750 (All Before Tax)

The cafe serves up range of tasty Japanese desserts, from traditional ones to others inspired by goldfish and some made in collaboration with other shops.

Large Plush Toys: ¥3,200 Each (Before Tax)

The aquarium event sells its own souvenirs, such as goldfish plushies in various sizes, original confections, collaborative products, and more.

"Everything was magical—the goldfish, the sounds, the lights, the atmosphere!" explains Yuna. "They have a lot of different varieties of goldfish, and the fish tanks come in all shapes and sizes, which makes for plenty of Instagram-worthy moments. And since it's inspired by Edo culture, it has a Japanese vibe to it too. The fish are always swimming around, so no two moments are ever the same, meaning you're offered something fresh every time you visit."

If you're visiting Tokyo, be sure to pay a visit to ART AQUARIUM MUSEUM.

Information

ART AQUARIUM MUSEUM
Address: 1-3 Nihonbashihoncho, Chuo Ward, Tokyo
Opening Hours: 10:00-22:00 (subject to change)
No Fixed Holidays
General Admission: Adults (13 and over) ¥2,300 (Tax Included) / After Dark Ticket: Adults (13 and over) ¥2,000 (Tax Included)

*Free for 12 and under
Official Website: https://artaquarium.jp/en/

*ART AQUARIUM MUSEUM is currently operating with social distancing and COVID-19 preventative measures. Special permission was granted to take these photos safely without a mask.

Japanese Chawanmushi Egg Custard Dessert Turns Into Drink in Tokyo

Japanese food company Ninben has announced that it is extending its sales period for its drinkable chawanmushi dessert at Nihonbashi Dashi Bar in Tokyo until September 30.

Chawanmushi is a refreshing Japanese egg custard dessert that's perfect for cooling down during the summer, and seeing as the summer heat isn't letting down in Japan just yet, Ninben's drinkable rendition is now available until the end of September.

Chawanmushi Drink | ¥300 (Tax Included)

The chawanmushi drink is a collaboration between the owner of Suzunari and Ninben's Nihonbashi Dashi Bar. The drink was created to get more people enjoying the delicious taste of dashi. Exclusive to Nihonbashi Dashi Bar, which is located inside Ninben in Nihonbashi, Tokyo, the drink is being served for takeout only.

Normally, chawanmushi is eaten with a spoon, so using a straw adds an entirely new experience to enjoying the dessert. It's seasoned with salt from Christmas Island which elevates the flavour of the egg and dashi.

It's still hot in Tokyo, so if you're in the city, then why not order one to cool down?

Information

Nihonbashi Dashi Bar
Address: COREDO Muromach 1 (Floor 1F), 2-2-1 Nihonbashimuromachi, Chuo-ku, Tokyo

TEL: 03-3241-0968

Official Website: www.ninben.co.jp