MAN WITH A MISSION released the jacket of their new song created by a live painting in Shibuya
The jacket of MAN WITH A MISSION's new single "My Hero / Find You" which will be released on the 1st of November (Wed.) was released.
The releasing method of the jacket gathered much attention because it was very unique. The live painting event by the two graphic artists Kaoru Soda and YOICHIRO started at 11:00 AM all the sudden. The venue of the event was a special booth in front of Shibuya Tower Records. The jacket of the single was depicted on a black cloth.
The illustration of the jacket which was represents the machine body of Kamikaze Boy who is the member of the band since the single "My Hero" is the opening theme of the animation "Inuyashiki."
Many passersby stopped by and the venue was filled with excitement as the live painting event proceeded. After the live painting was done, a post card of the jacket (quantity limited) was handed out to the spectators.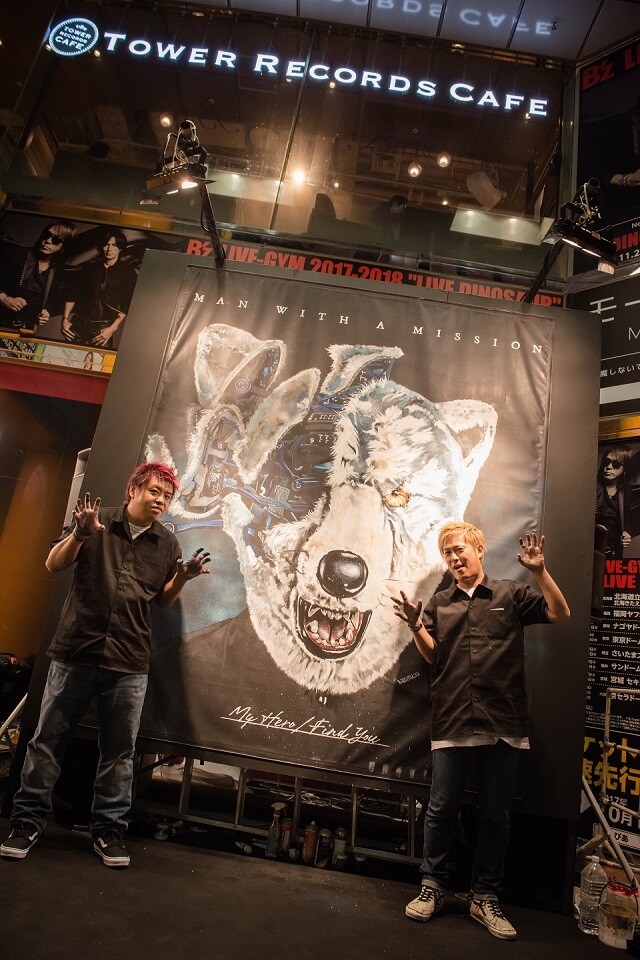 A "wrapping bus" of the jacket will be in service in Tokyo from the 31st of October (Tue.) so you might be able to see their jacket.
MAN WITH A MISSION 「Find You」(Movie Ver.)
In addition, the content of the single was released too. The CD consists of two A-side singles ("My Hero," the opening theme of the animation "Inuyashiki" and "Find you," the ending theme of the movie "Fukumenkei Noise") and two other songs which are "Mr. Bad Mouth" and the remixed song by Ken Ishii, "Memories [Ken Ishii Remix]."
The first edition includes a DVD which consists of three videos which are the documentary video of the last live of the tour called "Dead End in Tokyo Extra Tour" held at Marin Messe Fukuoka on the 1st of April, the director's cut edition of mission video "Jan Ken Jonny Hiyatoi Baito de Hizeni wo Kasegu!!" which was played on the tour and the non-credit opening video of the animation "Inuyashiki" (Fuji Television, noitaminA).
Let's check the new single "My Hero / Find You" with this unique jacket.
■Information
Release information
Single "My Hero / Find You"
2017,11,1 (Wed.) release
[First edition] CD+DVD SRCL9551-52 1,700 yen (tax not included)
[Normal edition] CD SRCL-9553 1,200 yen (tax not included)
<Content>
【Songs included in the CD:First edition and normal edition】
1: My Hero
Opening theme of the animation "Inuyashiki" (Fuji Television, noitaminA)
2: Find You
Ending theme of the movie "Fukumenkei Noise"
3: Mr. Bad Mouth
4: Memories [Ken Ishii Remix]
【Contents included in the DVD:only for first edition】
1: Dead End in Tokyo Extra Tour Documentary(2017.4.01 Marin Messe Fukuoka)
2: Jan Ken Jonny Hiyatoi Baito de Hizeni wo Kasegu!! Director's but version
3: Non-credit opening video of the animation "Inuyashiki" (Fuji Television, noitaminA)
【Sony Music Shop】
https://www.sonymusicshop.jp/m/arti/artiItm.php?site=S&ima=2441&cd=70007724
【Amazon】
https://www.amazon.co.jp/MAN-WITH-A-MISSION/e/B004CSNKNK/ref=dp_byline_cont_music_1
Tour information
MAN WITH A MISSION presents「Dog Days Tour 2017」
11/10(Fri.) Ehime / Matsuyama WstudioRED
11/13(Mon.) Gunma / Takasaki clubFLEEZ
11/15(Wed.) Ishikawa / Kanazawa EIGHT HALL
11/19(Sun.) Aomori / Hirosaki Mag-Net
12/02(Sat.) Saitama / Saitama Super Arena
12/03(Sun.) Saitama / Saitama Super Arena
12/07(Thurs.) Okinawa / Music Town Otoichiba
MAN WITH A MISSION official website:http://www.mwamjapan.info
RELATED ENTRIES
Zebrahead to Perform at MAN WITH A MISSION's Music Festival 'THE MISSION'

American punk rock band Zebrahead are set to perform solo in Japan for the first time this June as part of their tour. But their time in Japan won't be finished after that, as it has been announced that they will perform on the Saturday of MAN WITH A MISSION's upcoming outdoor festival, set to take place at Naeba Ski Resort in Niigata on Saturday August 29 and Sunday August 30.

The wolf pack rock band MAN WITH A MISSION turned 10 years old on February 9, 2020. To celebrate this milestone, the  band announced a 10th anniversary project entitled MAN WITH A "10th" MISSION for which they have lots of exciting things planned for fans. "THE MISSION" is part of this, the first ever outdoor music festival created by the band. Artists from around the world who are close to the band will make up the line-up.

The main stage of the festival will be the Green Stage of Fuji Rock Festival 2020 which will take place one week prior to THE MISSION.

MAN WITH A MISSION and Zebrahead performed together at Download Festival and Summer Sonic last year, and the two bands collaborated on the song Out of Control.

In a statement released on their official Twitter page in Japanese, Zebrahead explained that they have had their full attention on writing music so they can put out great music. They said they are "stoked" to be performing in Japan.

Information

MAN WITH A MISSION – "THE MISSION" Festival
Dates: August 29, 2020 / August 30, 2020 (Zebrahead to perform on August 29)
Venue: Naeba Ski Resort, Niigata

Official Website: https://themission.mwam10th.com/

MAN WITH A MISSION Just Dropped The Trailer For Their First Ever Music Documentary

MAN WITH A MISSION unveiled the trailer for their first ever music documentary MAN WITH A MISSION THE MOVIE -TRACE the HISTORY.

The body of a human, the head of a wolf, and shrouded in mystery. The five-piece Japanese rock band took to the music scene in 2010 and are soaking in global fame today. The documentary unfolds from the perspective of American journalist Carl Cooper, who has been following MAN WITH A MISSION since 2010. The trailer reveals snippets of interviews with the band and staff, recording scenes, live performances and much more exciting footage that was collected over the years since Cooper's arrival in Japan in 2010.

MAN WITH A MISSION Music Documentary Trailer

The 30-second trailer is jam-packed with exciting live scenes flooded with fans waving towels and the exceptionally talented five band members who have captured the hearts of the nation. As the trailer flicks rapidly through the story of their lives, the amount of unseen footage reveals a completely new side to the band members that fans will be thrilled to discover more about.

©2020 "TRACE the HISTORY" FILM PARTNERS

MAN WITH A MISSION Unveils The Main Visuals For Their First Music Documentary

MAN WITH A MISSION has unveiled the main visuals for their first ever music documentary MAN WITH A MISSION THE MOVIE -TRACE the HISTORY. The documentary is set to release on February 14, 2020. Movie tickets that come with limited edition bonuses will be sold in theatres across Japan from January 17, 2020.

Purchase movie tickets from cinemas or theatres for an original sticker*. If you purchase movie tickets online, you will receive a smartphone wallpaper (two designs available). 

 *In limited supply, first come, first served, one sticker given per purchase of one movie ticket. 

If you purchase tickets directly from the cinema or theatre counter, you will receive an advanced ticket that will allow you to reserve seats online. If you purchase your movie tickets online, you will receive a digital ticket.

Please check the movie documentary's official website for more information on ticket bonuses and screening. 

©2020 "TRACE the HISTORY" FILM PARTNERS

MAN WITH A MISSION Announces 10th Anniversary Project MAN WITH A "10th" MISSION

The wolf pack rock band MAN WITH A MISSION will officially turn 10 years old on February 9, 2020. To celebrate this milestone, they have announced a 10th anniversary project entitled MAN WITH A "10th" MISSION for which they have lots of exciting things planned for fans.

First up is a special concert on the day of the anniversary, February 9, 2020, which will take place at the famous Zepp Tokyo. As well as a live performance, the band will hold a talk session, as well as showcase a snippet of the upcoming film MAN WITH A MISSION THE MOVIE -TRACE the HISTORY-. The concert itself will also be screened live across Japan.

The official release date for MAN WITH A MISSION THE MOVIE -TRACE the HISTORY- has been announced as February 14, 2020. This documentary will cover MWAM's entire 10-year history as a band. It will run for two weeks until February 27 at select theatres in Japan.

2020 is looking to be the year of the wolves. Stay tuned for updates on MAN WITH A MISSION and their anniversary project. Here's 10 more years!

Information

MAN WITH A "10th" MISSION Bakutansai ~TRACE the HISTORY Kouen Chokuzen SP~

Date: February 9, 2020

Time: Doors 16:00 / Start 17:00

Venue: Zepp Tokyo (1-3-11 Aomi, Koto Ward, Tokyo)

Price: Advance ¥2,929 (Separate mandatory fee for one drink will be charged upon entry)

Details (Japanese):  https://www.mwamjapan.info/contents/285766

Live Screening

Price: Advance ¥2,900

*Full details on purchasing the tickets and what cinemas will screen the Zepp Tokyo concert will be announced on January 10, 2020 at 10:00 A.M. (JST)

Fan club pre-sale tickets for the Zepp Tokyo concert are on sale from December 19, 2019 at 22:00 (JST) until December 23, 2019 at 23:59 (JST)

Details (Japanese): https://fwam.jp/contents/285769

MAN WITH A MISSION THE MOVIE -TRACE the HISTORY-

Screening: February 14, 2020 – February 27, 2020 (limited 2-week screening)

Director: Tsuka Chenko

Production: Toho/FYD/Sony Music Labels/Tristone Holdings/WOWOW/Space Shower Network

©2020 "TRACE the HISTORY" FILM PARTNERS

Film Website: https://mwam-movie.com/

MAN WITH A MISSION Official Website: https://www.mwamjapan.info/

MAN WITH A MISSION Drop 'Dark Crow' Music Video & Announce Music Documentary

5-piece wolf rock band MAN WITH A MISSION will release their new single Dark Crow on CD on October 23. In the run up to its release, the title track has released an early digital release today, in addition to a music video which you can see below.

The band recently began embarking on their Remember Me Tour which began at Kumamoto-Jo Hall on October 13. This show was held as part of GAMADASE KUMAMOTO, a festival created by the band in collaboration with Kumamoto to help raise money for the city. It was held originally back in 2018.

At the end of every MWAM show they will showcase a video during the encore with details of a big announcement. This time it was the announcement of the band's first-ever music documentary MAN WITH A MISSION THE MOVIE -TRACE the HISTORY- which is set for release next year. Check out the teaser below.

Information

Dark Crow

Release Date: October 23, 2019

First Press Limited Edition (CD+DVD): ¥1,800 (Before Tax) [SRCL-11320~11321]

Regular Edition (CD): ¥1,200 (Before Tax) [SRCL-11322]

Anime Edition (CD+DVD): ¥1,800 (Before Tax) [SRCL11323~11324]

MAN WITH A MISSION THE MOVIE -TRACE the HISTORY-

・Starring: MAN WITH A MISSION (Tokyo Tanaka, Jean-Ken Johnny, Kamikaze Boy, DJ Santa Monica, Spear Rib)

・Director: Tsuka Chenko

・Publisher: TOHO

・Release Date: 2020

・Copyright: ©2020 "TRACE the HISTORY" FILM PARTNERS

・Film Official Website: http://mwam-movie.com/

MAN WITH A MISSION Official Homepage: https://www.mwamjapan.info/

MAN WITH A MISSION Unveil Vinland Saga Anime Opening Theme CD Covers

Wolf pack band MAN WITH A MISSION will begin their nationwide tour of Japan this week with their first show at Kumamoto-Jo Hall on October 13.

The band are set to release their new single Dark Crow on October 23. In the run up to its release, they have just dropped the cover art for each edition of the record. The First Press Limited Edition and Regular Edition feature band drummer Spear Rib holding a crow, while the Anime Edition features an original illustration of the anime series Vinland Saga.

The song is used as the opening theme for the anime series and first hit the show yesterday (October 6).

Information

"Dark Crow"

Release Date: October 23, 2019

First Press Limited Edition (CD+DVD): ¥1,800 (Before Tax) [SRCL-11320~11321]

Regular Edition (CD): ¥1,200 (Before Tax) [SRCL-11322]

Anime Edition (CD+DVD): ¥1,800 (Before Tax) [SRCL11323~11324]

MAN WITH A MISSION Official Homepage: https://www.mwamjapan.info/

Vinland Saga

Official Website: https://vinlandsaga.jp/

MAN WITH A MISSION Digitally Release '86 Missed Calls' Feat. Patrick Stump

20.September.2019 | MUSIC

Wolf pack rock band MAN WITH A MISSION now knee-deep in their first solo US tour in 5 years, which also includes their first-ever shows in Canada and Mexico.

It was revealed back in July that the band had written a new song entitled 86 Missed Calls feat. Patrick Stump as the main theme song for the Japanese film Three Nobunagas which hit theatres in Japan today (September 20). To celebrate its release, the song has just been released digitally ahead of the release of their new single Dark Crow, which is to hit shelves on October 23 and will include 86 Missed Calls.

The song features guest vocals from Patrick Stump who is known as the lead singer of American rock band Fall Out Boy whose 2018 album Mania was nominated for the category of Best Rock Album at the 61st Annual Grammy Awards.

Stump surprised the crowd at Summer Sonic Tokyo on August 17 when he joined MWAM on stage as a surprise guest on their set to perform the song live for the very first time. Since then, fans have been anticipating the song's release.

When purchased at select music stores, MWAW's new single Dark Crow will be coupled with the above-pictured "reflective stickers." When you take a picture of the stickers with the flash on, you'll see the members in completely different poses.

Information

New Single "Dark Crow"

Release Date: October 23, 2019

First Press Limited Edition (CD+DVD): ¥1,800 (Before Tax) [SRCL-11320~11321]

Regular Edition (CD): ¥1,200 (Before Tax) [SRCL-11322]

Anime Edition (CD+DVD): ¥1,800 (Before Tax) [SRCL11323~11324]

■Dark Crow Store Exclusive Bonus

When purchasing the single at Amazon.co.jp, TSUTAYA RECORDS, Tower Records, HMV, or Sony Music, you will receive one of 5 possible MWAM reflective stickers (pictured above).

▼Sony Music (DJ Santa Monica Sticker): http://www.sonymusic.co.jp/Music/Info/manwithamission/shoplist/191023/

▼Tower Records (Spear Rib Sticker): https://tower.jp/artist/1816427/MAN-WITH-A-MISSION

▼HMV (Jean-Ken Johnny Sticker): https://www.hmv.co.jp/artist_MAN-WITH-A-MISSION_000000000445698/

▼TSUTAYA (Tokyo Tanaka Sticker): http://urx2.nu/ZD7L

▼Amazon.co.jp (Kamikaze Boy Sticker):  http://urx2.nu/B1Mw

Digital Single "86 Missed Calls feat. Patrick Stump"

Released: September 20, 2019

Download/Stream: https://mwam.lnk.to/86MissedCallsWN

MAN WITH A MISSION Official Homepage: https://www.mwamjapan.info/

milet Performs Vinland Saga Anime ED Theme & Announces Collaboration With MAN WITH A MISSION

Japanese singer-songwriter and newcomer to the music industry has enjoyed huge success this year, releasing her debut EP inside you back in March and making it to No. 1 on Recochoku's ranking for Best New Act for the first half of 2019.

milet dropped her third EP entitled us on August 21, the title track of which was used as the main theme for the Japanese TV drama Gisou Furin. The song made it to No. 1 on Oricon's Daily Digital Singles.

Having already dominated the charts with three releases, milet has announced that her fourth EP entitled Drown / You & I will be released on November 6.

The song Drown will be used as the second ending for the ongoing TV anime series Vinland Saga, which milet describes as her clashing with emotions to a beat that sounds like marching on the ground with intent.

The anime's second opening theme Dark Crow will be performed by MAN WITH A MISSION, who are set to release the song as a single on October 23. milet will in fact feature as a guest vocalist on the single's coupling song Reiwa.

Speaking about the Vinland Saga series, millet commented: "When I first stepped into the world of Vinland Saga, I felt something that I had never felt before. [The character] Thorfinn is someone who rides the invisible wave between life and death, and who lives his life while learning about a part of him he never knew before. I wrote the song about the whirlpool emotions that I feel: pain, hope, strength, and love. I clashed with my emotions when I sang, along to a beat that sounds like stomping on the ground one step at a time. I am so happy to be one small part of this wonderful series. I hope people enjoy the song together with it."

Photo by Daisuke Sakai

She also commented on MWAM's song Reiwa on which she will feature, saying: "When I first heard to Reiwa, my heart shook at the vocals-which feel like they are wrapping around you gently-and the powerful and majestic music which sounds like a bright white world spreading before you. I sing about the transition from the Heiwa era to the new Reiwa era and reflect on what it means to be happy. The best thing though is that I get to be a part of MAN WITH A MISSION's music who I've always loved. I'm full of joy at that. Look forward to hearing us come together."

Information

milet 4th EP – "Drown / You & I"

Released Date: November 6, 2019

First Press Limited Edition (CD+DVD): ¥1,500 (Before Tax) [SECL-2500~2501]

Regular Edition (CD): ¥1,250 (Before Tax) [SECL-2502]

Limited Pressing Edition (CD+DVD): ¥1,500 (Before Tax) [SECL-2503~2504] *Comes with special Vinland Saga packaging

milet Official Website: http://www.milet.jp/

MAN WITH A MISSION – "Dark Crow" Single

Release Date: October 23, 2019

First Press Limited Edition (CD+DVD): ¥1,800 (Before Tax) [SRCL-11320~11321]

Regular Edition (CD): ¥1,250 (Before Tax) [SRCL-11322]

Anime Edition (CD+DVD): ¥1,800 (Before Tax) [SRCL11323~11324]

Vinland Saga

Premiere Date: July 7, 2019

Available on Amazon Prime Video in Japan and overseas.

Official Website: vinlandsaga.jp

MAN WITH A MISSION's New Song '86 Missed Calls feat. Patrick Stump' Used as Japanese Movie's Main Theme

MAN WITH A MISSION are currently embarking on their North American 'Chasing the World Tour' which began in September 2018 and includes their first ever shows in Canada and Mexico.

It has been revealed that their new song 86 Missed Calls feat. Patrick Stump will be used as the main theme for the upcoming Japanese film Three Nobunagas starring TAKAHIRO of EXILE which is set for release on September 20. The song features Patrick Stump of Fall Out Boy and marks their second collaboration with him following Dead End in Tokyo.

Three Nobunagas 60 Second Promo Trailer

The latest trailer for the film features the song itself to be sure to check it out.

©2019 "Three Nobunagas" Production Committee

Information

86 Missed Calls feat. Patrick Stump

Release Date: TBA

Features as main theme song for Japanese film Three Nobunagas.

MAN WITH A MISSION Official Website: https://www.mwamjapan.info/

Three Nobunagas

Release Date: September 20, 2019

Director/Screenwriter: Kei Watanabe

Cast: TAKAHIRO, Hayato Ichihara, Yoshinori Okada, Gôki Maeda, Eita Okuno, Nozomi Bando, Masahiro Takashima, and 相島⼀之

Distributor: HIGH BROW CINEMA

Official Website: https://3nin-nobunaga.jp/

Japanese Music Artists Performing Overseas in 2019: Part 4

More and more announcements have been rolling out about Japanese artists set to perform overseas in the latter half of 2019. Let's take a look and see if one of them is coming to a city near you in Part 4.

・Aimyon

Singer-songwriter is set to take her enthralling set to Shanghai with a headline show. The music video for her hit song Marigold, taken from her album Shunkanteki Sixth Sense which released in February, was shot on the streets of Shanghai. Currently knee-deep in her Japan tour to promote her new album, this will mark Aimyon's second time performing overseas following up from a successful show in Taiwan. Her popularity is steadily surging across the globe, be sure to check out her music available on Spotify as well as her many music videos.

Related Article: Aimyon Releases Music Video Teaser & CD Cover For New Song 'Manatsu no Yoru no Nioi ga Suru'

▶︎AIMYON 2019 LIVE in SHANGHAI

Date: July 13, 2019

Venue: 世博中心—紅庁, Shanghai 2019

Japan Enquiries: http://www.accessbright.com/aimyon/

AIMYON Official Website: http://www.aimyong.net/

・OKAMOTO'S 

Celebrating 10 years since their debut, OKAMOTO'S are currently touring Japan nationwide in promotion of their new album BOY. The four-piece rock band performed what they called their "first and last" Nippon Budokan show on June 27 but are following that straight up with two concerts in Beijing and Shanghai. OKAMOTO'S are veterans when it comes to having performed overseas. They are the younger Japanese male act to play SXSW in Texas, US when they performed back in 2010. They also embarked on a 7-city US tour and have toured Australia, Hong Kong, Taiwan, Vietnam and other countries. Don't miss out!

Related Article: OKAMOTO'S New 'Dancing Boy' Music Video Features Lots Of Guest Artists

▶︎OKAMOTO'S "BOY" CHINA TOUR 2019
2019/7/19 @ Beijing MAO Live House, Beijing
2019/7/21 @ Shanghai MAO Live House, Shangai

Tickets: https://www.showstart.com/event/list?type=1&tag=22685

OKAMOTO'S Official Website: https://www.okamotos.net

【お知らせ】

MY FIRST STORY初の中国・上海でのワンマンライブが決定🇨🇳!

MY FIRST STORY TOUR 2019 IN SHANGHAI

7/27(土) 19:30開演予定
中国・上海市静安体育センター

公演詳細は後日発表!#myfirststory#マイファス pic.twitter.com/BqEzLdAgj9

— MY FIRST STORY (@MyFirstStory_of) 2019年6月6日

・MY FIRST STORY

Since debuting in 2012, Japanese rock band MY FIRST STORY have performed at some of Japan's biggest music festivals and have also collaborated with foreign musicians. Their lyrics are fluent English which have racked them up some real attention outside Japan. This will mark their first headline show in mainland China.

▶︎MY FIRST STORY TOUR 2019 IN SHANGHAI

2019/7/27 @ Jing'an Sports Center, Shanghai

MY FIRST STORY Official Website: http://www.myfirststory.net

・Yuzu

Yuzu's popularity trickles down all generations having performed the song Muscat for the anime series Crayon Shin-chan. The duo have their eyes set on two days at Legacy MAX in Taipei on September 28 and 29. The musicians performed at the 30th Golden Melody Awards, which is nicknamed the "Taiwanese Grammy Awards," on June 29 and hail as the only Japanese artists to do so.

Related Article: Yuzu Joined By Crayon Shin-chan On Stage to Sing New Song 'Muscat'

▶︎YUZU ASIA LIVE 2019 YUZUNOMI

2019/9/28 @ Legacy MAX, Taipei

2019/9/29 @ Legacy MAX, Taipei

Tickets: https://ticket.ibon.com.tw/Web/ActivityInfo/Details/36025

YUZU Official Website: http://yuzu-official.com

・MAN WITH A MISSION

MAN WITH A MISSION recently announced their US headline tour. They joined Jimmy Eat World and Stone Sour on tour back in fall 2017, but which is their first North American solo tour in five years. Full details can be found over on their official website.

Related Article: MAN WITH A MISSION To Embark on First North American Solo Tour in 5 Years

▶︎MAN WITH A MISSION presents Chasing the Horizon World Tour 2018/2019 -North American Tour-

2019/9/6 @ Great American Music Hall, San Francisco

2019/9/8 @ The Regent Theater, Los Angeles

2019/9/10 @ Canton Hall, Dallas

2019/9/16 @ Gramercy Theatre, New York

MAN WITH A MISSION Official Website: https://www.mwamjapan.info/

・BABYMETAL

BABYMETAL will released their new album METAL GALAXY this year on October 11 and follow it up with their GALAXY WORLD TOUR where they will hit up Europe, US and Russia. BABYMETAL's unmatched force continues to be felt across the globe.

Related Article: BABYMETAL Announce New Album 'METAL GALAXY' & World Tour

▶︎BABYMETAL GALAXY WORLD TOUR

*For full dates, please check the band's official website below.

BABYMETAL Official Website: http://www.babymetal.com

《TOUR》

\💫SKY-HI × SALU TOUR決定!/

🎙Say Goodbye to the System

9/4:東京 Zepp DiverCity

9/24:大阪 なんばHatch

9/25:名古屋 名古屋ダイアモンドホール

9/29:韓国/ソウル

10/1:香港

10/4:台湾/台北

✅詳細はSKY-HI公式HPへ
【https://t.co/AOcUrXeEGL】#SKY_HI #SALU #TOUR pic.twitter.com/E5h8Svngff

— SKY-HI情報 (@skyhi_hidaka12) 2019年7月1日

・SKY-HI

SKY-HI will release his second collaborative album with SALU entitled Say Hello to My Minions 2 on September 4 which will be promoted with the "Say Goodbye to the System" Asia tour. SKY-HI has performed in Los Angeles, New York, Paris, London, Shanghai, Taiwan and Hong Kong in the past. Be sure to keep up to date with his tour schedule via his official website.

 

▶︎Say Goodbye to the System -ASIA TOUR-

2019/9/29 @ Seoul (Venue TBA)

2019/10/1 @ Hong Kong (Venue TBA)

2019/10/4 @ Taipei (Venue TBA)

SKY-HI Official Website: https://avex.jp/skyhi/

If you love Japanese music and an artist you like is heading to a city near you, be sure to show them love and support by getting your hands on a ticket!

MAN WITH A MISSION To Embark on First North American Solo Tour in 5 Years

MAN WITH A MISSION has announced that they will be embarking on a solo tour in North America.

Their last appearance in North America was in autumn 2017 when they performed at a concert which also featured Jimmy Eat World and Stone Sour. It has been five years since their last solo tour in North America, which took place in June 2014. 

More information on the cities in which they will perform will be released on a later date. Tickets will go on sale on July 2 at 3 am (Japan time). More information on tickets will be announced in the near future on MAN WITH A MISSION's official website.

Information

MAN WITH A MISSION presents Chasing the Horizon World Tour 2018/2019 -North American Tour-

Fri 6th Sept 2019: Great American Music Hall, San Francisco 

Sun 8th Sept 2019: The Regent Theater, Los Angeles

Tues 10th Sept 2019: Canton Hall, Dallas

Mon 16th Sept 2019:  Gramercy Theatre, New York

MAN WITH A MISSION Official Website: https://www.mwamjapan.info/

MAN WITH A MISSION Wolf Down London's 100 Club & Download Festival

MAN WITH A MISSION are currently in the midst of their first ever arena tour, but managed to weave in a sold-out show at London's 100 Club on Wednesday June 12.

100 Club has seen a string of rock legends perform there in the past, including The Who, Sex Pistols, and The Clash.

MWAM didn't stop there however as they also performed at Download Festival on June 14 which saw headline acts from the likes of Slipknot, Tool and Def Leppard.

The band performed on the Avalanche Stage of the festival. Their set included a performance of Out Of Control together with Zebrahead vocalist/guitarist Matty and lead vocalist Ali who appeared on stage as surprise guests.

MAN WITH A MISSION's ongoing "Chasing the Horizon" world tour to promote their 5th album began in September 2018 and has taken them across Japan, Asia and Europe. It will wrap up at BACK BEAT in Minamisoma, Fukushima on June 29.

Photography: Daisuke Sakai

Information

Remember Me

Release Date: June 5, 2019 (Digital Release: May 6, 2010)
First Press Limited Edition (CD+DVD): ¥1,800 (Before Tax)
Regular Edition (CD): ¥1,200 (Before Tax)

*Both editions come with applications for pre-sale tickets to MAN WITH A MISSION's Remember Me Tour. Application Window: June 5, 2019 at 12:00 (JST) – July 7, 2019 at 23:59 (JST)

MAN WITH A MISSION presents Chasing the Horizon World Tour 2018/2019〜JAPAN Extra Shows〜

Tour Details: https://www.mwamjapan.info/