A pair of sneakers using "gold leaf" will be released from the membership brand in Kanazawa Prefecture, "SIX ELEVEN ONE"
The POP UP STORE of the membership brand from Kanazawa "SIX ELEVEN ONE" will be opened at SIXIÈME GINZA for a limited time offer (2017,10,18 (Wed.) to 10,31 (Tue.).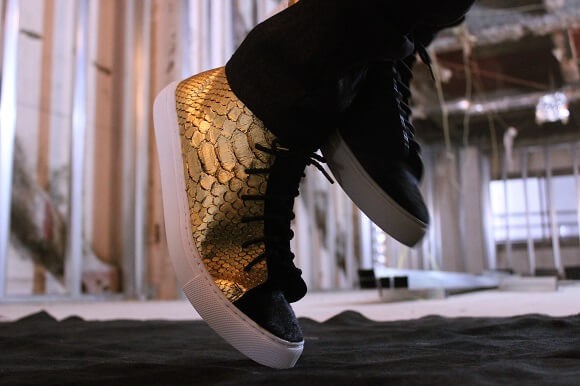 The designer of "SIX ELEVEN ONE" is Kohei Nishino who works as a stylist and architectural designer.
He designs, develops and studies materials which are not used to make clothes.
The brand has gathering much attention from fashionistas of Kanazawa and many musicians. Many people say that the brand is a "one-and-only" membership brand.
The pop up products which will be sold in Ginza include the sneakers using the "gold leaf" (the same that which is used in Kinkakuji) (1,200,000 yen) and leather products (deer leather) colored with "kyojiborizome" (dying method of Kyoto) (260,000 yen). You can buy these rare items that are not sold to people who are not the members
 of the brand.
Let's check out these cool sneakers using "gold leaf."
■Information 
SIX ELEVEN ONE POP UP STORE
Venue: SIXIÈME GINZA
Address: 6-10-1, Ginza, Chuoku, Tokyo
Date: 2017,10,18 (Wed.) to 10,31 (Tue.)
Business hours: 10:30 to 20:30
TEL: 03-6263-9866
URL:http://6111.jp/
RELATED ENTRIES
Hyatt Centric Ginza to Display Christmas Tree Made by Social Advocacy Group HERALBONY

From December 1 until December 25, guests at Hyatt Centric Ginza will be able to see the first-ever Christmas tree designed by the social advocacy group HERALBONY. The Light-Hearted ART TREE will welcome guests to the 4F library and lounge area, and the tree lighting ceremony will be streamed on Instagram live.

It's no surprise that the hotel is collaborating with HERALBONY again–from May to November of this year, the HERALBONY ART ROOM was open for guests to enjoy. This is the first time that the unit is designing a Christmas tree, and the piece is inspired by one of their most iconic pieces of art–Yukihito Okabe's Hoo! Hey! Visitors of all ages can enjoy this beautiful piece, filled with color and sure to bring joy.

Along with the tree, the showcase and lounge will also be decorated in a number of HERALBONY pieces. Come enjoy the Christmas season in this one-of-a-kind space!

Information

Hyatt Centric Ginza x HERALBONY

On Display: December 1 – December 25, 2022

Venue: 4F Library / Lounge

Official Site: http://hyattcentricginza.jp

Matsuzaki Shoten to Hold First Collaboration Between Ginza's Matsuzaki Senbei and Cat's ISSUE

Matsuzaki Shoten will hold a special collaboration event between Ginza's Matsuzaki Senbei and Cat's ISSUE starting on August 6, 2022. The Cat's Festival 2022 will be an incredible event for cat lovers, and guests will be able to grab some special hand towels and bowls produced exclusively for the festival. In addition, there will be an exhibition of works by Ayako Ishiguro, a picture book artist associated with Cat's ISSUE.

Ginza's Matsuzaki Senbei x Cat's ISSUE

This Japanese-style hand towel features illustrations of unique cats based on the concept color of Matsuzaki Shoten, the main Matsuzaki Senbei shop in Ginza.

Ginza's Matsuzaki Senbei x Cat's ISSUE

Matsuzaki Senbei's flagship product has been decorated with cat illustrations, each painted by hand. During the event, customers can choose four of their favorite pieces from a total of nine different patterns and pack them in a box wrapped with beautiful paper with a special design.  Guests can also purchase these goods separately. 

Collaboration with Ayako Ishiguro, a Picture Book Artist Specializing in Monster Art

This comical cat scroll created by Ayako Ishiguro will be on display during the exhibition. Hand towels made in collaboration with Ishiguro will also be on sale. These have previously been sold to huge fanfare.


If you love cats and classic Japanese art, this is the event for you!

Information

MATSUZAKI Cat's ISSUE – Cat Festival 2022
Running: August 6 – August 21, 2022
Venue: Matsuzaki Shoten (4-13-8 Ginza, Chuo-ku, Tokyo)
Details: https://cats-issue.com/

Teppanyaki and Yakiniku Restaurant Honten Yamashina Opens in Ginza

On July 18, the upscale teppanyaki and yakiniku restaurant Honten Yamashina opened a new location in Ginza! The hybrid restaurant has taken over the entire top floor of GINZA PLACE, which is directly connected to Ginza Station. Overlooking the Ginza 4-chome intersection, it's a gorgeous place to enjoy some authentic Japanese cuisine. 

Honten Yamashina mainly uses fully-matured Omi beef, the highest grade available among Shiga Prefecture's top-tier beef, from Okazaki Farm. The cows are allowed to fatten for a considerable amount of time and live stress-free lives for over 40 months. Less than 1% of all Wagyu cattle are shipped after 24 months of age, and this delectable meat is characterized by its sharp taste and fattiness. 

Luxurious Wagyu and Sea Urchin Sushi

Early Summer Plate to Enjoy with Seasonal Flowers

Selected Extra-thick Beef Tongue Steak Made with Refined Attention to Detail

Grilled Spiny Lobster Made on a Charcoal Grill

The Playful Yamashina Wagyu Slider

Melt-in-your-mouth Sweet Amala Tomato (Vegetable of the Day)

Hand-selected Omi Beef Steak

Truffle Omurice

Japanese-style Teppanyaki

Guests can enjoy authentic Japanese teppanyaki cuisine with a modern twist. While sitting at the contour, visitors will enjoy a live performance by Taku Osada, a teppanyaki chef with over 20 years of experience.  

The wide variety of meat can be enjoyed in a number of different ways, whether it be raw, grilled, stewed, or properly cooked. From tongue and rump to filet and sirloin, you won't leave hungry. Visitors can also enjoy seafood and seasonal Japanese vegetables along with their meat, and the flowers and leaves that adorn each plate will change depending on the time of year.

In addition to rare teppanyaki dishes like skirt steak and 3cm-thick beef tongue, Honten Yamashina also offers some playful dishes such as sliders. As the temperature differs on different parts of the steel cooking plate, each item can be cooked to a temperature that maximizes its specific flavor. Honten Yamashina also has a massive cellar housin over 1,000 bottles of wine and hard-to-find spirits. 

Japanese-style Yakiniku

For those looking for a more private experience, guests can enjoy yakiniku in a completely separate room. Each private room has a grill that will cook meat to the perfect temperature, and only at Honten Yamashina can you enjoy fully-matured Omi beef. The signature cutlet sandwich is made with chateaubriand cooked at a low temperature and deep-fried in a thin batter, then served on crispy bread with a soft, fluffy interior.

Teppanyaki and yakiniku are typically thought of as meat-based dishes, but the restaurant can accommodate vegetarian guests if contacted in advance. 

When Japan opens up to tourism, will you be visiting this incredible restaurant in the heart of Tokyo?

That Time I Got Reincarnated as a Slime Exhibition 2 in Tokyo to Show Footage from Upcoming Film

The second exhibition for the popular manga, novel, and anime series That Time I Got Reincarnated as a Slime will open at Matsuya Ginza on July 21. With over 30 million copies in print, the series has become massively popular both in Japan and abroad, and an anime film is scheduled to release this November. 

The exhibition will be open until August 9, 2022, and is then scheduled to begin a regional tour.

Certain scenes from the highly-anticipated upcoming film will be shown exclusively at the exhibition. Those who are having trouble waiting until November won't want to miss this rare chance!

During the previous exhibition, guests were able to enter a lottery to win a signboard autographed by Miho Okasaki, the voice of Rimuru. Due to the large number of entries, prizes for the second lottery are even more incredible!

The following autographs, which were previously displayed during the last exhibition, will be given away to some lucky fans. More details are available on the official Twitter page!

Signboard autographed by That Time I Reincarnated as a Slime author Fuse / Signboard autographed by Tenchura! That Time I Reincarnated as a Slime author Fuse / Signboard autographed by That Time I Got Reincarnated as a Slime: Trinity in Tempest artist Tae Tono / Signboard autographed by That Time I Got Reincarnated as a Slime: The Ways of the Monster Nation author Sho Okagiri / Signboard autographed by That Time I Got Reincarnated (Again!) as a Workaholic Slime illustrator Shizuku Akechi / Signboard autographed by The Slime Diaries: That Time I Got Reincarnated as a Slime artist Shiba

*Prizes are awarded at random. 

Information

That Time I Got Reincarnated as a Slime Exhibition 2
Running: July 21 – August 9, 2022
Venue: Matsuya Ginza 8F Event Square
Official Site: https://sp.ten-sura.com/tensuraten2/


SPYxFAMILY Pop-Up Store Opens at Matsuya Ginza

The SPYxFAMILY pop-up shop, first held inside Tokyo Station's Character Street in April, will be coming to Matsuya Ginza from June 29 until July 12, 2022. 

Limited edition merchandise will be making a return, each featuring exclusive illustrations that saw huge popularity at the Tokyo Station event. Guests will also be able to purchase eight new items!

The lineup includes a rubber coin case (3 varieties, random), a clear multi-use pouch (3 varieties, random), an acrylic keychain featuring Anya, a Peanuts T-shirt with a new Anya illustration, and a mug. Each item is accented with Anya's pink hair, adding to the cute factor.


Bonus Sticker

Bonus Cooling Towel

Goods

Customers spending ¥3,300 or more at the pop-up shop will receive a bonus sticker. Those spending ¥5,500 can choose between a mug or a cooling towel!

©遠藤達哉/集英社・SPY×FAMILY製作委員会  

Ginza Tsutaya Books to Hold 'What is Kawaii' Exhibition Featuring Art by Three Female Artists

From April 2 until April 22, Ginza Tsutaya Books will be holding a 5th-anniversary exhibition featuring art by three young female artists! These creators specialize in drawing girls, and the event will ask one question: what is 'Kawaii?' The artists featured are Amane Ishii, Azusa Nozawa, and Yumi Nagata. 

These three artists have captured the spotlight with their unique styles. Ishii prefers oil painting, Nozawa has a style perfect for manga, and Nagata specializes in more Japanese-style paintings. Those who planned the exhibition noted that the reason these three artists have become so popular stems from how they depict cuteness–they don't try to conform to society's idea of 'cute,' but rather depict what they themselves consider to be cute.

Many motifs in Ishii's works are based on the artist's personal experiences, many stemming from childhood. Her unique characters are sure to grab your attention, and although her pieces are two-dimensional, the linework almost makes them seem 3D. 

For Nozawa, 'cute' is the most important element found in her works. She often uses pastels, and something about the way she draws her characters is nostalgic, harkening back to purikura filters and manga characters of the early 2000s. Her unique worldview and nostalgic characters amount to truly one-of-a-kind pieces.

The girls appearing in Nagata's pieces are projections of herself. She draws the clothes she would like to wear and the poses she'd love to strike! Pursuing her idea of 'cuteness' with traditional Japanese techniques and paints, she often includes polka dots in her works, which are a feminine symbol. 

The exhibition will feature two of Ishii's oil paintings and 13 drawings, the first time such a large number of drawings have been shown all at once. In addition, three of Nozawa's new portrait series will be on display, along with nine of Nagata's works. 

'Kawaii' is one of the most prominent keywords found in contemporary Japanese culture. What does it mean to you?

Sony Park Mini, an Experimental Pop-up Space, Opens in Ginza, Tokyo

Sony Park Mini, a tiny experimental art space in Ginza, is going to hold fans over until Ginza Sony Park opens in 2024. 

Sony Park Mini is located in a small 3.5 square meter space on B1F of the Nishiginza parking lot adjacent to Ginza Sony Park, which is currently under construction. The concept of the space is to "hold events that highlight local artists."

More than 30 experimental programs will be held throughout the year highlighting unique creators and artists from all backgrounds including music, film, art, food, fashion, and shopping. Depending on which programs are popular, the project may extend to other cities. 

The first event, 'Ayatake Exaki presents None Session,' will run from March 23 until April 5, 2022, and will feature the musician and his piano.

Program Schedule
1: March 23 – April 5, 2022 / Ayatake Ezaki (Musical Artist)
2: April 6 – April 19, 2022 / Takuro Tamayama (Contemporary Artist)
3: April 20 – May 2, 2022 / Chiaki Kadota (Painter)
4: May 3 – May 16, 2022 / Neo Sora (Film Director), Aiko Masubuchi (Film Curator)
*The period of these events is subject to change. Any changes will be announced on Sony Park Mini social media accounts.

The Nishiginza Parking Lot Coffee shop, located inside Sony Park Mini, will offer a lineup of drinks made from carefully selected coffee beans. Vegan donuts and cookies made with natural ingredients will also be available.

Information

Sony Park Mini

Address: Nichiginza Parking Lot B1F (5-3-1 Ginza, Chuo-ku, Tokyo)

Hours: 11:00-19:00 / Nishiginza Parking Lot Coffee 8:00-18:00

Official Site: https://www.sonypark.com/mini 

New Food-Themed Sylvanian Families Exhibition Opens at Matsuya Ginza

The adorable Sylvanian Families characters are the subject of a new food-inspired exhibition at Matsuya Ginza in Tokyo! Until March 21, guests can enjoy tons of new merchandise for sale at the event space.

Key Visual

Sylvanian Families is a line of collectible animals made of flocked plastic, originally released in Japan in 1985. Made to place inside dollhouses, these little creatures have remained popular in over 70 countries since release. Over 200 million units have been sold over the years.

Key Illustration

 

The theme of this event is 'delicious time,' and guests can find adorable sets featuring popular characters cooking meals, preparing desserts, and baking cakes. 

"A Delicious, Happy Life" Photo: Keigo Morii

Ash Mimi "The Fairy's Mysterious Sweets Shop" 

"Delicious Times with Friends in the Forest" Japan Dollhouse Association

In addition to panels and photos of unique combinations featured on social media, the exhibition features the first public showing of works by members of the Japan Dollhouse Association. A large photo spot also makes guests feel as though they've entered the world of Sylvanian Families!

[Only for Sale at the Venue] Baby Trio (Bakery) *Price to be Decided

A special store on-site will sell original merchandise, including dolls and illustrations. A limited number of special goods vouchers are also on sale for a short time, and guests exchanging one will receive an original hand towel!

Information

Tasty Times with Sylvanian Families
Running: March 7 – March 21, 2022
Location: Matsuya Ginza 8F Event Square
Hours: 10:00-20:00 
*Closes at 17:00 on March 21, last admission 30 minutes before closing.
Admission: Free

Matsuya Ginza Website: https://www.matsuya.com/ginza/

Special Merchandise Coupon
Cost: ¥500 

Available Now

How to Purchase: Available at Lawson Ticket (Code: 36777) / Loppi at Lawson & Ministop
Reservations: https://l-tike.com/event/sylvanianfamilies-matsuya/

Vintage Furniture Exhibition 'Life in Art: Tokyo Modernism 2022' to Open at Three Venues Including MUJI HOTEL GINZA

Ryohin Keikaku, which operates the interior design brand IDÉE, will open the 'Life in Art: Tokyo Modernism 2022' exhibition from February 25 until April 10, 2022. Vintage stores and galleries from all over Japan that deal mainly with furniture from the 1940s to 1960s will come together to introduce audiences to exquisite designs from around the world. Shinichiro Nakahara and Takahiro Goko have organized the exhibition in an effort to spread the word about modern design in the golden age. The exhibition will be held in three parts, beginning with a showing at ATELIER MUJI GINZA and continuing to an auction at IDÉE Tokyo. The final exhibition will be held at MUJI HOTEL GINZA.

Modernism Gallery

This exhibition is composed of items from a number of unique galleries and stores. Intended to promote the beauty of mid-century vintage furniture and interior design, each piece will be introduced alongside stories from the original designers. 

Modernism Auction #Chairs

Store owners, creators, and artists participating in TOKYO MODERNISM 2022 will be auctioning off a selection of unique chairs during this unique event.

Modernism Show

About 30 galleries and vintage shops from around Japan will transform the guest rooms on the 7th and 8th floors of MUJI HOTEL GINZA into stores for this special show. This is the main event and will gather together masterpieces of modern design from the United States, Brazil, Scandinavia, and Japan.

Information

Life in Art "TOKYO MODERNISM 2022"


Modernism Gallery

Running: February 25 – April 10, 2022

Address: ATELIER MUJI GINZA (Muji Ginza 6F / 3-5-3 Ginza, Chuo-ku, Tokyo)

Free Admission

 

Modernism Auction #Chairs

Part 1: February 25 – March 16, 2022

Part 2: March 18 – April 10, 2022

Address: IDÉE TOKYO (Square Zero Area #48, B1F, Gransta Tokyo inside the ticket gates of JR Tokyo Station)

Free Admission: 

 

Modernism Show

Running: April 7 – April 10, 2022

Address: MUJI HOTEL GINZA 7F/8F Guest Rooms (3-3-5 Ginza, Chuo-ku, Tokyo)

Admission:
April 7, 17:00-20:00 / ¥5,000 (Tax Included) *Preview
April 8-9, 11:00-20:00 / ¥3,000 (Tax Included)
April 10, 11:00-17:00 / ¥2,000 (Tax Included)

Tickets: https://idee-lifeinart.peatix.com/

Official Site: https://www.idee-lifeinart.com/


Ginza Tsutaya to Opens Spring Ceramics Fair

Ginza Tsutaya, located on the 6th floor of the GINZA SIX department store, is now holding a Spring Ceramic Fair until March 7, 2022.

Many popular ceramic artists are coming together for the event. This year's lineup includes dishes and mugs with botanical patterns and animal motifs in spring-like colors to add color to tables and living spaces. A large number of works, from vases to tableware and even ceramic brooches, will be on display, including works by Wato Maekawa and Oda Pottery. 

Participating Ceramic Artists

Ritsuko Imai

After studying pottery in England, Imai currently lives and works in Mashiko, Tochigi Prefecture. This year's exhibition will show off her dyed works, including Zougan works, a technique in which different materials are inlaid into one material. Enjoy her small plates and teapots with soft colors.

Miki Furuhata

Miki Furuhata is a pottery artist in Nagano. Using gentle colors and unique self-made glaze, her colorful pieces are a lovely addition to one's daily life.

Hanako Sakashita

Hanako Sakashita uses a 'kneading' technique, in which colorful clays are kneaded together to create patterns, marbles, stripes, checks, and countless other patterns. Enjoy the many textures, shades, and patterns found in her works!

Wato Maekawa

A ceramic artist living in Toyama Prefecture, Wato Maegawa creates works inspired by the four seasons. Her flower-shaped plates are reminiscent of Japanese sweets.


Toutousya

Using candle wax to make prototypes, these ceramic brooches and boxes are made with a technique adapted from candle making. These hand-painted pieces are very popular, and those on sale in this year's exhibition are covered with flowers, birds, and animals in spring colors.

Oda Pottery

Oda Pottery was founded in 1921 in Mizunami City, Gifu Prefecture. Their lineup features vases that are easy to incorporate into any interior. 

Wako Tea Salon in Ginza Offering Seasonal Strawberry Parfait

Those familiar with the Ginza district of Tokyo will recognize the iconic Wako clock tower. The department store sells everything from watches to chocolates, and on the second floor of the Wako Annex, guests will find the Tea Salon. The bright and relaxing place invites adult shoppers to enjoy seasonal sweets, with its popular Strawberry Parfait constantly reinvented depending on the time of year.


This season's strawberry parfait includes pistachios and local fruit. For a limited time, guests can also enjoy the Lychee and Raspberry Parfait until the end of February. A Fruit Parfait is available in March and April, and the Chocolate Parfait is available year-round.

At the Wako Annex Tea Salon, visitors can also enjoy light meals alongside tea and coffee specially blended for Wako by Yoshiaki Kawashima, known as the 'coffee hunter.'

Strawberry Parfait

Lychee and Raspberry Parfait

Fruits Parfait

Chocolate Parfait


ティーサロンのメニューの中でも人気の高い、季節限定のパフェを堪能してみては?

Information

Wako Annex 2F Tea Salon

Address: 4-chome 4-8 Ginza, Chuo-ku, Tokyo
Open Year-Round (Except New Year holidays)
Hours: 10:30 – Last order at 19:00 (Last order at 18:30 on Sundays and holidays)
Access: Immediately in front of Ginza Station Exit B1 on Tokyo Metro
*Young children are not permitted in the restaurant.
Online Store: https://shop.wako.co.jp/
Official Site: https://www.wako.co.jp/


Naoki Nomura Exhibition "The Story of the Earth" to Open at Tsutaya Ginza

From January 15 until February 4, 2022, an exhibition of Naoki Nomura's works will be on display at the Tsutaya location in Ginza, Tokyo. The art show will feature ten ceramic works created between 2015 and 2021, tracing Nomura's history and growth as an artist. 

Rain. 2020

Strawberry Girl. 2020

Naoki Nomura was familiar with clay before he became an artist. Fascinated by the firing of clay and the beautiful colors of finished ceramics, Nomura's works are inspired by daily life. Fans of the artist's work have fallen in love with his strangely adorable 'creatures,' each featuring a strange appearance. Some are wearing seasonal fruits, others have distinctive hairstyles, and all of them have ambiguous and unreadable expressions. 

Visitors are invited to imagine their own stories as they wander the exhibition.

Comment from the Artist

There are so many little discoveries to be made in our daily lives.

Through our encounters with various objects and people, through our casual conversations, our imagination expands and we invent our own stories. 

The characters from my own stories take up residence in my mind and using my hands, I have brought them into the real world.


Naoki Nomura