Special nihonsyu (sake) can be enjoyed ! Five nihonshu restaurants/bars in Tokyo.
Nowadays, nihonsyu is gathering much attention from people all around the world and many women are into nihonshu. Here, I will introduce to you five restaurants where you can enjoy tasty nihonsyu!
Meishyu Center (Ochanomizu)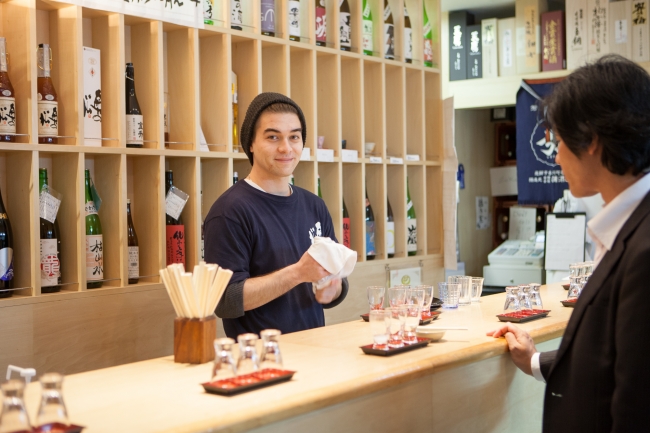 A theme park for nihonsyu-lovers. Here they introduce the culture of nihonsyu from various approaches such as marriage with the foods and methods of drinking nihonsyus. Staff from foreign countries are working in this theme park so you can ask about nihonsyu in English. The theme park has more than 120 kinds of nihonsyus from 41 makers all around Japan.
Detailed information: "Meishu Center" to open in Ochanomizu for lovers of Japanese sake – over 120 varieties to choose from!
■Information
Meisyu Center Ochanomizu Store
Address: 1F, Lions Plaza Ochanomizu, 1-2-12, Yushima, bunkyoku, Tokyo
Business hours: Tuesday to Saturday / 11:00~22:00(21:30 LO) Sunday 11:00〜19:00(18:30 LO)
Meat Cuisine Soregashi (Gotanda)
A restaurant where you can enjoy pure rice sakes. The branch store offers chicken cuisines, but this branch offers beef cuisine mainly and the lineup of nihonsyu was strengthened. You can enjoy finding your favorite combination such as a combination of rich flavored nihonsyu and red meat or dry flavored nihonsyu and sukiyaki. You will be surely be amused by the combination of their meat cuisines and nihonsyus.
Detailed information:【Tokyo Dinner】The great combination of meat and Japanese sake! Gotanda "Nikuryouri Soregashi"
■Information
Niku Ryori Soregashi
Address: Residence 202, in front of Shuwa Gotanda Station, 1-4-8, Nishigotanda, Shinagawaku, Tokyo
Business hours: Monday to Thursday, Saturday / 17:00 to 25:00 (L.O. 24:00)
Friday: 17:00~26:00(L.O. 25:00)
Sunday: 17:00~24:00(L.O. 23:00)
Holiday: no holidays
TEL:03-6420-3092
&LOUNGE (Kohtoku)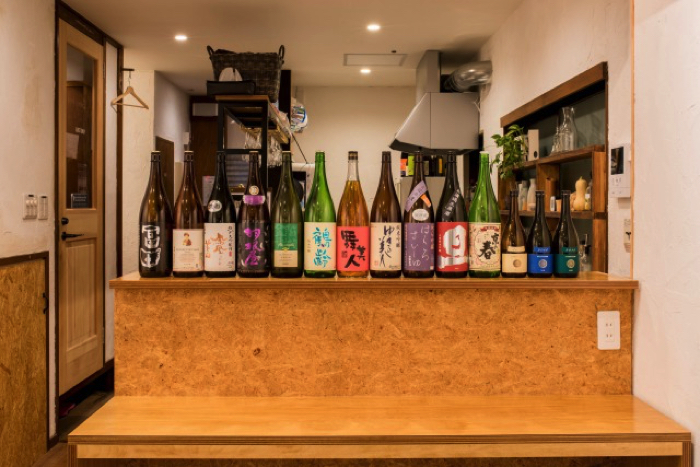 This is a new type of "two-facilities-in-one" establishment. During the daytime this facility is a Japanese tea café and then at night it turns iinto a nihonsyu bar. It is located beside the 1st floor accommodation FromScratch TOKYO. Specialists of nihonsyu will help you find a favorite nihonsyu, so those of you who are not familiar with nihonsyu should visit this bar. The bar offers more than 20 kinds of nihonshu, nihonshu cocktails and local wines.
Detailed information:Japanese tea café during the daytime and Japanese sakebar during the nighttime! A new store will be opened inside the lodging facility FromScratch TOKYO.
■Information
&LOUNGE
Address: 〒135-0011, 2-4-4, Ogibashi, Kotoku, Tokyo
Business hours: CHAKAS CAFE 9:00~17:00(lunch time – 11:00~14:00)
&LOUNGE  18:00~23:00(Sunday only – 17:00~22:00)
Holiday: Tuesdays
Access: 7 minutes on foot from Sumiyoshi Station
TEL:03-6666-3534
URL: https://www.facebook.com/events/1599295463448580/?ti=icl
Kagurazaka Sushi Rin (Kagurazaka)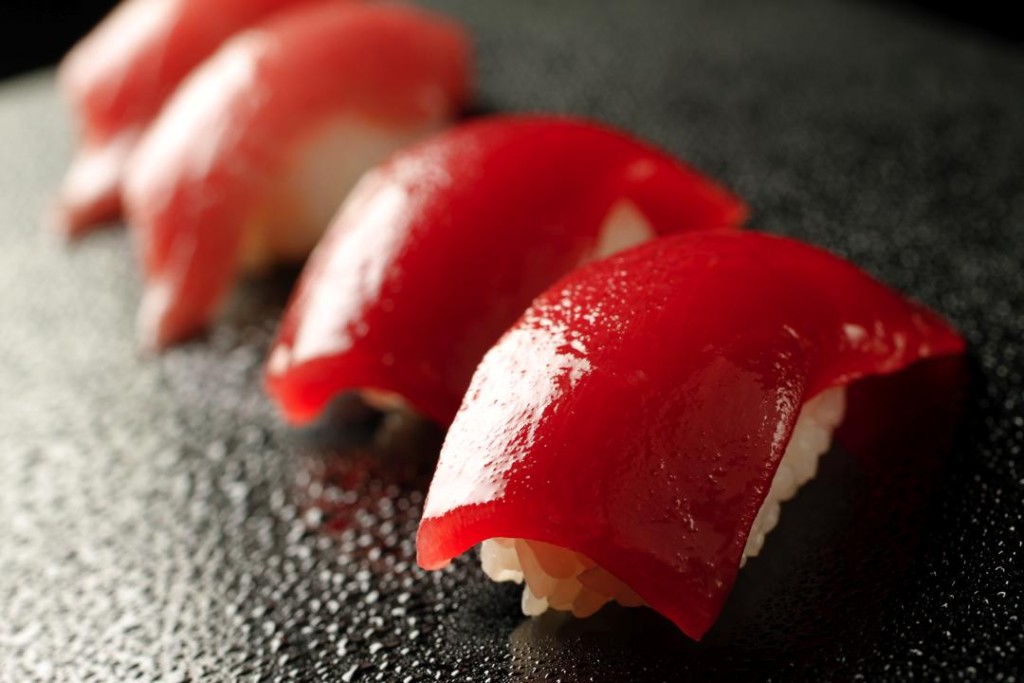 A restaurant which offers superb combinations of full-fledged edo style sushis and nihonsyu/wine/champagne. The L-shaped counter made with beautiful 6m long solid timber (Japanese cypress) which is hard to obtain has a huge impact and you can enjoy eating and drinking in a private room.
Detailed information:Indulge in the harmonious flavour of sushi with the award-winning asatsuyu white wine at Kagurazaka Sushi Rin!
■Information
Kagurazaka Sushi Rin
Address: 2F Kagurazaka 3rd Street terrace, 3-6, Kagurazaka, Shinjukuku, Tokyo
Business hours: lunch (only on Wed. and Sat.) 11:30 to 14:00 (L.O. 13:30)
Dinner 17:30 to 22:30 (L.O. 22:00)
Holidays: Sunday, Monday (holiday only)
TEL: 03-5228-4200
URL:http://kenzoestate.jp/restaurant/jap/restaurant-2558.html
Tokyobike Rentals Yanaka(Yanaka)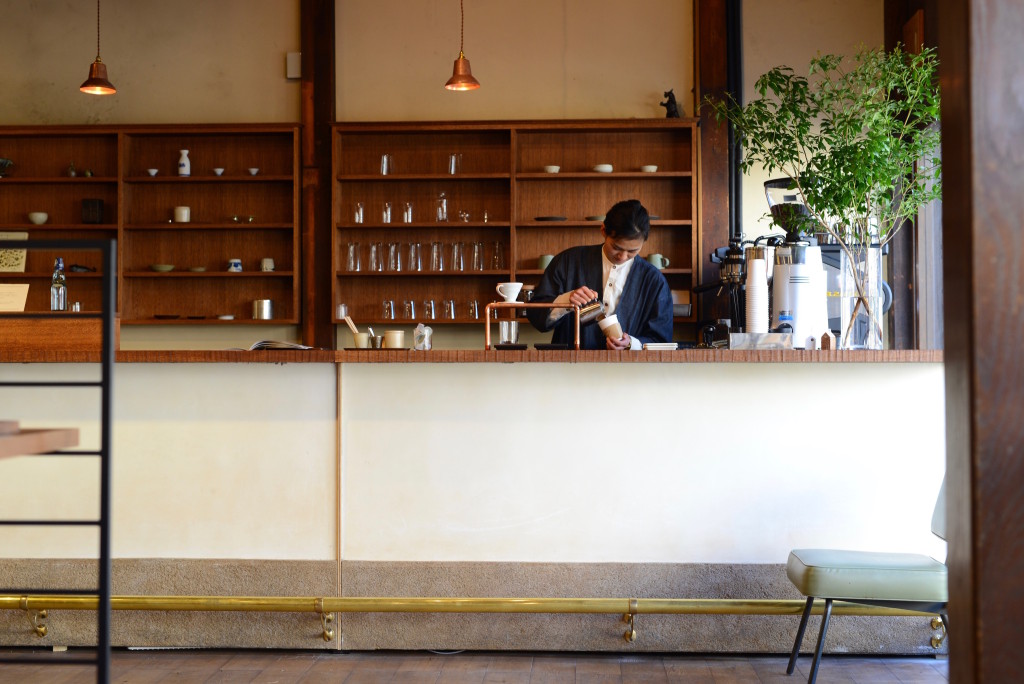 A new type of concept shop which lends rental bikes. The shop used to be the sake shop "Ise Gohonte" which lasted 300 years and they have a bar space offering nihonsyu. It is recommended to have a quiet time at the bar after enjoying cycling on holidays.
Detailed information:Let's pedaling around Tokyo and find a new world! "Tokyobike Rentals Yanaka" will open on April 27th at Tokyo・Yanaka
■Information
Tokyobike Rentals Yanaka
Address: 〒110-0001, 4-2-39, Taninaka, Taitoku, Tokyo
Business hours: 10:00 to 19:30
Holidays: Wednesday ※The shop is opened on holidays
TEL:03-5809-0980
How did you like our introduction to sake bars and restaurants? Nihonsyu is known as a drink which has positive effects on your skin and health. Why don't you find your favorite nihonsyu at the bars and restaurants noted above?
RELATED ENTRIES
AKOMEYA TOKYO in la kagū: Shopping Centre Celebrates 1st Anniversary With New Products

It's been one year since AKOMEYA TOKYO in la kagū opened in Tokyo in March 2019, and to celebrate, the shopping centre is releasing lots of new products for guests to enjoy starting on April 8, 2020.

AKOMEYA TOKYO in la kagū, the flagship store of AKOMEYA TOKYO, is celebrating its 1st anniversary with a new bigger and better product line-up. At the end of 2019, the new AKOMEYA Shokudo restaurant opened, and AKOMEYA TOKYO in la kagū began selling fresh vegetables and introduced AKOMEYA TOKYO's first line of Western-style clothing.

Floor 1F

AKOMEYA TOKYO in la kagū has upped its variation of food products, including a rice, vegetables, nuts, condiments, and more.

AKOMEYA Shokudo Kagurazaka to Open On April 1st

Seasonal Kobachizen – ¥2,200 (Before Tax)

Sweet and Sour Chicken & Vegetable Gozen – ¥1,500 (Before Tax)

The "Seasonal Kobachizen" is served with fresh white rice and a wide range of deliciously-made ingredients and condiments. There is also a line-up of classic Japanese food too available casually as self-service.

Desserts – From ¥700 (Before Tax)

Enjoy teatime too with AKOMEYA Shokudo Kagurazaka's dessert line-up. It will be a great place to pop into if you're strolling around Kagurazaka or doing some shopping.

*AKOMEYA Chubo will be open until March 29. It will close on March 30 and 31 for refurbishment before reopening on April 1 as AKOMEYA Shokudo.


More Details: https://www.akomeya.jp/shop/pg/1lakagukouji

Fragrant Smoked Food Products

Over 20 new smoked food products will be introduced made using special cooking methods. The cashew nuts, pistachios, spices, and coffee beans are smoked without any heat going into them before being smoked again inside a drum-shaped mixer to ensure every grain is coated. The soy sauces, oils, and dressings also have very tiny smoke bubbles in the liquid. Everything in the line-up is rich in smoky flavour

The Hive and Barrow's Vegetables

The Hive and Barrow is a husband and wife company which moved from the United Kingdom to Chiba Prefecture in 2010. With no agricultural experience, they were able to clear land at a mountain and begin producing a wide variety of organic vegetables outdoors in nature. The eye-catching colours of their produce, as well as its rich smell, is proof of their love and dedication to grow incredible vegetables. They sell fresh veg everyday, as well as exquisite hummous, soup bases, pickles and more, all using their fresh produce.

Floor 2F

The second floor houses Japanese lifestyle products, with a fun line-up that encourages the enjoyment of picking something out.

Western-Style Clothing to Dress Up Your Day

The clothing line-up offered on the second floor of AKOMEYA TOKYO in la kagū is not tied down by trends. It's a collection for when you want to look chic and polished offered by made-in-Japan brands that are dedicated when it comes to quality. The items are inspired to make you feel happy when you put them onーso find your favourite style.

Stocked Brands:
Alwel / ANSPINNEN / Catworth / dahl'ia / fruits of life / JOHN SMEDLEY / les Briqu'a braque / MANTERO / MATRIOCHIKA / NAPRON / R&D.M.Co- / Yarmo

Japanese Accessories

Enjoy a collection of brand accessories that boast tradition and craftsmanship from all across Japan. Each and every item is handmade with love and care by artisans, and without stereotypical designs in mind, so you can adorn yourself with originality.

Stocked Brands:

HARIO Lampwork Factory / NAGAE+ / TRIPLE O

As part of the anniversary celebration, those who spend over ¥3,000 (tax included) at AKOMEYA TOKYO in la kagū from April 8 will receive a limited-edition tea towel. These are limited in stock and won't be available once all are given out.

Shiseido Parlour to Open New Restaurant at WITH HARAJUKU in Tokyo

Shiseido Parlour, a pioneer of Japanese-style Western cuisine, has announced that it is opening its new restaurant and lounge Shiseido Parlour The Harajuku on the 8th floor of WITH HARAJUKU, a shopping centre located in front of Harajuku Station in Tokyo, on April 25, 2020.

Goshu no Sosai With Seasonal Ingredients

Main Dish

Shiseido Parlour The Harajuku breathes new life into the Japanese-style Western cuisine that has been cultivated in Ginza for 100 years, serving up a new prix fixe-style fixed price menu that elevates the taste, smell, and appearance of the seasonal ingredients used, from a Japanese way of thinking. This food can be enjoyed with a glass of one of the main wines selected by the restaurant's sommeliers, high-quality tea, and more.

Meals are enjoyed even more by the view offered at the restaurant, where you can see shrine groves of Meiji Jingu Shrine.

Main Dining

Forest Dinner (Chef's Recommendation) – ¥12,000 (Tax Included)

The design concept for the restaurant interior is forests. The restaurant promises a relaxing atmosphere like that of being wrapped amongst the mighty trees of the woods, the cool air blowing, and the rays of the sun spilling through the trees.

The interior design was created by Kazuya Ura, a Japanese architect who was involved with the building plan for the Kyoto State Guest House. The restaurant lounge features glass art on the wall which captures the image of sunlight filtering through the trees. This was created by Japanese glass designer Ikko Itabashi.

Lounge

The chic red lounge offers a view of the garden terrace and faces the direction of Akasaka. Tuck into appetisers and desserts and enjoy sipping on a drink. This is a great place to sit after your meal or for meeting up with someone.

If you're visiting Harajuku during your trip to Japan, why not pop into the new Shiseido Parlour The Harajuku?

Information

Shiseido Parlour The Harajuku

Address: WITH HARAJUKU (Floor 8F), 1-14-30 Jingumae, Shibuya, Tokyo
Opening Hours: 

Dining/Lunch: 11:30-15:30 (Last Orders 14:00)
Dinner: 18:00-22:00 (Last Orders 20:30)
Lounge: 11:30-22:30 (Last Orders 21:30)

Closed: Mondays (Except on public holidays), and closed April 27, 2020
Official Website: https://parlour.shiseido.co.jp/en/index.html

BALCÓN TOKYO: Roppongi's Sophisticated New Bar and Restaurant Offers Luxurious Food & Drinks

BALCÓN TOKYO is the newest luxury bar and restaurant to hit Tokyo's Roppongi district. Set to open on the 14th floor of Mitsui Garden Hotel Roppongi Tokyo Premier on January 24, BALCÓN TOKYO offers opulent lounge and balcony spaces for fine wine and dining.

Located away from the hustle and bustle of busy Roppongi, the establishment offers a breathtaking view of Tokyo's city nightscape in both the eastern and western directions.

When customers pass through the beautiful bar and lounge they are met with the spacious museum-like balcony area where they can enjoy a dining experience wrapped in soft warm lights. For those looking for a more private meal, they can reserve one of the individual private rooms, each of which has its own distinct touch and flavour. Whether you're looking for a quiet drink or dinner, or even midnight teatime, BALCÓN TOKYO caters to customers' needs.

The interior design is the brainchild of none other than Yasumichi Morita of GLAMOROUS co.,ltd., and company that specialises not only on interior and exterior building and establishment designs, but graphic visuals, products, and more.

​Taking the spotlight at dinnertime is the restaurant's incredible and mouthwatering roast beef which is aged at ice temperature and cooked carefully with time and care. The gravy sauce drizzled over the meat takes three days to make and only adds to the delicious offering of the beef.

The restaurant also offers plenty of seasonal foods and ingredients that go perfect with a glass of champagne. Whether you're celebrating something special or just out for a casual meal, the restaurant caters to all.

For breakfast, a half-buffet of western-style food is prepared where you can pick one main. And so that foreign guests can get a taste of the quality of Japanese food, all ingredients used at the restaurant are domestic to Japan. The restaurant also uses organic vegetables shipped directly from growers and producers.

To celebrate the grand opening of BALCÓN TOKYO, customers who reserve a table online or via telephone between January 24 and February 29 this year will receive a 30% discount on meal courses.

Information

BALCÓN TOKYO
Address: Mitsui Garden Hotel Roppongi Tokyo Premier (Floor 14F), 3-15-17 Roppongi, Minato War, Tokyo
Opening Hours:
・Morning 6:30-10:30 (Last Orders 10:00) *Please note that there may be waiting times due to priority going to hotel guests
・Dinner 17:00-02:00 (Food Last Orders 01:00 / Drinks Last Orders 01:30)

Enquiries: 03-6441-3231
Official Website:  http://balcon-tokyo.jp/

Reservation Page: https://www.tablecheck.com/shops/balcon-tokyo/reserve

Relaxing Café by Day, Neon-Lit Bar by Night: Enjoy a Drink at Jinbōchō CAMPUS in Tokyo

Hello everyone, this is MOSHI MOSHI friend Banako.

Today I'll be introducing you to an interesting place in Jinbōchō, Tokyo that is a café by day and a café & bar at night.

From 9:00 to 17:00 it's known as COFFEE CAMPUS  and from 18:15 to 22:00 it runs as CAMPUS TOY cafe&bar. It first opened its doors approximately 48 years ago, solely operating as a café. Its current owner is an avid American toy and pop culture-lover who started running the café & bar seven years ago.

To get here, it's just a five-minute walk from exit A2 of Jinbōchō Station. The café is located in a quiet place just one turn off Odori Street.

Check out the menu:

The toast here is really good, so I ordered the Egg on Toast. (¥500)

To my surprise, an exceptionally large and thick slice of toast arrived at my table. The egg was evenly cooked and spread on top. I curiously sunk my knife into the toast to reveal the inside.

The egg dripped beautifully like melted cheese. It tasted wonderful with the freshly toasted slice of bread and was very filling. I was in a good mood after my very first bite.

Once the clock strikes 18:15, the café completely transforms into CAMPUS TOY cafe&bar which has a completely different atmosphere. 

One step into the newly-transformed café & bar and…

The calm undertones of the café were replaced with a cute pop-themed atmosphere illuminated by colourful neon lights. Rather than preparing a drinks menu, owner matz takes orders directly from customers, creating drinks catered to each individual customer based on what flavours and colours they like. 

Waiting to see what kind of drink is going to be brought to you is very exciting. Ordering drinks with friends and taking photos of the outcome is the best way to enjoy your time here. 

There are also lots of good spots to take photos for your Instagram so don't hold back! From time to time, there is a small market here where the owner sells small fantasy-themed items.

 Make sure to check out CAMPUSTOY cafe&bar on Instagram for their latest updates and information on opening hours. Whether you want to enjoy a pop-themed American atmosphere or are simply looking for a relaxing spot to chat, this café is for you. Matz the owner is very friendly and is full of interesting stories that you just got to hear.

Information

COFFEE CAMPUS /CAMPUS TOY cafe&bar

Address: Jinbōchō Mansion Floor 1, 2-10, Jinbōchō, Kanda Ward, Chiyoda, Tokyo

Opening Hours

COFFEE CAMPUS: 9:00 ー 17:00

CAMPUSTOY cafe&bar: 18:15 ー 22:00

* Please be careful to not mix up the opening hours of the café and café and bar.

Closed: Saturdays, Sundays and National Holidays

Access: Approx. 5-minute walk from Jimbocho Subway Station exit A2

CAMPUS TOY cafe&bar Instagram:https://instagram.com/campustoy_matz?igshid=2nblcij8r4b7

Warm Food and Succulent Seasonal Strawberries Served at Ginza Six For Winter

GINZA SIX—officially the biggest shopping complex in Tokyo's high-end Ginza district—is home to a host of restaurants now serving some seriously luxurious and gourmet winter food.

For the winter season only, the shopping centre's cafes and restaurants have cooked up menus of food to warm both the heart and body. The extravagant line-up is made up of carefully-selected seasonal ingredients that's sure to warm you to the core. Let's take a select look at some of the things on offer.

JASMINE Specially-Made Hotpot Plan – ¥7,800 (Before Tax) @ JASMINE Washinkansai

This hot pot is made with a broth of chicken bones and collagen boiled in water and a broth of mala sauce. Both broths have a deep and nourishing taste and are filled with carefully-chosen ingredients as well as nine condiments for complex flavours. As well as that seen in the photo above, it is served as a set with an appetiser, fried gyoza, Chinese-style noodles, and almond tofu.

Matsusaka Beef Sukiyaki Gozen Hotpot – ¥3,400 @ Sukiyaki Gyu-shabu Matsuju

Warm yourself up with this hot pot which is made sukiyaki-style and contains high-quality Matsusaka beef picked out by Asahiya, a shop specialising in Matsusaka beef. The beef is soft, tender, and has a rich sweet taste and fragrance. It's served with a red miso soup seasoned with Japanese pepper which complements the salty-sweetness of the sukiyaki.

Homemade Sausage and Potato Raclette Cheese Melt – ¥2,400 (Before Tax) @ Bistro AUX AMIS

Raclette cheese is a staple food in France during the winter. This delicious dish is served with juicy homemade sausages made from yoshidabuta pig from Saitama, bacon, potato, and warm veg, all covered in a hot melted cheese. It's sure to warm you up and goes even better with a glass of wine.

Once you've had a fill of lunch or dinner, you should go and check out the in-season strawberry takeout treats and desserts that are being sold on the booth floor where the latest in culinary trends gather.

Strawberry Chocolate Sandwich – ¥300 (Before Tax) @ Patisserie Sembikiya Ginza Six

Coated in white chocolate, this biscuit sandwich is made with a strawberry ganache that squeezes every last delicious drop out of the fresh strawberries. Combined with he raspberry sablé cookies and chocolate, it's a strawberry match made in heaven.

Real Strawberry Gummies – ¥1,050 for 3 @ Candy Art Museum by PAPABUBBLE

These gummy candies are made as big as real large strawberries. They are coated in chocolate and made with lots of real strawberry juice, and when bitten into, taste fresh and juicy.

Strawberry Matcha Daifuku – ¥400 Each @ Kurogi Chacha

Kurogi Chacha's Strawberry Matcha Daifuku are filled with a whole fresh strawberry and coated in a matcha-laced white bean paste and gyūhi, a form of Japanese confection. The rich taste of the matcha comes together with the sweet and sour strawberry to create a delicious combination. They are hand-wrapped fresh as soon as your order is put in to retain their freshness.

Enjoy the full course winter has to offer at GINZA SIX, from soul-warming hotpot dishes to strawberry delights and more.

Information

GINZA SIX

Address: 6-10-1 Ginza, Chuo Ward, Tokyo

Opening Hours: Shops/Cafes (B2F-5F) 10:30-20:30 / Restaurants (6F, 13F) 11:00-23:00

*Business hours differ from shop to shop.

No Fixed Holidays (But shops and restaurants will be closed on January 1, 2020)

Access: Directly connected to Ginza Station via the Tokyo Metro Ginza Line, Marunouchi Line and Hibiya Line.

TEL: 03-6891-3390

Business hours will be shortened on December 31, 2019 and January 2, 2020 as shown below.

December 31st

Shops/Cafes (B2F-5F) 10:30-18:00

Restaurants (6F, 13F) 11:00-21:00

January 2nd

Shops/Cafes (B2F-5F) 10:30-20:00

Restaurants (6F, 13F) 11:00-22:30

Official Website: http://ginza6.tokyo/

Japanese Sweets Brand Minamoto Kitchoan to Open Cafe Restaurant K. MINAMOTO in Ginza

Japanese confectionery brand Minamoto Kitchoan will open a new cafe and restaurant called "K. MINAMOTO" on October 19.

K. MINAMOTO will be located on floors 2-5 at THE HOUSE, Minamoto Kitchoan's new company building which it just moved to on October 3. The cafe-restaurant's menu concept is dubbed "Ginza Sunny Fruits." It takes into consideration how daily fruit consumption has greatly decreased today by serving up a luxurious fresh fruit-packed line-up.

Minamoto Kitchoan is a company that has made full use of fruits since its establishment, including the suikanshuku, a Japanese wagashi confection made of whole dried domestic persimmons. We can trust then that K. MINAMOTO will provide us with our 5-a-day.

Roast Beef Sandwich w/ Fruit Soup – ¥2,420 (Tax Included)

Seafood Lemon Cream Fedelini w/ Fruit Soup – ¥1,650 (Tax Included)

Each and every dish on the menu has fruit, all grown in Japan to ensure the a high level of quality. Since the dishes have fruity flavours, prepping them is simple, and they enjoy the colours and textures of each fruit.

Drinks haven't been left out either. They are made with fruit purees and syrup, or are tossed in as they are, allowing for maximum fruity goodness.

Smoked Salmon, Fruit Salad & Potato Galette w/ Fruit Soup – ¥1,980 (Tax Included)

Autumn Fruit Almond Pudding – ¥1,760 (Tax Included)

All the staff at K. MINAMOTO have a wealth of knowledge about the menu and the fruits used in each dish. Their service creates a comfortable atmosphere, and though they are polite they are incredibly friendly, so you can call out to them without worry.

Get your fill of fruit from the all-new K. MINAMOTO, opening October 19.

Information

K. MINAMOTO

Grand Opening: October 19, 2019
Address: Minamoto Kitchoan Shinhonsha Bldg. "THE HOUSE" (Floors 2F-5F), 6-9-8 Ginza, Chuo Ward, Tokyo

Opening Hours: [Mon-Sat] 11:30-20:30 / [Sun & Holidays] 11:30-19:00

No Fixed Closures

Minamoto Kitchoan official website: https://www.kitchoan.co.jp

New York-Style Cafe & Restaurant Sarabeth's Celebrates 7 Years in Japan With Special Event in Shinjuku

It has been seven years since Sarabeth Levine took her New York-based cafe and restaurant Sarabeth's to Japan back in 2012. To celebrate, the establishment will hold a special one-night event with a commemorative menu.

"Fermented Foods" is the theme of the event, which will see an incredible line-up of premium dishes. There will also be a talk by Sarabeth Levine herself who will be in attendance.

The menu line-up features a range of healthy fermented foods, like pancakes and Eggs Benedict, while drinks options include lemonade with fermented syrup, goishicha tea from Aichi Prefecture, and more. There will also be Sarabeth cookies which you can take home with you.

Information

Sarabeth's Japan 7th Anniversary Special Event

Date: November 5, 2019

Time: Reception 18:30 / Open 19:30-20:45 (subject to change)

Price: ¥3,800 (Tax Included)

Capacity: 50 (Reservation-Only)

Location: Sarabeth's Lumine Shinjuku (Lumine 2 Floor 2F, 3-38-2 Shinjuku, Shinjuku Ward, Tokyo)

TEL:03-5357-7535

Reservations:  https://sarabeths7th.peatix.com

Dare To Treat Yourself to One of These 5 Halloween Dishes

One of Japan's most favourite celebrations of the year is Halloween. As autumn is setting in, you will notice halloween decorations gradually drift into shop windows and more importantly, Halloween-themed desserts and meals taking over restaurant menus. To prepare for this delicious apocalypse, we are now unveiling this year's top Halloween meals and desserts you really need to look out for. 

Krispy Kreme Halloween Doughnuts

Krispy Kreme branches across Japan will be releasing their pumpkin, chestnut and apple flavoured selection called MONSTER HARVEST in Monster DINER from September 11 to October 31.

*Some branches may not sell the Halloween collection. 

Halloween Dozen (Box of 12) Available: September 11 ー October 31, 2019 Price: ¥2,000 (before tax)

If you're having a Halloween party with friends and family then this box of a dozen doughnuts is the perfect treat. It contains autumn-limited flavours such as pumpkin, apple chestnut as well as some of KKDJ's classic doughnuts. Here's a nice trick to save money on your treats: You save ¥440 if you purchase this box over individually purchasing the same doughnuts. Add a splash of autumn colour to your Halloween with this beautiful box of delicious doughnuts. 

▼Krispy Kreme Doughnuts Japan Website: https://krispykreme.jp/

Halloween Menu at The Pokémon Cafe, Nihonbashi 

The Pokémon Cafe in Nihonbashi, Tokyo has revealed its Halloween food and drink line-up for the spooky season which will arrive early on September 7 be served until October 31.

Pikachu's Greedy Halloween Plate 2019 – ¥1,706 (w/ Plate ¥2,894)

This year's Halloween plate features Pikachu wearing a witch's hat. This filling plate features a pumpkin salad, spaghetti and more. Plenty to keep you going until the late-night candy snacking!

When ordering a drink at the cafe you'll receive one of six possible original design coasters. New designs will replace these from September 7. One of the six designs is being kept a secret!

 For the duration of the Halloween event, there's also a limited-edition lunch mat and clear coaster to get your hands on. These are limited in stock so you'll want to catch 'em all quickly! And don't forget, you have to book a table in advance to dine at the Pokémon Cafe.

© 2019 Pokémon.©1995-2019 Nintendo/Creatures Inc./GAME FREAK inc.

 Pokémon, ポケットモンスター and ポケモン are registered trademarks of Nintendo, Creatures Inc. and GAME FREAK inc.

▼ Pokémon Cafe
Address: 2-1-2 Nihombashi | Nihombashi Takashimaya SC East Bldg. 5F, Chuo 103-0027, Tokyo Prefecture
Business Hours: 10:30-22:00

Closed during Nihombashi Takashimaya SC East Bldg's closed hours.

Reservations: https://reserve.pokemon-cafe.jp/

Official Website: https://www.pokemoncenter-online.com/cafe/

Cute Halloween Desserts at The Capitol Hotel Tokyu in Tokyo

The Capitol Hotel Tokyu in Tokyo has revealed that  that it will serve up its Halloween Sweets Selection again this year at the hotel's pastry boutique ORIGAMI located on floor B2F. The confectionery chefs have spun some spooky fun into this collection of 10 cute treats.

 Frankenstein – ¥1,760 / Phantom – ¥1,760 / Cyclops – ¥1,760

The Phantom is a popular confection every year at the hotel, but this year he's had two new freaky friends carved out for him: Frankenstein's monster and a Cyclops. These white chocolate monsters are filled with chocolate-covered almonds, macadamia nuts and other hidden delights.

▼Halloween Sweets Selection

Running: October 1, 2019 – October 31, 2019

Location: ORIGAMI, The Capitol Hotel Tokyu Floor B2F

Full Sweets Line-Up: https://www.tokyuhotels.co.jp/capitol-h/restaurant/boutique/plan/50306/index.html

The Capitol Hotel Tokyu

Address: 2-10-3 Nagatacho, Chiyoda Ward, Tokyo

Official Website: https://www.tokyuhotelsjapan.com/global/capitol-h/

Cool, Cute and Cutting Edge Halloween Treats: Alice Halloween Party Buffet 2019 

Fantasy-themed restaurant Alice in an Old Castle has unveiled a new Halloween edition of their grand all-you-can-eat buffet. The Alice Halloween Party Buffet 2019 will take place from September 7 to October 31, 2019, serving up 30 varieties of desserts and light bites for their Halloween-limited event. 

This season, they are serving a mummy-themed croque madame and carrot cake with a vibrant orange Halloween colour. They will also be bringing out their Alice in Wonderland Pink Spicy Curry which is a filling curry which has become the popular number one. The Pumpkin Potage Soup and many other autumn-themed dishes will also become part of the lineup. There is surely no better way to enjoy your time than to indulge in these splendid desserts and delicious snacks. 

▼ Alice in an Old Castle

Address: Floor B1 Suzuwa Building, 2-16-8, Minami Ikebukuro Toshima, Tokyo

Regular Opening Hours: Mon-Fri, 17:00-23:30(L.O.22:30)

Weekends/national holidays  16:00-23:30(L.O.22:30)

No regular holidays (dependent on Suzuwa Building closing times)

Website: https://www.hotpepper.jp/strJ000999805/

Omotesando Q-pot CAFE. Cute Halloween Menu 

Q-pot. is known for its accessory brand, which features jewellery made to look like sweets and desserts. It is also known for the Q-pot CAFE. which flips that concept, instead making sweets and desserts that look just like real accessories. For Halloween this year, the Q-pot CAFE. has whipped up a spooky menu with the theme "DEVIL NIGHT" featuring appearances of all things Halloween from pumpkins to ghosts.

Vampire Afternoon Tea Set – ¥2,400 each (price after tax, a minimum of two people required)

*Contains milk, eggs and wheat

Take a look at this spooky afternoon tea set perfect for adults! From devils to monsters, Q-pot CAFE. has recruited a number of freaky friends for their themed dishes to terrorize your tastebuds.

The top plate comes with sponge and cream cheesecake pops coated in chocolate and salty breadsticks. The set also comes with homemade scones made from butter cream and sweet and tangy berry sauce, devil heart macaron-topped cupcakes, and pumpkin macarons which are bound to set your Halloween levels to max!

The bottom plate features savoury foods. The croissants are filled with egg, aromatic basil and dried tomatoes which provide an interesting texture.  The set also includes skewers of olives, mini tomatoes and pickles, and a Halloween Pumpkin soup.

If you are experiencing Halloween in Japan, you just have to try the themed desserts and meals!

Feast On Kyoto Vegetables & Italian Cuisine at MERCER BRUNCH TERRACE HOUSE KYOTO

MERCER BRUNCH TERRACE HOUSE KYOTO is a restaurant located by the Kamo River in Kyoto which serves brunch-style lunches with French toast during the day while in the evening it offers the chance to casually enjoy a gourmet dining experience. The restaurant has whipped up all-new dinner menu dishes that focuses on "steak, Kyoto-produced vegetables, and Italian."

MERCER BRUNCH TERRACE HOUSE KYOTO can be found on the 3rd and 4th floors of PONTONITE which has become a new landmark of Pontocho, a district in Kyoto right next to the Kamo River. From the restaurant one can enjoy a picturesque view of the river, streets and more. The restaurant's terrace seats are popular with couples, girl get-togethers, and overseas visitors as they offer the closest view of the Kamo River.

Lobster Grill & Bisque Omelette – ¥2,400 (Before Tax)

Fresh Fish Bottarga & Sautéed Manganji Togarashi Pepper – ¥1,800 (Before Tax)

The restaurant's new menu line-up will be served in the evening from 5pm. This includes the Lobster Grill & Bisque Omelette which is made with luxurious ingredients including Kobe beef fillet and lobster as well as nutrient-packed vegetables grown in Kyoto, the Fresh Fish Bottarga & Sautéed Manganji Togarashi Pepper, and many more. The restaurant is also now starting a "Prefix Dinner Course" which lets you picks your favorite main course amongst other things.

For drinks you can order one of MERCER BRUNCH's many whiskies or wines as well as fresh a mojito, fruity cocktails and more. There's even desserts prepared that go perfectly with the Kyoto vegetable and Italian cuisine combination.

Information

MERCER BRUNCH TERRACE HOUSE KYOTO

Address: 123 Ishiyacho, Kiyamachi Sanjo Sagaru, Nakagyo Ward, Kyoto , Kyoto Prefecture
Opening Hours:

[Mon-Thurs] 11:00-23:30 (Last Orders 22:30)

[Fri & Day Before Public Holiday] 11:00-Midnight (Last Orders 22:30)

[Sat] 10:00-Midnight (Last Orders 22:30)

[Sun & Public Holiday] 10:00-23:30(Last Orders 22:30)

*Dinner time is from 17:00

No Fixed Holiday

Official Website: https://mercer-brunch-kyoto.com/index.html

SHINING MOON TOKYO: Sailor Moon Show Restaurant to Open in Azabu-Juban

Azabu-Juban is a district in Tokyo and considered a holy ground amongst Sailor Moon fans as it is where the Sailors reside in the series. That fact is about to be set in stone as the all-new show restaurant SHINING MOON TOKYO is set to open in Azabu-Juban on August 15.

The building used for the restaurant was actually built in the same year when the Sailor Moon manga began serialisation. It's also located in Joule A, the same place where Jewelry OSA-P appears in the series.

Since its release in 1991, the Sailor Moon manga series has been translated into 17 languages, and the anime series has made it to 40 countries worldwide. It has even spawned musicals which have been taken around the world. Now, fans can look forward to enjoying their favourite series in a new form with the opening of SHINING MOON TOKYO.

The restaurant's stage show is being produced by Nelke Planning who has been involved in many of the franchise's musicals. It will make use of stunning LED visuals and lightning and will feature music and dancing.

At the entrance to the restaurant is a gorgeous golden moon which you can sit on and pose like one of the Sailors.

A little further in is the stage, whose pink aesthetic and decorations have received the official stamp of approval from Sailor Moon author Naoko Takeuchi. The distance between the stage and audience is short, allowing for an up-close, immersive and thrilling spectator experience.

Concealed behind glass display cases are gorgeous and glittery Sailor Moon outfits.

Our five Sailors all feature in the stage show who we get to see in their everyday lives, during their transformations, and in battle scenes. The manga will be brought to life before the crowd's eyes.

Most of shows will be non-verbal, meaning that people can enjoy them without understanding Japanese. Many different stories will be told on stage―you can find out which ones they will be showing while at the restaurant.

The restaurant will feature a kawaii menu with original drinks and dishes you can't get anywhere else.

Sailor Planet Sushi Balls – ¥1,800 (Tax Included)

This tropical-looking sushi platter is made up of five different sushi balls including Japanese halfbeak, Okinawan spinach, salted salmon roe, snow crab, and conger eel. The vinegar used in the dish has antioxidants in it which will protect your body like a Guardian Sailor!

Tsukino Family Classic! Rabbit Curry – ¥1,800 (Tax Included)

The rice in this adorable dish is made into the shape of a rabbit, which in Japanese is usagi―and is also the name of our titular heroine! It contains fragrant spices which are sure to warm your body and healthy herbs to soothe fatigue.

SHINING MOON TOKYO Roll Cake – ¥1,500 (Tax Included)

For dessert, look forward to a gorgeous strawberry roll cake topped with fresh cream and cherries. If you like the sound of lots of flavours dancing in your mouth at once, then we recommend this one to you!

SHINING MOON TOKYO Pancakes – ¥1,500 (Tax Included)

The sweet and sour taste of the mango and kiwi elevate the nectarous notes of the maple pancakes. It even comes with an iced Sailor Moon cookie.

Pretty Guardian Lunch Box (Left) / Moon Prism Rice Burger (Right)

Once you've eaten everything in your lunch box, which includes rice balls, vegetables and more, you can take it home with you to add to your Sailor Moon collection!

Drinks – ¥800 Each (Tax Included)

There are five drinks inspired by each respective Sailor and each comes with their own original coaster.

Acrylic Silhouette Key Rings – ¥1,300 Each (Tax Included)

Stock up on your Sailor Moon collection too with a whole range of exclusive goodies!

Enter a new Sailor Moon world with food and entertainment at SHINING MOON TOKYO when it opens in the Sailors' hometown on August 1.

Model: Ruki

ⒸNaoko Takeuchi
ⒸNaoko Takeuchi・PNP / Sailor Moon –SHINING MOON TOKYO–

Information

SHINING MOON TOKYO

Grand Opening: August 15, 2019

Address: Joule A Floor B1F, 1-10-1 Azabu-Juban, Minato Ward, Tokyo
Access: Direct connection from Azabu-Juban Station which is on the Toei Edo Line and Tokyo Metro Namboku Line
Official Website: https://sailormoon-shiningmoontokyo.com/en/

Akihabara's New Samurai Rock Restaurant Offers Exciting Shows and First-Class Entertainment

SAMURAI ROCK ORCHESTRA opened its all-new Samurai Rock Restaurant at Pasela Resorts Akiba Multi Entertainment in July and went into full throttle on August 5. This 'show restaurant' offers a dining experience like no other, serving not only food but thrilling entertainment from world class artists from a wide range of backgrounds including samurai, ninja, acrobats, and many more, all of whom are rallied and ready to put on a show you will never forget.

Children and adults from around the world can look forward to experiencing what Samurai Rock Restaurant has to offer as their performances transcend language barriers, needing only to be seen to be appreciated. The restaurant has also cooked up one delicious menu with many options to pick from, including some meals inspired by something specific such as samurai.

Expect to see acrobatics from the vaulting box to baton performance, rhythmic gymnastics, ropes and more, all sure to make you go "wow!"

You can even meet and speak to the performers, and maybe ask them how on earth they were able to do what they did!

Experience a new form of nightlife in Akihabara at the Samurai Rock Restaurant.

Information

Samurai Rock Restaurant

Open: Every Wednesday (Dates in August: 7th, 14th, 21st & 28th)

Time: Open 18:30 / Start 20:00 (Performance time is 50 minutes)

Location: Pasela Resorts Akiba Multi Entertainment Floor 7F (1-1-10 Sotokanda, Chiyoda Ward, Tokyo)

Capacity: 200 people

Price: ¥6,500 (Tax Included) *2 order ticket of food and drink (5 order for ¥8,000)

Official Website & Reservations: http://www.samurai-rock-restaurant.com/

You Will Need All 10 Fingers to Challenge These American Style Burgers

Burgers are becoming a big sensation in Japan. In the country's current burger boom, some very unique burgers have been whipped up. From the atmosphere to the wallpaper, at TEN FINGERS BURGER in Sangenjaya, you will feel like you are in an American Diner.  

If that isn't enough to excite you, then the menu sure will. The burgers come in three different sizes: 10 Fingers, 8 Fingers and 6 Fingers to represent how many fingers you will need to hold the burger.

We all love a filling burger, but TEN FINGERS BURGER has taken this to a whole new level, commemorating their one-year anniversary in June with the release of a seriously huge burger which stirred a drooling sensation. 

We recommend you demolish this burger with a cream soda to enjoy a wonderful flavour combination. 

Inviting your friends to challenge this burger with you surely would be fun. And afterwards, you can all treat yourselves to this tempting and colourful banana split.

This burger is not only huge, but also delicious. Come challenge your 10 fingers (and possibly toes) to this impossibly massive burger!

Information

TEN FINGERS BURGER, Sangenjaya

Address: 23-11 GEMS, Taishido, Setagaya City, Tokyo

Access: 2-minute walk from Sangenjaya Station (Tokyu Den-en-toshi Line, Tokyu Setagaya Line)

Opening Hours: 11:00 ー 23:00(Last orders: 22:30)

*Lunch sets are served until 3pm on weekdays

Open all year round except for the New Year's period.

Website: https://www.tenfingersburger.com/