Pink colored illuminations will be installed this year at "Fuyu no Sakura®" beside Meguro River
An illumination event "Megurogawa Minna no Illumination 2017"which realized "100% local production for local consumption" of energy utilizing discarded oil collected from areas nearby will be held from the 10th of November (Fri.) to the 8th of January 2018 (Mon./holiday).
"Minna no Illumination" which is created by the combination of "people/companies/local areas" is the only illumination event in Tokyo held by a citizen group. Bonds in the local community are strengthened since the event nurtures love and pride in the city which will be reborn.
The winter cherry blossom (Fuyu no Sakura®) will bloom by using more than 420 thousand pink LEDs. The length of the illumination road beside Meguro River is 2.2km which is the longest illumination road inside the Yamanote Line and the illumination will surely light up the surface of the river beautifully.
In addition, "Garden Igloo" will be installed during the period as a viewing spot of Fuyu no Sakura®. Three Garden Igloos will be installed so that visitors can enjoy viewing the illumination without feeling the cold. Many people regardless of age or sex will gather at the photogenic spots (igloos).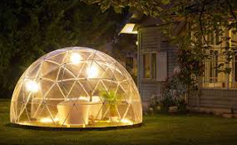 Why not enjoy the illumination event at Meguro River?
◼︎Information
Megurogawa Minna no Illumination 2017
Venue: Shinagawa Kuritsu Gotanda Fureai Mizube Hiroba
Date: 2017,11,10 (Fri.) to 2018,01,08 (Mon. – holiday)
RELATED ENTRIES
Light and Shadow 2022 Event at Hotel Gajoen Tokyo Attracts Over 10,000 Visitors

Hotel Gajoen Tokyo, which blends a hotel and a traditional Japanese museum, is celebrating summer in the spookiest way possible. From July 2 until September 25, guests can enjoy the 'Wa no Akari x Hyakudan Kaidan 2022 ~Light and Shadow: 100 Stories~' event, inspired by the tradition of telling ghost stories in summer to send a chill down your spine. Since opening, over 10,000 visitors have come to experience this once-in-a-lifetime event. 

Each of the seven exhibition areas is connected to the stairway, and each has its own theme pulled from the overarching theme of light and darkness. From Light of Passion to Midnight Light, guests will be surrounded on all sides. As you ascend the stairs, a festive atmosphere transforms into a more frightening one. Although the ghosts are out to play, guests are welcome to enjoy the many art pieces and crafts on display. 

Sokyu Room / Lights of Passion

This Kabuki stage is filled with the passion of women who are addicted to love, a common theme in many traditional plays. The eye-catching Japanese umbrellas and lanterns will no doubt leave an impression, and the wistful music is titled Red Thread. The tale depicted here tells the story of a woman who becomes a haunting specter clad in flames of passion, sobbing and laughing in time with the song. 

Still Water Room / Inverted Light

The three trees crowned with horse heads were created by the artist Eros Nakazato. Guests will feel as though they've been transported to the middle of a meadow as they explore this fantastical room covered in traditional paintings. In the work The Reverse of the Reverse, there are no wild horses on the earth, and those who have been tamed by humans sway in a beautiful and sad way. To make this scarier, the story has been reimagined as guests look through a crystal ball–now, humans are ruled by horses

Starlight Room / Midnight Light

Passing through a corridor of suspiciously flickering yokai lanterns, you will find that the clock has struck midnight. In the darkness, as most humans are asleep, specters are having a lively party. Playful cats dance and play and a number of artistic works by contemporary artists are on display. The music played fuses Japanese and ethnic instruments, some of which are interspersed with the voices of creatures of the night.

Experience this immersive art experience that will delight all five senses through light and shadows while you can!

Information

Wa no Akari x Hyakudan Kaidan 2022 ~Light and Shadow: 100 Stories~

Running: July 2 – September 25, 2022

Hours: 11:30-18:00 (Last entry at 17:30) *Closing at 17:00 on August 20 (Last entry at 16:30)

Venue: Hotel Gajoen Tokyo Hyakudan Staircase (Tangible Cultural Property Designated by the Tokyo Metropolitan Government)

Tickets/Details: https://www.hotelgajoen-tokyo.com/100event/wanoakari2022

Official Site: https://www.hotelgajoen-tokyo.com/

Hotel Gajoen Tokyo Opens Artistic Summer Ghost Story Event

Hotel Gajoen Tokyo, which blends a hotel and a traditional Japanese museum, is celebrating summer in the spookiest way possible. From July 2 until September 25, guests can enjoy the 'Wa no Akari x Hyakudan Kaidan 2022 ~Light and Shadow: 100 Stories~' event, inspired by the tradition of telling ghost stories in summer to send a chill down your spine. The art illumination exhibition promises to be a once-in-a-lifetime experience.

Jounen no Akari (Lights of Passion)

Bamboo Lights

Without light, there are no shadows. In this exhibition, light and shadow complement one another, portraying the popular 100 ghost stories in a new way. Last year's event received critical acclaim as guests found themselves moving breathlessly from room to room, exploring the many incredible pieces put on display. Along the dusk-lit promenade, goldfish lanterns lead guests to the start of their mysterious adventure. The atmosphere changes from room to room, with bamboo lights and shadows surrounding you from all sides. 

An Immersive Light Art Space

Odawara Wind Chimes at Dusk

Luxurious Cherry Blossom Hairpins

Glass Lamp, Iroshita Studio

Flower Arrangement, Rikou Otsuka

As you ascend the stairs, a festive atmosphere transforms into a more frightening one. Although the ghosts are out to play, guests are welcome to enjoy the many art pieces and crafts on display, from flower arrangements by master ikebana artist Rikou Otsuka and sculptures by some of Japan's most influential traditional creators. 

Enjoy Traditional Summer Ghost Stories with Light Art

Ghost Lanterns

Born from the Earth, Yasumaro Ozawa

Byakko, Yuji Nishijima

Inverted Light, Eros Nakazato

Mysterious music will drift through the air, making guests feel as though they've been transported into another world. The eerie space is lit by Ghost Lanterns made by a 200-year-old company in Fukuoka, and the venue is decorated with art blending ukiyo-e with contemporary styles. 

Culture and Crafts from Around Japan

Paper Lanterns from Ise

Bamboo Lights, Akarinowa

3D Knit Lights

Paper Fireworks

Summer fireworks have been recreated in colorful paper form by an artist in Nagaoka, Niigata Prefecture, and materials found in a neglected bamboo grove in Shizuoka Prefecture were used to create the many iconic lights seen throughout the unique exhibition. Local craftsmen are at the heart of the event, with pieces brought in from areas all around Japan.

Wa no Akari Room

A concept room featuring gently flickering lights and lanterns is available to book for a limited time. Why not come spend your summer in this otherworldly atmosphere?

Information

Wa no Akari x Hyakudan Kaidan 2022 ~Light and Shadow: 100 Stories~

Running: July 2 – September 25, 2022

Hours: 11:30-18:00 (Last entry at 17:30) *Closing at 17:00 on August 20 (Last entry at 16:30)

Venue: Hotel Gajoen Tokyo Hyakudan Staircase (Tangible Cultural Property Designated by the Tokyo Metropolitan Government)

Tickets/Details: https://www.hotelgajoen-tokyo.com/100event/wanoakari2022

Wa no Akari Room

Available: July 2 – August 31, 2022 (1 room available per day)
Details/Reservations: https://www.hotelgajoen-tokyo.com/stay/plan

Nissy (Takahiro Nishijima) Announces New Song, Tokyo Tower Collaboration

Nissy (Takahiro Nishijima) has announced that his new song, I Need You, will be released digitally on July 7, 2022. The jacket cover has also been revealed.

This love song depicts how it feels to warmly live each day with the person you care about. It's a relaxed mid-tempo number, a far cry from the cool sound heard on Nissy's third album HOCUS POCUS 3.

In addition, Nissy will also be collaborating with Tokyo Tower's popular summer event, the Milky Way Illumination. Approximately 21,000 LED bulbs found on the first floor of the main deck, a stunning 150 meters above Tokyo, will change color periodically to match the beat of the new song I Need You.

Along with the new track, Nissy will also be embarking on a five-dome tour, so keep an eye on his activities going forward!

ⓒTOKYO TOWER

Information

I Need You – Nissy
Streaming Release Date: July 7, 2022

Tokyo Tower Milky Way Illumination x Nissy Special Collaboration
Running: July 4 – August 16, 2022
*The Milky Way Illumination will take place from June 17 until September 4.
Address: Tokyo Tower Main Deck 1F North Floor (Towards the Imperial Palace/Marunouchi)
Light-up Hours: 9:30-22:00 (Until 22:30 on Saturdays) 

Details: https://www.tokyotower.co.jp/event/illumination/2022-amanogawa-illumination/

Official Site: https://nissy.jp

NAKED's Popular Night Walk Returns to Illuminate Jozankei Onsen in Hokkaido

The JOZANKEI NATURE LUMINARIE -WATER LIGHT VALLEY- event is coming back in 2022! The event, which shows off the natural beauty of Jozankei's rivers, valleys, and forests, from June to October. Guests can enjoy an illuminated walk along the Toyohira River in the Jozankei area of Hokkaido and wander across the picturesque Futami Suspension Bridge. 

 

This year, the park area at the entrance to the event has been redesigned with new lights. A 2.5-meter-high blue dome will welcome guests with an image of water, and the trees and wisteria trellises will be decorated with twinkling golden lights.

Welcome Light Lake *Image from 2021

River Road

Forest Water Ripple

Nature Projection

Futami Valley

Visitors will encounter a variety of unique light art as they stroll through the rich nature of Jozankei guided by the elusive kappa, known to be the guardian Gods of the region. As visitors approach, the river begins to glow while flowers bloom in this interactive art experience. By using projection mapping across the Futami Suspension Bridge and an all-encompassing light show within the canyon, the event hopes to remind visitors that nature is important and worth preserving. 

How would you like to spend your summer deep in the illuminated nature of Hokkaido?

Information

JOZANKEI NATURE LUMINARIE – WATER LIGHT VALLEY

Address: Jozankei Futami Park – Futami Suspension Bridge
(Jozankei Onsen Nishi 4-chome, Minami-ku, Sapporo, Hokkaido)

Running: June 1 – October 23, 2022
Hours:
June – August: 19:00-21:00
September – October: 18:00-21:00

*Tickets available for guests of Jozankei Onsen only
Official Site: https://jozankei.jp/jozankei-nature-luminarie

UNDER WATER SPACE in Yokohama Illuminated in Cherry Blossom Colors for Spring

UNDER WATER SPACE, a limited-time aquarium space event located at Yokohama World Porters, is lighting up a portion of the event space in gorgeous cherry blossom colors until April 10, 2022 to coincide with the 2022 cherry blossom season!

The pink-lit space and swimming fish give an entirely new feel to the UNDER WATER SPACE event. You won't want to miss experiencing this magical spring illumination! 

Information

Hanami Illumination

Running: April 1 – April 10, 2022

Aquarium Space Travel 'UNDER WATER SPACE'

Running until January 15, 2023

Hours: 10:30-21:00 (Last entry at 20:00)

Address: Yokohama World Porters 4F (2-2-1 Shinko, Naka-ku, Yokohama)
Tickets / Official Site: http://uws-yokohama.jp

Lake Biwa Canal's Cherry Blossoms to Come to Life During Spring Illumination 2022 Event

Lake Biwa Canal, one of the best places to see cherry blossoms in Shiga, will be completely illuminated each night from March 25 until April 10! The nearby Onjo-ji Temple will also be lit up during the duration of the event.

Lake Biwa, Otsu Spring Illumination – Cherry Blossoms on the Lake Biwa Canal

The Lake Biwa Canal carries water from the biggest lake in Japan to Kyoto and was built during the Meiji era using the best civil engineering technology of the time. Both sides of the bank are lined with almost 200 cherry trees, making it one of the most beautiful cherry blossom viewing spots with a spectacular view leading to Onjo-ji Temple.

Onjo-ji Spring Illumination 2022

Over 600 lights will be set up around the temple grounds to illuminate the cherry blossoms. The national treasures and designated cultural properties will be completely open to the public for nighttime viewing.


Information

Lake Biwa, Otsu Spring Illumination – Cherry Blossoms on the Lake Biwa Canal

Running: March 25 – April 10 (Dates may change depending on when cherry blossoms bloom)
Hours: 18:00 – 21:30
Location: Lake Biwa Canal
Sponsored by the Lake Biwako Otsu Tourism Association

Onjo-ji Spring Illumination 2022

Running: March 25 – April 10
Hours: 18:00 – 21:30 (Last Entry at 21:00)
Location: Onji-ji Temple
Admission: Adults ¥1,000 / Children ¥500
*Public transportation is recommended due to heavy congestion on surrounding roads during the event period.

HIBIYA BLOSSOM 2022 to Welcome Spring with Tokyo Midtown Hibiya Illumination

Tokyo Midtown Hibiya will hold HIBIYA BLOSSOM 2022 from March 25 until April 17, coloring the streets with luminescent spring flowers!

Massive floral decorations will be erected as part of the Hibiya Blossom Garden, and each will feature lights and music from classic films to bring the feeling of spring to the streets of Tokyo.

Running: March 25 – April 17, 2022
Light-up Hours: 18:00-23:00 (Special performances held every 10 minutes)
Location: Hibiya Step Plaza, Hibiya Step Plaza Grand Staircase

A selection of local stores will also participate in the Hibiya Blossom Flower Wagon project, which will take place on Sundays in April only.

As part of the Hibiya Blossom Gourmet project starting March 18, certain shops are also offering some tasty springtime treats. 

NAKED FLOWERS 2022 Cherry Blossom Exhibition to be Held at Nijo Castle in Kyoto

NAKED will open a new Cherry Blossom-inspired outdoor light-up event at Nijo Castle from March 18 until April 17, 2022!

The NAKED FLOWER interactive art exhibition has been held at Nijo Castle since 2018. In autumn, the leaves change color, and in spring, the cherry blossoms blooming at night around the castle combined with NAKED's art experience create a breaktasking experience like no other. 

This year, in addition to the projection mapping on the Karamon Gate, the largest-ever projection mapping of cherry blossoms will cover the entire 140-meter-long stone wall on the east side of the inner moat. Also, for the first time ever, the exhibition will add special effects that can only be seen in rainy weather. 

 

Information

NAKED FLOWERS 2022 Cherry Blossom Event at Nijo Castle
Location: Nijo Castle Imperial Villa
Running: March 18 – April 17, 2022
Hours: 18:00-21:00 (Grounds close at 22:00)
Official Site: https://flowers.naked.works/nijojo/

Matsumoto Castle Illumination Grand Finale Being Held for a Limited Time

The Matsumoto City Illumination 2021-2022 event will continue to run until the end of this month! Due to the popularity of the Matsumoto Castle Winter Illuminations, the Grand Finale will be held for seven days only from February 22 until February 28. Guests will enjoy eight different performances during this period!

Matsumoto City Illumination 2021-2022

Present

Past

Future

Christmas

New Year's

Ice Carving Festival

Valentine's Day

In addition to the past, present, and future effects, visitors will also be treated to four special seasonal effects: Christmas, New Year's, Valentine's Day, and an Ice Carving Festival-inspired illumination.

For the Christmas performance, Matsumoto Castle is lit up like a Christmas tree, with the lights flickering to the sound of bells. Fireworks light up the structure for the New Year, ice crystals dance for the Ice Carving Festival, and the color pink drenches the castle for Valentine's Day. Which effect do you like the most?

Information

Matsumoto City Illumination 2021-2022

Running until February 28, 2022
Location: Matsumoto Castle, Matsumoto Castle Gardens, Daimyomachi Street, Sensai Bridge
Free Admission
Official Site: http://matsumotoillumi.jp


Wakura Onsen in Ishikawa Prefecture to Hold Special Illumination, Luxurious Tea Time

The Wakura Onsen Tourist Association is sponsoring a new project to illuminate Seirinji Temple, a nationally registered cultural property. Along with this light show, guests can enjoy a luxurious tea time starting on January 8, 2022. This year, the pavilion and garden will be lit up again, and the entrance will be decorated with traditional local paper lanterns. 

The historic property was built in 1909 as a resting place for Emperor Taisho. Only two such buildings exist in Japan: one in Hamada City, Shimane Prefecture, and the other at Wakura Onsen. Both were registered as Tangible Cultural Properties of Japan in 2017. 

 

Last year, the area was photographed for posters and pamphlets as part of the 'Japanese Beauty Hokuriku' campaign organized by JR East, JR West, and the Central JR Railway.

Each Saturday evening through February 26, guests will be invited to enjoy a different kind of atmosphere while enjoying a very fancy tea time. The program has been very well received by visitors, so it shouldn't be missed!


The light-up of the temple and garden, with its slowly changing colors, will transport guests to another world. The entrance to Seirinji Temple will be redecorated and lit up, and a pathway of lights will be created from the gate to the entrance of the pavilion using paper lanterns.

Information

Seirinji Temple Illuminations & Luxury Tea Time

Running: Saturdays from January 8 – February 26, 2022 

First Seating: 17:00  

Second Seating: 18:00

Address: Seirinji Temple, Wakura Onsen (61 Wakuramachi, Nanao, Ishikawa)

*Available for guests of Wakura Onsen

Official Site: https://www.wakura.or.jp

Shiroikoibito Park in Sapporo to Hold Chocolate Factory of Light and Love Illumination Event

Shiroikoibito Park in Sapporo will hold a special illumination event from December 27, 2021 until March 14, 2022! The 'Chocolate Factory of Light and Love' is perfect for couples to visit during these cooler months. 

A popular event each year, the Shiroikoibito Park Illumination was cancelled last year due to the pandemic. As this event is held inside, it offers some shelter from the cold as guests wander through the 85-meter-long course. An escape game will also be held for the first time at the location, and will involve two participants attempting to solve riddles based on 'love' and 'chocolate.' The room is decorated with luxurious antique items imported from England.

Escape Game! Escape from the Chocolate Laboratory

Running: January 7 – March 14, 2022

Hours: 10:00-16:00

Reservations Available at Ticket Counter

Location: Study Base – Cacao Pod

Chocolate Take-Out

Available: February 11 – February 14, 2022 / March 12 – March 14, 2022

Hours: 10:00 until sold out

Price: ¥500 (Tax Included)

Location: Tudor House 1F Special Event Space

Dessert Set (with Drink): ¥1,700 (Tax Included)

Very Cocoa Set (with Drink: ¥1,700 (Tax Included)

Chocolate & Berries: ¥800 (Tax Included)

One-sided Love Hot Cocoa: ¥550 (Tax Included)


Beef Stew with Hokkaido Beef (served with bread or rice): ¥1,380 (Tax Included)


Chocolate Baumkuchen: ¥1,512 (Tax Included)
Where to Buy: Piccadilly Shop
On sale January 15, 2022 (Valentine's Day Exclusive)

Select Chocolates: ¥648 (Tax Included)
Where to Buy: Piccadilly Shop
On sale January 15, 2022



Inspired by the novel 'Charlie and the Chocolate Factory,' Shiroikoibito Park was opened to bring people together with sweets. How could guests not be happy in such a magical place?

Information

Shiroikoibito Park ~Chocolate Factory of Light and Love~

Running: December 27, 2021 – March 14, 2022

Ticket Office Open: 10:00-16:30 *Tickets available until 16:00

Official Site: https://www.shiroikoibitopark.jp/

Starbucks Reserve® Roastery Tokyo Launches Second Edition of Collaboration Collection with Ron Herman

Starbucks Coffee Japan has launched the second product in its "double the love" collection, the first collaboration with fashion brand Ron Herman, at Starbucks Reserve® Roastery Tokyo.

Castanets (white and navy) ¥2,200 each / Guiro ¥3,960/ Bell ¥4,400

The theme of "double the love" expresses the moment when you and your loved one can feel the love by choosing and giving a gift while thinking of the joy on the face of the recipient. For the second edition, under the theme of "sharing together," a variety of musical instruments made of wood, such as castanets, guiro, and bells, as well as wooden ornaments are available to make your time with family and loved ones more enjoyable.

Ornament heart/star (red, navy, white) ¥1,320 each

Wooden ornaments in the shapes of stars and hearts can be hung on the tree or used as decorations to accentuate your room, adding to the Christmas spirit! As you reflect on this year, spend a happy time with your family and loved ones, thinking of each other and overflowing with love.

With the desire to deliver a heartwarming moment of sharing and caring for each other, the greeting card workshop "Make your gift double of your love" is scheduled to be held online from 10am on December 18 and at RHC Ron Herman Kawasaki on December 19. While drinking coffee, think of the face of the person you are sending a gift to, and spend a moment making a greeting card to express your feelings.

Information

double the love Collation

Stores: Starbucks Reserve Roastery Tokyo (STARBUCKS RESERVE(R) ROASTERY TOKYO), Starbucks Online Store.

*As for the limit on the number of items sold, each person can purchase up to 10 items per product.

 

Special Event 'Make your gift double of your love'

Online Event: December 18, 2021 from 10:00 for 1 hour.

Join Here: rtmp://a.rtmp.youtube.com/live2

Where: RHC Ron Herman Kawasaki

When: December, 19, 2021.

https://ronherman.jp/news/2404