5 Character collaboration cafés opened for a limited time offer (November) in Tokyo
Many character collaboration cafes are opening nowadays and some of them are opened for a limited time offer.
In this article I will introduce to you some collaborative cafes.
Gudetama, an American comic-taste character is unique! "Ikebukuro "Gudetama Café"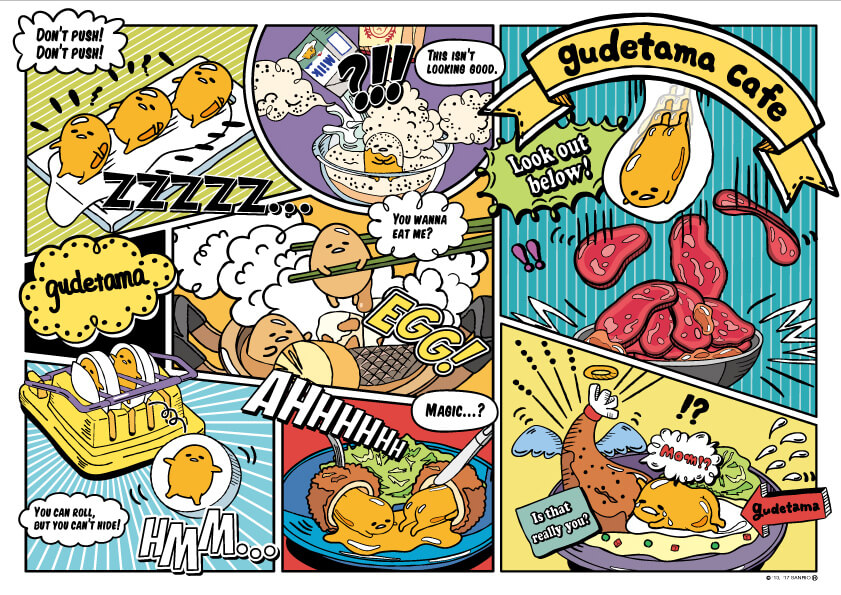 "Gudetama Café" is a collaborative café inside of "Dining Park Ikebukuro" which is located at the 8th floor of Seibu Ikebukuro Honten near the East Exit of Ikebukuro Station. Sanrio's very popular character "Gudetama" will be featured in this café and it will be open from the 8th of November 2017 (Wed.) to the 21st of January 2018.
A new "Gudetama" will be depicted with an American comic-taste. You can enjoy the new world of "Gudetama."
■Information
Gudetama Café Ikubukuro Shop
Time: 2017,11,8 (Wed.) to 2018,1,21 (Sun.)
Address: 〒171-0022, 8F of Seibu Ikebukuro Honten, 1-28-1, Minami Ikebukuro 1-28-1, Toyoshimaku, Tokyo
Gourmet Stadium II Gudetama Café Ikebukuro Shop
Business hours: 11:00 to 23:00 (the café will be opened from 10:30 on Saturday, Sunday and holidays)
Holiday: no holiday (depending on the facility)
TEL:03-5949-5675 (dial in)
URL:http://gudetama.createrestaurants.com/
(c)2013, 2017 SANRIO CO., LTD. APPROVAL NO.S582962
Sanrio's collaborative crepes will be sold at MOMI&TOY'S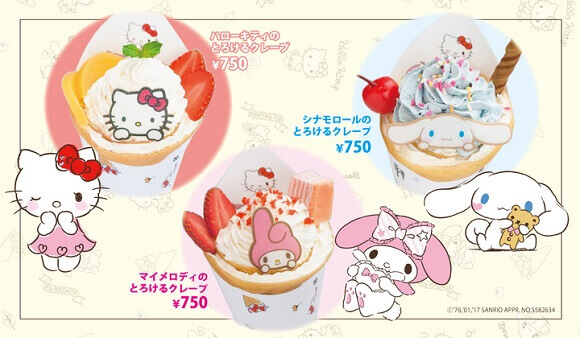 The "melting crepe" shop "MOMI&TOY'S" has been selling collaborative items with Sanrio's popular characters, "Hello Kitty", "My Melody" and "Cinamonroll." For the collaborative menu items, some fruit which match the image of each characters and a "character monaka" is placed on top of the crepe. In each of these items it looks like the character is peeking at you from the edge of the crepe. They are all truly cute items. Each menu item is rapped with a special paper. The paper is designed with an illustration of the character. There is a fall version and a winter version of the wrapping paper.
Detailed information:http://www.moshimoshi-nippon.jp/ja/71389
■Information
MOMI&TOY'S
Available date: 20,16 (Mon.) to 12,15 (Fri.)
Available shops: MOMI&TOY'S (except some shops)
MOMI&TOY'S: Japan:62 shops, Foreign countries: 30 shops
Popular characters will collaborate! Kichijoji PARCO "Panpaka Pants×Pom Pom Purin Pudding Café"
Kichijoji PARCO will start the event called "Panka Pants×Pom Pom Purin Matsuri in Kichijoji PARCO" in commemoration of the collaboration of Panpaka Pants and Pomu Pomu Purin from the 1st of November (Wed.).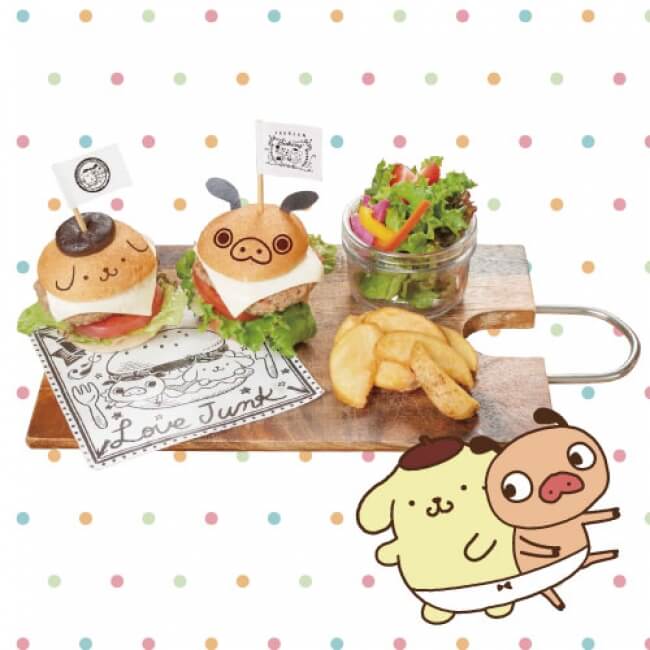 The café offers ogiriginal menus and will collaborate with very popular Baumkuchen "Jiichiro." They will sell limited goods which can only be purchased at Kichijoji PARCO.
>>next page
RELATED ENTRIES
Mr. Fullswing Manga Celebrates 20th Anniversary With Themed Cafe in Ikebukuro

In celebration of Mr. Fullswing's 20th anniversary, Animate are collaborating with the manga series to serve up a themed menu at their own Animate Cafe in Ikebukuro from June 23 to July 26. The entire menu including the meals, drinks, and desserts are all inspired by the series, and fans can get their hands on some exclusive merchandise too.

Mr. Fullswing is a baseball manga series written and illustrated by Shinya Suzuki which was serialised in Weekly Shonen Jump from 2001 to 2006. This year marks 20 years since it was first released.

Menu item names have been translated from Japanese.

A peek at the manga-themed menu

Is That Rice? No, It's Curry | ¥1,000

Rations From Shiba | ¥1,000

Gou's Secret Batting Form ~Hachiku~ | ¥800

Sei's Secret Batting Form ~Utsusemi~ | ¥800

Terrible Tatsuragawa's Glasses | ¥600

A peek at the merch

CoLotta Acrylic Plate Key Rings | 15 Designs | ¥800 Each 

Acrylic Character Key Rings | 14 Designs | ¥800 Each

Acrylic Uniform Key Rings | 14 Designs | ¥650 Each

Campaign to win a free photo card

24 photo cards based on the manga volume front covers

Win a birthday bromide photo

For every ¥2,000 spent at the cafe on menu items or merchandise, customers will receive one free photo card. There is also a birthday campaign being held from July 19 where you can win a free birthday bromide for every ¥2,000 spent.

(C)鈴木信也/集英社

Yoshikitty Wins 1st Place in 4 Countries in 2021 Sanrio Character Ranking

Sanrio announced the winners of the 2021 Sanrio Character Ranking last week. While Cinnamoroll came in 1st place overall, Yoshikitty has captured the hearts of fans outside Japan by placing No. 1 in Italy, Germany, France, and Thailand. He ranked 11th overall. The character is inspired by Japanese musician and X Japan member Yoshiki.



Every year, Sanrio also partners with TANITA, an electronics company centred on health, on Sanrio-themed pedometers as part of the Sanrio Character Ranking. For the second year in a row, the Yoshikitty pedometer received the highest number of advance sales. To celebrate this achievement, Yoshikitty was also presented with the TANITA Award.

YOSHIKI met with Yoshikitty in LA during an online event for the announcement to express his gratitude to fans.

Congratulations, Yoshikitty!

Sanrio Announces Kawaii Musical 'From Hello Kitty'

Sanrio has announced that their popular cast of characters are set to perform at an attraction-style musical titled From Hello Kitty which will run at the IHI Stage Around Tokyo on from July 26 to September 26.

All of the familiar faces from Sanrio's character roster, including Hello Kitty, Dear Daniel, Cinnamoroll, Pompompurin, My Melody, and the Little Twin stars—all of whom ranked high on this year's Sanrio Character Ranking—will make an appearance alongside notable Japanese actors Shota Takasaki, Dai Gotou, and Kodai Miyagi.

The musical is a historical lookback at 60 years of Sanrio and a delivery of their core message: to help everyone in the world get along. A special edition of the 'Miracle Gift Parade' held at Sanrio Puroland will also take place with an original story.

The art direction of the stage performance is being done by Sebastian Masuda, the music composed by music producer Hyadain, and the choreography created by Yukio Ueshima who has worked on countless Broadway musicals including a theatrical adaptation of the popular sports manga series The Prince of Tennis.



The musical is taking place at IHI Stage Around Tokyo, a unique theatre with 360-degrees rotating audience seats surrounded by movable huge screens and stages. The audience seats that are placed on a huge circular platform slowly rotates to each stage set as the story moves on, without waiting for set changes. Visitors will also be able to take photos with different Sanrio characters each day.

IHI Stage Around Tokyo is produced by TBS Television, Inc., Imagine Nation B.V., and The John Gore Organization Inc.

Pompompurin's 25th Anniversary Celebrated With Limited Edition Dessert at FamilyMart

Sanrio teamed up with the convenience store chain FamilyMart to commemorate the 25th anniversary of their popular character Pompompurin with a special soufflé and macarons that hit shelves up and down Japan on June 8.

Pompompurin Soufflé Pudding | ¥276 (Before Tax)

Pompompurrin & Cinnamoroll Macarons | ¥350 (Before Tax)

Pom's Kitchen Campaign

The Japanese pudding-style soufflé is made with smooth and velvety custard and caramel. It's sold in a cup in three different original designs. Also available as part of the celebration is a set of macarons made to look like Pompompurin as well as Cinnamoroll, another one of Sanrio's most popular characters. They are wearing cute king and queen crowns respectively.

A campaign is also being held where you can win some special Pompompurin merchandise by posting a photo of a rice dish inspired by Pompompurin on social media. More details can be found on the campaign website below.

2021 Sanrio Character Ranking: Cinnamoroll Takes Home the Crown For the Second Year in a Row

Sanrio announced the final results and winners of the 36th Sanrio Character Ranking, an annual event where fans vote for their favourite Sanrio character to see who is the most popular. A total of 21,346,750 votes were submitted for 2021.

2021 Sanrio Character Ranking: General Ranking

Comments from the Winners

1st Place: Cinnamoroll
"I'm going to treasure this feeling forever! Thank you all for your support!♪"



2nd Place: Pompompurin
"Thanks so much for cheering me on!♡ I'm so grateful for all the love!"



3rd Place: Pochacco
"I can't believe I got 3rd again this year! It's thanks to all your support! I'm going to try hard next year too!"

2021 Sanrio Character Ranking: Collaboration Category

This year sees Cinnamoroll take the top spot for the second year in a row. In the first round-up of announcements, Cinnamoroll was already at number one, but in the second round-up he dipped to 2nd place. That didn't stop him however as after gaining over 2.3 million votes, he grabbed that shiny crown once again. Pompompurin, who is celebrating his 25th anniversary this year, came in 2nd again, and Pochacco in 3rd again. Hello Kitty, who ranked 5th last year, came in 6th place this year – a place she kept since the second round-up. SHOW BY ROCK!! who will commemorate her 10th anniversary next year came in 8th once again. Kuromi, who received much love from overseas fans this year, climbed from last year's 7th to 5th this year, making it the first time she has clocked in the Top 5 spot in 11 years. Cogimyun came in 10th after coming in 13th last year, making it her first time in the Top 10.

The Collaboration Category, which began in 2013, saw 27 entrees from different businesses and creators. Popular creators Azuki and Hapidanbui took 1st place this year.

Mizkan Launches Gudetama Egg on Rice Collaboration With Sanrio

Mizkan launched a social media campaign last Tuesday in collaboration with Sanrio's popular character Gudetama. As part of the campaign, the lazy egg character is featuring on the packaging for Mizkan's 'Tamago Shoyu Tare,' an egg soy sauce topping for rice. There are eight designs in total, and all limited in stock.

The campaign invites foodies to make their best version of N-TKG, that's an abbreviation of natto tamago kake gohan, or natto egg on rice. 30 lucky people have the chance to win an original Quo card featuring a Gudetama design. All they need to do is follow Mizkan on Twitter and post their creation along with the Japanese hashtag #マイベストNTKG ("My Best NTKG") while quoting the campaign tweet.

N-TKG Recipe Maker

Mizkan have created a special N-TKG maker where you can make your own digital natto egg on rice. You enter six alphabetical letters which will give you a variety of toppings to creating your own dish. You can then use this as reference for actually making it in real life.


How to Make
1. Enter 6 letters into the recipe maker
2. Make your own original N-TKG using the toppings chosen by the letters you pick
3. Try making the dish yourself!

Information

#マイベストNTKG Campaign
Submission Period: June 1, 2021 – July 31, 2021
Official Website/N-TKG Recipe Maker: https://mizkan-ntkg.com/  


Sanrio Character Ranking 2021 to Announce Winner in Collaboration With Tokyo Girls Collection

Sanrio has announced that the announcement ceremony for the winner of the 2021 Sanrio Character Ranking will take place in collaboration with Tokyo Girls Collection (TGC), a semi-annual fashion festival in Tokyo, on June 8. The event will be streamed live on Hello Kitty and TCG's respective LINE accounts, as well as Sanrio's official YouTube account, so that more people can tune in to this year's announcement and see which of Sanrio's characters will take the crown.

80 characters are participating in this year's Sanrio Character Ranking which will be announced in order from 80 to 1. This year also sees the return of the sub-award categories including Collaboration. Hosting the event as MC is tarento and actress Nao Asahi and the Japanese comedy duo Wagyu ga Tsutome.

But the winner announcement is not the only event scheduled for 2021's ranking. Since this time is a collaboration with TGC, there will be a fashion runway where popular models will show off their looks, a live performance with JO1 and the Sanrio characters, a rap battle, and more.

Fashion Runway: Famous models display the Sanrio character aesthetic

On the fashion stage, a line-up of well-known Japanese models will serve fashion inspired by Sanrio's most famous characters including My Melody, Kuromi, Little Twin Stars, and Pompompurin.

Marie Iitoyo and Maika Yamamoto will use a real-time composite photography system as they dress up as the adorable My Melody and her rival Kuromi. Serving the dreamy star-filled world of Kiki and Lala are Kaane and Sakura Saiga, Yoshiaki & Michi, and Rikariko. For the Pompompurin section, which is themed on the golden retriever's daily life, we have Nana Kato, Ami Komuro, Natsuki Deguchi, Sachi Fujii, and Roy. But that's not all as Sakachin, Yuki Higashihara, and Reina, who won the LINE LIVE auditions to appear on this year's fashion runway, will also appear.

A heated rap battle between the Sanrio characters

In the rap battle, KIRIMI-chan, Kuromi, Kogimyun, and Pompompurin will go head to head against special guests Tsukasa Saito of comedy duo Trendy Angel and Yuriyan Retriever. 

The Sanrio cast join music artists for a concert

The adorable Cinnamoroll, who is also expanding his work as an idol, will perform alongside JO1, while Hello Kitty will sing with singer-songwriter Sonoko Inoue.

A new virtual experience using the latest technology

Japanese digital advertising company CyberAgent, who produced virtual events and 3DCG content, will be using the latest in 3DCG and XR tech to blur the lines between reality and the virtual space with an interactive experience, such as people's comments on social media and the video displaying in real time, and more.

Hetalia World★Stars Themed Cafe to Open at Tower Records

Tower Records has announced a collaboration with the Hetalia World★Stars anime series which will take place at three TOWER RECORDS CAFÉ branches: in Shibuya and Umeda NU Chayamamachi from June 9 and Nagoya Sakae SKYLE from June 22.

The cafe collaboration will see two different menus served across two periods. See the Information section at the bottom for more details.

The cafe collaboration's main visual

Menu ① Line-Up

Gutentag! Assorted Germany Plate / Dobrý den! Czech Style Goulash / Ahoj! Slovakian Kapustnica Set – ¥1,500 Each (Tax Included)

Buono! Panna Cotta & Tiramisu Set / Anmitsu Parfait – ¥1,300 Each (Tax Included)

Italy's Bicerin / Germany's Spezi / Japan's Matcha Milk / Czech's Berry Lemonade / Slovakia's Honey Wine-Style Apple Juice – ¥800 Each (Tax Included)

Menu ② Line-Up

C'est bow! Big Brother's Special Pot-au-feu / Hello! England's Meat Pie / Здравствуйте! Our Beef Stroganoff – ¥1,500 Each (Tax Included)

Hi! Hero's Special Muffins / Hào chī! Sesame Seed Dango & Annin Tofu – ¥1,300 (Tax Included)

America's Cherry Cola Float / England's Biscuit Tea / France's Rose Ginger Ale / Russia's Varenye Tea / China's Floral Jasmine Tea – ¥800 Each (Tax Included)

Available in Menus ① and ②

Pochi-kun's Latte | ¥800 (Tax Included)

Takeout Bottle Drink | ¥972 (Tax Included)

Menu Order Bonus Items

Menu ① Postcard

Menu ② Postcard

Menu ① Business Card Set (3 Included)

Menu ② Business Card Set (3 Included)

Menu ① Sticker (You must book a table in advance to receive)

Menu ② Sticker (You must book a table in advance to receive)

Exclusive Merchandise

Pins | ¥440 Each or Full Set ¥4,400 (Tax Included)


Key Rings | ¥880 Each (Tax Included)


Mini Character Acrylic Stands | ¥990 Each (Tax Included)


Folder Set (2 Included) | ¥990 (Tax Included)


Acrylic Diorama | ¥3,850 (Tax Included)

Hetalia World★Stars is a manga series by Hidekaz Himaruya that's serialised in Jump Comics+. In promotion of the new original net anime series which began airing on April 1, Tower Records has teamed up with the popular franchise to create a themed cafe experience with food, drinks, and desserts.

Fans can also get their hands on a selection of cafe-exclusive merchandise featuring their favourite characters including Italy, Germany, America, England, France, Russia, China, Czech, and Slovakia. These items are also available at Tower Records' online shop in Japan.

Since you have a time limit of 80 minutes to dine at the cafe, you can book a table in advance, which also earns you some freebie merch. Tickets are now available. Additionally, if there is a free table on the day, you can also go straight in. Same-day tickets are available in limited quantities.

©日丸屋秀和/集英社・ヘタリアW★S製作委員会

Information

Hetalia World★Stars x TOWER RECORDS CAFÉ

TOWER RECORDS CAFE Shibuya
Menu ①: June 9, 2021 – June 21, 2021

Menu ②: June 22, 2021 – July 4, 2021

Address: Tower Records Shibuya (Floor 2F), 1-22-14 Jinnan, Shibuya-ku, Tokyo


TOWER RECORDS CAFE Nagoya Sakae SKYLE
Menu ①: June 22, 2021 – June 28, 2021

Menu ②: June 29, 2021 – July 4, 2021

Address: SKYLE (Floor 9F), 3-4-5 Sakae, Naka-ku, Nagoya-shi, Aichi-ken

TOWER RECORDS CAFE Umeda NU Chayamachi


Menu ①: June 9, 2021 – June 14, 2021

Menu ②: June 15, 2021 – June 20, 2021

Address: NU Chayamachi (Floor 6F), 10-12 Chayamachi, Kita-ku, Osaka-shi, Osaka


*There are two menus available with different food and bonus merch

Buy Merch Online: https://tower.jp/hetalia
*The merch will be available both online and in-store at TOWER RECORDS CAFE Shibuya and Umeda NU Chayamachi on June 9 and subsequently TOWER RECORDS CAFE Nagoya SKYLE on June 22

Collab Cafe News: https://tower.jp/article/news/2021/05/26/n101
Collab Cafe Webpage: https://tower.jp/hetaliaws-cafe

*Opening hours and cafe content subject to change depending on COVID-19

TOKYO SENTO Festival: Connecting People With Art Through Japanese Bathhouses

TOKYO SENTO Festival 2020 is taking place as part of Tokyo Tokyo FESTIVAL, an initiative that's hosting a diverse selection of of cultural programs in the run up to the Tokyo Olympics, promoting its appeal as a city of arts and culture.

The project launched on May 26 at 500 sento in Tokyo. It covers many forms of Japanese art from manga, to Art Brut (outsider art), contemporary art, popular characters,
and more, all of which are serving to create artistic bathhouses. Two artists to look out for are their Art Brut to Haginoyu in Tokyo.

 

Art Brut is an art based on original methods and ideas that are not confined to existing expression methods. "Abundance comes from human connections" will be performed by Takeru Aoki and Kiyomi Hoshi.

If you're in Tokyo this spring and summer, don't miss out on the Tokyo Sento Festival.

Information

TOKYO SENTO Festival 2020

Running: May 26, 2021 – September 5, 2021

Where: Bathhouses in Tokyo

Art Brut Special Hand Towel Exchange Period: August 5, 2021 – September 5, 2021
Official Website: https://tokyosentofestival.jp/
*Content subject to change depending on COVID-19

Sanrio Puroland Announces Online Puzzle Solving Game With Hello Kitty and Friends

Sanrio Entertainment is teaming up with Harekage, a company that incorporates puzzles and riddles into promotional material, to launch a special online puzzle game that will be held via Zoom. The name of the game is "Acquisition of Puroland ~Rescue Captured Hello Kitty~" and it will be held six times on June 18, 19, 25, 26, and July 2 and 3.

In the game, which features a completely original story, players will communicate with the Sanrio characters on Zoom to solve the puzzle. They can write messages of support as well as tell the characters where and what to move. The event is being held online in response to COVID-19 and the shortened hours at Sanrio Puroland, so Sanrio fans unable to travel there can still meet with their favourites online. The stream will take place live from Puroland after closing hours.

How to Play

Players must purchase an online ticket and access the Zoom URL on the day. When the stream starts, an opening movie will play detailing the story. The game has a time limit as well as a final video after completing it. The puzzle and riddle can be accessed from the webpage provided. Players will use the chat function on Zoom to communicate with the Sanrio cast including Hello Kitty, Cinnamoroll, and Pompompurin, and guide them on what they should do to help save Hello Kitty.

The Game

This game is different from a quiz where knowledge is the key. Instead, you must use your full power of imagination to use the rules and words provided to line-up keywords in the right order and more. It's a fun game that both kids and adults alike can get involved with. Kids tend to have more imagination than adults so they might be the ones solve the puzzle first!

© 1990, 2009, 2021 SANRIO CO., LTD. TOKYO, JAPAN  著作 株式会社サンリオ

Information

Acquisition of Puroland ~Rescue Captured Hello Kitty~

Japanese Name: 買収されたピューロランド〜囚われのハローキティを救え〜       

Running: June 18, 2021 / June 19, 2021 June 25, 2021 / June 26, 2021 / July 2, 2021 / July 3 2021

Where: Zoom

Runs: Twice per day

Run ①: Stream Opens 17:50 / Game Runs 18:00-19:30

Run ② Stream Opens 19:50 / Game Runs 20:00-21:00

Ticket Price: ¥3,400 (Tax Included)

Buy Tickets: https://l-tike.com/search/?lcd=34031

Official Website: https://www.puroland.jp/liveshow/nazotoki/

Japan's Capcom Cafe Releases Ace Attorney Themed Menu

The Capcom Cafe located inside AEON Lake Town in Saitama is now serving up an Ace Attorney themed menu until July 8.

1. Keema Curry | ¥1,738 (Tax Included)

A keema curry inspired by the hoodie worn by Phoenix Wright. It features the Japanese word kurae! (くらえ!) which in the English version of the series is the quote "Take that!"

2. Tonosaman Tacos Plate | ¥1,958 (Tax Included)

A plate of tacos themed on Miles Edgeworth and Steel Samurai, the latter known as Tonosaman in Japanese. It includes two tortillas, one with a picture of Steel Samurai and the other with his name in Japanese.

3. Godot's Cafe Coffee Break Set | ¥1,408 (Tax Included)

A rich coffee jelly with accompanying biscuits and gateaux chocolate. Based on Godot.

4. Blue Hawaii Parfait | ¥1,408 (Tax Included)

A parfait with motifs of Franziska von Karma. It captures her cool and stylish look. A perfect drink for a hot summer's day.

5. Chocolate Banana Drink | ¥880 (Tax Included)

A drink inspired by the yukata worn by Maya Fey. Comes with a chocolate banana like the one she is holding in the illustration drawn of her for this cafe collab.

6. Fruit Sangria | ¥880 (Tax Included)

A fruity and refreshing non-alcoholic sangria inspired by Apollo Justice.

7. Rock Soda | ¥880 (Tax Included)

A non-alcoholic cocktail on the rocks inspired by Klavier Gavin. Served with a bottle and glass.

For an extra ¥3,000, customers can get the Kurae! plate as a set with the keema curry

 

Get some free original novelties

Get a free lunch mat (pictured left above) when you order any dish or dessert or a free coaster (pictured right above) when getting a drink.

And if you spend over ¥3,000 on the cafe menu,  you get one of these free postcards.

Fans need to book a table in advance to dine at the Capcom Cafe.

©CAPCOM CO., LTD. 2021 ALL RIGHTS RESERVED.

Information

Ace Attorney Collab Menu

Running: May 21, 2021 – July 8, 2021

Location: Capcom Cafe AEON Lake Town

Address: 4-21-1 Azumacho, Koshigaya, Saitama 343-0826, Japan

Capcom Cafe Official Website: http://www.capcom.co.jp/amusement/capcomcafe/

Cinnamoroll's Warm & Fluffy Dessert Party to Grace Hilton Osaka This Summer

Hilton Osaka's second floor restaurant Folk Kitchen has announced a collaboration with Sanrio to serve up Cinnamoroll's Warm & Fluffy Dessert Party, a food menu themed on Sanrio's popular character Cinnamoroll who took home the number one spot in the 2020 Sanrio Character Ranking. He was born up on a cloud in the sky, and that's where guests are invited to dine with him: on his dessert wonderland, featuring around 25 dreamy-cute items, atop a fluffy cloud. The restaurant will take on special decorations for the menu's duration, and guests might even spot some other familiar Sanrio faces too like Hello Kitty, My Melody, and more.

Raindrop & Dance Yogurt Ring Cake

Kuru Kuru Coffee Cup Peach Mousse

Warm & Fluffy Cloud Mousse

Cafe Cinnamoron Cream-Loaded Pastries /Brown Sugar Chocolate Flower Tarts

Marshmallow Truffle

I Dropped My Ice Cream – Chocolate Mousse & Blackcurrant Cake

This is Hilton Osaka's third summer dessert buffet in a row held in collaboration with Sanrio's characters. Focusing on the greatly loved Cinnamoroll, whose fandom is mostly made up of those in their teens and 20's, guests can look forward to tucking into a deliciously kawaii menu. The restaurant's pastry chef Hyaku, also known as the wizard of smell and texture, recommends the 'Raindrop & Dance Yogurt Ring Cake' which is made with a fruity mango cream that melts into a creamy sour mousse. The raindrops are represented by chocolate, and the fluffy cloud is actually crunchy meringue. The dessert captures the bright and sparkly world of Cinnamoroll.

The 'Kuru Kuru Coffee Cup Peach Mousse' is loaded with peach compote and vanilla mousse for an exquisite balance of flavours. It's topped off with Sanrio characters made of chocolate.

The 'Warm & Fluffy Cloud Mousse' has a gorgeous pink gradation. Inside the honey mousse is a refreshing layering of sudachi citrus jelly, fresh orange, and pistachio biscuit.

There's also the 'Cafe Cinnamoron Cream-Loaded Pastries' and 'Brown Sugar Chocolate Flower Tarts' which capture the cuteness of Cinnamoroll.

There's also a refreshing dessert-in-a-glass for cooling down over the summer: the 'Marshmallow Truffle' which is inspired by unicorns. It has alternating layers of raspberry and lychee cream which when mixed create all-new delights for your taste buds.

Another fun item on the menu is the 'I Dropped My Ice Cream – Chocolate Mousse & Blackcurrant Cake.' Now that's a mouthful! The ice cream cake is steeped in elderflower foam which goes amazingly well with the chocolate mousse. Other bites include the hibiscus-scented 'Almond Panna Cotta White Peach Compote' and the 'Rainbow Agar-Agar' among other things.

Cinnamoroll's Warm & Fluffy Dessert Wonderland – Sanrio Characters Collaboration Afternoon Tea Set

There's even a special afternoon tea set served in a cute little jewellery box!

There are many kawaii moments to be had in Japan, and this is one of many!

Information

Cinnamoroll's Warm & Fluffy Dessert Wonderland – Sanrio Characters Collaboration Tea Party

Japanese Name: シナモロールのふわもこスイーツワンダーランド ~サンリオキャラクターズ コラボティーパーティー~

Running: June 4, 2021 – September 12, 2021

Where: Folk Kitchen (Hilton Osaka Floor 2F)

Serving Times: Everyday 15:00-16:30

Price: [Weekdays] ¥4,900 Per Person / [Weekends] ¥5,300 Per Person

Afternoon Tea Set

Running: June 4, 2021 – September 12, 2021

Where: MYPLACE Cafe & Bar (Hilton Osaka Floor 1F)

Serving Times: 12:00 until daily limited stock runs out

Price: ¥4,500 Per Person

Official Website: https://osaka.hiltonjapan.co.jp/plans/restaurants/sweets/folkkitchen-2106