"Shinjuku Kakekomi Gyoza" begins sales of 5-colored gyoza
At the juicy-meat gyoza (dumpling) specialty store, "Shinjuku Kakekomi Gyoza / Kabuki-cho Store" they will begin the sales of the 5-colored colorful gyoza, "Colorful Rainbow Gyoza" starting from 2017 November 16th (Thurs.)
The interior of "Shinjuku Kakekomi Gyoza" has been designed to look like the Edo Period fire fighter organization, "Hikeshi-tai." Paper lanterns hang from the ceiling and there are wooden tabs hanging all over the wall. When you enter this store, you will feel as though you have time-slipped into the Edo Period and you can enjoy the atmosphere and the lively feeling.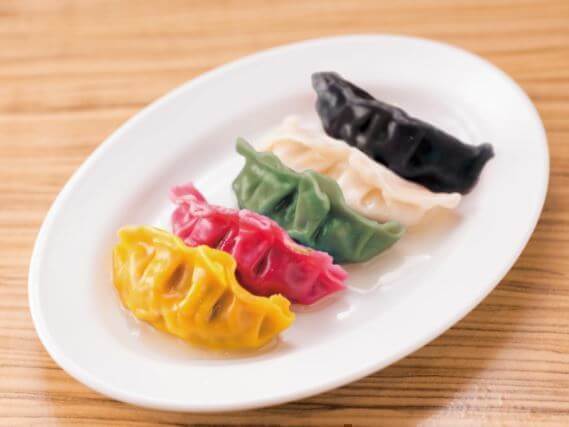 "Colorful Rainbow Gyoza" has a skin with a chewy texture and is packed full of meat. The 5 colors of the gyoza are made of the following; squid ink, turmeric, spinach and red peppers. The skin does not absorb water and become soggy so it is good as a take-away item. This gyoza is not only very delicious but is a very photogenic 5-colored gyoza.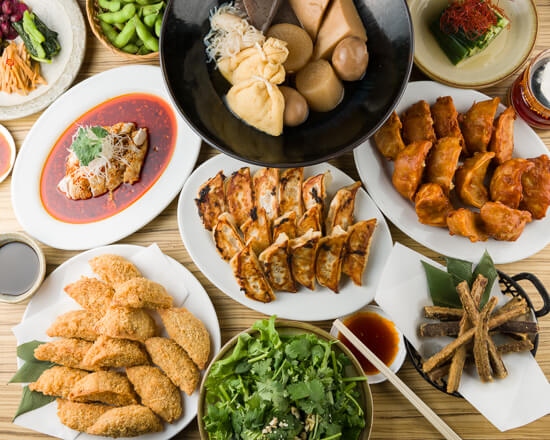 This gyoza uses specially chosen cuts of pork and special attention has been paid to the "umami" flavor of the meat. It is a "shoronpo"-like gyoza with lots of meat juices. The secret of the meat juices is the fact that high-quality scallop muscles and fish soup is used. The flour used to make the skin has a chewy texture and is suited to envelop the meat juices. No garlic or "nira" (leek) is used so it is very popular with women. The more you chew the more the meat juices fill your mouth and it is a truly exquisite gyoza.
2017, November 29 (Wed.) is known as "good meat day" (The reading of the numbers in Japanese – "ii niku" means "good meat.") On this day a "Ii Niku no hi" campaign will be carried out. The campaign will be carried out from 23:00 ~ 5:00 (90 minute duration) for all customers who have reservations after 23:00. "Colorful Rainbow Gyoza" (500 yen per order) will be offered (the 5 gyoza will be the following gyoza; boiled gyoza, fried gyoza, deep fried gyoza, gyoza cutlet and colorful rainbow gyoza.) Customers can eat as much as they like for this price.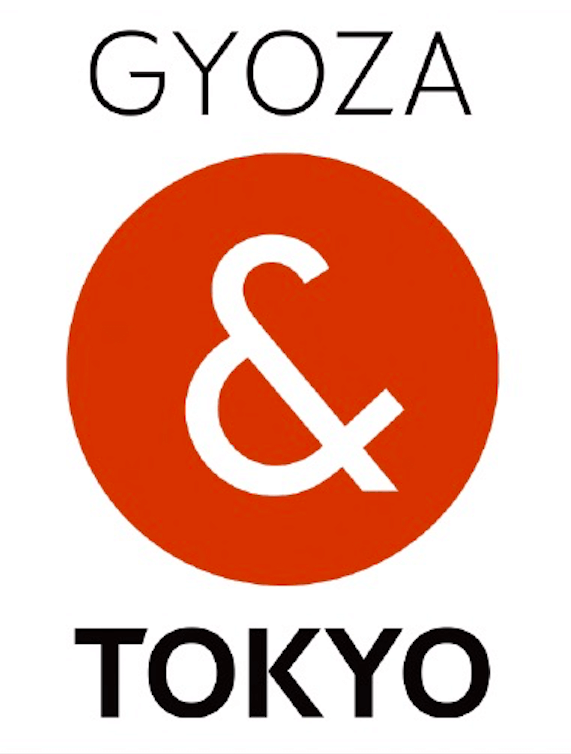 This gyoza has now been registered as a "GYOZA&TOKYO" food item. This labeling is a part of a promotion campaign to announce good food to foreign guests to Tokyo. "&TOKYO" is a logo for Tokyo citizens, private business persons and foreign travelers. It will be used to highlight the charms of Tokyo. Various activities and things can be places before the "&" mark and this will express this Tokyo charm. They aim to spread this movement and by adding various activities and things at the front of the logo "&TOKYO" help to make this logo a symbol of Tokyo.
Why not try this gyoza which tastes delicious and looks awsome.
■Information
Colorful rainbow gyoza
Price: 5 for 500 yen (tax not included)
"Nikujiru Sai" (Colorful rainbow gyoza start of sales campaign) Overview
Time: 2017 November 29th (Wed.) 23:00 ~ 5:00
Duration: 90 minutes
Intended customers: Persons who have made reservations for after 23:00 (Reservations must be made before 15:00)
Price: 500 yen (with tax 540yen)
   *At least one drink and one food item must be ordered
Content: Colorful Rainbow Gyoza one serving (500 yen) includes 5 gyoza (boiled gyoza, fried gyoza, deep fried gyoza, gyoza cutlet, Colorful Rainbow Gyoza) as much as you like
How to make a reservation: Make a reservation by going to the store's website. *In the "questions and requests box" please write, "Nikujiru Sai"
Website: https://yoyaku.toreta.in/kakekomi-gyoza/
Shinjyuku Kakekomi Gyoza / Kabuki-cho store
Address: 1&2F No.58 Tokyo Building, 1-12-2 Kabuki-cho, Shinjuku-ku, Tokyo
Hours: Open 24 hours a day / no holidays
TEL:03-6233-7099
URL: http://www.kakekomi-gyoza.com/
&TOKYO official website: https://andtokyo.jp/
RELATED ENTRIES
Fruit Packed Sandwiches Get Whipped Up at Limited-Time Shop in Tokyo

The fruit sandwich eatery Maruichi Seika has opened a pop-up shop on the second floor of Kita-Senju Marui in Adachi, Tokyo. The shop is a collaboration between the popular local restaurant Ippo Ippo and Maruichi, a long-standing and much-loved fruit shop.

Fruit is the key ingredient at Maruichi Seika where they want customers stuffing their cheeks with strawberries, oranges, pineapple, and more. Fruit is packed into fat sandwiches and combined with mascarpone cheese for a filling treat. The bread is provided by Furansuya, a local bakery in Kita-Senju that has been running for over 10 years.

A Select Look at the Line-Up

Sky Berry | ¥740 (Tax Included)

This sandwich is named after a particular variety of strawberry is known as the Sky Berry. It's sourced from Tochigi Prefecture and is known for its superior sweetness, juiciness, and the fact that it's low in acidity. Ordering this lets you enjoy three different kinds of well-known strawberry: the titular Sky Berry, the Tochiotome which is also from Tochigi, and the classic Amaou from Fukuoka.

Setoka | ¥840 (Tax Included)

The Setoka is a rare and super sweet, full-bodied citrus fruit that's normally given as a gift in Japan. In sandwich form, it enjoys a perfect balance of sweetness and tanginess.

Pineapple | ¥630 (Tax Included)

The Golden Pineapple from the Philippines is the variety used in this sandwich, packed with mouth-watering sweetness and offering a rich fruity fragrance.

Maruichi Mix | ¥740 (Tax Included)

This sandwich is a combination of fruits including the Amaou strawberry from Fukuoka, the Kanjuku Kiwi from Ehime, and the Premium Banana from the Philippines. It also contains the best picked mikan which are bought fresh from the market every day.

If you've never tried a fruit sandwich in Japan and are in Tokyo this winter, then don't miss out on Maruichi Seika's limited-time line-up.

Information

Maruichi Seika

Address: Kita-Senju Marui Floor 2F – Kitchen Garden 350

Address: 3-92 Senju, Adachi-ku, Tokyo

Kita-Senju Marui Official Website: https://www.0101.co.jp/084/

Love Me Pom Poko! Manga Gets Themed Cafe at NewType Shinjuku in Tokyo

NewType Shinjuku, a subculture cafe and bar in Tokyo, is collaborating with Modomu Akagawara's manga series Love Me Pom Poko! from February 6 to 28. The cute and charming world of the series arrives not only on the food and drinks menu but in the form of merchandise and decorations too. As is the case with collaboration cafes in Japan, there's some free novelties for customers to enjoy when they purchase something from the menu too.

The Menu

©Modomu Akagawara/Hakusensha

©Modomu Akagawara/Hakusensha

Merchandise Line-Up

©Modomu Akagawara/Hakusensha

Novelty Coasters

©Modomu Akagawara/Hakusensha

Love Me Pom Poko! is not that known in the West yet, but if you happen to be in Tokyo this month, be sure to stop on by to experience the art of the series yourself.

Information

Love Me Pom Poko! Collab Cafe
Running: February 6, 2021 – February 28, 2021
Location: NewType Shinjuku
Address: Dash Bldg. 1F, 5-12-16 Shinjuku, Shinjuku-ku, Tokyo
Opening Hours: [Weekdays] 16:00-20:00 / [Weekends & Holidays] 11:00-20:00
TEL: 03-5315-4799
Official Website: http://ntsnjk.tokyo/

Cat Day 2021: Japan Celebrates the Day of Cats With Pop-Up Shops and Events

BS TV Tokyo is celebrating Japan's Cat Day, which falls on February 22, by opening pop-up shops at ten Book1st stores and two Marui stores which will run from February 1 to 28.

The pop-up shops will feature a feline-filled wealth of reading material and merchandise based on popular cat characters in Japan, like Tom & Jerry, Kuroro, Nanana, and more. And if you head to the Nakano branch of Book1st and visit their 2nd floor cafe "Cafe nota nova," there'll be some decorative cat-themed displays on show. During the pop-up shops' openings, all who buy goods and books related to the event will receive a free folder too.

If you love cats, and are in Japan this month, then don't miss out on this special event in the run up to Cat Day!

Information

Cat Day Pop-Up Shops
Running: February 1, 2021 – February 28, 2021

Book1st Participating Branch List

Locations: Shinjuku, Nakano, Aobadai, LUMINE Kita-Senju, LUMINE Kagagoe, Mosaic Mall Kohoku, Shapo Ichikawa, Bono Sagamiono, Hankyu Nishinomiya Gardens, Ebista Nishinomiya

Running: February 1, 2021 – February 28, 2021

Marui Participating Branch List

Marui Kichijoji (February 16 – 28)

Shinjuku Marui Annex (February 22 – 28)

Event Details: https://www.bs-tvtokyo.co.jp/catday2021/

Loving Valentine's Day Chocolates Tempt at The Peninsula Boutique & Café in Tokyo

Peninsula Merchandising Limited is set to capture hearts this Valentine's Day with the announcement of a desiring new collection of chocolates which will be served at two branches of The Peninsula Boutique & Café in Shin-Marunouchi Building and Isetan Shinjuku from February 1.

Sweetheart | ¥3,400 (Before Tax)

Macarons (6 Included) | ¥2,860 (Before Tax)

Truffle Truffle | ¥1,500 (Before Tax)

Strawberry Bear Ruby Chocolate Bar | ¥1,750 (Before Tax)

Eponge | ¥560 (Before Tax)

Croquembouche | ¥720 (Before Tax)

Rose Rouge | ¥1,500 (Before Tax)

Love Lock Key Ring | ¥5,000 (Before Tax)

The romantic line-up features an assortment of lovingly-crafted confections, from ruby chocolate to colourful macarons, a rose-topped chocolate, and more—all available for the season of love. The boutique cafes will also sell a special heart-shaped key ring for lovers to express to their special someone that they complete them.

7 Days of Strawberry Dessert Love at Isetan Shinjuku This January

Isetan Shinjuku has announced a special one-week event titled "7 Days of Loving Strawberries" which is centred around cute and delicious strawberry desserts and will run this month from January 13-19. Ten cafes and restaurants are participating with a sweet and succulent line-up including strawberry daifuku, strawberry shortcake, special parfaits and crepes, and more.

Strawberry Candle Pavlova @ mihopan popcake | Two for ¥972 (Tax Included) *Limited quantities

MIGAKI-ICHIGO Strawberry Parfait @ Ichibiko | ¥1,980 (Tax Included)

Strawberry Shake @ Ichigo-ya Sunsunen | ¥721 (Tax Included)

Crispy Strawberry Mille-Feuille Crepe @ Sorairo Crepe | ¥935 (Tax Included) *Limited quantities

Strawberry Shortcake Parfait @ Shiseido Parlour | ¥1,045 (Tax Included)

Strawberry Daifuku @ Berry UP! | ¥432 (Tax Included)

Ripe Strawberry Milk Pudding @ Kanjyuku Ichigo Kashi Kekyusho | ¥486

Whole Strawberry Sandwich @ Sajisakon | From ¥864 (Tax Included)

MIGAKI-ICHIGO Strawberry Daifuku @ Seigetsudo Hoten | ¥432 (Tax Included)

Information

7 Days of Loving Strawberries (Japanese Name: いちごに恋する七日間)
Running: January 13, 2021 – January 19, 2021
Location: Isetan Shinjuku Floor B1F
Official Website: https://mi-journey.jp/foodie/66251/

discord Yohji Yamamoto x HUNTER Pet Accessories Drop in Tokyo

discord Yohji Yamamoto, a luxury accessory brand spearheaded by Yohji Yamamoto, has launched a collaboration with German pet brand HUNTER to release a collection of dog collars, leads, and other accessories like bags and wallets.

HUNTER was established in 1980 and has gone on to mark its territory across the world as a provider of high quality pet goods, praised for for the design, functionality, and safety of its products.


Black Dog Collar & Lead

The dog collars are fitted with studs as part of the collaboration. Both the collar and lead feature the same colouring as discord Yohji Yamamoto's products, arriving in the brand's signature black as well as beige, the latter of which is often used for its bags and small leather products. They are also clipped with a signature charm which has a design symbolising the collaboration.

Beige Dog Collar & Lead

The accessories are made from elk leather which is soft and made extra durable with double layering. Having the collar and lead the same colours also adds a sophistication to the design when fitted on a dog.

The collection will be released at discord Yohji Yamamoto stores in GINZA SIX, Shibuya PARCO, and Isetain Shinjuku, as well online. More details can be found on the official website here.

discord Yohji Yamamoto Black / Beige Selection


Y BACKPACK Nylon Studs | ¥148,000


ORIGAMI Tote | ¥98,000


Triple Clutch | ¥58,000


Diagonal Bag | ¥45,000

Y SERIES Studs


Y BODYBAG Studs | ¥138,000


Y BACKPACK Studs | ¥158,000

Small Leather Goods

Card Mini Wallet | ¥17,000

Key Wallet | ¥20,000

SHIRO's Omotesando Cosmetic and Beauty Store Gets Museum-Like Makeover

The flagship store of cosmetic brand SHIRO, SHIRO Omotesando, received a makeover on Friday last week (December 18). The shop, which has moved to the building's second floor, has increased in size by 30%, allowing for SHIRO to display its 70 or so skincare and cosmetic products like a museum.

Ingredients Showcase

The many ingredients used in SHIRO's products are now on display—something which customers don't normally get to see―such as extract of gagome kombu, tamanu, pot marigold, and more. The line-up is packed solely with high quality ingredients by trusted producers and is a chance for people to get to know about the products they are buying even more.

The Edible Display

A special display of edibles, which will change depending on the harvesting seasons, can be enjoyed including ginger, yuzu, aloe, and more.

8 Drawers

Underneath the displayed ingredients are eight drawers which reveal the actual size of the ingredients before they are turned into products. It also reveals when they are produced, information about the producers, and so on.

Store Design

The store has of course undergone a full revamp, with the walls layered with gravel and soil, further adding to the display of the raw materials and ingredients. The wall design incorporates a traditional Japanese architecture method which results in it looking like something straight out of nature.

Limited Edition Products

To celebrate the renovations at SHIRO Omotesando, the store will be selling a limited-edition SHIRO PERFUME as well as a selection of products available at only select stores like SHIRO LIFE and SHIRO HOME items.

SHIRO BEAUTY (B1F)

SHIRO BEAUTY is a salon on floor B1F that manages SHIRO Omotesando. It's set to close on December 31 and will reopen in mid-February next year to bring in haircut, hair colouring, head spa, and other services as well as facials, body treatments, and more.

SHIRO PERFUME

SHIRO PERFUME will be sold in limited quantities and is exclusive to SHIRO Omotesando.

SHIRO PERFUME – WISHING WELL | ¥10,500 (Before Tax)

SHIRO PERFUME – WISHING WELL Fragrance
A warm and cosy fragrance with fresh berry notes on top and bitter orange for accent.

TOP: Bitter Orange, Berries, Redcurrants
MIDDLE: Jasmine, Rose
LAST: Wood, Cedarwood, Musk

Information

SHIRO Omotesando
Address: 5-2-7 Jingumae, Shibuya, Tokyo
Opening Hours: 11:00-20:00
Access: 5-minutes on foot from Omotesando Station's A1 Exit
TEL: 03-6712-5546
SHIRO Official Website: https://shiro-shiro.jp/

SCRAP x SNOOPY Puzzle Game Project Announces Extension Into 2021

TOKYO MYSTERY CIRCUS has announced an extension of its ongoing SCRAP x SNOOPY Puzzle Game Project.

The SCRAP x SNOOPY Puzzle Game Project invites visitors to join Snoopy and the Peanuts Gang for a whole bunch of puzzle-solving fun. There's also exclusive merchandise for Snoopy fans to get their hands on. The project was originally scheduled to end on December 31, 2020, but due to the COVID-19 pandemic, many people were unable to attend which resulted in demand for an extension.

There are three puzzle experiences for people to enjoy including "Snoopy and the Clue Solving Circus," "Snoopy and the Secret Recipe," and "Snoopy and the Mysterious Painting." Each has players getting their own puzzle-solving kit which they must use in conjunction with the phone app LINE. The puzzles have them running around TOKYO MYSTERY CIRCUS, Japan's first and biggest puzzle theme park.


Visitors can tuck into a range of Snoopy themed food as well as get their hands on over 30 pieces of original merchandise from tote bags to handkerchiefs, origami, and more.

Information

SCRAP x SNOOPY Puzzle Game Project

Event Page: https://mysterycircus.jp/snoopy/en/

TOKYO MYSTERY CIRCUS

Address: APM Bldg., 1-27-5 Kabukicho, Shinjuku, Tokyo, 160-0021

Opening Hours: Weekdays 11:30-23:00 / Weekends & Holidays 09:30-23:00

No Fixed Holidays.

Price: Free Entry (*Separate tickets required for games)

TOKYO MYSTERY CIRCUS x Snoopy Official Website: https://mysterycircus.jp/snoopy/en/

Square Enix Collaborates With Vicky's On Game Themed Food

Hyatt Regency Tokyo's restaurant Vicky's is collaborating with Square Enix from December 21, 2020 to January 17, 2021 to serve up a special game themed menu for the video game company's 'Crystal Story: The Mysterious Forest and the Goddess' event.

Crystal Story: The Mysterious Forest and the Goddess

The event is taking place at Shinjuku Central Park from December 21-27 this year, turning the park into a crystal-covered light show. As part of the event, Vicky's will be serving up a special menu in collaboration with the event until January 17, with pulled pork sandwiches, a special dessert made with white chocolate, vanilla mousse, and raspberry sauce, and much more. All the dishes will send visitors into a magical world like that of a video game.

For special drinks are also available and are inspired by the colourful crystal illuminations that will light up the park.

Information

Vicky's Collaboration Menu
Running: December 21, 2020 – January 17, 2021

Time: 17:00-21:00
Enquiries: 03-3342-4509 (SHINJUKU HIKARI)
Special Site: https://www.shinjukuhikari.com/

Sanrio's Little Twin Stars Kiki & Lala Light Up Shinjuku With TWINKLE COLOR CHRISTMAS Illumination Event

Sanrio's beloved character pair Kiki & Lala, also known as the Little Twin Stars, are hosting a special winter event titled "TWINKLE COLOR CHRISTMAS" at Shinjuku Southern Terrace from December 1 to 25, illuminating the area with beautiful Christmas lights, as part of their 45th anniversary.

Kiki & Lala's twinkling Christmas tree magical in the daytime and night time

The towering 4-meter tall Christmas Tree is decorated in countless mirror balls which reflect beautifully both during the day from the sun and at night with Kiki & Lala's illuminations. A special light show is also taking place from 16:30 each day with Christmas songs.


Decorated around the tree are Kiki & Lala neon signs and pastel-coloured adornments.

Those unable to visit Shinjuku this Christmas can access the "TWINKLE COLOR CHRISTMAS AR TREE" digitally This will have Kiki & Lala's Christmas tree appear on your phone when taking photos. You can access it here.

Kiki & Lala treats at the Sanrio Cafe Wagon

Limited time menu

45th Anniversary Items

On weekends, as well as from December 19 up to Christmas Day, a food wagon will make an appearance at the event serving Kiki & Lala food and drink like the pink and fruity Ruby Chocolate Latte and fruit-filled Twinkle Crepe.

©'76,'20 SANRIO 著作(株)サンリオ

Information

Little Twin Stars x Shinjuku Southern Terrace TWINKLE COLOR CHRISTMAS
Running: December 1, 2020 – December 25, 2020
Tree Light-Up Schedule: December 1 = 17:00-24:00 / December 2-24 = 16:30~24:00 / December 25 = 16:30-21:00
Address: 2-2-1 Yoyogi, Shinjuku, Tokyo
Entry: Free
Official Website: https://www.sanrio.co.jp/news/ts-odakyu-twinkle-color-christmas-20201119/

IKEA Shinjuku to Open in Spring 2021

IKEA Japan has announced that its third branch will open in Shinjuku in Spring 2021, following the opening of IKEA Harajuku in June and IKEA Shibuya which is opening on November 30.

IKEA Shinjuku will be conveniently located just a 5-minute walk from JR Shinjuku Station. It will feature a line-up of products to get people living more sustainably at an affordable price. It will also serve authentic Swedish food.

Helen Von Rice (IKEA CEO, Chief Sustainability Officer) | Comment

"We are so excited to continue our city-expansion journey with our third city shop meeting many more of the Tokyoites in the bustling Shinjuku district. We hope to inspire and solve home-furnishing needs at a time when the home has never been more important. Our Shinjuku shop will also continue to offer great plant-based food as well as sustainable products to reach our goal of being climate-neutral by 2030."

Information

IKEA Shinjuku
Grand Opening: Spring 2021
Address: Keio Shinjuku B1F-3F, 3-1-13 Shinjuku, Shinjuku-ku, Tokyo
Official Website: https://www.ikea.com/jp/ja/

Enjoy the Beautiful Taste of Kyoto at Isetan Shinjuku in Tokyo

Isetan Shinjuku has announced a special event dedicated to promoting the beautiful taste of Tokyo. Set to begin on December 2, the event will see both traditional and newer restaurants from Kyoto come together to serve up Kyoto-style cuisine to the people of Tokyo from oldies like sushi to dango to more modern dishes like okonomiyaki and katsu sandwiches. Visitors will also be able to watch real chefs from Kyoto at work.

Hi-Lite Shokudo's "Hi-Lite Katsu Sandwich" | ¥850

Since first opening in 1960, Hi-Lite Shokudo has continued to treasure the taste of home cooking and has continued to evolve that taste over the years to cater to each generation. Its famous katsu sandwich is made with a secret sauce that has kept it unbeaten against other popular eateries in Kyoto, and they've upped the taste for this event.

Kotoka's "Mitarashi-dango" | ¥864 (6 Sticks) 

These dango are made fresh in front of customers and are doused in a rich secret sauce. Their chewy texture is irresistible.

Izuu's Mackerel and Tilefish Assortment | ¥4,455 (3 of each per person)

Izuu is an iconic sushi restaurant in Kyoto that was first established in 1781. This assortment is made with chub mackerel from coastal waters, esumai rice from Shiga Prefecture, and kombu from Hokkaido.。

Yumeya's Fuwafuwa Okonomiyaki | ¥801 (1 portion)

Many people living outside of Kyoto search for the okonomiyaki flavour served by Yumeya. It's made fresh, fluffy, and is topped with lots of ingredients.

Daitokuji Saiki-ya's "Dashimaki Tamago" | ¥648 (1 portion)

Daitokuji Saiki-ya is a specialty store in Kyoto catered food in business for 1933 years. It serves Kyoto-style dashimaki tamago as well as lots of other delicious food that captures the taste of Kyoto.