Shinjuku is a convenient location for transportation, linked to pretty much everywhere, making it a huge tourist destination. In this article we will show you some great restaurants and spots you should definitely check out if you're planning a trip to Shinjuku.
"The Lockup" – A prison themed restaurant
The Lockup is a unique prison themed restaurant that serves up an unforgettable menu of fun goodies, from colourful drinks served in test tubes and beakers to food that takes on the form of a monster and cocktails with eyeballs floating in them – everything worthy of being the next post on your Instagram. All six branches of The Lockup are holding an event titled Shujin Thanks Festival from November 1st to December 7th to celebrate the unveiling of their new logo. As part of the celebration, customers will be able to get their hands on the restaurant's 6-coloured "Crazy Monster Cheese Fondue" at a very special price!
Full Details: http://www.moshimoshi-nippon.jp/75692
■Information
"The Lockup"
Shop List: 6 branches in total – Tokyo (Shinjuku), Osaka (Umeda), Nagoya, Sapporo, Tenjin, Omiya
Shop Website: http://www.lock-up.jp/
"Shujin Thanks Festival" Official Page:
Sarutahiko Coffee and TiKiTaKa ICE CREAM no omise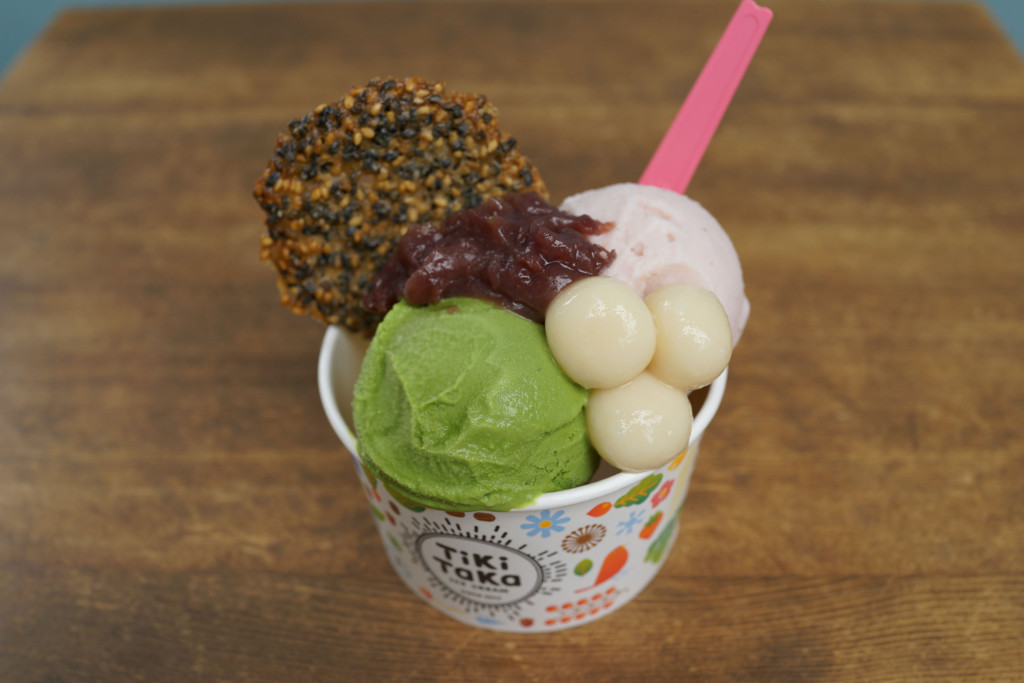 Sarutahiko Coffee and TiKiTaKa ICE CREAM opened on the 1st floor of Lumine Shinjuku 1 back in August. There are 16 varieties of ice cream to choose from. And what makes it better? The flavours keep on changing! No matter how many times you visit, you will always encounter entirely new flavours, making it an exciting store to visit.
Full Details: http://www.moshimoshi-nippon.jp/59861
■Information
Sarutahiko Coffee and and TiKiTaKa ICE CREAM
Address: 1st floor, LUMINE Shinjuku 1, 1-1-5 Nishi-Shinjuku, Shinjuku, Tokyo
Open: 8:00-22:30
Closed when LUMINE Shinjuku 1 is closed
Menu includes a variety of coffees, 16 varieties of ice cream, two varieties of ice creams with toppings, coffee floats and much more!
"DOU" – the 'dorayaki' specialists
Dorayaki is a classic Japanese confection that comes in the form of a pancake filled with sweet red bean. DOU's best-selling item on its menu is a twist on dorayaki, having more of a light texture to it similar to that of the sponge cake in the West. They separate the egg yolk and egg whites and whisk them individually before using a steaming method on site to make the product fluffy and give it a divine flavour. The ingredients they use are what give the overall flavour an exquisite balance. DOU uses velvety, melt-in-the-mouth fresh cream straight from Hokkaido, high quality  'Miyabi' adzuki beans which are cooked to perfection to create a gorgeous fragrance, and 'gyūhi' (a softer kind of mochi) that is made from mochi rice called "Hakuchomochi" that is cultivated in Hokkaido.
Full Details: http://www.moshimoshi-nippon.jp/56069
■Information
DOU Lumine EST Shinjuku
Address: Lumine EST Shinjuku B1F, 3-38-1 Shinjuku, Shinjuku-ku, Tokyo
Opening Hours: Weekdays – 11:00-22:00 / Weekends & National Holidays – 10:30-21:30
Telephone: 03-6273-0142
Price: 1 = ¥324 (incl. tax) / Set of 4 = ¥1,252 (incl. tax)
*Only 4 per customer
Official Homepage: https://namadorayaki.com
>>next page