Adult fans of the hugely popular TV anime series "Mr. Osomatsu," listen up. This one's not for the kids. The "Adult Lunch Plate" is now available to order. This rare item recreates a scene of all 6 of the Matsuno siblings sleeping together in their futon.
This plate can be used for just about anything – not just for lunch. Store your little trinkets inside, set it up as decoration, or gift it to someone!
The dark and gloomy eyed lone wolf. He finds it difficult to express himself. What's he looking at? (Ichimatsu, the 4th brother)
A ladies man, unable to contain his romantic passion, but also noble. He has gallant eyes and much self-confidence. His expression says it all! (Karamatsu, the 2nd brother)
Cute and innocent on the surface, cold and manipulative on the other side. Look at those eyes. Two-faced Totty! (Todomatsu, the youngest brother)
The immature, self-proclaimed leader of the brothers. He gets on his siblings' nerves a lot. (Osomatsu, the eldest brother)
The clever coward. Look at that kind and fixed smile! What's he thinking about? (Choromatsu, the 3rd brother)
He's not bothered that his foot is the only one out of the bed. An unstoppable smile and a big heart. (Jyushimatsu, the 5th brother)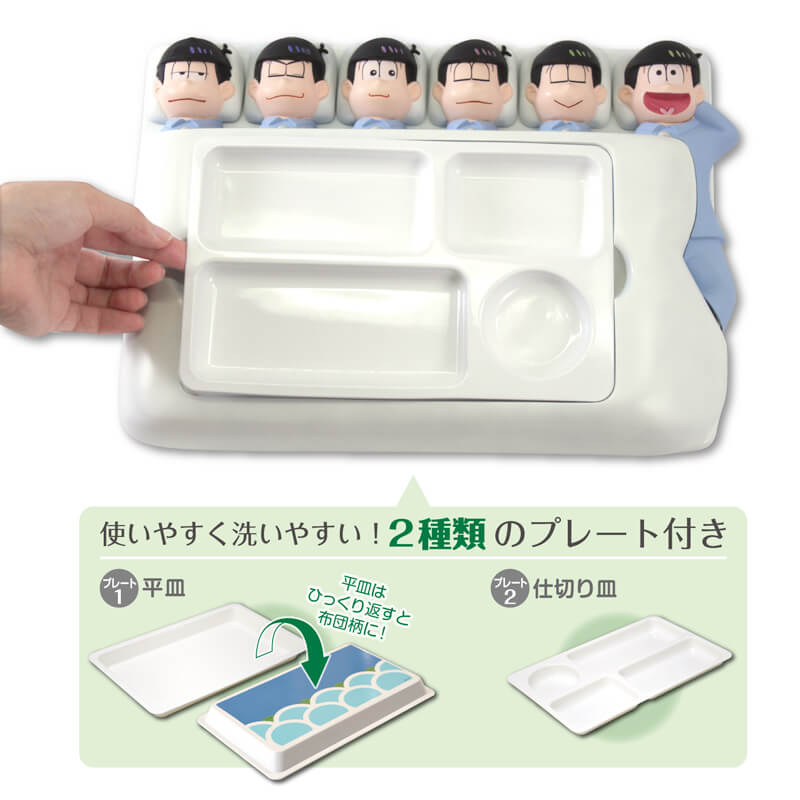 It comes with 2 different plates so it's easy to use and easy to wash. You could put curry in the flat plate or create a children's style lunch for yourself with the sectioned plate. Whatever you decide to do, it'll look great on Instagram! It's a fun little plate with all of the siblings gathered together with their distinct personalities all distinguished.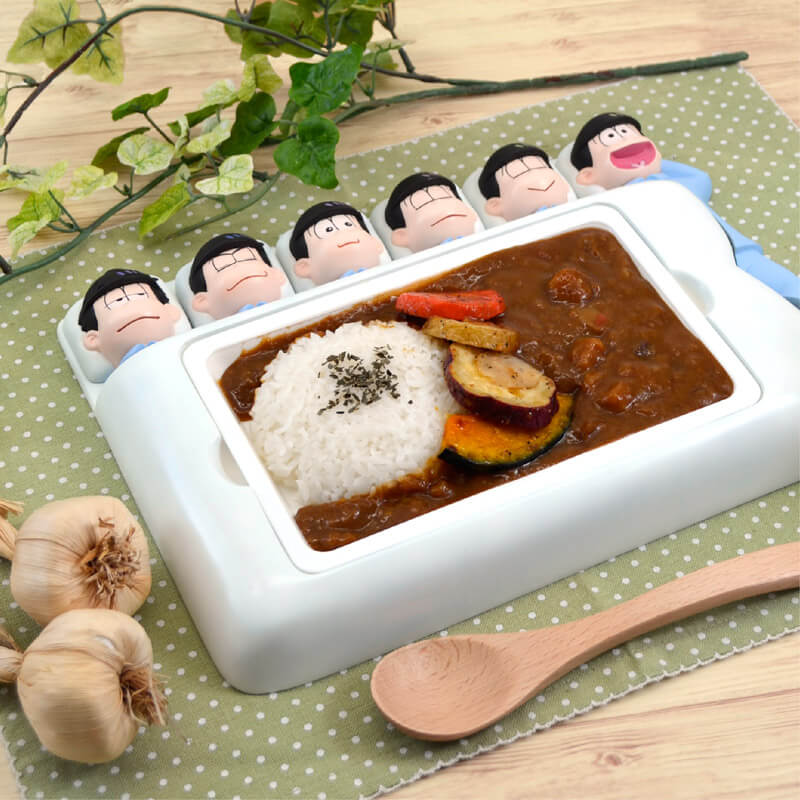 If you're an adults and a fan of the Matsuno siblings, then display your love to the world with your own special plate!
■Information
Osomatsu Adult's Lunch Plate (Japanese: 大人様ランチプレート)
Currently accepting pre-orders.
*Pre-orders will end on January 15, 2018 at 13:00.
*The product will be shipped from the middle of May 2018. This date is subject to change.
Sold via 'eye up' – http://www.eyeup.co.jp/
Price: ¥4,980 (tax excl.)
Size:
Whole Product – approx. 31cm x 21cm x 3.5cm
Flat Plate – approx. 21cm x 13cm x 18cm
Sectioned Plate – approx. 21cm x 13cm x 15cm
Online Shop – RUN'A TOWN: http://www.runatown.com/shopdetail/000000007044/