An Otaku's Dream: The EJ Anime Hotel in Saitama Where You Can Stay in Rooms Themed On Anime Series
Manga publisher KADOKAWA opened the new anime concept hotel EJ Anime Hotel at Tokorozawa Sakura Town in Tokorozawa, Saitama, on October 1, 2020.
Tokorozawa Sakura Town is a new shopping complex set to open on November 6, 2020, where it will serve as a hub for the latest in Japanese pop culture with events, shops, restaurants, a museum, and more. EJ Anime Hotel opened on early Thursday in the run up to the complex's grand opening to welcome guests.
The 'EJ' of EJ Anime Hotel stands for 'Entertainment Japan.' The hotel aims to have guests living inside the stories they love from a wide range of Japanese media from anime to manga, movies, tokusatsu SFX movies, idol culture, and more.
As well as room decorations and the exclusive merch that will be on sale, the hotel is also offering a new kind of accommodation experience by incorporating videos, sounds, lighting, and more. Its restaurant will also offer a selection of food and drink in collaboration with various series including all-out full course dinners.
When using the hotel elevator, you will hear announcements from none other than popular Japanese voice actor Yuki Kaji who has played many big roles in anime including Eren Jaeger in Attack on Titan. "As an anime fan first and foremost, having such a fun concept hotel like this open, not to mention getting to be involved as an announcer, makes me really happy," explains Kaji. "I want guests to make some great memories staying at EJ Anime Hotel."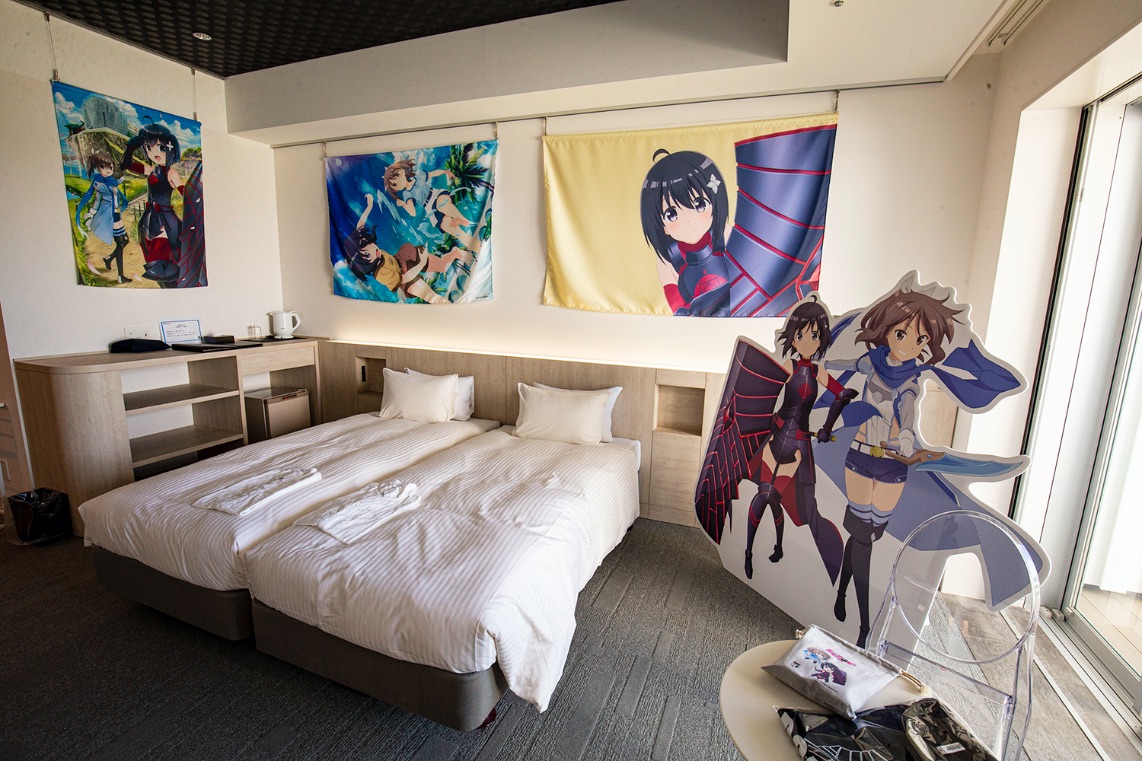 "Bofuri: I Don't Want to Get Hurt, so I'll Max Out My Defense." Collab Room ©2020 夕蜜柑・狐印/KADOKAWA/防振り製作委員会
"Uzaki-chan Wants to Hang Out!" Collab Room © 2020 丈/KADOKAWA/宇崎ちゃん製作委員会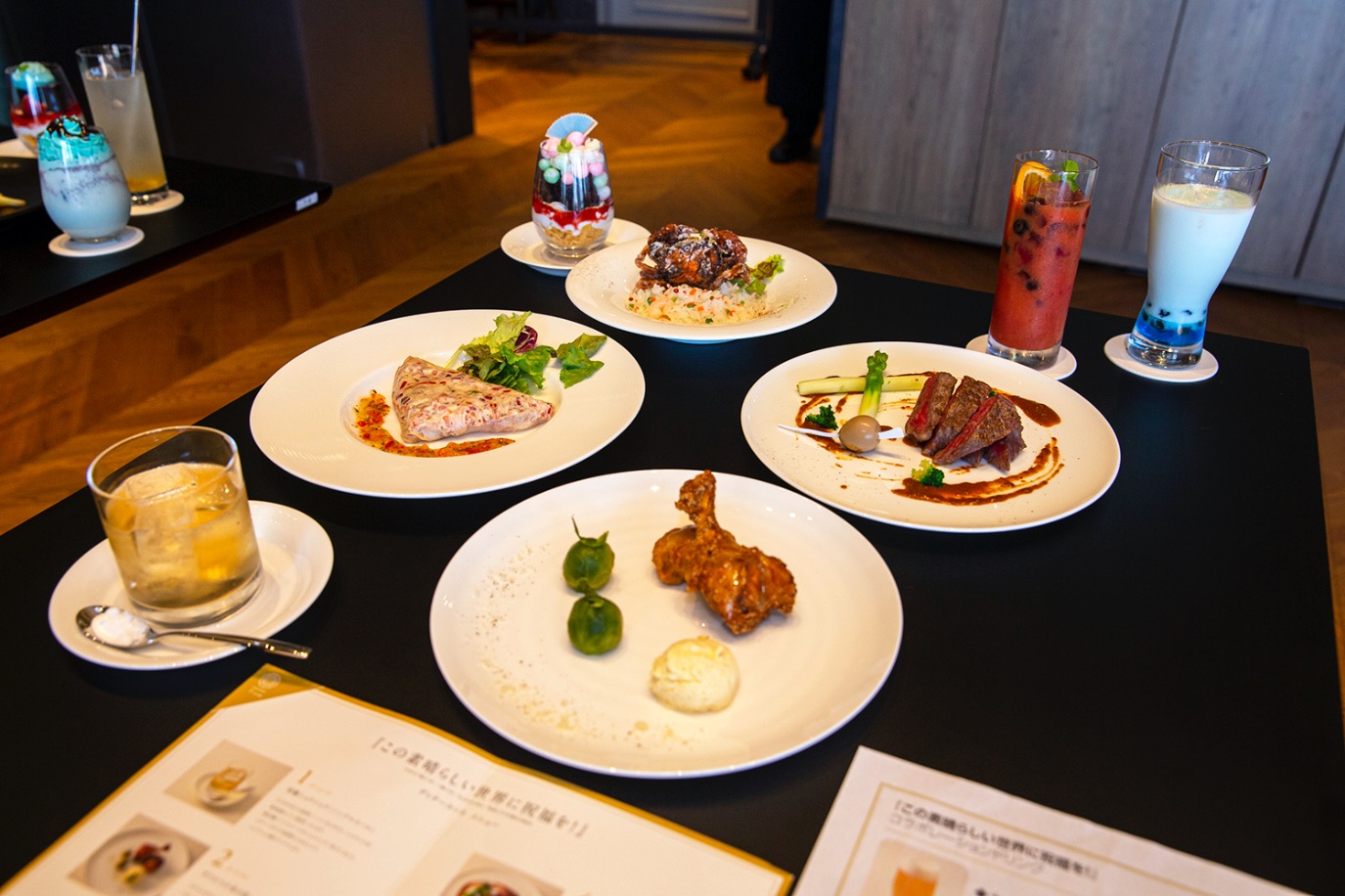 "KonoSuba: God's Blessing on this Wonderful World!" Collab Room ©2019 暁なつめ・三嶋くろね/KADOKAWA/映画このすば製作委員会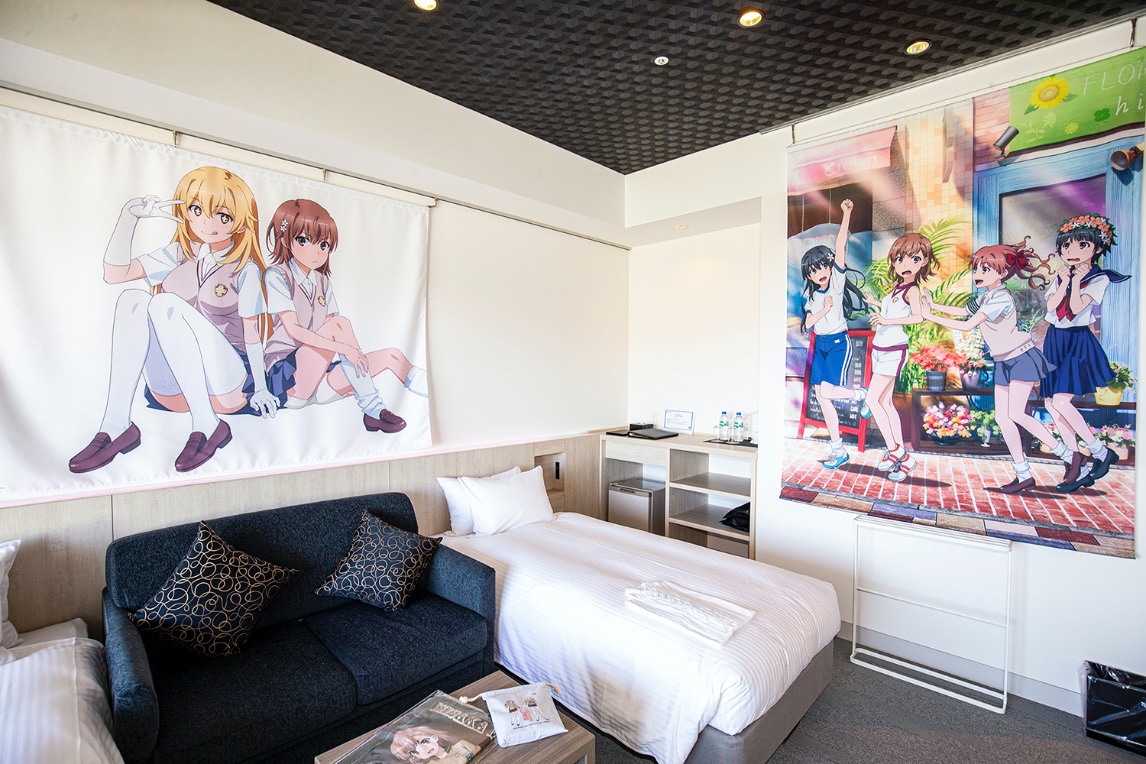 "A Certain Scientific Railgun T" Collab Room ©2018 鎌池和馬/冬川基/KADOKAWA/PROJECT-RAILGUN T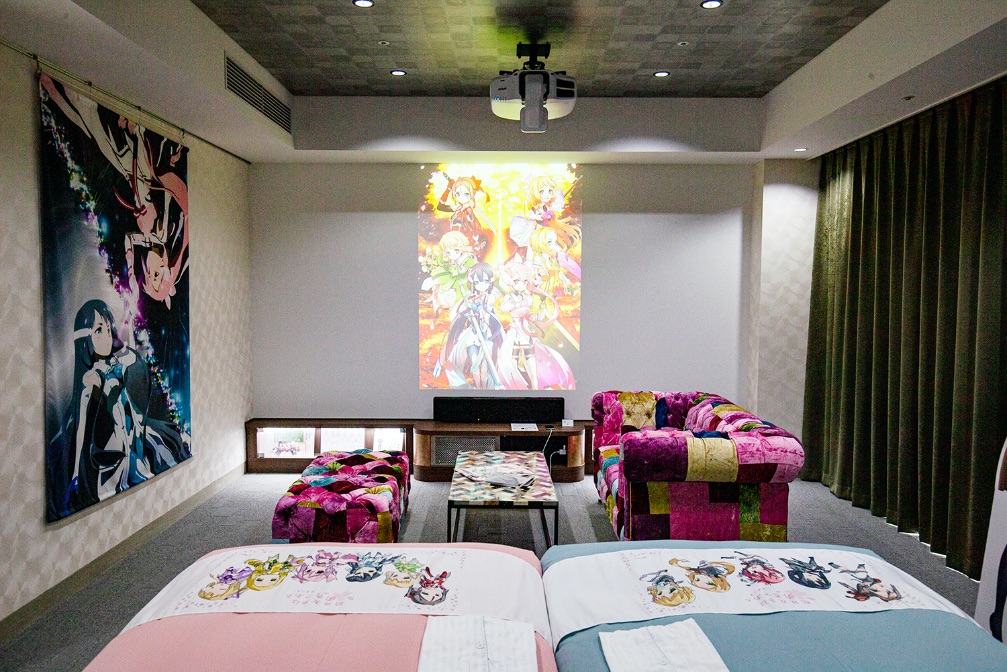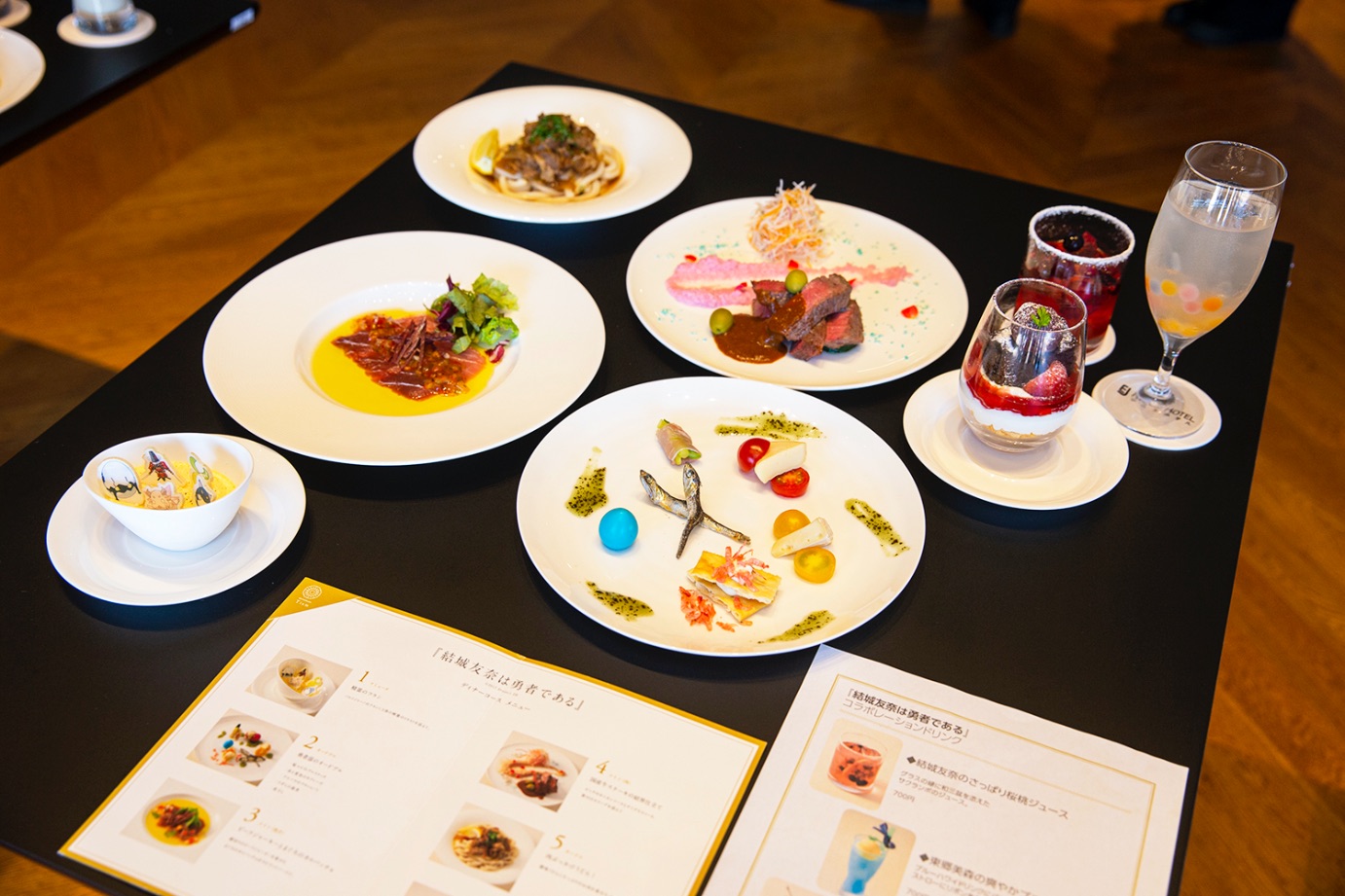 "Yuki Yuna Is a Hero" Collab Room ©2017 Project 2H
Right now, EJ Anime Hotel is collaborating with five different anime series: Bofuri: I Don't Want to Get Hurt, so I'll Max Out My Defense., Uzaki-chan Wants to Hang Out!, KonoSuba: God's Blessing on this Wonderful World!, A Certain Scientific Railgun T, and Yuki Yuna Is a Hero. The hotel is taking bookings on its official website.
If you're thinking of travelling to Japan as an anime fanatic, then look no further and book with EJ Anime Hotel.
Information
EJ Anime Hotel
Grand Opening: October 1, 2020
Location: Tokorozawa Sakura Town Floor 6F
Address: 3-31-3 Higashitokorozawawada, Tokorozawa-shi, Saitama Prefecture
Opening Hours: 24 hours a day
Check In: 4pm / Check Out: 10am
No Fixed Holidays
Official Website: https://tokorozawa-sakuratown.jp/hotel/
RELATED ENTRIES
Hoshino Resorts KAI Poroto to Open in Hokkaido in January 2022

Hoshino Resorts, Japan's premiere hotel management company boasting over 40 properties both inside and outside Japan is set to its new onsen ryokan (hot spring Japanese style inn) Hoshino Resorts KAI Poroto in January 2022 following the completion of a partnership agreement with Shiraoi, Hokkaido on June 28, 2018.

KAI Poroto comes as the 19th property for the KAI brand, following KAI Nagato (opened in March 2020), KAI Kirishima (scheduled to open in January 2021), and KAI Beppu (scheduled to open in summer 2021). It will also be the third KAI property to open in Hokkaido, following RISONARE Tomamu in Shimukappu and OMO7 Asahikawa in Asahikawa. The new property will be designed by Japanese architect Hiroshi Nakamura.

(Hiroshi Nakamura & NAP)

Guests will be able to enjoy Shiraoi onsen water at KAI Poroto. The water comes from a "moor spring" which contains organic minerals derived from plants. This type of water is rare throughout the world. KAI Poroto faces the shores of Lake Poroto and is surrounded by the natural forests of Hokkaido where many species of wild bird live. All guest rooms boast a lake view where changes in scenery throughout the seasons can be enjoyed.

KAI Poroto will is cooperating with both the town of Shiraoi as well as "Upopoy", the National Ainu Museum and Park, which has the aim of becoming a "symbolic space for ethnic harmony". The facility will respect Ainu culture and provide a place of accommodation for guests to experience it.

Upopoy: A symbolic space for ethnic harmony

A symbolic space for ethnic harmony by the name of "Upopoy opened in Shiraoi, Hokkaido on July 12, 2020. This national centre serves as a base for the reconstruction and development of Ainu culture, which is in danger of survival. The main facilities are the National Ainu Museum and the National Ainu Park. The National Ainu Museum is the first national museum in Japan centred around indigenous Ainu people and the history and culture of the people as expressed through their perspective. This is expressed in a variety of different exhibits. The National Ainu Park is a field museum, where Ainu culture can be taught through a number of programs. Experiences on-site include the Ainu traditional dance, which is registered as UNESCO intangible cultural heritage, wood carving, and embroidery workshops, as well as food and traditional performing arts experiences. "Upopoy" means "to sing (in large numbers)" in the language of Ainu.

Designed by Hiroshi Nakamura

Japanese architect Hiroshi Nakamura is behind the design of KAI Poroto. "Poroto" means a large lake in the Ainu language and KAI Poroto boldly draws this lake into its premise. In the lobby of the birch forest, guests will be greeted by a magnificent view of the lake, which leads to Mount Tarumae. Guests can also relax in the lounge while watching the flames in the fireplace, something which was at the centre of Ainu people's lives. On the surface of the lake, a bathhouse called Kashi, which is built using traditional Ainu construction methods, stands like a village. The open-air bath makes one feel as if you are immersed in the lake. The design has been created in a way that is modern, inspired by the lifestyles, nature, and family of Ainu people.

Gaze at the Starry Sky in a Hot Swimming Pool This Winter at HOSHINOYA Okinawa

HOSHINOYA Okinawa has announced its new "Hoshizora Hot Pool" experience where guests will be able to stay warm in the hotel's warmed-up swimming pool while gazing up at the winter night sky. It will run from December 1, 2020 to February 28, 2020.

Okinawa enjoys a mild winter each year; it's uncommon for the temperature to dip below 15℃. Winter is a time where all of us enjoy being in the warmth of indoors, but in Okinawa you can enjoy being outside even during the cold season. And that's where Hoshizora Hot Pool comes in as the end of the year approaches, a time when there are many events and celebrations to be had.

The outdoor pool at HOSHINOYA Okinawa can be heated and so is perfect during the winter season. Guests are invited to soak in the infinity pool, where you can hear the sounds of the waves, and where it looks like the sea and sky become one. Almost all 88 of the constellations can be seen in Okinawa, and since the sky is clear during the winter nights, it's the opportune time to be turning your gaze skyward.

Glowing lanterns make for a romantic atmosphere

When the sun sets, lanterns are lit by the poolside and breathe a warmth light to the cool evenings. The lights sway back and forth, reflecting off the water to create a magical atmosphere.

Hot cocktails by the pool

Guests will also be able to order from the bar once the lanterns are lit from the evening with a selection of refreshing drinks made with fresh fruits to hot cocktails to warm the body.

Float beneath the starry sky to the sounds of the waves

Guests can enjoy floating in the pool as an endless tapestry of stars unravels itself overhead. The Hoshino Resorts Banta Cafe will be open for business in the evening too. Guests can order some fruity desserts, rent lanterns, and more.

Information

Hoshizora Hot Pool
Address: 474 Gima, Yomitan, Nakagami District, Okinawa
Running: December 1, 2020 – February 28, 2021
Price: Free (Drinks from the bar however must be paid for)

Time: Open 24 hours (But only adults can use the pool after sunset)

Bar Opening Hours: Sunset until 22:00

*Available to HOSHINOYA Okinawa guests only

Irumi Banta
Opening Hours: 19:00-22:00 (Last Orders 21:00

Price: Dessert Set for Two = ¥2,728 (Before Tax)

*Available to guests and non-guests

Official Website: https://hoshinoya.com

Snow Fireworks to Light Up the Winter Skies of Miyazaki at Phoenix Seagaia Resort

Phoenix Seagaia Resort, a resort located in Miyazaki Prefecture whose brand slogan claims them as the most beautiful in all of Japan, has announced a heart-warming new experience for the winter season.

Seagaia's Snow Fireworks

Miyazaki doesn't see a lot of snowfall, but this winter, the prefecture is welcoming an all-new fireworks festival which will launch fireworks into the sky that falls like pure white snow. Phoenix Seagaia Resort is also offering a guest plan which combines a stay at the resort with front row seats to the fireworks.

Running: December 4, 2020 – February 27, 2021 (Fridays and Saturdays only + January 10, 2021)
Time: 20:00 (Approx 3 minutes)
Bookings: https://bit.ly/3lurZWK

Starlight Winter Illuminations

THE LIVING GARDEN is the garden area of Sheraton Grande Ocean Resort exclusive to guests. This winter, the garden will be lit up with 30,000 LED lights and lanterns to create a magical, starry sky-like atmosphere by both of the garden's pools.

Running: November 1, 2020 – February 28, 2021
Location: THE LIVING GARDEN, Sheraton Grande Ocean Resort
Illumination Times: Sunset to 23:00

Price: Free (Exclusive to Sheraton Grande Ocean Resort guests)

A Cosy Menu For a Warm Stay

Gazebos by the waterside at THE LIVING GARDEN

S'mores

Sheraton Grande Ocean Resort will also serve s'mores, hot cocktails, and other treats at THE LIVING GARDEN with gazebos and fire pits. Enjoy fluffy marshmallow s'mores served with nuts and salted chocolate.

Running: November 6, 2020 – February 28, 2021 (Excluding Wednesdays & Thursdays)

Times: 19:30-23:00 (Last Orders 22:30)

Location: KUROBAR, THE LIVING GARDEN, Sheraton Grande Ocean Resort

Solo Sauna Tune: Tokyo's New Privacy Guaranteed Finnish-Style Sauna

Solo Sauna Tune is a new sauna that offers "total privacy" which is set to open its first branch inside UNPLAN Kagurazaka in Tokyo this November.


Most sauna facilities in Japan cater to groups, but at Solo Sauna Tune, all guests are given their own space where they can undress, bathe, and relax in their own private room. This is especially desirable during the current pandemic where social distancing is paramount, and is a great opportunity for people not wanting to travel in groups.

The solo saunas are heated using sauna stoves imported from Finland. Adding water to the sauna stones lets guests control the amount of steam in the room so they can adjust as they like. There is also a Japanese white birch aroma provided to the löyly (Finnish for 'steam').

Guests can also cool off in cold water. The Chiller provides water at 15℃. There are also overhead showers for cooling down, and the showerheads can be adjusted to make the water come out like mist.

The relaxation area is coloured in a stylish black where guests can kick back for a while.


After using the sauna, guests can visit the powder room where there are a varieties of free amenities. There's also a café which serves craft beers, food, and other treats.

Information

Solo Sauna Tune
Address: UNPLAN Kagurazaka, 23-1 Tenjincho, Shinjuku-ku, Tokyo
Grand Opening November 2020

Opening Hours: TBA

Prices: TBA
Access: 3-minutes on foot from Kagurazaka Station / 7-minutes on foot from Edogawabashi Station / 9-minutes on foot from Ushigome-Kagurazaka Station

Official Website: https://www.solosauna-tune.com/

Slam Dunk Manga's Second Art Book Collection to be Published in 6 Countries Worldwide

Japanese magazine and newspaper company Kosaido has been confirmed as being in charge of the printing, binding, and publishing of the second Slam Dunk manga art book PLUS/SLAM DUNK ILLUSTRATIONS 2 which will launch in France, Italty, Thailand, South Korea, Taiwan, and Hong Kong.

The art book was originally released by Kosaido in Japan in April of this year and will launch in six countries overseas.

Kashimi (Kosaido Salesperson) | Comment

"Following the Japanese release, I am in charge of helping to publish the overseas edition of PLUS/SLAM DUNK ILLUSTRATIONS in six countries and regions around the world, something which has been made possible by Shueisha and [Slam Dunk creator] Takehiko Inoue. It has been a lot of work to ensure that the content of the book lives up to the same standards as the Japanese edition, including the quality of Shueisha's work, the quality of the Slam Dunk content, and the zeal that Takehiki Inoue has towards the quality and the book. It has been a fantastic experience and a lot of fun working on it."

Ando (Kosaido Printer) | Comment

"Being in charge of printing has shown me just how much Shueisha puts into their art books, and when I think about Kosaido's print work being seen overseas, I get even more excited. We're using a printing technique for this book that no other company is using called concentric screening which allows for detailed expression in the print. To make the dots in the print even tidier this time around, we've also been carrying out maintanence on the rollers, cleaning the machines, and other things which will allow for a greater level of quality. The finish of the book will also be taken to the next level by choosing a powder that has much less rough deposits. The printing team has put all of their efforts into creating this book."

The first Slam Dunk art collection, INOUE TAKEHIKO ILLUSTRATIONS, was first published in 1997. This new book will feature 130 illustrations specially selected by the manga's author and illustrator Takehiko Inoue as well as sketches, never before seen drafts, and more. Inoue has also drawn 14 new illustrations for the book including the cover.

Information

PLUS/SLAM DUNK ILLUSTRATIONS 2
Overseas Publishers
South Korea: Daewon Culture Industry Inc.
Taiwan: Cite Publishing Limited
Hong Kong: Jonesky Limited
Thailand: NATION INTERNATIONAL EDUTAINMENT PUBLIC CO., LTD.
France: Dargaud-Lombard s.a. Kana
Italy: Panini SpA

Hotel New Otani Tokyo, Osaka & Makuhari Now Serving Rich Chestnut Pancakes For Autumn

The Tokyo, Osaka, and Makuhari branches of Hotel New Otani are now serving seasonal autumn versions of their specially made pancakes at their coffee shop and all-dining restaurant SATSUKI until November 30, 2020

Fantastically fluffy pancakes

Hotel New Otani has been serving its special pancakes for the past 10 years which have become a favourite amongst guests.

The hotel's pastry chefs have whisked up a variety of flavours in line with the changing seasons this past decade using strictly-selected ingredients including strawberry, melon, mango, chestnut, and more.

A marriage of rich chestnut and fluffy pancake

Hotel New Otani Specially Made Chestnut Pancakes 2020 | ¥2,800 (Before Tax/Service Charge)


Chestnuts are the flavourful theme for autumn 2020's pancakes, made with strictly-selected chestnut astringent skin, sweet bean jelly, and topped with a chestnut macaron.
The pancakes are served with melt-in-the-mouth Italian ricotta. There are two different doughs, one made from coffee flour which has high nutritional value, and the hotel's original "White Cereal" which is a combination of millets and amaranth.
The pancakes are cooked on a low heat for about 5 minutes on each side so they rise to a fluffy 5cm thickness and become startlingly smooth.

Strawberries for winter

For this year's winter, the hotel will be serving strawberry pancakes.

Enjoy a selection of seasonal pancakes when staying at Hotel New Otani.

Information

Hotel New Otani Tokyo
Location: SATSUKI, Hotel New Otani Tokyo Main Lobby
Address: 4-1 Kioicho, Chiyoda-ku, Tokyo
Bookings/Enquiries: 03-5275-3177 (10:00-21:00)
Official Website: https://www.newotani.co.jp/tokyo/restaurant/satsuki/

Hotel New Otani Makuhari
Location: SATSUKI, Hotel New Otani Makuhari
Address: 2-120-3 Hibino, Mihama-ku, Chiba, Chiba Prefecture
Bookings/Enquiries: 043-299-1848 (07:00-21:00)
Official Website: https://www.newotani.co.jp/makuhari/restaurant/satsuki/

Hotel New Otani Osaka
Location: SATSUKI, Hotel New Otani Osaka
Address: 1-4-1 Shiromi, Chuo-ku, Osaka, Osaka Prefecture
Bookings/Enquiries: 06-6949-3234 (07:00-20:00)
Official Website: https://www.newotani.co.jp/osaka/restaurant/satsuki/

Kyoto's Female-Only Hotel CAFETEL Kyoto Sanjo for Ladies Reveals Halloween Room

CAFETEL Kyoto Sanjo for Ladies, a hotel in Kyoto exclusive to female guests, is offering a new Halloween room plan between October 1 and November 1. There is just one room and it can only be booked for one day between that period. This plan was offered last year and was a resounding success amongst guests.

Last year's Halloween room took on a more cute and bright theme, but they're going for something darker this time. The theme this year is "The Secret Witches-Only Get-Together," with all ideas and designs conceived and handmade by the hotel staff themselves.

Guests will find decorations all around the room, such as bats on doors and walls who will listen in on the witches' gossip to creepy crawly spiders in the bed. Candles are provided in the room to set the Halloween mood, and there's even witch and devil costumes and props for guests to dress up in.

Free goodies for the witch get-together

Guests can enjoy a gorgeous view of the Kamogawa River from their room. They are also presented with a free Halloween drink exclusive to those who stay in this room.

Information

CAFETEL Kyoto Sanjo for Ladies

Running: October 1, 2020 – November 1, 2020

Rooms: 1 (up to 3 people)

Price: From ¥10,650

Official Website: https://cafetel.jp/

Luxurious Shine Muscat Grape Parfait Served Up at Hotel Gajoen Tokyo For Autumn

Hotel Gajoen Tokyo, a museum and hotel combination, is home to New American Grill "KANADE TERRACE," the hotel's restaurant popular for its food grilled in the open kitchen, its afternoon teas made with seasonal ingredients, and cocktail lineup.

This autumn, Hotel Gajoen Tokyo is serving up its new "Shine Muscat Parfait," an richly-sweet and elegance-scented dessert made using Shine Muscat grapes.

Shine Muscat Parfait ¥2,800 | With Champagne ¥3,600 (Before Tax & Service Charge)

The parfait is layered with Kyoho grape and shampagne jelly, crémet d'Anjou which is made from fresh cheese, and maqui berry granola. It's topped with blackcurrant sherbet and tuile.

Information

Shine Muscat Parfait
Serving: October 1, 2020 – November 20, 2020

Location: New American Grill "KANADE TERRACE" (Hotel Gajoen Tokyo)

Serving Hours: 14:30-17:30 everyday

Official Website: https://www.hotelgajoen-tokyo.com/archives/54655

nol kyoto sanjo: Kyoto's New Hotel Renovated From an Old Townhouse

Tokyu Land Corporation are set to open the new hotel "nol kyoto sanjo" in central Kyoto on November 1, 2020. The hotel is just a 5-minute walk from Karasuma Oike Station.

A place where you can be yourself

Hotels in Japan are more and more catering to a wide variety of guests' needs as well as not only providing convenience and being affordable, but creating a space that really places importance on peoples' stay experience. And nol kyoto sanjo follows suit, allowing people to both let their hair down where they can be themselves as well as enjoy the local area. This comes in response to peoples' desire to have a stay experience that feels like it's their own home.

Clad in Kyoto, living in Sanjo

The concept for the hotel's design was conceived by Kyoto Vintage. Sanjo-dori is connected to Kyoto's main street, making it a convenient location for reaching the city centre. It's also home a variety of architectural examples from old, ancient buildings to more modern ones built during the Meiji Period. Surrounding the hotel is a whole selection of cafes famous for their breakfast menus, restaurants that use local ingredients, long-standing stationery shops, and more. The hotel sits in the perfect spot for coming in contact with the local people and city.

The hotel lounge built from an old townhouse

The hotel site is renovated from a townhouse that was built during the Edo Period. It was formerly used as a place for selling Kinshi Masamune sake. To ensure that old, quaint charm was preserved in the refurbishment, the hotel hired a Japanese designer and planner who is known for renovating these kinds of townhouses in Japan.

The entrance to the hotel greets guests with the lounge which gives people a chance to kick back and relax in this authentic building. Guests are even given some Kinshi Masamune sake as a welcome drink.

High grade guest rooms for medium to long stays

There are three kinds of guest rooms including 2-people rooms, 4-people rooms, and rooms with an additional Japanese-style room attached to it, for a total of 48, all of which face the hotel gardens. The rooms were designed by Yukio Hashimoto who has made sure to preserve both the townhouse and feel of the materials which have only ripened with age while adding a high grade feel to them. The scent of hinoki leaf invites you to relax in your room. All rooms are equipped with microwaves, washing machines, and mini kitchens too, making it perfect for guests looking to stay a while. Pick up some local ingredients from town and get cooking.

Old-time Kyoto served in a new style

Old townhouses used since ancient times are on the decrease in Kyoto. By renovating and reusing, new life can be breathed into them while promoting that ancient culture. If you're planning a trip to Kyoto, be sure to check out nol kyoto sanjo, opening November 1, 2020.

Information

nol kyoto sanjo

Grand Opening: November 1, 2020

Address: 700 Osakazaimokucho, Nakagyo-ku, Kyoto, Japan (in Japanese: 京都市中京区堺町通姉⼩路下る⼤阪材⽊町700 番)
Rooms: 48

Access: 5-minutes on foot from Karasuma Oike Station

Official Website: https://www.nolhotels.com/kyoto-sanjo/

FUFU NIKKO: The New Hot Spring Hotel in Nikko, Tochigi Prefecture

Kato Pleasure Group is set to open its 4th branch of FUFU NIKKO hotels in Nikko, Tochigi on October 2, 2020 following their Atami, Lake Kawaguchi, and Nara branches.

A resort steeped in Japanese history and culture

The site in which the hotel is located has a sacred air to it. It dates back to the Meiji Period and has continued into modern times. Upon entering the hotel, your ears are treated to the sound of classical music. Overhead you will spot high ceilings made from wood which give it a warm and welcoming atmosphere.The shadows of the outside walls, the warmth of the inviting lights, and the metallic decorations which catch the light present a calm and quiet mood.

Classy and sophisticated cuisine

Both the food and plates it is served on capture the essence and beauty of the Japanese way. Meals are prepared using seasonal ingredients from Tochigi as well as high quality foods like foie gras, truffles, and caviar. Each dish expresses elegance and refinement and combines both Japanese and Western flavours.

Hot spring water sourced from Tamozawa

All rooms at the hotel are fitted with hot springs or large baths which natural light from the outdoors shining through. In the open-air baths, guests get to experience the surrounding sights of nature coupled with the sound of the flowing stream and chirping birds.

Information

FUFU NIKKO JAPAN

Grand Opening: October 2, 2020

Address: 1573-8 Honcho, Nikko, Tochigi Prefecture

Official Website: https://www.kpg.gr.jp/

Grand Front Osaka Opens New Cafe PANCAKE&books bibliotheque

Grand Front Osaka opened its new cafe PANCAKE&books bibliotheque on September 11, 2020, serving a wide variety of fresh pancakes made with high quality ingredients.

Special Fruit Genmai Guilt-Free Pancakes | ¥1,500

These pancakes are made using gluten-free brown rice flour which creates a delicious fragrance and delightfully chewy texture to the pancakes. The pancakes are made even more chewier thanks to the incorporation of silken tofu, an ingredient which is also said to be good for dieting and the intestinal tract. The pancakes are topped with nuts and dried fruits, making them a very nutritional option.

Strawberry & Marshmallow Brûlée | ¥1,300

A hybrid pancake of two different desserts. It's loaded with fluffy caramelised custard sauce to create a brûlée-like appearance and texture and is topped with sliced strawberries and roasted marshmallows. The caramel sauce drizzled on top adds a sweet and slightly bitter edge, bringing everything together.

Whole Peach & Fromage Blanc Cream Pancake | ¥1,500

Served with a whole juicy peach, these pancakes are combined with refreshing fromage blanc. The peach adds an ambrosial sweetness that melts perfectly with the fluffy pancakes. Complete the pancakes with a drizzle of the accompanying mint anglaise sauce.

Kyoho Grape, Blackcurrant, & Mascarpone Cream Pancakes | ¥1,700

A special combination of seasonal fruits including Kyoho grapes and blackcurrants. The mascarpone cream adds sweetness and the blackcurrant sauce a sour kick. If you're wanting to taste autumn, then this one's for you.

Mont Blanc & Praline Cream Pancakes in Caramel Sauce | ¥1,400

These pancakes make you feel summer changing to autumn with its fat dollops of rum-infused chestnut cream and praline cream. The chestnut cream brings a rich sweetness to your taste buds and the caramel sauce an appetising bitterness.

Pancake Burger | ¥1,300

bibliotheque's incredible pancakes have also turned into hamburgers stuffed with a hand-rolled patty, melted cheddar cheese, sunny-side up egg, tomato, and lettuce.

Eggs Benedict Pancakes | ¥1,500

Pancakes towered with bacon, tomato, salad, and poached egg. The runny egg is a match made in heaven when combined with the homemade hollandaise sauce.

Salmon & Ricotta Cheese Pancakes | ¥1,500

Salad pancakes of smoked salmon, ricotta cheese, and poached egg. They are finished with rich Gruyère cheese.

Original Milkshake "Mixed Shake" | ¥700

A hybrid drink of authentic milkshake and Osaka's speciality "Mixed Juice" beverage, this shake contains sakura tamago egg from Awaji Island and premium grade milk from Hamanaka in Hokkaido. It's also made with vanilla cream and is topped with an apricot compote.

Information

PANCAKE&books bibliotheque
Grand Opening: September 11, 2020

Address: Grand Front Osaka Shops & Restaurants (South Bldg. 1F), 4-Ofukacho, Kita-ku, Osaka
TEL: 06-6359-1389
Opening Hours: 11:00-21:00

Official Website: http://www.bibliotheque.ne.jp/pancake/

Japan's Moominvalley Theme Park Announces 'Harvest Special Week' Autumn Event

Moominvalley Park has announced the special autumn event "Harvest Special Week" which is set to run from September 19 to 27.

Moominvalley Park

Moominvalley Park is a theme park centred on the Moomins. It's located inside Metsä, a bigger Nordic-themed entertainment complex. The theme park is based on the Moomin's home of Moominvalley, where guests can enjoy a variety of activities from enjoying nature to making their own accessories, dining on Northern European food, and more.

Harvest Special Week

The Harvest Special Week is themed on the season of harvest—autumn. Near the entrance to the theme park will be the "Welcome Cove Area" where around 3,600 balloons will be set up, inspired by the berries of Northern Europe during autumn. The design was created by textile designer Masaru Suzuki who has worked with the famous Finnish brand Marimekko.

During the Harvest Special Week event, guests will receive an original pin badge celebrating 75 years of the Moomins. They will be handed out at the Welcome Cove Area (area in Japanese: はじまりの入り江エリア) between 10:00-15:00.

Guests can also take pictures at the Harvest Gate, Berry Road, and Apple Tree photo spots. The shops and restaurants in the park will also sell and serve all things harvest-themed.