An Otaku's Dream: The EJ Anime Hotel in Saitama Where You Can Stay in Rooms Themed On Anime Series
Manga publisher KADOKAWA opened the new anime concept hotel EJ Anime Hotel at Tokorozawa Sakura Town in Tokorozawa, Saitama, on October 1, 2020.
Tokorozawa Sakura Town is a new shopping complex set to open on November 6, 2020, where it will serve as a hub for the latest in Japanese pop culture with events, shops, restaurants, a museum, and more. EJ Anime Hotel opened on early Thursday in the run up to the complex's grand opening to welcome guests.
The 'EJ' of EJ Anime Hotel stands for 'Entertainment Japan.' The hotel aims to have guests living inside the stories they love from a wide range of Japanese media from anime to manga, movies, tokusatsu SFX movies, idol culture, and more.
As well as room decorations and the exclusive merch that will be on sale, the hotel is also offering a new kind of accommodation experience by incorporating videos, sounds, lighting, and more. Its restaurant will also offer a selection of food and drink in collaboration with various series including all-out full course dinners.
When using the hotel elevator, you will hear announcements from none other than popular Japanese voice actor Yuki Kaji who has played many big roles in anime including Eren Jaeger in Attack on Titan. "As an anime fan first and foremost, having such a fun concept hotel like this open, not to mention getting to be involved as an announcer, makes me really happy," explains Kaji. "I want guests to make some great memories staying at EJ Anime Hotel."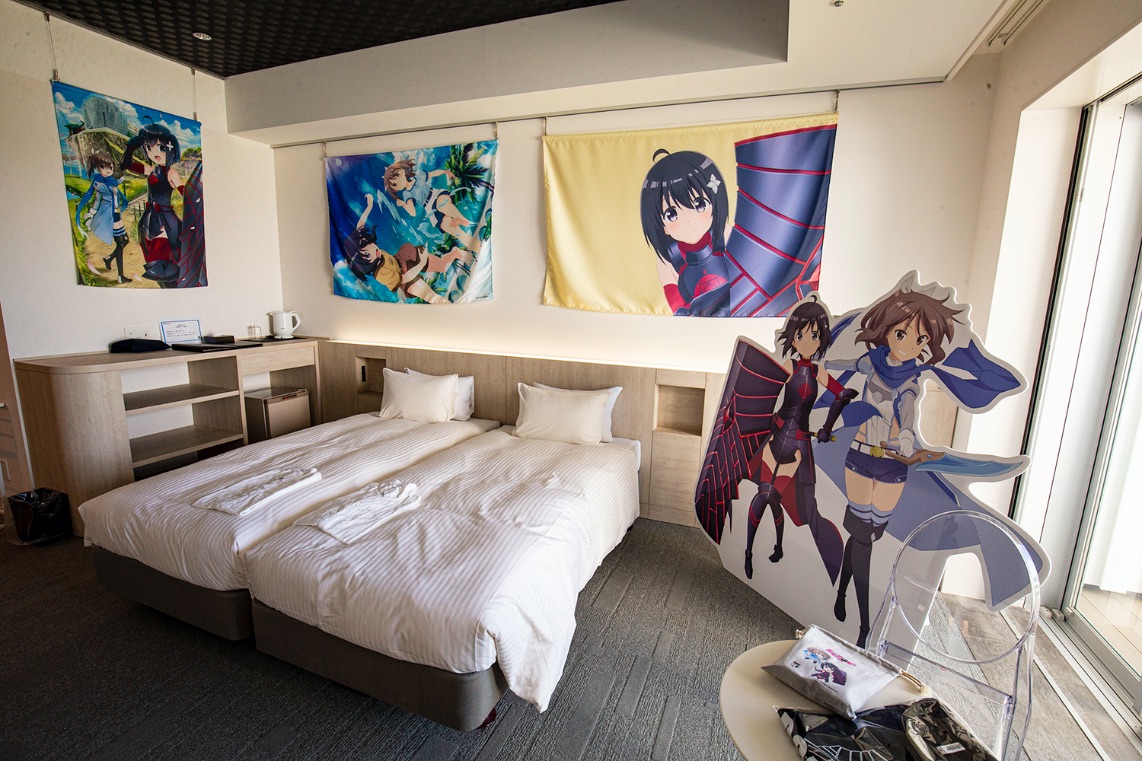 "Bofuri: I Don't Want to Get Hurt, so I'll Max Out My Defense." Collab Room ©2020 夕蜜柑・狐印/KADOKAWA/防振り製作委員会
"Uzaki-chan Wants to Hang Out!" Collab Room © 2020 丈/KADOKAWA/宇崎ちゃん製作委員会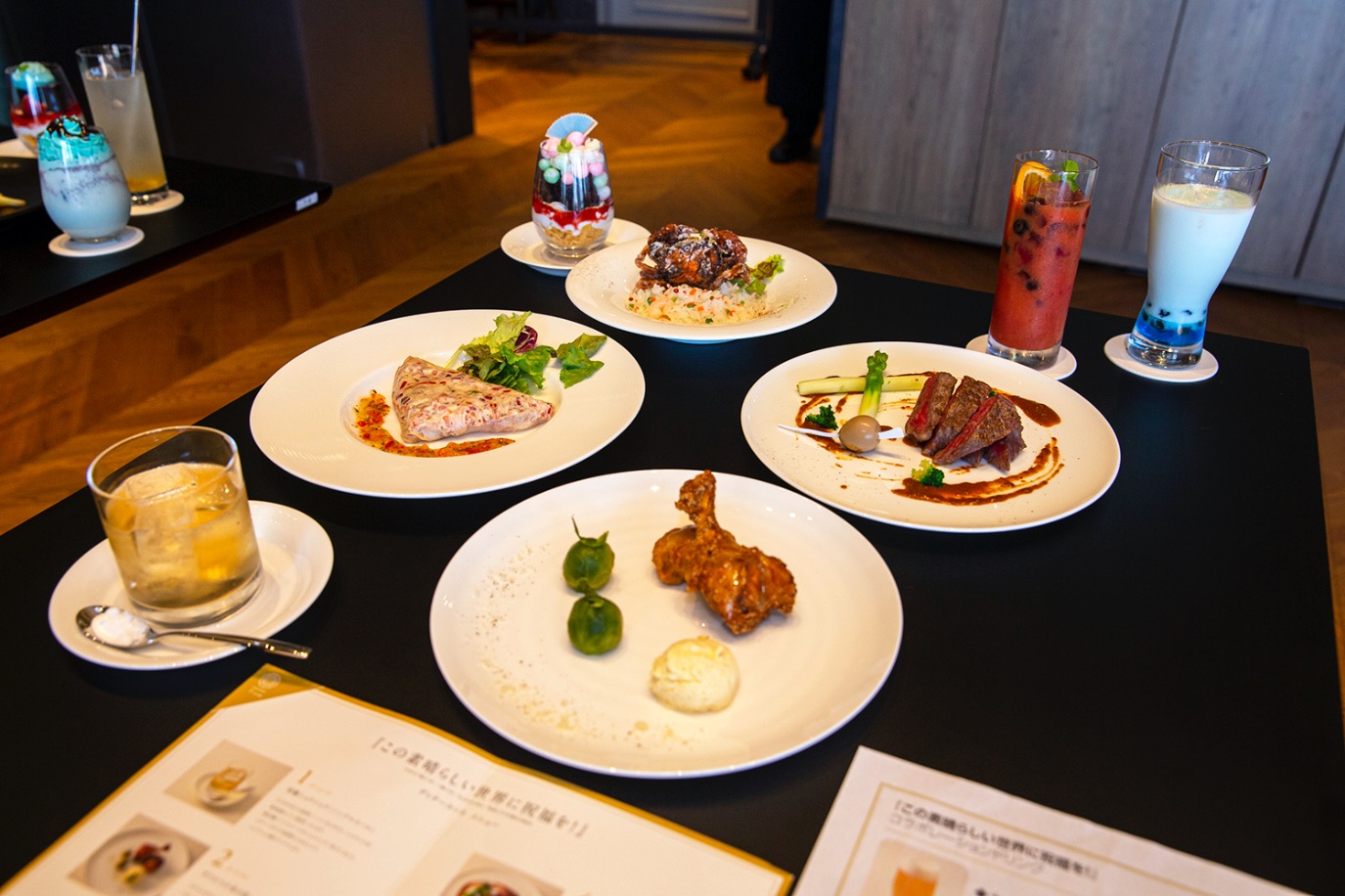 "KonoSuba: God's Blessing on this Wonderful World!" Collab Room ©2019 暁なつめ・三嶋くろね/KADOKAWA/映画このすば製作委員会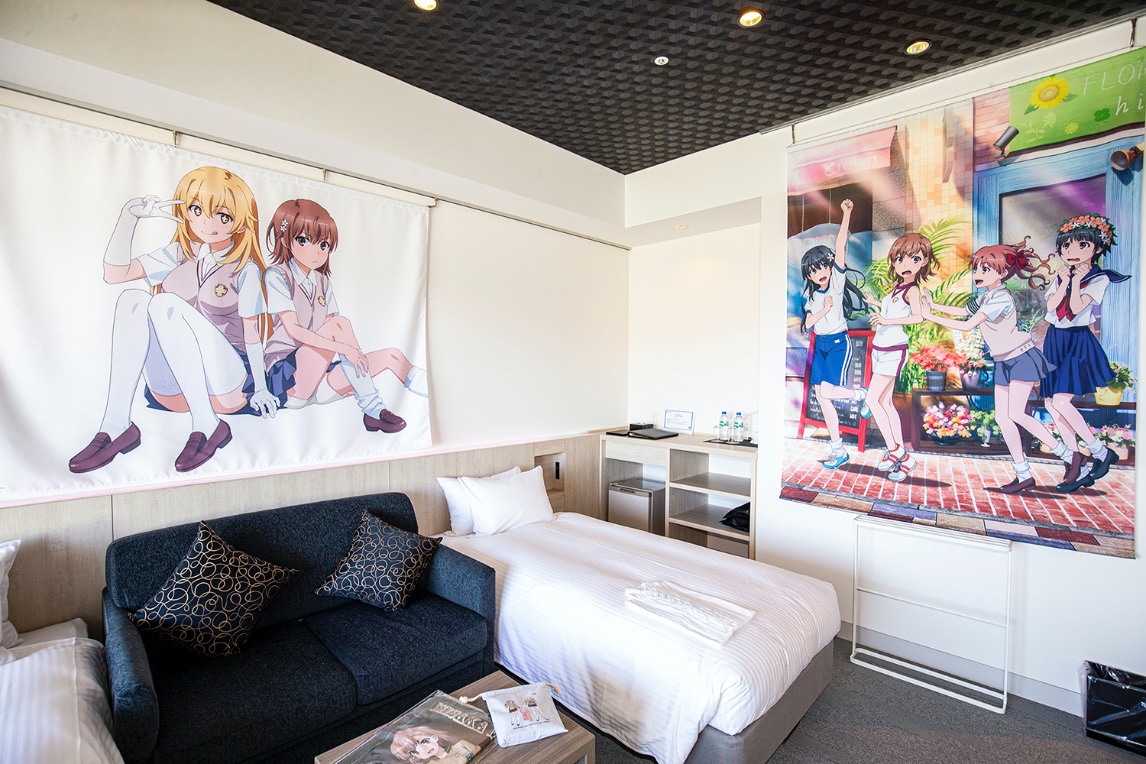 "A Certain Scientific Railgun T" Collab Room ©2018 鎌池和馬/冬川基/KADOKAWA/PROJECT-RAILGUN T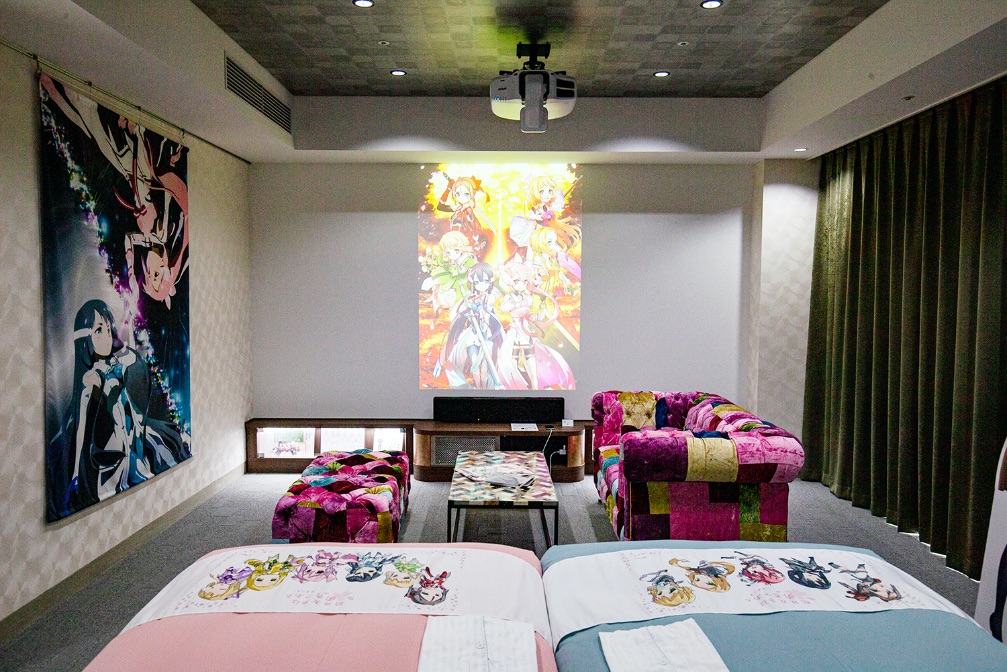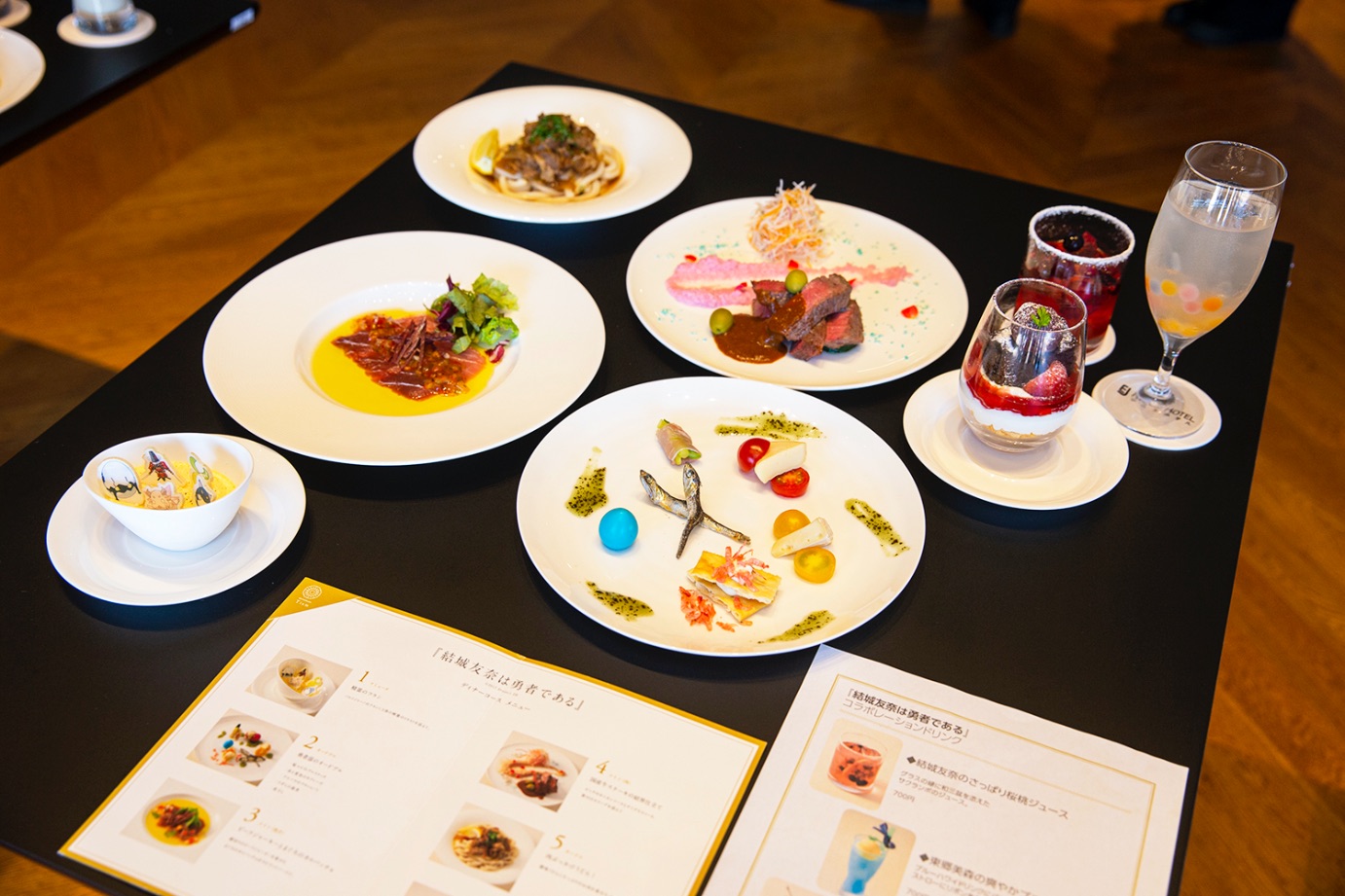 "Yuki Yuna Is a Hero" Collab Room ©2017 Project 2H
Right now, EJ Anime Hotel is collaborating with five different anime series: Bofuri: I Don't Want to Get Hurt, so I'll Max Out My Defense., Uzaki-chan Wants to Hang Out!, KonoSuba: God's Blessing on this Wonderful World!, A Certain Scientific Railgun T, and Yuki Yuna Is a Hero. The hotel is taking bookings on its official website.
If you're thinking of travelling to Japan as an anime fanatic, then look no further and book with EJ Anime Hotel.
Information
EJ Anime Hotel
Grand Opening: October 1, 2020
Location: Tokorozawa Sakura Town Floor 6F
Address: 3-31-3 Higashitokorozawawada, Tokorozawa-shi, Saitama Prefecture
Opening Hours: 24 hours a day
Check In: 4pm / Check Out: 10am
No Fixed Holidays
Official Website: https://tokorozawa-sakuratown.jp/hotel/
RELATED ENTRIES
86 -Eighty-Six- Anime Theme Song Remixed in Collab with Sakura Chill Beats

Japanese rock band hitorie is well-known for performing the first opening song for the anime series 86 -Eighty-Six-, titled 3 Minutes 29 Seconds. Now, a new remix and music video is available on the Sakura Chill Beats YouTube channel.

hitorie – 3 Minutes 29 Seconds (N3WPORT Remix) – Sakura Chill Beats Singles

3 Minutes 29 Seconds (N3WPORT Remix) – Sakura Chill Beats Singles

hitorie

3 Minutes 29 Seconds Artist CD Cover

3 Minutes 29 Seconds Anime CD Cover

86 -Eighty-Six- Key Visual ©2020 Asato Asato / KADOKAWAProject-86

The track 3 Minutes 29 Seconds is the first single featuring Shinoda on vocals after former vocalist wowaka passed away in 2019. This remix marks the 19th remixed release to be featured on the Sakura Chill Beats YouTube channel. N3WPORT is an American DJ and music producer who specializes in future bass and has worked with acts like Gryffin, Slushii, and Tiesto. 

"Remixing this song was a fun challenge. I really enjoyed the original track by hitorie, though it's very different from the music I usually listen to and make. I tried to include as much progressive rock style as I could, and it was interesting to blend my style with theirs. As a musician, I love all genres, and I'm super grateful for this chance to broaden my horizons," N3WPORT commented. 

The song reached #1 on the iTunes dance chart the day it began streaming, October 8. 86 -Eighty-Six- has just returned for a second season. 

Manga Artist Kazuo Umezu's Work Featured in UMEZZ ART PROJECT Exhibition

UMEZZ ART PROJECT logo featuring self-portrait by Kazuo Umezu ©Kazuo Umezu

The UMEZZ ART PROJECT, focusing on the works of manga artist Kazuo Umezu, is coming to Tokyo City View in Roppongi Hills in Tokyo from January 28 until March 25, 2022. The artist is widely known for his work on a number of horror series including Cat Eyed Boy and The Drifting Classroom, Working in the industry since 1962, his works have inspired a number of other manga creators, with Urusei Yatsura and Inuyasha creator Rumiko Takahashi once serving as Umezu's assistant.

Orochi(1969-1970)


The Drifting Classroom(1972-1974)


My Name is Shingo(1982-1986)


*Dates of serialization in parentheses.


©楳図かずお/小学館

Mikey Version of Tokyo Revengers Opening Song 'Cry Baby' Uploaded to YouTube

A special version of the Tokyo Revengers opening theme Cry Baby, performed by Official Hige Dandism, has popped up on YouTube! This time, the track is being sung by Yu Hayashi, the voice actor behind the popular character Manjiro Sano, aka Mikey.  

Tokyo Revengers OP Cry Baby – Mikey ver. 

This marks the third time a character from the show has been featured covering a song, following Shunichi Toki, who plays Kazutora Hanemiya, and Azumi Waki, who plays Hinata Tachibana. 

Following the song, fans can enjoy a special interview with Yu Hayashi, so don't miss it!

©和久井健・講談社/アニメ「東京リベンジャーズ」製作委員会

Information

Tokyo Revengers

Broadcast Times

MRT Miyazaki Broadcasting: Saturdays at 25:28

UTY Television Yamanashi: Sundays at 24:50

NCC TV Nagasaki: Thursdays at 25:18

Iwate Broadcasting: Mondays at 24:58

Aomori TV: Mondays at 25:25

Tokyo Revengers Official Site: https://tokyo-revengers-anime.com 

'Kyoto Yura Hotel M Gallery' New Halloween Menu Features Adorable Monster Motifs

The '1F Lounge & Bar 1867' at the Kyoto Yura Hotel M Gallery will be hosting a Halloween themed afternoon tea from October 1 2021, with tea sets and cocktails available. The premium hotel is owned by Accor, a Paris, France based group that owns over 5,000 hotels and resorts in 110 countries.

The Halloween-themed afternoon tea has been made by Jennie Chiu, a pastry chef who grew up in America, the home of Halloween. The afternoon tea features cute and playful monster motifs, including a witch-hat Mont Blanc, a Cassis and Chestnut Cake topped with a small ghost, and a spider-web topped Raspberry and Chocolate Mousse. For savory treats, Chef Nishimura Niki has prepared Foie Gras soaked in Salted Koji, plus two luxurious lobster dishes.

The creative Halloween cocktails were brainstormed by Yamazaki Sousei, who ranked in the Japan Top 10 category of bartending competition 'WORLD CLASS 2021.' The Halloween and apple pie inspired lineup was inspired by Scotland and the Celtic people, looking back to when Halloween was first celebrated. 

Enjoy some adult-only time in this retro-modern "family mansion" themed space. 

Information

Halloween Afternoon Tea Set

Availability: October 1 ~ October 31 2021

Location: Lounge & Bar 1867 

Serving Hours: 12:00 and 15:00 *Please reserve your table by 17:00 on the day prior to your arrival

Halloween Cocktails

Availability: October 1 ~ October 31 2021 

Price: ¥1,900
Location: Lounge & Bar 1867

Serving Hours/Opening Hours: 11:30 ~ 21:00 (L.O. 20:30) 

Official Site:  https://kyotoyurahotel-mgallery.com/ja

Anime Series Platinum End Creditless Opening Released

The anime series Platinum End has finally started, and the creditless version of the opening animation is now available on YouTube. The first series is directed by Hideya Takahashi, while Kazuchika Kise is in charge of the second series. Character designs are being provided by Koji Odate. The opening theme is Sense, performed by rock group BAND-MAID. 

 

Creditless Opening

Each of the four Blu-ray and DVD releases will contain six episodes, and the first volume will be released on January 19, 2022, including a special case and a drawing by Koji Odate. Other gorgeous extras will be included with future releases, such as rough sketches and original drawings by the series' creator, a booklet containing interviews with the staff and cast, and more. Be sure to check Twitter and Instagram for special store-specific goods!

©︎大場つぐみ・小畑健/集英社・プラチナエンド製作委員会

New 'Uramichi Oniisan' Collab Hotel Room Designed Using 'URA' and 'OMOTE' Motifs

Sunshine City Prince Hotel has revealed a new "Uramichi Oniisan" themed plan, available to reserve for a limited time between October 2 and December 31.

Hotel Staff Costume Illustration

 Pajama Costume Chibi Illustration


©Kuze Gaku・Ichijinsha / Uramichi Oniisan Production Comittee

Star Can Badge / Hotel Keychain / Mask Case (URA & OMOTE ) / Original Notepad / Hotel Key Card 

Cafe & Dining 'Chef's Palette' Original Drink with Bonus Coaster

'URA-Room' with Chibi Character Illustration

 

The 'Uramichi Oniisan' anime became a hit in Summer 2021, known for its cast of famous voice actors.

The new artwork produced for the hotel features the characters in hotel staff uniforms and pajamas, perfect for the hotel-themed collaboration. The 'OMOTE ROOM' is designed using the new illustrations, while the 'URA ROOM' uses the chibi characters. Each room features a sound clip from Uramichi Omoteda (CV: Kamiya Hiroshi). Original merchandise and drinks are available to guests, plus the famous "Bird Finding Game" is available to play in each room, making it a must-see for fans!

Dive into the 'Uramichi Oniisan' world with this new collaboration hotel room!

Keina Suda Chosen to Perform Theme Song to Upcoming Mari Okada Film Dog Star

The grand opening of Konica Minolta Planetarium Manten NAGOYA is scheduled for October 27, 2021. The original film Dog Star: Kimi to Miageru Fuyu no Seiza-tachi (Winter Constellations to Look Up With You) is set to be screened as the location's first event, and singer-songwriter Keina Suda has been chosen to perform the movie's theme Yomosugara (All Night). Ahead of the film's premiere, advanced tickets will be on sale starting October 20, and those who purchase one will receive a special character acrylic stand!

Dog Star: Kimi to Miageru Fuyu no Seiza-tachi Trailer #2

Advance Ticket Bonus: Acrylic Stand

Keina Suda, chosen to perform the theme song for Dog Star: Kimi to Miageru Fuyu no Seiza-tachi

Konica Minolta Planetarium Manten NAGOYA will be Japan's first planetarium to use the LED dome system DYNAVISION-LED, which utilizes self-luminous LED elements instead of a projector. 

Before making his major debut, Keina Suda was a popular Vocaloid producer going by the name Balloon. During this period, his song Charles became a smash hit, getting over 100 million views on YouTube. The musician wrote the song Yomosugara for the film. The writer of the film, Mari Okada, is also known for her work on Anohana: The Flower We Saw That Day and The Anthem of the Heart. 

A completely original story written by Mari Okada

A friendship between two boys begins to twinkle in the light of the winter constellations. 

Nobunaga Shimazaki plays Kousuke, a boy who is crazy about the stars, while Yama Uchida portrays Natsuki, active on the track and field team. This is a coming-of-age story woven together with the starry sky made of LED lights only available at Manten NAGOYA. 

Kousuke, a boy who loves stars, failed his high school entrance exam. He reluctantly enrolls at his second-choice school, where he meets Natsuki, a member of the track and field team. He compares the brilliance of Natsuki to that of Sirius, the first magnitude star that shines with a fierce intensity. Kousuke thinks Natsuki is not the same as him, who is only the second magnitude star with little presence. However, the fate of the two twinkling stars is about to change drastically…

Shirahama Marriott in Wakayama to Offer Panda-Themed Getaway

Adventure World, a zoo and theme park in Shirahama, Wakayama prefecture, is teaming up with the Nanki-Shirahama Marriott Hotel to celebrate the first birthday of baby panda Fuhin. This room plan will only be available from November 1, 2021, until March 31, 2022, and will include a fully themed room, an original mini-photo book of the panda's growth to date, and plenty of other Fuhin amenities and goods!

Fuhin 1st Anniversary Room

Collaboration Burger 'Marriott Panda Burger' 

The Fuhin 1st Anniversary Room is a mixed Japanese-Western style room with an ocean view. The walls, blankets, and tatami are all covered in panda imagery, while portions of the room's lighting are made from bamboo as a part of Adventure World's quest to create more sustainable products. The special 'COCOAR' app will also allow guests to enjoy a moving photo frame featuring Guhin by holding their smartphone over the word 'Fuhin' on the wall. 

The limited-time Marriott Panda Burger uses the same recipe as the normal burger, but with a panda-shaped bun created along with Adventure World staff. How would you like to come and celebrate Fuhin's birthday beside the sea? 

Your Favorite Panda Instagram Campaign

By taking a picture of one of the seven giant pandas at Adventure World (Eimei, Rauhin, Ouhin, Touhin, Yuhin, Saihin, Fuuhin) and posting it to Instagram with the two campaign hashtags (#推しパンダマリオット and #InsertFavoritePandasNameHere), 20 winners will be selected to receive special Adventure World goods!

Information

Kaedehama 1st Anniversary Room Stay

Address: Nanki-Shirahama Marriott Hotel

Reservations Open October 6, 2021

Running: November 1, 2021 – March 31, 2022

Details: https://www.shirahama-marriott.com/special/panda/

Official Site: www.MarriottHotels.com

Marriott Panda Burger

Available Starting November 1, 2021

Price: ¥3,270

Where: Nanki-Shirahama Marriott Hotel Lounge

Your Favorite Panda Instagram Campaign

Running: November 1, 2021 – January 31, 2022

How to Enter: 

① Install the Instagram App.

② Follow Adventure World (@adventureworld_official) and Nanki Shirahama Marriott Hotel (@nankishirahamamarriott).

③ Post a picture of your favorite panda along with the hashtag MyFavoritePandaMarriott (#推しパンダマリオット) and the second hashtag including your favorite's name along with a picture of your favorite panda!

The winners will be announced on the official Nanki-Shirahama Marriott Hotel Instagram page in February 2022. 

Scarlet Nexus Opening Video Features New Song by THE ORAL CIGARETTES

The new theme song for Scarlet Nexus is here! As with the first opening track, it was performed by rock band THE ORAL CIGARETTES and is titled MACHINEGUN. The song will be released digitally on October 13, 2021. 

Scarlet Nexus Second Creditless Opening

Scarlet Nexus is based on the action RPG of the same name, released on June 24, 2021, for the PlayStation 4, PlayStation 5, Xbox Series X/S, Xbox One, and PC. The new opening shows the ongoing battle between Yuito, Kasane, and the other soldiers against the incoming army of monsters. Head to Apple Music and Spotify to pre-save the track now ahead of release!

Halloween Sweets Buffet Coming to Haneda Excel Hotel Tokyu for Two Days Only

Moshi Moshi Nippon has delivered news on tons of Halloween treats this holiday season, but can there ever really be enough? Haneda Excel Hotel Tokyo has announced a special two-day-only Halloween Sweets Buffet on October 30 and 31 at the location's Flyer's Table restaurant on the second floor. 

Pumpkin Cheese Tart

Ghost Mousse

Black Cream Puff

 

Guests can enjoy a variety of spooky treats all incorporating fall flavors like chestnut, pumpkin, sweet potato, pear, and apple. Offerings include the Pumpkin Cheese Tart, a mildly-sweet cheese tart made with sour cream, cottage cheese, and cream cheese, and topped with pumpkin cream; the Ghost Mousse, a chestnut mousse made to look like a ghoul; and the Black Cream Puff, made with black cocoa and a cassis cream filling. 

 

At the demonstration corner, guests can see the Sweet Potato Mont Blanc being made. Those wanting something besides sweets can enjoy a selection of sandwiches decorated in Halloween style!

The Prince Park Tower Tokyo Introduces New Romantic Christmas Plan

How would you like to enjoy a snowman-shaped Christmas cake and champagne while overlooking Tokyo Tower? The new Scoolove Christmas Accommodation Plan from the Prince Park Tower Tokyo is offering this incredibly festive experience from December 1 until December 26, 2021!

The TOKYO HONEY PROJECT, a product planning team made up exclusively of female hoteliers, has devised this romantic plan in the hopes of making Christmas magical and memorable again. During the COVID-19 pandemic, many couples haven't had the chance to spend any special time together, so what better time than the holiday season? 

The word 'Scoolove' is a combination of 'scoop' and love,' and while scooping up and enjoying this tasty snowman treat, the team hopes that couples will deepen their relationship and enjoy some much-needed quality time together. The head of the snowman is made from matcha ganache wrapped in kumquat cheesecake mousse, while the body is made of baked cheesecake accented with a raspberry jam. With these two competing flavors, every bite is sure to be interesting!

Junei Hotel Kyoto Adds New Plan Allowing Guests to Reserve Entire Property

The Junei Hotel Kyoto Imperial Palace West, a small luxury hotel located in the heart of Japan's ancient capital, has revealed a new plan allowing guests to rent out the entire premises. Imagine being in a hotel with only your closest family and friends!

The Junei Hotel Kyoto Imperial Palace West – Guest Room

The Junei Hotel Kyoto Imperial Palace West – Bathroom

The Junei Hotel Kyoto – Bamboo Suite

The Junei Hotel Kyoto – Bamboo Suite Bathroom

The Junei Hotel Kyoto – Standard Room

The Junei Hotel Kyoto – Standard Bathroom

The Junei Hotel Kyoto – Breakfast at Futago

The Junei Hotel Kyoto – Futago Restaurant Interior

The Junei Hotel Kyoto – Dinner at Futago

Arashiyama Yusaitei

Arashiyama Yusaitei

Kibune Riverbed

Hozucho River Boat Ride

The Junei Hotel Kyoto Rooftop View of Kiyomizu-dera Lights

The Junei Hotel Kyoto Rooftop Garden Moon Viewing

With two locations in Kyoto, guests will be able to enjoy the entirety of the hotel in complete privacy while still enjoying hotel hospitality. With between 8-11 rooms, this would be the perfect spot for a family gathering, wedding reception, graduation trip with friends, corporate meeting place, or even for overseas guests!

The Junei Hotel Kyoto Imperial Palace West opened in 2017 as a community-based luxury hotel with only eight rooms, with a single mission: bringing the beauty of Japan to the world. Beyond simply finding a place to sleep for the night, the hotel wants guests to experience something special and to provide an unforgettable experience. By partnering with local tourism associations, the Junei Hotel hopes to accurately convey the traditions and singular culture of the city of Kyoto. 

In March 2020, a second location opened. The Junei Hotel Kyoto is surrounded by bamboo, and in fact, the theme of the hotel itself is bamboo and the moon. Each of the guest rooms is decorated with traditional and local bamboo crafts, and every detail is pulled from the natural beauty of Higashiyama, Kyoto. 

The restaurant attached to the hotel, Futago, is the perfect place for adults to unwind and recharge. The kappo-style course menu features Kyoto vegetables and seasonal ingredients, blending the delicious with the nutritious. Chefs will cook each dish using a variety of methods, and guests will be amazed by how the flavor of the meat changes from course to course. The menu changes each month, so be sure to come back throughout the year!

Guests can also rent out Arashiyama Yusaitei, a gorgeous building deep in the forests of Kyoto perfect for wedding receptions, photoshoots, tea ceremonies, and more. The rooftop garden offers a stunning view of Kiyomizu-dera and is also perfect for moon viewing. Those wanting to get even closer to nature can enjoy a boat ride down the Hozucho river, and for those craving desserts, a Japanese sweets-making class is also available!

Who would you take with you on a private stay at the Junei Hotel Kyoto?