You can enjoy riding amusement rides while watching illuminations! Recommended 2017 theme-park illumination events in Kanto area.
An amusement ride while watching illuminations – wouldn't this be wonderful? In this article, I will introduce to you some illumination events held in amusement parks in the Kanto Area.
Tokyo Dome City
Tokyo Dome City is located near Suidobashi Station and Korakuen Station. Facilities and restaurants where you can watch LaQua, attractions and MEETS PORT are available. Cute and pop desserts which everybody loves are expressed as illuminations! You will surely fall in love with these objects which are fun to look at.
Sagamiko Resort – Pleasure Forest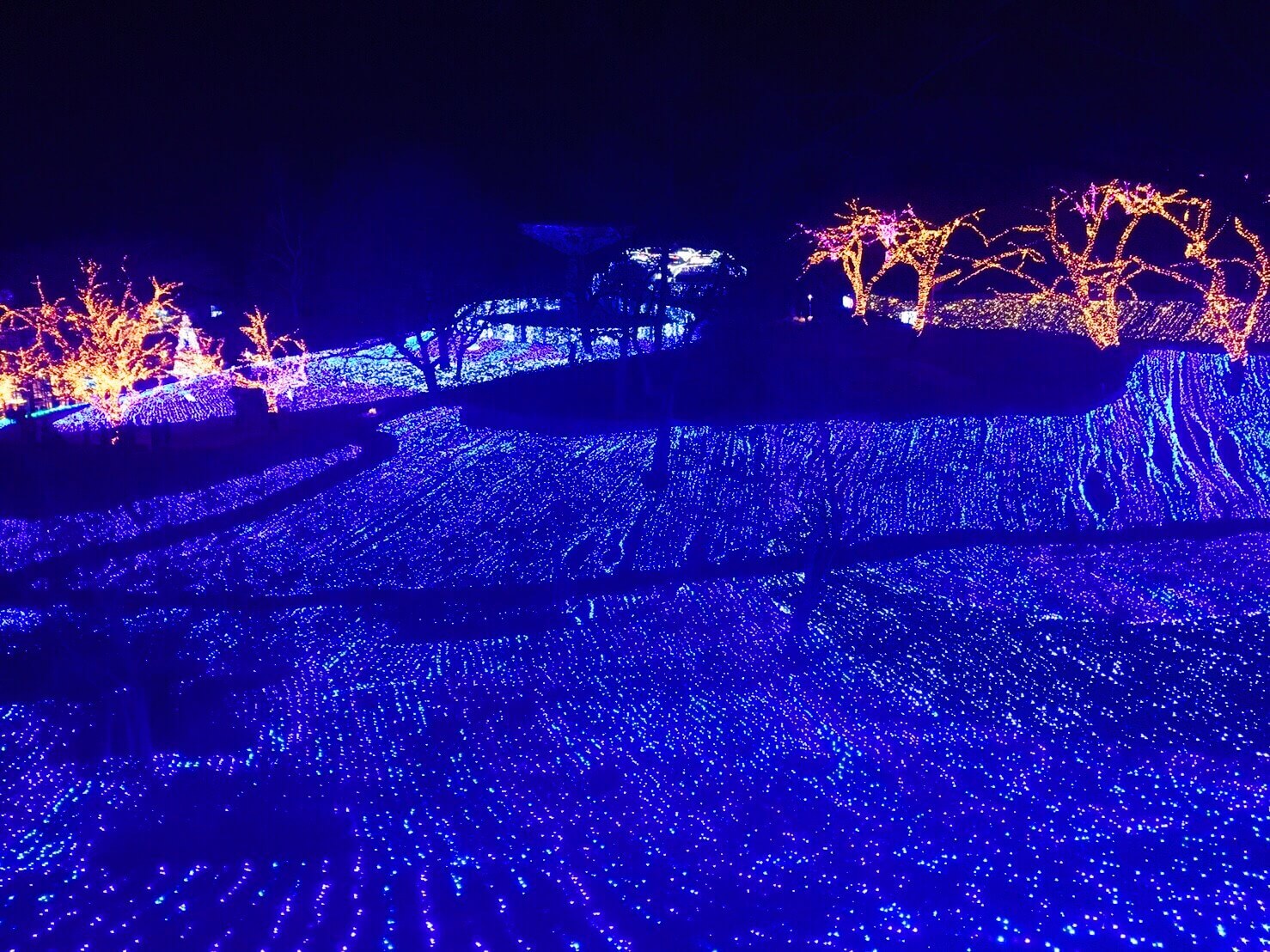 This is the largest illumination event in the Kanto Region using six million light bulbs. The event evolved into an "experience-based illumination" where you can run on the lights riding an attraction ride and enter inside a light-up object to take photogenic photos. I am sure that you will have a dramatic night by participating in this event.
Tokyo Disney Sea
The whole park will be decorated, and the atmosphere of the park will become fantastic. A 15m high Christmas tree will be set up and "Color of Christmas," a water show with the new rendition of snow falling, will be held. It is highly recommended for couples to visit this event.
  >>next page
RELATED ENTRIES
Watch the Stars and Snow Glow at the Shiraito Falls Midwinter Light Up in Karuizawa

Throughout the year, Japanese people escape their busy city life to Karuizawa: a popular resort town hidden in the mountains near Nagano. From December 21, 2019 – February 15, 2020, Shiraito Falls located in Jōshin'etsu-kōgen National Park, Karuizawa will be holding the Shiraito Falls Midwinter Light Up, providing the perfect excuse for a soothing getaway.

The 3-metre-tall and 70-metre-wide Shiraito Falls does not freeze below freezing temperature as the water flows from a subterranean river of Mount Asama. The winter lighting will make the water glisten and the falling snow and starry night sky glow with the charm of winter. 

This light up event is a follow up from last year's illumination event. The Midwinter Light Up aims to make Shiraito Falls a beautiful tourist spot which can be enjoyed even on a winter night.

The Midwinter Light Up is one step ahead of the summer light up event which previously took place. To emphasise the beauty of nature, the illumination this time round will allows visitors to appreciate the starry night sky on a fine day and reveal the stunning natural scenery which is not visible during the daytime. 

As the Shiraito Falls light up event will take place in Jōshin'etsu-kōgen National Park, the event contents were created strictly abiding the guidelines and regulations from the Ministry of the Environment​. The quantity of light produced, its hues and even the way it is produced has been carefully considered, creating a light display that does not disrupt the natural environment. 

This breathtaking light display will give you an entirely new perspective on the breathtaking winter scenery of Shiraito Falls and would be the perfect experience to share with your family or friends. 

Information

Karuizawa Shiraito Falls Midwinter Light Up

Location: Shiraito Falls, Karuizawa

Running on 18 days between December 21, 2019 and February 15, 2020

The running period is split into the following sessions:

・Christmas Session December 21 – 24, 2019

・New Year Session January 4 – 5, 2020

・Spring Festival Session February 1 – 2, 2020, February 7 – 11, 2020, February 14 – 15, 2020

* There will be no light up event on days other than those stated above.

* The light up event on February 15 is a Valentine's Day special. This includes the display of an ice sculpture and the chance to meet Ruiza: Kauizawa's mascot. Visitors will also be given a gift.   

Openining Hours

・Christmas Session    17:00 – 19:00

・New Year Session     17:00 – 19:00

・Spring Festival Session   17:30 – 19:30

Price: There is no entry fee. However, there is a fee to cross the toll road. (The price is subject to change)

Meguro River Winter Sakura to be Illuminated Using 100% Recycled Oil Until January

This winter, MINNA no ILLUMI Executive Committee will be decorating Meguro River with an unmissable illumination display that will warm your heart. 100% of the energy for the illumination will be produced by recycled oil. The display will run from November 8, 2019 to January 5, 2020.

As Shinagawa Ward will also be lit up at the same time, visitors will be able to treat themselves to a glorious view of approximately 410 thousand sakura-coloured lights, creating a unique opportunity to witness Winter Sakura®. The beautiful illumination along the riverbanks of Meguro River will be the largest illumination project within Yamanote Line with a total length of 2.2km of riverbanks covered (counting both sides of the river). Enjoy the beautiful warm light reflecting off the river's surface.

The megurogawa MINNA no ILLUMINATION project was launched in response to the locals' desire, love and praise for riverside illumination displays. The project involves collecting waste oil from restaurants, cafés and households and recycling it as the sole energy source to power the illumination display. This project has become a symbol of winter and plays a significant role in strengthening bonds with the locals. 

Last year, approximately 5,500 litres of oil was collected from 11 places including restaurants, cafés and apartment blocks. This was converted by a power generator which supplied all the electricity necessary to run all the lights. This year, unused oil from local restaurants and apartment blocks will be recycled into biodiesel once again to run another Winter Sakura® light display which tourists flock to see. 

This year will also see the return of German Outdoor Dome Garden Igloos from last year. This creates the perfect spot to watch the Winter Sakura® without getting cold or being affected by rain or the wind. There will be three garden igloos at this year's event and each will have a unique colour theme. Each igloo will be 3.6 metres in diameter, 2.2m high and contain a ground area of 10m², allowing for plenty of space to relax.   

Igloo Availability: December 16 – 25, 2019 *Subject to change

Gotanda Fureai Mizube Hirobamade even made the news in overseas countries as a result of the illumination project. This is the perfect way warm your heart during the cold winter.

Information

meguro MINNA no ILLUMINATION 2019

Locations: Gotanda Fureai Mizube Hiroba (2 Chome-9-11 Higashigotanda, Shinagawa City, Tokyo)

Gotanda Minami Park and Meguro Riverside (2 Chome-8-8 Higashigotanda, Shinagawa City, Tokyo)

Running Dates: November 8, 2019 – January 1, 2020

Running Times: 17:00 – 22:00 

*The illumination project will still run in rainy weather but will be postponed in stormy weather.

Website: http://www.minna-no-illumi.com/ 

Website Opens: 10:00 on October 29, 2019

Roof Star Gardens Illumination Event to Take Place On GINZA SIX's Rooftop Garden

Ginza's biggest shopping centre GINZA SIX has announced that it's set to light up its rooftop garden with an enchanting illumination event titled Rooftop Star Garden which will begin on November 26 and run until February 24 next year.

Standing at 56 meters high, the rooftop garden is the "closest place to the stars" in Ginza. This will be GINZA SIX's first ever illumination event and it will shine a bright spotlight against the nightscape of Ginza's streets.

Rooftop Star Garden will take place in two areas in the garden: the Water Fountain Area and the Forest Area, both of which will welcome star-themed light shows.

The theme of the Water Fountain Area is "Shooting Star," whose LED lights will elicit a sense of profoundness in its observers. 147 LED lights will form the main monument of this area, with bright, sparkling illuminations that will remind one of shooting and twinkling stars.

The Forest Area is made up of two separate areas between the Water Fountain Area. Lasers will shoot through crystals, creating an ocean of countless specks of light that look like little stars that make it feel like you're in space.

This limited-time event is the perfect way to spend this year's Christmas, so don't miss out.

*Photos are for illustrative purposes only

Information

Rooftop Star Garden

Location: GINZA SIX Garden (Building Rooftop)

Address: 6-10-1 Ginza, Chuo Ward, Tokyo

Running: November 26, 2019 – February 24, 2019

*Will close during bad weather or during invitation-only events

Time: Sunset to 23:00

Entry: Free

GINZA SIX Official Website: https://ginza6.tokyo/

Blue Grotto Fukuoka Illuminations 2019: Exquisite Food & Enchanting Lights

Blue Grotto FUKUOKA is an illumination event that opened at Nakasu Bridge in Fukuoka on September 16 and will run until October 6.

Nakasu Bridge is located in the shopping district Nakase, where two exhibits are taking place: "Blue Grotto" and "Blue Waterfall." They are also offering a very special romantic and magical 30-minute boat cruise which takes passengers from Nakasu Bridge to Canal City Hakata and Hakata Bay.

As well as the breathtaking lights, passengers can look forward to a specially-prepared Blue Grotto Bolognese meal made by Nisshin Foods. Passengers will also receive an original Blue Grotto postcard courtesy of their boarding.

During the illumination event, there will be multiple food booths around Nakase Bridge serving an assortment of delicious food, including some made using Blue Grotto brand ingredients in collaboration with Nisshin Foods.

Information

Blue Grotto FUKUOKA

Running: September 16, 2019 – October 6, 2019

Location: Nakasu Bridge (中洲懸橋), Fukuoka

Illumination Times: 18:30-22:00 (subject to change)
Access: 6-minutes on foot fromNakasu-Kawabata Station / 7-minutes on foot from Tenjin-Minami Station

Official Website: http://shibuya-aonodokutsu.jp/

Cruise by the Dazzling Blue Grotto Illuminations in Fukuoka

As part of a project to vitalise and develop the town of Hakata in Fukuoka and promote its wonderful culture to the people of the world, the Blue Grotto FUKUOKA Executive Committee is set to hold a special illumination event titled Blue Grotto FUKUOKA at Nakasu Bridge from September 16 to October 6.

This illumination event first began in Nakameguro, Tokyo back in 2014 where it enjoyed great success. The location was then moved in 2016 to Shibuya where over 2.8 million people attended. It was then held outside the Tokyo area for the first time in Sapporo in February 2018 and then in Osaka in September of the same year. This enabled it to become widespread across the country and has consequentially made it become one of the main illumination events of Japan.

Blue Grotto will now make its way to Kyushu for the first time with Blue Grotto FUKUOKA. Boats will be prepared for the romantic and magical cruise which will take passengers from Nakasu Bridge to Canal City Hakata and Hakata Bay.

As well as the breathtaking lights, passengers can look forward to a specially-prepared pasta meal made by Nisshin Foods using Blue Grotto brand products.

Information

Blue Grotto FUKUOKA

Running: September 16, 2019 – October 6, 2019

Location: Nakasu Bridge (中洲懸橋), Fukuoka

Illumination Times: 18:30-22:00 (subject to change)
Access: 6-minutes on foot fromNakasu-Kawabata Station / 7-minutes on foot from Tenjin-Minami Station

Official Website: http://shibuya-aonodokutsu.jp/

Enjoy Cherry Blossoms and Illuminations at Yomiuri Land This Spring

Japanese amusement park Yomiuri Land is set to hold its first ever Yozakura Jewel Illumination event from March 21 to April 7. It will combine evening-time cherry blossoms with gorgeous illuminations.

The event will give bloom to various attractions, such as "Jewel Aurora ~Nighttime Ferris Wheel" designed by internationally-active Japanese lighting artist Motoko Ishii. The park's 180-meter long strip of cherry trees will combine the vivid cherry blossoms with bright pink lights.

Sakura Promenade: 180-meters of magical cherry trees

Using the light pink cherry blossoms as the base, the Sakura Promenade will be lined with bright lights in the evening, creating a memorable and must-see display.

Jewel Aurora ~Nighttime Ferris Wheel: Illuminated in Cherry Blossom Pink

The huge Ferris wheel will be lit up with colourful lights in the image of cherry blossoms.

Bandit: The fastest ever hanami experience at 110km!

Enjoy a fast hanami flower-viewing of the cherry blossoms at high speed on Bandit, the park's most popular roller coaster.

Gondola Sky Shuttle: Hanami from above

Enjoy gazing at the cherry blossoms up high over the trees aboard the gondola. It will be like gliding over a pink carpet.

Cherry Blossom Tunnel

Walk through the 180-meter long cherry blossom tunnel and enjoy the sights whether strolling or kicking back on the benches.

Yomiuri Land Oka no Yu: Hanami from the open-air baths

For a separate fee, sit under the cherry trees inside the open air baths for a relaxing experience.

Enjoy a different kind of hanami this year at Yomiuri Land with their many cherry blossom events.

Information

Yozakura Jewel Illuminations

Running: March 21, 2019 – APril 7, 2019

Time: 16:00-20:00

Price: General Night Pass: ¥2,400 / 3-12 Year Olds & Seniors (65+): ¥1,600

Night Entry: General: ¥1,400 / Junior High School Students: & Seniors (65+) ¥600 / Elementary School Students: ¥300

*Free for those below elementary school age.

*Guests are not allowed to take cans, bottles or alcohol into the park. They can however take bento boxes.

Yomiuri Land

Address: 4015-1 Yanokuchi, Inagi, Tokyo
Website: http://www.yomiuriland.com/jewellumination/

4 Best Evening Illumination Spots in Tochigi Prefecture

Tochigi Prefecture boasts a long list of spots officially designated as "Night View Inheritances of Japan" where illumination events, shrine and temple light-ups, mini lanterns and more are set up.

This is a list of 4 must-visit locations with illuminations events running until March 2019.

Ashikaga Flower Park – "Garden of Illuminated Flowers)

Ashikaga Flower Park is one of Japan's three main illumination spots. Its popularity has earned it the No. 1 spot for illuminations for two years in a row. The newly-built Ashikaga Flower Park Station at the park's west gate makes it easier than ever to access.

The wintry trees are decorated with colourful lights, brightening the beautiful flowers at nighttime. There is also a recreation of the park's symbolic great wisteria tree made entirely out of lights down to the flowers. It sways with the wind making it look like a real tree.

Address: 607 Hasamacho, Ashikaga, Tochigi Prefecture

Running: October 27, 2018 – February 5, 2019

Closed: December 31, 2018

TEL: 0284-91-4939

Website: http://www.ashikaga.co.jp/

Ashikagaorihime Shrine at Orihime Park

Another one of Japan's officially registered Night View Inheritance sites. Orihime Park offers a gorgeous view of the town's nightscape. The park's Ashikagaorihime Shrine is lit up making for a magical atmopshere. The shrine itself is famous for its associations with marriage, making it a popular date spot.

Address: 3890-17 Tomoecho, Ashikaga, Tochigi Prefecture

Open: All Year Round

Shrine Illumination: 5:00pm-midnight

TEL: 0284-22-0313

Website: http://orihimejinjya.com/

26th Yunishikawaonsen Kamakurasai

Taking place at Yunishigawa Onsen, this event was designated as a Night View Inheritance site in 2009. It sees hundreds of candles lit up across the entire area that create a mysterious atmosphere. It's also chosen as "one of the must-see places before you die."

Address: 1042 Yunishigawa, Nikko, Tochigi Prefecture

Running: January 26, 2019 – March 3, 2019

Candle Lighting: 5:30pm-9:00pm

*Subject to cancellation depending on weather conditions.

Closed: Wednesdays & Thursdays

TEL: 0288-22-1525

Website: https://www.tochigiji.or.jp/event/1064/

Okunikko Yumoto Onsen Snow Festival 2019

This event began in a desire make use of the abundant snow and light up nighttime Okunikko. Ice sculptures created by hotel chefs from inside and outside the prefecture will be set up on January 31. In February, around 500 snow lights will be set up at the hot springs, and illuminations will glow against the snowy walls.

Address: Yumoto, Nikko, Tochigi Prefecture

Running: February 2, 2019 – February 10, 2019

Illumination Time: 5:00pm-9:00pm

TEL: 0288-62-2570

Website: http://www.nikkoyumoto.com/

Tochigi Prefecture is easily accessible from Tokyo, so if you're in Japan then take advantage of this season to go and see some enchanting nighttime scenery.

"Blue Grotto SHIBUYA", is the collaboration of fantastic illumination and beautiful tones at the Shibuya Koen dori

"Blue Grotto SHIBUYA" (Ao No Dokutsu) runs from Koendori street to Yoyogi Koen Keyaki Namiki street from November 30th(Fri) to December 31st(Mon).

Sound has been added to this year's light show performance, which was very popular last year. The sound of ringing bells accompanies the light show and makes you feel winter has come. Everyone can enjoy this illumination show with both their eyes and ears.

Ao no Dokutsu bolognaise  ¥460(tax included)

「Ao no Dokutsu Blue Parks」opens the same as last year, offering Nisshin Foods「Ao no Dokutsu bolognaise, blue champagne and hot blue lemonade inspired by the blue grotto.

There is a BLUE CUBE from the commercial of 「Ao no Dokutsu」as a photo spot. The

exterior is very sophisticated, and the inside is a completely different style from the outside with surfaces mirrored in blue decoration, creating a fantastic illusion. During the Christmas season, the illumination is linked with the sound of piano.

Everyone can enjoy this collaboration of light and sound「Ao no Dokutsu SHIBUYA」with family and friends!

Information

Ao no Dokutsu SHIBUYA
Area: From Yoyogi Koen Dori to Yoyogi Park Keyaki Namiki about 800m Illumination Time:
17:00 – 22:00 (subject to change)
Inside of the Yoyogi Park: November 30th(Fri) – December 31(Mon),2018 Shibuya Koen Dori: November 30th(Fri) 2018 -January 16th(Wed), 2019

Access :
1 minute walk from Shibuya station/ also accessible from JR Harajuku, MeijiJingumae and YoyogiKoenmae of Metro, Odakyu Yoyogi Hachiman

URL:http://shibuya-aonodokutsu.jp/

Ao no Dokutsu Blue Parks
Open time : November 30th (Fri) – December 31st(Mon), 2109
(Mon-Fri)10:00-20:00 (Fri-Sun and Holiday)10:00-21:00 (New Year's Eve)12:00-21:00

Best Tokyo Illuminations: December 2018 to February 2019

Every year during Japanese wintertime the streets are lit up with big, bright and beautiful illuminations. They are of course held all the way up to Christmas but can be enjoyed all the way into February. Here's our list of must-see Tokyo illuminations this year.

Keyakizaka Illuminations (Running until December 25)

Around 700,000 LED lights will decorate the trees of Keyakizaka street, bringing to light that charming feeling of Tokyo wintertime. This marks the 15th year of the street's illuminations, and this year's theme is "LIVE veil." Passersby will be greeted with the glow of crisp blue and snow white LED lights. The bridge located in the centre of Keyakizaka street will make for a great photo with Tokyo Tower in the background. These are the perfect illuminations to visit if you're sightseeing in Tokyo!

Full Details: https://www.moshimoshi-nippon.jp/128726

■Information

Roppongi Hills Christmas 2018
Location: Roppongi Hills (Roppongi Keyakizaka-dori, 66 Plaza, West Walk, Roppongi Hills Arena, Oyane Plaza, and elsewhere)

Website: http://www.roppongihills.com/

Marunouchi Bright Christmas 2018 (November 8 – December 25)

The Marunouchi area is currently hosing an event titled Marunouchi Bright Christmas 2018 in collaboration with famous Japanese singer Yuming who is celebrating her 46th anniversary this year since her debut. A Christmas tree called the "Knit Tree" made in collaboration with the singer is currently on display at the Marcube on the first floor of the Marunouchi building, the main vneue for this event. The tree is decorated with dazzling illuminations as Yuming's songs provide the soundtrack to the room.

■Information

Marunouchi Bright Christmas 2018

Running: November 8, 2018 – December 25, 2018

Locations: Marunouchi Building, Shin-Marunouchi Building, Nijubashi Square, Marunouchi Brick Square, Marunouchi Oazo, and elsewhere

 

Illumination Island Odaiba 2018 (November 16 – December 25)

Ten facilities in the Odaiba area including the shopping mall, hotels and transportation facilities are joining in with Illumination Island Odaiba 2018. Daiba Memorial Tree boasts as the biggest live tree in the city standing almost 20 meters high and 10 meters wide. The branches, which stretch an enormous 200 meters, are wrapped with 220,000 light, creating a captivating scene.

Megurogawa Minna no Illumi 2018 (November 9 – January 6)

Meguro River is famous for its cherry trees which line stretch 4km along the waters and bring beautiful cherry blossoms in spring. This winter, Megurogawa Minna no Illumi 2018 ('Meguro River: Illuminations for Everyone') is seeing the path along the river decorated with lights which will reflect off the water's surface. The Fuyu no Sakura® ('Winter Cherry Blossoms') flower viewing spot which was a huge hit last year has made an appearance again this year. People are enjoying the 'winter cherry blossoms'ーthe pink illuminationsーfrom the comfort of one of the three garden igloos which all have different interiors. Sitting in one of these means you don't have to worry about wind, rain or cold weather.

Full Details: https://www.moshimoshi-nippon.jp/137108

■Information

Megurogawa Minna no Illumi 2018

Locations: Meguro River / Gotanda Fureai Waterside Square (2-9 Higashi-Gotanda, Shinagawa, Tokyo)

Illumination Period: November 9, 2018 – January 6, 2019

Illumination Time: 17:00-22:00 (Will go ahead during rain)

*Closed during storms. Additionally, illumination time will begin at 17:30 on November 9 only.

Entry: Free

Access: 6-minutes on foot from Osaki Station and Gotanda Station via JR Lines

TEL: 03-5330-7675

Official Website: http://www.minna-no-illumi.com/

Shinjuku Minamilumi Illuminations (November 14 – February 14)

The Shinjuku Minamilumi illuminations have made their sixth return to the south exit of Shinjuku Station again this year. "Minamilumi" is a portmanteau of minami no illumination ('south illuminations') and minna de miru illumination ('illuminations to watch with everyone'). Each pedestrian area around the south exit is currently adorned with many different illuminations. Each location is within walking distance from the other, so you can spend a nice relaxing time strolling and seeing the different lights that will welcoming this year's winter.

Full Details: https://www.moshimoshi-nippon.jp/125425

■Information

Shinjuku Minamilumi Illuminations

Areas: Shinjuku Southern Terrace / Takashiyama Times Square / Shinjuku Maynds Tower / JR South Shinjuku Bldg. / JR Shinjuku Miraina Tower / Suica's Penguin Park

Closest Stations: Shinjuku Station (JR Line, Odakyu Line, Keio Line, Toei Shinjuku Line, Oedo Line) / Shinjuku-Sanchome Station (Fukutoshin Line)

Running: November 14, 2018 – January 14, 2019

Illumination Times: 5:00pm-12:00am

*4:30pm-12:00am in December.

*Illumination areas, content and details subject to change.

Omohara Beer Forest Illuminations (November 15 – February 28)

The Omohara Beer Forest―located on the sixth floor rooftop of Tokyu Plaza Omotesando Harajuku―is currently hosting an illumination event. The illuminations have brought a mix of natural light and gentle fairy lights to central Harajuku. 16,000 illuminations bask the surrounding space and trees with warm light. A space surrounded by trees will give rise to 16,000 illuminations with warm light. Opening hours have been extended to 11:00pm from the usual 9:00pm for the Christmas and New Year periods. A perfect place to stop by after work or shopping.

Full Details: https://www.moshimoshi-nippon.jp/135593

■Information

Omohara Illuminations

Running: November 15, 2018 – February 28, 2019

Location: Omohara Beer Forest (Tokyu Plaza Omotesando Harajuku 6F Rooftop, 4-30-3 Jingumae, Shibuya, Tokyo)

Time: 17:00-23:00 (Last Entries 22:30 – subject to changes during New Year's Holiday)

Website: https://omohara.tokyu-plaza.com/

Illuminations are a big part of Japan's winter culture, so take your friends and loved ones this year.

TENOHA Christmas Fes 2018 Arrives at TENOHA DAIKANYAMA

TENOHA Christmas Fes 2018 at TENOHA DAIKANYAMA in Daikanyama, Tokyo began on November 22. There are lots of events to look forward to.

MIRRORBOWLER Presents TENOHA Christmas Fes 2018 HOLY LIGHTS ILLUMINATION
Running: November 22, 2018 – January 10, 2019 (Illumination Time: 16:00-23:00)
Japanese art group MIRRORBOWLER is in charge of TENOHA DAIKANYAMA's illuminations this year, putting on a display that combines light and shadow. The myriad reflections and sparkly lights will speak to people's hearts.

TENOHA Christmas Fes 2018 OPENING RECEPTION (*FINISHED)
Running: November 21, 2018 at 18:00-22:00 (Illumination Time: From 19:00)
The pre-festival opening day on November 21 saw a magical Christmas atmosphere created through lights and music. Food by popular chefs was prepared and there was live music and DJ performances. Special guests were also invited to the illumination ceremony.


*Christmas Marche*
Running: November 22, 2018 – November 25, 2018
The holiday season will be brightened by up the Christmas market in the courtyard which will sell ornaments, gifts, food and drink.

&STYLE RESTAURANT – "Il Menu di S.T Natale da TENOHA X'mas" Christmas Course
Available: December 23, 2018 – December 25, 2018
Enjoy a Christmas dinner in the fancy &STYLE RESTAURANT where you can feast on international seasonal vegetables and a line-up of gorgeous food specially prepared by the chefs.

bondolfi boncaffē – Colourful Winter Mousse / 5 Colours (¥600 each)
Available: December 1, 2018 – December 25, 2018
bondolfi's original colourful mousses will brighten up the winter. Available for the month of December, each mousse combines two flavours.

&STYLE STORE
*DECORATE*
Running: November 21, 2018 – December 25, 2018
Over at the &STYLE STORE they will sell a whole range of Xmas ornaments. Find your favourite!

*GIFT*
Running: December 1, 2018 – December 25, 2018
Christmas Wrapping: December 22, 2018 – December 25, 2018
The &STYLE STORE will also stock a whole range of gifts for men, women and children. Each item has its own story and can't be found anywhere else.

&STYLE STORE – Christmas Window Installations
For 2018, the TENOHA &STYLE STORE will have Christmas window installations with a holy tinge to them, recreating the world of a girl in her dreams is both gorgeous and cute. When you knock on the window door you can enjoy a captivating light performance.

There are many other events happening at this year's TENOHA Christmas Fes too, so head to Daikanyama for a Christmas to remember full of beautiful illuminations, fun and exciting experiences and delicious food.

Information

TENOHA Christmas Fes 2018
Address: TENOHA DAIKANYAMA, 20-23 Daikanyamacho, Shibuya, Tokyo
Date: November 21, 2018 – January 10, 2019
Access: 3-minutes from Daikanyama Station's front exit via the Tōkyū Tōyoko Line.
Website: tenoha.jp

Enjoy Winter Illuminations at Gunma Flower Park

Yousei-tachi no Gakuen ('Academy of Faries') is an illumination festival at Gunma Flower Park currently running until January 14, 2019. A large firework display is set for November 24 where 3,650 fireworks will be launched into the sky.

Gunma Flower Park ranked in 10th place in Japan's 6th National Illumination Awards.

The park has been decorated with 1 million round lights for the event. Projection mapping is also being used and laser shows are taking place, all themed on fairies.  Attendees are invited to board the locomotive to ride around the illuminated park with a guide on board.

The colour red flows through the greenhouse which has been potted with poinsettias, cyclamens and Christmas roses. There is also a large fir tree to complete the Christmas garden decked out with ornaments and gorgeous lights.

The shops and restaurant are also serving up a range of items and food for the event, making it the perfect place to visit with that special someone to make some wintertime memories.

Information

Illumination Festa "Yousei-tachi no Gakuen"

Address: Gunma Flower Park, 2471-7 Kashiwaguramachi, Maebashi, Gunma Prefecture

Running: November 3, 2018 – January 14, 2019

Opening Hours: 9:00-21:00 *Last entries at 20:30 (at 20:00 on December 31)

Price: Adults (High School Students and above): ¥600 / Children (Junior High School Students and below): Free

*Free for those with a disability when accompanied by a guardian (proof required)

*In the case of bad weather, the event will be postponed until the following day.

Flower Park Official Website: http://www.flower-park.jp/

Event Page: http://www.flower-park.jp/illumination

New Crimson Red Illumination Event to Hit Nihonbashi from November 30

Shinku no Hikari Machi ~Nihonbashi~ ("Town Illuminated in Deep Crimson ~Nihonbashi~") is a new event coming to Nihonbashi that's set to dye the town in deep red hues starting on November 30. The entire area along with Edo Sakura-dori will be illuminated by captivating crimson.

Nihonbashi has a history with Edo period textile patterns, and this is what the event is themed on – it will combine patterns with winter lights. Some of the must-see illuminations around the town include Mitsui Honkan, a historical building that has been designated as important cultural property, Nihonbashi Mitsui Tower, and COREDO Muromachi.

Also running alongside this event will be Edo Sakura Illumination 2018, another light-up extravaganza of crimson and champagne gold along Edo Sakura-dori which connects to Chuo-dori Street.

While enjoying the lights you can enjoy the perfect winter food at the Attaka Fair which will be held at COREDO Muromachi and Nihonbashi Mitsui Tower. Those who take a photo of themselves at the fair on Instagram will receive a range of specially made products from around Japan to warm yourself up in winter. There will also be a talk event themed on appreciating the beauty of Edo patterns and Ise-katagami, the Japanese craft of making paper stencils for dyeing textiles.

"Edo Komon Patterns x Winter Lights"

Location: Chuo-dori (中央通り)

Running: November 30, 2018 – December 28, 2018

Time: 17:00-23:00

"Edo Sakura Illumination 2018"

Location: Edo Sakura-dori (江戸桜通り)

Running: November 30, 2018 – December 28, 2018

Time: 17:00-23:00

"Attaka Fair" Food

Location: COREDO Muromachi 1, 2 & 3 / Nihonbashi Mitsui Tower

Running: November 30, 2018 – December 28, 2018

There are plenty events happening this winter to enjoy with friends and family in Nihonbashi, so if you're in Japan be sure to get involved!

Information

Shinku no Hikari Machi ~Nihonbashi~

Locations: COREDO Muromachi, Nihonbashi Mitsui Tower, Mitsui Honkan

Associated Areas: Edo Sakura-dori, Nihonbashi Mitsukoshi Honkan, YUITO, YUITO ANNEX, OVOL

Running: November 30, 2018 December 28, 2018

Time: 17:00-23:00