Yasutaka Nakata performs alongside Perfume for the first time in 15 years at his hugely successful music festival "OTONOKO"
The highly anticipated music festival OTONOKO, produced by Yasutaka Nakata, was held on December 2nd in Hall 4 of Ishikawa Sangyo Tenji in Ishikawa, the birthplace of Nakata.
The first OTONOKO was held last year to a buzzing crowd of 6,500 and became a huge success. This year's event was only bigger and better, with a record breaking 8,620 music lovers lined up to witness once more this new kind of music festival, with an unmatched line up consisting of Yasutaka Nakata himself as well as CAPSULE, Perfume, tofubeats, C&K, Taiiku Okazaki, 80KIDZ, DAISHI DANCE and more.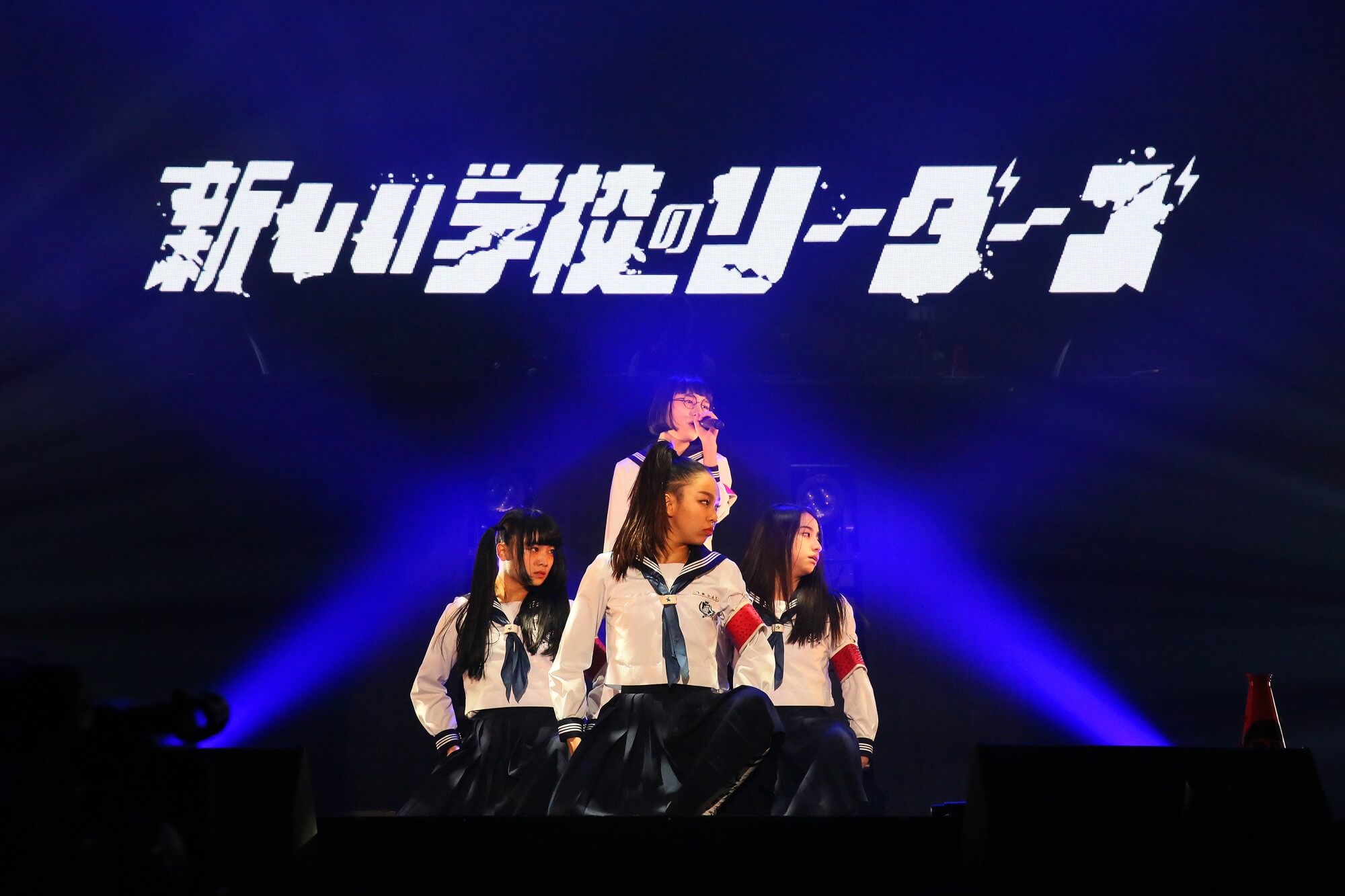 The venue was broken into two sections: the main stage and the second stage. For the opening acts of the main stage, the crowd were graced by DJ audition winner DJ KOKI, ASOBISYSTEM's young and fast budding newcomer artist MANON, and Atarashii Gakkou no Leaders who made their major debut earlier this year.
Over on the second stage was a diverse range of artists blending together different areas of culture, including Una, Anna Yano, as well as local specialist schools who showcased hair & make-up and fashion shows and more.
The first of the main acts to open was none other than CAPSULE, welcoming the crowd with a set list that was inevitably guaranteed to get everybody pumped, including songs such as "more more more," "FLASH BACK" and "JUMPER."
Artists from last year's OTONOKO festival then returned to the stage such as DAISHI DANCE, TeddyLoid and 80KIDZ.
Popular Japanese YouTubers HIKAKIN & SEIKIN took to the stage during TeddyLoid's act. They added variety to their set by performing songs such as their 2015 hit "YouTube Theme Song." 80KIDZ's set electrified the audience with a full band set who provided some sharp and catchy beats.

The middle slot of the night was taken up by live acts Taiiku Okazaki and C&K as well as hugely popular DJs and close friends of Yasutaka Nakata, banvox and tofubeats. Taiiku Okazaki made his original style known with tracks such as "Open" and "We Can Get Over It."
C&K began their set with their emotional ballad "Y," changing the mood of the floor with their crystal clear vocals and pop musicality.

Then, like passing a baton, tofubeats effortlessly transitioned to the DJ booth from banvox where he created hooks with a selection comprised of "POSITIVE feat. Dream Ami," "LONELY NIGHTS," "Too Many Girls feat. KREVA" and more while interweaving them with the roaring beats of tracks such as "Drum Machine." Chisato Moritaka's vocals were played for his killer tune "Don't Stop The Music feat. Chisato Moritaka" to which the crowd clapped along. With the mic in hand, tofubeats sang along with everybody during "Asa ga Kuru Made Owaru Koto no nai Dance wo" and "Suisei."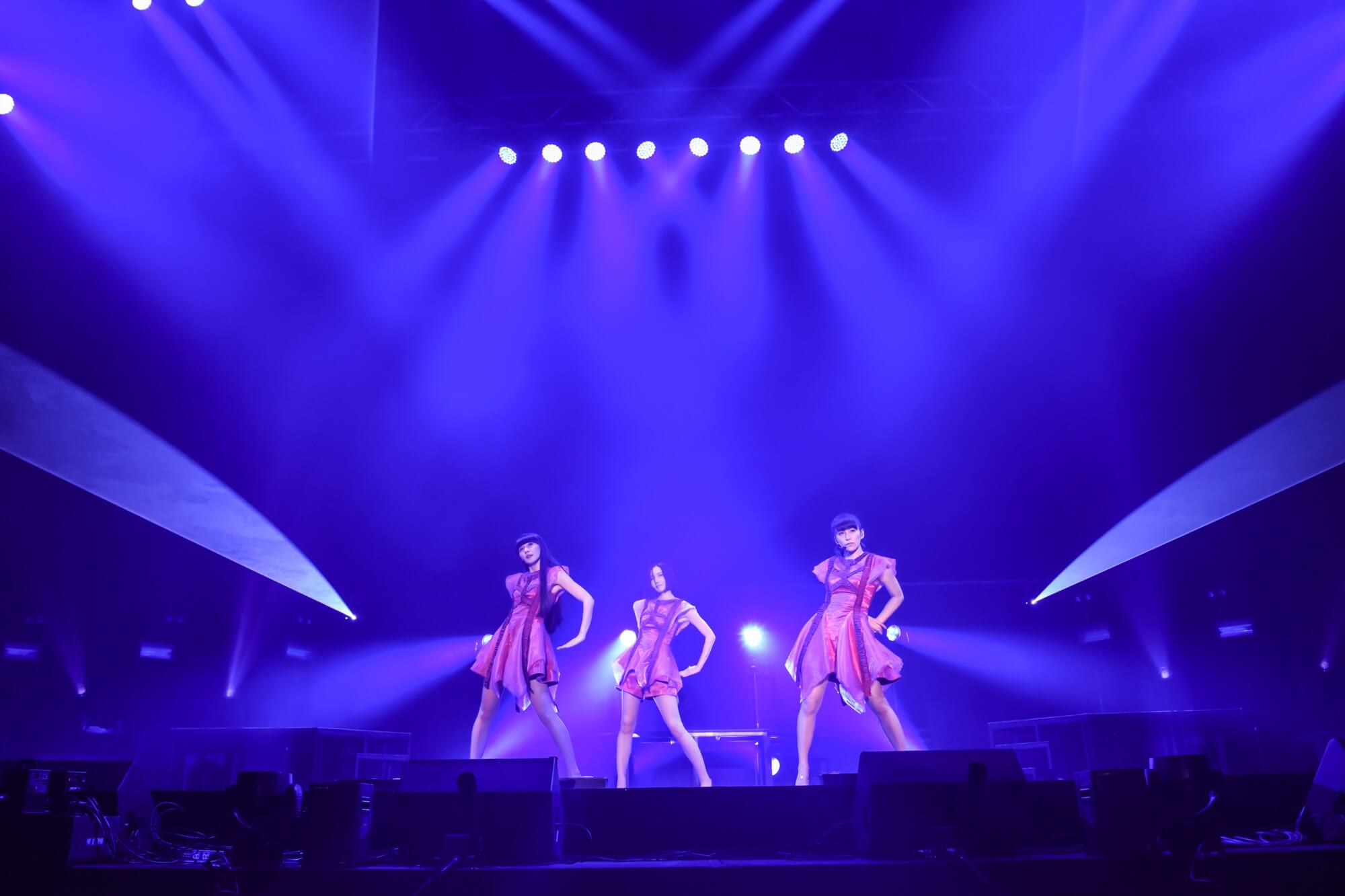 Finally, the wait was over. The moment "GLITTER" began playing and the lasers shot through the air, the crowd knew that could only mean one thing – Perfume. The crowd went wild, and although dancing to the heavy and upbeat songs "FLASH" and "FAKE IT," A~chan gave spoke of some observations about the event: "Doesn't listening to that heavy bass all the time get to your ears after a while!? The people at OTONOKO are something else." Yasutaka Nakata has produced Perfume's music for a very long time, but this is the first time ever in 15 years that him and the J-pop trio have performed together. The girls see him as a "god" and commented: "He has been with us for such a long time and never grown tired. We were able to go on television with him this year, and he's even kindly invited us to OTONOKO. You probably think that Nakata is weird. But we're super thankful to be able to work together with a god." The crowd were divided into three sections – "na," "ka" and "ta" – for a call & response session to revere the godly Nakata.
Towards the end of the show Perfume switched to some club tunes, delivering "Chocolate Disco" and "TOKYO GIRL," before performing a completely brand-new, not yet released song titled "FUSION." Nakata surprised everybody by taking to the DJ booth for this song which showcases a cool side of Perfume the likes of which nobody has seen. The song has thick bass and is exotic with almost no lyrics, and the choreography has gentle movements and a downbeat rhythm to them.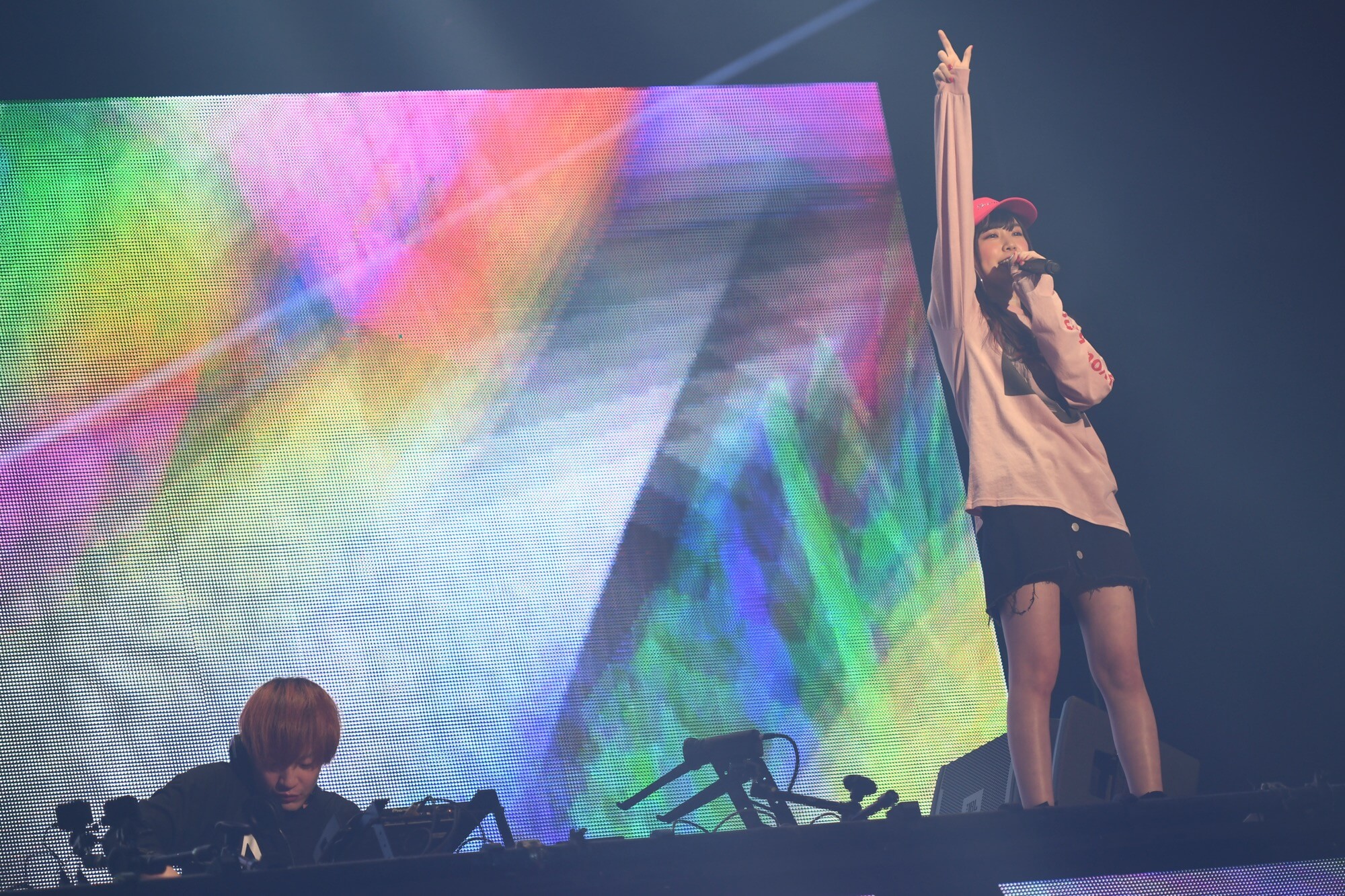 Yasutaka Nakata subsequently took over the stage with his solo performance. After Perfume's act he was the only one up there where he played a number of songs from his forthcoming first ever solo album "Digital Native," set for released next year on February 7th. As well as that, he hit off a behemoth list of other tracks including "NANIMONO (feat. Kenshi Yonezu)," a remix of "Stay" by Zedd & Alessia Cara, new solo tracks "Give You More" and "Jump in Tonight (feat. Momo Mashiro)" announced this year, and more.
Perfume made a guest reappearance for "If you wanna" as if it was a return gift to collaborate once again. The spectacle of seeing Perfume sing and dance alongside Nakata had the entire room with their hands in the air.
For the night's grand finale, CAPSULE member Toshiko Koshijima stepped onto stage to perform CAPSULE's hit song "Starry Sky." The song encapsulated the show's climax with fireworks, smoke, confetti and endless strings of high speed lasers. With that performance, Yasutaka Nakata vividly proved his ready wit and unequalled talent as one of Japan's foremost leading artists, producers and DJs. The edgy dance beat defined that fact to the end before concluding OTONOKO 2017.
Nakata said his goodbye to the crowd: "Thank you for being here tonight! I will return to Kanazawa!"
With the forthcoming release of his 2018 solo album, it's time to get excited about Yasutaka Nakata and his spirited activity.
TEXT by Mami Naruta
■Information
Yasutaka Nakata presents OTONOKO 2017
OTONOKO Official Website: http://www.otonoko.com
Yasutaka Nakata Official Website: http://yasutaka-nakata.com
Photography:
Tetsuya Tsurumi
IMGRAPH
masatoshi okamoto
satoshi fukuda
KAZUYA OTA
Kei Nakagoshi
RELATED ENTRIES
TOKYO MYSTERY CIRCUS Announces Escape Game Based On J-Pop Group Perfume

TOKYO MYSTERY CIRCUS, the world's first and Japan's biggest puzzle-themed theme park, has announced a new escape game centred on the Japanese pop group Perfume. Titled "Escape From The Room Next To Perfume," the game is set to hit the indoor theme park on September 22, 2020.

An escape game is a real-life interactive experience that has players solving puzzles to escape a room. The story of the Perfume game puts players on the same team as Perfume. As players wait in anticipation, an LED display made to look like a window opens to reveal the Perfume members, who greet players and encourage them on their escape. And so begins the game.

There are various items and pieces of information in the room for players to solve the puzzle, including dance poses by Perfume which give hints for the next step. It's an interactive experience that makes it feel like Perfume are really there with you.

Perfume fans can get their hands on a range of exclusive merchandise too, like a sticker set, folder, and message cards. These items will be sold at the TMC GOODS SHOP at Tokyo Mystery Circus as well as the online stores SCRAP GOODS SHOP and Perfume's own A!SMART.

Information

Escape From The Room Next To Perfume

Start Date: September 22, 2020

Location: TOKYO MYSTERY CIRCUS
Address: APM Bldg., 1-27-5 Kabukicho, Shinjuku-ku, Tokyo

Official Website:  https://mysterycircus.jp/perfume/

J-Pop Group Perfume to Make and Eat Recipes Submitted by Fans at P.O.P Festival

Japanese food tech company Cookpad Inc. is set to co-host the "P.O.P" Fes Food Court at Japanese pop group Perfume's upcoming Perfume Online Present ("P.O.P") Festival which will be held on September 21, 2020. Cookpad has also opened applications for fans to submit the recipes that they want Perfume to eat at the festival

"P.O.P" Festival Breakdown

With concerts and music festivals forced to be cancelled or postponed as a result of COVID-19, Perfume too had to cancel their Japan dome tour. September 21, 2020 marks the 15th anniversary since Perfume made their major debut, and the 20th anniversary since they formed. Since their tour was cancelled, they still wanted to celebrate in some way, which is how the "P.O.P" Festival was conceived. The online event will feature both free and paid content with a full timetable for the day.

"P.O.P" Fes Food Court

Food is an indispensable part of music festivals, so the event will have its own interactive "P.O.P" Fes Food Court which encourages fans to submit the recipes that they want Perfume to eat. The chosen recipe will be displayed on the food court page of the event's website and Perfume will actually make and eat it in a video. Fans can prepare their own food at the same time so they can sit down and eat with Perfume. Details on submitting can be found on the official website in Japanese.

Perfume | Comment

"We're happy to announce the Perfume Online Present Festival  which will take place on the 15th anniversary of our major debut, September 21. We're starting applications for the food court, so we're waiting for your submissions. We'll pick one recipe and actually try making it ourselves! We're going to get found out that we actually did this during lockdown period, but we also think it's good for you to see our normal lives, so we will give it out all and hope you enjoy."

Yasutaka Nakata's Main Unit CAPSULE Set To Digitally Release All Albums

Music unit CAPSULE, which was formed by world-famous producer Yasutaka Nakata, is releasing all their albums on Apple Music and other worldwide music streaming services from July 10, 2020.

After debuting in 2001, Yasutaka Nakata has gone on to release 17 albums with CAPSULE and three albums in partnership with model Kate Sakai as the music unit COLTEMONIKHA. Nakata also produced albums for the soundtrack to the sensational drama Liar Game in which Shota Matsuda played the main role. All the above albums will also be released on subscription services.

This is just what fans across the world have been waiting for. As CAPSULE will be celebrating their 20th anniversary next year, make sure to check out their playlists.

Information

Release: July 10, 2020 from 12:00 AM

Available On: Apple Music, AWA, Spotify, Amazon Music, LINE Music (and more)

CAPSULE Official Website: http://www.capsule-official.com/

J-Pop Group Perfume to Open Fashion Pop-Up Shop 'Perfume Closet' at Laforet Harajuku

Worldwide famous Japanese pop group Perfume are taking their fashion project "Perfume Closet" to Laforet Harajuku where it will run in a pop-up shop from February 20-26 this year.

Perfume Closet is a fashion project helmed by Perfume which aims to connect with fans through Perfume's music by making outfits. This is the fourth time Perfume Closet has opened, and will feature a line-up entitled "Perfume Closet 2020SS" which is part of what Perfume are calling "Phase 2," which started in January this year and centres on clothing. It follows on from "Phase 1" which featured a line-up of miscellaneous items.

SATIN COMBI TRENCH COAT – ¥49,500 (Tax Included) / FLOWER PLEATS DRESS – ¥44,000 (Tax Included)

SHEER COMBI KNIT ¥17,600 (Tax Included) / 2 WAY PLEATS SKIRT ¥35,200 (Tax Included)

RELAX WEAR (LADIES) – ¥16,500 (Tax Included) / PLEATS SLEEVE TEE (WHITE) – ¥9,900 (Tax Included) / SHEER COMBI RELAX PANTS – ¥22,000 (Tax Included)

The pop-up shop will stock a plethora of items made by the Perfume members, who worked on the designs, chose the materials, and crafted the silhouettes. It includes everything from coats to one pieces, blouses, bottoms, as well as unisex items men can wear too like pants, shirts, and more.

Fans of Perfume and fans of Japanese fashion aren't going to want to miss out on the new Perfume Closet, open for one week only starting next Thursday!

Information

Perfume Closet

Running: February 20, 2020 – February 26, 2020

Location: Laforet Harajuku (Floor 2F CONTAINER)

Laforet Harajuku Official Website: https://www.laforet.ne.jp/

CAPSULE & Other Major Japanese Artists to Perform at ageHa's 2020 Countdown Party in Tokyo

ageHa is set to host one of Japan's biggest countdown parties again this year, falling on December 31, 2019 once more.

Headlining the ARENA is English DJ and producer Sigala. He released his debut single Easy Love in 2015 which shot to number one on the UK charts. Since then, he has continued to pump out club and festival bangers such as Sweet Lovin and Say You Do. Seven of his nine singles have gone platinum, proving that he is one of the main players in the scene right now.

Another headlining act for the show, this time from Japan, is CAPSULE, the music duo spearheaded by internationally-acclaimed Japanese DJ and record producer Yasutaka Nakata who is the official producer for two of the biggest names in Japanese music: Perfume and Kyari Pamyu Pamyu. CAPSULE plan to put on a special performance for the countdown party.

banvox is also making a return from last year's ageHa countdown concert, and CYBERJAPAN DANCERS are entering the fray for a special showcase.

In the WATER area of the venue, which is produced by WORLD CLASS and TCPT, France-based bass house duo Loge21, who have piled up t he releases since Confession, will perform in Japan for the very first time. DJ Remo-con will join the line-up as a guest too.

Over at the ISLAND area, the latest in cutting edge hip hop will take to the stage. Several DJs representing Tokyo will join rapper Jin Dogg, who is garnering attention right now, including HOKUTO, KEKKE, CHARI, and FUJI TRILL.

Finally, the BOX area will give rise to trance tunes, with performances from DJ KAYA, NORIO SP, FULLMOON RAVE, agefarre, and more.

But that's not all, because the famous Robot Restaurantーa major tourist attraction in Shinjukuーis making an unexpected collaboration with ageHa to put on their first ever show outside the restaurant.

A variety of other celebratory things are planned for the countdown party to chime in the new year, including servings of toshikoshi soba, omikuji fortunes, goshuin seals, and more. If you happen to be in Tokyo for the New Year, then don't miss out on this very special event.

J-Pop Sensation Perfume Release First Greatest Hits Album 'Perfume The Best "P Cubed"'

19.September.2019 | MUSIC

Perfume just dropped their first-ever greatest hits album Perfume The Best "P Cubed" on September 18.

Perfume appeared as the first ever J-pop girl group to perform at the 2019 Coachella Valley Music and Arts Festival earlier this year―a year which marks 15 years since their major debut.


The enormous greatest hits album features a long list of 52 tracks, all created by Yasutaka Nakata, and all carefully selected by the group members and their staff. The line-up includes singles, hit tracks always perfumed at live shows, their latest track Nana Nana Nairo which was released digitally back in July, and an all-new song entitled Challenger.

The album will be released in several editions. Limited Pressing Edition and First Press Limited Edition copies are coupled with a bonus disc which features music video for the title track Future Pop as well as a digest live video compiling footage from the group's 4th world tour "FUTURE POP" which was taken across Shanghai, Taiwan and North America from February to April earlier this year. It also comes with the fan-favourite radio series featuring Perfume.


Additionally, Perfume's entire discography from their major debut to today, including albums and singles, was made available on major streaming platforms including Spotify on September 18. This includes everything from their 2005 major debut single Linear Motor Girl to the greatest hits album.

Celebrate 15 years of Japan's biggest J-pop group Perfume by listening to Perfume The Best "P Cubed".

Information

Perfume The Best "P Cubed"

Release Date: September 18, 2019

Limited Pressing Edition (3 CDs+Bonus Disc+Photo Book+Special Packaging): Blu-ray Ver. ¥7,037 [UPCP-9022] / DVD Ver. ¥6,574 [UPCP-9023]
First Press Limited Edition (3 CDs+Bonus Disc): Blu-ray Ver. ¥4,630 [UPCP-9024] / DVD Ver. ¥4,167 [UPCP-9025]

Regular Edition (3 CDs): ¥3,241 [UPCP-1005/7]

*Prices do not include tax



Special Limited Pressing Edition (ASMART/UNIVERSAL MUSIC STORE Exclusive)
Includes: 3 CDs+Bonus Disc+Photo Book+Special Packaging+Acrylic Photo Cube
Blu-ray: ¥8,300 (Tax Included) [PROJ-1909]

DVD: ¥7,800 (Tax Included) [PROJ-1910]
Official Universal Music Website (Japanese): https://www.universal-music.co.jp/perfume/

Perfume Official Website (English): https://www.perfume-web.jp/eng/

Yasutaka Nakata, DJ KAORI & More to Perform at ASOBINITE!!! Summer Party in Tokyo

Driving the Japanese pop culture scene, ASOBISYSTEM's annual grand party ASOBINITE!!! is back! The party will be held on Saturday 20th July at Shinkiba ageHA @STUDIO COAST.

Japan's most iconic producer Yasutaka Nakata will be firing up the party as the resident DJ. He will be accompanied by many sensational guest performers including the DJ queen DJ Kaori; who was the resident DJ for ageHa's 15th anniversary concert THE BEST PARTY!! Nakata's main music unit CAPSULE will also be performing on stage for the first time in two years! TJO, TeddyLoid and many more big name DJs will also feature at the event.  

Filled with summer vibes, the WATER stage will be hosting the event BIKINI NIGHT. The lineup of famous performers includes MITOMI, TOKOTO, BUNNY, iamSHUM and SHOTA. This party is going to kick off by the spacious poolside and there's no doubt the night is gonna be a splash!

VIRTUAFREAK will be managing a spin-off stage with an army of famous VTubers who have influenced many creatives! Witness an army of wildly enthusiastic VTubers as they tear down the BOX stage at ageHa! The lineup includes Miori Ehara, Virtual Cat, and even Wani and Komori (Wani no Yaka & Hashiyan Takasaka)!

Limited early bird tickets will be released on Tuesday 28th May during the afternoon.  This summer festival of Japanese stars is something you don't want to miss so check it out as soon as you can!

Information

ASOBINITE!!! SUMMER SPECIAL

Date: Sat 20/07/2019

OPEN 23:00 / CLOSE 05:30

Prices:

On the door: ¥4,000

International guest discount (valid form of ID required) ¥3,000

20th Pass (20-year-olds only) ¥2,000

ADVANCE TICKETS:

EARLY BIRD TIER 1 : ¥2,500

U-25 TICKET / (Under 25s): ¥2,750

GA TICKET / (General Admission) : ¥3,250

GROUP TICKET (5 tickets ): ¥12,500

Ticket release date: From 12:00 pm on 28th May  

iFLYER: http://ifyr.tv/X1jCR

VIP TABLE

Enquiries:  reserve@ageha.com

Shinkiba ageHa @STUDIO COAST

Address: 2-2-10, Shinkiba, Koto Ward, Tokyo

Website: http://www.ageha.com/

Japanese Music Artists Performing Overseas in 2019: Part 3

With summer fast approaching, concertgoers are gearing up for this year's music festivals and live shows. We previously covered numerous Japanese bands and artists performing who overseas this year in parts one and two of this feature, but since the previous entry, even more acts have been announced.

Here is a new list of artists embarking outside Japan this summer.

Suchmos

For the first time in their career, rock group Suchmos are set to embark on their first ever Asia Tour this June. They will hit up 6 locations, beginning in Hong Kong before heading to Taipei, Seoul, Shenzhen, Shanghai and Beijing.

▶︎ Suchmos ASIA TOUR 2019

2019/6/2 @ Music Zone @ KITEC, Hong Kong

2019/6/7 @ Legacy Taipei, Taipei

2019/6/9/ @ YES24 Live Hall, Seoul (*w/ HYUKOH)

2019/6/12 @ B10 Live, Shenzhen

2019/6/14 @ Modern Sky Lab, Shanghai

2019/6/16 @ Tango Live (Floor 3F), Beijing

Suchmos Official Website: https://www.suchmos.com

→News Update (June 1, 2019)
Following unexpected illness of one of their members, Suchmos have cancelled all remaining dates on their upcoming overseas tour.

【NEWS】
アジアツアー追加公演が決定しました。

■6/28(金) ジャカルタ
会場は後日発表

■6/30(日) バンコク
Moon Star Studio 1

▼公演詳細はこちら▼https://t.co/HzrqIYa1FQ pic.twitter.com/ooz5TLntDL

— [ALEXANDROS] (@alexandroscrew) 2019年4月13日

[ALEXANDROS]

Rock band [ALEXANDROS] are also heading on tour in Asia throughout June and July. The band are currently on their "Sleepless in Japan Tour" in promotion of their newest album Sleepless in Brooklyn and will take their concerts across Asia for 8 shows, starting with Shanghai on June 21 and wrapping in Seoul on July 21. This also marks their first time performing in Shanghai and Beijing.

 

▶︎ Sleepless 2019 Asia Tour

2019/6/21 @ Modern Sky Lab, Shanghai

2019/6/23 @ Beijing Omni Space, Beijing

2019/6/28 @ Jakarta (*Venue TBA)

2019/6/30 @ Moon Star Studio 1, Bangkok

2019/7/5 @ Music Zone @ E-Max, Hong Kong

2019/7/7 @ Legacy Taipei, Taipei

2019/7/19/ @ Bentley Music Auditorium, Kuala Lumpur

2019/7/21 @ MUV HALL, Seoul

[ALEXANDROS] Official Website: https://alexandros.jp

SAKANAQUARIUM 2019 "834.194"
6月28日 上海&6月30日 深セン公演

明日5月1日12:00よりチケット販売が始まります。
券種・プレイガイドはサカナクションHPに掲載しています。https://t.co/GyH6y5B25n

— sakanaction (@sakanaction) 2019年4月30日

Sakanaction

Sakanaction have announced that they will play in Shanghai and Shenzhen at the end of June. Upon unveiling the news the band created their own Weibo account, a Chinese social media platform. The rock band will release their new album 834.194 in June, their first album release since sakanaction was released 6 years ago in March 2013. The Asia dates were added to their ongoing Japan tour. This will be their second set of headline concerts outside in Japan since they performed overseas for the first time back in 2013 in Taiwan. The band are known for their use of cutting-edge technology at their shows, so foreign fans can look forward to seeing what they have in store for them next month.

  

▶︎ SAKANAQUARIUM 2019 "834.194"

2019/6/28 @ Modern Sky Lab, Shanghai

2019/6/30 @ A8 Live, Shenzhen

Sakanaction Official Website: http://sakanaction.jp

BAND-MAID

Earlier this month, five-piece maid rock band BAND-MAID announced the European leg of their 2019 world tour, one which will begin this June and one whose decided theme is Gekidou, or "tumultuous." All shows on BAND-MAID's 2018 world tour sold out completely. The initial European leg of their long-awaited new world tour will take them to 3 countries for 4 performances. They will then head to the US in September.

Related Article: BAND-MAID Announces European Leg Of 'Tumultuous' 2019 World Tour

▶︎BAND-MAID WORLD DOMINATION TOUR 2019 【激動】 ~gekidou~

6/22 – London, UK @ Islington Assembly Hall

6/23 – Paris, France @ Le Trabendo

6/24 @ Bochum, Germany @ Zeche

6/26 @ Hamburg, Germany @ DAS LOGOS

9/26 @ NYC Gramercy Theater, US

9/28 @ Dallas Cambridge Room, US

9/30 @ LA ECHOPLEX, US

10/1 @ LA ECHOPLEX, US

World Tour Info: https://bandmaid.tokyo/contents/241952

BAND-MAID Official Website: https://bandmaid.tokyo/

Kyary Pamyu Pamyu, CAPSULE, m-flo & More

The biggest names in Japanese pop music are set to take over Los Angeles at QTAQUEST LIVE and OTAQUEST KICK OFF PARTY which is set to take place at THE NOVO by Microsoft on July 3, 2019. Both OTAQUEST LIVE and OTAQUEST KICK OFF PARTY serve as the opener to Anime Expo, the biggest anime convention in the US, which will run from July 4 to 7. CAPSULE, Kyary Pamyu Pamyu, Crazy Boy, HIROOMI TOSAKA and m-flo are set to deliver Japanese entertainment to US lovers of Japanese music and entertainment.

Related Article: Kyary Pamyu Pamyu, Yasutaka Nakata & CRAZYBOY to Perform at QTAQUEST LIVE in Los Angeles

▶︎OTAQUEST LIVE

Date: July 3, 2019

Time: OPEN 17:00 / START 18:30

Location: THE NOVO by Microsoft, Los Angeles, California, US

Line-Up: CRAZYBOY / HIROOMI TOSAKA / m-flo / CAPSULE / Kyary Pamyu Pamyu

OTAQUEST KICK OFF PARTY

Date: July 3, 2019

Time: OPEN/START 22:00

Location: THE NOVO by Microsoft, Los Angeles, California, US

Line-Up: ☆Taku Takahashi / TeddyLoid / Yasutaka Nakata (CAPSULE) / …and more

Event Website: https://live.otaquest.com/

Tickets: https://www.axs.com/events/372261/otaquest-live-tickets?skin=novo

Ai Otsuka

This year, Ai Otsuka celebrates her 15th anniversary since her debut. The singer-songwriter released her greatest hits album Ai am BEST, too in January this year, and she is currently in the midst of her nationwide Japan tour. 5 Asia dates have been added to the tour. Her previous Asia tour took her to just three cities: Taipei, Shenzhen and Guangzhou, but this year she is spreading her wings and will perform in Guangzhou, Chengdu, Shanghai and Taipei.

 

▶︎ AIO PIANO at ASIA vol.2 

2019/7/17 @ Dr. Sun Yat-sen's Memorial Hall, Guangzhou

2019/7/19 @ 特侖蘇音楽庁, Chengdu

2019/7/27 @ BANDAI NAMCO SHANGHAI BASE DREAM HALL, Shanghai

2019/7/28 @ BANDAI NAMCO SHANGHAI BASE DREAM HALL, Shanghai

2019/8/17 @ ATT SHOW BOX 大直, Taipei

Ai Otsuka Official Website:  http://avex.jp/ai/

If you love Japanese music and a Japanese band or artist are coming to a city near you this year, then be sure to show your love and support by getting your hands on a ticket to see them live.

Yasutaka Nakata, EXILE MAKIDA & More to Perform at ASOBEACH!!! in Okinawa

The popular long-running outdoor music festival ASOBEACH!!! is heading to Okinawa this summer with two shows at Umisora Park in the capital city Naha on June 1 and 2. The festival is taking place as the finale of Okinawa E-motion which is a collection of events centred around food, music and art that will bring an early summer to locals and tourists in Okinawa.

The line-up includes Japan's leading music producer and DJ Yasutaka Nakata, his main band CAPSULE, ☆Taku Takahashi (m-flo), EXILE MAKIDAI (PKCZ®), TeddyLoid, Yoshikazu Mera, DJ Ichiro Yatsui and more. Concertgoers can expect to enjoy a multitude of genres while feeling the cool sea breeze of Okinawa. Tickets are now on sale via Japanese ticket vendors.

Other events taking place as part of Okinawa E-motion include Magic Beach & Beach Bar Walk (May 18-19) which combines food with magic, the concert show KPP Camp (May 25) which is being produced by Kyary Pamyu Pamyu, Bar Walk Naha (May 25) which is bringing together famous Naha restaurants, and more. ASOBEACH!!! will be held at the same time as the popular food festival OKINAWA FOOD FLEA on June 1 and 2 so don't miss out.

Information

Okinawa E-motion「ASOBEACH!!!」

2019/6/1 @ OPEN 14:00 / START 15:00

2019/6/2 @ OPEN 14:00 / START 15:00

Venue: Umisora Park (3-3-1 Tsuji, Naha, Okinawa)

Day 1 Tickets

Advance: ¥3,000 (Tax Included)

Same-Day: ¥3,500 (Tax Included)

*No reserved seating

Day 2 Tickets

Advance: ¥5,000 (Tax Included)

*No reserved seating, no same-day tickets

Tickets via e+: https://eplus.jp/sf/word/0000132270

Line-Up

June 1 – Yasutaka Nakata, ☆Taku Takahashi (m-flo), TeddyLoid, Yoshikazu Mera (TeddyLoid Special Live Guest), and more

June 2 – Yasutaka Nakata, CAPSULE, EXILE MAKIDAI (PKCZ®), DJ Ichiro Yatsui, and more

*Prices are the same for adults and children. Preschoolers are granted free access.

*ID required to purchase alcohol.

Okinawa E-motion Official Website: https://www.okinawa-emotion.com/

Perfume: A Group Defining Live Performances of the Future & Tying the World to J-Pop

Perfume―a 3-member techno pop unit whose name is unknown to nobody in their home country of Japan. The J-pop trio embarked on their "Future Pop" arena tour last year―their 7th tour to date―which began on September 21, 2018 and took them to 9 locations across Japan for a total of 18 concerts. They subsequently played live on the 69th NHK Kōhaku Uta Gassen on December 31 with their performance being streamed live. Their sixth album Future Pop which the tour is named after made it to No. 1 on Oricon's Weekly Album Charts on August 27. In both name and reality they stand unshaken as a group representing Japan.

Thanks to streaming services such as YouTube and Spotify, Perfume's international fame and recognition has surged into the stratosphere. Their growing popularity recently led them to embarking their 4th world tour Perfume WORLD TOUR 4th "FUTURE POP" on February 23 this year to Asia and North America. This marks almost four years since touring Asia and two-and-a-half since the US. It's safe to say then that 2019 will reign once more as the year of perfume for overseas fans.

Before & After Perfume: How They Changed the Value of Entertainment
With Japan being home to so many girl groups, why is it that Perfume has rooted themselves to strongly overseas?

One answer points to their authentic electro sound which bursts intently with originality. Another is their dignified dance performances which are so tight that one might think them to be androids. This, combined with their live shows which incorporate digital media art using experimental and cutting-edge technology. The entertainment value of girl groups has changed since Perfume came on the scene. All of today's idol groups and girl units take great influence from Perfume.

Perfume's music has real intention behind it. It's the real deal that has impressed even the most crazed music lovers and audiophiles. Their discography―from their indie era debut in 2003 to today―has been entirely produced by Japanese record producer, composer and DJ Yasutaka Nakata. The songs he crafts, from techno pop to electro, have affixed a new kind of value to J-pop that never existed before. He has been able to take dance music made for club-goers and transform it into a type of J-pop that is able to reach all listeners.

His music has and continues to receive high praise not just in Japan but around the world. Perfume's latest album Future Pop which was released last year made it to No. 1 on the iTunes Electro Charts in 20 countries. Their previous album Cosmic Explorer even ranked 16th on Rolling Stone's 20 Best Pop Albums of 2016.

Another factor as to how Perfume has captivated the world is their choreography which mix cuteness with sci-fi, robotic-like moves. Their choreographer is MIKIKO who created the "Koi Dance" in the music video for Gen Hoshino's hit song Koi, and who has been appointed as part of the planning team for the opening and closing ceremony of the 2020 Summer Olympics in Tokyo. The three members of Perfume have received guidance from performers who are active internationally since their days at Actor's School Hiroshima.

Their music is irregular, and all of them are able to dance complex moves in formation while wearing 8cm heels. They are conscious of every single motion right down to the tips of their fingers. That is true art.

The Year 2020 Marks Perfume's 20th Anniversary

We mustn't forget Perfume's concerts, another part of their successful appeal, which make use of the latest technology. Their shows have been directed by Daito Manabe, an artist, programmer, designer, DJ, VJ, composer based in Tokyo who is the spearhead of Rhizomatiks, a Japanese company which uses the arts and technology to produce large scale artistic projects. Whether it be their on-stage performances or music videos, Perfume have given us insight into and let us experience the near-future.

In 2017, the group collaborated with docomo to put on a very special show to connect their performance around the world in Tokyo, London and New York. Using hyper-realistic visuals, fans were able to experience as if Perfume were actually there in front of them in spite of the 10,000km distance.

The girls have continued to pull us into a new world, something that we have not experienced with any other artist, through their projection mapped live performances, illuminated outfits, and more. They were extremely well received at SXSW in 2015 too, only solidifying their place in the music world.

Perfume have continually carved a path of originality on which left their strong presence both in Japan and overseas. They are now set to perform at Coachella Valley Music and Arts Festival in California this April, an event which celebrates its 20th anniversary this year. Perfume, too, will celebrate their 20th anniversary in 2020. We can rest assured that they have no signs of stopping their fiery force as they approach this historical milestone.

Text: Ayaka Sakai

Translation: Joshua Kitosi-Isanga

Information

Perfume Official Website

Perfume Release Fragrance Items From Their 'Perfume Closet' Fashion Project

J-pop trio Perfume are knee deep on their 4th world tour entitled "FUTURE POP" which began on February 23, 2019 and is taking them across Asia and North America.

a-chan, NOCCHi and KASHIYUKA are also known for their Perfume Closet fashion project for which they opened a pop-up shop at Laforet Harajuku last year. It has been announced that new fragrance items will be released from the brand.

Perfume released their own original perfume "PERFUME OF PERFUME" in 2016 which has gone on to be a hugely popular product. Using its scent as a base, two new products will be released from Perfume Closet on March 21.

PERFUME OF PERFUME Hand Cream (30g) – ¥1,600 (Before Tax)

The hand cream has great spread, isn't sticky and moisturises skin beautifully. Whether your hands are feeling dry, you want to care for your skin before going out or after getting out the bath, or you want to refresh during work, then this is the cream to go for.

PERFUME OF PERFUME Fabric Spray (100ml) – ¥2,000 (Before Tax)

This fabric spray can be used on everything from clothing to curtain, sofas and beds―even as room spray―to add a pleasant fragrance to your surroundings.

Both items will be released on March 21―the date of their indie era debut―for a limited time at ISETAN MiRROR stores across Japan and online via ASMART. They will also be released at Tower Records branches on April 2 in line with the release of their Blu-ray and DVD Perfume 7th Tour 2018 "FUTURE POP" dropping on April 3.


If bought on ASMART the products can also be sent with a special gift bag for an additional fee – a perfect Perfume present.

Information

Perfume Closet
Release Date: March 21, 2019 at 10:00am (JST)

Locations
March 21, 2019 – 17 ISETAN MiRROR stores

April 2, 2019 – Most Tower Records stores

*Only 2 of each product will be sold to customers

ASMART Page: https://www.asmart.jp/perfumecloset

Perfume Official Website: http://www.perfume-web.jp/

Japanese Music Artists Performing Overseas in 2019: Part 1

As we make headway into the new year, information on Japanese artists performing outside of Japan continues to roll out. This first article covers Japanese artists set to perform concerts overseas in the first half of 2019.

・Perfume

The global popularity of multi-platinum electro J-pop group Perfume is clear for all to see, with their latest album Future Pop released back in August charting in at No.1 in 20 countries across the world. And now, international fans in the US and Asia will be excited to hear that the trio are set to hit a city near them in March and April this year.

Full Details: https://www.moshimoshi-nippon.jp/138536

・SID

SID announced at their 15th anniversary tour Ichiban Suki na Basho 2018 that they are set to perform four dates in Asia.

Full Details: https://www.moshimoshi-nippon.jp/144270

 

・Kenshi Yonezu

Kenshi Yonezu took the charts by storm in 2018 breaking many records with a string of singles. While riding this wave of success, it has been announced that Yonezu will embark on his first ever arena tour which begins today on January 19. Two dates in Shanghai and Taipei have been added to the tour.

Full Details: https://www.moshimoshi-nippon.jp/158468

・Tokyo Ska Paradise Orchestra

Tokyo Ska Paradise Orchestra celebrate their 30th anniversary this year, and what better way to kick off it off than performing at Lollapalooza Chilie in March. Before they do however they will first perform at PA'L NORTE 2019, a 2-day music and art festival in Monterrey, Mexico. They are part of a line-up consisting of big names such as Arctic Monkeys, Kings of Leon and Santana.

Full Details: https://www.moshimoshi-nippon.jp/146658

・Taichi Mukai

Taichi Mukai is in the midst of his 2018-2019 "Pure Tour" to promote his newest album PURE. The artist is gaining much attention not just in Japan but across Asia too. Mukai is set to perform in Asia for the first time beginning on March 22.

Full Details: https://www.moshimoshi-nippon.jp/155274

・HYDE

HYDE started his solo music career up again last year and has various planned for 2019. He performed at L'Arc-en-Ciel's 2018 Christmas live show "L'ArChristmas" and will embark on an Asia tour in March.

・GARNiDELiA

GARNiDELiA released Kyoki Ranbu on September 26 this year, an album compiling every song from their internationally acclaimed online dance series including their hit song Gokuraku Jodo. The pop rock duo have announced that they will embark on their biggest Asia tour to date including shows in Hong Kong and Singapore.

Full Details: https://www.moshimoshi-nippon.jp/150236

・Wednesday Campanella

Wednesday Campanella is no stranger to performing solo concerts and at festivals outside Japan. The next place to be graced by KOM_I's incredible performance is Barcelona for the Primavera Sound music festival.

Full Details: https://www.moshimoshi-nippon.jp/150817

To all lovers of J-pop, J-rock and any kind of Japanese artist or band living outside Japan – if an artist is coming to a place near you, show your support and don't miss the opportunity to see them live.

Writer: Heir