Hoodies, knits and pajamas! Collaborative products of HELLO KITTY and GU will be sold
GU will sell a collaborative products with Sanrio's very popular character HELLO KITTY from the 9th of January 2018 at GU stores throughout Japan and on its online store.


GU collaborated with a character of Sanrio for the first time. The trendy/retro-taste products use the designs of HELLO KITTY back in 1970.
They will sell various kinds of products which a wide range of generations can enjoy such as the sweat pull hoodie with the print of HELLO KITTY, dot patterned pullover, V-neck cardigan, ensemble knit, front zip sweat where HELLO KITTY's embroidery is stitched on the reverse side of the item.
Also, don't miss the lounge wears and pajamas for kids (girls)/women.
Women's tops – products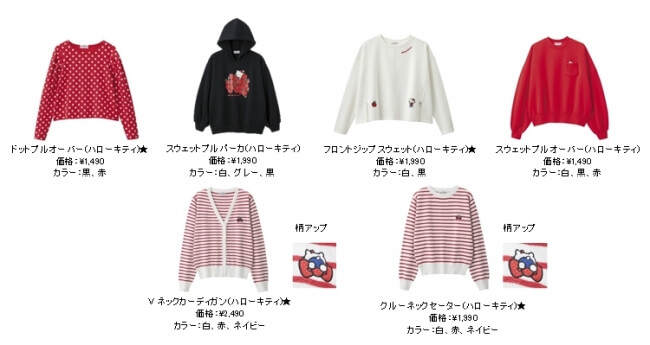 Women's lounge wear – products

Kid's (girls) lounge wear – products

HELLO KITTY×GU products will surely sell out in a fast order. Can't wait to buy them!
◼︎Information
HELLO KITTY×GU Collaboration Collection
Website: https://www.gu-japan.com/jp/
The prices noted above do not include tax.
Products with ★ mark will be sold at mega stores and online stores only.
RELATED ENTRIES
Hello Kitty & Mickey and Minnie Mouse New Year Osechi Food Orders Now Open

Osechi is a Japanese term referring to special food served during the New Year holidays. The food is filled with the hopes, wishes and happiness of people. Kibun Foods began taking reservations for new Hello Kitty and Disney osechi assortments via their online shop on August 1. Reservations will also began rolling out at retail stores throughout the year.

The Hello Kitty box contains a selection of traditional osechi items including red and white kamaboko cured fish paste and datemaki sweet rolled omelette as well as more modern cuisine like smoked duck.


The cute box comes with the original 1970's Hello Kitty design to celebrate her 45th anniversary. It's exclusive to Kibun Foods and can be reused as a lunchbox.

The Disney box design features Mickey and Minnie Mouse wearing traditional kimono. This box also contains traditional foods like red and white kamaboko cured fish paste and datemaki sweet rolled omelette as well as chicken in tomato sauce, smoked duck and more.

The plum blossoms and peonies give a traditional and luxurious feel to the box.

Enjoy a kawaii-charged New Year's this year with these beautiful osechi gifts.

©1976,2019 SANRIO CO., LTD. APPROVAL NO.G601662

ⒸDisney

*Photos are for illustrative purposes only

Information

Hello Kitty Osechi
Foods: 21
Price: ¥10,000 (Before Tax)
Delivery: Cold Storage
Box Size: 16.5×16.5 ×10.8cm

Disney Osechi
Foods: 25
Price: ¥11,000 (Before Tax)
Delivery: Cold Storage
Box Size: 16.5×16.5×9.7cm

Kibun Shop: https://www.kibun-shop.com

Adorable Moving Ear Hats to be Released by Sanrio

Sanrio has announced that it will release six hats with moving ears inspired by six of its characters at Sanrio stores, its online store, and shops stocking Sanrio goods in Japan on August 21.

The hats move by using an air pump that you pump with your fingers. Look adorable at events, on your Instagram story posts and pretty much anywhere by choosing from one of the six characters: Hello Kitty, My Melody, Pompompurin, Cinnamoroll, Kuromi and Pochacco.

The hats are fluffy, comfortable to wear, and of course make you look kawaii as you walk along with the ears bouncing up and down. The hats are also one size fits all and so can be worn by both kids and grown-ups!

©️1976, 1989, 1996, 2001, 2005, 2019 SANRIO CO., LTD.

Information

Sanrio Character Moving Ear Hats
Release Date: August 21, 2019

Available: At most Sanrio stores, select stores stocking Sanrio merchandise, and online via the Sanrio Shop, Rakuten, and Yahoo

Designs: Hello Kitty, My Melody, Pompompurin, Cinnamoroll, Kuromi and Pochacco

Price: ¥2,052 Each (Tax Included)

Sanrio Official Website: https://www.sanrio.co.jp/goodsinfo/mx-mimiga-ugoku-201908/

Gundam vs. Hello Kitty Merchandise Releasing at Sanrio Stores

As part of the ongoing Gundam vs. Hello Kitty project, Sanrio is releasing a new collection of chess design merchandise and other merchandise themed on both franchises at Sanrio stores across Japan, as well as its online store and in selection shops stocking Sanrio merchandise on August 17 (and August 21 for the online store).

Let's take a look at just some of the items up for grabs.

Gundam vs. Hello Kitty T-Shirts (M/L) – ¥3,456 Each (Tax Included)

Gundam vs. Hello Kitty Face Towels – ¥1,944 Each (Tax Included)

Gundam Mug – ¥1,620 (Tax Included)

Hello Kitty Mug – ¥1,620 (Tax Included)

For the 7th round of the project, fans of Hello Kitty and Gundam are encouraged to take a photo of any of the chess design items they have purchased and post it on Twitter.

If you are team Hello Kitty then you must post with the hashtag #キティチェックメイト ("Kitty Checkmate") and if you are team Gundam then post with #ガンダムチェックメイト ("Gundam Checkmate"). This hashtag campaign will begin on August 17 and end on September 16. The character with the most number of posts will be crowned as the winner of Round 7. Additionally, one random participant from both teams will be selected to win a complete set of the chess design merchandise which includes the t-shirts and both mugs.

Pick your team, get the goods and get voting!

©Sotsu・Sunrise ©'76, '19 SANRIO

Information

Gundam vs. Hello Kitty Chess Design Promotionカ

Release Date: August 17, 2019

Available: At Sanrio stores, select shops selling Sanrio merchandise, and the official Sanrio online store (from August 21, 2019 on the online store)

Sanrio Online Store: https://shop.sanrio.co.jp/

Rakuten: https://www.rakuten.co.jp/sanrio/

Yahoo! Shopping: https://shopping.geocities.jp/sanrio/

Sanrio Official Website: https://www.sanrio.co.jp/news/kt-gundam-chessdesign-20190814/

Gundam vs. Hello Kitty Project – Round 7: Twitter Posting Campaign

Running: August 17, 2019 – September 16, 2019

Participating: Purchase one of the chess design items on Twitter with the relevant hashtag. If you are team Hello Kitty then post with the hashtag #キティチェックメイト ("Kitty Checkmate") and if you are team Gundam then post with #ガンダムチェックメイト ("Gundam Checkmate").

Prize: One random participant from both teams will be selected to win a complete set of the chess design merchandise which includes the t-shirts and both mugs. More details will be posted on the project's official Twitter account.

Gundam vs. Hello Kitty Project Official Twitter: @gundamvskitty

Gundam vs. Hello Kitty Project Official Website: https://www.gundamvskitty.com

Hello Kitty Theatre Restaurant HELLO KITTY SHOW BOX Opens its Kawaii Doors to the Public

The official Hello Kitty theatre and restaurant HELLO KITTY SHOW BOX on Awaji Island had its grand opening on August 12.

Related Article: Stunning Hello Kitty Theatre Restaurant HELLO KITTY SHOW BOX to Open On Awaji Island

New photos have emerged giving us a peek inside the restaurant and at the menu.

The restaurant itself is situated in the farmlands of Awaji Island. Hiding on top of the building is an adorable hidden face of Hello Kitty which can't be seen from the ground.

At the back of the restaurant is a giant screen spanning 6 meters wide and 16 meters tall. The stage in front will give rise to a whole new kind of Hello Kitty entertainment with song, dance and performances.

The menu was conceived by Japanese chef Hal Yamashita and uses healthy, organic ingredients to make incredible dishes that both taste amazing and are fun to look at. As well as vegan dishes, there will be a dessert buffet which also uses healthier alternatives. Everything look delicious!

The interior is both cute and high class, offering the ultimate Hello Kitty restaurant. With its doors now open to the public, fans of Hello Kitty are set to flock to Awaji Island.

Ⓒ1976, 2019 SANRIO CO., LTD. 

Information

HELLO KITTY SHOW BOX

Grand Opening: August 12, 2019

Address: 177-5 Nojimahirabayashi, Awaji, Hyogo Prefecture
Business Hours: 11:00-20:00
Closed: Wednesdays
Weekday Hours: Lunch 11:00 / Cafe 15:00 / Dinner 18:00
Weekend Hours: Lunch 11:00 / Cafe 14:15 & 16:15 / Dinner 18:15

Reservations
①Reservations can be made via the homepage here (*Discount applied to all reservations)
②Reservations can also be made at the restaurant on the day depending on the number of available tables
Allotted Time: 2 hours max.

Official Website: https://awajiresort.com/hellokittyshowbox/

Stunning Hello Kitty Theatre Restaurant HELLO KITTY SHOW BOX to Open On Awaji Island

The new HELLO KITTY SHOW BOX theatre restaurant is set to bring excitement and thrills when it opens on Awaji Island on August 12.

This theatre-restaurant combination will serve up a dining experience you will never forget with a selection of healthy cuisine including vegan cooking. For entertainment, you can look forward to browsing the incredible gallery which will make use of various media art forms including 3D holograms. There will also be a range of shows made up of song, dance and musical performance.

The building itself is situated within farmlands and is crowned with the adorable hidden face of Hello Kitty which can't be seen from the ground.

The Hello Kitty Dream Gallery will use 3D holograms to bring Hello Kitty to life before your very eyes. The story will follow our feline heroine in which her dream to become a pianist comes true. The Hello Kitty Dream Entertainment Show will make use of giant LED screens and Hello Kitty will put on a cute performance of song, dance and music.

The menu was conceived by Japanese chef Hal Yamashita and uses healthy, organic ingredients to make incredible dishes that both taste amazing and are fun to look at. As well as vegan dishes, there will be a dessert buffet which also uses healthier alternatives.

And if you're hoping to stock up on Hello Kitty merchandise then you're in luck―the site's Hello Kitty shop will stock exclusive items you can't get anywhere else.

Immerse yourself in all things Hello Kitty at HELLO KITTY SHOW BOX, opening on August 12, 2019.

Ⓒ1976, 2019 SANRIO CO., LTD.

*Photos are for illustrative purposes only

Information

HELLO KITTY SHOW BOX

Grand Opening: August 12, 2019

Address: 177-5 Nojimahirabayashi, Awaji, Hyogo Prefecture
Business Hours: 11:00-20:00
Closed: Wednesdays
Weekday Hours: Lunch 11:00 / Cafe 15:00 / Dinner 18:00
Weekend Hours: Lunch 11:00 / Cafe 14:15 & 16:15 / Dinner 18:15

Reservations
①Reservations can be made via the homepage here (*Discount applied to all reservations)
②Reservations can also be made at the restaurant on the day depending on the number of available tables
Allotted Time: 2 hours max.

Official Website: https://awajiresort.com/hellokittyshowbox/

Sanrio Unveil New Sporty Merchandise Collection Featuring Hello Kitty, My Melody & Others

Sanrio has announced that it will release 24 pieces of merchandise on August 15 in support of the sports season from summer to autumn. The items feature the Sanrio characters donning their sports gear and include megaphones, charms, bags, and more.

There are many sports events happening right now, and the Sanrio cast are here to help you cheer on your favourite teams: Hello Kitty, My Melody, Pocchaco, Pompompurin, Cinnamoroll, and Kuromi.

The megaphones are a must-have, featuring cute plush toy attachments of the characters which can be used at events like a vuvuzela.


Keep your things safe with one of six "Mascot Holder" bags with each character donning different sportswear: table tennis for Hello Kitty, Tennis for My Melody, Rugby for Pompompurin, baseball for Cinnamoroll, soccer for Kuromi, and basketball for Pochacco.

And for good luck, grab one of the lucky charms which have a gold medal and message inside them. Attach them to your phone or keep them in  your pocket!

©'13, '19 SANRIO S/D・G

Information

Sanrio Character Sports Promotion
Release Date: August 15, 2019

Available: At Sanrio stores, select shops selling Sanrio merchandise, and the official Sanrio online store

Sanrio Official Online Store: https://shop.sanrio.co.jp/

Celebrate Hello Kitty's 45th Anniversary at the Hello Kitty Collection Exhibition in Chiba

Lovers of Sanrio and all things Hello Kitty won't want to miss the 45th Anniversary Hello Kitty Collection Exhibition currently being held at Sogo Chiba until August 15.

The event look backs at the kawaii history of Hello Kitty with a huge range of old and new merchandise. There's also photo spots for taking cute photos, a wall of Hello Kitty plush toys, touch interactive digital videos, and much more.

If you're looking to stock up on your collection of Hello Kitty merch then you have around 850 items to choose from including goodies exclusive to the event, pre-sales of items to be released at a later date, and more. There's even a pottery workshop as well as a chance to take your photo with the real Hello Kitty.

Kawaii Chronicles: Hello Kitty Design Museum

Get ready to witness a wide selection of Hello Kitty goods from across generations, including rare and vintage items no longer manufactured. Witness the history of Hello Kitty's kawaii world and how things changed through the years to fit each generation.

Digital Content & Plush Toy Wall

Get interactive with Hello Kitty with the wall mapping – touch the wall and see the visuals change. There's also another wall completely full of Hello Kitty toys which makes for a really cute photo opportunity.

Photo With Hello Kitty

Hello Kitty will be present on August 12 in a beautiful kimono ready to have her picture taken with you! Tickets will be handed out 30 minutes before each session. Spaces are limited so make sure you're on time!

Date: August 12, 2019 at 11:00/13:00/15:00

Location: Floor 6F Event Hall

No. of People: 20 per shoot

Workshop

Paint your very own ceramic Hello Kitty ornament. You colouring it means that yours will be unique and the only one in the world♡

Running: August 7, 2019 – August 15, 2019

Time: 11:00-16:00

No. of People: 30 per day

Price: ¥1,296

Hello Kitty Kawaii Market
Get your hands one one of 850 pieces of Hello Kitty merchandise from plush toys to stationery, interior items and more. Many of these items are exclusive to the exhibition.

Mascot Holder – ¥1,728 (400 Available – 1 Per Person) / Acrylic Key Ring – ¥648 / Mug – ¥1,080 / Hand Towel – ¥756

Replica Classical doll – ¥17,280 / Mini Mascot Brooch (20 Designs) – ¥1,080 Each (1 Per Person) / A4 Folders (Includes 2) – ¥486

Enter the adorable world of Hello Kitty this summer and help her celebrate her 45th anniversary.

Information

45th Anniversary Hello Kitty Collection Exhibition

Running: August 7, 2019 – August 15, 2019

Time: 10:00-20:00 (Until 17:00 on August 15) *Last entries are 30-minutes before closing time

Location: Sogo Chiba Floor 6F Event Hall (1000 Shinmachi, Chuo Ward, Chiba, Chiba Prefecture)

Price: Adults & University Students ¥500 (High School Students & Younger – Free)

*Those with a disability certificate can enter the exhibition for free (including one guardian)

Sogo Chiba Official Website: https://www.sogo-seibu.jp/chiba/

Come Witness The Hello Kitty X KAWAII MONSTER CAFÉ HARAJUKU Collaboration

Sanrio and Harajuku's KAWAII MONSTER CAFÉ have set out on a two-month collaboration which will run until September 1. Sitting at the heart of Harajuku, which is the home of kawaii culture, the KAWAII MONSTER CAFÉ is topping up its kawaii powers with the release of Hello Kitty collaboration meals and merchandise that you cannot obtain from anywhere else.

For the collaboration, Hello Kitty has transformed her look, turning into a kawaii Harajuku girl. 

Once you enter the café, you will immediately notice the giant cake-shaped merry-go-round called the SWEETS GO ROUND. This time, you will notice that Hello Kitty's head garnishes the top of the cake.

Make your way through the cafe and you will eventually come across the Mel-Tea Hello Kitty Room, which is a special room that must be reserved in order to experience. On pink tatami flooring sits multiple low tea tables, representing the traditional culture of Japan in a colouful pop style. Foreigners would  just love to spend some time in this room. Looking around the room, the macarons and strawberries remain in their usual places. 

You will notice Hello Kitty's ribbon and even many Hello Kitty stuffed toys also decorating the room. This entire new kawaii world locked in this room was created by Sebastian Masuda. Surrounded by a world of pastel colours and kawaii decorations, you just have to take photos. 

Reservations

If you wish to book the Mel-Tea Hello Kitty Room, please talk to a member of staff. 

Tel: 03−5413−6142

Reservation Times

Weekdays: 11:00, 13:00, 15:00

Sundays/ Weekends: 11:00, 13:00, 15:00, 17:00, 19:00

※ Two-hour time slots ※ Number of seats is limited

This is a unique opportunity to taste only the most kawaii of menus as Hello Kitty teams up with the KAWAII MONSTER CAFÉ. Let's check out the menu!

Colourful Pop Hello Kitty Burger: ¥1,680 (before tax) 

Hello Kitty Harajuku Rainbow Curry: ¥1,580 (before tax)

Harajuku X KAWAII X Hello Kitty SWEETS GO ROUND Cake: ¥1,480 (before tax)

Harajuku KAWAII 原宿 KAWAII Poison Parfait: ¥2,480 (before tax )

There are also many Harajuku-style Hello Kitty goods that you should check out. The biscuits and stickers would make the perfect souvenirs.

Not only has the food been given a Hello Kitty upgrade, but the MONSTER CAFÉ's iconic Monster Girls have also transformed their look for the Hello Kitty collaboration. If you are a fan of Hello Kitty or kawaii culture, you absolutely must check this out. 

If you ever find yourself in Harajuku, please consider stopping by the KAWAII MONSTER CAFÉ to witness the Hello Kitty collaboration project. 

Information

Harajuku × KAWAII × Hello Kitty

Running: July 12 ー September 1, 2019 

Access: 5-minute walk from JR Harajuku Station/1-minute walk from Meiji Jingumae Station, Chiyoda Line

TEL: 03−5413−6142

Opening Hours:

Weekdays/ Saturdays: 

Lunch: 11:30 ー 16:30 (Last entries: 15:30, last orders: 16:00,  90-minute time slots)

Dinner: 18:00 ー 22:30 (Last orders: 22:00)

Sundays/ National Holidays: 11:00 ー 20:00 (Last orders: 19:30)

※ 2-hour time slot restriction applies during peak times

No regular holidays

Official Website: http://kawaiimonster.jp/day/pc/

Hello Kitty Collaborates With Hawaiian Musical To Spread Awareness For Coastal Protection

Fantasy musical Honu by the Sea is collaborating with Hello Kitty at Sanrio Puroland on July 13th, 14th and15th.

Honu by the Sea is a fantasy-themed musical aimed at families. The story is set on a beach in Hawaii. From the appearance of a magical "Honu" (Hawaiian for "sea turtle") to the range of sea wildlife and the broadway-style singing and dancing, this is a musical that is highly praised on an international level. 

When Honu by the Sea in Sanrio Puroland took place last year in July, popular Sanrio character Hello Kitty took to the stage with the cast, performing the first ever full Japanese version of the musical. Following last year's admiration, the musical will be returning again this year. The music will take place every day of the three-day Japanese national holiday period that celebrates Marine Day. 

 At the Sanrio Puroland live performance, the actors and actresses, who were all born in Hawaii, will be singing all the songs live in Japanese. This musical aims to enforce the importance of protecting our oceans and coasts. Thanks to the collaboration, the musical also spreads the message of the importance of friendship to viewers. This is a wonderful chance to enjoy a globally-admired musical along with Hello Kitty. 

Information

HONU BY THE SEA 2019 in Sanrio Puroland

Dates: July 13, 14 & 15, 2019

Venue: Sanrio Puroland 

Performance Times:

July 13 & 14: 11:00 ー 11:30/13:25 ー 13:55

July 15 (national holiday): 11:50 ー 12:20/15:30 ー 16:00

Location: Wisdom Tree Stage, 1st floor 

 

Sanrio Puroland

Address: 1-31, 1 Chome-31 Ochiai, Tama, Tokyo

Website: https://www.puroland.jp/

Hello Kitty Celebrates 45th Anniversary With 1970s ー 2000s Design Goods Series

To commemorate Hello Kitty's 45th anniversary, a new merchandise series will be sold at Sanrio shops, Sanrio sections of department stores across Japan and on the official online shop. The new merchandise series is themed around the concept of looking back on all that Hello Kitty has been through over the years to "find your perfect Hello Kitty". The series will be released on July 18 and there will be a mini event at the front of Sanrio stores from July 20. 

Hello Kitty recently shone in first place as the first cute character winner of the Reiwa Era at the 2019 Sanrio Character Awards. To celebrate her 45th anniversary this year, the artistic crew who raised Hello Kitty are bringing back old memories and creating new ones with a series of original Hello Kitty toys with designs to represent Hello Kitty throughout her lifetime.

The first round of goods from the Hello Kitty 45th anniversary commemoration series was released in April earlier this year. Part 1 of the series involved the release of pouches, the designs of which represented the different ages of Hello Kitty. This series was particularly popular. For the second round of the commemoration series, the Sanrio shop has developed commemoration dolls, notebooks and sweets tins with different designs to represent Hello Kitty from the 1970s to the 2000s. 

Hello Kitty 45th Anniversary Commemoration Dolls (10 designs): ¥3,456 each (after tax)

There are 10 commemoration dolls to choose from and they all come in a special box.

Hello Kitty 45th Anniversary Commemoration Doll (70's design) 

The 1970's  Hello Kitty brings back memories of how she looked in the latter half of the 1970s. 

Hello Kitty 45th Anniversary Commemoration Doll (Pink Quilt)

The quilt design was a big hit in the 1990s and is now making a comeback.

Hello Kitty 45th Anniversary Commemoration Doll (Fairy)

The fairy series was released in the year 2000 to celebrate the new millennium. This design represents a rainbow-coloured fairy. 

Hello Kitty Sweets Tin (Contains sweets) : ¥486 each (after tax)

Don't forget to check out the tinned sweets. The tins are designed with illustrations ranging from the iconic Hello Kitty times over the years from the 70s to the 2000s. Some designs will make you feel nostalgic, while others will spark excitement for their new originality. New or old? Come find one that captures your heart! Each tin contains five apple-flavoured sweets. 

Hello Kitty Notebook (make your own collection set): ¥648 each (after tax)

There are 15 different Hello Kitty notebook designs inspired by Hello Kitty throughout the years. You can choose three notebooks from this collection and one of two Hello Kitty goldleaf print cases to create your own special commemorative notebook set. 

There is a special campaign running for customers who purchase Hello Kitty 45th Anniversary goods. The campaign is running at the storefront of Sanrio shops this summer. From July 15, customers who spend more than ¥1,620 (tax included) on Mondays at the Sanrio shop will receive a 45th Anniversary monthly novelty gift! (Does not include bargain or lottery items) . 

The first monthly novelty gift will be an acrylic keyring. One of five designs will be chosen at random and presented to customers whose bill totals over ¥1,620 after tax. The monthly novelty gift campaign will be launched on July 15 and will run every Monday until October. Not only will the campaign be running on the 15 Mondays between the start and finish dates, but also on November 1, which is Hello Kitty's birthday. 

※ Please acknowledge that there is a limited number of these keyrings and therefore there is a possibility that stock runs out. You cannot choose the keyring pattern and this campaign may not be running at all Sanrio stores. 

Come say hello to Hello Kitty's retro past and join in the 45th Anniversary celebrations. 

Information

Hello Kitty 45th Anniversary Series

Release: July 18, 2019 

Available at: 

◇ Sanrio shops, Department store Sanrio sections, more (There may be some non-participating stores).

◇ Sanrio Online shop (Tinned sweets and collection notebooks are not available).

Main Store:  https://shop.sanrio.co.jp/

Rakuten Market: https://www.rakuten.co.jp/sanrio/

Yahoo! Shopping: https://shopping.geocities.jp/sanrio/

General Enquiries can be made to the Sanrio Customer Support Centre

℡: 03-3779-8148 

Open: 10am ー 5pm (Not operating on weekends or national holidays)

Gundam vs. Hello Kitty DJ Night to be Held at Tokyo Mystery Circus

In the lead up to the Gundam and Hello Kitty games arriving at Tokyo Mystery Circus on July 18, which is being held as part of the ongoing Gundam vs. Hello Kitty Project, a special event titled "Gundam vs. Hello Kitty DJ Night" will take place at the site on July 17.

DJ Caeser

Joining the event as a special guest will be DJ Caeser, who was put in charge of the song choice for the Mobile Suit Gundam 40th Anniversary BEST ANIME MIX which made it to No.1 on Oricon's Anime Weekly charts. Alongsidehim will be DJ Hello Kitty who is set to bring the house down with her cute and fiery energy. It will be held as an invitation-only event which people can be invited to by signing up. Winners will be chosen randomly.

DJ Hello Kitty

Both DJs will play a selection of music released to Gundam and Hello Kitty.

To sign up for a chance to attend, you must follow the official Tokyo Mystery Circus Twitter account and retweet this tweet. The deadline lasts until July 7 at 23:59 (JST).

The fight between two of Japan's biggest franchises, Gundam and Hello Kitty, is set to continue at this special one-night-only DJ show.

©️SCRAP ©️Sotsu・Sunrise ©️'76, '19 SANRIO

Gundam vs. Hello Kitty Project Launches Trailer for 2nd Collaborative Video

A trailer for the second episode of the the ongoing Gundam vs. Hello Kitty Project just dropped on YouTube. Check it out below.

The project is currently being held on the Japanese messenger app LINE which fans of the franchises can participate in. After friending the official Gundam and Hello Kitty LINE account you can choose whether you are on team Gundam or team Hello Kitty. You can also win a special prize by saving up your LINE points. The person with the highest number of points will be selected to win. Other prizes are also up for grabs for each individual franchise.

The first video, which can be seen above, was released back in March and has already amassed nearly 1.4 million views.

The second episode sees Hello Kitty appear before Amuro who is battling in space. She says ,"Let's all get along," but it seems like something unexpected is about to unfold.

The series is being animated by Japanese animation studio Sunrise (Gundam, Cowboy Bebop, Code Geass). Be sure to check out the new episode when it's released on July 9.

©Sotsu・Sunrise Inc.

©'76, '19 SANRIO