The world's first live holographic entertainment theatre "DMM VR THEATER" will showcase a completely original production of the hit anime series "One Piece."
A trailer will be shown on at the Toei Animation booth of "Jump Festa 2018" which will be held on December 16th and 17th at Makuhari Messe.
Holograms bring together virtual spaces and objects to make it look as if they are right there in front of you. They are different from VR as they do not require any kind of special glasses or equipment. It's a new kind of entertainment where one can see 3D visuals with the naked eye. The One Piece production will most definitely leave a significant impact.
A line-up of original Toei characters will make an appearance in the movie including Graydle, and the famous Marineford arc will be covered.
Be sure to drop by the area where you can personally experience the latest cutting-edge holographic technology, measured at 1/12 of the size of the theatre.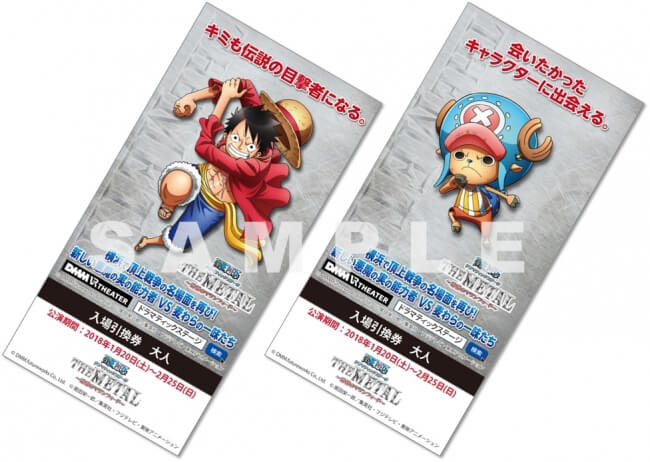 Tickets for the DMM VR THEATER performance will be sold at the same booth.
There are 14 designs limited to this event based on popular characters of the series, including a straw hat version, an Ace version and so on.
As well as the general sale tickets, there's also special tickets available from 7-Eleven with which you will receive a coupon to exchange for one of two merchandise towels or a t-shirt, all limited in quantity. Ticket prices and information can be found via the official website.
*One Piece design tickets are given out in a random order.
*The 7-Eleven tickets are the same designs as the general sale tickets except they come with an additional exchange coupon for a towel or t-shirt.
■Information
DMM VR THEATER YOKOHAMA
ONE PIECE Dramatic Stage THE METAL ~Tsuioku no Marinefore~ (Recollections of Marineford)
Address: 2-1-5 Minamisaiwa, Nishi-ku, Yokohama, Kanagawa Prefecture
Running: January 20, 2018 – February 25, 2018
Performance Times:
Weekdays – 16:30/19:00
Weekends & National Holidays – 11:30 / 14:00 / 16:30 / 19:00
*Closed every Tuesday. Theater will open 1 hour before the start of the performance.
Website: https://vr-theater.dmm.com/schedule/onepiece-vr
Jump Festa 2018
Address: Makuhari Messe International Exhibition Hall 1-8, 2-1 Nakase, Mihama, Chiba, Chiba Prefecture
Running: December 16, 2017 – December 17, 2017
Open: 9:00-17:00 (last entries at 16:30)
Homepage: http://www.jumpfesta.com/