"NIHONBASHI -Hoshifuru Mori" where you can observe shooting stars from Nihonbashi will be held
An illumination event titled, "NIHONBASHI -Hoshifuru Mori" will be held from the 8th of December (Fri.) to the 8th of January 2018 (Mon./holiday).
This illumination event is a sharing-base event where you can observe shooting stars while watching mirror-ball illuminations. The two most famous meteor streams "Gemini Meteor Stream" and "Quadrantids" will appear in the sky.
Gemini Meteor Stream is counted as on of the three greatest meteor streams which can be observed many times around the 14th of December. It is said that the number of shooting stars appearing in the sky (per day) is from 100 to 200 but the number of shooting stars appear on the season of Gemini Meteor Stream counts double to triple. Also, Quadrantids is known as a stream which is difficult to be observed since its activity time is very short.
In "NIHONBASHI -Hoshifuru Mori," the real-time stream observing system called "Meteor Broadcaster" created by Bascule will be used. The system will deliver information about shooting stars above Japan by analyzing the data of the Meteor Observation Building which they built with astronomical observatories throughout Japan and education agencies on a real-time basis.
The illumination rendition will be broadcasted online, so let's check it out.
https://vimeo.com/246979383/48f3b96c3e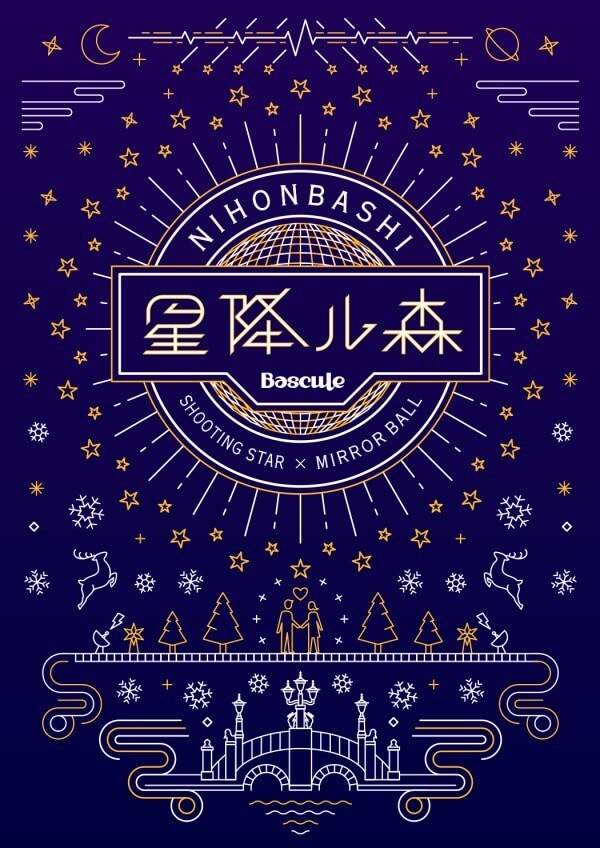 Let's enjoy this collaboration between shooting stars and illuminations.
■Information
 "NIHONBASHI -Hoshifuru Mori"
Date: 12,08 (Fri.) to 2018,01,08 (Mon. holiday)
Light up time: 17:00 to 22:00 ※the last day – until 21:00
Venue: Fukutoku no Mori (2-5-10, Muromachi, Nihonbashi, Chuoku, Tokyo)
Address: Nihonbashi Mitsui Tower 1F Atrium (2-1-1, Muromachi, Nihonbashi, Chuoku, Tokyo)
Homepage: http://hoshifurumori.jp/
Meteor Broadcaster:https://meteorbroadcaster.com/
RELATED ENTRIES
Devote Your Heart to Attack on Titan in the Final Survey Corps Project

To commemorate the end of Attack on Titan's 12-year saga, the editorial team at Weekly Shonen Magazine launched the 'Final Survey Corps Application' project on June 9 which imagines the staff and fans as part of the Survey Corps to express their love for the series. The staff at Animate and TSUTAYA stores in Japan are currently donning Survey Corps uniforms. A special online exhibition will also be held by the magazine to give thanks to fans who have supported Attack on Titan for 12 years.

Fans can use the all-new Survey Corps Maker service where they can upload their own photo or an illustration of themselves or an original character and writes words dedicated to the series. They are encourage to share this with other Survey Corps members around the world.



Survey Corps Maker: How to Use

1. Select a base image
2. Write your thoughts and comments about Attack on Titan
3. Share with the world

Survey Corps Maker Samples

The staff at Animate Ikebukuro

The staff at TSUTAYA 

Attack on Titan Online Exhibition

The online exhibition is a virtual event that was conceived after the COVID-19 pandemic forced the for in-person event in Japan to be cancelled. But this shift is good news to fans outside Japan as it means everyone around the world can join – and it's free.



The event requires a quick sign-up, after which fans can enjoy looking through displays of official artwork. There's also a merch shop with exclusive items to get your hands on. Please note that the exhibition features spoilers up to the final chapter.

Celebrate Sasuke Uchiha's Birthday at Fuji-Q Highland's Naruto x Boruto Summer Event

Fuji-Q Highland began its 'NARUTO x BORUTO Fuji Hidden Leaf Village' event on Wednesday which is set to run throughout summer until August 29. The event is taking place to celebrate the birthday of the popular character Sasuke Uchiha from the Naruto franchise.

During the event, a keyword rally will take place, and a special menu will be served up.

Keyword Rally

Guests must play and ride six Naruto-themed attractions at the park where they will be able to collect keywords related to the Uchiha family. Those who manage to answer all the questions correctly will receive one of two free exclusive pins. The Sasuke & Itachi design will be available from June 9 to July 22 and the Uchiha Family design from July 23 to August 29. Check out the designs below, both of which are must-grabs for fans of Sasuke and the Uchihas.

Pin Design 1: Sasuke & Itachi (Uchiha Brothers) | Available: June 9, 2021 – July 22, 2021 

Pin Design 2: Sasuke & Sakura & Sarada (Uchiha Family) | Available: July 23, 2021 – August 29, 2021

Special Menu

Guests will also be able to enjoy a special menu line-up including a ramen dish served at Ichiraku, the ramen bar at Fuji-Q Highland which is themed on the same eatery of the same name in Naruto, and two cakes at Fuji-Q Highland's official hotel resort and spa.

Uchiha Brother's Spicy Ramen | ¥1,500 (Tax Included)

Uchiha Brother's Print Cake

Uchiha Family's Print Cake


ⓒ岸本斉史 スコット/集英社・テレビ東京・ぴえろ

Information

Uchiha's Summer
Running: June 9, 2021 – August 29, 2021

Where: Fuji-Q Highland

Official Website: https://www.fujiq.jp/

Tokyo's Craft Chocolate Shop nel Releases Cacao Kintoki Shaved Ice Desserts

nel craft chocolate tokyo, a craft chocolate shop located in Nihonbashihamacho, Tokyo, released two chocolate shaved ice desserts last Wednesday for the hot summer season. The desserts are also being sold at Saryo Tsukikage, a restaurant inside the hot spring ryokan Yuen Bettei Daita in Setagaya.


Left: Cacao Kintoki | Right: White Cacao Kintoki

Cacao kintoki is a type of shaved ice made with specially-selected cacao beans from Vietnam. It uses a 'bean to bar' method where the shaved ice is made from scratch, roasting the beans fresh to create the dessert.

The two new treats at nel use a chocolate base and add cacao pulp to the mix, adding a natural fruity flavour derived from the bean. Each is also served with a special cacao sauce for extra flavour. The white cacao version is made by combining with in-house white chocolate. It also comes with an Okinawan passion fruit and cacao pulp sauce, resulting in a sour kick and refreshing taste.

Saryo Tsukikage

The open-air baths at Yuen Bettei Daita

A special matcha version of this shaved ice can also be enjoyed while bathing in the open-air baths at Yuen Bettei Daita. It's made with nel's homemade white chocolate as well as dark chocolate, cacao pulp, and specially-selected yame matcha from Shimokita Chaen Ōyama, a cafe in Setagaya.

Sanrio Character Ranking 2021 to Announce Winner in Collaboration With Tokyo Girls Collection

Sanrio has announced that the announcement ceremony for the winner of the 2021 Sanrio Character Ranking will take place in collaboration with Tokyo Girls Collection (TGC), a semi-annual fashion festival in Tokyo, on June 8. The event will be streamed live on Hello Kitty and TCG's respective LINE accounts, as well as Sanrio's official YouTube account, so that more people can tune in to this year's announcement and see which of Sanrio's characters will take the crown.

80 characters are participating in this year's Sanrio Character Ranking which will be announced in order from 80 to 1. This year also sees the return of the sub-award categories including Collaboration. Hosting the event as MC is tarento and actress Nao Asahi and the Japanese comedy duo Wagyu ga Tsutome.

But the winner announcement is not the only event scheduled for 2021's ranking. Since this time is a collaboration with TGC, there will be a fashion runway where popular models will show off their looks, a live performance with JO1 and the Sanrio characters, a rap battle, and more.

Fashion Runway: Famous models display the Sanrio character aesthetic

On the fashion stage, a line-up of well-known Japanese models will serve fashion inspired by Sanrio's most famous characters including My Melody, Kuromi, Little Twin Stars, and Pompompurin.

Marie Iitoyo and Maika Yamamoto will use a real-time composite photography system as they dress up as the adorable My Melody and her rival Kuromi. Serving the dreamy star-filled world of Kiki and Lala are Kaane and Sakura Saiga, Yoshiaki & Michi, and Rikariko. For the Pompompurin section, which is themed on the golden retriever's daily life, we have Nana Kato, Ami Komuro, Natsuki Deguchi, Sachi Fujii, and Roy. But that's not all as Sakachin, Yuki Higashihara, and Reina, who won the LINE LIVE auditions to appear on this year's fashion runway, will also appear.

A heated rap battle between the Sanrio characters

In the rap battle, KIRIMI-chan, Kuromi, Kogimyun, and Pompompurin will go head to head against special guests Tsukasa Saito of comedy duo Trendy Angel and Yuriyan Retriever. 

The Sanrio cast join music artists for a concert

The adorable Cinnamoroll, who is also expanding his work as an idol, will perform alongside JO1, while Hello Kitty will sing with singer-songwriter Sonoko Inoue.

A new virtual experience using the latest technology

Japanese digital advertising company CyberAgent, who produced virtual events and 3DCG content, will be using the latest in 3DCG and XR tech to blur the lines between reality and the virtual space with an interactive experience, such as people's comments on social media and the video displaying in real time, and more.

Tokyo Mew Mew New Anime Cast Music Group Smewthie Performs Live

In promotion of the upcoming new anime series adaptation of Tokyo Mew Mew New, which is releasing in 2022, the cast hosted an event titled '2nd MEW♡ting' on Saturday May 22 where they read their lines aloud to fans.

The event was held on the same date as Masaya Aoyama's birthday – the male love interest of the series protagonist Ichigo Momomiya. There was a section of the event where Ichigo spoke about the cake she made for Aoyama the day before.

This was Smewthie's first event with a live audience. They performed full versions of bitter sweet darling and Resolution of colors for the first time, amongst other fun things such as a segment similar to a Japanese variety show.

'bitter sweet darling' was the group's first single

Smewthie「bitter sweet darling」Music Video


Smewthie「bitter sweet darling」Dance Performance Video


bitter sweet darling: Track Download ¥250 / Full Single Download ¥1,350 / His-Res Track Download ¥400 / Hi-Res Full Single Download ¥1,800

bitter sweet darling is available on music streaming and download services.

Will you be watching Tokyo Mew Mew New when it airs next year?

©征海美亜・吉田玲子・講談社/「東京ミュウミュウにゅ~」製作委員会
©征海美亜・吉田玲子/講談社

HATSUNE MIKU Digital Stars 2021 Online Event Announced For August

Crypton Future Media has announced that the 'HATSUNE MIKU Digital Stars 2021' online music event will take place on August 29, 2021 as part of their Digital Stars project. The club event sees fans come together to party online.

Merchandise for the event is available to buy on HOBBY STOCK between May 20 and June 10.

The HATSUNE MIKU Digital Stars 2021 Compilation, a CD which is part of the annual Digital Stars series, was also released at music stores in Japan on May 18.

For more information on the event, check the official website below.

Virtual Harajuku to Showcase Artiswitch's First Original Animation by Sunrise Studio & ASOBISYSTEM

Artiswitch is a Harajuku-focused fashion, art, and music project launched by Japanese animation studio Sunrise (Mobile Suit Gundam; Love Live!) and ASOBISYSTEM, who are perhaps best known as the agency that Kyary Pamyu is signed to, as well as working with other artists such as Yasutaka Nakata and promoting Japanese pop culture to the world from Harajuku where they are based. As part of the project's launch, they will feature a pre-showing of an original animation on Virtual Harajuku on May 27, 2021 at 20:00 (JST).

Virtual Harajuku is the second area to open inside Virtual Shibuya, a service that recreates Tokyo's area of Shibuya and its entertainment facilities virtually. Artiswitch's original animation will feature as part of 'Virtual Harajuku au 5G POP DAY OUT 2021' which is being held as part of the opening ceremony of Virtual Harajuku which opened on Tuesday (May 25).

The original animation will be Artiswitch's first released to the world. A special talk show will also take place hosted by Barbie of the Japanese comedy duo Fall in Love. Guests will include Utano Aoi and Yutaro who voice Nina and Akihiro in the animation. MIOCHIN, who has been called the leader of Harajuku's girl scene and has over 1.6 million followers on TikTok, will also make an appearance. The trio will talk about their favourite parts of the animation, stories from Harajuku, and more. All the guests will appear in Virtual Harajuku as avatars on a special stage located in a virtual version of Jingumae Crossing.

The event can be enjoyed with or without a VR headset for free on smartphones, PC, and Mac. Head inside Virtual Harajuku to enjoy the animation and event yourself.

The animation will also be subsequently released on Artiswitch's official YouTube channel on May 28, 2021 at 20:00 (JST). Six episodes are planned in total.

"Artiswitch" Teaser

Animation Promotional Video


Be sure to check out Artiswitch's first release coming this week!

©SUNRISE/Artiswitch Project 

Mineko Orisaku Exhibition Combines Gold Leaf With Photography

FUJIFILM SQUARE in Minato, Tokyo, has announced the HAKU graphy Hommage to Hokusai exhibition by Mineko Orisaku which will run from July 21 to August 19 this year.

Hommage to Hokusai ©Mineko Orisaku

Following sunset (Tanuki-ko Lake) ©Mineko Orisaku

Pine and Mt.Fuji (Kawaguchi-ko Lake) ©Mineko Orisaku

Since announcing her "HAKU graphy" project in 2017, Mineko Orisaku has been experimenting with combining gold leaf and photography. This is different from the usual method of printing photos onto printing paper or washi paper, instead using FUJIFILM's Acuity UV inkjet printer to print delicate gold leaf. This technology allows a wider use of printing materials and colours.

Mineko Orisaku's exhibition is an homage to Hokusai, one of Japan's most celebrated ukiyo-e painters and artists. She has used FUJIFILM's large-format GFX digital camera for her works on Hokusai's Thirty-six Views of Mount Fuji to create something unique to her vision. Her work can be enjoyed alongside another Hokusai exhibition taking place at FUJIFILM Photo Salon Tokyo's Space 1 and 2.

Information

HAKU graphy Hommage to Hokusai
Running: July 21, 2021 – August 19, 2021

Times: 10:00-19:00 (Until 16:00 on August 19)

Entry: Free

Venue: FUJIFILM Photo Salon Tokyo Space 3 inside FUJIFILM Square
Address: Tokyo Midtown West, 9-7-3 Akasaka, Minato-ku, Tokyo, 107-0052
TEL: 03-6271-3350 

Official Website: https://fujifilmsquare.jp/

Disney Princesses Help You to Answer the Question 'What is Love?' at This Tokyo Event

As part of Disney's Ultimate Princess Celebration, a worldwide festival themed on courage and kindness that began in April, an event titled "What is Love? ~The Secret to Shining Bright Lies in the Princess World~" will take place at Shibuya Marui in Tokyo from June 23 to July 29 this year. It will subsequently move to JR Nagoya Takashimaya from August 4 to 23 and finally conclude next year in Shizuoka where it will run from January to March.

This event tries to answer the question "What is Love?" through a range of content that encourages the use of all five senses: visually, digitally, musically, through scent, and more.

 

What is Love? ~The Secret to Shining Bright Lies in the Princess World~

Visitors are guided by 12 Disney princesses who will take them on a journey of their 'love' in six different areas.

 

A Look at the Event

1. Introduction: 12 Shining Princesses

At the event, you will meet the 12 princesses and learn their story, what their personality is like, and more.

2. Opening Theater: Discover the Secrets to Shining Bright

Attend the theatre and watch the stories of the princesses with your own eyes.

3. 7 Keywords Unravelled From Their Stories

Seven keywords that appear in the princesses' stories will be explored, each of which are tied back to love. This will include exhibits of scenes from the Disney animated movies, an AR experience using smartphones, and more.

From Beauty and the Beast

Using their smartphones, visitors can hold up their phones and utilise AR technology to see various scenes from Beauty and the Beast in an area inspired by the library that Beast bestowed upon Belle.

From Tangled

In Tangled, the King and Queen release lots of sky lanterns on Rapunzel's birthday each year in hopes that she will see them and return. Let your own lanterns fly like in the movie and witness a beautiful spectacle.

4. Music and Fragrance: Clad in Radiance Unseen to the Eye

A unique experience combining music and fragrances inspired by the princesses, who radiate from love, will let visitors feel closer to them.

5. Glowing Lines: Words That Make the World Shine

At the Closing Theater, words and lines said by the princesses will be displayed, offering another way of enjoying their world that radiates from love.

6. Prologue: Your Own Unique Story Begins

Pick up a range of merchandise featuring designs of the exhibition's main visual, the seven key words, and more.

 

Services and Content Offered by Disney at the Exhibition

Disney+

Disney+ is a streaming service that brings together all Disney, Pixar, Marvel, Star Wars, and National Geographic content in one place, as well as exclusives. Those at the exhibition can watch the content offered by Disney+ at the Opening Theater.

 

Disney DX App

The Disney DX is an app exclusive to Japan that comes as a set with Disney+. It offers the chance to see cut scenes from movies, behind-the-scenes content, and more. The exhibition utilises this app through AR experiences, so if downloaded, you're sure to have an even more fun time.

A curated list of Disney Princess music is played at the exhibition. If you head to the shop, you can pick up movie soundtracks and other albums. Disney even created a playlist themed on the princesses that's now available on music streaming services.

Information

What is Love? ~The Secret to Shining Bright Lies in the Princess World~

Japanese Event Title: WHAT IS LOVE? ~輝くヒミツは、プリンセスの世界に。~

Running: June 23, 2021 – July 29, 2021

Where: Shibuya Marui (Floors 7F & 8F) *Reception is on floor 7F

Address: Shibuya Marui, 1-22-6 Jinnan, Shibuya-ku, Tokyo

Opening Hours: 11:00-20:00

Official Website: https://PrincessExhibition.jp

*Exhibition will subsequently move to JR Nagoya Takashimaya (August 4, 2021 – August 23, 2021) and Shizuoka (January 2022 – March 2022)w

BEAMS JAPAN Shinjuku Launches Event to Promote Japan's Sento Bath Houses

The Sento no Susume 2021 event being held by BEAMS JAPAN and Cow Brand Soap has now headed to BEAMS JAPAN Shinjuku. As part of the event, Mizuno has held designed a 'running course' is collaboration with sento bath house owners who have listed their recommended spots for running.

From Left: Hiroshi Fukui (Managing Director at Cow Brand Soap), Aya Terakawa (Sports Caster), Mari Yamazaki (Manga Author), Ryozo Naganuma (Kotobukiyu's 3rd Generation Owner), Hikaru Ikeuchi (Chairman of Board of Directors)

BEAMS JAPAN Shinjuku Floor 1F – Sento no Susume 2021 Pop-Up

BEAMS JAPAN Shinjuku Floor 1F – Sento no Susume 2021 Pop-Up

BEAMS JAPAN Sento no Susume 2021 Virtual Venue

For many years, sento public bath houses have been big part of Japanese culture and are located up and down the country. They are places people go to unwind, relax, and destress. However, with times changing, they are because less part of people's lives, and the facilities themselves are seeing significant wear and tear as well as not having successors to take over the businesses. Sento no Susume aims to revitalise sento and raise their cultural value once again by showing how they can be enjoyed. The first event was held in January and February in 2019.

The event arrived at BEAMS JAPAN Shinjuku on April 26 and  invites manga artist Mari Yamazaki on board who has given the store a makeover with her iconic artwork themed on exercise and bathing. This event combines sento bath houses with sports, and so as well as discovering bath houses to visit, you can learn find out about great running courses at the Sento Run no Susume corner. There's also a virtual venue accessible on the official website that creates the store in 4K 3D so everyone around the world can get involved regardless of their location.

Information

Sento no Susume 2021
Srart Date: April 26, 2021

Special Areas

BEAMS JAPAN Shinjuku




Running: April 26, 2021 – May 31, 2021

MIZUNO OSAKA CHAYAMACHI




MIZUNO TOKYO

Sento no Susume 2021 Merchandise

Available at BEAMS in-store and online

Participating Branches: BEAMS JAPAN (Shinjuku)

Dates: April 26, 2021 – June 30, 2021

Future participating branches depending on Japan's state of emergency: BEAMS JAPAN SHIBUYA/BEAMS JAPAN KYOTO/BEAMS STREET UMEDA/HEP FIVE 



Event Details: https://www.beams.co.jp/special/teamjapan/sentou/
Virtual Venue: https://my.matterport.com/show/?m=pMV2FmHUg4M

BEAMS Official Website: https://www.beams.co.jp/

Hibiya Festival 2021: Musicals, Performances, and More

This year's Hibiya Festival will take place around Tokyo Midtown Hibiya from April 29 to May 16. Visitors can enjoy free musicals, Japanese dance, opera, and more, all in an open space.

Hibiya Festival main visual

Peter Pan Broadway Musical – Mini Concert & Talk | Thursday April 29, 2021

Everybody's Talking About Jamie – Japan's First Rendition | Sunday May 9, 2021

Hibiya Festival x Hibiya Music Festival Collaboration Stage | Saturday May 8, 2021

Hibiya Outdoor Noh Performance | Thursday April 29, 2021

NBA Ballet | Saturday May 1, 2021

CAT-A-TAC SHOW (CAT-A-TAC) | Sunday May 2, 2021

"Hibiya Ongaku Daigaku" – Shibuya Ongaku Daigaku Open Campas

Hibiya Festival Program

This year marks 40 years since the Peter Pan Broadway musical first hit Japan, and so it will be performed at Hibiya Festival 2021. The hit British musical Everybody's Talking About Jamie will also be performed in Japan for the first time with a full Japanese cast. On the music side of things, music producer Seiji Kameda is spearheading the Hibiya Musical Festival. There are around 20 different slots to enjoy at the festival, all of which are free to watch and many which don't need to be booked in advance. The festival is also producing video content this year for those unable to attend so they can still be part of the fun online.

Laforet Harajuku Announces LAFORET GOLDEN WEEK

Golden Week is almost here in Japan, and so Laforet Harajuku is readying itself for its special LAFORET GOLDEN WEEK event which will run from April 24 to May 9.

Around 60 stores inside the Harajuku-based shopping centre are participating in this event where shoppers can get their hands on a new wardrobe full of outfits, a stock of items and accessories, and more. There is also a special item available at Charles Chaton on Floor 4F of Laforet that is made as part of a triple collaboration between the store, DJ and music producer Night Tempo, and Rie Kanou, the author of the manga series Slow Motion wo Mou Ichido. At FRAPBOIS on Floor 1.5F, there's a selection of t-shirts, shirts, one pieces and other must-grabs created in collaboration with Osamu Goods. And that's just a taste of the many exclusives to be sold and doesn't take into account all the other events that will take place at this year's LAFORET GOLDEN WEEK. Let's dive deeper.

The Little Cat Shop by MILKBOY | April 30 – May 9 | Floor 1F Entrance Space

The Little Cat Shop by MILKBOY is a cat-themed shop by three brands: MILK, MILKBOY, and LAND. It will incorporate hit motifs from the brands' past line-ups as well as introduce all-new trends. As well as clothes, there are accessories, sofvi toys, and other items, each woven with each of the brand's touch. There will also be a raffle to win exclusive sofvi toys made by notable sofvi artists like IZUMONSTER and Konatsuya. Plus, all customers who spend over ¥10,000 will get an original sticker.

Cat eyes dress ¥32,450 / CAT EYES SHIRTS ¥19,250 / CAT TOWER TEE ¥8,800 / MISCHIEF cat Frill TEE ¥13,200 / Ribbon CAT TEE ¥7,920 (Tax Included)

Kuttsuketemiyou Picture Book Pop-Up Shop | May 1 – May 16 | Floor 2F POP UP SHOP SPACE

Kuttsuketemiyou is a picture book by contemporary artist Ken Kagami and it's getting its first pop-up shop at Lofret Harajuku. The humorous book sees Kagami seeing what would happen if he tried attaching certain things to animals. It's a work of artistic nonsense enjoyed by children and adults alike, and fans of the quirky story can get their hands on a range of merchandise featuring the cute creatures. Kagami will also be doing signings.

Kuttsuketemiyou Book ¥1,650 / Mug ¥2,750 / Tote Bag ¥4,180 / T-Shirt ¥4,950 (Tax Included)

ABEMA 5th Anniversary Laforet Harajuku Campaign

In celebration of ABEMA's 5th anniversary, it is holding a limited-time campaign in collaboration with several popular Japanese TV shows such as Koi to Ookami ni wa Damasarenai and Black Cinerella. ABEMA is a Japanese video streaming website. During the campaign, customers who spend over ¥2,000 at select stores will receive a limited-edition Black Cinderella sticker and a ticket to an online event centred on Koi to Ookami ni wa Damasarenai. They can also enter a raffle to win signed merchandise from the shows if they show their receipt and have spend over ¥2,000.

Harajuku Shopping Week 2021 | April 28 – May 7

Shoppers who spend over ¥1,000 at select stores will receive a scratch card that may net them a ¥1,000 coupon.

UNDER GROUND SNAP Photoshoot | April 29 – May 8 @ 12:00-16:00

A photoshoot will take place down on Floor B1.5F. Those who sign up can have their photo taken professionally by Gothic and Lolita Market which will be featured in the early June 2021 edition of Laforet Harajuku's tabloid as well as on HARAJUKU POP WEB. Info on how to apply can be found on LAFORET GOLDEN WEEK's official website.