Salmon rice bowl restaurant "Kumada" to open in Harajuku
Salmon rice bowl restaurant Kumada will open its doors in Harajuku, Tokyo on December 29, 2017.
Using only the finest domestic salmon from Japan, Kumada is a worthy contender in the city's culinary contest with its catalogue of salmon rice bowl dishes.
Its winning highlight is the brand of domestic fish used in the food – high quality salmon of which only a small quantity is produced in Japan – making for an unmatched level of freshness.
When catching the fish, a set of specific processes are followed to preserve the level of freshness of the fish, called ikejime and shinkeijime. The fish are also delivered immediately after being caught, ensuring firmness and a glossiness on the body as well as great texture and fat and a sweet flavour delicious enough to blow you away.
Shinshū Salmon Rice Bowl (Nagano) – ¥980
The mountainous region of Nagano is home to some gorgeous clear streams that trickle between the mountain range. Nagano is a prefecture that isn't near the ocean. The Shinshū salmon that are raised in the clear streams there are fresh and have a melt-in-the-mouth texture.
Maraena Rice Bowl (Nagano) – ¥1,280
Did you know, salmon is in the same family as whitefish? Coregonus maraena, or just "maraena," has a silvery-white appearance that brings to mind the image of snow. It's fleshy and has a rich flavour. If you're lucky you can get maraena roe, also known as 'golden caviar.'
Sendo Batsukan Domestic Salmon Rice Bowl – From ¥980 (+tax)
When it opens, the restaurant will be graced with Shinshū salmon and maraena from the oceanless Nagano Prefecture, as well as Nishimera salmon from Miyazaki Prefecture. The Shinshū salmon is thin and mouth-wateringly tasty. The maraena is smaller than your regular salmon and beautifully white.
Kumada Rice Bowl – ¥980
The defining dish of Kumada is the Kumada Rice Bowl with its meaty and fatty salmon spine, flying fish roe tataki, spring onion and cucumber, all of which produce a gorgeously photogenic arrangement of ingredients. You can choose to add high-grade roe from Hokkaido, snow crab, and uni to make the dish even fancier.
Aburi Salmon Rice Bowl – ¥980
The aromatic smell and juiciness of the salmon in this rice bowl is increased depending on how much heat is used to cook the fresh and lightly salted salmon. As soon as the salmon enters your mouth its soft texture just melts on your tongue. You can also add mayonnaise and have it grilled to your liking.
You won't be able to get enough of the B-grade deliciousness of the flavour. These two Kumada original rice bowls used salmon from Norway, and it's that very reason why this salmon rice bowl restaurant boasts true worth – the freshness is impeccable.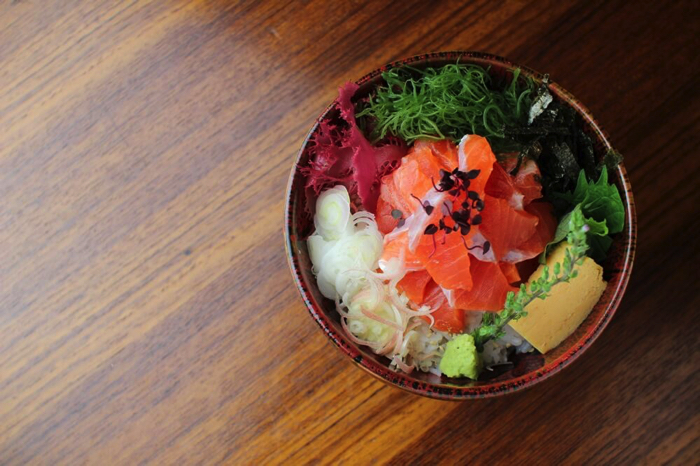 All of the rice bowls come with free salmon powdered chadzuke. You can choose the flavour – salmon pollack or salmon walnut. Dashi packed with good flavour and salmon walnut. Be sure to try this unique chadzuke – it packs a punch and offers a flavour you will never have tried before.
For people who aren't too into chadzuke, there's also a free service for rich flavoured salmon soup and red salmon roe.
At Kumada they don't use traditional vinegared rice – they take full advantage of the original flavour of the rice using an ohitsu rice server. But they don't serve fresh rice upfront – they let it rest in a wooden ohitsu for a little while, perfect for creating seafood rice bowls.
Kumada will run a special campaign on December 29th and 30th to celebrate the store's opening. Each dish will be discounted – you can get the 3 different salmon rice bowls for ¥1,000 each, the Kumada rice bowl for ¥500 and the Aburi rice bowl for ¥500. Kumada will also be open January 1st-3rd for the New Year, so how about making Meiji Shrine in Shibuya your first shrine visit of the year before heading to Kumada?
◼︎InformationKumada
Address: Sukigara Building B1, 3-20-10 Jingumae, Shibuya
Open: 11:30-20:00
Closed: Tuesdays (*open January 2nd)
Website: http://kumada.tokyo/
RELATED ENTRIES
Stock Your Kitchen With Japanese Kitchenware Tools by SALON adam et rope'

SALON adam et rope' has launched its new "Nihon no Daidokoro Dougu" (Japanese Kitchen Tools) collection which features a curated selection of Made In Japan kitchenware and cookware items from high quality Japanese brands.

Kasane

Top: ¥12,000 / Middle: ¥12,000 / Bottom: ¥9,000 (Before Tax)

Traditionally, Japanese knives were made by men with men in mind, but these Kasane knives are made by women to fit with the modern age. They are made in such a way to feel comfortable in smaller hands. The handles are made from rare natural wood from the cerasus jamasakura trees of Gifu Prefecture which give them a texture that changes as you continue to use the knives. The blades themselves are made from high-carbon stainless steel which gives them superior sharpness and durability. The blade edge is the result of a new technology developed by Sumikama called "Zero Edge" which makes them thin and sharp.

Kaji Donya

 
Left: ¥1,300 / Middle: ¥2,000 / Right: ¥2,800 (Before Tax)

Left: ¥1,000 / Middle: ¥1,200 / Right: ¥2,000 (Before Tax)

These handy stackable containers are made by Kaji Donya, a company based in Tsubame, Niigata. The height of each one is the same which makes them super convenient when stacking inside fridges.

Ceramic Grill: ¥1,400 (Before Tax)

The ceramic grill is a longtime seller at SALON. If you're grilling bread on it, it leaves the outside crispy and the inside nice and soft. It uses far-infrared rays which means the water content of the ingredients grilled on it is not lost, allowing for the full tasty flavour to stay locked in and the food plump and juicy.

Father's Day: Otokomae Tofu Celebrates Dad's Around the World With New Tofu Product

Japanese tofu company Otokomae Tofu is celebrating Father's Day this year by releasing its new "Chichi no Hi Tofu" (Father's Day Tofu) at supermarkets around Japan for a limited time between June 15 and June 21.

When you pour soy sauce over the Father's Day Tofu, a message of gratitude appears on the tofu's surface in Japanese. This is a unique, one-of-a-kind tofu experience. There are four messages in total which translate to: "Manly," "Thanks always, dad. I love you, live a long life," "You work so hard papa, I love you," and "Dad."

Giving your dad some Father's Day Tofu is sure to make for a Father's Day to remember!

Information

Chichi no Hi Tofu (Father's Day Tofu)

Running: June 15, 2020 – June 21, 2020

Price: ¥158 (Before Tax)

Available: Supermarkets in Japan (Except Hokkaido and Okinawa)

Otokomae Tofu Official Website: http://otokomae.com

McDonald's Japan: Chicken Tatsuta Mentai Cheese & Other Japanese Flavoured Foods Coming to the Menu

McDonald's Japan is introducing some mouth-watering new foods to its menu including two which incorporates chicken tatsuta: the "Chicken Tatsuta Mentai Cheese" which is made with walleye pollack roe, and the bite-sized "Hitokuchi Tatsuta"ーthe latter of which is arriving to the side menu.

It is also introducing the "Rice Chicken Tatsuta" burger following the success of the "Rice Burger" which was released at stores for the first time earlier back in February of this year.


These new menu items will be released on May 13, 2020 at all McDonald's branches in Japan for a limited time.

Chicken Tatsuta Mentai Cheese

Chicken tatsuta is a popular Japanese dish which combines a soft, soy ginger-soaked chicken patty with spicy sauce and stuffs it inside a bun. McDonald's new "Chicken Tatsuta Mentai Cheese" adds spicy walleye pollack roe mayo and smooth white cheddar cheese to the equation. It will be available all day round, including for the morning menu.

Hitokuchi Tatsuta

Rice Chicken Tatsuta

The "Rice Chicken Burger" will be available in the evenings only.

Japanese actor Toshiyuki Nishida is appearing in the TV commercials to promote the "Hitokuchi Tatsuta" while comedian Nobuyuki Hanawa and actor Katsumi Takahashi appear in the "Rice Chicken Tatsuta" commercials which feature a re-recording of the song SWEET MEMORIES ~Amai Kioku~ by Seiko Matsuda.

Cute and Chic Leather Wallets & Purses Released at Tiffany @ Cat Street in Harajuku

Tiffany & Co. released a new collection of small leather products at its Harajuku concept store Tiffany @ Cat Street on Wednesday.

What is Tiffany @ Cat Street?

 Tiffany @ Cat Street is a concept store that opened in April 2019 which is set to remain open for just 3 years. It is the company's first concept store to open in Japan. The shop showcases the wit, creativity, and timeless charm that Tiffany & Co. is known for, as well as a shopping experience in an interactive environment. It stocks everything from Tiffany's iconic collection from jewellery to home goods, accessories, and more. The line-up and designs also change themes on occasion. Tiffany @ Cat Street also has a cafe on the top floor.

Continental Flap Wallet – ¥72,000 (Before Tax)

Coin Pouch – ¥36,500 (Before Tax)

The small leather product line-up is made from high-quality Italian leather coloured in that eye-catching Tiffany blue. Each item is also stamped with the store's signature cat motif.

Card Case – ¥24,500 (Before Tax)

Compact Wallet – ¥55,000 (Before Tax)

The four variations are the perfect gift to yourself or someone you hold dear to you.

Be sure to stop by Tiffany @ Cat Street the next time you're in Harajuku.

Information

Tiffany @ Cat Street

Address: 6-14-5 Jingumae, Shibuya, Tokyo

Opening Hours: 11:00-19:00

Cafe Opening Hours: 11:30-18:30 (Last Orders 18:00)

Access: 5-minutes on foot from A4 exit of Meiji-Jingumae Station (Tokyo Metro Chiyoda Line/Fukutoshin Line) / 10-minutes on foot from Omotesando Exit of Harajuku Station

Official Website: https://www.tiffany.co.jp/jewelry-stores/cat-street/

Harajuku's Rilakkuma Fruits Cafe Entertains Customers With Projection Mapping

"HARAJUKU AR BOX -table projection mapping cafe-," a cafe in Harajuku whose name speaks for itself, has announced its second collaboration with Rilakkuma to bring the new Rilakkuma Fruits Cafe which will open for a limited time from April 3, 2020 to June 28, 2020.

The cafe's first collaboration with Rilakkuma was in December last year. It was called "Korilakkuma Cafe: another me in the mirror" and earned itself many fans for its cute food and decor, but especially for its interactive tables which used projection mapping technology to have Rilakkuma and friends running around people's tables.

Harajuku's Korilakkuma Cafe: another me in the mirror | Food Review: https://www.moshimoshi-nippon.jp/284456

Fruit is the theme of the new Rilakkuma Fruits Cafe, which follows that Chairoikoguma and the other characters have gathered lots of nutritious fruit to fill up the belly of hungry Rilakkuma.

Food

Rilakkuma's Fruit Salad – ¥1,590

Get your fill of refreshing fruit from this fruit salad plate which has Rilakkuma poking his cute face out from behind it all. When you order this dish, you'll need to touch the fruits that appear on the table to give them to Rilakkuma.

Korilakkuma's Apple Cheese Gratin – ¥1,690

A combination of hot apple and melted cheese, you'll find yourself addicted to the sweet and sour mix of flavours. Pick lots of apples with Rilakkuma and company with the projection mapping game. (*Serving April 3, 2020 – May 17, 2020 only)

Chairoikoguma's Orange Burger – ¥1,690

The bun of this hearty burger is branded with Chairokoguma's cute bear face. But what happens when you squeeze Rilakkuma's orange? (*Serving May 20, 2020 – June 28, 2020 only)

Desserts

Rilakkuma's Maku Maku Fruit Tree Parfait – ¥1,590

Korilakkuma's Maku Maku Strawberry Tree Parfait – ¥1,590 (Serving April 3, 2020 – May 17, 2020 only)

Kiiroitori's Maku Maku Peach Tree Parfait – ¥1,590 (Serving May 20, 2020 – June 28, 2020 only)

For dessert, you have a selection of fruit-topped parfaits to choose from featuring Rilakkuma, Korilakkuma, and Kiiroitori.

Drinks

Rilakkuma & Friends Maku Maku Drinks – ¥790 / With Glass – ¥1,990

Warm & Fluffy With Everyone Cafe Latte – ¥890

Pick between one of the cold beverages, or if it's a cold day, warm up with a hot drink. Feel warm and fluffy like Rilakkuma and his friends with a warm beverage after your parfait.

Exclusive Merchandise & Bonus Items

Pin Badges (9 Designs/Chosen Randomly) – ¥400

Acrylic Key Rings (8 Designs/Chosen Randomly) – ¥500

Get your hands on a selection of original merchandise too, including pin badges, acrylic key rings, and more.

Stickers (4 Designs/Chosen Randomly)

Coasters (4 Designs/Chosen Randomly)

Book a table online in advance and receive one of four possible stickers. Order a drink at the cafe and get one of the four coasters!

You're sure to get your five-a-day when you dine at the Rilakkuma Fruits Cafe, opening for spring on April 3, 2020 in Harajuku.

©2020San-X Co., Ltd. All Rights Reserved.

Information

Rilakkuma Fruits Cafe

Running: April 3, 2020 – June 28, 2020

Location: HARAJUKU AR BOX-table projection mapping cafe- (Lucessimo Bldg. Floor 2F, 4-28-28 Jingumae, Shibuya, Tokyo)

Table Bookings: Now Open

*Table Projection Mapping seats for two people are ¥2,960 (before Tax)

Official Website: https://rilakkuma-fruits-cafe.jp/

Pompompurin Celebrates 24th Anniversary With Birthday Menu at the Pompompurin Cafe

Sanrio's popular character Pompompurin is celebrating his 24th anniversary at three branches of the Pompompurin Cafe in Harajuku, Yokohama, and Umeda with a special birthday menu that will be served for the whole month of April.

A special celebratory menu for the floppy-eared golden retriever

The official date for Pompompurin's birthday is April 16. The birthday menu line-up includes two food items, a drink made in collaboration with popular Japanese picture book author Yukako Ohde, and some novelty gifts.

Birthday Menu

Happy Birthday Flower Bouquet Bisque – ¥1,590 (Before Tax)

This cute bisque soup has Pompompurin and Muffin holding a colourful boquet made from broccoli and mashed potatoes made to look like roses. It has a rich but mild flavour, and is both adorable and filling.

Happy Birthday Strawberry Mousse – ¥790 (Before Tax)

The strawberry mousse has a fluffy texture and refreshing, sweet taste. It can be eaten as it is or drizzled with the accompanying raspberry sauce.

Yukako Ohde x Pompompurin Lemonade – ¥550 (Before Tax)

Take a sip from this delicious lemonade from a straw adorned with a cute, warm illustration of Pompompurin by Yukako Ohde.

Exclusive Anniversary Novelty Gifts

Lunch Mat Design

Customers who dine at any of the three cafes during the anniversary celebration will receive a free lunch mat.

Coaster Designs

And those who order the lemonade will receive a coaster with designs illustrated by Yukako Ohde. The designs are different at each branch of the Pompompurin Cafe. You can also receive another special coaster if you spend over ¥1,000 each (tax included) at Pompompurin Cafe Umeda and KIDDY LAND Osaka Umeda. Simply show your receipts at the cafe.

©1996,2020 SANRIO CO., LTD. APPROVAL NO.S605291

Information

■Pompompurin Cafe Harajuku

Address: CUTE CUBE HARAJUKU 3F, 1-7-1 Jingumae, Shibuya, Tokyo

Opening Hours: 11:00-21:00 (Food Last Orders 20:00 / Drinks Last Orders 20:30)

Access: 3-minutes on foot from the Takeshita Exit at Harajuku Station

TEL: 03-5786-0770

■Pompompurin Cafe Yokohama

Address: Yokohama Sotetsu Square, 2-1-5 Minamisaiwai, Nishi-ku, Yokohama-shi

Opening Hours: 10:00-21:00 (Last Orders 20:30)

Access: 5-minutes on foot from West Exit at Yokohama Station via JR Line

TEL: 045-311-6750

■Pompompurin Cafe Umeda
Address: Hankyu Sanbangai South Wing B2F, 1-1-3 Shibata, Kita-ku, Osaka-shi
Opening Hours: Weekdays 11:00-22:00 (Last Orders 21:30) / Weekends & Holidays 10:00-22:00 (Last Orders 21:30)
Access: 3-minutes from Osaka Station via JR Line
TEL: 06-6292-7140

Pompompurin Cafe

Official Website: http://pompom.createrestaurants.com

MUUN SEOUL: Harajuku's Korean Cafe Serving Instagrammable 'Fatcaron' Macarons

MUUN SEOUL is a cafe located along Tonchan-dori Street in Harajuku that serves Instagram-worthy South Korean food.

Photo by Nagisa Kobayashi @popo_318

Photo by Nagisa Kobayashi @popo_318

The cafe sells "fatcarons," a South Korean-style macaron which have proven very popular with young women in Japan.

Photo by Taeco @taecostagram

Fatcarons are larger than the standard macaron. They are topped with things like strawberries, given marble textures, and more to give them a cute appearance. MOON SEOUL serves many different varieties, all of which are standout compared to normal macarons.

Photo by Sara @__sar310

But the fatcaron experience at MOON SEOUL isn't complete without ordering the drink above. It's strawberry milk flavoured, but the milk is whipped until it's fluffy, giving it a taste like no other strawberry milk you've tried. It also has sliced strawberries inside and on top, so if you love strawberries, you'll love this.

Photo by Yuina @popochan726

You can order your fatcarons for takeout too in a clear takeaway box so you can go have a dessert picnic with your friends, and get a great photo of them all together too.

Harajuku's KAWAII MONSTER CAFE Begins Spring Fair 'KAWAII×Sakura×Easter 2020'

If you've never heard of the KAWAII MONSTER CAFE in Tokyo, then you're going to want to visit by the time you see what they're cooking up for spring.

This year, the cafeーwhich is based on the idea of customers being inside the stomach of a giant monster that's eaten Harajuku wholeーis holding a spring fair entitled "KAWAII×Sakura×Easter 2020" which is running from March 13 to April 26. The menu line-up incorporates elements of Japanese spring with a colourful Harajuku twist, from Easter to cherry blossoms.

*Menu item names have been translated from Japanese

Colourful Pop Burger Cock-A-Doodle-Doo Monster – ¥1,680

This new chicken monster burger is stuffed full of delicious goodness, including sukiyaki.

Cherry Blossom Bloom Rice – ¥1,300

The year is 2020, and spring has arrived in Japan. This Earth-inspired blue rice has cherry blossom coloured cheese fondue dolloped on top of it which is sat on a bed of black curry. The spicy curry has delicious burnt caramel inside it.

Tropical Bibimbap – ¥1,200

Bibimbap, the soul food of South Korea. This colourful version is topped with edible flowers and cherry blossom wheat-gluten bread, giving it that springtime feeling. The specially-made monster furikake gives the dish a real spicy kick.

UFO Doughnut Pancakes – ¥1,200

These chewy in-house made doughnuts are filled fat with strawberries, mikan, lemon mousse, and strawberry ice cream. Doughnut pancakes are the latest gourmet indulgence in Harajuku.

Sakura Mousse Piyo Piyo Cake – ¥980

Aka-chan is the name of this newborn monster chick, whose cute face is made from cherry blossom mousse.

Pastel Easter Sakura Rabbit Parfait – ¥2,400

Wearing a cute pointy hat and a colourful dress, this sakura Easter bunny is caked in strawberry, orange, and melon flavoured cream, strawberry ice cream, panna cotta, Japanese pudding, fresh strawberries, and raspberry sauce.

A trip to Harajuku this spring isn't complete without a visit to the KAWAII MONSTER CAFE, so don't miss out on their spring fair.

Information

KAWAII×Sakura×Easter 2020

Running: March 13, 2020 – April 26, 2020

Address: YM Square Bldg. 4F, 4-31-10 Jingumae, Shibuya, Tokyo
Access: 5-minutes on foot Harajuku Station via JR / 1-minutes on foot from Meiji-Jigumae Station via Chiyoda Line and Fukutoshin Line
TEL/FAX: 03-5413-6142/03-5413-6143

Business Hours
Weekdays & Saturday:
[Lunch] 11:30-16:30 (last entry 15:30 / last orders 16:00 – 90 min stay max)
[Dinner] 18:00-22:30 (last orders 22:00)

Sundays & Holidays:
11:00-20:00 (last orders 19:30)

Official Website: http://kawaiimonster.jp

Shiseido Parlour to Open New Restaurant at WITH HARAJUKU in Tokyo

Shiseido Parlour, a pioneer of Japanese-style Western cuisine, has announced that it is opening its new restaurant and lounge Shiseido Parlour The Harajuku on the 8th floor of WITH HARAJUKU, a shopping centre located in front of Harajuku Station in Tokyo, on April 25, 2020.

Goshu no Sosai With Seasonal Ingredients

Main Dish

Shiseido Parlour The Harajuku breathes new life into the Japanese-style Western cuisine that has been cultivated in Ginza for 100 years, serving up a new prix fixe-style fixed price menu that elevates the taste, smell, and appearance of the seasonal ingredients used, from a Japanese way of thinking. This food can be enjoyed with a glass of one of the main wines selected by the restaurant's sommeliers, high-quality tea, and more.

Meals are enjoyed even more by the view offered at the restaurant, where you can see shrine groves of Meiji Jingu Shrine.

Main Dining

Forest Dinner (Chef's Recommendation) – ¥12,000 (Tax Included)

The design concept for the restaurant interior is forests. The restaurant promises a relaxing atmosphere like that of being wrapped amongst the mighty trees of the woods, the cool air blowing, and the rays of the sun spilling through the trees.

The interior design was created by Kazuya Ura, a Japanese architect who was involved with the building plan for the Kyoto State Guest House. The restaurant lounge features glass art on the wall which captures the image of sunlight filtering through the trees. This was created by Japanese glass designer Ikko Itabashi.

Lounge

The chic red lounge offers a view of the garden terrace and faces the direction of Akasaka. Tuck into appetisers and desserts and enjoy sipping on a drink. This is a great place to sit after your meal or for meeting up with someone.

If you're visiting Harajuku during your trip to Japan, why not pop into the new Shiseido Parlour The Harajuku?

Information

Shiseido Parlour The Harajuku

Address: WITH HARAJUKU (Floor 8F), 1-14-30 Jingumae, Shibuya, Tokyo
Opening Hours: 

Dining/Lunch: 11:30-15:30 (Last Orders 14:00)
Dinner: 18:00-22:00 (Last Orders 20:30)
Lounge: 11:30-22:30 (Last Orders 21:30)

Closed: Mondays (Except on public holidays), and closed April 27, 2020
Official Website: https://parlour.shiseido.co.jp/en/index.html

Popular Yakiniku Restaurant Futago to Open New Branch at THE JUNEI HOTEL in Kyoto

FTG Company, which operates 74 restaurants inside and outside Japan, is set to open its new restaurant Nikukappou Futago at THE JUNEI HOTEL Kyoto in Higashiyama, Kyoto on March 27, 2020 where it will serve authentic Japanese wagyu beef and full courses.

THE JUNEI HOTEL Kyoto is a small luxury tourist hotel housing eleven rooms in total, including its Bamboo Suite. Bamboo can be found throughout all the rooms as part of the hotel's concept: "A sojourn embraced by bamboo in a moonlit space." The rooms, as well as the hotel interior overall, showcases beautiful traditional handiwork using bamboo.

Inside Nikukappou Futago

Nikukappou Futago fuses traditional Japanese elements with modern ones. It features half-size eating areas as well as private areas. Customers can expect their private dining experience to include freshly-cooked full courses with high quality Japanese wagyu and seasonal ingredients.

Menu in Japanese *Menu will change monthly

Nikukappou Futago's concept is "A relaxed adult's Iki." The word iki here refers to a range of different meanings in Japanese, like "sophistication," "breath," "spirit," and "life." The restaurant will work to serve a hospitable service that enables each and every person to enjoy that iki that lives inside them.

Foie Gras & Wagyu Filet Mouthful Bowl

Wagyu Loin & Kyoto Vegetable Shabu-shabu

The course is made with seasonal ingredients and vegetables. Plus, in using a range of cooking methods, the original flavour meat of the meat is intensified.

Wagyu Sirloin Sumiyaki

Enjoy a selection of high-quality rare wagyu cuts like sirloin, filet, loin, and more. You can also enjoy a selection of classic Japanese dishes like yakiniku, shabu-shabu, and sukiyaki, all in one course.

Like the changing seasons in Kyoto, the menu will be altered every month to bring something new. Discover your iki and enjoy a great meal at Nikukappou Futago.

Information

Nikukappou Futago THE JUNEI HOTEL KYOTO

Address: THE JUNEI HOTEL KYOTO Floor 1F, 4-139 Honmachi, Higashiyama Ward, Kyoto
Grand Opening: March 27, 2020
Opening Hours: 17:00-23:00  (Last Orders 22:00)
No Fixed Holidays

Seats: 32 (6 Half-Size Rooms / 2 Private Rooms
TEL: 075-525-0052

Course Price: ¥11,000 (Tax and service charge not included) *Course menu to change each month

Official Website: https://nikutei25.com/

MOSHI MOSHI ROOMS Opens Sentō Bathhouse and Sumō-Themed Fusion Accommodation Called 'DOSUKOI'

MOSHI MOSHI ROOMS is located in the heart of Harajuku's tourism welcomes travellers from all over the world to immerse in Japanese culture in a way they've never experienced before. The cherry blossom-themed accommodation SAKURA is a blooming success throughout the year and ORIGAMI's mesmerizing and clever designs never fail to make tourists crease their necks in amusement. 

The third Japanese culture accommodation has stomped into MOSHI MOSHI ROOMS as a fusion of sumō wrestling and sentō bathhouse culture called 'DOSUKOI'. The word dosukoi is phrase that sumo wrestlers shout out to get hyped up – perfectly summing up your excitement as you explore this spectacular fusion world from corner to corner. From a giant sumō hand to a historical sentō bathtub with a magnificent mural artwork scenery, the entrance, living room and sentō-style bathing area is overflowing with originality.

Living Room

The entrance to the living room is themed around a sentō bath. The tiled roof and traditional entranceway noren fabric dividers will be the first thing to welcome tired travellers. 

A giant sumō hand overshadows the light on the ceiling, representing the tsuppari striking technique used by sumō wrestlers. The furniture, including the soft sofa, rug and chairs, is white and beige to represent the colour of the sumō ring. 

The relaxing room is punctuated with powerful illustrations of sumō wrestlers that cover the wallpaper. 

Bathroom


The round bathtub is made from Japanese cypress wood and is large enough to fit 3-4 people – perfect to soak off your tiredness with friends and family. A large wall painting (mural)  of a grand ocean view dominated by Mount. Fuji stretches across the wall. A purple curtain is suspended above the circular bath, representing the mizuhikimaku curtain which hangs above a sumō ring. 

The dressing area is equipped with a fridge and chair like a traditional bathhouse. DOSUKOI guests will also find complimentary bath salts which are a gift.

The grand mural is an original piece by Kiyoto Maruyama – one of Japan's three remaining sentō mural artists. This graceful painting was created using a large and smaller brush. As you admire the bold colours and fine details of this rare art, which is fading away as society progresses, you will be sent on a journey back through time. 

Bedroom

The spacious sleeping area consists of two levels, each of which has enough room for two people to sleep. The room also has another bed in storage, meaning that up to five guests can stay. 

Sink and Toilet

The separate sink area is equipped with a hair dryer. There is also a Japanese Washlet toilet with multiple functions. 

Amenities and Extras

The kitchen is fully equipped with cooking utensils, a microwave, refrigerator and all the daily essentials. 

After a long, relaxing hot soak, put on a light yokozuna yukata robe and you'll feel just like a sumō champion. There are also many amenities and items that fit with the DOSUKOI theme. 

MOSHI MOSHI ROOMS isn't just a hotel but is also the perfect party space for you and your friends to get together. As the cold days are still with us, how about warming up in a toasty sentō-style bathtub with your friends?

Winners Announced For The 7th Washoku World Challenge Competition

The final round for the 7th Washoku World Challenge Competition was held in Tokyo on February 20 and 21, which saw WANG Wei Ping of China, and chef at SUN with AQUA JAPANESE DINING SUNTORY, as the winner.

The two-day event brought together five chefs from Hong Kong, Singapore, Paris, Donostia-San Sebastian, and New York come together to compete and show their skills create dishes based on the competition's main theme of "Umami" and this year's theme of "Texture and Mouthfeel."

The judges said: "This 7th edition demonstrates that the finalists' technical level keeps improving every year. Creating Japanese dishes that incorporate the characteristics and unique ideas of other countries' culinary cultures, while respecting the fundamentals of Japanese cuisine built on the concept of umami, expands the potential of Japanese cuisine. The creations of each one of the finalists embodied this notion."

Middle Contender: WANG Wei Ping, 1st Place Winner

WANG Wei Ping's Dish

On the first day, the chefs used the same ingredients to create a "nimonowan." On the second day, they forged their own original dishes using five or more ingredients which they arranged on a Japanese "hangetsubon" tray.

When reacting to his victory, Wang Wei Ping said: "I thank the owner and other members of my restaurant. After returning to Shanghai, I would like to continue conveying the excellence of Japanese cuisine, which is both healthy and tasty."

Finalists

Hong Kong

First Place: WANG Wei Ping (China, SUN with AQUA JAPANESE DINING SUNTORY)

USA

Second Place: Yael PEET (USA, Fury's) *The restaurant will be open this summer.

Singapore

Third Place: Loh Man HONG (Singapore, FAT COW)

Paris

Wojciech POPOW (Poland, Beaverbrook)

Judges

– Head Judge: Mr. Yoshihiro MURATA

(Chairman of Japanese Culinary Academy, Owner and chef of Kikunoi, Japanese Cuisine Goodwill ambassador)

– Deputy Head Judge: Mr. Masahiro NAKATA

(Director of Taiwa Gakuen Education Inc. President of Kyoto Culinary Art College)
– Judge: Mr. Hideaki MATSUO

(Owner of Japanese Cuisine KASHIWAYA, Japanese Cuisine Goodwill ambassador)
– Special Judge: Yoshio KOJIMA

(Comedian)