【TRAVEL Q&A】What is Hatsumode? Q&A regarding Japanese year's end and New Year's holiday customs
The year's end and New Year's holiday of 2017/2018 for most people will be from the 29th of December to the 3rd of January. In this article, I will introduce to you some year's end/new year's holiday customs in Japan.
What do you have to be aware of when traveling during the year's end/New Year's holiday?
Many stores and facilities are closed during this season. Make sure to check out the websites of the places that you want to visit beforehand.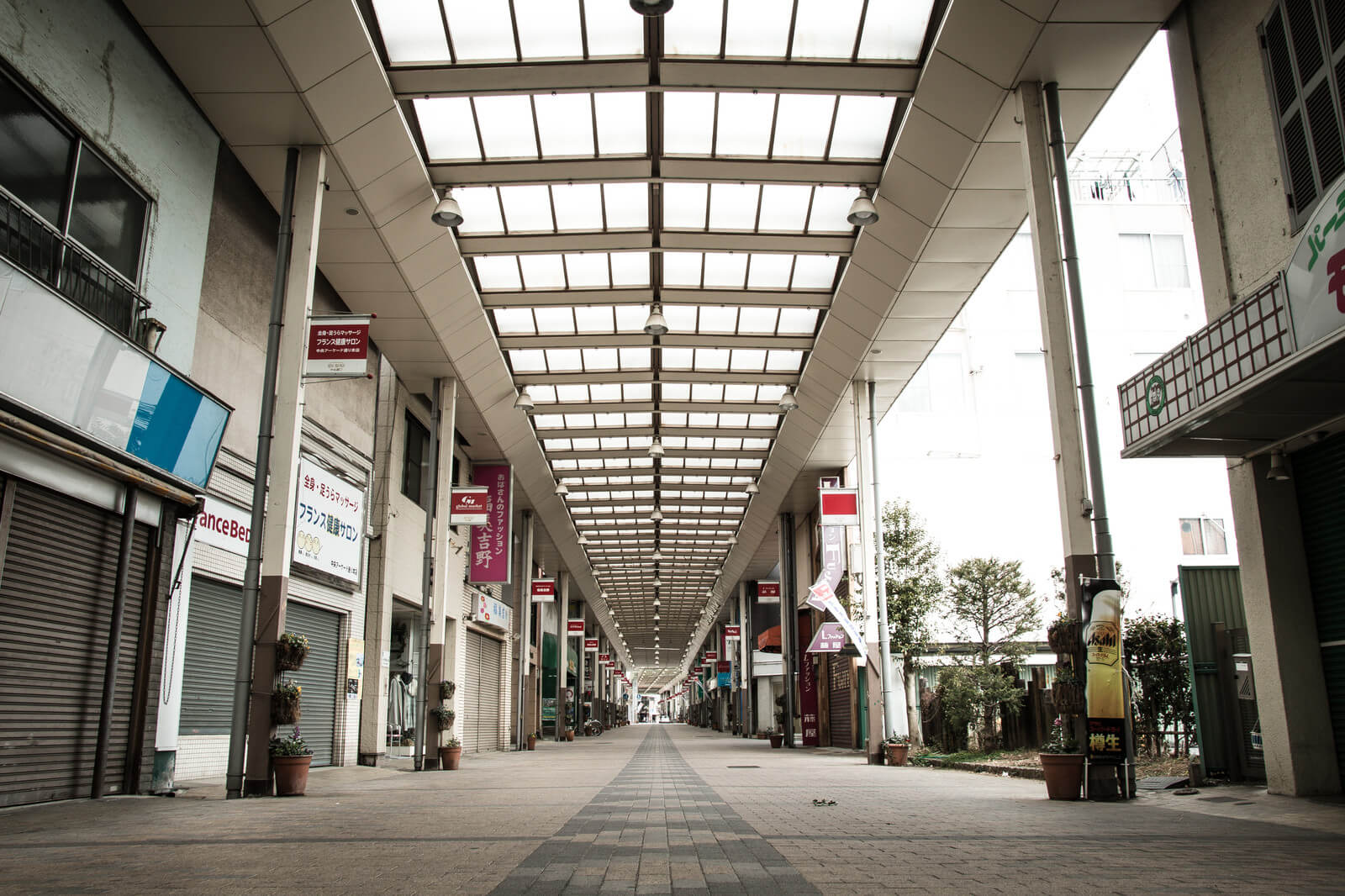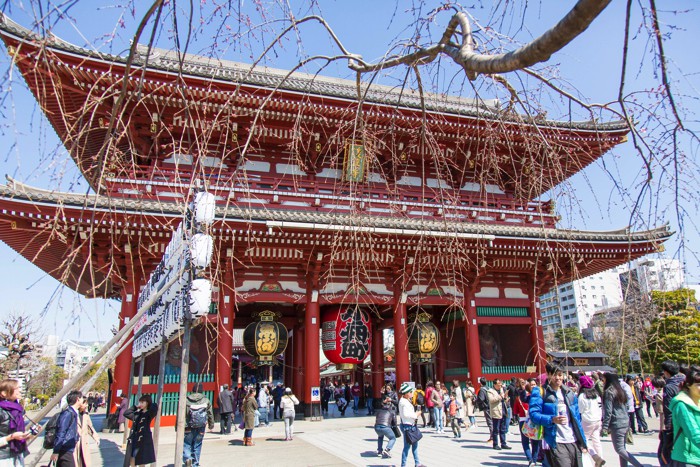 What is hatsumode?
"Hatsumode" is a New Year's custom where people visit shrines and temples to wish for a good year. After offering prayers at temples/shrines, many people buy paper fortunes or amulets. To offer a prayer, visit shrines or temples. Each shrine/temple is considered to have different "powers" such as prosperity in business and success in academic learning so make sure to check out which shrine/temple suits your wishes. It is also fun to buy food/goods at stalls and it is recommended to eat some food like yakitori (grilled chicken), yakisoba (stir-fried noodles) and cotton candy. Don't forget to wear warm clothes when visiting a shrine/temple.
Detailed information RE how to offer a prayer:https://www.moshimoshi-nippon.jp/68492
Some customs during New Year's holidays
There are some traditional decoration items for the New Year's holidays.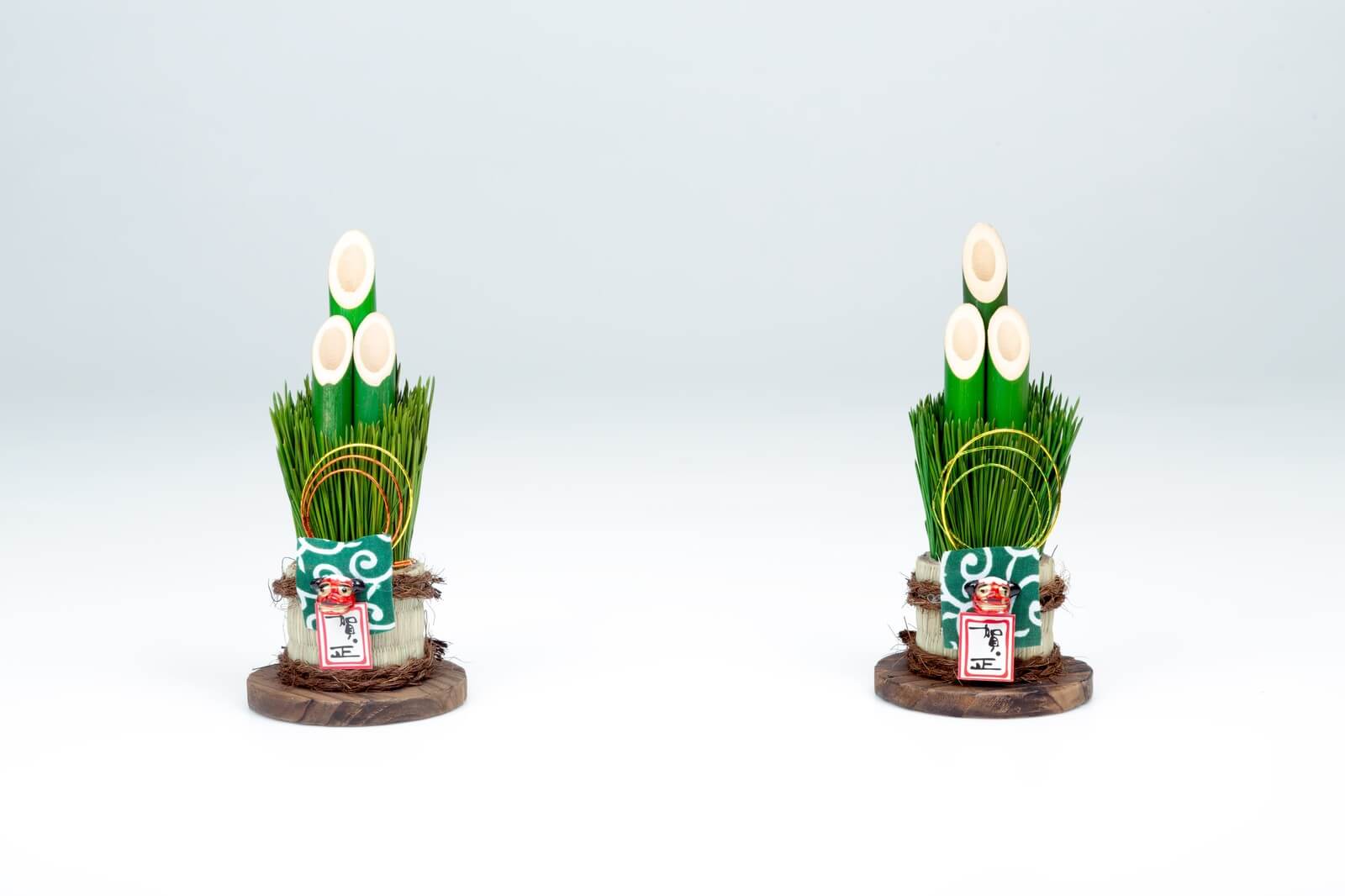 ・Kadomatsu
Kadomatsu is a New Year's decoration made of bamboo and pine tree branches and it is often decorated at the entrance of the house. Kadomatsu is thought to be an earmark decoration at the entrance of a house so that the Gods can come to one's house directly.
・Kagamimochi
Many Japanese believe that the Gods visit one's house on New Year's Day and kagamimochi is an item to welcome the gods. It is said that kagamimochi should be prepared before the 28th of December. The Gods will come to your house when the sun rises on the New Year's Day so make sure to prepare it before the 28th. Kagamimochi must continue to be decorated until the 11th of January.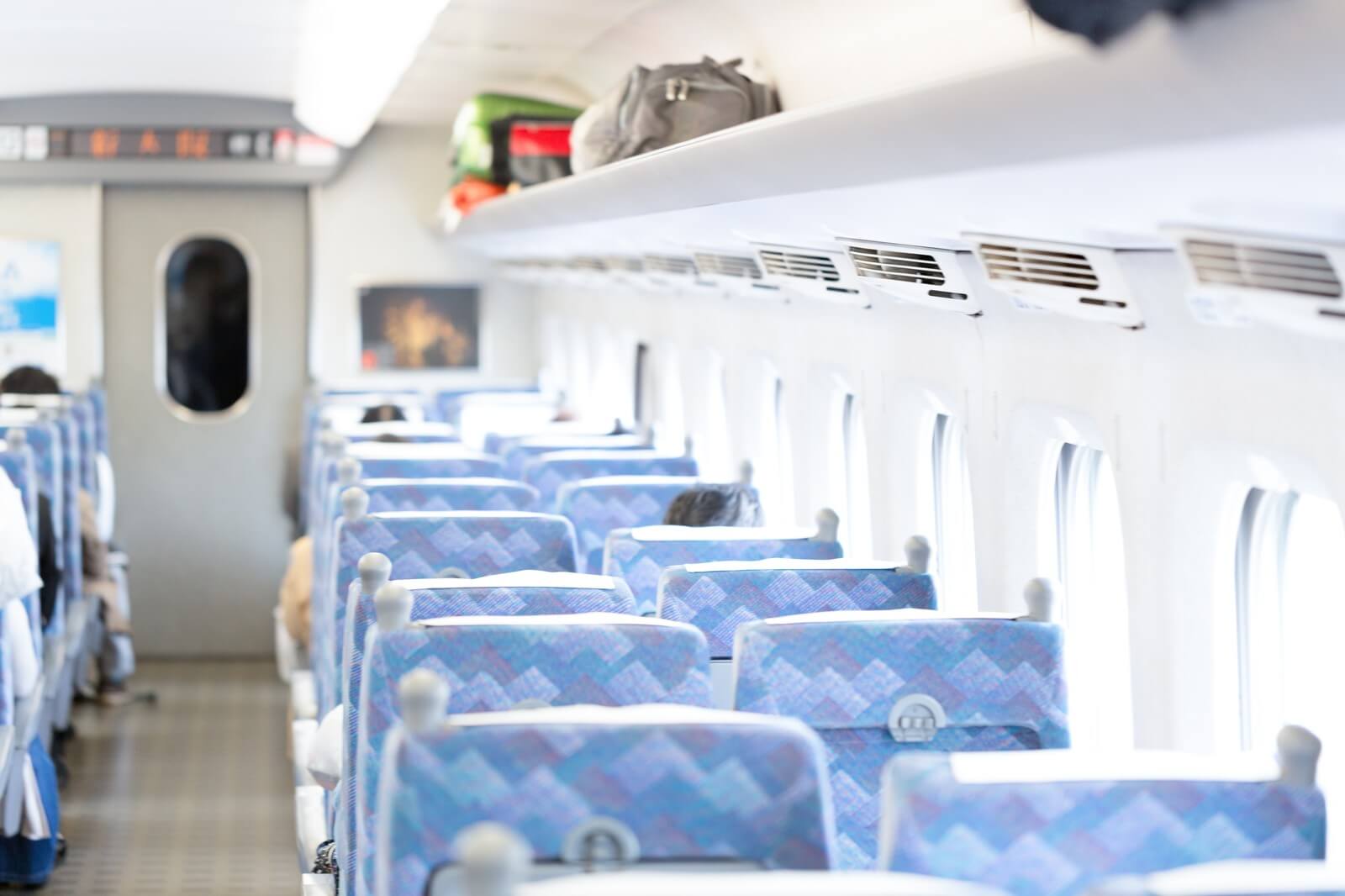 Shinkansen bullet trains are very cworded!
Since many Japanese people meet with their family members during New Year's holidays, shinkansen bullet trains can become very crowded. Therefore, it is recommended that you make a reservation in good time.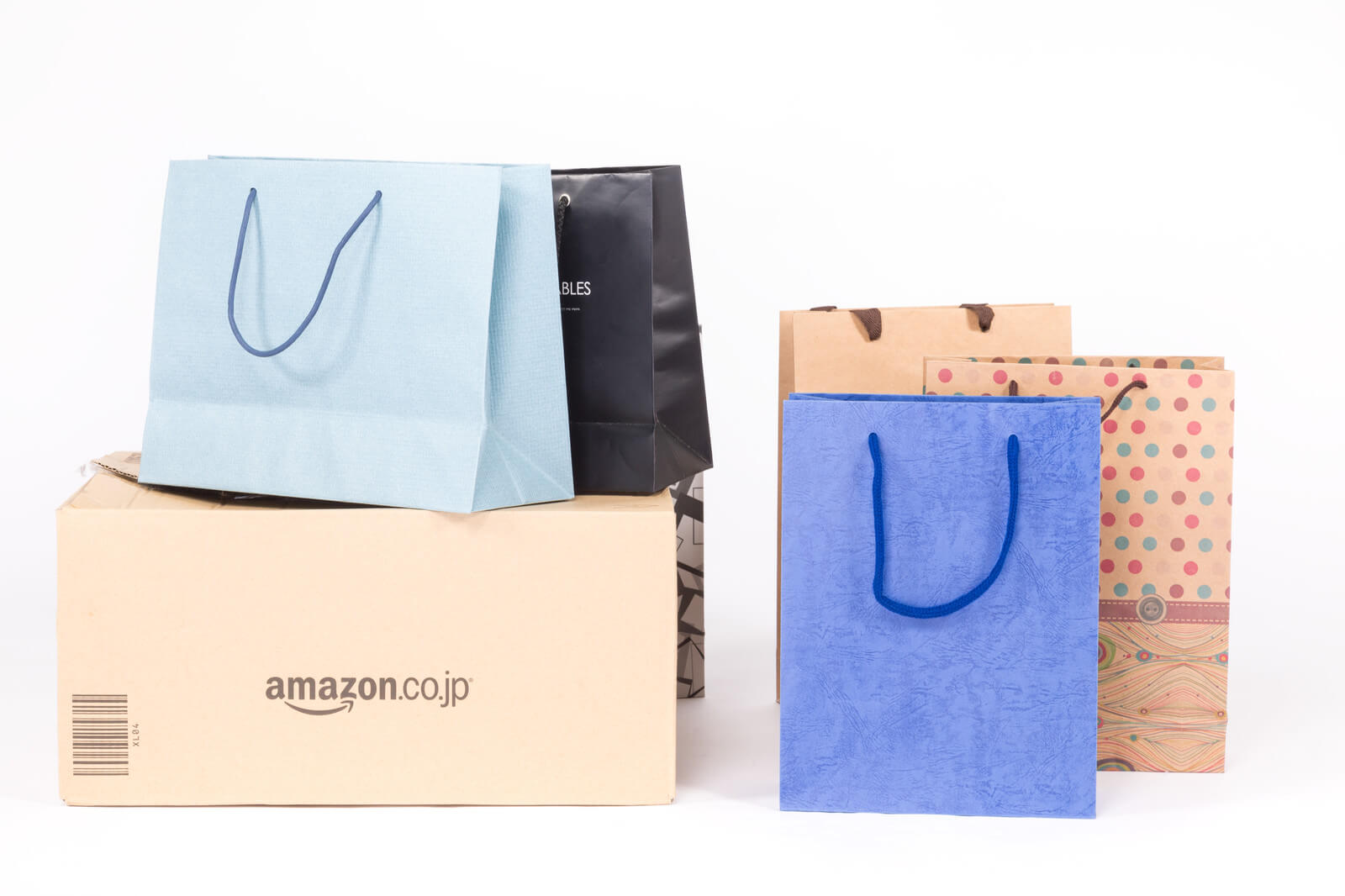 What are hatsuuri and fukubukuro?
The word "hatsuuri" means the first sales in the New Year. Many stores sell fukubukuros (lucky bags with random products). By purchasing such a bag  one can try their luck. Usually, you cannot see what is inside the fukubukuro but some fukubukuros includes expensive items which means you have a chance to buy something expensive at a very low price.
What do Japanese people eat during year's end and during the New Year's holidays?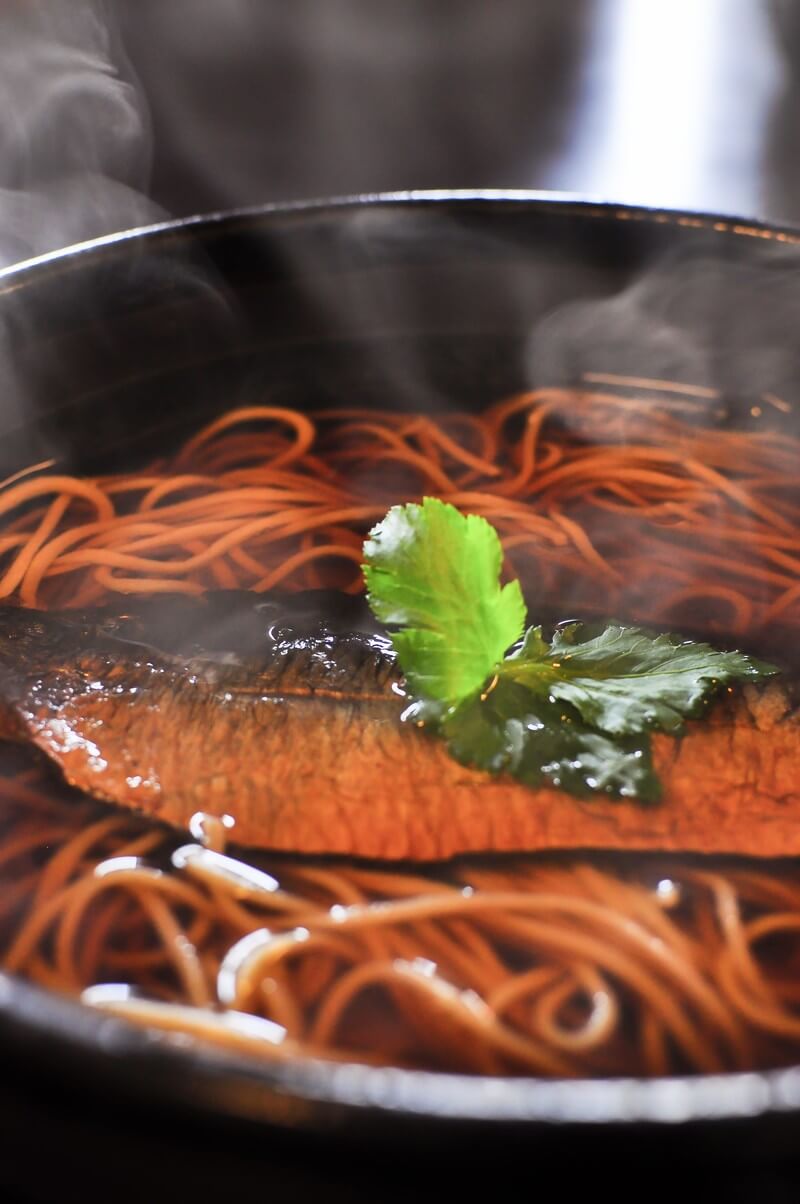 ・Toshikoshi Soba (buckwheat noodles)
"Toshikoshi soba" is a food which Japanese people eat on New Year's Eve for good luck. The origin of this custom is unknown, but some people say this custom has the meaning of "severing bad luck by eating easy to break buckwheat noodles" or "wishing for longevity by eating long noodles." You can eat these buckwheat noodles warm as in "kakesoba" or cold as in "zarusoba." However, make sure to finish your noodle dish before New Year's Eve ends because it is said that eating toshikoshi soba after crossing over into the New Year brings bad luck.
・Osechi
Osechi is a multitiered box filled with food which brings good luck. Each food/ingredient brings a different kind of luck such as a rich harvest, perpetual youth and longevity and prosperity of descendants.
・Ozoni
Ozoni is a shoyu/miso flavored soup with mochi (rice cakes) inside. The shape of the mochi and ingredients differ depending on the house or the local area.
How did you like this introduction to New Years customs? Let's have a wonderful trip during this coming holiday season.
RELATED ENTRIES
The Museum of Japanese Art Yamato Bunkakan Opens Japanese Ceramics Exhibition

From January 5 until February 13, 2022, the Museum of Japanese Art Yamato Bunkakan in Nara will feature a large exhibition of Japanese pottery, spanning from the Jomon period to the present day. 

Important Cultural Property – Painted Platter (Imari Ware) / Yamato Bunkakan Collection

Celadon Porcelain Vase – By Soubei Kinkouzan (Taisho Period) / Privately Owned

The exhibition will feature both potteries from the museum's collection and those held by private individuals. The history of pottery in Japan began in the Jomon period around 14,500 BCE, and this earthenware eventually evolved into Sue ware, formed on a potter's wheel. The Nara period saw the emergence of glazed ceramics. During the Momoyama period (1573-1603), the world of pottery was revitalized with the popularity of the tea ceremony. During the Edo period (1603-1868), porcelain was first successfully fired in Arita, and these pieces became popular throughout Japan. Painting on ceramics also became popular during this period, and although pottery saw less popularity after the Meiji Restoration, it has since evolved in different ways with more modern technology. 

Information

Japanese Pottery: From the Jomon Period to Today

Running: January 5 – February 13, 2022

*Closed on Mondays (Open on January 10, closed on January 11)

Hours: 10:00-17:00 (Last Entry at 16:00)

Admission:

General: ¥630 / High School, College Students: ¥420 / Elementary, Middle School Students: Free

Official Site: https://www.kintetsu-g-hd.co.jp/culture/yamato/

Actor Chafurin Performs Special Reading of 'Hoichi the Earless' at Ukiyo-e Theater from Paris'

The Kadokawa Musashino Museum in Saitama is currently holding the 360-degree experimental exhibition Ukiyo-e Theater from Paris to continuously promote Japanese culture to the world. Actor Chafurin, known for his voice work in popular anime series like Detective Conan and Chibi Maruko-chan, is the owner of 'Shurindo,' a group of popular actors devoted to storytelling with sake. The recitation group will be holding a special event at the museum on January 16, 2022, where a group of personalities will perform the classic story 'Hoichi the Earless,' a popular piece of Japanese folklore. 

Ukiyo-e from Paris Design

Starring: Chafurin, Ryota Osaka, Mutsumi Tamura, Mai Nakahara, Satoshi Tsuruoka, Kafu Ohmine (Biwa Player) 

Danny Rose Studio has helped create a giant video space for the new exhibition, combining the old and the new. The Dreamed Japan – Images of the Floating World exhibition has been experienced by over 2 million people in France, and was brought back to Japan with enhancements in October 2021. Twelve unique works of art are dynamically projected on a massive space, transporting visitors into an entirely new world based on ukiyo-e pieces. 

This performance will be a special one-time event bringing together a selection of famous actors and a traditional biwa player. Hoichi the Earless tells the tale of an extremely skilled blind biwa player and his experiences with the samurai and a terrifying ghostly retainer. 

After the show, guests can enjoy the afterparty in which visitors and the performers can mingle and have a cocktail. More details will be announced on social media soon!

Participants are yet to be determined. There will be no archive of the afterparty. Those purchasing alcohol will be asked for ID. Please note that the schedule is subject to change. 

Information

Reading at Ukiyo-e in Paris Exhibition, 'Hoichi the Earless' 
Date: January 16, 2022 at 18:00 (Doors Open at 17:30)
Address: Tokorozawa Sakura Town Kadokawa Musashino Museum 1F Grand Gallery
(3-31-3 Higashitokorozawawada, Tokorozawa, Saitama)
Admission: ¥10,000 (Tax Included) 
Tickets: https://tix.kadcul.com/

Show URL: https://live.nicovideo.jp/watch/lv335023330
Archive Viewing Period: Available until April 10, 2022 at 23:59 / Watch as many times as you like during the viewing period. For more details, visit the Niconico website.
Price: ¥3,000 (Tax Included) 


Starring: Chafurin, Ryota Osaka, Mutsumi Tamura, Mai Nakahara, Satoshi Tsuruoka, Kafu Ohmine (Biwa Player) 

Shurindou Society: http://www.syurindou.com/
Ukiyo-e from Paris: https://kadcul.com/event/50
Kadokawa Musashino Museum: https://kadcul.com/
Official Site: https://kadcul.com/event/60

Lifestyle Shop KEYUCA Releases Nature-Inspired Hagi Ware for the Holidays

Lifestyle shop KEYUCA is known for its eclectic collection of original clothing, food, and home goods. On December 24, the company will release the new 'Saiun' series to its popular Hagi ware line, which will include new cups and plates perfect to use during the New Year's holiday!

[Hagi ware] Colored Cloud Cup: ¥1,650 (Tax Included)

[Hagi ware] Colored Cloud Plate: ¥2,350 (Tax Included)

KEYUCA's colorful new items remain classy while offering a different take on traditional tableware. Hagi ware is a type of Japanese pottery that originated from the town of Hagi, Yamaguchi, and these pieces usually feature natural and subdued colors. This made them popular with feudal lords, but modern audiences are looking for something a little more chic.

Simple Color Chopsticks, 5-piece Set:  ¥1,760 (Tax Included)

[Mino ware] Small Dish: ¥429 (Tax Included)

Along with these new Hagi ware pieces, a number of other items are also available at reasonable prices, such as colorful small dishes perfect for kaiseki and festive chopsticks.

Neo JAPAN, a Fair Dedicated to Traditional and Modern Japanese Culture, Held by niko and…

Lifestyle editorial brand niko and…is currently holding the Neo JAPAN event, blending aspects of traditional and modern Japanese culture. The fair is being held on the brand's official web store and at select stores nationwide. The key visuals were created by ukiyo-e artist Naga, and the store will sell a number of goods perfect for the New Year's holiday.

Feng Shui Daruma Plate

Pepper Daruma

Coasters (2 Pack)

Year of the Tiger Chopstick Rest

またniko and … TOKYO店限定で、2メートルを超える特大ガチャが設置され、新年らしい商品を詰め込んだ楽しいガチャとなっている。

This year's lineup of merchandise includes traditional Daruma along with tiger-themed art to honor the Chinese Zodiac for 2022. Guests can also participate in a silk-screening workshop at participating locations, while the niko and…TOKYO location will have a two-meter long gacha filled with fun New Year's items!

Information

Neo JAPAN
Event begins December 22, 2021
Participating Locations: niko and…TOKYO, niko and…Mozo Wonder City, niko and Kobe Harborland umie, niko and…Yokohama Bay Quarter, niko and…Aeon Mall Asahikawanishi, niko and…LaLaport Tokyo Bay, Official Web Store (.st)
*Product release date may differ depending on the store.


Silk-Screening Workshop: January 1, 2022
Participating Locations: niko and…TOKYO, niko and…Mozo Wonder City, niko and…Kobe Harborland umie
*Check each location's social media for more details. 

.st: http://www.dot-st.com/nikoand

Official Site: https://www.nikoand.jp

Spend the Winter in a Unique Shinshu Snow Hut with Limited-Time Package

A part of Hoshino Resorts, KAI Alps is an incredible hot spring inn located in Omachi, Nagano prefecture, at the foot of the Northern Japanese Alps. In February 2022, the hotel will allow guests to book the Shinshu Snow Hut Experience, where visitors can enjoy the winter in a traditional snow-packed hut surrounded by bamboo lights. This area is one of the snowiest places in the region, and the locals have plenty of knowledge when it comes to getting through the cold.

Nagano prefecture is often called the 'Space prefecture' for its beautiful starry skies. Inside the snow hut, guests will be surrounded by lights, and bamboo lanterns will light the way. These gentle lights are perfect for the white of winter, despite the cold. 

Exclusively for this package, a kotatsu (heated table) will be placed inside the huts, and guests can wear traditional local clothing perfect for the weather. Sweet sake made at the Hokuan Sake Distillery in Omachi City and local rice cakes with Nozawa pickled greens, a Shinshu specialty, will also be served up. 

How would you like to partake in this traditional experience?

Information

Shinshu Snow Hut Experience

Running: February 1, 2022 – February 28, 2022

Price: ¥2,000 per person (Tax & Service Charge included) 

Reservations: Make on the website at least one week in advance

Capacity: 1 group per session (2-4 people per group)

Location: KAI Alps – Hoshino Resorts

Hours: 19:00-19:45 / 20:00-20:45

Limited to Hotel Guests Only

Anime Idol Group HAKOMEN Becomes Tourism Ambassadors for Hakodate

Hakodate is one of the main cities in Hokkaido, Japan's northernmost island. In September 2021, the city launched a new tourism initiative called HAKOMEN, an anime idol group based on historical figures associated with Hakodate. Starting November 1, the members are now official tourism ambassadors! In July 2021, the Jomon historical sites in Hokkaido and the northern Tohoku region were registered as World Heritage Sites, so what better time to promote these incredible areas? 

Debut Song 'Kimi to HAKO☆DATE'

HAKOMEN lore tells the story of incredible historical figures summoned to the present day by the Hollow Dogu, the only National Treasure in Hokkaido and on display at the Hakodate Jomon Culture Center. Forming an idol group to promote the town, the five members see the Hollow Dogu as their producer. On October 14, HAKOMEN made their debut with the song Kimi to HAKO☆DATE, which is already racking up impressive YouTube views. 

Comments from the Members

Hijikata Toshizo / A Cutting-Edge Commander and Moodmaker
https://twitter.com/hako_hijikata



"I was surprised that I, a man who had mastered the way of the blade, would somehow become Hakodate's tourism ambassador.
I will put all of my energy into promoting this place!" 

Takeaki Enomoto / A Highly Ambitious Peacemaker
https://twitter.com/hako_enomoto



"I'm not even from this era, but you want me to do PR for Hakodate?!
Now that I'm here, I'll be sure to convey some of the charms that only someone from the past would know!"

Takuboku Ishikawa / A Calm and Peaceful Lover of Sweets
https://twitter.com/hako_isikawa

"I love Hakodate so much that I moved there during my time, so I'm thrilled to promote it as an ambassador!
I'll do my best to make all kinds of people fall in love with Hakodate!"


Matthew C. Perry / A Happy and Gourmet Scatterbrain
https://twitter.com/hako_perry



"Back when I showed up on my black ships, the people of Hakodate were so lovely♪
It's such an honor to be able to work with Hakodate~ I'll do my very best!"

Ayasaburo Takeda / An Open-Minded Big Brother Character
https://twitter.com/hako_takeda

"As an ambassador for tourism to Hakodate, I'd love to promote Goryokaku fortress which I designed as an architect in 1855.
Of course, it's not the only attraction Hakodate has to offer!"

G-NEXT, Hightlighting Up-and-Coming Artists Each Month, Announces October Picks

Subscription music streaming service AWA has teamed up with free video service GYAO! and Nihon Kogakuin College to develop G-NEXT, a project to highlight a particular up-and-coming artist each month. October's POWER PUSH artist is singer-songwriter Riho Nishikata, who is captivating young people not only with her sound, but with her deeply personal lyrics and design prowess. 

AWA has also released a playlist of songs selected by Nishikata herself. This playlist, titled "Tomorrow Will be a Little Better,' is filled with both up-tempo tracks and ballads, all capable of making hopelessness disappear. Be sure to follow the official AWA Twitter page and retweet the designated post to be entered to win an AWA hat autographed by Riho Nishikata!

G-NEXT has also unveiled a special webpage filled with music videos from this month's artists, so be sure to check them out! 

POWER PUSH ARTIST Riho Nishikata: Tomorrow Will be a Little Better

Just in Time to Dance

/ OYAT

That's All I Need

(BASI REMIX) / BASI

Ultramarine

/ Naotaro Moriyama

Mabushii Hito (Dazzling Person)

/ Humbert Humbert

Kaede

/ Spitz

The Traveling Guitar

/ Lucky Old Sun

About the Time Machine

/ Merengue

Don't Let Me Go

/ Have a Nice Day!

LONELY NIGHTS

/ tofubeats

nothing anymore

/ Age Factory

I Need Something

/ Newton Faulkner





Gorgeous Project Mapping Event Coming to Yamashiro Onsen in Kaga, Ishikawa

DMM.com will sponsor a projection mapping project titled Yamashiro Night Promenade Fall 2021 on Yamashiro Onsen Street in Kaga, Ishikawa prefecture from October 30 until November 28, 2021. 

The limited-time project is being organized by the Yamashiro Onsen Tourist Association with support from DMM. Under the themes of harmony and local tradition, brilliant images of flowers, water, and geometric patterns will illuminate the hot spring resort while accompanied by music. There will also be traditional Taiko performances during the event. 

Information

Yamashiro Night Promenade Fall 2021

Running: October 30 – November 28, 2021

Hours: 20:20-21:20 (Canceled for rain) 

Address: Yamashiro Onsen Street in front of Hatori Ryokan (17 Onsen-dori, Yamashiro Onsen, Kaga City, Ishikawa) 

Official Site: https://sousei.dmm.com/

New Rap Track by monyusode Inspired by 1926 Short Story 'The Izu Dancer'

Female duo monyusode just released their new track With no ODORIKO on October 8, 2021. The song is available on the iTunes store and major streaming sites. 

The song was inspired by the 1926 short story The Izu Dancer by Nobel Prize-winning Japanese writer Yasunari Kawabata. Kawabata was the first Japanese writer to win the award in 1968 and the short story follows a young boy from Tokyo traveling to Izu on a lonely summer holiday. On this trip, he repeatedly crosses paths with five traveling musicians who bring joy back to his life. 

Comment from monyusode

"With no ODORIKO is a song that combines a traditional enka-style melody with modern rap. Be sure to pay attention to the lyrics!"

"The music video tells the story of a traveler who meets and falls in love with a dancer. It was shot in the town of Murata in Miyagi prefecture and features this rare and incredibly beautiful scenery. We hope you'll enjoy the casting!"

Kadokawa Musashino Museum Celebrates First Anniversary with Ukiyo-e Theater from Paris Project

To celebrate the location's first anniversary, the Kadokawa Musashino Museum will hold a 360-degree experimental exhibition titled Ukiyo-e Theater from Paris starting October 30. The theater continuously holds showings to help share Japanese culture with both domestic and international visitors. 

Bowie as Kidomaru. Masumi Ishikawa for the Ukiyo-e Project

Momoiro Clover Z and KISS. Megumi Oishi (BALCOLONY) for the Ukiyo-e Project

In the Edo period, the price of one ukiyo-e print was 28 mon, the same as a bowl of soba noodles. The word ukiyo means 'this world,' and these paintings captured the familiar and the mundane. In that period of time, these creations were what television, the internet, and Instagram are to us today. In the 19th century, ukiyo-e pieces first appeared in Europe and made a large impact on impressionist artists, which continues to this day. 

Danny Rose Studio has helped create a giant video space for the new exhibition, combining the old and the new. The Dreamed Japan – Images of the Floating World exhibition has been experienced by over 2 million people in France and is now coming to Japan for the first time with some new enhancements. Twelve unique works of art will be dynamically projected on a massive space, transporting visitors into an entirely new world. Clocks will tick, lanterns will dance in the air, cherry blossoms will flutter in the wind, and waves will rush overhead. 

In the back of the Grand Gallery, a large number of ukiyo-e prints used by the Danny Rose Studio will be on display along with works by contemporary Japanese ukiyo-e artists. 

Information

Ukiyo-e Theater from Paris

Running: October 30, 2021 – April 10, 2022

Kadokawa Musashino Museum 1F Grand Gallery

Details: https://kadcul.com/event/50

Exhibition Featuring Famed Silk Fabrics from Tsuruoka in Yamagata Prefecture Now Open

Tsuruoka, Yamagata prefecture is known throughout Japan and the world for its silk production. Beginning on September 18, a new exhibition is inviting guests to see some of the incredibly beautiful fabrics to come out of the area, particularly highlighting Reiko Sudo, an innovative cloth-maker living in the area. These stunning pieces are being displayed at the Matsugaoka Reclamation Site, celebrating 150 years of history in 2021 and known as the birthplace of Tsuruoka silk. In particular, Sudo's own Kibiso fabrics, created with the intent of blending long-held traditions with modern technologies, will be making an appearance! Kibiso refers to the first silk that comes off the cocoons in industrial silk spinning. 

Kibiso Stripes & Streaks: 2018 Photo Sue McNab

Kibiso Zori: Photo Keiko Matsubara

Swinging Cherries: 2021 Photo Keiko Matsubara

An exhibit featuring the production process, original design sketches, and prototypes

Kibiso – Ogarami Choshi Sheets: 2018 Photo Keiko Matsubara

Ogarami Choshi, the byproduct of the silk mill: Photo Keiko Matsubara

The First Cultivation of the Matsugaoka Reclamation Site 






Tsuruoka City is the only region in Japan where the entire silk-making process–from caring for silkworms to dying and wearing–is completed in a single place. Silk production began in 1872 when the former Shonai clam's samurai warriors began cultivating new lands around the Matsugaoka area. During the Meiji period, a local inventor named Saito Toichi invented the automatic weaving machine, making the production of silk fabrics much quicker and easier. The new fabrics were exported around the country to be used in dresses, and silk production quickly became the area's main industry. 

Kibiso, a type of thread made from the first silk discharged from a silkworm, has been in production since 2007 and is breathing new life into the area's industry. The thread is hard and thick, making it very difficult to work with–but once these works are completed, the textile is extremely durable. It holds moisture well, has antibacterial properties, and will help protect the wearer from UV rays. Combining new designs with functionality, Kibiso also cuts down on waste, and museums in the United States and the United Kingdom currently have some of these creations on display, with more requesting installations. 

At the current exhibition, 29 unique textiles, mainly Kibiso, are hung from the ceiling. Visitors are allowed to touch each of these pieces, and can also view the entire creative process from sketches and prototypes to the final product. All pieces were created together with the members of NUNO, a textile design studio directed by Sudo. The designs were decided on through conversations with craftsmen throughout Japan. By reviewing traditional processes and helping them evolve to suit modern needs, Kibiso was born and is helping to revitalize the silk industry in Tsuruoka. 

A highlight of the exhibition is ogarami choshi, a byproduct of silk production often caught in the thin metal tubes of silk mills. These can be torn into sheets and used for new creations, and by doing so, helps reduce waste. 

Information

Circular Design -Kibiso Continues- 

Running: September 18 – October 17, 2021 (Planned to be extended until the end of 2021) 

Hours: 9:00-16:00 (Closed on Wednesdays)

Address: Matsugaoka Reclamation Site, Silkwork-Raising Room 2F (29 Haguromachi Matsugaoka, Tsuruoka, Yamagata)

Three Unique Japanese Cafes You'll Want to Visit Again and Again

Most of us have been spending more and more time at home over the past year. It's time to get out for a change of scenery, and what better activity than cafe hopping! Check out these unique cafes around Japan, each offering a safe and relaxing space to enjoy a day out. 

[Saitama] Bath Cafe BIVOUAC

This cafe located in Kumagaya City offers a full range of bath and sauna facilities, as well as a restaurant featuring healthy dishes filled with local, freshly-picked veggies. 

Details: https://www.moshimoshi-nippon.jp/497213

[Gifu] Activity Cafe Takayama Zenko-ji

Set inside a Buddhist temple, this cafe invites anyone, regardless of faith or nationality, to enjoy a cup of tea while experiencing traditional culture. It's also a great space to work remotely, with free Wi-fi!

Details: https://www.moshimoshi-nippon.jp/484296

[Tokyo] NANARIDA

Filled with plants and light, NANARIDA has been dubbed a digital detox cafe, not allowing smartphones or laptops each Sunday. Leaving your phone with the staff will grant you a free beverage, so come enjoy some tea and conversation. 

Details: https://www.moshimoshi-nippon.jp/493631

TEXT: Natalie(MOSHI MOSHI NIPPON)