【TRAVEL Q&A】What is Hatsumode? Q&A regarding Japanese year's end and New Year's holiday customs
The year's end and New Year's holiday of 2017/2018 for most people will be from the 29th of December to the 3rd of January. In this article, I will introduce to you some year's end/new year's holiday customs in Japan.
What do you have to be aware of when traveling during the year's end/New Year's holiday?
Many stores and facilities are closed during this season. Make sure to check out the websites of the places that you want to visit beforehand.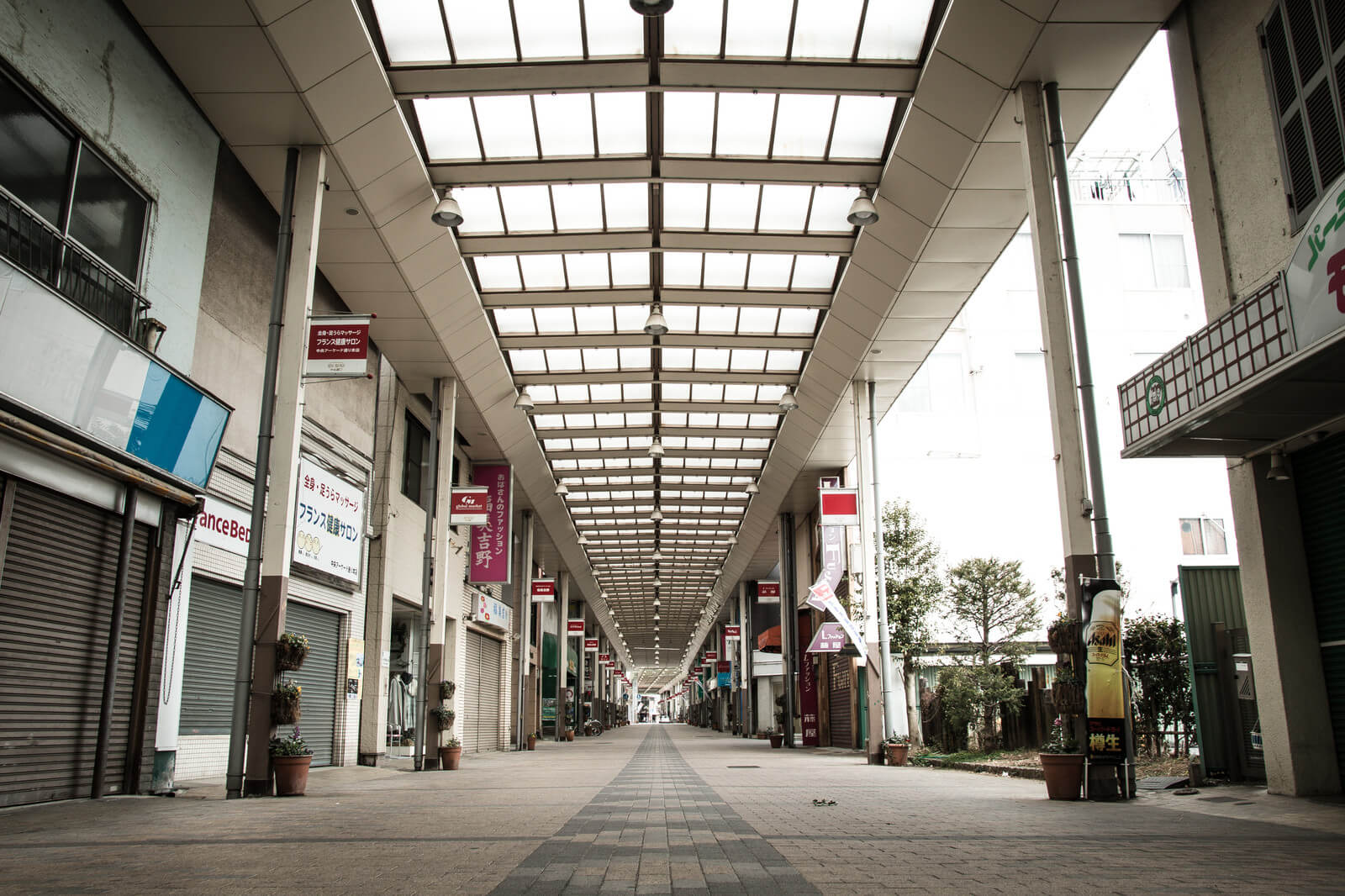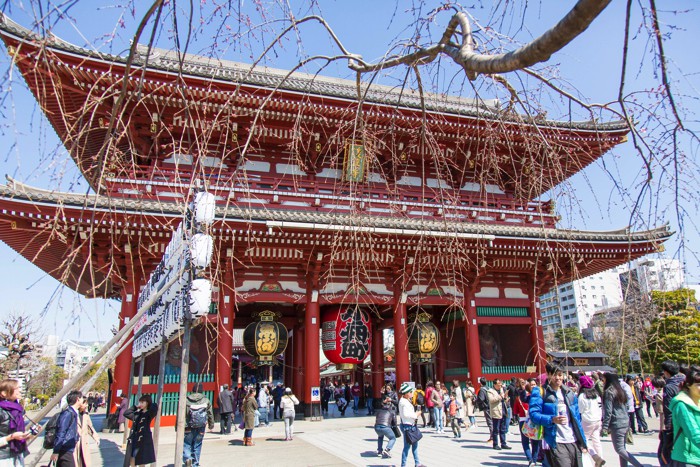 What is hatsumode?
"Hatsumode" is a New Year's custom where people visit shrines and temples to wish for a good year. After offering prayers at temples/shrines, many people buy paper fortunes or amulets. To offer a prayer, visit shrines or temples. Each shrine/temple is considered to have different "powers" such as prosperity in business and success in academic learning so make sure to check out which shrine/temple suits your wishes. It is also fun to buy food/goods at stalls and it is recommended to eat some food like yakitori (grilled chicken), yakisoba (stir-fried noodles) and cotton candy. Don't forget to wear warm clothes when visiting a shrine/temple.
Detailed information RE how to offer a prayer:https://www.moshimoshi-nippon.jp/68492
Some customs during New Year's holidays
There are some traditional decoration items for the New Year's holidays.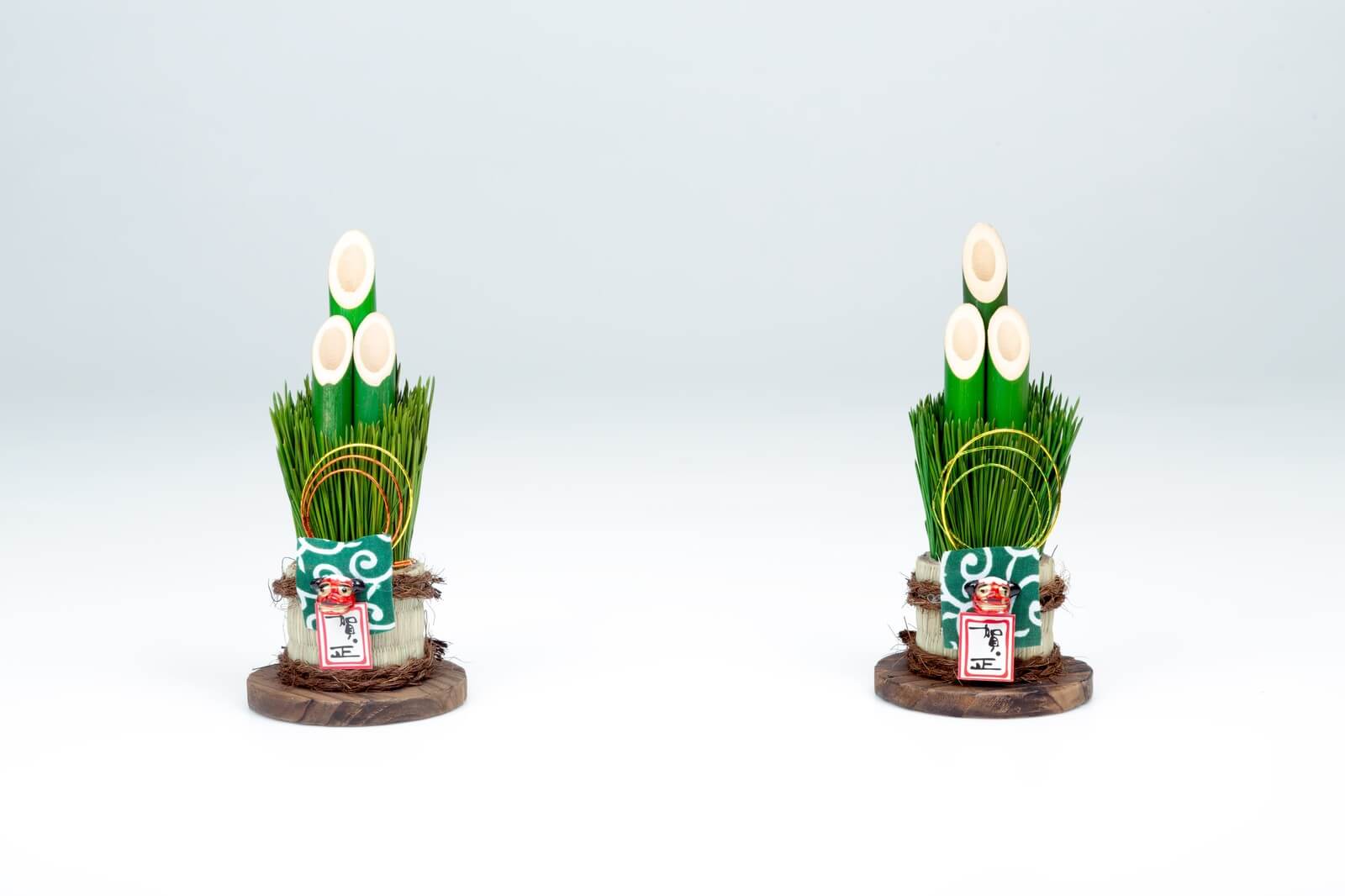 ・Kadomatsu
Kadomatsu is a New Year's decoration made of bamboo and pine tree branches and it is often decorated at the entrance of the house. Kadomatsu is thought to be an earmark decoration at the entrance of a house so that the Gods can come to one's house directly.
・Kagamimochi
Many Japanese believe that the Gods visit one's house on New Year's Day and kagamimochi is an item to welcome the gods. It is said that kagamimochi should be prepared before the 28th of December. The Gods will come to your house when the sun rises on the New Year's Day so make sure to prepare it before the 28th. Kagamimochi must continue to be decorated until the 11th of January.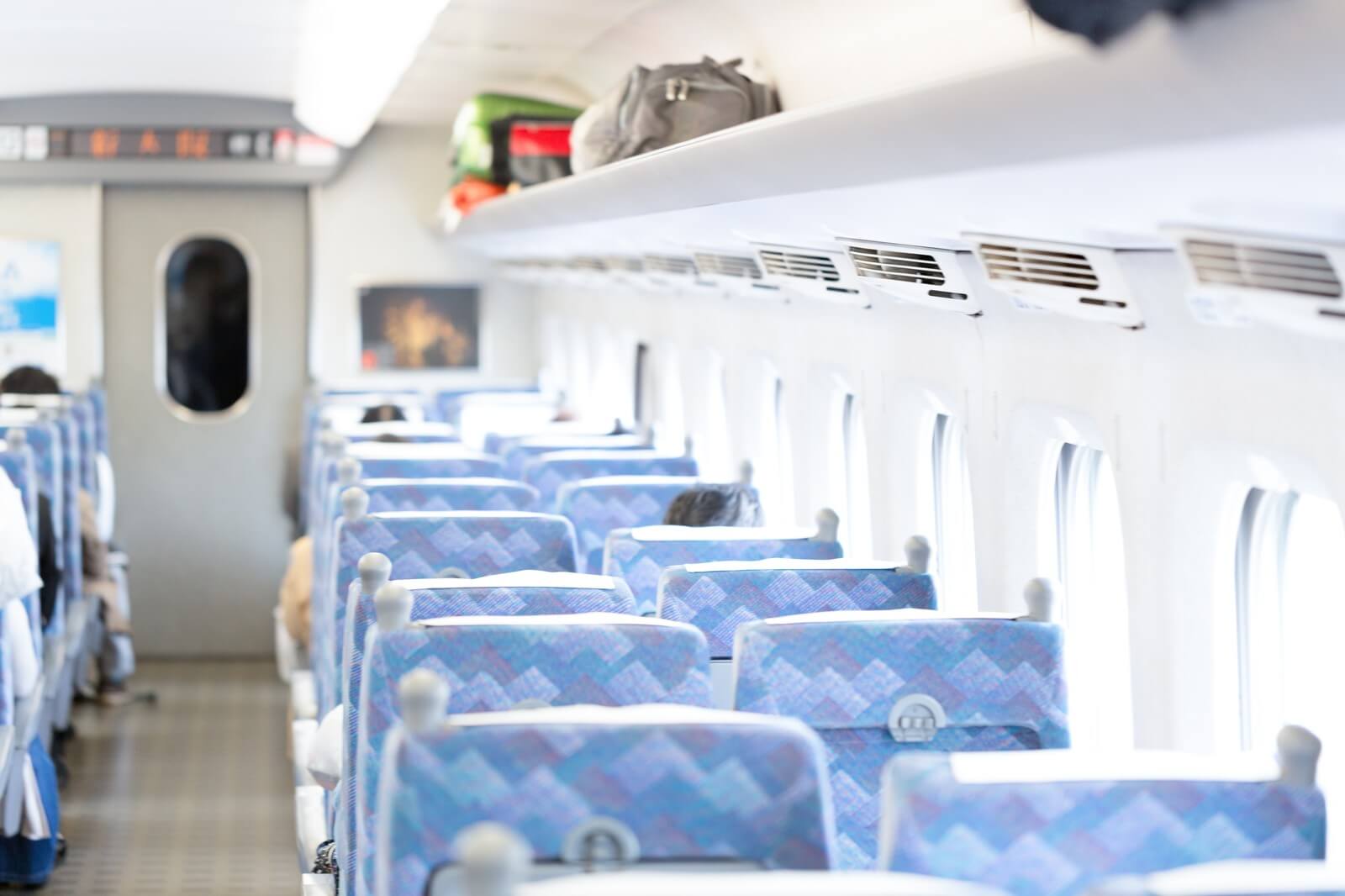 Shinkansen bullet trains are very cworded!
Since many Japanese people meet with their family members during New Year's holidays, shinkansen bullet trains can become very crowded. Therefore, it is recommended that you make a reservation in good time.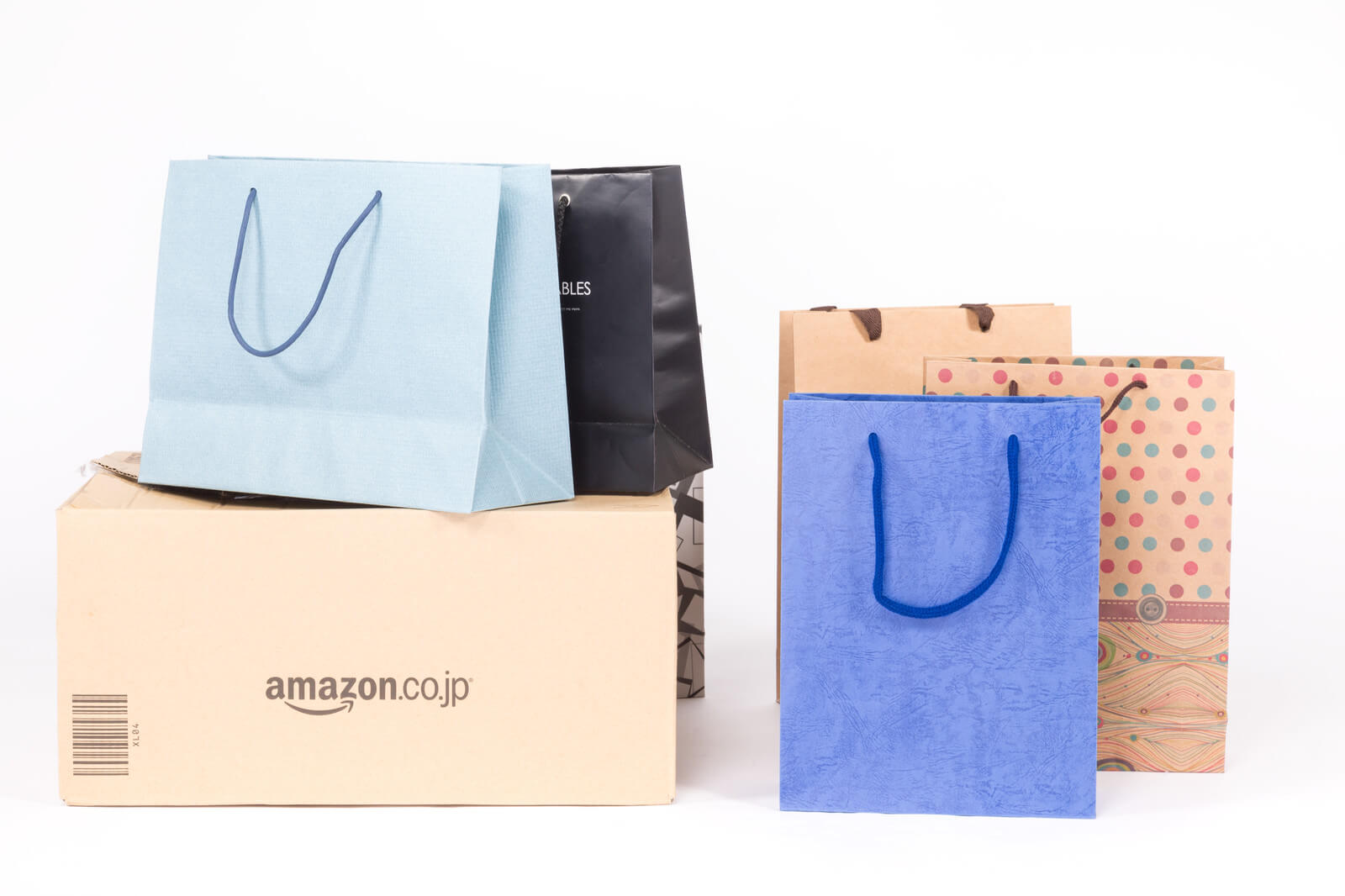 What are hatsuuri and fukubukuro?
The word "hatsuuri" means the first sales in the New Year. Many stores sell fukubukuros (lucky bags with random products). By purchasing such a bag  one can try their luck. Usually, you cannot see what is inside the fukubukuro but some fukubukuros includes expensive items which means you have a chance to buy something expensive at a very low price.
What do Japanese people eat during year's end and during the New Year's holidays?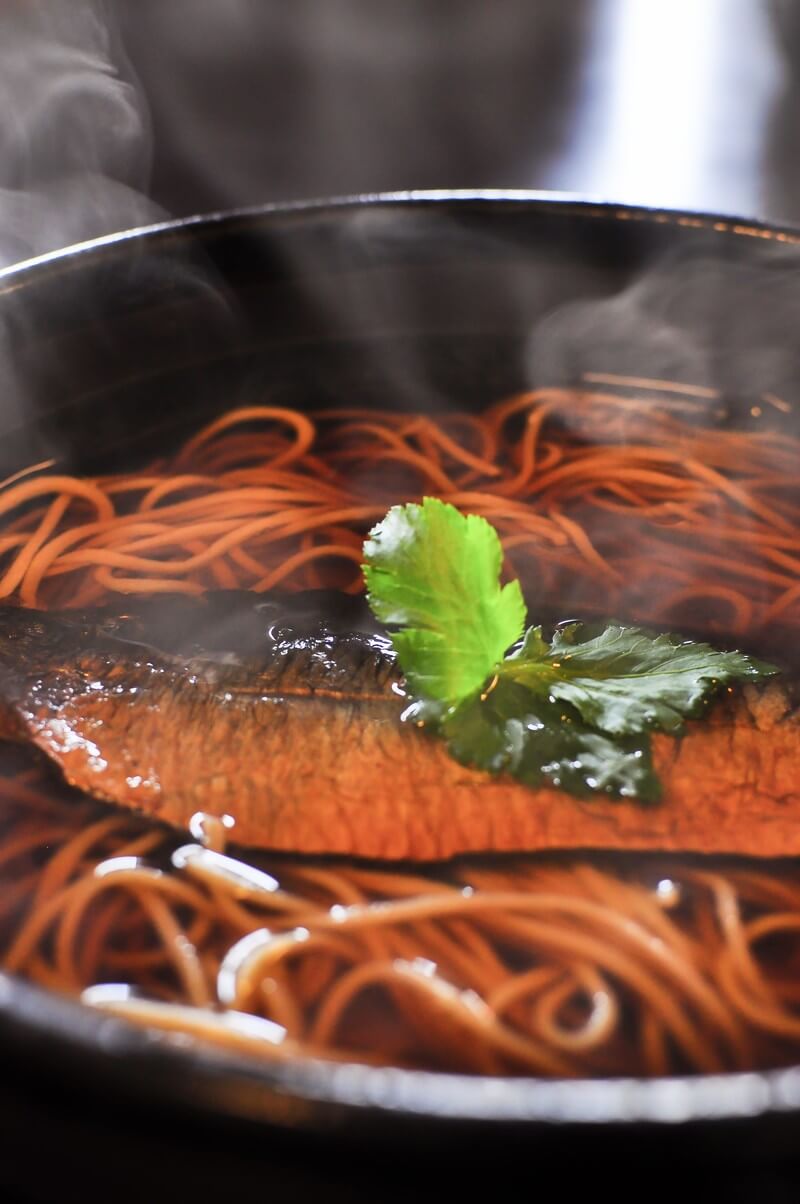 ・Toshikoshi Soba (buckwheat noodles)
"Toshikoshi soba" is a food which Japanese people eat on New Year's Eve for good luck. The origin of this custom is unknown, but some people say this custom has the meaning of "severing bad luck by eating easy to break buckwheat noodles" or "wishing for longevity by eating long noodles." You can eat these buckwheat noodles warm as in "kakesoba" or cold as in "zarusoba." However, make sure to finish your noodle dish before New Year's Eve ends because it is said that eating toshikoshi soba after crossing over into the New Year brings bad luck.
・Osechi
Osechi is a multitiered box filled with food which brings good luck. Each food/ingredient brings a different kind of luck such as a rich harvest, perpetual youth and longevity and prosperity of descendants.
・Ozoni
Ozoni is a shoyu/miso flavored soup with mochi (rice cakes) inside. The shape of the mochi and ingredients differ depending on the house or the local area.
How did you like this introduction to New Years customs? Let's have a wonderful trip during this coming holiday season.
RELATED ENTRIES
Japanese Artists Associated With The TEA-ROOM Launch Art Production and Management Company

Mucha Kucha is announced the launch of a new art production and management project that aims to create a space and opportunities for people to discover the Japanese spirit and value through performances and products created by artists associated with the The TEA-ROOM.

The project brings together seven diverse artists from different backgrounds whose mission is to "Respect and Go Beyond."

Art Production & Management Project

Participating artists will showcase their experience and personalities in a variety of ways as part of the project in an effort to create new possibilities within Japanese culture while seeking to elevate cultural value.

The TEA-ROOM productions

Exhibits

Performances

Collaborations

Art and products

Participating Artists

Souryou Matsumura (Tea Ceremony Instructor)

Shiho Sakamoto (Confectioner)

Fumihiko Sano (Artitect/Artist)

Gentaro Yokoyama (Potter)

MAMI (Calligrapher)

RYOTA HAGIWARA (Flower Arranger)

Masahiro Inoue (Paperer)

The TEA-ROOM (Art Collective)

Experience Japanese Culture at Home With Live Streams From Japanese Artists and Monks

Japan Culture and Technology, a company which offers Japanese experiences taught by professionals in their respective industries, has launched an online service on WABUNKA EXPERIENCE which lets you experience traditional Japanese culture from the comfort of your home.

WABUNKA EXPERIENCE is led by leading artists and offers memorable experiences of Japanese traditional culture, such as calligraphy, tea ceremony, flower arrangement, and so on, at impressive sites in Tokyo or Kyoto.

Now people can learn about Japanese art, culture, and ways of thinking from home with the launch of their new online service. Expert Japanese artists and monks will be streaming workshops live from temples and cultural facilities in Kyoto and Tokyo. Since travel is strictly limited right now, this is the perfect opportunity for foreigners to learn more about Japan and Japanese culture.

The commemorate the launch of the online service, it will be offered at a special price. Check out the website below and learn about the programs currently on offer, from online meditation to flower arrangement, tea ceremony, and more.

URBAN SENTO: The New Brand Making Japanese Bath House Clothing Stylish

"JAPAN MADE PROJECT" is a project launched by Japanese apparel shop URBAN RESEARCH which aims to revitalise regions around Japan by building local communities with businesses and creators around the country while also looking to take a step back to reconsider what is appealing about each of those regions.

As part of this new project, URBAN RESEARCH has announced its plans to establish "JAPAN MADE PROJECT TOKYO" on March 20, 2020. Focusing on Tokyo, this branch of the project will see the launch of "URBAN SENTO." This will focus on the potential of sento, or "bath houses," in the city, which will also include a new line of bath house clothing made in collaboration with Kosugi-yu a sento located in the Tokyo district of Koenji.

Public bath houses play an important part in Japanese culture by contributing to people's mental health and creating communities. This is especially so in a city as busy as Tokyo. That's where URBAN SENTO comes in, which will encourage the rediscovery of the city's appealing culture through sento.

Pre-sales for the new clothing line opened on the URBAN RESEARCH online store on February 14, 2020. It features a collection of must-have items for the bath house, whose message is to spread the bath house lifestyle.

Apparel

To ensure the clothing is comfortable as bath-wear, the collection is made from high quality cotton provided in collaboration with HAAG, a brand managed by Smile Cotton. This cotton is nice and soft and does not rub against the skin. Smile Cotton's materials are even endorsed by the Japan Atopic Dermatitis Patients Association.

Crew Neck T-Shirt – ¥7,700 (Tax Included) | Sizes: Small/Medium/Large | Colours: White/Light Grey/Black

One Piece – ¥13,200 (Tax Included) | Sizes: Small/Medium | Colours: White/Light Grey/Black

Short Pants – ¥12,100 (Tax Included) | Sizes: Small/Medium/Large | Colours: White/Light Grey/Black

ZIP Parker Hoodie – ¥16,500 (Tax Included) | Sizes: Small/Medium/Large | Colours: White/Light Grey/Black

Pouch (Medium Size) – ¥3,080 (Tax Included) | Colours: White/Navy/Orange

The mesh pouch can be taken into the bath with you. Put your shampoo or other bath products in with you and take a dip.

Miscellaneous Items: IKEUCHI ORGANIC x URBAN SENTO
The bath towels you can use at Kosugi-yu are made by IKEUCHI ORGANIC. They come in two sizes and are incredibly soft on the skin.

Oragnic 120 Bath Towel – ¥5,060 (Tax Included) | Colours: White/Grey

Oragnic 120 Face Towel – ¥1,980 (Tax Included) | Colours: White/Grey

Kimura Soap x URBAN SENTO
The products used for cleaning yourself at Kosugi-yu, as well as what's used for washing the towels, is soap provided by Kimura Soap. This pure soap, crafted by artisans by cooking in kettles, is friendly to the environment and the skin. It can be used at the bath house, in the bath at home, or even for your laundry.

Body Soap (Hinoki Cypress/Lavender) – ¥1,980 (Tax Included)

This body soap gently lathers your skin in bubbles and leaves your skin filling refreshed. Both the hand soap and body soap feel good to use.

The a video and main visual were released for URBAN SENTO, which feature Japanese music artists Yusuke Emoto and Aoi Nogi as the models.

Information

JAPAN MADE PROJECT TOKYO "URBAN SENTO"
Pre-sales: Opened February 14, 2020
Available: URBAN RESEARCH online store
*Only a select number of items are available in the pre-sale

General Sale: March 20, 2020

Available: URBAN RESEARCH online store / URBAN RESEARCH Jinnan / URBAN RESEARCH Namba CITY / URBAN Famima!! Toranomon Hills Business Tower
*Store list subject to change

Official Website: https://media.urban-research.jp/news/61847/

Roppongi Hills Kicks of New Year's Celebrations with Luxurious Food, Fukubukuro, Traditional Games and More

Roppongi Hills will be kicking off the New Year's celebrations from January 1 to 3, 2020 with New Year's good fortune around every corner. 

January 1 will be filled with exciting lion dances and Japanese drum performances. January 2 and 3 will see traditional and nostalgic games that are free to play, providing fun for the whole family. 

Restaurants and cafés will be serving New Year's food themed around good fortune, happiness, good omens and new beginnings. Indulge on Spiny Lobster, fatty tuna, sea bream and many other luxurious "good fortune" foods.

Spiny Lobster and Sea Bream Acqua Pazza (Limit of 15 sold per day): ¥3,278

Mohri Salvatore Cuomo

Colourful Chirashizushi Pintokona (Limit of 10 sold per day): ¥2,020

Angus Beef Steak Burger (Limit of 15 sold per day): ¥2,800
AS Classics Diner

Crêpe 2020 (Limit of 10 sold per day): ¥980
Cafe Crepe

There are also New Year's "Fukubukuro" to look out for. This is a Japanese New Year's custom where "lucky bags" are filled with unknown contents and sold at a substantial discount. There are even January sales with items up to 70% off. Travel agency H.I.S. Co., Ltd. is bringing back their yearly dream holiday package which includes a top-quality resort lodge in the Savanna and safari experience for just ¥4 million.

Have a wonderful New Year's celebration at Roppongi Hills.

Information

Event Information

January 1: 12:00-15:00

Free Entry

Japanese Drum Performance Start Times: 12:30, 13:30, 14:30

Lion Dance Start Times: 13:00, 14:00

Sake Offering: 13:00 (First-come-first-served, limit of 200 people, entry from 12:00. Obtain a ticket from the Seiriken Haifusho (整理券配布所)

 

January 2, 3: 11:00-16:00

Entry fee applies to certain areas

Japanese Drum Performance Start Times: 11:00, 13:50, 15:30

Lion Dance Start Times: 11:10, 12:30, 15:00

Koto Performance Start Times: 11:30, 12:30, 14:30

*The Koto experience corner will be closed between the following times: 11:30-11:50, 12:30-12:50, 14:30-14:50

Spinning Top Championships: January 2 from 13:00

*First-come-first-served, 12 places, please obtain a ticket from the Seiriken Haifusho (整理券配布所). Tickets will be available from 11:00.

Kendama Championships: January 3 from 13:00

*First-come-first-served, 20 places, please obtain a ticket from the Seiriken Haifusho (整理券配布所). Tickets will be available from 11:00.

Old traditional games available: Koma-mawashi (Spinning tops), kendama, beigoma, otedama and much more

Roppongi Hills

Address:  6-10-1 Roppongi, Minato City, Tokyo 106-6108, Japan

Official Website: https://www.roppongihills.com/en/

BEAMS fennica to Release Gorgeous Collection in Collaboration With Ainu Crafts

fennica is a fashion label associated with BEAMS that combines traditional Japanese handicraft with new and old designs collected from Northern Europe. The label has announced that it will collaborate with the Akan Tourism Association (法人阿寒観光協会まちづくり推進機構) non-profit organisation to release an all-new collection that incorporates traditional Ainu crafts.

Terry Ellisーthe London-based director of fennicaーand Keiko Kitamura observed Ainu culture in the Lake Akan area in Kushiro, Hokkaido, and have used the creative beauty of young craftsmen and craftswomen who are in charge of next-generation Ainu culture. Overtime they have worked together with the artisans to create an original collection entitled "Ainu Crafts from Lake Akan: Tradition and Innovation" which will be sold on the fifth floor of the Shinjuku branch of BEAMS Japan in the fennica studio and B Gallery from October 12.

The collection incorporates silver jewellery with Ainu patterns, wood-carved cutlery, hamper bags made with traditional materials, and many other lifestyle items familiar to Ainu culture. During the showcasing, there will be other exhibitions related to Ainu in the gallery, as well as talks, live performances, and more.

A special webpage went live on October 1 talking about this collaboration.

The collection's director Terry Ellis commented: "When I was walking around Takiguchi's store Ichigen No Mise, my attention focused on this cutlery. I felt the folklore in its simplicity. Though it's an item to be used, the craftsmanship is incredible. You can't just stop at one, you want to collect more and decorate with them." *Translated from Japanese

Keiko Kitamura, also a director for the collection, commented: "Akan is a rare kind of place, with mountains, rivers, lakes and forests. It has its own shapes and colours because of the light, colours and sounds which change intensely with time and soak into your body. And Ainu art is distinct from the traditional craftsmanship of other countries and regions because in almost all categories you can still produce it even today. There are [Ainu] people who are still continuing to make art for their family to this day. Their still being here is something valuable."

She continues: "Japan's handiwork is in danger of vanishing across all areas of the country. Even if there are no successors, there are people who have been beside them watching, and people who were once involved in the past. So we may barely just make it. Because if this handiwork comes to a stop, it will be no more. We feel a sense of duty to protect this wonderful work."

Information

Ainu Crafts from Lake Akan: Tradition and Innovation

Location: BEAMS Japan – Floor 5F (3-32-6 Shinjuku, Shinjuku Ward, Tokyo)

Running:

<fennica Studio> Product Sales: October 12, 2019 – October 20, 2019 (*AINU CRAFTS products, specially-made fennica select Lake Akan items, and more)

<B Gallery> Lake Akan Exhibitions: October 12, 2019 – October 27, 2019

①Live Event: October 13, 2019 @ 18:00-18:30

Guests: Sister music unit "kapiw & apappo" (Fukuko Gōukon/Emi Shimokura)

②Talk Show: October 20, 2019 @ 18:00-19:30

Guests: Kengo Takiguchi, Hiroyuki Shimokura, Erika Katsuya, Keiko Kitamura, Terry Ellis

*The live event and talk shows are booking-only. Please check the B Gallery website for more details and how to book.

Visit the following website for more details on the participating artisans: https://www.akanainu.jp/karpekuru

Keio Plaza Hotel Tokyo Offers Luxurious Accommodation Plan & Tea Ceremony Experience For Families

Keio Plaza Hotel Tokyo, a highly prestigious and magnificent 4-star hotel located in Shinjuku, is now serving an all-new "luxurious" family package which includes a tea ceremony experience and much more. It is currently running from July 20 to September 1.

The rooms offered in the accommodation plan are the hotel's popular Wide Twin Rooms located on the Premier Grand club floor. Use of the Club Lounge is included in the package. The Wide Twin Rooms include two roomy queen-size beds which span 1.53 meters wide which allow parents to sleep comfortably with their children. Rooms also feature their own bathroom facilities.

The package also includes a check-in simulation for children aged 6-12 years where they can get a feel for what it's like to check-in. They will fill in their own check-in cards with parents and receive a ticket for the tea ceremony experience. They will be able to take their card home with them and take a commemorative photo.

The tea ceremony experience will be held on the hotel's 10th floor in the "Shofuan," an authentic tearoom that has been in the hotel since it opened in 1971. Parents and children will receive proper instruction from the tea ceremony teacher before pouring their own tea, allowing them to learn about traditional Japanese culture and etiquette. They will receive a special certificate of completion at the end.

If you're travelling to Japan as a family this summer then enjoy it in luxury at Hotel Keio Plaza Tokyo.

Information

Tea Ceremony Experience and Luxurious Accommodations for Families

Running: July 20, 2019 – September 1, 2019
Price: ¥18,450 per person for the Wide Twin Rooms on the Premiere Grand Club Floor *Usage for 2-4 people (Includes use of the Club Lounge, breakfast, and includes service charge and tax)

Package Includes:

①Tea Ceremony experience for overnight guests (1.5 hours required, children of preschool age or younger cannot participate but are welcome to watch)

②Simulated Club Lounge check-in experience for children and special commemorative photographs available between 2:00p.m. to 5:00p.m.

③Amenity items for mother use (skin care products etc.)

④Commemorative certificates of stays and tea ceremony completion, and photographs presented to guests

⑤Complimentary late check-out at 12:00p.m. (Normal check-out time is 11:00a.m.)

⑥Complimentary use of Sky Pool facilities

Enquiries & Reservations: +81-35322-8000

Keio Plaza Official Website: https://www.keioplaza.com/

See Traditional and Modern Japanese Culture Collide With Yukata, DJs & More at Tokyo's Hamarikyu Gardens

The three-day Hamarikyu Oedo Cultural Festival will take place at the beautiful Hamarikyu Gardens in Tokyo from August 23 to 25. It will be produced by international fashion designer and stylist Junko Koshino.

The boisterous festival is a coming together of Japan's traditional Edo period and modern times which will be celebrated with a myriad of exciting experiences.

The centrepieces of this year's event are the DJ performances and Yukata Fest which will take place around the two 6-meter tall pillars in the garden's plaza. DJ KOO will appear as a special guest on Friday August 23rd while Japanese models Arina Urahama, Sayaka Shimizu and YORI will take the spotlight on Saturday 24th wearing Edo-style outfits with a contemporary pop spin all made by Junko Koshino.

During the Yukata Fest, there will be taiko drumming along to the DJ performance. Three people from the Eitetsu Fu'un no Kai―a group supervised by famous Japanese musician Eitetsu Hayashi―will be the drummers. The Fest will mash together traditional Japanese music with modern DJing.

Expect to be thrilled with an up-close performance of kendo swordsmanship, iai―the art of drawing one's sword―and a showcasing of naginata, a type of long pole weapon. There will also be a play area where you can play karuta with the Hyakunin Isshu one-hundred poems which was popular during the Edo period, blow bubbles, and more.

And of course, there'll be plenty of Japanese food to tuck into as well served at one of the many booths. This includes namie yakisoba, a local speciality soba noodle dish adored by the people of Fukuoka which will be served as part of maintaining the culture, a Fukushima no Sake standing bar which has won the top award in the Shinshu Kanpyokai 7 years in a row, and so on.

Specially prepared traditional Japanese wagashi confections produced by Junko Koshino will also be sold as part of a collaboration project with Ito En who are sponsoring the event and holding a special tea party. They are limited in availability, and those lucky few who do get a spot will be able to enjoy tea and sweets while enjoying a view of the spectacular Japanese-style gardens at the Nakajima No Ochaya cafe.

Visitors will also be able to pick from a wardrobe of bright and colourful yukata, including some designed by Junko Koshino, at one of the booths at the festival and have them fitted on from them. Those who arrive already dressed in a yukata will receive free entry to the festival!

You'll completely forget you're in the boisterous city of Tokyo while at this traditional x modern fusion of a festival. If you're in Japan this summer, then don't miss out. More details of the festival and its content can be found on the official website below.

Information

Hamarikyu Oedo Cultural Festival 2019

Date/Time:

August 23 @ 17:00-21:00
August 24 @ 11:00-21:00
August 25 @ 11:00-17:00

*Hamarikyu Gardens are open from 9am as usual while the festival is running

Location: Hamarikyu Gardens (1-1 Hamarikyuteien, Chuo Ward Tokyo)

Price: General ¥300 / 65+years ¥150 (Free for elementary school children and younger, residents of Tokyo, and middle school student residents and younger)

*Free entry for those wearing a yukata

Official Website: https://hamarikyu-event2019.jp/

Ehomaki Sushi Rolls to Eat in 2019: Heart-Shaped Rolls, Doraemon Rolls & More

Setsubun is an annual event in Japan that takes place on February 3. It is the day before spring and is a time when Japanese people perform a ritual called mamemaki in which beans are scattered to ward off evil.

Another element of Setsubun is the consuming of ehomaki. These large sushi rolls are to be eaten facing a set direction each year for good health all year round. This year's direction is East-Northeast.

We have created a list of ehomaki to be enjoyed in 2019 that includes classic rolls and more unique ones.

AEON's ehomaki can be enjoyed by kids and adults alike

AEON Retail has announced 22 varieties of ehomaki to be sold at nearly 400 branches of AEON and AEON Style on February 2 and 3. This includes Sushi Yoshitake's Goku Ehomaki―made by a Michelin 3-star restaurant that has ranked in the Michelin guide for 8 consecutive years―which incorporates sushi techniques from before the Edo period; as well as the Doraemon Ehomaki.

Thick ehomaki stuffed with sea urchin, caviar and more at Daimaru Tokyo

Daimaru Tokyo is now serving over 150 varieties of egomaki until February 3. This includes a fully-packed ehomaki made with 19 ingredients including sea urchin, caviar, tuna, fugu and more. There's also a red king crab ehomaki that lovers of crab won't be able to resist.

Strawberry-filled ehomaki roll at InterContinental Yokohama Grand

InterContinental Yokohama Grand's "Ehomaki Rolls" sell out every single year, and they're set to return once more in 2019 for a limited time. Available from January 26 until February 3, this dessert ehomaki is pumped with 2 varieties of high quality fresh cream and 5 whole sweet strawberries.

Matsuzakaya Nagoya's Heart-shaped ehomaki♡

The Nagoya branch of Matsuzakaya is serving 140 types of ehomaki in 40 of its stores on floor B1F. One of the most eye-catching options is the cute heart-shaped ehomaki that's filled with shibazuke, flying fish roe and shrimp tempura. There are only 50 of these being sold so be sure to get your hands on on quick!

Feeling hungry yet? When in Japan, do as the Japanese do and get your hands around a delicious ehomaki.

New Year's Sales Arriving in Tokyo & Yokohama in January 2019

Like many other countries, the New Year season is the time for bargain sales where you can get your hands on lots of great deals.

We have selected a number of steals you can grab at various shop around Tokyo and Yokohama in January.

Shibuya Mark City's Winter Sale

The winter sale at Shibuya Mark City will take place from January 2 to 15. A total of seventeen stores are taking part with whom you can get your hands on a range of winter fashion trend clothing, everyday use items and more with up to 70% off.

What's more is that for every ¥5,000 (tax included) you spend at select stores you will receive a ¥1,000 voucher to use at shops in Shibuya Mark City. These are available to the first 10,000 people with a maximum spending limit of ¥25,000.

Expect plenty of good deals for your New Year's shopping at Mark City in Shibuya.

Odaibargain

Odaibargain is now taking place across 4 facilities in Odaiba: AQUA CiTY ODAIBA, VenusFort, DiverCity Tokyo Plaza and DECKS Tokyo Beach until January 14.

Wintertime bargains to look forward to in Odaiba includes not just shopping but themed menus at restaurants too. There are also food coupons being handed out as well as entertainment and leisure services. The diverse line-up includes everything from clothing to kids and pet items with up to 90% off.

An event will also take place on New Year's Day which consists of traditional Japanese lion dancing backed by traditional wagakki music.

Yokohama Landmark Plaza & MARK IS Minato Mirai's W★SALE

Landmark Plaza located inside Yokohama Landmark Tower is teaming up with MARK IS Minato Mirai to hold a New Year's sale from January 2 to 14.

Close to 120 popular shops are participating in the sale across both establishments selling a range goods from clothing for men, women and kids as well as interior design items, food, drinks and more with up to 70% off and select stores.

Fukubukuro lucky bags will also be sold at select shops containing clothing, food and drinks, restaurant coupons and more.

Laforet Harajuku's LAFORET GRAND BAZAR

The LAFORET GRAND BAZAR will take place at Laforet Harajuku from January 24 to 28.

There is lots planned for Laforet's sale. If you line up outside before it opens you will receive a special "Morning Ticket" that gets you a further 10% off select shops inside until 2:00pm. Lots of timed sales will also take place at fixed hours. This includes the "Laforet Card Discount" where using your Laforet Card at certain times will earn you another 5% off.

The GOOD MEAL MARKET on the second floor will serve different discounted food for ¥390 each day. Each meal is available to the first 300 people only so don't miss out.

Make sure to take advantage of all the deals on offer in the New Year!

Kaori's Easy Recipe : Learn How to Make "Pressed Sushi of Sanrio's character"

With just a small bit of ingenuity, turn everyday food into something cute using Kaori's easy recipe! With a few simple ideas, an ordinary recipe magically transforms into a cute dish. In this character recipe you'll learn how to make a "Sanrio Character's Pressed Sushi", the perfect dish for a new year♡

1:Ingredients

Sashimi of your choice (for this time, try salmon, snapper and tuna) Shredded cooked egg
Salmon roe
Boiled podded peas
Green shiso
Vinegar rice
Pudding cup

☆You can use as much as you want.
☆You can use a cake pan instead of a pudding cup.

For Topping

Kamaboko of your choice
Shimeji mushroom(for pompompurin's hat) ※pour men-tsuyu a bit and use microwave.

Cookie cutters
Dried seaweed puncher

3:

1 Put saran wrap into the pudding cup
2 Put in sliced sashimi with a slight overlap
3 Let the vinegar rice cool a bit and stuff it tightly.
4 Wrap it well and let the sashimi and rice keep for a while.

4:

Cut the white Kamaboko out with a cat shaped cookie cutter (for Hello Kitty).
Cut the green Kamaboko out with a round shaped cookie cutter. Place the small round eyes on the round shaped face.(for Keroppi)

Cut the yellow Kamaboko out with a bear shaped cookie cutter, then take the ear pieces away, and replace them with raindrop shaped Kamaboko. Use pasta to fix Shimeji mushroom cooked in a microwave for the hat(for Pompom purin).

Put seaweed-eyes and nose on each face.
☆All cookie cutters except the aluminium one, and Kitty's bow, are available at Seria.

5:

Take Sushi from picture3 out and turn upside down on the green shiso.
Place shredded cooked egg, boiled podded pea, salmon roe, kamaboko on the picture5 and your pressed sushi is complete.

Kaori invites you into her world of character-themed food dishes in her recipe series! Please check out her Instagram where she has uploaded many pictures of her character dishes!

Information

■Profile
Kaori Kubota (@kaopan27)
I live in Hokkaido and I love to make character themed foods, desserts and pastries♡

I want to see my family smile, so I enjoy putting in a bit of effort to make character foods and changing food into something cute♡

You can see more of my character foods and character bento boxes on my Instagram page→@kaopan27

New Year's Shopping in Japan: 2019 Fukubukuro Lucky Bags

Fukubukuro, or "lucky bags," are a Japanese New Year custom sold by many shops across the country. The contents of the bags is always unknown but they are sold at a discounted price. It's exciting and a great chance to get your hands on a whole range of goodies for a bargain. We have compiled a list of recommended fukubukuro for you to check out.

Tobu Department Store, Ikebukuro – Fukubukuro

The Ikebukuro branch of Tobu Department Store is selling close to 57,000 fukubukuro.

The keywords for their 2019 lucky bags are "Heisei" (which refers to the current era of Japan), "Food," and "Dual Wield." Below are just a couple of fukubukuro you can get your hands on.

 

Kinokuniya is a fairly new store having opened in September 2017. They are just one fukubukuro aimed at those born during the Heisei period (1989-2019). But this is no ordinary lucky bag. You can receive a select number of items depending on your age from the store's stock of 3,500 products that prices up to ¥39,000. This includes glossaries, everyday foods and more. For example, if you're 30-years-old and were born during the Heisei period you will receive 30 items.

*1 bag per person

*Products included are those originally priced at ¥4,000 (including tax) and below.

Application Period: December 26, 2018 – January 3, 2019

How to Buy: You must sign up at the store for a chance to win one. Winners will be contacted via telephone on January 4, 2019.

Pick-Up Period: January 17, 2019 – January 23, 2019

*A separate fee will be charged for those who request delivery.

Another fukubukuro is the one at Pan Rizotta. Once again, you will receive a range of pastries from the store's line-up of 120 items depending on your age. They cost ¥3,100 and there are 5 available.

 

Application Period: December 26, 2018 – January 3, 2019

How to Buy: You must sign up at the store for a chance to win one. Winners will be contacted via telephone on January 4, 2019.

Pick-Up Period: January 6, 2019 – January 10, 2019 (*takeaway only)

PAPABUBBLE – Limited Edition Fukubukuro

For a limited time only the art candy shop PAPABUBBLE is now selling three different sized fukubukuro for the New Year. The small bag is filled with the shop's classic confections, the medium with unreleased flavours, and the large with a bunch of rare items.

Running: At all branches of PAPABUBBLE until they sell out

Price: Small ¥1,500 / Medium ¥3,000 / Large ¥5,000

Don't forget to check out their New Year candy mix which features pig designs for the 2019 Year of the Pig.

Village Vanguard Online – Cheki Fukubukuro

Village Vanguard is selling must-get fukubukuro featuring a set of 7 instax items including the camera, films, an album and more.

For girls they are offering the "Kawaii Cheki Fukubukuro" which contains cute pastel colour cameras a rare Minion camera.

For guys they are selling the "Otona Cheki Fukubkuro" with various sleek designs. Select bags contain the Suguremono Smartphone de Cheki which enables you to print your photos from your smartphone, and the Neo Classic camera. These fukubukuro are very limited in stock so you'll want to be quick!

Brooks – Overseas Fukubukuro

Online tea and coffee shop Brooks is now taking fukbukuro orders to celebrate its 50th anniversary. In line with this, they are also now selling them to 50 countries around the world. Their bags include popular brand drip coffee, tea and more.

2019 Fukubukuro: ¥5,400 (Tax Included) *Free Shipping

2019 Premium Fukubukuro: ¥10,800 (Tax Included) *Free Shipping

The overseas-only fukubukuro contains products from high quality brands, popular drip coffee, sencha sold only in Japan, genmaicha and more. Additionally, the first set of 100 sold will contain a special Onenga Coffee bag for a taste of Japanese New Year.

Overseas Fukubukuro

Running: December 18, 2018 – January 31, 2019

Price: ¥5,000 (*Free shipping. However, fees may apply depending on shipping laws in certain countries.)

Mister Donut – 2019 Fukubukuro

Mister Donut has teamed up with Pokémon: Let's Go, Pikachu! and Pokémon: Let's Go, Eevee! for their fukubukuro. Items include blankets, clear files, mini tote bags, accessories and a calendar all featuring chubby designs of Pikachu and Eevee surrounded by delicious doughnuts. The fukubukuro line-up includes the two standard ¥1,080 and ¥2,160 bags as well as a new ¥3,240 version. These will no longer be available once they sell out so don't miss out!

LOFT Shibuya & Ginza – "Thank You Heisei Fukubukuro Series"

LOFT Shibuya will resume business on New Year's Day and LOFT Ginza on January 2nd. To celebrate, lots and lots of amazing lucky bags containing hit products from the variety store will be sold. Below is just a small example of what to expect.

Thank You Heisei Fukubukuro: Omotenashi

Japanese Food (Sake Bottle, Sake Cup, Bowl, Small Bowl, Chopsticks and more) *5 Available (Shibuya LOFT)

Thank You Heisei Fukubukuro: Boom!

Panda Panda Panda Blessing (Plushie Calendar, Standing Pencil Case, Cable Biter, and more) *3 Available (Ginza LOFT)

Did you enjoy this list? If you're in Japan for the new year then you absolutely have to get your hands on a fukubukuro!

With the New Year almost upon us, lots of restaurants are prepping 'osechi'―food served during the New Year's Holidays.

Over at Daimaru Tokyo they have 25 different osechi ready to serve from 20 brands which can be bought from 10:00am to 6:00pm on December 31. Here are 5 you can expect to be sinking your teeth into.

Rakushougatsu (Serves 2) @ Nadaman Chubo – ¥12,960

This long-standing restaurant is cooking up a very traditional meal. Indulge in New Year's classics like sweet rolled omelette, black soybeans and herring roe. Added to this is roast beef.

Edo no Niji (Serves 2-3) @ Kanda Myojinshita Miyabi – ¥15,660

Enjoy the flavours of Edo with this dish that both looks and tastes delicious. It comes in three mini boxes portioned very cutely!

Wafuu Osechi Ichidan'e (Serves 1-2) @ Minokichi – ¥14,040

Minokichi has created this delicate arrangement of party snacks, fried food, vegetables and more.

Gyutan Otsumami Osechi (Serves 2-3) @ Gyutan Kanezaki – ¥16,200

From classic osechi picks to otsumami―snacks that go with alcohol―this one has it all.

Gindara Nishikyou Yaki Osechi Wafuu Nidan'e (Serves 2-3) @ Aji no Hamato Tsukiji – ¥21,600

The ultimate celebratory selection consisting of Japanese bluefish, fried food, boiled food and more.

There's plenty of great osechi to be enjoyed in Japan for the New Year so don't miss out.