A tour of the tea processing facility of "Ocha no Kanbayashi" in Kyoto has started
The tour-friendly tea-processing facility and tea room of "Ocha no Kanbayashi" was opened in January 2018 and facility-tour and tea-drinking services have been started-up.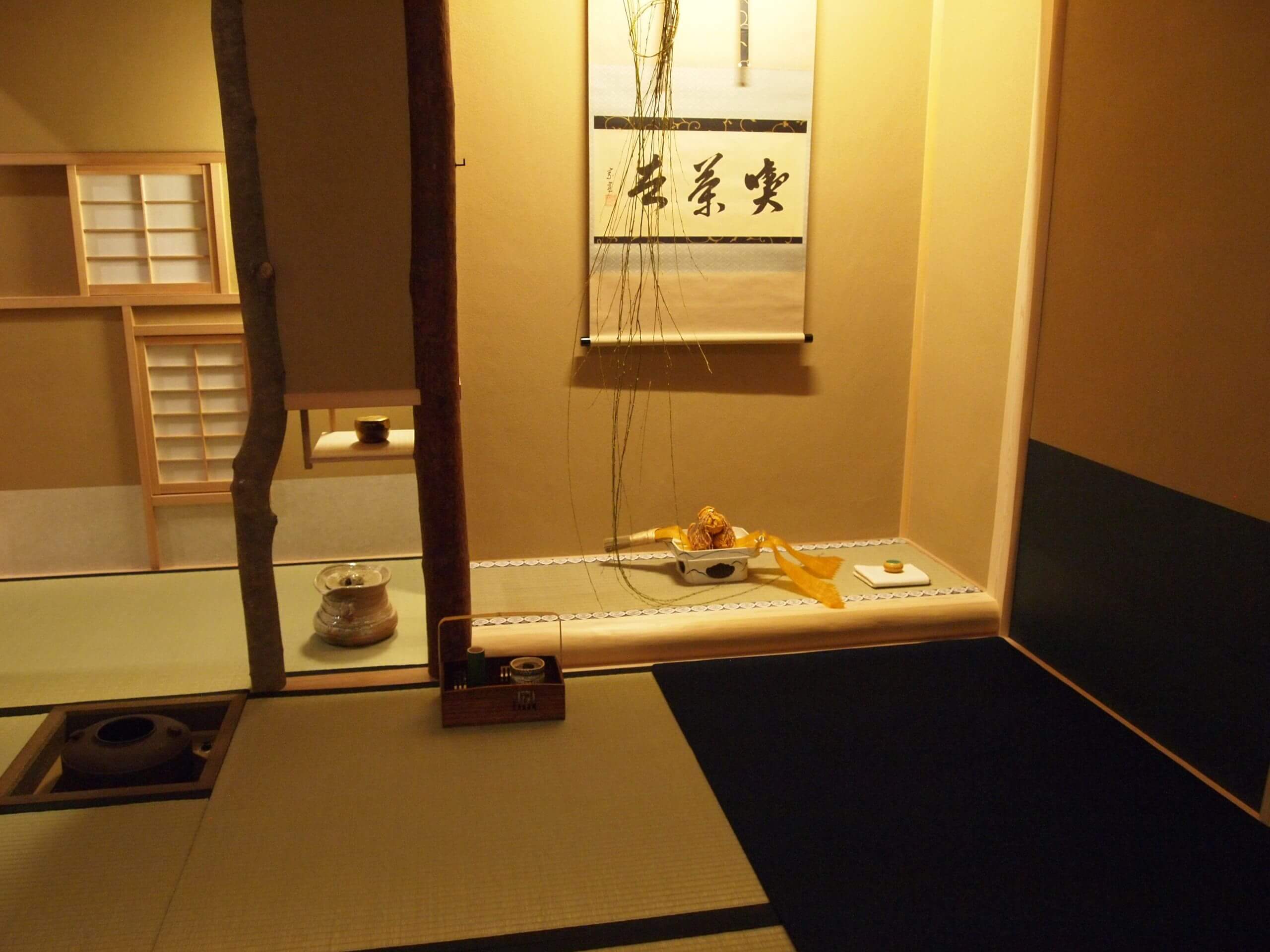 The visitors can observe the tea-processing factory and enjoy drinking matcha in the tea room. They have installed 12 "standing base" seats which physically disabled persons and tourists from foreign countries can use.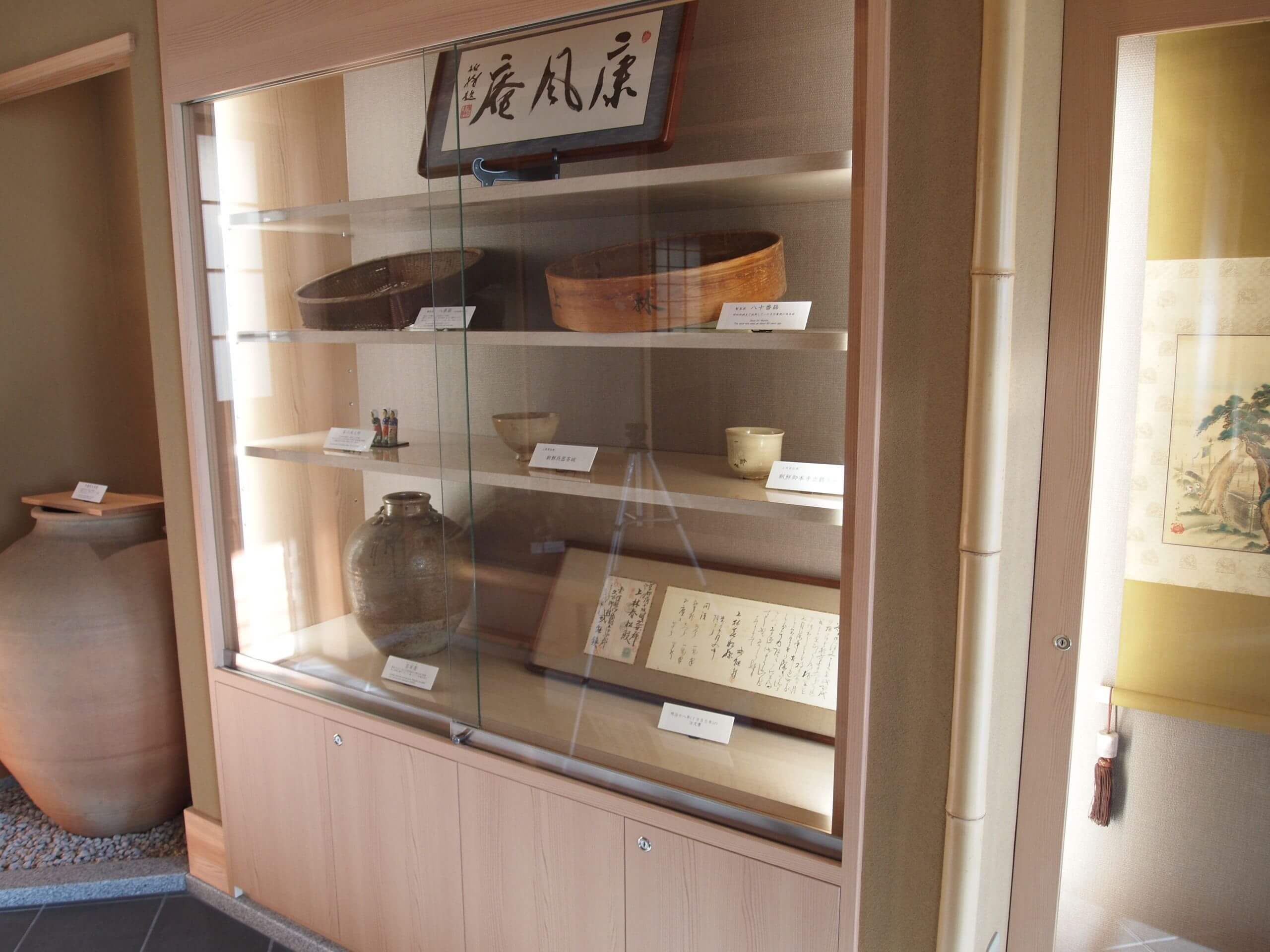 Also, the cultures of Uji Matcha can be enjoyed by viewing the big tea jug (1m high) which was used from the Edo Era until the early Taisho Era, the traditional tea jug which has been passed down in the Uebayashi Family, tea bowls, hanging scrolls and photos.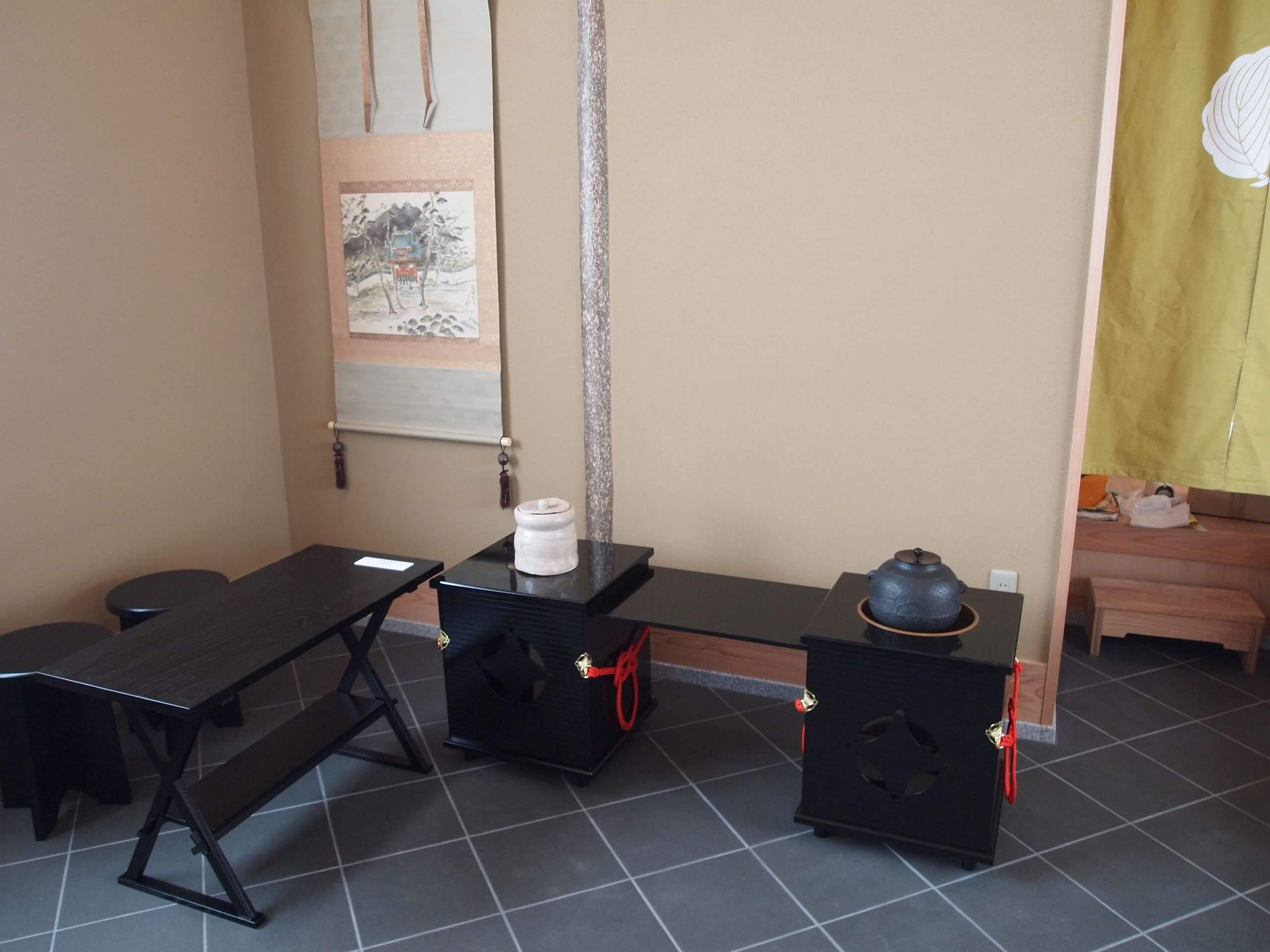 They are also planning to offer new services such as tea rooms where light lunches can be enjoyed, tea-making experience using handmade tea mortars and tea-comparing games.
Let's enjoy the traditional tea culture of Japan.
■Information
<Ujibashi Street Main Store>
Address: 〒611-0021 / 43, Ujimyoraku, Ujishi, Kyoto
Business hours: 9:00 to 18:00
Fixed holidays: Year's end holidays and New Year's holidays, 8th/June
TEL:0774-22-2514、0774-22-5318
<Byodoin Street Store>
Address: 〒611-0021 / Byodoin Street Chuo, 28, Ujirenge, Ujishi
Business hours: 9:00 to 17:00
Fixed holidays: Year's end holidays and New Year's holidays, 8th/June
TEL:0774-21-2555
<Daimon Store>
Address: 〒611-0021 / 127, Ujizenpo, Ujishi
Business hours: 9:00 to 17:00
Fixed holidays: Sunday, New Year's holidays, obon holidays, 8th/June
TEL:0774-22-2661
RELATED ENTRIES
Final Fantasy Artist Yoshitaka Amano Holds Art Exhibition at Myoshin-ji in Kyoto

Yoshitaka Amano, known by international fans as the artist behind the legendary Final Fantasy video game series, is celebrating his 70th birthday with a unique art project from November 23 until December 8 at Myoshin-ji in Kyoto. 

On the first day of the event, the venue, decorated with autumn leaves, was crowded with visitors including foreign tourists, who marveled at the fantastic space filled harmoniously with gold and blue. The exhibition will be held at Myoshin-ji, the head temple of the associated branch of Rinzai Zen Buddhism. This collection of works was designed to question visitors' sensibilities and provide a new kind of art exhibition for fans to enjoy.

After the exhibition, the main art piece by Yoshitaka himself will be converted to 3DCG, and a Virtual Golden World will be developed in collaboration with the Yoshitaka Amano VR Museum. By integrating traditional and modern art methods, guests will be able to engage more deeply in the art by enjoying digital works, the metaverse, and NFTs.

Don't miss this curious exhibition!

Information

Golden World: Infinite Light by Yoshitaka Amano 

~GOLDEN VIEW OF THE WORLD~

Running: November 23 – December 8, 2022

Venue: Myoshin-ji

Hours: 9:00-12:00 / 13:00-16:00

Tickets on sale until 15:30 each day.

Official Site: https://www.myoshinji.or.jp/


Collaboration NFTs Highlight Drafts of Kyoto's Traditional Painted Silk

The NFT marketplace HINATA will start selling collaborative pieces on November 25, combining classical drafts of Kyoto printed silk images with modern art pieces by up-and-coming creators.

Kyoto Printed Silk Draft x Modern Ukiyo-e Artist Ono Tako

Draft (Left) and Spring Dreamland – Sunshine by Ono Tako

Ono Tako is a modern-day ukiyo-e artist who creates unique paintings combining Eastern and Western elements.

A beautiful woman stands in front of lush spring scenery in this gorgeous piece.

 

Although this is clearly an ukiyo-e piece, it has a more modern flare, expressing a more universal standard of beauty while also infusing traditional elements.

 

A total of six works will be available in two variations: the soft and warm Sun and the calm and tranquil Shade. 



Ono Tako: https://twitter.com/ono800

Kyoto Printed Silk Draft x Illustrator Omulettomato

Draft (Left) and Full Moon by Omulettomato

Omulettomato is an illustrator who is rapidly gaining popularity for their feminine portraits.

 

Three different drafts depicting beautiful Japanese nature have been combined and transformed into a modern lady with moe elements.


A total of eight works will be available in three variations: Daybreak, Sunrise, and Full Moon.


Omulettomato: http://omutoma.tumblr.com

Enjoy this curious collaboration and own a piece of classical and modern Japanese culture.

'Edo Punk! The Dynamic World of Ukiyo-e' Released in Japanese and English

Ukiyo-e paintings became popular during the Edo Period of Japanese history. For those weaning to see some of the most rad ukiyo-e paintings around, the new book Edo Punk! The Dynamic World of Ukiyo-e is now available at bookstores nationwide and online. Luckily, the book is also bilingual in English and Japanese!

Kuniyoshi Utagawa, popular in Japan and abroad and known for his unique perspective, and Yoshitoshi Tsukioka, the inspiration for many modern manga series, are both featured in this tome. The many pieces featured combine elements of fantastical beauty and harsh realities, and fans can read commentary by Shoko Haruki. Haruki worked at the Hokkaido Museum before becoming a curator at the Edo-Tokyo Museum in 2017. She specializes in Japanese art history.

The book is now available at bookstores nationwide and online.

Information

Edo Punk! The Dynamic World of Ukiyo-e

Release Date: November 24, 2022

Price: ¥2,400 (Excluding Tax)

Author: Shoko Haruki

Official Site: https://pie.co.jp/book/i/5414/

NAKED GARDEN ONE KYOTO to be Held at Ninna-ji, a World Heritage Site

From December 10 until December 18, 2022, creative company NAKED will hold NAKED GARDEN ONE KYOTO at Ninna-ji! The event is part of a larger next-generation art project being held around Kyoto until Christmas Day.

This exhibition marks the first metaverse-centered event at Ninna-ji, and guests will be able to enjoy a virtual fashion show in collaboration with Jotaro Saito, a kimono designer from Kyoto. Participants will begin by creating their own avatar by snapping a photo of their face. After that, they will be able to choose a kimono by Saito to use as clothing for their avatar before taking to the runway with other visitors from all around Japan.

NAKED's goal is to bring traditional Japanese kimono culture into the digital space, and the company believes that this is only the beginning. In the future, NAKED hopes to bring other artists into the metaverse as well.
 

NAKED Distanced Lanterns


NAKED Tsukubai

Five-Storied Pagoda Projection Mapping


DANDELION PROJECT

Virtual Fashion Show


Limited Edition Paper Goshuin

This year's event also includes the DANDELION PROJECT, popular with art fans around the world. Created by Ryotaro Muramatsu, the art project has appeared in a number of towns and cities around the world, inviting participants to create flowers and send them around the globe digitally as a hope for peace. Visitors can use their smartphones to send dandelion fluff digitally to other participants around the world, sharing a wish for world peace. 

This year, the participatory art piece was installed in the main temple. Why not visit this stunning exhibition in Kyoto this winter? 

Information

NAKED GARDEN ONE KYOTO Ninna-ji
Venue: Ninna-ji (Five-storied Pagoda, Main Temple)
Running: December 10 – December 18, 2022
*No admission on December 17 due to a private event.
Hours: 17:30-21:30 *Last entry at 21:00
Official Site: https://garden.naked.works/kyoto/

monopo Collaborates with Kyoto-Based Brand Shokuraku Asano to Share Traditional Japanese Textiles with the World

Global creative agency monopo is teaming up with Shokuraku Asano, a 100-year-old obi maker from Kyoto! The company is working to create a digital experience for interested viewers, sharing each artisan's personal story. Those who love Japanese culture are welcome to enjoy traditional Japanese crafts in an entirely new way!

Using a one-of-a-kind QR obi, a new storytelling method is showing off the hard work and love that goes into the company's textiles. A special website and video allow interested viewers to experience the process of making an obi digitally, simply by using their smartphone. Even those unable to visit Japan to see these obi in person can dive into the history of the area's textiles and become more acquainted with one part of Kyoto's manufacturing culture. 

Kyoto was the ancient capital of Japan. The city is known for its history and preservation of Japanese culture, and prior to the pandemic, the city was constantly filled with visitors from around the world anxious to learn more about the country's traditional culture. When the pandemic hit the world in 2020, it changed the city forever–tourists disappeared and the city became much quieter. Now that Japan has opened its borders, however, tourists are returning in droves.

While Shokuraku Asano upholds tradition, it also seeks to leave a mark on new generations by embracing new technology. This unique project is worth noting, so get your smartphone out and start learning!

We applaud monopo's attempt to share this incredible traditional Japanese craftsmanship with people around the world. 

Craft Beer Service Otomoni Releases Tsundere-themed IPA

Craft beer subscription service Otomoni opened orders for a new Tsundere-themed Hazy IPA on November 15, 2022. The beer has a sweetness level that changes on its temperature and was brewed as part of the 15th installment of the JAPANESE BEER ODYSSEY, which aims to share aspects of both traditional and modern Japanese culture through craft beer.

For better or worse, Japan's otaku culture is now a major part of the country's appeal to people around the world.

Japan's video game and anime market is now legendary around the globe, and millions flock to the country each year to become more immersed in its popular culture. Just look at the annual Comiket event–over 700,000 visitors attend each year!

 

To celebrate the upcoming Comiket, a new beer has been brewed that pays homage to modern otaku culture. The Tsundere Hazy IPA is perfect for otaku who love a little challenge when it comes to their love life.

Brewed with NOMCRAFT Brewing in Wakayama Prefecture, the Tsundere Hazy IPA features two distinct flavors, each coming out more strongly depending on the beer's temperature. 

 

When poured, the beer has a very tropical aroma, and when ice-cold, it's more refreshing and less sweet. 

 

As the temperature of the beer rises, the smell becomes more fruity and strong, with the smell of hibiscus certain to make your mouth water. Whether you like bitter or sweet, this may be the perfect beer for you. 

Would you try this tsundere-themed beer? 

The Sumida Hokusai Museum Opens Hyakunin Isshu Exhibition Featuring 105 Unique Works

The Sumida Hokusai Museum in Sumida-ku, Tokyo, will be holding the 'Hokusai at Play with the 100 Poems' exhibition from December 15, 2022 until February 26, 2023. The exhibition will focus on the Hyakunin Isshu, a famous collection of 100 poems integral to Japanese traditional culture.

Hyakunin Isshu Uba ga Etoki – Sojo Henjo / Katsushika Hokusai, The Sumida Hokusai Museum.

Hyakunin Isshu Uba ga Etoki – Ariwara no Narihira / Katsushika Hokusai, The Sumida Hokusai Museum. (Phase 2)

The Five Great Poets, Tsuki – Katsushika Hokusai, The Sumida Hokusai Museum. (Permanently on Display)

By the middle of the Edo period, the Hyakunin Isshu, or 100 classical poems, had become an established part of Japanese culture. Hokusai, an ukiyo-e artist of the period, painted a total of 27 of these famous poems, incorporating his own ideas and views to create unique pieces still beloved so many years later. This exhibition features 24 paintings from the museum's Hyakunin Isshu collection along with dozens more items pertaining to this legendary collection of writings. Don't miss it!

Information

Hokusai at Play with the 100 Poems

Running: December 15, 2022 – February 26, 2023

*Certain exhibits will be changed between the first and second phases. 

Phase 1: December 15, 2022 – January 22, 2023

Phase 2: January 24 – February 26, 2023

Hours: 9:30-17:30 (Last entry at 17:00)

Official Site: https://hokusai-museum.jp

Special Jujutsu Kaisen Exhibition Highlights Attractions and Products from Kyoto

From November 11 until December 8, a series of Kyoto-inspired Jujutsu Kaisen goods will be on sale outside the West Gate at JR Kyoto Station! Along with the merchandise, fans will also be able to snag local foods at the exhibition. 

Collaborative Packaging: Local Products from Kyoto

*The products shown are under development and may change slightly. 

Purchase Bonus: Limited Edition Kyoto Postcard

*The postcard's design will change during the first and second halves of the exhibition.

*Postcards from the Sendai venue will not be available.

*Postcards will only be available while supplies last.

Be sure to grab some of these Jujutsu Kaisen products packed with Kyoto charm!

©芥見下々/集英社・呪術廻戦製作委員会

Doraemon's Official Store Launches Limited Edition Dorayaki-Flavored Black Tea

Doraemon's Mirai Department Store, Doraemon's official shop, has announced a limited edition black tea flavored with the character's favorite food: dorayaki! The tea and four special themed plates will be available starting November 11, 2022. The tea itself is provided by the tea specialty shop LUPICIA. 

Doraemon's Mirai Department Store Black Tea (Dorayaki Flavor)

Doraemon's Mirai Department Store is now offering this special tea in an adorable themed tin.

The flavor of the tea is inspired by Doraemon's favorite food, dorayaki, a sweet Japanese pastry filled with red bean paste. The gorgeous blue and red toppings blended into the tea leaves were inspired by Doraemon himself, and fans will want to enjoy a cup as they lose themselves in the classic manga or anime series.

Doraemon's Mirai Department Store Tasty Plate (4 varieties)

These 14cm square plates are perfect for snacks with tea. Dishwasher-safe, fans can pick from four designs, each showing Doraemon enjoying some tasty treats. 

©Fujiko-Pro

Snoopy Tea Brand SNOOTEA Launches Chocola Tea for the Holidays

Since its start in 2007, the Snoopy tea brand SNOOTEA has remained popular with Peanuts fans and tea fans alike. Typically, the brand has sold black tea in cute tins featuring Snoopy and his friends.

Starting November 7, fans can purchase a special Chocola tea made by tea blender Shuntarou Kumazaki. Blended to suit Japanese water and inspired by the world of Peanuts, it promises to be the perfect flavor for the holidays.

Made with cacao nibs, the flavor of standard black tea is punctuated with a chocolate aroma. The tea leaves themselves come from India, Sri Lanka, and Kenya, and are blended together in a balanced way to create an appealing taste that will have tea lovers coming back again and again. This blend is also perfect for making milk tea, and fans can even add whipped cream and marshmallows. This tea also goes well with strawberries, oranges, bananas, and other fruits, as well as nuts!

Snoopy and his friends dressed in winter attire will appear on each tin, adding to the festive holiday spirit. On the online store, customers can also find Darjeeling, Earl Grey, Apple Tea, and other varieties.

© 2022 Peanuts Worldwide LLC

Kyoto National Museum Decorated by NAKED and Kojima Shouten's Famous Lanterns for Special Event

From December 10 until December 25, the Light and Food Ensemble event will be held in the garden of the Kyoto National Museum.

A new projection mapping show featuring enormous flowers will be shown on the wall of the Meiji Kotokan Hall, unchanged since its opening in 1897. The history of Kyoto will take center stage, however–NAKED is only there to make it all the more impressive.

NAKED will also collaborate with Kojima Shouten for the first time, decorating the venue with the local company's famous lanterns.

At the venue, local shops from Kyoto will be selling sweets to guests. Come enjoy Kyoto in a whole new way during this exclusive winter event!

Information

Light and Food Ensemble

Running: December 10 – December 25, 2022

Hours: 18:00-21:30 (Last entry at 21:00)

Light and Food Ensemble ~Evening Flower Banquet Directed by NAKED~

Venue: Kyoto National Museum

Tickets / Official Site: https://ensemblekyoto.com/

Hotel Gajoen Tokyo to Hold Tours of Historic Hundred Stairs

The historic Hotel Gajoen Tokyo, which blends a hotel and a traditional Japanese museum, will offer a tour of the Hyakudan Kaidan (Hundred Stairs) from December 3 until December 25, 2022. This Tangible Cultural Property of Tokyo is an incredible sight, and those with an interest in Showa-era architecture won't want to miss it.

In 1988, part of the old Gajoen structure was torn down to make way for new structures along the Meguro River basin,  and the hotel underwent a large-scale renovation over a period of three years. The Hundred Stairs were originally built in 1935 and designated as a Tangible Cultural Property by the Tokyo Metropolitan Government in 2009.

Over the years, the Gajoen has served as a restaurant and gathering place for visitors from both the Showa-era and Heisei-era. Filled with traditional Japanese aesthetics, the location is now filled with art and pieces of cultural significance. A number of special exhibitions are held throughout the year. 

 

Why not come enjoy this tour of a piece of Japanese history?

Information

Winter Tour: Hyakudan Kaidan 2022
~Architecture, Beauty, and Tales of Tradition~

Running: December 3 – December 25, 2022
Hours: 12:30 – 18:00 (Last entry at 17:30)
Venue: Hyakudan Kaidan (Hundred Stairs)
Tangible Cultural Property of Tokyo, Hotel Gajoen Tokyo
Details: https://www.hotelgajoen-tokyo.com/100event/tour2022