An in-your-own-room flower-viewing item will be sold from "Afternoon Tea LIVING."
Afternoon Tea LIVING will sell SAKURA's new item from the 25th of January.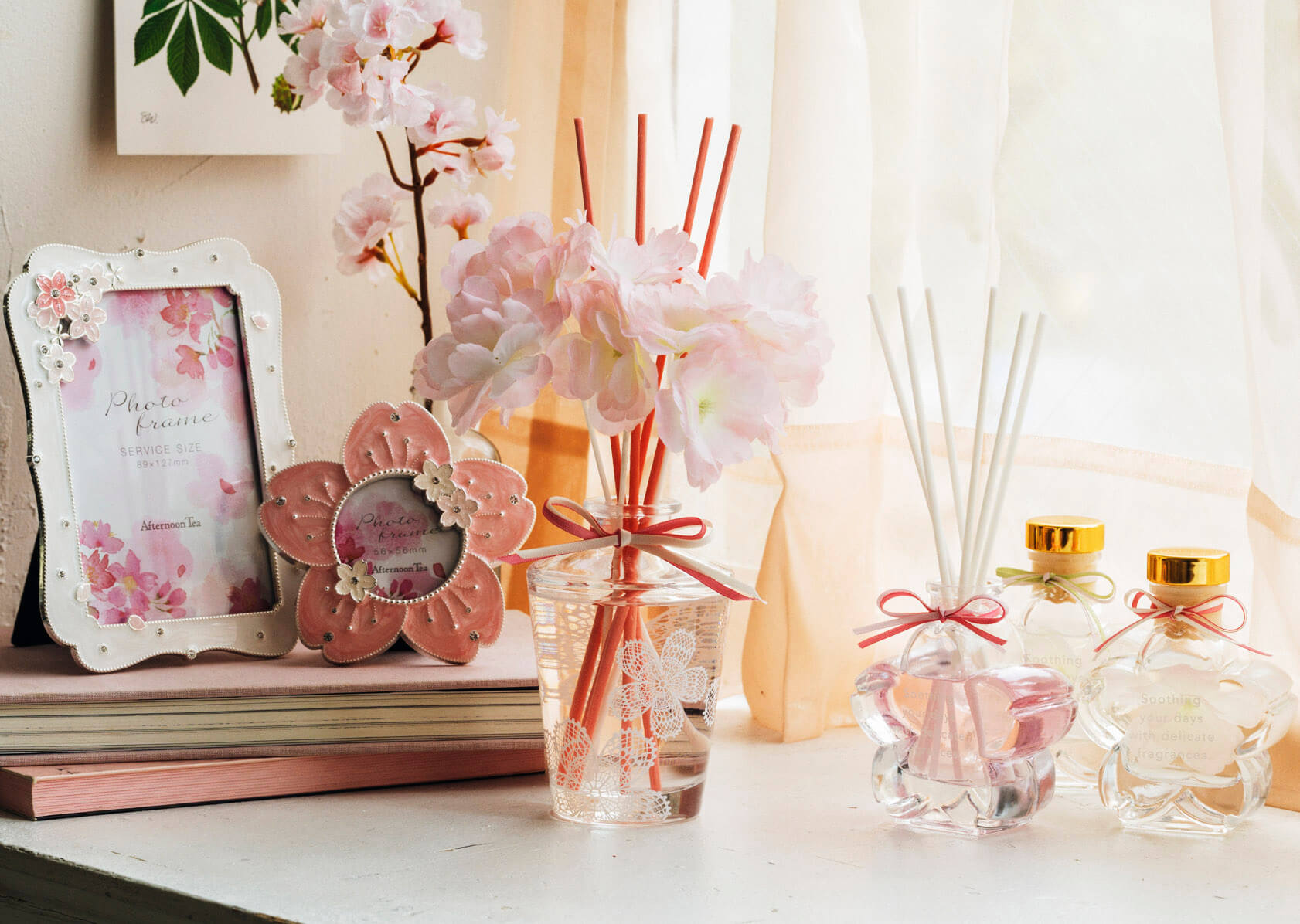 This time, they announced the product called, "Air Hanami (flower-viewing)" where one can enjoy flower-viewing inside one's own room. You can enjoy a flower-viewing party inside your room without worrying about your time schedule or cold climate. Springy items using the motif of cherry blossom will be sold as well as living sundries such as diffusers that have the scent of cherry blossoms.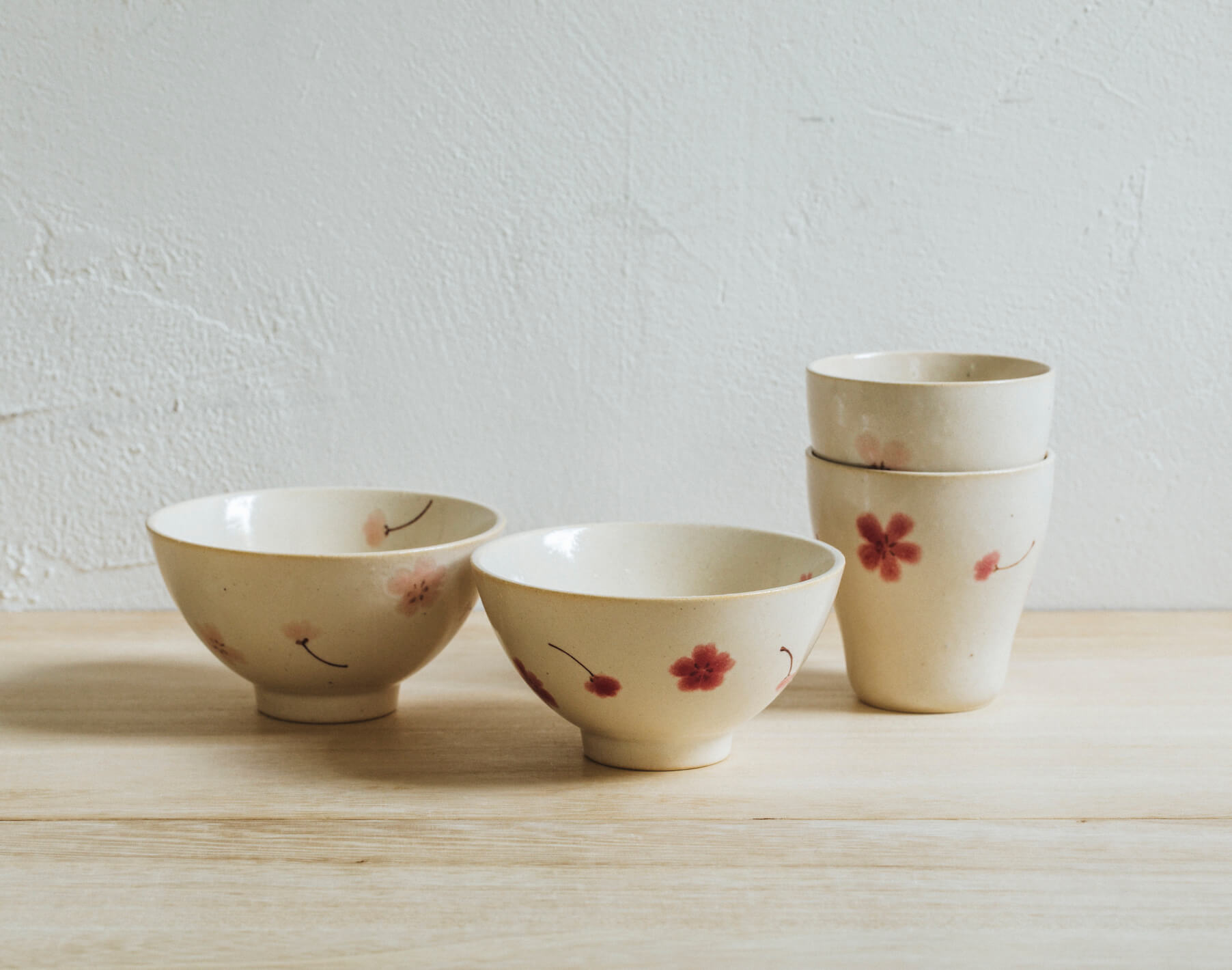 Plus, they will sell tableware produced in many different parts of Japan under the theme of SAKURA (cherry blossoms).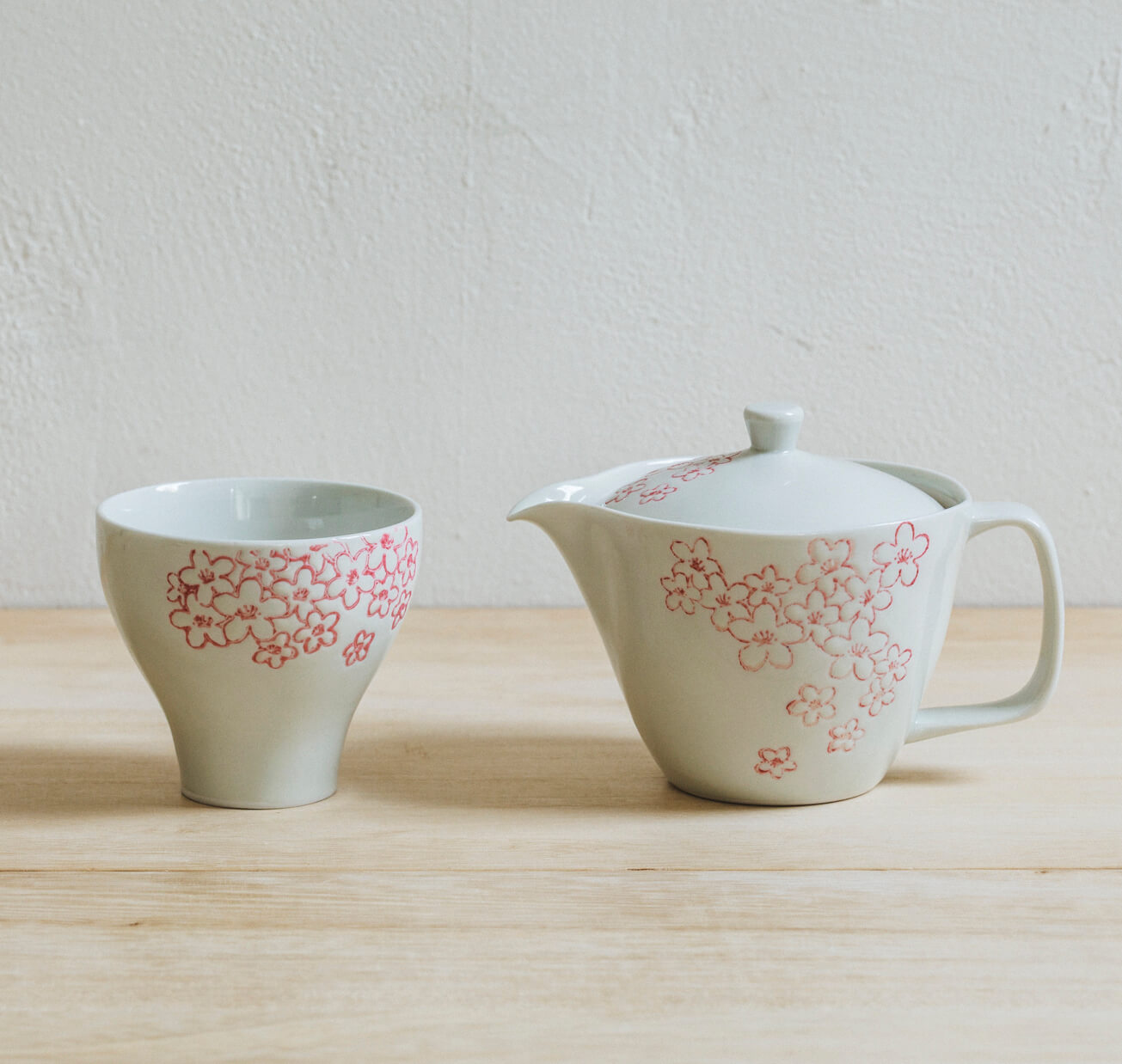 Traditional craft items of each area in Japan such as "Minoyaki" of Gifu Prefecture, "Hasamiyaki" of Nagasaki Prefecture, "Hagiyaki" of Yamaguchi Prefecture and "Tsugaru Bidoro" of Aomori Prefecture will be collected.
Let's enjoy flower-viewing inside your own room.
RELATED ENTRIES
Virtual Hanami Event MIKU LAND 2022 YOSAKURA Invites Guests to the Metaverse with Hatsune Miku

MIKU LAND is Hatsune Miku's official VR amusement park. The locale opens sporadically on the Virtual Cast platform, inviting fans of the virtual singer to interact with the star herself and other music lovers from around the world. From April 28 until May 1, the MIKU LAND 2022 YOSAKURA event will invite Vocaloid lovers to the metaverse to enjoy the cherry blossoms and a number of unique experiences. 

Guests can visit Senbonzakura World, Miku's Detective Agency, Rin & Len Kagamine's Post Office in the Sky, and even a virtual haunted house during the event. VTubers Megu Shinonome, Tokino Sora, and Mirai Akari have been chosen as the official ambassadors of the event.

Senbonzakura World

Hatsune Miku's iconic track Senbonzakura, written by Kurousa-P, turns 10 this year. What better way to enjoy it than beneath virtual cherry blossom trees? Even if you can't visit Japan quite yet, enjoy the Japanese shrine atmosphere as you spend time with friends in this gorgeous virtual space.



Miku's Detective Agency

This puzzle-solving attraction invites guests to become assistant detectives by passing a test handed out by Detective Hatsune Miku! Those able to complete the challenge will also receive a limited-edition item.


Rin & Len Kagamine's Post Office in the Sky

This post office in the clouds isn't just a quiet place to relax. Visitors can take on a few different challenges, from mazes to more physical tasks.



Official Ambassadors


Megu Shinonome Comment
"I've been chosen as an ambassador for MIKU LAND! My name is Megu Shinonome, and I'm so excited to work with Miku! MIKU LAND keeps getting bigger and bigger, so I'm wondering what it will look like this spring…I'm looking forward to it! I'll do my best along with my fellow ambassadors Tokino Sora and Mirai Akari to convey the many charms of MIKU LAND to as many people as possible. We can't wait to see you!"

Tokino Sora Comment
"I'm so excited to visit MIKU LAND again! I'll do my best to make this another incredible event, and I'll be sure to enjoy myself as much as possible!"

Mirai Akari Comment
"I've been invited to MIKU LAND to act as the MC for this awesome event! During the SUMMER VACATION event, everyone on Virtual Cast was so kind to me. It was a blast, so I'm really looking forward to this too! I'll be sure to bring some extra excitement, so don't miss it!"

Information

Dates: April 28, 19:00 – May 1, 21:00
Location: Virtual Cast

Official Site: https://mikuland.com/

Cherry Blossom Drone Project 2022 to Bring Hanami to People Around the World

Wishing you could be in Japan to see the cherry blossoms? The Cherry Blossom Drone Project on March 27 will be live-broadcasting some of the most beautiful blossoms in the country to viewers around the world. 

Incredible 4K aerial footage will be available to watch on YouTube LIVE for free from 12:00 until 19:00 on March 27, 2022. No matter where you are, you'll be able to lose yourself in the feeling of spring. 

Three Best Cherry Blossom Viewing Spots Chosen by Sakura Enthusiasts

Breathtaking Mountain Cherry Blossoms at Mount Yoshino in Nara

The First New Sakura Species in Over 100 Years Found in Wakayama Prefecture

A Sea of Cherry Blossoms at Takato Joshi Park in Ina, Nagano Prefecture

Hoshino Resort Aomoriya Holds Cherry Blossom Viewing Event Under a Cozy Kotatsu

Hoshino Resort Aomoriya, an inn where visitors are invited to fully enjoy Aomori's culture, will begin its Hanami Kotatsu event from April 1 until May 31, 2022. Guests can enjoy local sake while warming themselves beneath a cozy kotatsu. In the chilly Aomori spring, a kotatsu) will be set up beneath the blooming trees for visitors to comfortably view the cherry blossoms. Hot-water bottles will also be available for rent if guests can a little too cold!

April in Aomori is spring according to the calendar, but it's still quite chilly. Nevertheless, the people of Aomori look forward to flower viewing to overcome the cold winter and enjoy the long-awaited arrival of spring.

Three Fun Additions to Make Cherry Blossom Viewing More Fun

1  A Traditional Umbrella with a Sakura Pattern

Next to each kotatsu is a row of Japanese umbrellas with cherry blossoms painted on them, spreading the pink cherry blossom imagery all around. When opened, the umbrellas are covered with cherry blossoms, making you feel as if you are under the cherry blossoms in full bloom.

2 Choose a Local Sake and Sake Cups for a Flower Viewing Sake Tower

Choose your favorite local sake and three sake cups to make a sake tower! Guests can choose from 10 Aomori sake brands, each with unique aromas and flavors. 

3 Cherry Blossom Patterned Cotton-Filled Hot Water Bottle for Extra Warmth

To keep extra warm beneath the kotatsu, a cotton blanket with a cherry blossom pattern and a hot-water bottle are available for rent. Doesn't it sound heavenly?

Cherry Blossom Viewing Themed Café "Nintama Rantaro Chaya" to Open in Tokyo and Osaka

Two limited-time-offer collaboration cafés named "Nintama Rantaro Chaya" are coming to Tokyo and Osaka! The Tokyo location is now open, and the Osaka location is scheduled to open on February 18. Based on the long-running anime series Nintama Rantaro, this cafe invites guests to enjoy the falling cherry blossoms set to bloom in the spring. While the series hasn't found much popularity outside of Japan, it premiered in 1993, and continues to be a big hit with kids and adults alike!

Reservation Bonus: Original Sticker Sheet (3 varieties)

Drink Order Bonus: Original Coaster (20 varieties)

Menu

[Bento Team] Piping Hot Dashi Udon and Onigiri Bento Set

[Bento Team] Mountain & Seafood Bento

[Dumpling Team] Chicken Meatball Set

[Teahouse Team] Chouji & Isaku's Chazuke Set

Desserts

[Bento Team] Cherry Blossom Viewing Sweets Set

 [Dumpling Team] Two Peas in a Pod Anmitsu

 [Dumpling Team] Shaved Ice and Sweet Dango Set

 [Teahouse Team] Traditional Garden Plate

Drinks

Free Tea 

Shinbei's Dango Latte / Rantaro's Matcha Milk / Kirimaru's Shiny Lemon Soda

Fourth Grade Transforming Drink / Fifth Grade Purple Sweet Potato Milk Tea / Sixth Grade Matcha Lemonade

Original Merchandise

Pin (20 varieties, random)

Acrylic Keychain (20 varieties, random)

Acrylic Pin (20 varieties, random)

Acrylic Stand (Bento Team, Teahouse Team, Dumpling Team)

Clear Folder Set (Set of 3)

10-piece Sticker Set A, 10-piece Sticker Set B





The cafe menu has been divided into three 'teams': the Bento Team, the Dumpling Team, and the Teashop Team. Characters have been divided into these three teams, and many of the available dishes are based on everyone's favorite aspiring ninjas! Original merchandise and special offers will be available at the cafe as well, with the items featuring newly-drawn illustrations for the event.

©尼子騒兵衛/NHK・NEP

Information

Cafe Nintama Rantaro Chaya 2022

Location/Dates: 

Tokyo: 

BOX cafe&space Tokyo Solamachi / February 10 – April 3, 2022
Tokyo Skytree Town Solamachi 1F #8 (1-1-2 Oshiage, Sumida-ku, Tokyo)


Abeno-ku, Osaka:

Abeno contact / February 18 – March 27, 2022
Abeno Q's Mall 4F (1-6-1 Abenosuji, Abeno-ku, Osaka)

Reservations Now Available
Reservation Fee: ¥715 (Tax Included) *Includes bonus
Cafe Original Merchandise Available until April 3 at 23:59
https://nintama-cafe.jp/online_store 

Official Twitter: https://twitter.com/nntm_cafe (@nntm_cafe )

Official Site: https://nintama-cafe.jp/

Experience an Indoor Hanami Cherry Blossom Flower Viewing at Ofuro Cafe Bijinyu

Ofuro Cafe Bijinyu is now hosting its "Air Hanami" event where customers can enjoy a safe and socially-distanced Hanami flower viewing experience this spring.

Ofuro Cafe is a relaxing space that feels like you've been invited to a friend's house. You can enjoy coffee, magazines, the massage chair, rent a PC, and more, all for free.

In the middle of the cafe is a 3-meter tall cherry blossom tree to recreate that Japanese springtime feel. There are also some cherry blossom-themed souvenirs available for purchase.

With social gatherings and outdoor picnics being restricted in Japan for this year's Hanami season, Ofuro Cafe offers a space where people can do it safely. They can chat, read a book, play board games, and more beside the cherry tree for a tranquil flower-viewing experience.

Information

Ofuro Cafe Bijinyu

Address: 15-15 Kagoue, Aoi Ward, Shizuoka

TEL: 054-252-1126

Ofuro Cafe Bijinyu Official Website: https://ofurocafe-bijinyu.com/

Reserve a Peach Blossom Farm to Yourself in Japan This Spring at HOSHINOYA Fuji

Japan's glamping resort HOSHINOYA Fuji is offering a very special service to guests this spring: the ability to reserve a peach blossom farm to themselves where they can enjoy their own private Hanami flower viewing experience together with complementary tables, chairs, blankets, and desserts. It will run from April 5 to 20.

Surrounded by peach blossoms in full bloom

The location of the peach farm is in Fuefuki, Yamanashi. This is an exclusive plan into a place that has never before been open to the public. It will offer a magical Japanese springtime experience with the florally-fragrant peach blossoms set against a backdrop of the snow-topped mountains.

Tuck into peach-flavoured crepes

Guests will be treated to a glass of sparkling wine together with skillet-cooked crepes in caramel sauce, peaches, and finished with a dollop of ice cream. A truly indulging and extravagant way to enjoy Japan's spring time this year.

Information

Peach Blossom Hanami

Japanese Plan Name: 桃源郷花見

Running: April 5, 2021 – April 20, 2021

Where: HOSHINOYA Fuji,

Address: 401-0305 Yamanashi, Fujikawaguchiko, Oishi 1408, Japan

Price: ¥6,500 per person (tax, service charge, and resort stay not included) *Includes drop-off and pick-up
Time: 10:00-12:30
Capacity: 5 groups of 10 people per day

Bookings: Must be made by 17:00 the day before

Notes: Will not run during bad weather

Official Website: https://hoshinoya.com/en/

Lisa Larson Designs Cute New Cherry Blossom Hedgehog Items

An adorable new collection of items fitting for Japanese springtime have been released featuring Lisa Larson's popular hedgehogs and cherry blossoms. Larson has an interest in Japanese culture, and has designed this line-up in time for the Hanami season.

Letter Paper Set – ¥440 (Tax Included) / Masking Tape (35mm) – ¥550 (Tax Included)

The letter paper and masking tape features cute illustrations of the hedgehogs taking a stroll amongst the cherry blossoms. A great spring gift or souvenir from Japan.

Water Absorbent Cloth – ¥660 (Tax Included) / Tea Towel – ¥660 (Tax Included)

The cloth and tea towel are perfect additions to the kitchen, whether for drying the plates, for food prep, wiping the counter, and so on. The adorable strolling hedgehogs will add a warm touch to any kitchen.

Printed Hand Towel – ¥1,540 (Tax Included)

The hedgehogs are enjoying observing the cherry blossoms on this hand towel, which is light-pink and has a gentle Japanese taste to it. The towel is made using a dyeing technique known as kata-yuzen which is used to dye fabrics for kimono in Kyoto. It's a versatile item: it can of course be used as a kitchen towel or cloth, but also for wrapping gifts like wine too.

Mamezara Dish (Hasami Ware) – ¥1,430 (Tax Included)

The hedgehogs are in the thick of the fully-bloomed cherry blossoms on this mamezara dish, which can be used for food or placing small items like keys and accessories.

Waffles – ¥1,620 (Tax Included)

These tins, which feature Mikey and the hedgehogs, are filled with a traditional waffle confection that has been sold by Tokyo Fugetsudo since 1927. They are light and crunchy round wafers stuffed with cream.

Hanami Set 2020 (Online Orders Only) – ¥11,000 (Tax Included)

Available online only, this special set is the perfect way to enjoy Hanami in Japan this season, featuring a cute bird sake jug and more.

Celebrate the arrival of the cherry blossoms in Japan with this new line-up from Lisa Larson.

Cherry Blossoms and Rape Blossoms Compete For Spring at Kusaba River in Fukuoka

The town of Chikuzen in Fukuoka Prefecture is home to a 2km strip of cherry blossom trees which bloom their pink beauty along the Kusaba River in spring. The area sees countless people flock there during the Hanami season to see the trees in full bloom.

But Kusaba River isn't only home to cherry blossoms; it also sees rape blossoms sprout their yellow flowers during springtime, which offers a beautiful contrast to the overhead pink from the cherry trees.

The place is lit up in the eveningsーa great chance to see the cherry blossoms in a different light at night.

Rich verdure lines the whole of Kusaba River, so be sure to visit if you're heading to Fukuoka this spring to see the cherry and rape blossoms.

Information

Kusaba River

Address: 875 Hisamitsu, Chikuzen, Asakura-gun, Fukuoka

Bloom Period: Late March – Early April

Access: 5-minutes on foot from Shincho Bus Stop (新町バス停) via Nishi Tetsu Bus

Must-Visit Spots in Kagawa Prefecture in 2020: Cherry Blossoms, Dolphins, Bonsai & More

Appreciation for the Seto Inland Sea in Japan is on the rise: American company Discovery named Shikoku one of its Top 10 must-visit rising locations around the world for 2020, and the city of Setouchi in Okayama has featured as a recommended travel destination in Western media. One particular location, Kagawa Prefecture, has been featured on many international travel sites as a must-visit place, including on Booking.com, Skyscanner, and REMOTE LANDS, with places such as Takamatsu, Teshima, and Shōdo Island being picked up.

Takamatsu is known as the doorstep that brings together the many islands of Seto Inland Sea. It's a port city with great fresh food, highly convenient for travellers wanting to visit lots of different islands, and a popular region that brings together elements of Japanese culture.

Today, we take a look at some must-visit locations around Takamatsu, including a new facility opening, must-visit spots for spring to early summer, food, and more.

Shikoku Aquarium – The largest aquarium in Shikoku

Shikoku Aquarium is set to be the largest across Shikoku when it opens its doors to the public on March 20, 2020. It's located inside Utazu Seaside Park in the town of Utazu where it will exhibit the creatures that live in Shikoku and feature the many different seaside landscapes located there. But the aquarium won't just stop at showcasing animals, it will also be a cultural facility where you can learn about the history, culture, and natural environment of Shikoku, and there'll be artwork perfect for the Setouchi Triennale contemporary art festival which is held around Seto Inland Sea every three years.

Shikoku Aquarium

Address: Utazu Rinkaikoen, 4-1 Utazu, Ayauta District, Kagawa

Opening Hours:

[March 20, 2020 – September 30, 2020] 9:00-18:00

[October 1, 2020 – March 19, 2021] 10:00-18:00

[Golden Week/Summer Break] 9:00-21:00

No Fixed Holidays

Price: General (16+ Years & High School Students) ¥2,200 / Children (Elementary School Students) ¥1,200 / Toddlers (3+ Years) ¥60

Official Website: http://shikoku-aquarium.jp/

Well-Known & Little-Known-Good Cherry Blossom Spots

Kagawa Prefecture is home to many spots that offer beautiful sounds and sights throughout the four seasons. Cherry blossom season is right around the corner in Japan, so let's take a look at some must-visit spots, both popular and little-known good ones.

■Well-Known Spots

Ritsurin Garden (Takamatsu)

One of the most famous historical gardens in Japan, Ritsurin Garden is home to around 320 Yoshino cherry trees, whose pink colour reflects beautifully off the lake together with the 1,000 green pine trees.

Marugame Castle (Marugame)

Marugame Castle is one of only 12 castle in Japan to have an original wooden tenshu, or castle tower, built. From the great height of the castle's stone wall, which is the tallest in Japan, one can gaze down at 1,000 cherry blossom trees in bloom.

■Little-Known-Good Spots

Megijima (Takamatsu)

Around 3,000 cherry trees bloom on t he island, including Yoshino cherries, yama-zakura, and yae-zakura, which roll from the port to the lighthouse.

Asahiyama Forest Park (Mitoyo)

Asahiyama Forest Park is located on the peak of Mt. Asahi, up 238 meters high. There, you can witness 2,000 vibrant cherry blossom trees bloom in spring, including Yoshino cherries. The park's observation deck is popular too, offering a 360° panoramic view.

Experience the world of bonsai in Kagawa, the only place in Japan which produces pine bonsai trees

Interest in bonsai trees continues to grow every year not just in Japan but overseas too. The number of people incorporating them into their lives as interior decoration is on the rise. Kagawa Prefecture is the only place in Japan which produces pine bonsai trees, the largest places being Kinashi and Kokubunji in Takamatsu. There are around 60 bonsai makers in both of these towns, so you are sure to spot some if you walk through them.

Official Website: https://takamatsu-bonsai.com/en/

The new Takamatsu Bonsai no Sato is also set to open on April 17, which will include an information centre providing information on bonsai culture in Takamatsu, and there will be workshops too. Whether you're new to bonsai or a pro, there's something for everyone to enjoy.

Takamatsu Bonsai no Sato

Grand Opening: April 17, 2020

Address: 353-1 Kokubunjichō Kokubu, Takamatsu, Kagawa

Travel to Kagawa this spring to enjoy the cherry blossoms and pay a visit to the new Shikoku Aquarium.

Hanami in Japan 2020: Bite-Size Sushi Hanami Bento Lunch Box Releasing in Ginza

SHARI and SHARI THE TOKYO SUSHI BAR in Ginza, as well as CRAFT in Ariake, are releasing the perfect accompaniment to your hanami flower-viewing experience in Japan this spring: the "Hanami Roll Sushi Bento" lunch box, which consists of 36 bite-size sushi pieces made up of 12 different kinds of sushi. It will be available February 18 to April 30.

Hanami Roll Sushi Bento (36 Pieces/Serves 3-4): ¥4,500 (Tax Included)

As soon as your take the lid off this colourful assortment of rolled sushi, you'll find yourself reaching for your camera to snap a photo for Instagram. Each piece is 3cm in diameter and so is deliciously bite-sized. The line-up includes four new kinds of sushi rolls conceived for this release which use seasonal spring ingredients, like sakuradai cherry blossom sea bream, sakura ebi, rape blossoms, fuki giant butterbur, green beans, and moreーas well as eight other types of sushi that are popular classics at each of the three restaurants.

Shrimp Roll

From the four new rolls, we have the sakura ebi shrimp roll, which is served with a gorgeous cherry blossom colour. It's made with shibazuke pickles and vinegared rice, which gives it its colour, and contains, rape blossoms, okra, Chinese yam, and egg. The rape blossoms add a springtime bitterness to the sweetness of the sakura ebi, creating a wonderful combination of flavours.

Beef Butterbur Miso Roll

Then there's the sakuradai roll is wrapped with vinegared tobiko flying fish roe, okra, and cucumber, which is topped with sashimi-style sakuradai cherry blossom seam bream and salty cherry blossom leaves. The spring vegetable and tempura roll has shrimp and green bean tempura mixed with yuzu kosho paste; and finally, the beef butterbur miso roll, which contains beef rib seasoned in a sukiyaki style, finished with sesame seeds, and seasoned with butterbur miso.

The eight popular classics include the wagyu roll sushi seasoned with luxurious truffle oil, Italian roll, duck roll, salmon roll, spider roll (soft shell crab), and more. All of these varied picks go great with wine or champagne.

Hanami Roll Sushi Bento (9 Pieces): ¥1,200 (Tax Included)

The "Hanami Roll Sushi Bento" comes in various sizes. As well as the 36 pieces of 12 sushi types, there's also 18 pieces of 9 types (serves 1-2), and the 9 pieces of 9 types (serves 1).

Reservations are available until 15:00 the previous day. Order yours for your Hanami cherry blossom flower-viewing this year in Japan.

Information

Hanami Roll Sushi Bento

Available:

SHARI (TEL: 050-5357-5354) (Address: Mitsui Garden Hotel Ginza Gochome Floor 2F, 5-13-15 Ginza, Chuo Ward, Tokyo)

SHARI THE TOKYO SUSHI BAR (TEL: 050-5212-7574) (Address: ALBORE GINZA Floor 8F, 2-4-18 Ginza, Chuo Ward, Tokyo)

CRAFT (TEL: 050-5357-5353) (Address: CRAFT Floor 2F, 3-7-2 Ariake, Koto Ward, Kyoto)

Prices:

36 Pieces/12 Types (Serves 3-4 People): ¥4,500

18 Pieces/9 Types (Serves 1-2 People): ¥2,400

9 Pieces/9 Types (Serves 1 Person): ¥1,200

Reservations

Reservations can be made via telephone or in-store until 15:00 the previous day.

*Reservation Window: Telephone 10:00-20:00 / In-Store 12:00-22:30

*Depending on the ingredient stock, reservations may be made on the same day

*The Hanami Roll Sushi Bento is for takeaway only and cannot be eaten in the restaurant

Starbucks Reserve®︎ Roastery Tokyo to Release Cherry Blossom Spring Drinks and Merchandise

Starbucks Reserve®︎ Roastery Tokyo boasts the most incredible location, sitting by the side of Nakameguro, one of Tokyo's most famous spots for seeing the cherry blossoms in spring.

This year, the coffee roastery's "Sakura Season" is set to begin on February 15, when its cherry blossom-inspired merchandise collection is released, along with a line-up of pink beverages and food.

The official Starbucks sakura merchandise ranges from tumblers and mugs to a key ring, handkerchief, and more, for a total of 10 items.

Strawberry Chia Oolong – ¥900

Poppun Sakura Jasmine Tea – ¥950

Floating Blossom – ¥900

Six beautiful beverages from last year's Sakura Season at Starbucks are also making a return from the Teavana™️ brand, made with delicate and soft cherries, hibiscus, and tea leaves as refreshing as green grass.

Clockwise From Left: Gianchetti & Sakura – ¥880 / Mini Panettone Sakura – ¥680 / Cornetti Sakura – ¥380 / Maritozzo Sakura – ¥540

Italian bakery Princi®︎ is also heading to Japan for the first time to serve up Italian food culture to people at Starbucks Reserve®︎ Roastery Tokyo. Enjoy the floral taste of cherry blossoms done in a Princi®︎ way.

Heading to Tokyo for Hanami and the cherry blossoms? Then make a stop at Starbucks Reserve®︎ Roastery Tokyo for this year's Sakura Season.

Information

Starbucks Reserve®︎ Roastery Tokyo Sakura Season

Release Date: February 15, 2020

Location: Starbucks Reserve®︎ Roastery Tokyo

*The Princi®︎ products will also be served at the Starbucks Reserve®︎ Store at Ginza Maronie-dori

Official Website: https://www.starbucks.co.jp/press_release/pr2020-3360.php

Experience Tokyo's Cherry Blossoms at Night With Rickshaw and Boat Rides

HOSHINOYA Tokyo, a ryokan accommodation in the centre of Tokyo, has announced an exciting new plan for guests this spring season. Titled "Tokyo Yozakurabune Asobi," the plan gives guests the chance to enjoy city's cherry blossoms under the night sky from the seat of a rickshaw and from a boat ride. It's running from March 25 to April 10 this year.

Observe Tokyo's nightscape and cherry blossoms from the Sumida River

The departing site for the boat ride is located at Nihombashi Pier, just a 5-minute car ride from HOSHINOYA Tokyo. This 60-minute night cruise begins at the pier before floating across the Sumda River. Passengers will be able to to set their gaze on a multitude of Tokyo's many beautiful cherry blossom spots, including along the coast of Tsukuda and along Oyokogawa River, amongst others.

While aboard the boat, you can enjoy tucking into a spring coloured hanami bento box and sipping on sparkling Japanese sake. Your meal will provide the perfect accompaniment to the enchanting sights your eyes will be treated to, from the dusk-basked cherry blossoms to the reflection of the city lights on the water surface.

Hanami flower viewing on a boat – a tradition since the Edo Period

When Tokyo was known as Edo, its former name used until 1868, the city thrived as a Mizu no Miyako, or "Water Metropolis" due to its sophisticated water transportation system which enabled the carrying of people and goods. During this time, the people of Edo enjoyed the waterside in many different ways. One of these was Fune Asobi, or "pleasure boating," where people would enjoy the nature along the shore throughout the four seasons. In spring, cherry blossoms would bloom along the Sumida River where some of the official buildings of the Tokugawa Shogunate were located. The Bakufu also incentivized pleasure trips of the masses, and so people would enjoy Hanami, or flower-viewing, from the boats.

HOSHINOYA Tokyo has recreated this experience to not only pay homage to the activities of Edo, but to let people enjoy a luxurious time away from everyday life.

1: Peer at the nighttime cherry blossoms and Tokyo's evening scenes from your pleasure boat

Your boat ride will take you to the best spots to see the cherry blossoms on that particular day. As night falls, you'll also get to see some of Tokyo's most famous tourist spots light up, like Tokyo Skytree and Eitai Bridge. Riverboat Mizuha, who operate the boat, will provide guests with a guide who will give them an insight into the history of the bridges, towns, and surrounding sights.

2: Overhead cherry blossoms fill your vision on the rickshaw

Experience Hanami like never before with HOSHINOYA Tokyo's rickshaw ride. Your journey begins at the ryokan and ends at Nihombashi Pier. This one-way 30-minute trip will take you to some  breathtaking cherry blossom sites, including Edozakura-dori Street which is home to many historical buildings such as the Bank of Japan.

 

3: Hanami bento and sake provided by a longstanding shop

In the evening, enjoy tucking into a decorative Hanami bento made by Shin-Kaika, a long-standing restaurant in Kanda Myoujinshita by Kanda Myoujin Shrine. The colourful and light-tasting assortment includes cherry blossom pink sea bream kombu, as well as sushi rice seasoned with kurozu. Your meal will also be paired with delicious sparkling Japanese sake. On the way back, you can also enjoy matcha and tea-flavoured confections.

Optional: Rent a springtime kimono and have it fitted on you

For those looking to spend and even more special time out this spring in Japan, they can rent a silk kimono and have it fitted onto them. You select it beforehand and it is put on you at HOSHINOYA Tokyo. They will also do your hair and makeup. And if you have it all fitted early, you can spend the day walking around Tokyo seeing the cherry blossoms. You must book to choose and have a kimono fitted.  Prices start upward from ¥50,000 per person.

Information

Tokyo Yozakurabune Asobi

Running: March 25, 2020 – April 10, 2020
Time: 17:30-19:15 (Boat ride is 60-minutes)
Meeting Place: Nihombashi Pier
No. of People: 1 group per day of 2-4 people
Price: Two People ¥102,000 / Three People ¥132,000 / Four People ¥142,000 (Tax, service charge and accommodation price not included)
Includes: Night Cruise, Rickshaw Ride, Hanami Bento, Sparkling Sake, Tea Sweets, Matcha
Bookings: Must be made up to 14 days before your selection date from the official website
Note: Exclusive to guests of HOSHINOYA Tokyo
*Schedule and content subject to change

*Depending on the bloom rate of the cherry blossoms, there is a chance they may not be seen on certain days

*Price of transport from the pier to HOSHINOYA Tokyo not included

Official Website: https://hoshinoya.com/tokyo/en