Virtual Hanami Event MIKU LAND 2022 YOSAKURA Invites Guests to the Metaverse with Hatsune Miku
MIKU LAND is Hatsune Miku's official VR amusement park. The locale opens sporadically on the Virtual Cast platform, inviting fans of the virtual singer to interact with the star herself and other music lovers from around the world. From April 28 until May 1, the MIKU LAND 2022 YOSAKURA event will invite Vocaloid lovers to the metaverse to enjoy the cherry blossoms and a number of unique experiences. 
Guests can visit Senbonzakura World, Miku's Detective Agency, Rin & Len Kagamine's Post Office in the Sky, and even a virtual haunted house during the event. VTubers Megu Shinonome, Tokino Sora, and Mirai Akari have been chosen as the official ambassadors of the event.
Senbonzakura World
Hatsune Miku's iconic track Senbonzakura, written by Kurousa-P, turns 10 this year. What better way to enjoy it than beneath virtual cherry blossom trees? Even if you can't visit Japan quite yet, enjoy the Japanese shrine atmosphere as you spend time with friends in this gorgeous virtual space.


Miku's Detective Agency
This puzzle-solving attraction invites guests to become assistant detectives by passing a test handed out by Detective Hatsune Miku! Those able to complete the challenge will also receive a limited-edition item.

Rin & Len Kagamine's Post Office in the Sky
This post office in the clouds isn't just a quiet place to relax. Visitors can take on a few different challenges, from mazes to more physical tasks.


Official Ambassadors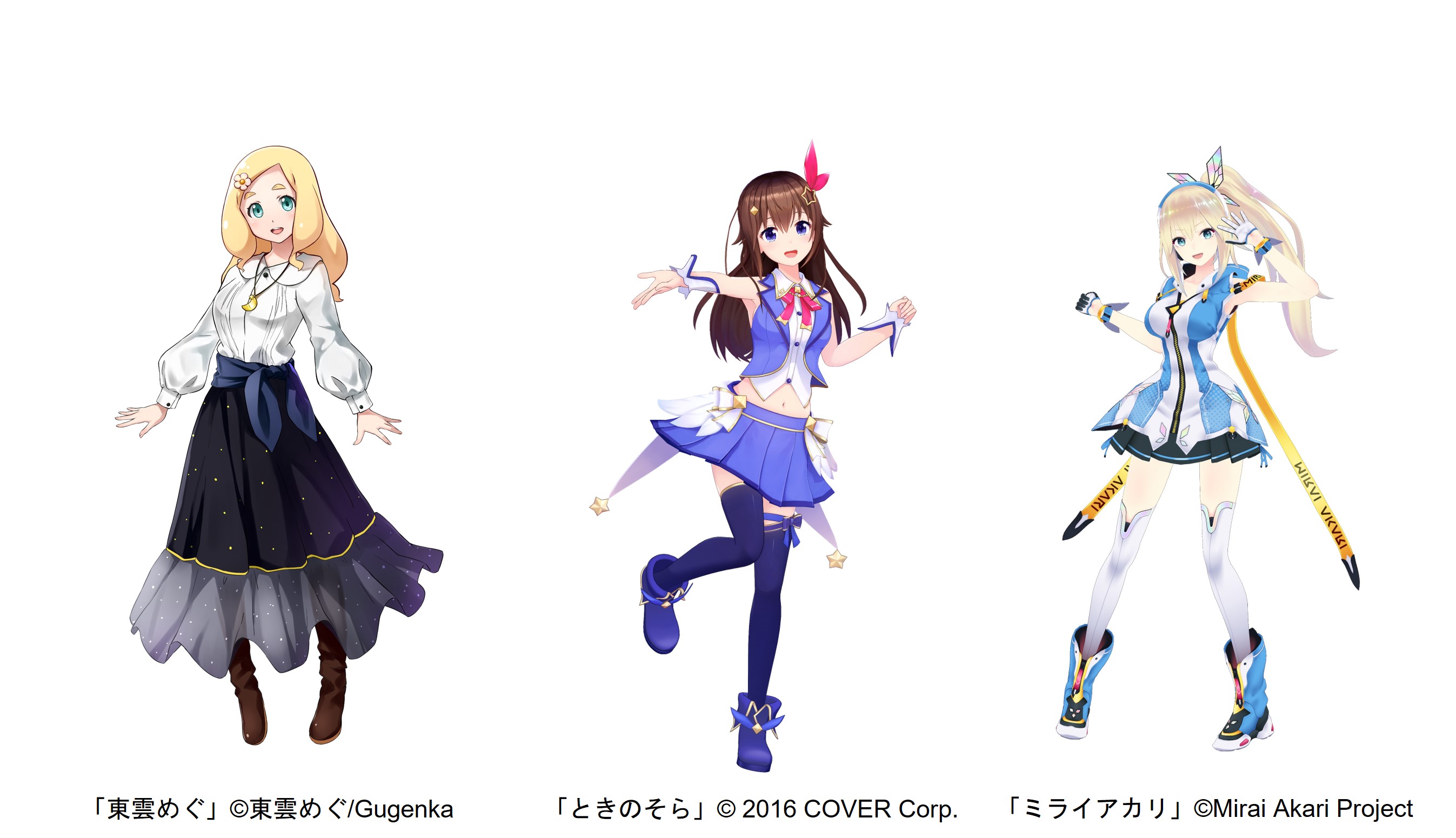 Megu Shinonome Comment
"I've been chosen as an ambassador for MIKU LAND! My name is Megu Shinonome, and I'm so excited to work with Miku! MIKU LAND keeps getting bigger and bigger, so I'm wondering what it will look like this spring…I'm looking forward to it! I'll do my best along with my fellow ambassadors Tokino Sora and Mirai Akari to convey the many charms of MIKU LAND to as many people as possible. We can't wait to see you!"
Tokino Sora Comment
"I'm so excited to visit MIKU LAND again! I'll do my best to make this another incredible event, and I'll be sure to enjoy myself as much as possible!"
Mirai Akari Comment
"I've been invited to MIKU LAND to act as the MC for this awesome event! During the SUMMER VACATION event, everyone on Virtual Cast was so kind to me. It was a blast, so I'm really looking forward to this too! I'll be sure to bring some extra excitement, so don't miss it!"
Information
Dates: April 28, 19:00 – May 1, 21:00
Location: Virtual Cast
Official Site: https://mikuland.com/
RELATED ENTRIES
Vocaloid Producer Balloon Releases Hatsune Miku's Image Song for Sony's 360 Reality Audio

Keina Suda, also known by his Vocaloid producer name Balloon, has been rising in popularity with the release of the music video for his new track Darling. On May 24, he'll release his second full album Ghost Pop, and his track Hana ni Kaze is being used to promote Hatsune Miku's 360 Reality Audio Experience at the Sony Store. This catchy track will be released on all major streaming services on February 10, 2023. In addition, the cover for the song, created by Avogado6,  has also been revealed.

The song was created exclusively as the campaign song for Sony Store's exclusive Walkman and accompanying headphones featuring exclusive Hatsune Miku designs by Avogado 6. These are available to order now, and starting January 27, Sony Store locations are offering a new listening experience, allowing guests to enjoy Hana ni Kaze with Sony's 3D Reality Audio.

In addition to this listening experience, a special viewing event was held in theater rooms, making guests feel as though they were at a live concert. Reservations were required to participate.

Visit the official Sony website for more information!

Tokyo Bay Night Cruise Collaborates with Hatsune Miku for Four Days Only Starting February 2023

For four days only starting in February 2023, fans of Hatsune Miku will want to take an incredible night cruise around Tokyo Bay. The virtual singer will collaborate with the popular Tokyo Bay Night Cruise which travels between Yokohama and Tokyo. The event will include special tickets, exclusive bonuses for guests, collaborative goods, and onboard decorations. Collaborative goods will be available to purchase on the ship or from the Shimapochi online store.

Outline

Dates: February 19, February 26, March 5, March 12

Night Cruise Itinerary:

Osanbashi, Yokohama / Check-in 16:00-18:00

Osanbashi, Yokohama / Departure 18:10, Enjoy the night view from the ship

Takeshiba Wharf, Tokyo / Arrival 19:45

*Guests will be led by a special MC narrating the night scenery. Snacks and drinks will be available for purchase.

Special Ticket Fare:

Adults ¥2,000 / Children ¥1,500 (Includes consumption tax and fuel price adjusted for inflation)

[Includes Hatsune Miku Collaboration Sticker and Postcard (6 varieties, random)]

Special tickets featuring Hatsune Miku will only be available to those reserving their spot online. Reservations can be made two months prior to the boarding date. Space is extremely limited, so grab a spot while you can!

Those not interested in bonuses can also enjoy a night cruise during this period, with adult tickets costing ¥1,000 and children's tickets costing ¥500. More details will be released at a later date.

FRUITS ZIPPER Performs for Audiences in 101 Countries in the Metaverse

The Metaverse Music Festival, a virtual event organized by the global Web3 platform Decentraland, took place starting on November 10, 2022, featuring a number of Japanese artists. 

FRUITS ZIPPER was one of the performing acts, appearing on the MetaTokyo stage on November 11 and November 12.

According to data from MetaTokyo, a total of 20,000 viewers from 101 countries around the world watched the performances, including those from the United States, Canada, Japan, Spain, Germany, and Brazil.

This spring, the idol group FRUITS ZIPPER released the track Watashino Ichiban Kawaiitokoro, which racked up over 600 million views on TikTok. The music video has amassed over 5.5 million views on YouTube, and despite having just debuted, the girls performed at all major idol festivals over the summer.

In November, the group's second solo concert at Shibuya WWW X was a major success. In February 2023, the girls will begin the FRUITS ZIPPER 1st LIVE TOUR 2023 WINTER scheduled to conclude at LINE CUBE SHIBUYA on February 12. The group will also perform at a New Year's Eve event in Tainan, Taiwan. Keep an eye out for them in 2023!

Snow Miku Collaborates with Sanrio's Kuromi to Promote Hokkaido Tourism

Snow Miku has teamed up with Sanrio's popular character Kuromi to promote the beautiful prefecture of Hokkaido! A new collection of goods went on sale starting December 14, 2022. 

Goods

Clear Folder

Pen with Clip

Mini Sign Board

Mini Towel (Set of 2)

Pin

Framed Magnet with Stand

Sticker

T-Shirt

Tapestry

Acrylic Stand

Acrylic Keychain

Rubber Keychain

Silver Foil 2-Layer Magnet

 

Snow Miku debuted during the Sapporo Snow Festival in 2010 when an incredible snow sculpture of Hatsune Miku was unveiled. Ever since then, Snow Miku festivals have popped up in Hokkaido each winter, and the character dons costumes designed by popular internet creators.





Kuromi is back this year, with Miku's outfit dyed black and tons of adorable art featuring the rock 'n roll character. The life-size version of Miku was designed by illustrator PiPi, and the chibi character was designed by illustrator Yoi. Between Miku's cute idol energy and Kuromi's edginess, this is the perfect collab for all audiences!

 

The items are available in two versions: Day, featuring Hokkaido's beautiful landscapes covered in snow, and Night, featuring twinkling winter lights. 

Don't miss out on these exclusive items!

Information

Hokkaido Exclusive – Snow Miku x Kuromi Hokkaido

Available: December 14, 2022

Official Site: https://snowmiku.com/

NFT Project "City Pop TOKYO" and "GEMIE" Announce NFT Audition "METAVERSE'S GOT TALENT"

SINGAPORE, Dec. 1, 2022 /PRNewswire/ — "City Pop TOKYO," an NFT project inspired by "City Pop," a popular music genre from Japan, will hold a talent audition event named " METAVERSE'S GOT TALENT" along with Entertainment metaverse platform GEMIE (CEO: John Fung). "METAVERSE'S GOT TALENT" is a brand new talent audition project which enables artists to showcase their talents in the metaverse and subsequently win a chance to become a metaverse superstar.

■City Pop TOKYO

"City Pop TOKYO," an NFT project will hold a talent audition event named " METAVERSE'S GOT TALENT" along with the Entertainment metaverse platform GEMIE to enable artists to showcase their talents in the metaverse.

As an NFT project, "City Pop TOKYO" is jointly funded by three companies: ASOBISYSTEM (CEO: Yusuke Nakagawa), which has a large number of diverse artists; Kingdom Labs (CEO: Maurice Ng), a venture studio in Hong Kong; and UPBOND (CEO: Gin Takahashi Mizuoka), which is developing a blockchain wallet for Web3 social adoption.

"City Pop TOKYO" plans to release 1984 NFTs based on "City Pop", a music genre from Japan that is immensely popular worldwide, particularly among Gen Z. The project's characters are featured in trendy outfits and makeup representing symbolic fashion styles in Japan, such as "GAL," "SHOWA," and "REIWA".

To enter "METAVERSE'S GOT TALENT", participants will first purchase a "City Pop TOKYO" NFT. NFT holders can then take part in auditions held in the GEMIE metaverse. The winner, represented by their City Pop TOKYO NFT, will be onboarded as a virtual idol under ASOBISYSTEM, and will start appearing in advertisements, releasing songs, etc. Other NFT holders from around the world can enjoy engaging in the project from various perspectives, including appearing and voting in audition events in the METAVERSE.

*These are part of the NFTs for some characters.

*Designs may change without further notice.

■METAVERSE'S GOT TALENT

The METAVERSE is powered by project partner GEMIE, Asia's leading entertainment metaverse built around fan culture which act as the virtual hub to bridge the gap between celebrities and fans through virtual experiences and utility-focused NFTs. Users worldwide can participate in the decision making process of the show via the GEMIE metavese.

Through this project, we will work to reaffirm the usefulness of Web 3.0 technology and NFT; and further promote Japanese culture to people worldwide.
More details will be available soon, please stay tuned for updates.

Information

City Pop TOKYO

Hirosaki and Hakodate to Begin Winter Tourism Campaign with Snow Miku Starting December 2022

The cities of Hirosaki and Hakodate in Hokkaido have announced that they will team up with Hatsune Miku's popular iteration Snow Miku to promote tourism in the area this winter. A number of activities will begin in December 2022.

[Snow Miku x Hirohako] Collaboration Project

■Hirohako Winter Tourism Campaign Poster Featuring Snow Miku

・Period: Mid-November~February 28, 2023

・Locations: Facilities in both cities, tourist facilities, hotels, shopping areas

■Snow Miku Illustration Contest Exhibition Event

Over 50 illustrations have been submitted under the theme of Snow Miku and Hakodate / Snow Miku and Hirosaki. These will be on display through the winter!

・Running: December 1, 2022 – February 28, 2022

・Venues: Hirosaki Municipal Tourist Center (Hirosaki)
                    Kanemori Red Brick Warehouse (Hakodate)

■Snow Miku Photo Spot

Snow Miku panels featuring shamisen and apples from Hirosaki will be on display, while the Hakodate version will include references to squid fishing and footbaths. 

・On Display: December 1, 2022 – February 28, 2022

・Locations: JR Hirosaki Station, Chuohirosaki Station (Hirosaki)
                        JR Hakodate Station, Hakodate Airport (Hakodate)

■Digital Stamp Rally Using the Mikunavi App

A number of panels will be installed at five checkpoints in Hirosaki and Hakodate. A total of 1,000 people–500 in each city–will win original merch including a Snow Miku mask case and decorated masking tape. All you need to do is check in!

・Available: December 1, 2022 – February 28, 2022

・Locations: (Hirosaki) Hirosaki Municipal Tourist Center, Hirosaki City Machinaka  Information Center,

                         Hirosaki Tourist Information Center, Hirosaki Castle Information Center, Tsugaru-han Neputa Village

      (Hakodate) Kanemori Red Brick Warehouse, Yunokawa Hot Spring Footbath, Goryōkaku Tower,

Hakodate Green Plaza C Block (Hakodate Lumi-Pop), Old Public Hall of Hakodate Ward

■Hirohako Winter Tourism Campaign Theme Song and Music Video 

The tourism theme song will get a new music video that will be broadcast on YouTube, at local tourist facilities, and on TV and radio!

・On Air: December 1, 2022~

・Theme Song: Mahou no Keshiki (Lyrics/Composition: ryuryu)

■Snow Miku Welcome Announcements to be Broadcast at Tourism Facilities, etc. 

A one-minute welcome announcement by Snow Miku will air at tourist facilities!

・Running: December 1, 2022 – February 28, 2022

・Locations: Tourist areas in both cities

■Snow Miku Filters Using AR

When each barcode is scanned with a smartphone, Snow Miku will appear on the screen! Visitors can take pictures with Snow Miku to commemorate their winter trip to Hirosaki and Hakodate.

・Available: December 1, 2022 – February 28, 2022

Leo/need from Project Sekai Colorful Stage! feat. Hatsune Miku Releases 3rd Single

Project Sekai: Colorful Stage! feat. Hatsune Miku is a popular iOS/Android rhythm game and music from the title has become incredibly popular. The third single from the group Leo/need featuring the tracks From Tokyo and Ryuusei no Pulse was released on November 16, 2022. 



From Tokyo is a refreshing and powerful ballad originally sung by Hatsune Miku, while Ryuusei no Pulse was originally sung by Kagamine Len.


These tracks are sure to get stuck in your head, so check them out!

First-Edition Production Bonus

Original Trading Card (5 varieties, 1 per purchase)

1 Weiß Schwarz Special PR Card (1 variety)

First-Come, First-Served Purchase Bonus

B2-size Announcement Poster

*Available while supplies last. 
**Certain shops will offer unique purchase bonuses. 

© SEGA/© CP/© CFM

Hatsune Miku JAPAN TOUR 2023 ~THUNDERBOLT~ Announced

Virtual songstress Hatsune Miku will tour Japan in 2023! Hatsune Miku JAPAN TOUR 2023 ~THUNDERBOLT~ will begin in Nagoya in February 2023 and will travel to Osaka, Fukuoka, Tokyo, Sapporo, and other cities in Japan. Miku won't be the only one performing–Rin and Len Kagamine, Luka Megurine, MEIKO, and KAITO will also appear! The online lottery for tickets will open on November 18 at noon and will end on December 5 at 23:59.

Featuring a Main Visual by Aki Akane and Theme Song by jon-YAKITORY

The main visual for the tour was drawn by popular illustrator Aki Akane and features a futuristic and extremely dynamic portrait of Hatsune Miku herself.

The event theme song, titled THUNDERBOLT, will be performed by music creator jon-YAKITORY. This will be released at a later date, so stay tuned!

Original merchandise will also be available during the tour, so keep an eye on the official website and Twitter page for more details as the tour's start date gets closer!

Information

Hatsune Miku JAPAN TOUR 2023 ~THUNDERBOLT~ 

Advance Online Tickets (by Lottery): November 18 at 12:00 – December 5 at 23:59

Official Site: https://piapro.net/japantour2023

Our National Treasures: 150 Years in the Future Exhibition at Tokyo National Museum Opens Featuring Hatsune Miku

Our National Treasures: 150 Years in the Future is a new exhibition at Tokyo National Museum, and everyone's favorite virtual diva is making an appearance! Crypton Future Media is helping to celebrate the 150th anniversary of the museum by submitting Hatsune Miku as a potential candidate for a national treasure 150 years in the future. The exhibition opened on November 2 and will run until January 29, 2023 inside the Hyokeikan at the Tokyo National Museum.

The exhibition is the first event being held to celebrate the 150th anniversary of the museum and is the first exhibition in the museum's history to be held in an open-call format. The Hyokeikan, an Important Cultural Property, represents the Western-style architecture that was in vogue during the late Meiji period. Treasures collected from both individuals and companies will be displayed as candidates for what could become national treasures in another 150 years.



The exhibition is divided into individual and corporate submissions, with the general section displaying a variety of treasures selected from entries from all over Japan. The corporate section features important products and technology that have been responsible for the development of Japanese society, food, clothing, and housing culture, as well as examples of entertainment and sports culture from Japan that has gained popularity around the world.

 

Hatsune Miku has been added as a potential candidate, as the virtual singer has inspired people from around the world to become more creative.

In conjunction with the exhibition, collaborative products are also on sale. The Museum Shop inside the Tokyo National Museum's Main Gate Plaza and the online store are now selling these unique Hatsune Miku products, so grab them while you can.

What will Japanese culture look like in another 150 years?

Information

Our National Treasures: 150 Years in the Future

Running: November 2, 2022 – January 29, 2023
Venue: Tokyo National Museum Hyokeikan
Hours: 9:30-17:00 *Last entry 30 minutes before closing.
Holidays: Mondays (closed on the following weekday if Monday is a national holiday, open on January 3), December 26 – January 1

Official Site: https://150ourtreasure.jp/

Japanese Artists to Perform in MetaTokyo Area at Metaverse Music Festival

Metaverse Music Festival will feature a MetaTokyo area this year! The event is being organized by Decentraland, a global Web3 Metaverse platform. A number of Japanese artists will perform, including Edo Lena, MISOSHITA, and Atarashii Gakko! 

In the special MetaTokyo area, a giant Metaani x Kyary Pamyu Pamyu character will be dancing to the beat. The popular collab appeared in April of this year and was an instant hit with NFT fans around the world. Those with an interest in Japanese culture can also enjoy some unique content streamed in the area. The Metaverse Music Festival will be held from November 10 until November 13, 2022.

Participating Japanese Artists

According to a recent announcement from Decentraland, Ozzy Osbourne, Soulja Boy, Dillon Francis, SNH48, and others will perform at OZZFEST, a festival organized by Ozzy Osbourne. Atarashii Gakko! will perform on the main Tower of Babel Stage.

The festival area will also feature special stages and areas in collaboration with a number of partners. MetaTokyo is one such partner sure to be a hit with audiences around the world!

Within the MetaTokyo area, Metaverse diva and artist Edo Lena and Metaverse creator MISOSHITA will perform. Other J-pop artists are scheduled to perform for audiences worldwide.

Giant Metaani x Kyary Pamyu Pamyu 

A giant Metaani x Kyary Pamyu Pamyu will appear within the Metaverse. First appearing in April 2022, guests will be treated to Kyary's popular song Dodonpa when they first enter, and will be able to take selfies with the huge character in a way not possible in the real world.

Information

Metaverse Music Festival

Date: November 12, 2022 at 2:00AM (JST)

How to Participate: 

Visit the pre-registration page below and click "WANT TO GO." 

https://events.decentraland.org/event/?id=7148716b-ff25-4d5f-8267-55fed7ab15bc

*Only the PC version of Chrome is supported.

*Visitors entering the event as a guest won't need to have a virtual currency wallet. 

*Some restrictions apply

Admission: Free

Hatsune Miku's Magical Mirai Theme Song Collection Available on Vinyl in Limited Quantities

KARENT, a music label specializing in Vocaloid music, will release Hatsune Miku's Magical Mirai Theme Song Collection on vinyl in limited quantities in February 2023. The album can be pre-ordered now at HMV stores, with advance copies available at Wing Bay Otaru during the SNOW MIKU 2023 event on February 4. General copies will be available at HMV stores, HMV&BOOKS stores, HMV record shop locations, and HMV&BOOKS online.

Hatsune Miku's Magical Mirai event has been held annually since 2013. The blend of live instrumentals with a 3DCG Vocaloid performance has amazed audiences around the world for years, and 2023 will mark the 10th anniversary of the event with a Magical Mirai performance in Sapporo on February 4 and 5, 2023. SNOW MIKU 2023, a popular festival in Hokkaido, will be held on the same dates.

 

The vinyl includes all nine previous theme songs in stunning quality, with a jacket featuring themes and costumes from past events drawn by popular illustrator Honwa. This is a must-have item for fans of the Magical Mirai concert series, and with limited quantities available, you'll want to order now!

Information

Hatsune Miku's Magical Mirai Theme Song Collection

Release Dates
Advance Release: February 4, 2023
General Release: February 8, 2023
*Advanced copies will be sold at the SNOW MIKU 2023 event at Wing Bay Otaru.
*General copies will be available at HMV stores, HMV&BOOKS stores, HMV record shop locations, and HMV&BOOKS online.
Details: https://magicalmirai.com/10th/goods_record.html

*Limited quantity available.


Hatsune Miku Celebrates 15th Anniversary with Exclusive Guitar Amps, Keyboards

To celebrate Hatsune Miku's 15th anniversary, Yamaha Music Japan will be offering some exclusive goods for a limited time. Those interested in some themed guitar amps, keyboards, or speakers can place their orders from October 5 until November 8, 2022.

Hatsune Miku first hit the scene in 2007 as a piece of voice synthesizing software. The character, created by Crypton Future Media, has become a worldwide phenomenon and is turning 15 this year. The 10th Anniversary Magical Mirai concert, which took place in Tokyo in September, was the first location to show off the new products. If you want to snag them, be quick–they are only available in very limited quantities!

These collaboration products feature a new illustration of Hatsune Miku drawn by popular creator Sakusya2. 

VKB-100 MK PACK Yamaha Vocaloid Keyboard VKB-100 Set

HS5W MIKU, Powered Studio Monitor Speaker

THR30II Wireless Miku Guitar Amp