"Ichigo Daifuku Fair" will be held in Daimaru Tokyo Store
Ichigo Daifuku (a rice cake stuffed with a strawberry) Fair will be held at Hoppe Town located on B1F of Daimaru Tokyo Store from the 25th of January 2018 (Thurs.) to the 28th of February.
Ichigo daifuku is a Japanese dessert where a strawberry is stuffed inside a daifuku (rice cake with bean jam stuffed inside.). Each brand's ichigo daifuku tastes different. The sweet/sour taste, the texture of the dough and the cute look of this sweets item will surely stimulate your appetite. In this article, I will introduce to you 5 recommended brands which will sell their products at the fair.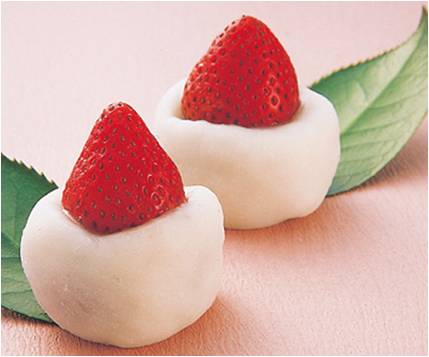 <Shingetsudo Honten> Tsubaki Dori (one piece) – 237 yen / 1F – 30 pieces per day – available until 2,30
A well-balanced ichigo daifuku which uses juicy Tochiotome strawberries, soft Habutae Mochi using condensed milk, egg white and original bean jam. The shape of the product is created based on the motif of a camellia bud.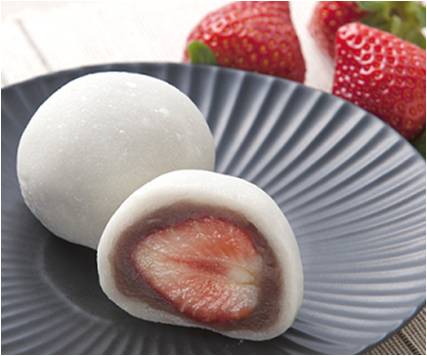 <Eita Roso Honpo> Ichigo Daifuku (one piece) – 324 yen – 1F –  available until 2,14
This big-sized ichigo daifuku uses very sweet Tochiotome strawberries. Slightly hard mochi and fresh bean jam match well with the taste of this strawberry.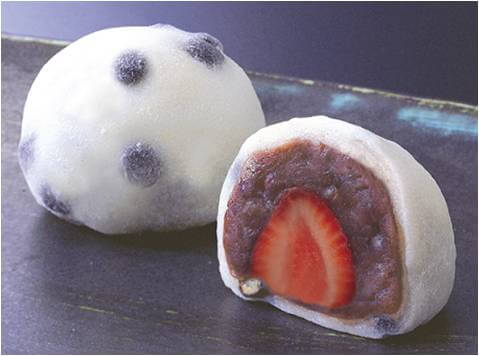 <Okanoeisen Sohonke> Ichigo Daifuku (one piece) / 240 yen – 1F
Lots of bean jam made with azuki produced in Hokkaido is stuffed inside the slightly salty dough. This is a very popular product which uses fresh strawberries such as Tochiotome and Royal Queen.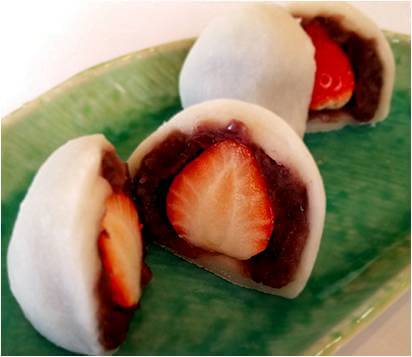 <Fukagawa Iseya> Ichigo Daifuku (one piece) 280 yen / 1F
This is a soft and chewy ichigo daifuku using original bean jam and fresh strawberries.
<Akasaka Aono>
The sourness of the strawberry and home-made bean jam match very well. The dough of the daifuku is thin so that the texture of strawberry can be enjoyed.
Why not come and find your favorite ichigo daifuku!
■Information
Tokyo Daimaruten
Address: 1-9-1, Marunouchi, Chiyodaku, Tokyo
Business hours: 10:00 to 21:00
TEL:03-3212-8011
RELATED ENTRIES
Heart-Meltingly Cute Olaf Confection to Arrive in 7-Eleven to Celebrate Frozen 2

Tabemas is a Japanese confectionery series of small, traditional sweets designed to look like characters. To celebrate the release of Frozen 2 on November 22, the series is releasing an Olaf confection which will be sold at 7-Eleven convenience stores across Japan from the same day as the release of the film. 


The series name "Tabemas" means "edible mascot" and as the name suggests, Olaf has completely transformed into a delicious traditional sweet from carrot nose to adorable feet. In sweet form, the 40mm-tall chubby Olaf is stood still, staring up at you with adorable round eyes overflowing with adoration.

This is a traditional nerikiri confection made from bean paste and soft mochi to a surprising level of detail. Even the snowflake pattern has been recreated. As Frozen 2 is set in autumn, Olaf has been stuffed with the most appropriate autumn flavour: maple. This small and dainty confection is the perfect treat for people of all ages.

These are in limited stock so hurry down to your nearest 7-Eleven from November 22 if you are interested. 

©️Disney

Information

Tabemas Confectionary Series: Frozen 2 Olaf 

Flavour: Maple

Recommended Retail Price: ¥258 (Before Tax)

Release Date: November 22, 2019

Available at: The chilled desserts section of 7-Eleven convenience stores across Japan

*As these are in limited stock, sales will end once stock has been depleted.

*Not available at all 7-Eleven convenience stores.

More Information: https://www.bandai.co.jp/candy/tabemas/olaf/

Take a Look at Daimaru Tokyo's Delicious Seasonal Sweets Line-Up

With the weather getting colder and colder, don't you just want to snuggle up indoors under a nice warm blanket and eat tasty sweets and snacks? well, if you're in Tokyo this autumn, head to Hoppe Town on the first floor of Daimaru Tokyo where they're selling a bunch of different seasonal sweets from November 20 to 26. We're going to showcase a select few.

Cookie Doumei Assorted Box

Contains 10 (5 Types, 2 Each) – ¥1,900 @ Cookie Doumei (Floor 1F)

Enjoy a box of assorted cookies made by a UK-based cookie brand with a recipe like that mother uses. These simple baked cookies are made with wheat flour from Japan, fruits, spices, and chocolate.

Premium Chocolate (Dark/Matcha)

Contains 5 – ¥1,080 Each @ Dari K (Floor B1F) *Available until December 3, 2019

These crunchy and buttery biscuit sandwiches come in two flavours: a dark chocolate and salt, and a matcha made with freshly powdered matcha from Kyoto. These biscuits only appear a few times in Tokyo throughout the year at events, so don't miss out on this rare opportunity.

Chocolate Canelé

¥345 Each @ Le Soeur (Floor 1F)

Bearing a crunchy exterior and chewy inside, these rich chocolatey canelé are topped with almond for added texture. Change it up and put them in the fridge to set for a crispier texture.

Caramel & Raspberry

Contains 5 – ¥675 @ Caramel Verger (Floor B1F) *Available until December 3, 2019

These crunchy chocolate cookies are filled with a mix of dried fruits, caramel and cornflakes. The sourness of the berries coupled with the smoothness of the caramel is to die for!

Premium Natural Sweets

Contains 10 – ¥1,500 @ Lady Bear (Floor B1F)

These raw chocolates from Lady Bear get their natural sweetness from a delicious agave syrup. Delicious, tempting, irresistible.

Baked Mallow Crystal Cherry

Contains 4 – ¥1,382 @ Baked Mallow (Floor 1F) *Available until November 30, 2019

Graham crackers covered in couverture chocolate with high cocoa content and stuffed with fluffy marshmallow and a whole juicy Amarena cherry. What's not to like? These are available in a very limited number, don't miss out!

Which of these six tasty treats are most tempting to you?

Information

Seasonal Sweets

Running: November 20, 2019 – November 26, 2019

Location: Hoppe Town, Daimaru Tokyo Floor 1F  (1-9-1 Marunouchi, Chiyoda Ward, Tokyo)

Daimaru Tokyo Official Website: https://www.daimaru.co.jp/tokyo/

Adorable Mini Penguin and Polar Bear Confections to Arrive in Family Mart

Tabemas is a Japanese confectionery series of small, traditional sweets designed to look like characters. For the first time, Tabemas is collaborating with the popular fictional character series Sumikko Gurashi to release Shirokuma and Penguin? sweets. The new confections will be sold in the chilled desserts corner of Family Mart convenience stores across Japan from November 12, 2019.

The lovable characters who have been transformed into delicious sweets are Shirokuma: the shy polar bear who tends to get cold easily; and Penguin?, who has no confidence in their identity as a penguin. 

The series name "Tabemas" means "edible mascot" and as the name suggests, these are traditional nerikiri confections which are made from bean paste and soft mochi, creating an adorable plump appearance.  Shirokuma's body is white with pink ears whereas Penguin? has a pea-green body with a white stomach and yellow feet and beak. Both confections are kneaded with the characters' charm and stand joining their tiny hands, staring at you with their adorable round eyes. 

Both confections are filled with the mild flavour of red bean paste. To match the colour schemes of the characters, the white Shirokuma is milk-flavoured and the pale green Penguin? is apple-flavoured. The flavours of these confections are just as irresisitble as their appearance. You're bound to be taking lots of photos of them for your next social media post in no time!

As these confections are in limited supply, make sure to buy them as soon as possible if you are interested.

(C)2019 San-X Co., Ltd. All Rights Reserved.

Information

Tabemas Confectionery Series: Sumikko Gurashi

Confections: Shirokuma (Milk), Penguin? (Apple)

Recommended Retail Price: ¥369 each (Before Tax)

Release Date: November 12, 2019

Available at: The chilled desserts section of Family Mart convenience stores across Japan.

* These are in limited supply and sales will end once all stock has been depleted.

*The days on which the Tabemas Confectionery series is sold may vary from store to store.

* Some Family Marts may not sell the Tabemas series.

More Information on the Tabemas Sumikko Gurashi Series (Japanese Only):https://www.bandai.co.jp/candy/products/2019/4549660424444000.html

Rilakkuma & Korilakkuma Confections by Tabemas Coming to Lawson Convenience Stores

Character-inspired Japanese confectionery series Tabemas has revealed that its next products will be Halloween-themed Rilakkuma and Korilakkuma sweets. They will go on sale at Lawson convenience stores across Japan (excluding Lawson Store 100 branches) on October 15, 2019.

These adorable confections are so cute it's hard to choose where to even start eating them from! Both versions are wearing snug pumpkin hats.

'Tabemas' is an abbreviation of the Japanese words taberareru masukotto, meaning 'mascots that you can eat.' It is a Japanese confectionery series that combines well-known characters and Japanese sweets made from ingredients like red bean paste, sugar and rice flour. The sweets are also made with a dough called "nerikiri" which is used in making traditional Japanese wagashi sweets.

To keep with the theme of autumn, Rilakkuma is pumpkin pudding flavoured (which is his favourite treat) and Korilakkuma is maple flavoured.

Stop by the ubiquitous Lawson convenience store while in Japan and grab yourself one of these treats for Halloween.

©️2019 San-X Co., Ltd. All Rights Reserved.

*The photographs are for illustrative purposes only.

*Actual product may differ from the photographs.

*Please be careful not to choke on the mochi.

*The latest information can be viewed via the Bandai Candy homepage.

*Tabemas and 食べマス are registered trademarks of Bandai.

Kyoto Station's Beautiful Cafe Saryo Fukucha Releases New Herb Tea and Dessert Sets & Autumn Menu

Saryo Fukucha has unveiled new Japanese herb tea and dessert pairing sets as well as a batch of seasonal autumntime menu items.

Kyoto is a city where history and tradition come together, and where every single day, people from all around the world come and go, each encountering new experiences. Saryo Fukucha opened inside Kyoto Station back in April this year. It is managed by long-running tea company Fukujuen.

▼Japanese Herb Tea & Dessert Pairing Menu

Herb Tea & Dessert Sets: ¥900 Each (Before Tax) *Herb teas by themselves are ¥500 each
Running: From October 10, 2019 (Available all year round)

Hibiscus Blend Houjicha x Crème Brûlée Chocolate Berry Confiture

The tea is a luxurious and fragrant blend of light-roasted houjicha, hibiscus and rose hip. It's perfectly paired with a rich chocolate crème brûlée and refreshing berry confiture.

Cinnamon Blend Kukicha x Mascarpone Cream & Apple Tatin

This kukicha, or twig tea, has a distinct refreshing flavour to it. It has been blended beautifully with cinnamon and chamomile. The kukicha is paired with a caramelised apple tatin which is topped with a dollop of rich mascarpone.

Peppermint Blend Kukicha x Seasonal Fruit Tart

Peppermint and chamomile are the blending ingredients for this kukicha tea. It comes with a tart with a full-bodied almond taste topped with seasonal fruits like strawberries and raspberries.

Ginger Blend Genmaicha x Tart Ricotta with Orange

Genmaicha is combined with roasted brown rice, giving it its characteristic sweet-smelling quality. Blended with ginger and dandelion leaves, it's been matched with a fromage blanc cream-topped ricotta cheese tart with a side of orange.

▼Autumn Menu

Running: October 10, 2019 – Late February 2020 (subject to change)

Sasamaki Okowa (Matsutake Mushroom & Daggertooth Pike Conger/Minced Chicken & Yama no Sachi) Houjicha Set – ¥1,200 (Before Tax)

This set was created by Hisato Nakahigashi from Miyamasou, a highly-rated inn in Kyoto. Enjoy the combination of the houjicha tea with the bamboo leaf-wrapped okowa steamed rice.

Chestnut Houjicha Wafer Cake – ¥350 (Before Tax)

Not only does this wafer cake look cute, it's packed full of autumnal ingredients too, including astringent chestnut and coarse sweet red bean paste.

FUKUCHA Specially Made Matcha Koji Sweet Sake Red Bean Soup – ¥700 (Before Tax)

The koji sweet sake used in this dessert has a gentle flavour and a strong aroma. Added to it is matcha, chestnuts, sweet potato, and rice flour dumplings, all set into a mizu manju sweet water jelly.

Japanese confections are always best paired with Japanese tea, so be sure to stop by Saryo Fukucha when travelling around Kyoto.

Information

Saryo FUKUCHA

Address: Kyoto Station Central Exit Floor 2F (901 Higashishiokoujicho, Shiokouji Sagaru, Karasuma-dori, Shimogyo Ward, Kyoto)

Opening Hours: 8:30-21:00 (Last Orders 20:30)

No Fixed Holidays
TEL: 075-744-0552
Official Website: https://fukucha-fukujuen.com/

Experience the Heart of the Japanese Tea Ceremony This Autumn in Ginza

In line with the annual autumn event Ginchakai―which is held in Ginza and brings together multiple schools of tea in Japan for an open-air tea ceremony―Tokyu Plaza Ginza is hosting an event themed on the heart of the Japanese tea ceremony.

This special event will serve Japanese omotenashi, or "hospitality," thorough various exhibits including a co-project with Tokyo University of the Arts, an exhibition by one of Japan's leading confectionery companies Toraya Confectionery, and more.

The co-project with Tokyo University of the Arts will feature installations produced by the university that is centred on calligraphy drawn by Japanese calligrapher Shoko Kanazawa, who performs both in Japan and overseas, and the tea ceremony. There will also be several tokonoma alcoves around the event which will be like miniature gardens where one can enjoy the beauties of nature. There will even be covers of famous songs about autumn on October 27 at the KIRIKO TERRANCE on the roof.

Up in the KIRIKO LOUNGE on the 6th floor, Toraya will serve up a selection of traditional Japanese confections, including those that had already been created by the end of the Edo period. You can order a set of two confections and a drink. Sweets include the Kiren Kaki, which is made to look like a Japanese permission, and the Kuri Goyomi, which is made with chestnuts, sugar, and agar-agar.

Soak up the enchanting nostalgia of autumn while enjoying the Japanese tea ceremony at Tokyu Plaza Ginza.

Information

The Heart of the Tea Ceremony in Ginza (Japanese Title: 銀座で触れる、茶の湯の心)

Running: September 26, 2019 – October 27, 2019

Location: Various places around Tokyu Plaza Ginza

GINZA Tokonoma Alcoves: Admire the Season With Tokonoma Art

Running: September 26, 2019 – October 27, 2019

Time: 11:00-21:00
Locations: Floors 3, 4, and 6

Autumn Music Performances

Date: October 27, 2019

Time: 12:00-15:30

Location: KIRIKO TERRACE on the Tokyu Plaza Ginza rooftop

TOKYU PLAZA GINZA x Bunkamura SPECIAL PROGRAM ~ Toraya Confectionery~

Running: October 11, 2019 – October 27, 2019

Time: 11:00-23:00 (Until 21:00 on Sundays and public holidays)

Location: KIRIKO LOUNGE (Tokyu Plaza Ginza Floor 6F)

Tokyu Plaza Ginza

Address: 5-2-1 Ginza, Chuo Ward, Tokyo

Official Website: https://ginza.tokyu-plaza.com/

2019 Top 10 Souvenirs Available at Daimaru Department Store, Tokyo

Looking for some delicious, well presented Japanese souvenirs? Head to Daimaru department store which is adjoined to Tokyo Station. On the first floor and basement floor lies a Japanese-style desserts and sweets area which contains approximately 70 delicious brands. Every day, approximately 30,000 desserts are sold to customers who are looking for souvenirs to bring to their family and friends. 

Now we have arrived at the summer holidays, there are many tourists who will soon reach the stage of panic where they are unsure of what souvenirs to bring back to their loved ones. Luckily, Daimaru Department store is a goldmine of beautifully presented Japanese-style sweet snacks made by top brands. Today, we present you with a list of the 10 fastest-selling souvenirs that were sold from July 2018 to June 2019. There is still plenty of time to get your hands on these souvenirs!

1st Place: N.Y.C. SAND: Caramel Sandwich Biscuits (box of 8) ¥1,080 (1st floor)

 As you take a bite, you will notice that the biscuit, chocolate and caramel will balance in perfect harmony just for a brief glorious moment. 

2nd place: Fukusaya: Fukusaya Cube (Cut into two) ¥270 (1st floor)

Have a small slice of luxury with this traditional recipe castella sponge cake which was specially made by experienced bakers. This is presented in a small, cute box. 

3rd place: Kamakura Toshimaya: Hato Sable (box of 10) ¥1,080 (1st floor)

This is a crispy dove-shaped shortbread biscuit which has a rich buttery flavour. This was first produced in the early 1900's during the Meiji period and is a souvenir limited to Tokyo.

4th place: Asakusa Mangando: Imokin ¥129 each (1st floor)

This baked treat is packed with the delicious flavour of sweet potatoes. The freshly baked scent is enough to draw you in. 

5th place: TOKYO BANANA STUDIO: Panda Banana Yoghurt (Box of 4) ¥515 (1st/basement floor) 

Children would just love to see the cute panda design. Wrap yourself in the mild banana yoghurt-flavoured cream.

6th place: Noix: Walnut cookie (Box of 4) ¥648 (1st floor)

This crunchy cookie is topped with a generous amount of caramelised walnuts.

7th place: Nenrinya: Mount Baum Shikkarime ¥756 (1st floor)

The outside of this baumkuchen is fragrant and crispy whilst the inside is soft and spongy. Take a bite to experience the wonderful texture of this European-style baked good. 

8th place: Azabujuban Agemochi-ya: Panchetta Agemochi (40g) ¥442 (1st floor)

The flavour of this baked mochi dough is like eating bacon cooked in an Italian style. This new flavour is a wonderful discovery that you should also try.

9th place: Sugar Butter Tree: SUGAR BUTTER SAND TREE (Box of 10) ¥690 (1st floor)

The crispy biscuit and melty white chocolate is a sublime combination that you will want to try again and again.

10th place:  Kanou Shoujuan: Ikkoten ¥270 each (1st floor)

A whole Japanese chestnut is smothered in a thick layer of Tamba Dainagon adzuki bean mix that is simmered lightly. This is especially delicious when eaten with tea. 

What do you think? When in desperate need of a souvenir for your family, friends or work colleagues back home, how about choosing one of the souvenirs listed above?

Information

2019 Souvenirs at Daimaru Department Store, Tokyo

Available Period: July 31 ー August 31.

Avaialble at: Daimaru Department Store Tokyo, Floor 1/Basement floor Hoppe Town

Daimaru Tokyo

Address: 1-9-1, Marunouchi, Chiyoda, Tokyo

Website: https://www.daimaru.co.jp/tokyo/

Black Cheesecake & Other Delicious Seasonal Desserts Cooked Up at Daimaru Tokyo

School's nearly out for summer in Japan with summer break set to begin on July 20. Kids and adults alike can look forward rolling up to Daimaru Tokyo to get their sweet tooth hands on one of five special desserts available at Hoppe Town on the ground and first floor from July 17 to 23.

Let's take a look at these mouth-watering delights.

Basket Cheesecake (8cm) – ¥400 @ Aoyama Fromage (Floor 1F)

This cheesecake is all the rage in the dessert world this year for its eye-catching black surface. The burnt surface enjoys just the right amount of bitterness and is a perfect match for the soft, rich center.

CAKETALE (6 Included) – ¥648 @ CAKETALE (Floor 1F)

Tuck into one of six different of these different takes which have been turned into cat tongue biscuits. Flavours include strawberry shortcake, cheesecake, mont blanc and more, and they come in some seriously kawaii packaging which looks just like a book.

Tokyo Saku Saku Tiramisu Panda Package (16 Included) – ¥1,080 @ Tokyo Oraikan (Floor 1F)

Sink your teeth into these cute and crunchy rich panda tiramisu cakes♡

Dashi Shoyu (1 Bag) – ¥388 @ Okashi Rakuichi (Floor B1F)

This popular brand with their delicious flavours and cute packaging designs have their own shop in Senju in a low-lying part of the city where the Metropolitan Electric Railway runs through. This is their most popular product, a bag of crunchy soy sauce covered balls with a rich flavour.

Tokyo Lemonche (Includes 8) – ¥1,555 @ Tokyo Lemonche (Floor B1F)

A perfect summer treat, the Tokyo Lemonche is a light and refreshing lemon puff sandwich filled with lemon cream. You can really taste the original flavour of lemon in them.

Make a stop by Daimaru Tokyo this summer if you're in Japan!

Information

Seasonal Desserts

Running: July 17, 2019 – July 23, 2019

Location: Hoppe Town, Daimaru Tokyo (Floors B1F & 1F)

Daimaru Tokyo Official Website: https://www.daimaru.co.jp/tokyo/

Japanese Desserts Shop Mme KIKI Sells Doraemon Dorayaki and Unmissable Delicacies in Italy

Japanese chocolatier Mme KIKI opened up their first ever Dorayaki shop in Rome, Italy called DORAYAKI- DOLCEZZE GIAPPONESI on 11th May. The shop is located at Via Del Porto Fluviale 3E, Rome.

As the anime Doraemon is also popular in Europe, Doraemon's face decorates the dorayaki pancakes of this shop. Besides the standard sweet Red Bean Paste filling, there is also Yuzu Orange Mascarpone, or Tiramisu Cream, Matcha Ice Cream and many other delicious flavours. For the dorayaki pancake, you can either choose standard wheat flour-based pancakes or gluten free pancakes that are made from organic rice flour.In fact, this shop mostly caters for a gluten-free diet. They also sell savoury pancakes called Doyrayaki Sandwiches. Flavours include avocado miso, tuna mayo, and ethnic vegetables.

Besides dorayaki, there is also Japanese tea and matcha. These are served with original teapots and teacups for you to enjoy a full experience. 

There are also other Japanese sweet treats such as Dango (sweet dumplings on a stick), Matcha Tiramisu, and much more. You can also enjoy Japanese drinks such as the Matcha Latte or Hojicha Latte. There are also small Japanese Otsumami (snacks served with drinks) such as potato salad, crispy karaage chicken, green edamame beans and much more. You can enjoy these alongside Japanese beer, sake, and cocktails made from sake. This cafe bar is full of delicious desserts, snacks and drinks.

Last summer in Rome, a test kitchen was run where LEXUS ITALIA, the Embassy of Japan, and many others teamed up to hold workshops and set up food stands to carry out intense research. Finally as a result, this shop opened. The interior is a sakura pink colour and a round moss-like green plant hangs from the ceiling. Art by modern artist Rui Sakurai is also being displayed here.

This is becoming a very popular cafe in Italy. On just the first day, a queue of over 600 people formed before the shop!

Traditional Japanese sweets are taking over the world so don't miss out!

Information

DORAYAKI- DOLCEZZE GIAPPONESI

Address: Via Del Porto Fluviale 3E Roma Italia

Over 30 Matcha Desserts to be Sold at Daimaru Tokyo's Green Sweets Fair

Matcha is a huge part of Japanese food culture that has earned much love around the world. Its bitter taste is enjoyed in both traditional Japanese desserts and delicacies as well as those in the west too.

Daimaru Tokyo is currently holding the Green Sweets Fair until May 31 where you can enjoy over 30 different matcha desserts. Let's take a look at some of them.

<Nenrinya> Matcha Mound Baum: ¥1,836

This baumkuchen cake is left to mature after cooking over a long period of time. It's made with Uji matcha from Kyoto and has a strong matcha fragrance.

<YOKUMOKU> Cigar au Matcha (8 Pieces): ¥1,080

The round cigars are made with lots of Hokkaido butter and filled with matcha chocolate.

<Funabashiya> Matcha Rice Flour Dumpling Anmitsu: ¥583 (1 Pot)

Enjoy an assorted pot of rich matcha agar, specially-made strained bean paste, and rice flour dumplings.

<Ginza Mamehana> Soy Cream Animitsu Daifuku (Matcha/Brown Sugar Syrup): ¥1,029 (Box of 6)

These daifuku rice cakes come in two different flavours: one with brown sugar syrup soy cream and sliced agar and another with matcha, bean paste and agar.

There are plenty more where that came from, so head to Daimaru Tokyo for the Green Sweets Fair.

Daimaru Tokyo's Most Delicious Desserts of 2019

With Mother's Day in Japan set for May 12, an assortment of delicious desserts are set to be sold at Hoppe Town on the basement and first floors of Daimaru Tokyo from May 8 to 14. Let's take a look at 6 of them!

<Aoyama Fromage> Basque Cheesecake: Small ¥400 / Large ¥1,000 @ MVP SWEETS, Floor 1F

The new "Basque Cheesecake" is must-try, representing Basque Country in Spain. This burnt cheesecake is soft and creamy and has a slightly bitter caramel bite to it.

<Koganei Cheese Cake> Dried Fruit No-Bake Cheesecake (1 Slice): ¥422 @ WEEKLY SELECT SWEETS, Floor 1F

A no-bake cheesecake made with sugar and packed with plenty of additive-free dried fruits. The dried fruits add a sweetness to the cheesecake.

<Mameya Kanazawa Bankyu> Mameya's Parent & Child Panda Baum (1 Slice): ¥594 @ WEEKLY SELECT SWEETS 3, Floor B1F

These cute panda cakes are palm-sized and cut into the shape of the pandas. Crunchy fondant adds texture to the soft Japanese-style baum.

<Biscuits Millefeuille Croute> Biscuits Millefeuille Croute: 6 Pieces ¥864 / 10 Pieces ¥1,404 @ SEASON SWEETS, Floor B1F

These millefeuille have a crunchy texture with an exquisite balance of bitterness and sweetness.

<Ki no Kuniya> Handmake Hello Kitty Monaka: ¥200 Each @ WEEKLY SELECT SWEETS 2, Floor B1F

These monaka, or "wafer cakes," feature adorable Hello Kitty imprints on them. The crunchy outer layer encloses rich anko bean paste.

<AOYAMADORI NO PURINYASAN> Aoyama Sanpo Chocolat (4 Pieces): ¥1,080 @ WEEKLY SELECT SWEETS 2, Floor B1F

These rich and soft chocolate cakes have enjoyed long sales and are perfect as small gifts.

Pick up some of the hottest desserts and sweets in Tokyo this month at Daimaru Tokyo.

Japanese confectionery series Tabemasu makes Kirby and the Warp Star!

 Tabemasu is a Japanese confectionery series that features sweets designed to look like characters. A new Tabemasu series is about to be released called Tabemasu Asorto (Tabemasu assortment). The design for this series is based around Kirby, Kirby's Dream Land and the Warp Star which Kirby rides in the game. This series will be released on Tuesday 23rd April 2019. Tabemasu has plans to release another round of the Tabemasu Asorto series later!

The new Tabemasu Asorto series includes two traditional Japanese-style sweets in a set. The sweets are based on the world of Kirby. Kirby comes in the form of a chewy mochi sweet, and the Warp Star comes in the form of a soft, nerikiri sweet.

The name "Tabemasu" is a combination of the word "tabemasu" (eat) and "mascot". As the name implies, the entire sweet is made from traditional Japanese ingredients, and so you can consume it all!

 

 Kirby is a chewy pink ball of mochi dough filled with custard cream. There are a range of expressions to choose from, from smiley Kirby to sleepy Kirby and even a winking Kirby! There is also one secret design! There are six Kirby designs in total. Which of these squishy, round, cute Kirbys will you encounter? You'll just have to head to the store to get one to find out!

 The Warp Star is a chocolate cream nerikiri. Both the sweets are made with natural colourings. Put your squishy Kirby on the Warp Star to enjoy an image straight out of the game! Of course you won't be able to help but take photos of this edible mascot before eating it! Don't forget to post your pictures on social media!

 You have to try this cute, photogenic Kirby!

©Nintendo / HAL Laboratory, Inc. KB19-P1654