A "hinamatsuri" (doll festival) event is being held at Hotel Gajoen Tokyo
Hotel Gajoen Tokyo is holding "Hyakudan Hinamatsuri (traditional doll festival) Omi/Mino/Hida Hina Kiko" at "Hyakudan Kaidan" which is Tokyo's designated cultural property, until the 11th of March (Sun.).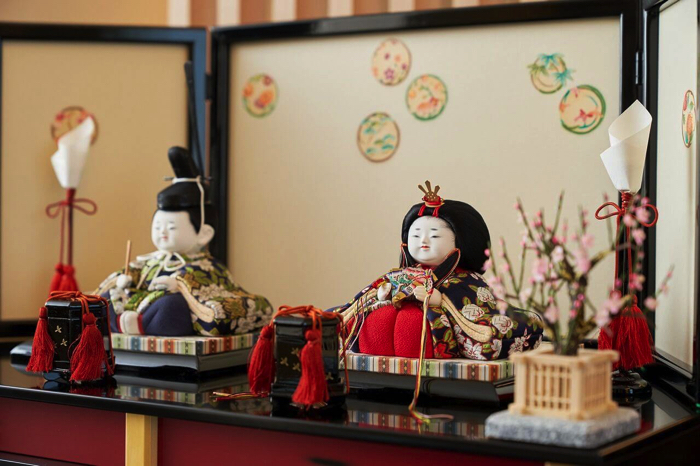 "Hinamatsuri" is an occasion to pray for young girls's growth and happiness. Hinaningyo are dolls which are put on display before and on the 3rd of March, the day the Hinamatsuiri festival is held.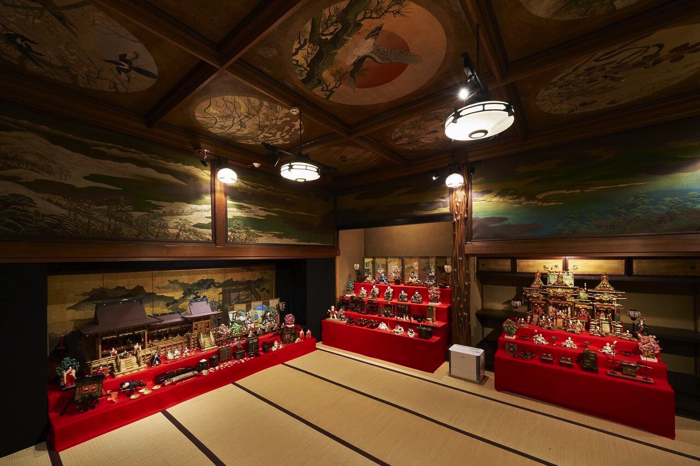 An ohinasama (traditional doll) of Kachoan, Honjin Hiranoya, Hidatakayama and an ohinasama of Dono Family (Gyosho no Ma)
This exhibition where hinaningyos from all over Japan are gathered is the largest exhibition in Tokyo. It has been held 8 times and more than 470 thousand people in total have visited. The exhibition counts it's 9th time this year and about 500 dolls from Gifu Prefecture and Shiga Prefecture (from 9 areas in total) will be gathered.
Gorgeous dolls from Shiga and Gifu Prefectures including wedding goods of Daimyo Clans, expensive goods of Omi's old wealthy merchants, Goden Kazari's (a culture which was created in the Western-side of Japan) goods and tiny traditional toys will be gathered at the venue.
You can enjoy the gorgeous collaboration of the cultural property and hina ningyos.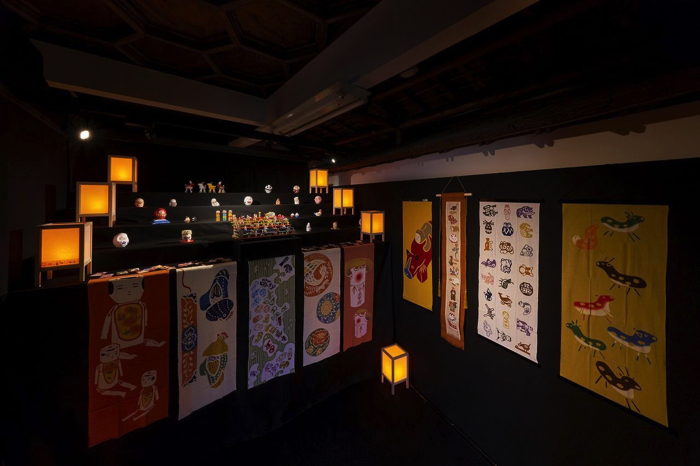 You can take photos at this exhibition! Local doll collections which were enrolled in Guinness.
Nihon Doreikan located in Shiratoricho, Gujoshi, Gifu Prefecture is a museum that gathers local toys from all over the world as well as dorei (bells made of soil) and local hina ningyos.
The number of the works exhibited which are enrolled in Guinness exceeds 100 thousand.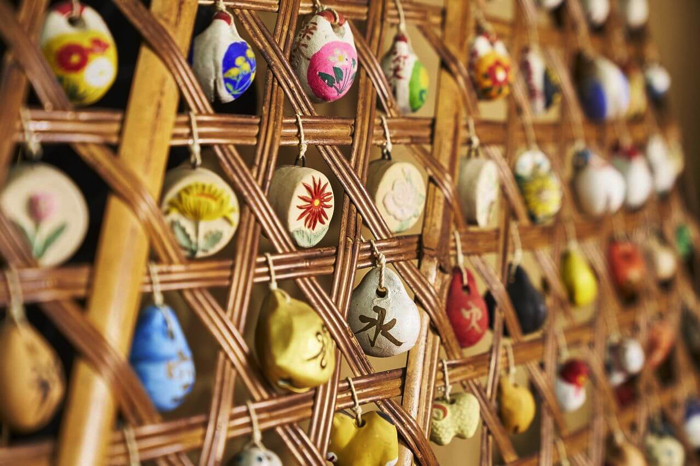 Let's play with the local toys! The local toys-exhibiting room of Nakagawa Masashichi Shoten is available
The holder opened the 8th room of Hyakudan Kaidan and created a collaboration room with a popular sundry store Nakagawa Masashichi Shoten called "Nakagawa Masashichi Shoten no Kyodo Gangu no Hinadan." The precise works have been gathering popularity and the exhibition was held 7 times.
This time, they are exhibiting local toys like kokeshi and daruma in addition to "Nihon Zenkoku Mame Kyodo Gangu Shushu" exhibited on the lacquer hinadan (stairway to exhibit hina ningyos).
The hotel is filled with excitement! A plan where you can enjoy eating and lodging is available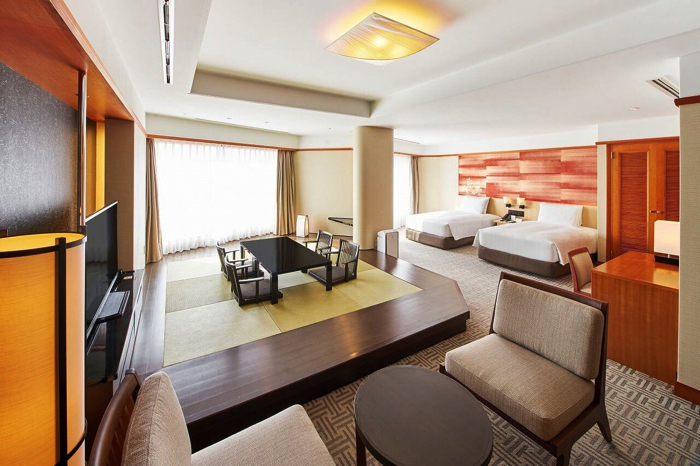 "Ohinasama Room" is recommended for those of who want to stay at a comfortable room.
Each room has its own decorations including hina ningyos produced by Asakusa's established brand "Harakoshu" and cute hanging decorations. A part of the room uses Ryukyu tatami flooring. Up to four persons can enjoy this room.
The restaurants are offering limited menus. A Japanese cuisine restaurants which offers beautiful dishes are offering hina matsuri-limited tea ceremony dishes. The content of the plan is suitable to enjoy hinamatsuri where you can enjoy soup that looks like hishi mochi (Japanese traditional mochi), yurine (lily bulbs) that looks like a flower petal and sashimi dish that looks like a snow cave.
The room also has some decorations such as hina nigyos produced by Harakoshu and uchikakes (a kind of kimono worn by women). The fairly cheap plan that comes with a lunch menu of each restaurant inside the hotel and an entrance ticket of the hinamaturi exhibition, is highly recommended.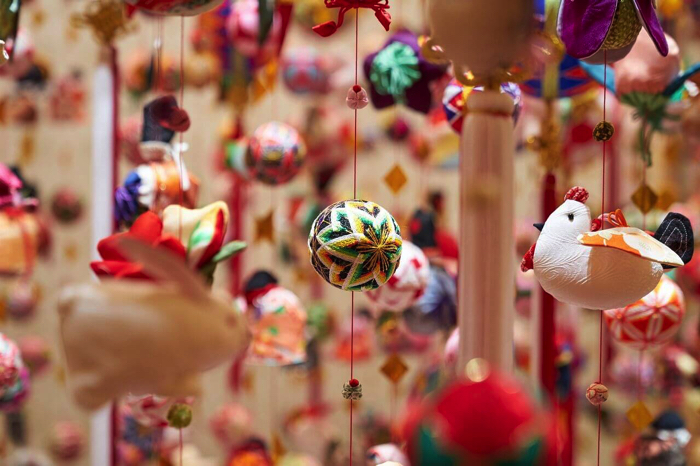 Why not enjoy these gorgeous hina ningyos which you cannot normally be seen at Hotel Gajoen Tokyo.
■Information
Hyakudan Hinamatsuri / Omi, Mino, Hida Hina Kiko
Address: 8-1, 1st Street, Shimomeguro, Meguroku, Tokyo
Hotel Gajoen Tokyo, "Hyakudan Kaidan," the designated cultural property of Tokyo
Period: 2018,01,19 (Fri.) to 2018,03,11 (Sun.)
Time: 10:00 to 17:00 (last entrance 16:30)
Entrance fee: 1,500 yen (students – 800 yen ※student card is needed) ※ students of elementary school and small children – free
TEL:03-5434-3140
Access: 3 minutes on foot from Meguro Station (JR Yamanote Line, Tokyu Meguro Line, Tokyo Metro Nanboku Line, Toei Mita Line)
Ohinasa Room
Available date: 2018,01,19 (Fri.) to 03,10 (Sat.)
Price: up to 4 persons per room – 18,528 yen ~ (per person)
※the price differs depending on the day
Reservation/contact: 03-5434-3837
Hina Menu
Date: 2018,01,19 (Fri.) to 2018,03,11 (Sun.)
Venue: Japanese cuisine "Hafutei" Hinamatsuri Kaiseki Zen
Price: one person – 3,600 yen (tax and service fee are not included)
※please note that you must share a table with other people
※Hinamatsuri Tokubetsu Zen (an upgraded version – 5,600 yen) is also available
RISTORANTE"CANOVIANO":¥4,900
New American Grill"KANADE TERRACE":大人/¥4,900、シニア¥4,600
Cafe&Bar結庵:¥3,800
Lunch plans that comes with an entrance ticket
Japanese cuisine "Hafutei": 4,900 yen
Chinese cuisine "Shunyuki": weekdays – 3,900 yen / Saturday, Sunday and holidays – 5,700 yen
RISTORANTE"CANOVIANO": 4,900 yen
New American Grill"KANADE TERRACE": adult/4,900 yen, senior/4,600 yen
Café & Bar Yuian: 3,800 yen
※All prices noted above include tax and service fee
※Please take a look at the homepage regarding business hours.
RELATED ENTRIES
Boat Race Tokoname in Aichi Prefecture to Screen Popular Films at Drive-in Theater

The Boat Race track at BOATRACE Tokonome will be home to a 3-day Drive-in Theater event on November 19, 20, and 21. The vast west parking lot will welcome guests to enjoy three films from the safety and privacy of their vehicles. In past years, the Hamanako, Tokuyama, Naruto, and Mikuni locations have participated. Now, it's Tokoname's turn!

Selected Films

La La Land (with subtitles) – November 19, 2021

© 2017 Summit Entertainment, LLC. All Rights Reserved.

The Secret Life of Pets 2 (dubbed) – November 20, 2021

© 2019 Universal Studios. All Rights Reserved.

A Whisker Away – November 21, 2021

© 2020「泣きたい私は猫をかぶる」製作委員会

This lineup of films can be enjoyed by families, lovers, and friends. The final film, A Whisker Away, is a coming-of-age fantasy set in the city of Tokoname. Visitors can enjoy these films on one of the largest air screens in Japan, at 722 inches. Don't miss some additional boat race content that even beginners can enjoy!

Information

BOATRACE de DRIVE-IN THEATER in BOATRACE Tokoname

Dates: November 19, 20, 21 – Doors open at 18:00, film starts at 19:00

Address: BOATRACE Tokoname West Parking Lot (4-111 Shinkaicho, Tokoname-shi, Aichi)

Official Site: https://boatrace-driveintheater.com

Sanrio Puroland Announces Snow Globe-Themed Christmas Event

This holiday season, Sanrio Puroland will hold its Puro Christmas celebration from November 5 until December 26, 2021. The snow globe-themed event is sure to bring some cheer to the Tokyo area!

Snow Globe Lights

Photo Spots

Puro Christmas Special Greeting

Kitty & Daniel's Party-Party Christmas

Exclusive Menu

Puro Christmas Limited-Time Merchandise

'The Puro Christmas' Musical Show

Guests will be treated to an entire world of Sanrio characters within a glittering snow globe, and each of them will be wearing limited-edition Christmas costumes. Seasonal photo spots and opportunities to spend time with characters will line the space, along with Christmas trees and other holiday decorations!

The special Christmas food menu features a Santa Claus theme and dishes are dotted with red and green. Exclusive snow globe-themed merchandise available for purchase includes keychains, pins, and sweets that are perfect to give as a gift this holiday season. In addition, a special four-day event 'Kitty & Daniel's Party-Party Christmas' will invite guests to enjoy a full buffet while watching a live performance and partaking in a photo session after the meal!

First performed in 2018, 'The Puro Christmas' musical show is making a comeback this year after becoming a big hit with fans. 

© 2021 SANRIO CO., LTD. TOKYO, JAPAN  著作 株式会社サンリオ

MUSER FEST.2021 -MUSIC AID- Event Holds Spin-Off Event for One Night Only

Last month's MUSER FEST.2021 -MUSIC AID- event isn't quite over! A spin-off event, ZIP-FM presents LIVE LIVE! Super Collaboration with MUSER FEST.2021, will be broadcast online on October 22 at 21:00. Since August, collaborative live performances have been planned with different guest artists each month on ZIP-FM's LIVE LIVE! With MUSER FEST.2021 program hosted by CHAI. This event is the culmination of these plans and the lineup is sure to get fans pumped. 

Performing artists include YUNA from CHAI, Suzuka and Mizyu from Atarashii Gakko!, Tabu Zombie from SOIL & "PIMP" SESSIONS, and Shingo Suzuki from Ovall. Ryo Kishimoto from fox capture plan will also join the live performance as a supporting artist. An archived stream will be available for two weeks after the live show, and tickets are on sale now on the official MUSER website. 

 

Information

ZIP-FM presents LIVE LIVE! Super Collaboration with MUSER FEST.2021

Broadcast Date: October 22, 2021 from 21:00-22:00

Price: 2,000YELL – ¥2,200 (Tax Included) *Includes access to archive

Buy Tickets: https://muser.link/__b/events/573 

Archive Available from October 23 – November 5 at 23:59

Archive Ticket Sales Period: October 23 – November 5 at 23:59

Official Site: https://muser.link/

Seaside Park Nagoya in Kinjofuto Event Offering Exciting Activities This Fall

Seaside Park Nagoya in Kinjofuto is coming to Makers Pier in Nagoya City on October 16 and 17, as well as October 30 and 31. The event will feature 30 different activities for both parents and children to enjoy, along with workshops where kids can learn new things, such as cardboard crafts and lunch totes. 

For those more adventurous types, bouldering and slacklining will invite guests to stretch and refresh their bodies while enjoying the sea air. Even beginners can safely enjoy some of these more strenuous activities, as instructors will be on site. Plenty of unique experiences will keep little ones busy discovering and exploring. 

 




When the sun goes down, the Night Cinema will begin, and guests can enjoy a movie beneath the stars. How would you like to come and relax by the seaside? 

Information

Seaside Park Nagoya in Kinjofuto

Dates: 

October 16, 17 from 10:00-20:00

October 30, 31 from 10:00-20:00

*After 5:00, all activities except movie screenings will be closed. 

Address: Inside Maker's Pier 

Official Site: https://seasidepark.info/

Naruto and Boruto Summer Event Begins at Nijigen no Mori

Nijigen no Mori, an amusement park located on Awaji Island in Hyogo, began a summer event at its Naruto and Boruto-themed zone on July 22 which is set to run until September 30.

Event-exclusive stickers

The event includes a huge water gun event where 25 litres of water will be sprayed to cool down guests during the hot summer event. With themed character panels displayed around the park, join Naruto and the gang, including Zabuza and Haku, for some summer fun. All guests receive a free original sticker too.

© 岸本斉史 スコット/集英社・テレビ東京・ぴえろ

Information

NARUTO&BORUTO SHINOBI-ZATO
Running: July 22, 2021 – September 30, 2021

Location: Nijigen no Mori

Opening Hours: 10:00-18:00
Price: Free (But park entry payment required)
Official Website: https://nijigennomori.com/naruto_shinobizato/

BanG Dream! Girls Band Party x Fuji-Q Highland Summer Event Announced

Fuji-Q Highland is set to host a summer event in collaboration with the mobile rhythm game BanG Dream! Girls Band Party from August 7 to September 12.

This marks the amusement park's 4th collaboration with the game which will see newly-illustrated artwork of the characters decorating the attractions, a special talk show hosted by the voice actresses, limited-time announcements on the attractions recorded by the voice actresses, a themed food menu, original merch, and more.

A digital stamp rally will also take place which will have guests locating life-sized panels of seven characters which they need to scan with their smartphone. This will give them a special voiced story. Those who obtain all the digital stamps by scanning all the panels will receive a free novelty as well as an original voiced guide for boarding the amusement park train. The train too will be decorated in BanG Dream! artwork.

©BanG Dream! Project ©Craft Egg Inc. ©bushiroad All Rights Reserved.

MIDTOWN ART PALETTE Brings Dreamy Digital Artwork to Tokyo Midtown For Summer

Tokyo Midtown's annual MIDTOWN ART PALETTE has returned again for the summer, opening on July 16 and running until September 5. This year, the event delivers a Digital Art Garden with gorgeous dream-like digital artwork.

Digital Art Garden

Last year's event

Experience a distinctively Japanese way to stay cool and refreshed on a wooden veranda with light and mist dancing through the outdoor space inspired by traditional Japanese rock gardens. Find yourself bewitched by an enchanting summer evening as the digital art transforms throughout the day.

This year's event is being held with all proper social distancing measures in place.

Take digital art home with you with AR fireworks

Locate five QR codes dotted around Tokyo Midtown which when accessed via your smartphone will award you with artistic AR fireworks, allowing you to enjoy fireworks with you wherever you point the camera on your screen, including at home.

Sanrio's Harmonyland Theme Park Announces 30th Anniversary Event For Summer

Continuing the character park's 30th anniversary celebrations, Sanrio Harmonyland opened its 30th Anniversary ~Special Summer~ event on July 16 which is running until August 31. There's a whole bunch of events and shows for Sanrio fans to look forward to this summer.

30th Special Greeting

For the entire duration of the event, lots of characters will come out to greet park guests twice a day. This includes Hangyodon and Tuxedosam, both of who haven't visited Harmonyland in almost 10 years. Pochacco will be there too in a brand-new costume.

Obake Ondo! DoRoRoNRoN!

The characters will be out dressed in cute summery yukata where they will invite guests to dance Bon Odori with them.

Parade Parallel ~30th Memories~

A special 30th anniversary rendition of the park's Parade Parallel will take place, taking songs and performances from past runs of this event which has been held since the park first opened.

30th Anniversary Night Party

Hello Kitty, Dear Daniel, Cinnamoroll, Kuromi, and 10 dancers will host a special anniversary night show to give thanks to guests for the past 30 years.

Running: July 17th-18th, 22nd-24th / August 7th-8th, 13th-15th, 21st-22nd, 28th-29th

Character Menu: Hello Kitty's Cheese in Hamburger Curry – Cinnamoroll's Beef Stew Rice – Smiling Pompompurin's Pork Cutlet Curry | ¥1,380 Each

Wish Me Mell's Heart Korokke White Sauce Omurice | ¥1,400

Acrylic Stand Keyrings | ¥748 Each

Guests can get their hands on exclusive anniversary merchandise and enjoy some limited-time dishes too.

ⓒ 2021 SANRIO CO., LTD. S/D・G

Event Report: Sanrio's Little Twin Stars and Their Dreamy World at Tokyo Tower

Sanrio's popular character duo Kiki & Lala, also known as the Little Twin Stars, are have brought their dreamy, pastel-coloured world to Tokyo Tower with a special summer event titled "Little Twin Stars Summer Night Fantasy Meets Kiki & Lala Exhibition produced by LIDDELL" which began on July 10.

At the event entrance, guests are given a special 'passport' notebook which is stamped before entering, allowing access to Kiki & Lala's world in the clouds above.

Guests are guided by Kiki & Lala's voice through the rose-coloured "Star & Rose-Coloured Cloud Fantasy Gate" were they are met with five different booths.

At Kiki's Star Catching booth, visitors can experience one of Kiki's favourite past times by 'catching' stars. The stars that are caught can be taken home as a fun memory.





There's also the Starry Sky Light Shower booth which is decorated with mirror balls that reflect the light as well as a wall featuring words and phrases said by the twins, the pink and light blue-coloured Kiki & Lala's Playroom where you can snap cute photos, the Glittering Moviegenic booth which uses your smartphone to watch an animation of Kiki & Lala, and more.

Fans of the twins can enjoy an exhibit of various artworks too, including the 8-meter tall Fantasy Wall which depicts the world above the clouds.

The day before the exhibition began, on July 9, Tokyo Tower was lit up in blue and pink Kiki & Lala colours from 19:30 to midnight. It was a special one-night experience.

If you're in Tokyo this summer, soar up high into Kiki & Lala's world at Tokyo Tower.

©'21 SANRIO 著作(株)サンリオ

Information

LittleTwinStars Summer Night Fantasy Meets Kiki & Lala Exhibition produced by LIDDELL

Running: July 10, 2021 – July 25, 2021

Event Site: https://sanrio.site/qY0AN

Art and Illuminations Fuse at Chiba Park For Nighttime Entertainment

YohaS is set to collide the real and digital worlds at Chiba Park with an event titled YohaS 2021 Night Park Gallery which will run from July 6 to 10.

Lightning artwork (*For illustrative purposes only, art will be different for the event)

The event held back in 2019

YohaS is a collaborative project between Chiba City and Tsubakimori Komuna. It was launched to boost and develop the nighttime economy of Chiba, with its first event having taken place as the evening portion of the Ooga Hasu Flower Festival held in Chiba back in 2018. YohaS was unable to be held last year due to the pandemic and so an event was held online. This year sees its return with an event taking on the theme of "Silent Lips" which refers to the current situation with COVID-19 and how we cannot see peoples' smiles or lips due to them wearing face masks.

The title of the YohaS 2021 event is "Night Park Gallery" which will turn Chiba Park into an art gallery and fuse it with breathtaking lighting and illuminations by Sun Effects. There will be six stages produced by Hiroaki Kumagai, a former member of Cirque du Soleil, each of which will offer equally incredible performances with their own stories from July 6-9. Visitors can also purchase YohaS wristbands, t-shirts, anti-bacterial sprays, and more.

For those still unable to attend in person, YohaS will also open an online version of the event called Virtual YohaS in Chiba Park which can be accessed via a PC or smart device.

Information

YohaS 2021 Night Park Gallery

Running: July 6, 2021 – July 10, 2021
Opening Hours: 17:00-21:00
Location: Chiba Park

Address: 3 Chome-1-1 Benten, Chuo Ward, Chiba, 260-0045, Japan

Entry: Free
YohaS Official Website: https://www.yohas.fun/

Studio Chizu Animation Studio Celebrates 10th Anniversary at Yomiuri Land

Tokyo-based amusement park Yomiuri Land and flower park HANA・BIYORI are celebrating 10 years of Studio Chizu, the animation studio spearheaded by director Mamoru Hosoda, as well as the upcoming release of their new film Belle with a special event that is running from July 17 to September 5.

Studio Chizu 10th Cross Park in Yomiuri Land

Flowers collide with digital art at HANA・BIYORI

Solve puzzles in an AR rally

Themed food

Exclusive merchandise

The events will celebrate Mamoru Hosoda and Studio Chizu's entire filmography including The Girl Who Leapt Through Time, Summer Wars, Wolf Children, The Boy and the Beast, Mirai, and their upcoming film Belle which will be released in Japan on July 16. This includes themed attraction, food, merchandise, and more. There will also be a special AR rally where guests will need to locate hidden characters around the park. A digital art show will also take place at HANA・BIYORI which is connected to Yomiuri Land.

More details about the attractions and food will roll out in early July.

Cute Little Bird Themed Event Opens at Odakyu Department Store in Shinjuku

The Shinjuku Bird Festival opened on the 11th floor of Odakyu Department Store in Shinjuku, Tokyo on June 30 where it's running until July 6.

Some of the cute bird products to get your beaks on

Piyo Piyo Gao Poncho-chan: ¥8,250 / Piyo Piyo Gao Goggle-chan: ¥5,500

Ikimono Cookie kurimaro collection Cookies: ¥432 Each

Kisuke Paper: Large ¥3,850 / Small ¥2,750 (Available July 3-4 only)

Hoholala Kobo Oven Glove | ¥2,200

m-pool Glass Necklace | ¥4,950

Wild Bird Paintings | ¥1,980 Each

Hoholala Kobo x Oiue-dou Pouches: ¥2,200
 

Free fan for buyers

Free postcard for buyers

Bird lovers will be able to get their talons on everything from accessories to desserts and more. Many of the items are exclusive to the event, and there's also some freebies: the first 100 people to spend over ¥3,000 each day will receive an original fan, and the first 300 people to arrive at the festival each day will get a postcard.

Information

Shinjuku Bird Festival
Running: June 30, 2021 – July 6, 2021

Opening Hours: 10:00-20:00
Location: Odakyu Department Store Shinjuku (Floor 11F)

Address: 1-1-1 Nishi-Shinjuku, Shinjuku-ku, Tokyo

Access: Outside Shinjuku Station's west exit
TEL: 0570-025-888
Official Website: http://www.odakyu-dept.co.jp/