6 Fun Events Happening in Harajuku & Shibuya: February 2018
Hi there! My name is Ellie, and I work at the MOSHI MOSHI BOX, the official Harajuku Tourist Information Center
I get the feeling it's colder here in Japan than last year… But never fear! Today, I'm here to show you 6 events happening in Harajuku and Shibuya this February that will make you want to go outside.
"Night Safari Restaurant" – Banks, Shibuya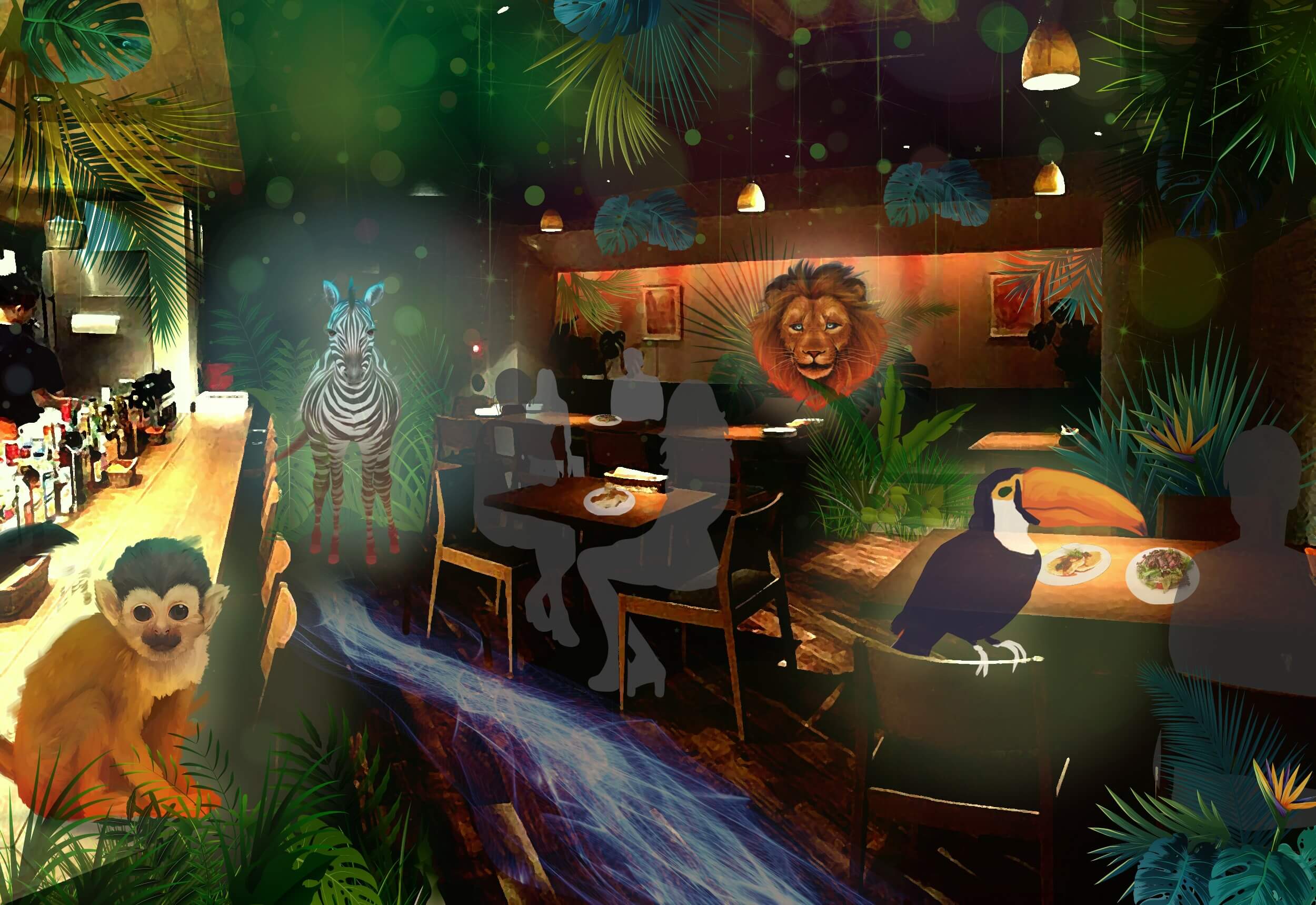 "Banks cafe & dining" are holding a very unique projection mapping event titled "Night Safari Restaurant" that started on January 30th and will run for two weeks. It's the world's first ever night safari restaurant, where projecting mapping will be used to make it seem as if you're really in the jungle, to the point where you can almost touch the animals. Experience this nighttime safari using VR see the living, breathing jungle for yourself where you will get up close with lions, squirrel monkeys, zebra and other animals roaming around the restaurant.
Full Details: https://www.moshimoshi-nippon.jp/87346
Hello Kitty Greeting Event – Shibuya Mark City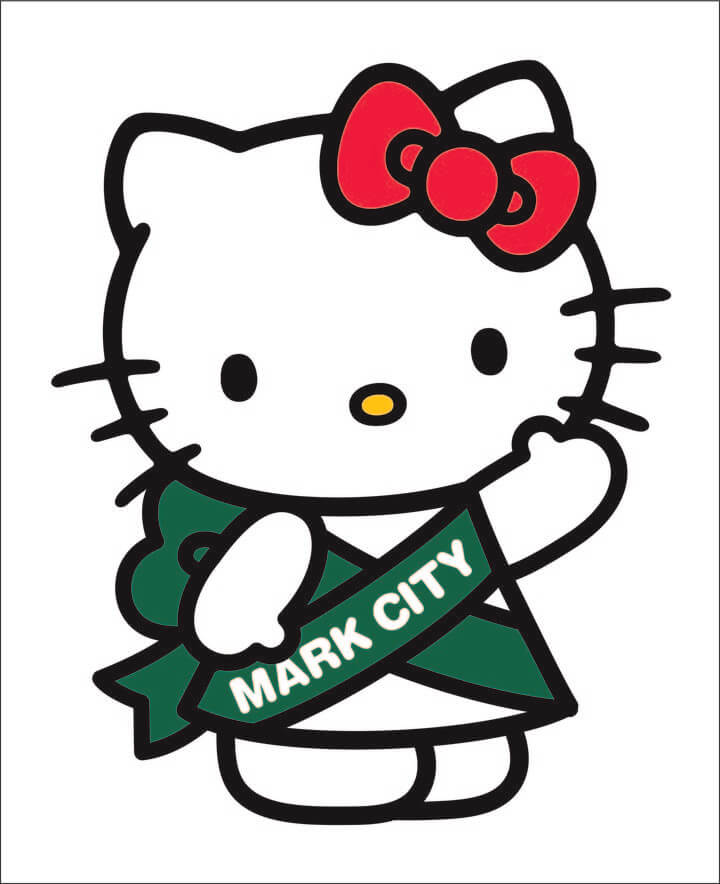 Shibuya Mark City is teaming up with Hello Kitty to host the "Shibuya Mark City Valentine's Campaign" which will run from January 16th to February 14th.
The campaign will celebrate the season of love with original Hello Kitty creations, 'Gotochi Kitty' panel exhibitions, a Hello Kitty greeting event (February 12th), a lottery to win Hello Kitty merchandise, and leaflets will be handed out for 'Gotochi Kitty × Gotochi Menu.'
Full Details: https://www.moshimoshi-nippon.jp/85578
Harajuku Fashion Walk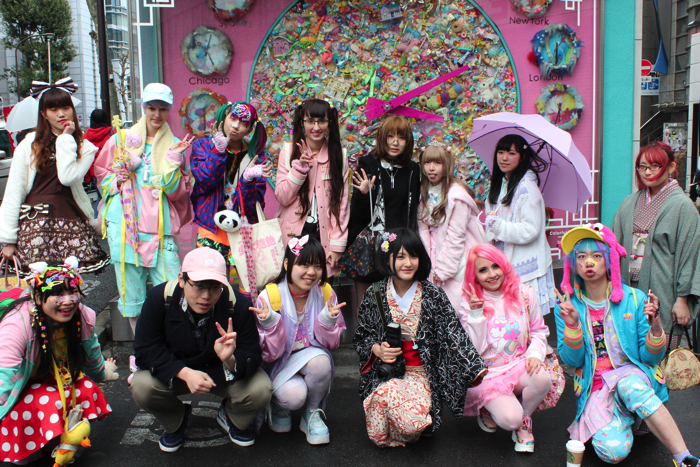 The Harajuku Fashion Walk is an inclusive monthly event held by Harajuku lovers of all nationalities and ages where they get together to stroll the streets of Japan's fashion hub. To join, all you need to do is check what date the next event falls on via the event's Twitter page (@hsrajuku_fw) and show up! It's completely free to participate and you don't have to sign up to anything. The event is very welcoming to foreigners, so if you're a fashion lover, then head along. And if you're looking to meet a real Harajuku Girl, then this is the perfect chance.
Full Details: https://www.moshimoshi-nippon.jp/45910
Dragon Ball Café
Renowned anime and manga series Dragon Ball, a franchise loved all over the world, has gotten its own character themed café. "Dragon Ball Café & Diner Tokyo" just opened at Natural Kitchen in Omotesando, Tokyo on January 15th. Natural Kitchen are very particular in their selection of ingredients for their meals, only picking the best. The talented chefs there have conceived a unique and original fun-packed menu completely themed around Dragon Ball. We recommend the "Four-Star Dragon Ball Omurice With Rich Demi-Glace Sauce," a dish themed on the Four-Star Dragon Ball, the most recognisable of all the Dragon Balls.
Full Details: https://www.moshimoshi-nippon.jp/86377
"Gintama CAFÉ Host Club Takamagahara"
A café themed around the anime series "Gintama" will open its doors on February 15th. They have a range of unique items on the menu, such as "Takamagahara no Hostalker ga Omochisuru Tokusei Napolitan" and "Takamagahara's Champaign Tower." Reservations must be made before visiting, and those that do make a reservation will receive one limited edition A3 size poster randomly selected from a possible four. You can also receive your very own Gintama themed business card randomly selected from a possible seven.
Full Details: https://www.moshimoshi-nippon.jp/87388
 "aibo room" – SHIBUYA MODI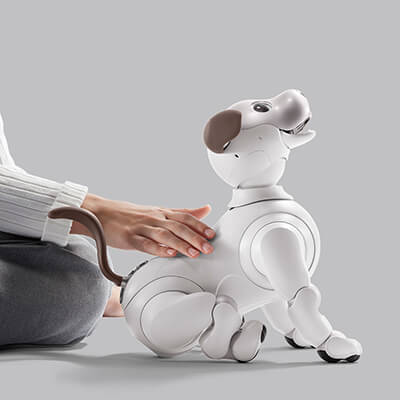 Sony has opened the "aibo" room inside "Sony Square Shibuya," on the first floor of SHIBUYA MODI, where visitors can play with "aibo," an autonomous robot dog. Running until mid-March, the project will give you the exciting chance to meet the hugely popular aibo to pet him and receive his little robot paw. aibo will respond to you with his big round eyes, unique voice, ears and tail.
Full Details: https://www.moshimoshi-nippon.jp/83059
Did you enjoy this list? Wrap up warm and head on out to one of these fun events, and if you're unsure of how to find any of these places then please stop by the MOSHI MOSHI BOX in Harajuku – we'd be happy to help!
RELATED ENTRIES
JUMP Magazine Announces Online Festival For 2021

Shueisha has announced that JUMP magazine's annual festival JUMP Festa is heading online for 'JUMP Festa 2021 ONLINE' which will run from December 19, 2020 to December 20, 2020.

JUMP Festa is a celebration of five manga publications by Shueisha: Weekly Shonen Jump, Shonen Jump+, V Jump, Jump SQ., and Saikyo Jump. This year marks its 22nd run, but due to the COVID-19 pandemic, the event is unable to be held in real life and so will be held online for the first time. To enter, you can download the JUMP Festa app or head on over to the event's official website.

JUMP Festa Island – A Virtual Venue

JUMP Festa Island is where JUMP Festa 2021 ONLINE will take place, a virtual space where visitors can access content related to JUMP-related media from the free-to-access library to the theatre, an online shop, and more. There's also a zoo area, photo spots, and mini games.

Original characters created for JUMP Festa Island

Each of the five magazine publications have had their own original characters drawn for this online event. More details will be revealed about these characters in the coming weeks, but they can run around, pose, and more.

© SHUEISHA Inc. All rights reserved.

Information

JUMP Festa 2021 ONLINE
Running: December 19, 2020 – December 20, 2020

Time: 9:00-17:00
JUMP Festa Official Website: https://www.jumpfesta.com/

US Rapper Dumbfoundead Announces Free Online Music Event 'DOUBLE HAPPINESS Global Holiday Festival'

US rapper Dumbfoundead will spearhead the DOUBLE HAPPINESS Global Holiday Festival, a global online music festival set to stream for free via Eastern Standard Time on December 2 and 3 depending on where you live. The event will welcome performances from top Asian artists.

Over 30 artists will perform across 8 hours. Headliners include music duo NxWorries, eight-member South Korean idol group ATEEZ, K-pop artist CHUNGHA, and others. Atarashii Gakko no Leaders a.k.a. ATARASHII GAKKO! from Japan will also perform.

▼Line-Up

Ardhito Pramono、Atarashii Gakko no Leaders a.k.a. ATARASHII GAKKO!、ATEEZ、Audrey Nuna、AUGUST 08、Balming Tiger、BVNDIT、CHAI、Chi Pu、CHUNG HA、Dumbfoundead、Dvwn、Fern.、Guapdad 4000 、Jason Dhakal、Joey Alexander、Josephine Alexandra、Kiana V、Leila Alcasid、 MADDOX 、Massiah、、Milli、Numcha 、NxWorries 、Pamungkas、RIRI、Seori、Stephanie Poetri・The Resonanz Children's Choir Alumni、warrenisyellow、Wolftyla 、Year of the Ox、Ylona Garcia 、Yuna

SOAK: Tokyo's New Entertainment Restaurant & Bar Opens Bookings

Japanese creative company BAKERU has opened bookings for the new entertainment restaurant and bar SOAK which is set to open on November 13, 2020 on the top floor of MIYASHITA PARK's new brand hotel "sequence MIYASHITA PARK" in Shibuya, Tokyo. The restaurant will served up a 'Japanese innovative' menu made by Takeshi Nagashima of Nishiazabu 81 and Hideaki Nagaya of L'Effervescence.

An otherworldly restaurant and bar serving Japanese innovative cuisine

"BUILD NEO TOKYO" is the theme of SOAK. SOAK welcomes by Takeshi Nagashima of Nishiazabu 81 which delivers performance style-entertainment to customes, and Hideaki Nagaya of L'Effervescence, who was chosen for "JAPANESE CUSINE TOP 5 CHEF IN HONG KONG." Bartending will be Takashi Goto who has worked as the main bartender at Sake Bar DECIBEL in New York and Shampoo in Shinjuku Golden Gai.

An event and party space which can hold up to 100 people

Located just a 3-minute walk from Shibuya Station, SOAK can be used as a party and event space with a maximum capacity of 100 people whether it be a wedding reception or a gathering of friends, family, or business, as well as for events, catering to any and every need. The space was designed by Noiz, a leading interior designer in Japan. The monuments were designed by contemporary artist Akira Yoshida, while the audio design is by Acoustic Engineering and the music is selected by Hirokazu Yamasaki from the post-rock and instrumental band Toe.

OYU: The rooftop terrace offering a panoramic view of Shibuya

Take in a panoramic view of Shibuya atop the rooftop terrace, and enjoy the pool either in the sunlight or shrouded luxuriously in the night with gorgeous illuminations and a glass in hand.

The pre-opening is set for November 13, 2020, but this is subject to change depending on the state of the pandemic.

Information

SOAK

Pre-Opening: November 13, 2020

Address: MIYASHITA PARK North Floor 18F, 6-20-10 Jingumae, Shibuya, Tokyo

Opening Hours: 17:00-24:00 (Last Orders 23:30)

Closed: Mondays

TEL: 03-6427-9989 (17:00-22:00)

Official Website: https://soaks.tokyo/

Harry Potter's 20th Anniversary to be Celebrated at LAZONA Kawasaki Plaza in Japan

Harry Potter and the Philosopher's Stone will turn 20 years old next year, and to celebrate, Warner Bros. Japan is collaborating with the LAZONA Kawasaki Plaza shopping centre to hold an event called "Christmas at LAZONA of Harry Potter Magic World" from November 13, 2020 to December 25, 2020.

The event welcomes the enormous Hogwarts Express installation that was showcased in Singapore in 2018-2019 as well as a special 5-day "Snow Magic" performance and more. Visitors can prepare to be whisked away into a magical world.

The Hogwarts Express and Snow Magic

Take a photo by the 10 meter wide Hogwarts Express train, the village of Hogsmeade, and other locations at the event and feel like you're part of the Harry Potter world.

Christmas at LAZONA of Harry Potter Magic World at LAZONA

Hogwarts Express Train Installation
Running: November 13, 2020 – December 25, 2020

Location: LAZONA Kawasaki Plaza Floor 2F

Snow Magic
Running: November 13, 19-20, 24-25, 202
*Three times a day at 14:00, 16:00, 18:00
Location: LAZONA Kawasaki Plaza Floor 2F

POP UP SHOP

There will also be a pop-up shop selling lots of special Harry Potter merchandise.

Eco Bag (Harry Potter Mini Characters)

Coaster (Harry Potter Mini Characters)

Round Case (HBD HARRY)

Harry Potter Best Goods Collection
Running: November 13, 2020 – November 21, 2020
Location: LAZONA Kawasaki Plaza Floor 2F

Running: November 22, 2020 – January 17, 2021
Location: Plaza West 2F LAZONA

House of MinaLima
Running: December 17, 2020 – December 20, 2020
Location: Plaza East 2F LAZONA

LAZONA Kawasaki Plaza Collaborative Pre-Sale Merchandie

Fans can get their hands on pre-sales of exclusive LAZONA x Harry Potter merchandise.

axes femme Skirt

AZUL BY MOUSSY Top

FREDY & GLOSTER Bag

Original Eco Bag (1 per person / while supplies last)

Customers who buy any of these collaborative items will receive an original eco bag.

A variety of events will also be held at LAZONA.

Panel Exhibition
Panels from the Harry Potter franchise will be displayed to further pull fans into the wizarding world.

Running: November 13, 2020 – December 25, 2020

Location: LAZONA Kawasaki Plaza Floor 2F

HMV

Harry Potter characters, names and related indicia are trademarks of and ©Warner Bros. Entertainment Inc. Harry Potter Publishing Rights © J.K.R.​© 2020 Warner Bros. Entertainment Inc. All rights reserved.WIZARDING WORLD and all related characters and elements are trademarks of and © Warner Bros. Entertainment Inc.Wizarding WorldTM Publishing Rights © J.K. Rowling. © 2020 Warner Bros. Entertainment Inc. All rights reserved.

HMV at LAZONA will be selling all of the Harry Potter films as well as Fantastic Beasts on DVD and Blu-ray. A great opportunity for fans who have yet to complete their full collection.

Maruzen Harry Potter Fair

Maruzen will host a Harry Potter fair with reading material, Christmas presents, and more from across the Harry Potter and Fantastic Beasts franchises.

Running: From November 13, 2020

Location: Maruzen, LAZONA Kawasaki Plaza Floor 1F

Sai Sai Jaran Jaran #10: SILENT SIREN's Hinanchu Visits Tokyo's New Hotel sequence MIYASHITA PARK

Sai Sai Jaran Jaran is a featured series here on MOSHI MOSHI NIPPON from the members of the all-female band SILEN SIREN (aka Sai Sai) who visit various hot spots in Japan and experience different things, the Sai Sai way.

In Episode #10, SILENT SIREN drummer Hinanchu wanted to go and stay at a hotel in Tokyo, so she decided to take a trip to sequence MIYASHITA PARK, a new hotel inside Shibuya's new landmark shopping complex MIYASHITA PARK which itself opened in August 2020.

The newly-reborn MIYASHITA PARK is a four-storey shopping complex with stores located on the first three floors and the top floor being home to the park. The park houses a range of exercise and sports sites like a skate park and bouldering wall as well as the green area and even a Starbucks. This park is so spacious that it's easy to forget it's right next to busy Shibuya Station. It has been open for three months now and is already adored by the community.


sequence MIYASHITA PARK is an 18-storey hotel that stands on the north side of MIYASHITA PARK. It can even be accessed from the complex's fourth floor park which leads visitors to the lobby lounge. The park side of the hotel is also home to a cafe called VALLEY PARK STAND.


VALLEY PARK STAND can be used by non-guests at the hotel too and is open from morning to night time. The windows tower from the floor to the ceiling, allowing plenty of natural light into the cafe. There's plenty of seating areas with table seats, sofas, and benches.


MIYA PITA CHICKEN SHAWARMA ¥900 | FRENCH FRIES & COCKTAIL COMBO ¥800 (Tax Included)

VALLEY PARK STAND is a cafe themed on a fictitious valley park, acting as one big park situated in the middle of bustling Shibuya. Adventuring through the valley park is best done with one of the cafe's signature "MIYA PITA" pita sandwiches in hand.


The cafe offers a selection of coffees, pastries, and pitas for lunch and breakfast. In the evenings, customers can switch to the bar to enjoy something alcoholic. Their original craft cocktails are very popular and are made by a bartender who honed their craft while working in New York.

Hinanchu ordered the "Park & Pomegranate Bellini." Normally hotel cocktails are small, but the ones served at VALLEY PARK STAND are much more generous.


The cafe even sell their own merchandise, from mugs to tumblers and even picnic blankets so you can have a picnic in MIYASHITA PARK if the weather calls for it!

For more information about VALLEY PARK STAND, check out our full breakdown here.

VALLEY PARK STAND
Address: sequence MIYASHITA PARK 4F, 6-20-10 Jingumae, Shibuya, Tokyo
Opening Hours: 7:30-23:00 (Last Orders 22:30)
TEL: 03-6712-5442

Instagram: https://www.instagram.com/valleyparkstand/

The hotel check-in lounge can be found on fourth floor, the same as VALLEY PARK STAND. Check-in uses a new unmanned self-service system so all you need to do is follow the instructions.


Guest rooms are simple but the furniture and fixtures are of high quality. Hinanchu stayed in the 4-person "BUNK BED 4" room. Prices vary depending on the season, but it can cost less than ¥5,000 for one person to stay in a 4-person room which is a bargain!


The wide windows in guest rooms look out across MIYASHITA PARK. Depending on the hotel room you're in, you'll also be able to see landmarks like Tokyo Tower and Tokyo Skytree. The windows also read "Hi, TOKYO!" on them which makes for the perfect photo opportunity.


All rooms are also fitted with reading material by young authors. If you scan the QR code next to their piece, you can learn more about them and even make a donation.


Check-in is at 17:00 and check-out is 14:00 so guests can enjoy their stay leading into the early afternoon of the next day. The MIYASHITA PARK shops open at 11:00, so after checking-out, guests can go straight to shopping or lunch.

So, how did you find MIYASHITA PARK, Hinanchu?

"I've always lived in Tokyo, so I never imagined I'd stay in Shibuya, but you can really feel like a queen staying here! Despite it being smack bang in the middle of Tokyo, it's right next to the park which feels good. I definitely recommend it to those who live in rural areas that want to come and play in Tokyo since places like Shibuya and Harajuku are close by. The hotel is littered with art and stylish design, so it's not simply a stay but a creative experience too which I think will be popular with foreigners. I want to come here again on my own for a relaxing time!"


On the fifth floor of the hotel is the restaurant and bar Dōngxī Restaurant & Sakaba which offers both breakfast, and dinner. The new entertainment restaurant and bar SOAK is also opening on November 13.

If you're thinking of staying in Tokyo or Shibuya, be sure to look up sequence MIYASHITA PARK.

Photo: Kayo Sekiguchi
Text: Sayoko Ishii

Translation: Joshua Kitosi-Isanga

 

SILENT SIREN


SILENT SIREN is a four-member all-female band consisting of vocalist & guitarist Sumire "Suu" Yoshida, drummer Hinako "Hinanchu" Umemura, bassist Aina "Ainyan" Yamauchi, keyboardist Yukako "Yukarun" Kurosaka. In 2015, they performed their first solo concert at Nippon Budokan, making them the fastest Japanese all-female band in history to perform there since making their major debut. In April this year, they launched their own YouTube channel called "Sai Sai Channel." They released their 7th album mix10th on September 2, 2020. The band celebrated their 10th anniversary with a special live performance at Yamanakako Communication Plaza Kirara on September 20, 2020. For the latest information on SILENT SIREN, visit their official website here: http://silent-siren.com/

Cute Miffy Travel Merchandise to be Sold at Pop-Up Store in Shibuya

Pinkoi, the company that runs Asia's biggest global e-commerce site of the same name, has announced a collaboration with Dick Bruna's popular character Miffy, who is celebrating her 65th anniversary this year. A special pop-up store that will open up at Hotel Koe Tokyo from November 19 to December 6.

Miffy fans can look forward to getting their hands on 180 different exclusive items made in collaboration with designers from Taiwan, Hong Kong, Thailand, China, and Japan

Pinkoi x Miffy 〜TRAVEL with Miffy〜

"TRAVEL with Miffy" is the name of the collaboration which features a collection of travel-themed Miffy goods.

Merchandise (Sample)

Re-Mask (Hong Kong) | Face Masks

Face masks have become a normal part of everybody's life this year as a result of the pandemic, so why not go for a cute design? These cotton masks were made by a face mask company in Hong Kong and come in a variety of colours such s white, pink, and navy.


agooday (Taiwan) | Food Eco Bag

An eco-bag perfect for taking to the supermarket when grocery shopping. The inside of the bag is made from vinyl so can be washed. Its small size also makes it conveniently compact for carrying around.


一帆布包 (Taiwan) | Drink Holder

This drink sleeve has a strap on it so you can carry around your hot or cold beverage like a handbag. These are made by a Taiwanese bag brand which has been going for over 30 years.


pupupu (Japan) | Bags

Cute bags with minimalist designs and made from warm and fluffy material perfect for the winter season. Miffy's ears are actually the handles.


寺沼麻美 (Japan) | Mobiles

These cute Miffy mobiles are all handmade, with swaying stars and clouds to help you drift you off to sleep.

Limited Edition Presents

Stickers / Tote Bag / Handkerchief

There's also a selection of goodies visitors can get their hands on. If they post on Twitter, Instagram, or Facebook using the hashtag #pinkoixmiffy while at the pop-up store they can get some Miffy stickers. If they spend over ¥8,000 they'll get the tote bag. Pinkoi members will get one of four possible Miffy handkerchiefs.

Special Website

A special page for the pop-up store will open on Pinkoi's official website on November 12 less than a week before the pop-up store opens so Miffy fans can order items online early.

Information

Pinkoi x Miffy 〜TRAVEL with Miffy〜 TOKYO Pop-up Store
Running: November 19, 2020 – December 6, 2020

Opening Hours: 11:00-19:00 (Open from 14:00 on November 19)

Location: hotel koe tokyo 2F pop up space

Address: 3-7 Udagawacho, Shibuya, Tokyo
Access: 5-minutes on foot from Shibuya Station's A6b Exit

Pinkoi Official Website: https://jp.pinkoi.com

Kyary Pamyu Pamyu Adorns Shiseido Beauty Square in Harajuku With New Winter Look

Following her Halloween-inspired look for Shiseido Beauty Square, Japanese pop icon Kyary Pamyu Pamyu returns to the beauty facility with a new white and snowy winter look which was unveiled on Monday (November 2).

Shiseido Beauty Square

Kyary Pamyu Pamyu became the ambassador for Shiseido Beauty Square when it opened back in June. The concept of the beauty facility is centred on having people discovering their beauty, having fun, sharing experiences, and learning the latest in the scene

Winter Key Visual

Kyary's winter look for 2020 features a breathtaking headdress inspired by snowy skies, silver flowers, and powdery snow. The look was made in collaboration with top Shiseido hair  and makeup artist Tadashi Harada.

If you're stuck on what makeup to wear for winter, and are in Tokyo this holiday season, be sure to pay a visit to Shieido Beauty Square where you're sure to discover a new you.

Information

Shiseido Beauty Square

Address: WITH HARAJUKU Floor 1F, 1-14-30 Jingumae, Shibuya, Tokyo

Opening Hours: 11:00-20:00

No Fixed Holidays
TEL: 03-5413-7717

Official Website: https://beautysquare.tokyo/

*Website available in English, Japanese, and Chinese

IKEA to Open New 7-Floor Branch in Shibuya This November

IKEA Japan has announced that it will open a new branch in Shibuya, Tokyo, on November 30, 2020.

IKEA Shibuya comes soon after IKEA Harajuku which opened in June of this year. The new branch will boast seven floors: the first six will offer lifestyle products and open on November 30 while the 7th floor will house the restaurant which is set to open in Spring 2021.

A special pre-opening will be available to IKEA Family members on November 27 and 28 who can get their hands on products before anyone else at a special price. Members must book their place by November 10.

Shibuya's L'OCCITANE CAFE Reveals Spooky Parfait For Halloween 2020

L'OCCITANE CAFE Shibuya is getting ready for Halloween with the reveal of its sweet potato and apple parfait which will be served from October 21 to 31. The Tokyo-based cafe is centred on the food culture and lifestyle of Provence in southern France.

Sweet Potato and Apple Parfait | ¥1,280 (Tax Included)

The seasonal treat is a mix of purple sweet potato and regular sweet potato, baked apples, apple sherbet, and vanilla ice, all topped off with whipped cream, roasted nuts, and almond tuile biscuits in the shape of ghosts and a pumpkin.

Information

Sweet Potato and Apple Parfait
Serving: October 21, 2020 – October 31, 2020

L'OCCITANE CAFE Shibuya
Address: 2-3-1 Dogenzaka, Shibuya, Tokyo
Opening Hours:
[Sun-Thur] 11:00~22:00 (Last Orders 21:00)
[Fri-Sat] 11:00-23:00 (Last Orders 22:00)
TEL:03-5428-1563
Access: Straight ahead of Shibuya Station's 5th Exit (Inokashira Exit)
L'OCCITANE Japan Official Website: https://jp.loccitane.com/

Tokyo's Cheese Dish Factory Releases New Tart Parfait Mont Blancs

Cheese Dish Factory, a restaurant in Shibuya MODI in Tokyo, released a new seasonal dessert for the autumn season on Monday called the 'Tart Parfait Mont Blanc.' The tasty bite's foundation is an almond tart which is filled and layered with ingredients like a parfait before being topped off with mont blanc cream.


The dessert comes in for delightful variations such as the 'Chestnut & Tiramisu' which tops tiramisu with the flavours of autumn like chestnut ice cream and chestnut cream, and the 'Berry & Berry' which is piled full of strawberry cream and topped off with a strawberry. Sweet-tooths will discover a labyrinth of flavours as they gradually make their way through whichever they decide to order.

Chestnut & Tiramisu (Mascarpone Cheese) | ¥880 (Before Tax)

The tiramisu is made with mascarpone and has on top of it Japanese chestnut and chestnut ice cream. The chestnut cream is arranged like a mont blanc. The inner tiramisu adds a unique touch to make this a mont blanc for the ages.

Berry & Berry (Cream Cheese) | ¥820 (Before Tax)

This tiramisu is made from cream cheese which is topped with strawberry sauce and vanilla ice cream. A parfait mont blanc for the strawberry lover who won't be able to resist the strawberry cream and the crowning fresh strawberry.

Fromage & No-Bake Cheesecake (Parmigiano-Reggiano Cheese) | ¥780 (Before Tax)

A no-bake cheese cake combined with cream cheese ice cream and cream cheese. Inside you'll find fresh white peach. There's also a crispy texture brought by the Parmigiano-Reggiano. A must-try for cheese fanatics.

Matcha & Brown Sugar Syrup Soy Flour (Ricotta Cheese) | ¥780 (Before Tax)

A mountain made from matcha warabimochi, adzuki red bean paste, brown sugar syrup soy flour, and vanilla ice cream. This one's full of Japanese flavours, but also ricotta cheese, making it a Japan x Western fusion.

Information

Cheese Dish Factory Shibuya MODI
Address: Shibuya MODI Floor 9F, 1-21-3 Jinnan, Shibuya-ku, Tokyo

Access: 3-minutes from Shibuya Station
TEL: 03-6416-5179
Business Hours: Lunch 11:00-15:00 / Cafe 15:00-17:00 / DINNER 17:00-23:30
Official Website: http://www.sld-inc.com/cheesedishfactory.html

KIDDYLAND Harajuku to Celebrate Miffy's 65th Anniversary

KIDDYLAND Harajuku, a fun and cheerful shopping centre in Harajuku, Tokyo, has announced that it is celebrating the 65th anniversary of Dick Bruna's popular character Miffy from October 10 to March 19 with a different theme every month. Visitors can expect to get their hands on a range of merchandise, freebies, and more.

CARROT

Running from October 10, 2020

A selection of autumn-coloured and carrot-themed Miffy merchandise will be sold. If you head on up to miffystyle on floor 4F of KIDDYLAND Harajuku right, and spend more than ¥1,000, you'll also receive a special Miffy shopping bag completely free (available now). These are limited in stock though so you'll want to get your paws on them quick!

KIDDYLAND x miffystyle Christmas Fair 2020

Running from November 7, 2020

miffystyle and KIDDYLAND are hosting a Christmas fair this year themed on animals. A special range of merchandise with designs of Dick Bruna's animals will be sold. Customers who spend over ¥1,000 at the fair will also receive a free shopping bag, and if they spend more than ¥2,000 some special pink wrapping paper. These are both limited in stock.

A must-grab at the Christmas Fair


Miffy GOODGLAS | ¥3,900 (Before Tax)

One must-get item at the Christmas fair is the cute double-wall glass made by GOODGLAS. Perfect as a gift to yourself or someone else this Christmas. As you pour your drink into it, Miffy's face will appear.

Enjoy the autumn and winter this year with Miffy in Harajuku.

Illustrations Dick Bruna © copyright Mercis bv,1953-2020 www.miffy.com

Experience Shinjuku's Famous Halloween Event Online at Virtual Shibuya

The Virtual Halloween Committee has announced that it will host an online Halloween event inside Virtual Shibuya as a result of the pandemic and to mitigate crowded streets in Shibuya, a place which becomes a sea of people during the spooky holiday season.

The event, titled Virtual Shibuya au 5G Halloween Fes, will begin on October 26 and run up to Halloween Day. It is being promoted with the hashtag #StayVirtual.


Shibuya 5G Entertainment Project launched its new digital platform "Virtual Shibuya" back in May of this year. Officially recognised by Shibuya City, Virtual Shibuya comes in response to the effects of the novel coronavirus (COVID-19) which has brought tight restrictions to the economy and people's way of life. It will enable people to continue enjoying entertainment from the comfort of their homes by participating in a whole host of virtual events and activities. The project aims to deliver content from Shibuya with live performances from artists, art exhibitions, talks, and more. The use of 5G and the latest cutting edge technology will connect the real Shibuya to a virtual space, combining the realms of the digital and real world.

The Halloween event is inviting a host of Japanese artists and comedians to perform inside the virtual space, which itself will be littered with all things Halloween like Jack-o'-lanterns, bats, and more. Users will also be able to dress their avatars in the appropriate clothing in line with the holiday season of scares. All of this aims to deliver the famous Shibuya Halloween experience that the people of Tokyo are so used to.

Virtual Shibuya au Halloween Fes

Virtual Shibuya is evolving and will be updated for the upcoming Halloween event. Users can look forward to a host of music events and talk events during this age of the 'new normal.'

au 5G Presents Kyary Pamyu Pamyu: Virtual Mini Live

Virtual Shibuya will host its very first virtual live concert to open the Halloween festival. Japanese pop star Kyary Pamyu Pamyu is included in the performance line-up, who will be serving a very special one-night-only Halloween themed show inspired by horror movies. Titled "Kyary Pamyu Pamyu Online Halloween Live 2020 THE FAMILY 10.31," you can find out more about the concert here.

au 5G Presents BiSH: Virtual Live

Japanese idol group BiSH will also be playing a special Halloween show at the event.

au 5G Presents "Everyone's 5G" – Comedy Duo Wagyu Perform

Japanese comedy duo Wagyu will perform live using 5G technology which will render them in high-speed, high quality holograms.


The rest of the line-up and more details about the event will be announced in the coming weeks.