"SAKURA CHILL BAR by Sagansake" will be opened at Omotesando
A bar where you can view cherry blossoms while enjoying Japanese sakes produced in Saga Prefecture called, "SAKURA CHILL BAR by Sagansake" will be opened at "ZeroBase Omotesando" from the 1st of March 2018 (Thurs.) to the 11th (Sun.).
"SAKURA CHILL BAR" is a concept bar where you can "chill out" while viewing cherry blossoms.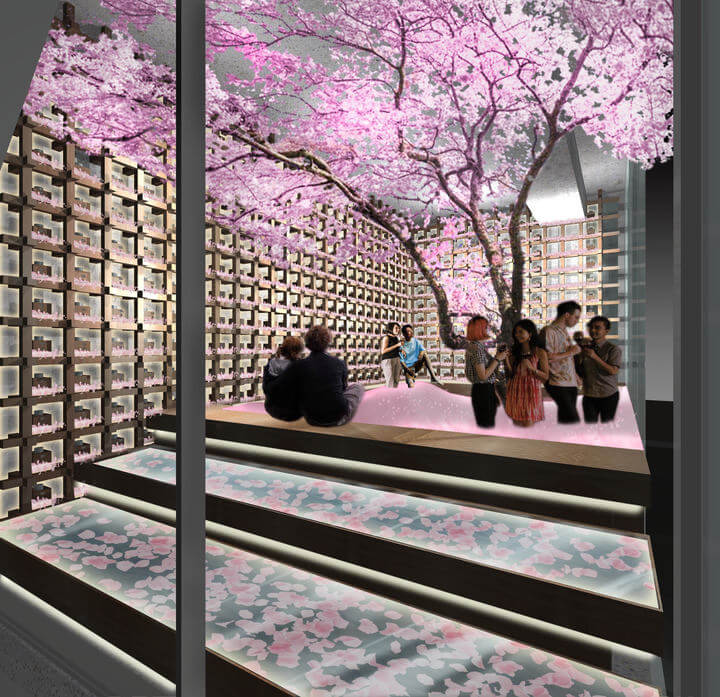 You can enjoy Saga's nihonsyu "Sagansake" under cherry blossom.
Let's enjoy this early cherry blossom viewing in Omotesando.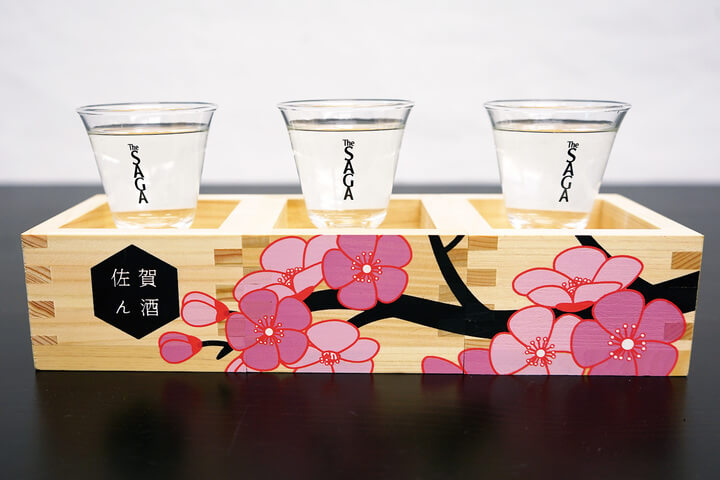 Twenty-two different sakes produced in Saga Prefecture can be enjoyed and you can pick out three different sakes to do your own tasting. One set where you can enjoy three different sakes along with snacks produced in Saga Prefecture will  cost just 1,000 yen. In addition, the "masu" (traditional container used to drink sake) is an original item and it is made using the motif of cherry blossoms. It is a very photogenic item.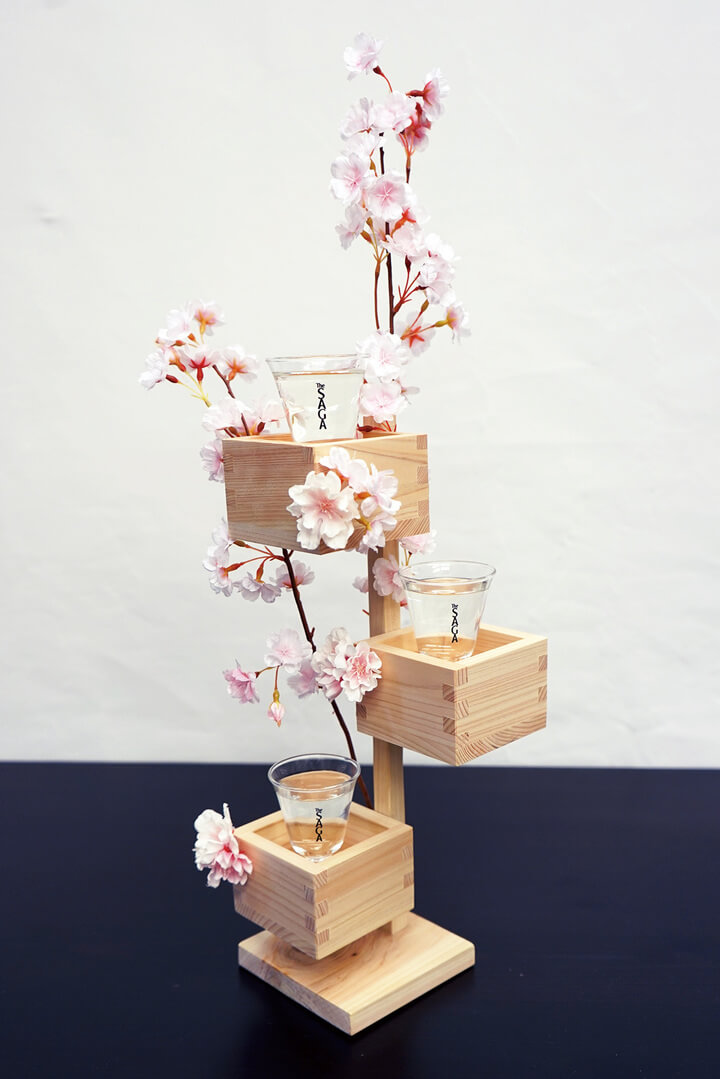 Let's enjoy this special early-spring cherry blossom viewing event in Omotesando.
◼︎Information
SAKURA CHILL BAR by Sagansake
Address: ZeroBase Omotesando, 5-1-25, Minami Aoyama, Minatoku, Tokyo
Date: 2018,03,01 (Thurs.) to the 11th (Sun.)
Business hours: Weekdays – 17:00 to 23:00 / Saturday and Sunday – 13:00 to 23:00
※Last entrance – 22:30
TEL:0952-20-5601
URL:http://afroand.co/sakurachillbar_sagansake/
※reservations will be accepted on a first-come-first-served-basis. Please note that you might have to wait in the line when the venue is very crowded.
※ We ask that your time in this venue be limited to 30 minutes when the venue is very crowded. In such case, you can enter the bar floor on the 1F and the cherry blossom pool floor on the 2F.
※ Persons under 20 years old who cannot drink alcohol will not be allowed to enter this venue if not accompanied by someone older.
※Drinking alcohol may be harmful for an unborn child or for a child being nursed.
RELATED ENTRIES
Gas Mask Plant Pots Showcased as Part of TENEO's Exhibition Tour

Japanese men's brand TENEO and Shibakusa Pottery, which was founded in 1841 in Hida-Takayama, are set to begin their first exhibition tour on July 9 which aims to make traditional Japanese craftsmanship part of our modern lives as contemporary art.

FULL HAND MADE with HAMAMOTO 

TENEO is rooted in the concept of combining and evolving the differing cultures and backgrounds of Japan and France. Shibakusa Pottery has been producing pottery in Gifu's city of Takayama since the Edo Period and operates on the motto of "Handing down tradition is on the decline; tradition is the continuation of innovation." Both TENO and SHibakusa have come together to launch a project that aims to develop and advance traditional craftsmanship, and so they are opening a series of exhibition pop-up shops beginning at DiEGO Omotesando in Tokyo on July 9 before heading to Discover Japan Lab. in Shibuya PARCO, g GIFT AND LIFESTYLE in Roppoingi Hills, and elsewhere.


Pre-orders for the products to be showcased at the pop-up shop are now available to pre-order online in Japan at TENEO and will be shipped in October. Exhibits include works by the young bonsai master Yusuke Hamamoto, flower arrangements Ayayoshi Ozono who maintains long-time traditional Japanese styles and techniques, and more.


The project will  collaborate with the international tattoo artist Hiro in October as well as many other traditional artists and craftsmen from inside and outside Japan. The pop-up shop also sees the release of the 'GAS MASK POT/VASE.' The purpose of these works is to show people new forms and ways of expressing tradition.

Information

TENEO POP UP  

Location: DiEGO Omotesando
Running: July 9, 2021 – July 24, 2021

Address: Oriental Harajuku 205, 4-17-8 Jingumae, Shibuya, Tokyo

Opening Hours: 13:00-18:00 (Wednesday to Saturday only)
Official Website:  https://www.di-ego.net

Location: Discover Japan Lab.
Running: July 30, 2021 – August 5, 2021

Address: 15-1 Udagawacho, Shibuya, Tokyo

Opening Hours 11:00-20:00
Official Website: https://shibuya.parco.jp/shop/detail/?cd=025804

Location: g GIFT AND LIFESTYLE
Running: August 6, 2021 – End of August 2021

Address: Roppongi Hills HILLSIDE B1F, 6-10-2 Roppongi, Minato-ku, Tokyo
Opening Hours: 11:00-21:00
Official Website: https://g-roppongi.jp



Project Details: https://prtimes.jp/main/html/rd/p/000000003.000068928.html

TENEO Official Website: https://teneo.work

Cherry Blossom Chocolate and Soda Releases From MAISON CACAO

Japanese aromatic raw chocolate brand MAISON CACAO is launching a new Kamakura-based brand called Shiki to Maison ("Four Seasons & Maison") which will feature chocolates that capture the events and culture found throughout the four seasons in Japan.

The first entries to the series are cherry blossom chocolates which are available from March 26 to April 4, as well as cherry blossom drink which can be enjoyed on March 27 and 28.

 

Aroma Raw Chocolate SAKURA ¥2,200 / Cacao Vinegar Soda SAKURA ¥550 (Before Tax)

Aroma Raw Chocolate SAKURA

Indulge in a box of these luxury cherry blossom chocolates which are made with 100% cacao powder which have a refreshing white chocolate aftertaste. The chocolates are made with cherry blossom as well as a fresh cream laced with salt-pickled cherry blossom. They also include a paste made from liquid drawn from cherry blossom petals. It's a taste of Japanese spring with every bite.

Cacao Vinegar Soda SAKURA

This springtime beverage includes a cacao vinegar made from cacao pulp and is coupled with fragrant cherry blossom. This one is available at the Komachi and Cacao Hanare branches as well as at CHOCOLATE BANK.

Information

Shiki to Maison Sakura Sweets

Japanese Product Name: 四季とメゾン 桜スイーツ

Serving: March 26, 2021 – April 4, 2021

MAISON CACAO Official Website: https://onlineshop.maisoncacao.com/

Japanese Springtime Flowers Bloom a Delicious Menu at TREE by NAKED Yoyogi Park

Spring has arrived at TREE by NAKED Yoyogi Park, a cafe run by NAKED that's located in Yoyogi Park in Shibuya, Tokyo. On Monday, the cafe launched a seasonal menu which incorporates a variety of spring flowers like cherry blossoms, showy's baby breath from Kumamoto, keiou-zakura from Yamagata, and more.

TREE by NAKED Yoyogi Park first opened in July 2017. It's an experience-based art restaurant where customers can enjoy Japan's latest cutting edge technology and next-generation gastronomy. Its popularity has risen rapidly, earning itself a reputation for offering an experience that stimulates all five of the senses, as well as for its photogenic interior decor.

With the pandemic restricting travel in Japan, people are unable to visit places far away across the country, and so the cafe is bringing a little bit of different places around Japan, namely their flowers, in collaboration with JA Kumamoto Uki and JA Yamagata.

Kumamoto is the only place in Japan that grows show's baby breath. They are raised with the prefecture's rich water and soil to blossom beautiful white and pink. These flowers can not only be enjoyed at TREE by NAKED Yoyogi Park as decorations, but customers can actually buy a bouquet of them too. Thanks to the skills of producers, the flowers can be grown out of season over a long period running from December to April, allowing people to enjoy their gorgeous springtime hues even if it's not spring.

Açaí Lemonade – Eat In ¥825 / Takeout ¥810

Cherry Blossom & Strawberry Nicecream – Eat In ¥770 / Takeout ¥756

"Power & Healthly" are the concepts for the lunch and cafe-time menu which includes both food and drink. The cafe's popular homemade açaí lemonade has been turned into a springtime version with fresh cherry blossom petals. There's also a vegan-friendly ice cream made with banana, avocado, soy milk, and a blend of strawberry and cherry blossom. It has a slight salt tang to it.

Vegan Cherry Blossom Latte – Eat In ¥770 / Takeout ¥756

Vegan Avocado & Sprout Sandwich – Eat In ¥1,100 / Takeout ¥1,080

The cafe's popular cherry blossom latte from last year returns with a soy milk base. There's also sandwiches, including a vegan one fried in coconut oil.

Strawberry Mille-Feuille – Eat In ¥1,650

The cafe's strawberry mille-feuille is so popular that they have to make a limited batch each day. It's even been featured on Instagram. With the strawberry season here, customers can enjoy fresh whole strawberries topping their dessert.

The cafe will also be running an evening cafe and bar experience with a range of desserts, food, and alcohol.

Information

Spring Menu

Released: March 15, 2021

Where: TREE by NAKED Yoyogi Park

Address: 1-10-2 Tomigaya, Shibuya, Tokyo

Opening Hours: 11:00-20:00 (EVENING CAFÉ & BAR TIME from 16:00) *Last orders at 19:00

Closed: Tuesdays/Wednesdays

TEL: 03-6804-9038

TREE by NAKED Yoyogi Park Official Website: https://tree.naked.works/yoyogi/

Snoopy Cherry Blossom Marshmallow Latte and Lemonade Serve Up at PEANUTS Cafe Nakameguro This Spring

PEANUTS Cafe Nakameguro is now serving up two new cherry blossom beverages for the spring season: the Sakura Lemonade and Sakura Charred Marshmallow Latte, both of which are now available to order until April 11.

Sakura Charred Marshmallow Latte ¥700 (Before Tax) / Sakura Lemonade ¥650 (Before Tax)

PEANUTS Cafe Nakameguro serves limited-time drinks every cherry blossom season in Japan, and this year is no different. Both beverages capture the cute pink tones of the country's national flower which invite feelings of springtime walks and Hanami flower viewing.

(C) 2021 Peanuts Worldwide LLC

Information

PEANUTS Cafe Nakameguro Spring 2021 Drinks

Serving: March 20, 2021 – April 11, 2021

Address: PEANUTS Cafe Nakameguro, 2-16-8 Aobadai, Meguro-ku, Tokyo

TEL: 03-6452-5882

Official Website: http://www.peanutscafe.jp/

Kirby Café Begins Serving its Spring Picnic Themed Menu

The Kirby Café branches in Tokyo and Hakata rolled out their Spring 2021 menu on Friday which is set to run until June 6. Themed on a springtime picnic, the line-up includes three items: six siz different temari-zushi servings, cherry blossom mochi, and a cherry blossom latte, all inspired by the Kirby video game series.

The Menu

Cherry Blossom Temari-zushi: Eat In ¥2,178 / Takeout ¥2,138

A serving of six sushi rolls perfect for a spring picnic. Each roll features designs that will be instantly-recognisable to Kirby fans.

Souvenir – Lunchbox (4 Designs)

Kirby's Spring Search | ¥1,078 (Tax Included)

Kirby is playing hide and seek under the cherry blossom tree in this cute dish which is adorned with shiny coloured candy.

Cherry Blossom Latte | ¥968 (Tax Included)

A light pink-coloured cherry blossom latte with a touch of salt. Mix everything together for a tasty sipping experience.

Cherry Blossom Loungewear Collection by gelato pique Arrives in Time For Spring

Japanese luxury loungewear brand gelato pique is readying itself for spring with its new pink cherry blossom-inspired 'SAKURA COLLECTION,' set to release at gelato pique stores and its online store on March 19.

The Line-Up

'Smoothie Light' Scallop Cardigan ¥6,820 (Tax Included) / 'Smoothie Light' Scallop Long Cardigan ¥7,480 (Tax Included)'

The 'Smoothie' cardigans are made of light material that's smooth to the touch and come in cute designs.

Petal Motif Satin Shirt ¥6,820 (Tax Included) / Petal Motif Satin Short Pants ¥4,620 (Tax Included)

Pink satin loungewear adorned with gorgeous petals.

Tiered Dress ¥8,140 (Tax Included)

An airy cotton dress with a beautiful feminine silhouette.

Organdy Eco Bag ¥2,640 (Tax Included) / Mask Pouch ¥2,420 (Tax Included) / Mesh Mini Pouch ¥2,640 (Tax Included) / Mesh Pouch ¥2,640 (Tax Included) / Mesh Vanity Pouch ¥3,520 (Tax Included)

Sort your cosmetics and bits 'n' bobs with this heart-filled collection of pouches, and store your face mask away safely with the mask pouch.

Hair Mist ¥1,870 (Tax Included) / Hand Soap ¥1,034 (Tax Included)

gelato pique's popular hair mist and hand soap arrive in spring season limited-edition packaging.

Nenrinya to Appear at SOGO Hiroshima's Baumkuchen Exhibition

Famous Japanese baumkuchen confectionery brand Nenrinya is set to appear at the upcoming baumkuchen exhibition that will take place at SOGO Hiroshima from March 18 to 23.

Nenrinya is a Ginza-based baumkuchen brand known for its iconic white noren entry curtain. Its high quality cakes are loved by the people of Tokyo, and now, the people of Hiroshima will get to tuck into their delights. The brand are serving their signature Mount Baum Firm Sprout, Straight Baum Soft Sprout, and their famous spring season Cherry Blossom Country Mount Baum.

Mount Baum Firm Sprout – Single Bag ¥756 / Whole ¥1,080

Nenrinya's Mount Baum Firm Sprout is a butter-filled delight that's crunchy on the outside and fluffy on the inside. This cake is baked over a long period of time to elevate its delicious flavour.

Straight Baum Soft Sprout – ¥1,080

This softer version has been described as a 'castella-like baumkuchen.' It's a juicy cake made with lots of eggs.

Cherry Blossom Country Mount Baum – Slice ¥756

Each and every layer of this cherry blossom flavoured baumkuchen is carefully cooked to perfection. Its fragrance and colour is reminiscent of the Japanese cherry blossoms season and Hanami.

Information

Baumkuchen Exhibition

Running: March 18, 2021 – March 23, 2021

Where: SOGO Hiroshima Floor 9F

Nenrinya Official Website: https://www.nenrinya.jp/

Enjoy Japanese Cherry Blossoms From Your Home With teamLab's 'Sakura Bombing Home'

Japanese art collective teamLab launched their new Sakura Bombing Home experience on March 10 which lets people enjoy Japanese cherry blossoms from the comfort of their own home using digital devices. The service is running until April 30, 2021.

Sakura Bombing Home

How to Participate

Firstly, download drawing paper at teamLab's official website. There are numerous cherry blossom designs to choose from and colour in either on your smartphone or by printing and colouring by hand.

Next, upload your completed cherry blossom illustration.

Your submitted cherry blossom art and other people's from around the world will be compiled into a single art piece to be showcased on YouTube Live.

Finally, you can download your flower art after submission. This is a great opportunity to enjoy Japanese cherry blossom without being in Japan, as well as to stay safe during the spring season if you are in Japan.

teamLab is represented by Pace Gallery, Martin Browne Contemporary and Ikkan Art International.

Mister Donut Japan Releases Limited-Edition Cherry Blossom and Matcha Doughnuts

Mister Donut Japan released a tasty collection of limited-edition doughnuts in collaboration with Japan's famous tea shop Gion Tsujiri on Friday (March 12).

Sakura Mochi Doughnut With Cherry Blossom Bean Paste

Sakura Mochi Doughnut With Uji Matcha Chocolate

Sakura Mochi Doughnut With Uji Matcha Whipped Cream

Warabimochi With Cherry Blossom Bean Paste & Uji Matcha Whipped Cream

Warabimochi With Uji Matcha Whipped Cream

The doughnuts are a springtime mix and match of cherry blossom and matcha, the latter of which comes from Gion Tsujiri who have chosen the first picks of Uji matcha leaves for the collaboration. Pick between classic doughnuts as well as warabimochi-style ones glazed with lots of sweet treats.

Information

misdo meets Gion Tsujiri – 1st Doughnut Collection: Blossoming Matcha

Serving: March 12, 2021 – Mid April 2021

Official Website: https://www.misterdonut.jp

This One Plate Cherry Blossom Dessert is Like a Work of Art

Lounge South Court, a restaurant located inside Hotel Century Southern Tower in Tokyo, is now serving up an extremely beautiful one-plate dessert for the spring season which it has called "Ichi-go Ichi-e," the same words for the Japanese proverb that translates to "once in a lifetime." It's being served until May 31.

The dessert is plated in such a way as to represent a cherry blossom flower, assorted with an ambrosial ensemble of cherry blossom rice pudding, uguisu-mochi red bean paste-filled rice cake dusted with green soy flour, blackcurrant and vanilla mousse, fresh fruit, and more. It's also served with green tea made using chagusaba, a traditional method of tea-making that is recognised as a "Globally Important Agricultural Heritage System."

 

Ichi-go Ichi-e ¥2,000 / With Green Tea ¥2,500 (Tax Included)

Between April 16 and May 31, the flower pattern will be changed from being adorned with cherry blossom petals to fresh verdure.

 

The Dessert Ensemble

・Cherry blossom rice pudding

・Red bean paste and chocolate uguisu-mochi

・Strawberry ice cream wafer

・Matcha and mascarpone cheese chiffon cake

・Blackcurrant and vanilla kuzu-mochi

Information

Ichi-go Ichi-e

Japanese Dish Name: シェフパティシエ特製 和風スイーツ "一期一会"

Running: March 1, 2021 – May 31, 2021

Opening Hours: 10:00-21:00 (Food Last Orders 20:00 / Drink Last Orders 20:30)

Where: Lounge South Court (Hotel Century Southern Tower Floor 20F)

Official Website: https://www.southerntower.co.jp/restaurant_lounge/southcourt/menu/

Disney x MOUSSY Release Retro Clothing Collection

High-casual brand MOUSSY has collaborated with Disney to release the "Disney SERIES CREATED by MOUSSY." The Spring/Summer 2021 collection dropped in Japan on Wednesday (February 24).

PALS TAPESTRY SH JKT | ¥34,980 (Tax Included)

PALS TAPESTRY SK | ¥19,910 (Tax Included)

MATCHING OUTFITS POJ | ¥8,250 (Tax Included)

ALWAYS COOL TSJ | ¥6,600 (Tax Included)

The collection combines 70s-80s vintage taste with a 90s street style to create a special retro fusion design. The items are crafted by Japanese artisans from the gobelin-stich fabric series PALS TAPESTRY and feature Minnie and Mickey Mouse in different attire including cute matching outfits.

©Disney

New Limited-Edition Sakura Cherry Blossom Beauty Face Masks Released by LuLuLun

Japanese face mask and beauty brand LuLuLun released its new limited-edition cherry blossom scented face masks on Monday (February 1) to welcome in the Spring 2021 season early.

Spring 2021 Premium LuLuLun (Cherry Blossom Scent) | ¥1,600

Combined with springtime's beauty ingredient

Spring is the season when flare ups can happen and we need to be careful of UV light, humidity, and pollen. LuLuLun's products pride themselves on their moisturising properties, and their new cherry blossom face masks are no exception. They are combined with cherry blossom petal extract, lending a fragrant scent while leaving the skin smooth and beautiful.

Rape blossom oil for even smoother skin


The rape blossom is another of Japan's popular flowers as they blossom and transform fields into rolling carpets of bright yellow. The face masks contain oil extracted from rape blossom seeds for an extra blanketing of smooth skin.

Coltsfoot extract equals healthy texture


Also in the ingredient list is extract from the coltsfoot flower, a strong plant that is able to withstand winters to make it into the spring where it can finally reveal its delicate form. It serves to create a healthy complexion on the skin.