"Michelin Guide Food Festival 2018" will be held at Nagashima Resort
Under the concept of "introducing places where many people can experience new foods" and "letting the world know the fact that there are many quality restaurants and passionate chefs in Japan," "Michelin Guide Food Festival" was held at Yokohama Aka Renga Soko (red brick warehouse) in August of 2017.
The festival charmed a great variety of people, form office workers on their way home, old couples, high school students, university/college students and tourists from foreign countries.
About 100 thousand people visited the festival to enjoy various menu items including French, Italian, Japanese and Chinese foods.
Based on the success of this first festival, the planning committee has decided to hold a second round of this food festival. This year's festival named, "Michelin Guide Food Festival 2018 at Nagashima Resort" will be held in the special venue inside the parking lot of Nagashima Resort (Tokai Area) from the 27th of March 2018 (Tue.) to the 8th of April (Sun.).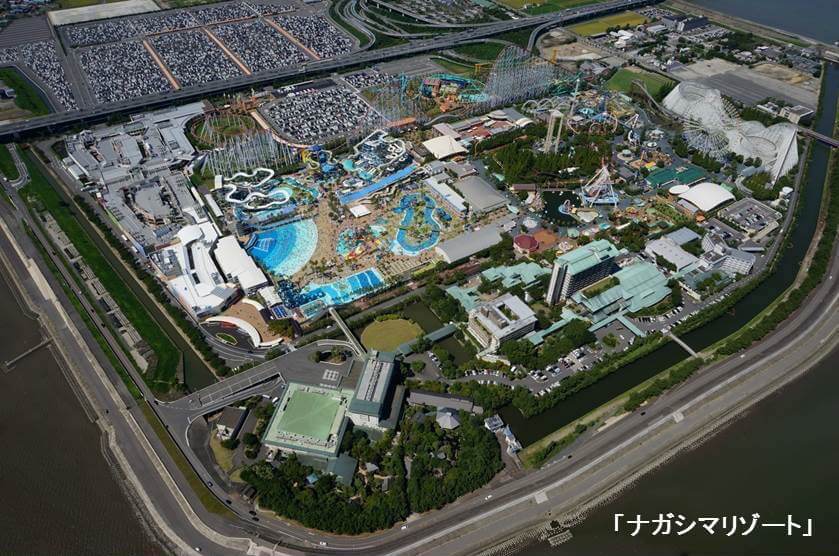 Many popular restaurants posted in magazines* will gather at the venue!
Let's enjoy the gorgeous menu items of Michelin's Food Festival!
*The restaurants that are posted on Michelin's official website and restaurants that gained stars or the designation of Bib Gourmand (December 2017).
◼︎Information
Michelin Guide Food Festival 2018
Venue: Nagashima Resort, special venue inside the parking lot (Mie Prefecture, Kuwanashi)
Date: 2018,03,27 (Tue.) to 04,08 (Sun.)
RELATED ENTRIES
Universal Studios Japan's 'We are One' Summer Festival Begins This July

Universal Studios Japan (USJ) reopened on June 19, 2020 after temporary closure as a result of COVID-19. The park is now running with strict measures in place to prevent the spread of the novel coronavirus, including practicing the 2m social distancing rule, making it mandatory to wear face masks, and so on. The park has posted a full video demonstration of the rules on their official website.

That means summertime is set to shine on USJ once again this year. The new 'Universal Summer Parade: We are One' event will begin on July 23 as the first parade held by the park since its reopening. Guests will be able to enjoy a fun and exciting summer at USJ with all the necessary precautions in place to ensure their safety.

Many familiar faces will gather at USJ to celebrate summer with guests, including the Minions, Elmo, Snoopy, Hello Kitty, and more. Each of them will board colourful floats for the parade during the parade, which will open with the fittingly-titled "Opening Float" followed by a flurry of unique floats like the flashy "Latin Float," cute European-inspired "Europe Float," the mysterious "Indian Float," and the finale "America Float," amongst many others. There will be music to entertain guests for laughs, smiles, and fun energy while characters and entertainers ride the floats and serve summertime vibes.

The peak moment of the parade will be when confetti rains down on guests in huge quantities. Flags can also be bought for the parade for the first time in this year. Performers and the park characters will be able to entertain guests at a distance while still connecting with them through the fun performances. A special "social distance" performance created in cooperation with the Osaka Prefectural Board of Education will also be part of the parade. This year's parade plans to have guests dancing and smiling even more than previous years to lift some of that stress away and give them the fight and energy to continue into tomorrow.

Universal Summer Parade: We Are One

Put your hands into the air as the sun beats down and the floats arrive to a lively rhythm. 'We are One' is the catchphrase, so get your boogie on and explode with excitement together with the entertainers and park characters for a heated summer parade!

Running: July 23, 2020 – August 27, 2020

Location: Parade Route

Time: One per day from 11:00am (approx 40 mins) 

Buy yourself a parade flag for ¥500 and wave it around to the beat of the festival!

Cool yourself off with some summer merch

Get your hands on some merch for cooling off, including the must-have summer "Handy Fan," a "UV Poncho" which keeps you cool in the heat of the sun, a classic "Sensu" folding fan, and more.

Feel the Japanese festivities with the Universal Market

The Universal Market will give that Japanese 'matsuri' festival vibe. Enjoy some cool desserts, spicy food, and more.

Left: Super Hot! Turkey Leg ¥1,000 / Centre: Peach Jelly Soda: ¥650 / Right: Frappe Sundae ~Strawberry & Blue Hawaii~ ¥750

Since guest safety is the number one priority this summer, the park will not be holding its famous splash performance where guests are soaked with water by water shooters.

Additionally, the parade will also not stop in any of the usual designated places and will instead keep on moving, meaning the parade can be enjoyed from anywhere along the parade route. Guests will be able to keep plenty of distance from others as they watch the parade.

The park also released a statement on its 'enhanced sanitation in park operations' on its official website so you can find out more about what USJ is doing to tackle the COVID-19 spread.

If you're in Osaka this year, you can still enjoy summer at Universal Studios Japan with all the necessary precautions in place.

Yukai Resort Premium Toba Saichoraku: The New Hot Spring Resort Hotel in Mie Prefecture

Yukai Resort, a company in Japan which manages lots of famous hot spring resorts across the country, opened Yukai Resort Premium Toba Saichoraku in Toba, Mie on June 5, 2020.

Yukai Resort manages 29 well-established hot spring resort hotels and ryokan throughout Japan, including hotels where you can get one night with dinner and breakfast from just ¥7,500 (before tax) to ryokan where you can enjoy kaiseki meal courses, and more. All their luxury establishments feature hot springs surrounded in lush environments.

Yukai Resort Premium Toba Saichoraku opened on June 5, 2020 and is taking all of the necessary precautions against COVID-19 to protect guests and so that guests can enjoy a comfortable stay.

Yukai Resort Premium Toba Saichoraku is 10 minutes by car from Toba Aquarium and 30 minutes from Ise Grand Shrine, making it a great location to enjoy the sightseeing spots of Ise and Shima. The hotel's concept is centred on being an "active resort" where you can get the full Toba experience with history, the sea, and activities.

The large open-air communal baths look out onto Toba Bay. The baths are designed like infinity pools, giving the effect that they are connected to the sea. Guests can enjoy a dip in the day or evening so they can enjoy both a blue sky or starry sky. There are also saunas.

There is also an indoor swimming pool with warm water, as well as foot baths, a kids play park, karaoke room, and many more fun features.

Yukai Resort Premium Toba Saichoraku also houses Yukai Resort's first ever indoor glamping guest rooms with large tents decked with beds, sofa, carpet, cushions, and other amenities for a glamorous camping experience. There are glamping rooms with their own open-air baths that look out onto Toba Bay too, as well as both Japanese-style and Western-style rooms.

As a precaution against COVID-19, the restaurant is serving its food for takeout only until August 31, 2020. Guests can enjoy their meal in their rooms or in one of the many communal spaces. There's plenty of health Japanese food to enjoy including sushi, Matsuzaka roast beef, eel, tuna, and more.

Raise Your Own Sky Lantern at New Greenpia Tsunan in Niigata

New Greenpia Tsunan, a resort facility in Tsunan, Niigata, is holding an exciting sky lantern event every day until March 31, 2020.

 

The sky lantern event is held every winter at New Greenpia Tsunan, and has returned again for 2020. It began in 2012 as a means of showing respect for and praying for the revival of disaster-stricken areas, such as the areas affected by the 2011 Tohoku earthquake, the Nagano and Niigata earthquake, and so on. Every year, couples and families come together to put their prayers and wishes into the lanterns before letting them go into the night sky. The countless lanterns raised at once soar up high and light up the black cloak of the night like burning stars.

For 2020, the event will also sell lantern t-shirts, handkerchiefs, hand towels, cookies, and other themed items.

 

If you're travelling in or around Niigata in Japan this year, then don't miss New Greenpia Tsunan's very special winter event.

Information

Sky Lantern Event

Running: Everyday until March 31, 2020 (Except select days where the site is closed or booked)

Location: New Greenpia Tsunan (12300 Akinari, Tsunan, Nakauonuma-gun, Niigata)

Time: Weekdays – From 18:00 / Saturdays & Days Before Public Holiday – From 18:00 & 20:00 / March Onward – From 18:30

Booking: Bookings available until 17:00 on the day at New Greenpia Tsunan

Price: ¥1,500 (1 lantern)

Official Website: https://new-greenpia.com/

*In the case of stormy weather, the event will not proceed on that day

This Week's Dessert: Indulging in a Seasonal Parfait at Kinoshita Chaen in Ise

One thing I do at least once a week without fail is treat myself out to some delicious food or dessert. I find it very important time well spent in order to live a happy, fulfilling life.

This week, a business trip took me out of Tokyo to the city of Ise in Mie Prefecture. When the trip was over, I had some spare time to kill before my train arrived, so I went inside a cafe called Kinoshita Chaen which is close to Ise Grand Shrine.

You can arrive at Kinoshita Chaen in just three minutes on foot is walking from Ise Grand Shrine, or five mintues from Ise Station. The exterior design of the building takes on a Western style, which I found to be both cute and retro. You can feel the warm and welcoming atmosphere of the cafe as soon as you step inside. The decor is decked out with all things wooden.

The cafe has been around since the Meiji Period. It serves drinks and desserts all made using tea, and offers both eat-in and takeout services.

I ordered their seasonal-exclusive parfait. 90% of the people in there were ordering it, so I thought it must be popular!

Strawberry & Parfait Puree Parfait w/ Japanese Black Tea – ¥1,300 (Tax Included)

This super cute parfait is completely stuffed to the top with strawberries♡

You can snap cute photos of it no matter the angle♡

When I spooned the caramel puree, soft custard reveal itself. You get a delicious pairing of the bitter flavour and crunchy texture of the caramel with the subtly sweet custard.

The next ingredient to show itself was the mascarpone cream, which combines with the rest of the flavours perfectly. Once your mouth is satisfied with the sweetness of the flavour combinations, you're next met with Ise matcha gelato.

The matcha gelato is a great palate cleanser for the sweet ingredients when eaten on its own. When eaten together with the sweet puree, you get a completely different kind of delicious flavour. I recommend trying it together with the puree, mascarpone cream, and the crunchy pie which is the next layer.

Moving on from the sweetness and bitterness, the next layer is fresh strawberry sherbet, which is a combination of sweet and sour. To finish, you're brought back to the subtle sweetness once more with white chocolate mousse, strawberries, and mixed berry jelly.

The final bites of a parfait can generally be hard to get down because you grow tired of the flavour, but the ones sold at Kinoshita Chaen are on another level. The various flavours and textures mean you won't grow tired as you spoon through the many layersーyou'll find yourself savouring every last bite.

The Japanese black tea that came with it was luxurious. The cafe actually caters the type of tea they serve to each seasonal parfait. Enjoy a cup together with your parfait.

Matcha Soy Flour Dumpling Cream – ¥830

I didn't get to order them this time, but I'm really taken by the matcha soy flour shiratama dumplings… The dumplings are made in-house and are topped with brown sugar syrup from Okinawa and Ise matcha. The bitterness of the matcha together with the rich sugar syrup is sure to be delicious with some chewy dumplings. I'll definitely be trying them when I next visit.

I cannot recommend a trip to Kinoshita Chaen enough. Offering an exemplary menu of Ise flavours, their drinks and sweets maintain the culture and tradition of Japanese tea while keeping up to date with current trends in the world of sweets.

Today's Souvenir

Houjicha Teabags – ¥400 (1 Pack) 

On the days you get to eat delicious sweets, you've got to share the happiness with friends and family. I bought some houjicha tea bags made with tea leaves grown in Mie Prefecture. They have various other teas too, and the packaging is really cute, so they're perfect as gifts for friends and family.

Information

Kinoshita Chaen (Ise Branch)

Address: 1-1-31 Iwabuchi, Ise, Mie Prefecture

Opening Hours: 10:30-17:30 (Last Orders 17:00)

Closed: Wednesdays (Except Obon, New Year's, and public holidays)

TEL: 0596-24-6747

Official Website: https://www.kinoshitachaen.com/

5 Must-Visit Beautiful and Romantic Lantern Festivals in Japan | 2020 Edition

The season for Japan's enchanting and romantic lantern events has finally arrived, and the line-up this year is diverse, from events where lanterns are the main attraction to lantern-lined festivals and Japanese matsuri festivals.

Hankyu Travel International compiled a list of these events , and we've pulled out some of the best ones for you.

Hanamaki Hoshi Meguri no Yoru | Iwate Prefecture

This year marks the third run of "Hanamaki Hoshi Meguri no Yoru," an event held during winter for guests staying at Hanamaki Onsen. The event is comprised of many elements, including fireworks, folk entertainment, and more. People will also write wishes and messages or draw pictures on their lanterns before sending them up into the winter night sky. Afterwards, they can enjoy a dip in the hot springs at Hanamaki Onsen to warm themselves up and unwind from the day.

Running: January 26, 2020/February 22, 2020/February 11, 2020/February 16, 2020/February 24, 2020

Location: Namari Ski Center
Address: Nakadaira-36-1 Namari, Hanamaki, Iwate

▼Hanamaki Hoshi Meguri no Yoru Tour
https://www.hankyu-travel.com/kokunai/keyword/%E3%81%AF%E3%81%AA%E3%81%BE%E3%81%8D%E6%98%9F%E3%82%81%E3%81%90%E3%82%8A%E3%81%AE%E5%A4%9C/?p_baitai=9599

China Lantern Festival | Chiba Prefecture

Tokyo German Village is hosting its second China Lantern Festival, inspired by the typical traditional festivals held in China during spring. A selection of 30 lantern installations of varying sizes made by the world's biggest lantern maker Lantern Group have been set up in the 50,000 square meter area. Pieces include lanterns over 10 meters long and high, lanterns floating on the water, moving lanterns, and more.

Running: November 23, 2019 – April 5, 2020

Location: Tokyo German Village

Address: 419 Nagayoshi, Sodegaura, Chiba

▼Tokyo German Village Tour
https://www.hankyu-travel.com/kokunai/keyword/%E6%9D%B1%E4%BA%AC%E3%83%89%E3%82%A4%E3%83%84%E6%9D%91/?p_baitai=9599

Tsunan Yuki Matsuri | Niigata Prefecture

Since 2012, the people of Tsunan in Niigata have raised sky lanterns into the sky to pray for the revival from the disaster that the Tohoku earthquake brought in 2011. It is a two-day festival, with the first day of the event taking place at night, and the second being the main day of the festival. The festival is so popular that tickets never fail to sell out quickly every year. It brings with it a host of events, from the lanterns to the snowboard straight jumping tournament, the hanging of snow lanterns, snowmobile rides, and more.

Running: March 14, 2020 (There will also be a lantern event the night before on March 13, 2020)

Location: New Greenpia Tsunan

Address: 12300 Akinari, Tsunan, Nakauonuma-gun, Niigata

▼Niigata Tsunan Sky Lantern Festival Tour
https://www.hankyu-travel.com/chubu-hokuriku/niigata/lantern/?p_baitai=9599

Nagasaki Lantern Festival | Nagasaki Prefecture

This festival was originally held during the Chinese New year by the people of Nagasaki Chinatown, but in 1994 it was given the name "Nagasaki Lantern Festival." To date, it has been attended by over 1 million people. This year, around 15,000 lanterns of varying sizes are set to light the streets. Taking place across several areas, some standout pieces include the peach-coloured lanterns at Nagasaki Chinatown, the ceiling lanterns at Hamanomachi Arcade, the water lanterns at Nagashimagawa Park, and more. On weekends, there are also parades, traditional Chinese performance, and other exciting events. And if you head to Nagasaki Confucian Shrine (also known as Koshi-byo), you can offer a love lantern to pray for happiness in your relationship.

Running: January 24, 2020 – February 9, 2020
Locations: Nagasaki Chinatown/Central Park/Tojin Yashiki/and elsewhere
Address: Various places throughout the city of Nagasaki

▼Nagasaki Lantern Festival

Hankyu Travel International Tour: Hankyu Travel International

Nagasaki Tourism Page: https://travel.at-nagasaki.jp/en/what-to-see/62/

Ryukyu Lantern Festival 2019-2020 | Okinawa Prefecture

Murasaki Mura Ryukyu Kingdom Theme Park is known for having originally been used as the set for several historical drama series, and was subsequently turned into a theme park after filming was finished. The Ryukyu Lantern Festival welcomes a variety of different lanterns, including Chinese lanterns, paper lanterns, various Asian lanterns, and more, each of which bring a completely different atmosphere depending on the area you are in. This year sees the welcome return of the annual lantern contest where 45 individual lantern pieces are exhibited. There are also different street performances every day on the Night Lantern Stage, as well as projection mapping displays, the Night Lantern Cafe, and more.

Running: December 1, 2019 – March 31, 2020

Location: Murasaki Mura Ryukyu Kingdom Theme Park

Address: 1020-1 Takashiho, Yomitan, Nakagami-gun, Okinawa

Murasaki Mura Official Website: https://murasakimura.com/

Be part of one of Japan's many beautiful lantern festivals this year and witness some seriously breathtaking night scenes.

Celebrate Tokyo Midtown's Cherry Blossoms at MIDTOWN BLOSSOM 2020 Event

MIDTOWN BLOSSOM 2020 is set to take place in Tokyo Midtown from March 20 to April 19 to celebrate and welcome the spring and the cherry blossoms.

This marks the 13th year of the event, which will take place both in Tokyo Midtown's garden area which is home to rows of gorgeous cherry trees, as well as around the building where they have sparkling wine, sweets, flower displays, and many other exciting things planned.

CHANDON Blossom Lounge

Enjoy a luxurious cherry blossom experience this year with a glass of premium Chandon sparkling wine available at the outdoor limited-time CHANDON Blossom Lounge. This vibrant sparkling rosé wine is the perfect accompaniment to your springtime banquet and to say "Cheers!" to this year's hanami flower-viewing in Japan.

There will also be food prepared by Nagase Mitsunao, head banquet chef at the 5-star Ritz-Carlton Tokyo Hotel, as well as incredibly decorative-looking sweets to adorn the able. There are two new types of seats available this year with Japanese twists to them, including seats in the roofed lounge where you can enjoy the cool spring weather in the evening.

Running: March 20, 2020 – April 19, 2020 (Closed in the case of stormy weather)

Time: 12:00-20:00 (Last Orders 19:30) *Extended to 21:00 (Last Orders 20:30) on Fridays, Saturdays and during cherry blossom full bloom

Location: Midtown Garden, Sakura-dori area

*Select seats require a reservation – full details to be released in mid-February

Spring Flower Display ~Flower Art Award pre~

 

Za Sogetsu is a performance unit specialising in ikebana, or flower arrangement. One of the most recognised groups in the industry, their work will displayed around various locations at Tokyo Midtown, including large-scale pieces as well as never-before-scene ones. One look at this breathtaking flower art will be enough to fill you with spring vibes.

Running: March 20, 2020 – April 19, 2020

Time: 9:30-24:00 (Galleria Floor 1F) / 11:00-21:00 (Galleria Floors 2F-3F)

Location: Galleria 1F's Tree Shower & various locations at Galleria 2F-3F

Nighttime Cherry Blossom Light-Up

The entire 200-meter length of cherry trees in Tokyo Midtown's garden area will be lit up with beautiful illuminations at night-a sight that never fails to drawn in countless people. Before the flowers are in full bloom, pink lights will be used to get people ready for the main show. When the cherry blossoms are at their height, white lights will be used every night.

Running: March 20, 2020 – April 19, 2020

Time: 17:00-23:00

Location: Midtown Garden, Sakura-dori area/In front of Garden Terrace

Tokyo Midtown has many other events planned for spring 2020, so don't miss out this year.

Information

MIDTOWN BLOSSOM 2020

Running: March 20, 2020 – April 19, 2020

Location: Tokyo Midtown (9-7-1 Akasaka, Minato Ward, Tokyo)

Official Website: https://www.tokyo-midtown.com

FLOWERS BY NAKED 2020: Details Revealed For Tokyo's Flower-Themed Art Event

FLOWERS BY NAKED is an annual flower-themed art event held by NAKED Inc., and the company has announced its next run: FLOWERS BY NAKED 2020 – Sakura – will take place from January 30 to March 1 next year at Nihonbashi Mitsui Hall in Tokyo, where visitors can enjoy flowers an a wholly new kind of interactive experience. Tickets went on sale on December 17, 2019, and this event will mark its 5th anniversary of taking place in Nihonbashi.

To date, FLOWERS BY NAKED has seen over 500,000 people attend the events, which have become a place for Instagrammable photos with over 660,000 posts made with the hashtag #flowersbynaked.

2020's theme is cherry blossoms, so to celebrate, NAKED has unveiled four key visuals for four gardens set for the event along descriptions. As visitors journey through the gardens, they will experience an immersive story melding the worlds of flowers and art.

■Prologue

"When a butterfly telling the spring dances in the snowy winter world, the page is turned and the world changes from winter to spring."

This is where the story begins: where winter flowers bloom. But as the pages of the big book are turned, the space is transformed into springtime as the snow melts.

■Dandelion Hill

"When you blow dandelion as if you were playing as a child, the fluff soars up to the sky with your old memories."

Watch as the scenery changes when you blow on the towering dandelions in this incredible interactive experience that combines real life with digital technology.

■Glowing Garden

"In a shimmering space that seems to be lost in a kaleidoscope by a mirror, the sun shines even more."

When you step into this radiant garden which is lit by the pouring sunlight, it will seem as if the entire world around you glows with the fiery light of our burning star.

■OUSAI Garden

"The fastest cherry blossom viewing space in Japan where you can enjoy the five senses, such as the blossoming cherry blossoms and the scent of spring."

The river seen at the beginning of the story leads to here, a holy cherry blossom garden watched over by an enormous pink cherry tree. There is plenty to interact with in this area for visitors to experience cherry blossoms with all five of their senses.

Advance tickets for this event are now on sale, so don't miss out.

Information

FLOWERS BY NAKED 2020 – Sakura –

Running: January 30, 2020 –  March 1, 2020

Opening Hours: 10:00-20:00 (Last entries 30 minutes before closing time)

*Opening hours subject to change

Location: Nihonbashi Mitsui Hall COREDO Muromachi Floors 1F + 5F (Entrance is on 4F)

Official Website (English/Japanese): https://flowers.naked.works/2020nihonbashi/

Wear Plain Clothes This Halloween at Shibuya's Jimi Halloween 2019 Event

Worried about what to wear for Halloween this year? No need to panic. If you're spending your Halloween in Shibuya this year, which is known the world over for its incredible Halloween festivities, then head to Tokyo Culture Culture on October 27 where a very unique event is taking place.

Jimi Halloween is an event that takes out the stress of having to go all out for Halloween as people go dressed as ordinary people. It has been held annually since 2014, with the number of attendees growing each year. Over 800 people took part last year, all clad in their plain clothes.

This year's event will be split into three slots, with a capacity of 200 people per slot. Sign-ups begin on October 15 at 12:00pm (JST).

Past Examples

①Situational attire

Beauty salon client

Dressing up as someone doing something has been a popular choice at the event recently. You can come up with some creative ideas that'll make people say, "You came as that?!"

②"I've seen people like that!" attire

Flea market woman

There's always certain types of people that everyone sees, and in Japan this is one of them!

③"I get it, but I don't get it" attire

Hawaii vibe  uncle

You've heard all about them, but have you seen them?

④Work attire

Handing out tissues with pachinko ads on them

Work attire is a go-to at the plain clothes event. It wouldn't be an exaggeration to say that this is the one that started the entire movement.

⑤Miscellaneous attire

Maslow's hierarchy of needs

The final entry is those which are hard to categorise. They serve whatever vibes they are feeling.

Attend this year's event and show off your own unique ideas!

Information

Jimi Halloween

Date: October 27, 2019 (3 Slots / 200 People Per Slot)

 Slot ①: 11:00-14:00 

 Slot ②: 15:00-18:00 

 Slot ③: 19:00-22:00 

★Places are available on a first-come, first-served basis at the website below

Venue: Tokyo Culture Culture (cocoti SHIBUYA 4F, 1-23-16 Shibuya, Tokyo)

Entry: Free (Apply at the link below)

2019 Kobe Luminarie Winter Illuminations to Light Up Kobe This December

The 25th Kobe Luminarie light festival will take place from December 6 to 15. The theme of this year's festival is "25 Years, Guided by the Light of Hope" (Original Italian title: Da 25 anni, guidati dalle luci della speranza).

Kobe Luminarie is an illumination festival that has been held annually since 1995 in commemoration of the Great Hanshin earthquake which hit Kobe that year on January 17. The event has continued as a symbol of hope for Kobe and has also become a festival associated with the winter season. Last year's festival saw around 3.43 million people in attendance.

The "Light Bulbs" make a comeback radiating their warm light

Formerly the doorstep to foreign culture, Nakamachi-dori, lined with countless tasteful stores, will be lined with around 270 meters' worth of decorations. The entrance decoration, named Frontone, stands almost 22 meters tall with three towering gates each connected to each other. The Sparri Ara is a wide wall of lights which runs 50 meters from Frontone all the way to Kyomachisuji Crossing. And as a special instalment to the 25th run of the festival, the light bulbs used at the first festival will be strung up to create another wall illumination from Itomachi to the East block which will be dubbed the "Memorial Zone."

The event's largest light dome

In the eastern amusement park plaza, Cassa Armonica―an illuminated church structure set up every year―will be enveloped in a large 21 meter high dome featuring an arch for the first time standing 4 meters tall in the memorial area

Over in the floral clock area, the Sparri Ara wall lights twinkle beside the wisteria trees. The lights will change and transform to the sound of the music. Attendees will also be able to pick up small gifts too as well as take pictures at the various photo spots.

Earthquake Talk Booth

Talks will be held discussing the origins of Kobe Luminarie and why it started. Earthquake survivors will also talk about their real experiences.

International Creative Director and Executive Producer Daniel Monteverde, who has been working with Luminaire for 20 years, made the following comment: "The city of Kobe will bustle once again this year, which will mark 25 years. People will fill the streets and look to the sky while they wait for the chime of the bell to signal the illuminations. We hold the memories of the people we lost 25 years ago close to our hearts. I hope we can convey our hopes and dreams and our story to our children and the young people who will bear the next generation. I hope people will be proud of Kobe which has recovered from the earthquake."

He continues: "The Kobe Luminarie lights will shine once more for Hyogo, for Japan, and for the world. These lights are a symbol of each and every person's devotion, their efforts, and their love. I pray that the Luminarie lights will send a message of hope to the world and continue shining in our hearts for the rest of time." * Full comment translated from Japanese

Information

25th Kobe Luminarie

Running: December 6, 2019 – December 15, 2019

Location: Kyu Gaikokujin Kyoryuchi and Kobe East Park (Higashi Yuenchi) (Chuo Ward, Kobe, Hyogo)

Illumination Times

[Mon-Thurs] 18:00-21:30

[Fri] 18:00-22:00

[Sat] 17:00-22:00

[Sun] 17:00-21:30

*Times may be extended depending on the number of people. Event may be postponed in the case of bad weather.

Kobe Luminarie Official Website: http://kobe-luminarie.jp/

New York-Style Cafe & Restaurant Sarabeth's Celebrates 7 Years in Japan With Special Event in Shinjuku

It has been seven years since Sarabeth Levine took her New York-based cafe and restaurant Sarabeth's to Japan back in 2012. To celebrate, the establishment will hold a special one-night event with a commemorative menu.

"Fermented Foods" is the theme of the event, which will see an incredible line-up of premium dishes. There will also be a talk by Sarabeth Levine herself who will be in attendance.

The menu line-up features a range of healthy fermented foods, like pancakes and Eggs Benedict, while drinks options include lemonade with fermented syrup, goishicha tea from Aichi Prefecture, and more. There will also be Sarabeth cookies which you can take home with you.

Information

Sarabeth's Japan 7th Anniversary Special Event

Date: November 5, 2019

Time: Reception 18:30 / Open 19:30-20:45 (subject to change)

Price: ¥3,800 (Tax Included)

Capacity: 50 (Reservation-Only)

Location: Sarabeth's Lumine Shinjuku (Lumine 2 Floor 2F, 3-38-2 Shinjuku, Shinjuku Ward, Tokyo)

TEL:03-5357-7535

Reservations:  https://sarabeths7th.peatix.com

Netflix Anime Series 'Beastars' Promotional Event to Take Place at Tobu Zoo in Saitama

Tobu Zoo is set to collaborate with the upcoming drama anime series Beastars from November 2 to December 29.

Beastars is a manga series written and illustrated by Paru Itagaki. It is serialised in Weekly Shōnen Champion which is celebrating its 50th anniversary this year.

Beastars is set in a world of herbivores and carnivores. The story follows Legoshi, a quiet and gentle grey wolf and student at Cherryton Academy. His world is turned upside down when one of his fellow students is brutally murdered.

The collaboration event will see Tobu Zoo decorated with illustrations drawn specifically for the event. There will also be exclusive and original merchandise on sale, as well as themed food and more.

Beastars will premiere in Japan on Fuji TV's +Ultra programming block on October 9. It will also be streamed exclusively on Netflix.

©板垣巴留(秋田書店)/BEASTARS制作委員会

Information

BEASTARS

Release Date: October 9, 2019 on Fuji TV +Ultra

*To be released on Netflix on October 8, 2019 (Japan pre-release; overseas release date TBC)

Official Website: https://bst-anime.com/

Tobu Zoo

Address: 110 Suka, Miyashiro, Minamisaitama-gun, Saitama Prefecture

Official Website: http://www.tobuzoo.com/

ROPPONGI HILLS HAPPY HALLOWEEN 2019: Monster Desserts, Horror Film Parade & More

Roppongi Hills has announced this year's Halloween festival. Titled "ROPPONGI HILLS HAPPY HALLOWEEN 2019," it will take place from October 1 to 31, packed full of spooky fun from a Halloween costume parade to a ghoulish gourmet menu line-up, featuring an always-unique array of food and drink.

Halloween Cupcakes – ¥638 Each @ LOLA'S Cupcakes Tokyo (Available from October 5)

LOLA'S Cupcakes has baked up an assortment of cute monster motif cupcakes, with flavours including pumpkin, purple sweet potato and more. Whichever one you pick, it's sure to give you a smile and delight your taste buds.

Halloween Mixed Berry Cake – ¥530 @ Roasted coffee laboratory

Creepy eyeballs adorn this cake, which is topped with blackberries and blueberries while drizzled in bloody blackcurrant jam. The cake is layered with sponge, fresh cream and a sweet and sour strawberry jelly.

Happy Monster – ¥980 @ Cafe Crepe

Delight in this cute pumpkin and fresh cream crepe, filled with pumpkin ice cream and snug in an orange crepe wrap. Housed inside is an adorable purple sweet potato mont blanc monster wearing a witch's hat.

A movie-themed parade will take place on Saturday October 26 at the event in line with the 2019 Tokyo International Film Festival. Children and adults can take part in the parade if they dress up. The 1km parade will last 25 minutes.

Gift bags will be given to all kids who get involved!

▼Halloween Parade

Date: October 26, 2019

Time: 10:30-13:30 (subject to change)

Location: Roppongi Hills Arena

Participation Conditions: Anybody who dressed up can join (the theme is "Movies")

Participation: Free

Enquiries: 03-6406-6000 (Roppongi Hills Information)

Halloween will hit Roppongi Hills for the entire month of October. Be sure to visit if you're in Japan next month!