Experience Japanese Culture #2: Comparing Tastes of Unique Japanese Chocolates – From Matcha to Sake
Japanese model Yuri Sugunama, a.k.a "Yurippa," is taking us on her next trip in this series where she goes to personally experience Japanese culture and cultivate new hobbies. Yurippa loves chocolate – she eats one tablet of the stuff day. In this Valentine's-special second entry, Yurippa sampled different chocolates that are popular right now.
For Valentine's Day in Japan, it's custom for girls give guys chocolate and convey their feelings towards them. Guys return the favour on a day called White Day, which falls on March 14. So, since there's one month to go before the big day, that means the most delicious chocolate in the world is about to hit shelves in Japan – popular both in Japan and overseas.
The first pick was the classic "KitKat," a very well-known brand in over 100 countries. The Japanese brand of KitKat is actually made in Japan. It's received much attention around the world for its original flavours. It's also known for being associated with exam season for students – the word KitKat in Japanese (kitto katto) almost sounds like the phrase "Kitto Katsu!" which means "You will surely win!"
Yurippa tried out the new "KitKat Chocolatory" series, created by the chef and owner of "La Patissier Takagi," Yasumasa Takagi. The "Sublime Valentine's Assortment" costs ¥2,400 (tax excl.) and includes 7 KitKat bars with 6 different flavours. There's dark chocolate, milk chocolate, white chocolate, matcha, raw, and a pink coloured ruby flavour. It's a great selection to share and eat together with people.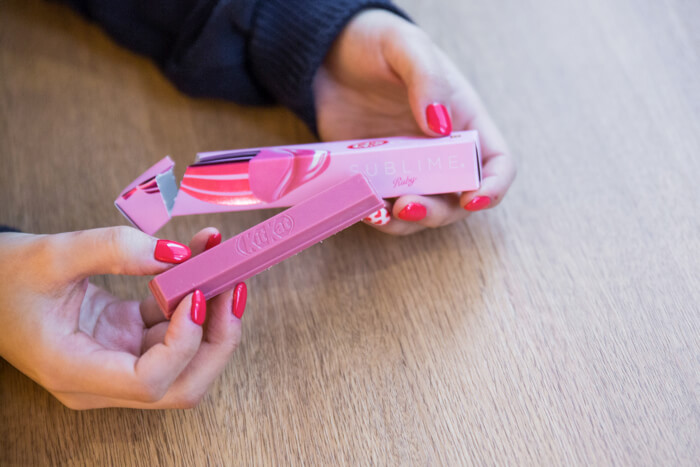 The centerpiece of the collection is new Ruby KitKat, developed by the Swiss chocolate makers Barry Callebaut over a period of more than 10 years. The chocolate uses no colouring agents – the pink colour is made naturally to create an entirely new chocolate. Yurippa gave it her stamp of approval, saying it'll be popular with girls for its vivid pink colour. She couldn't contain her surprise for this newfound chocolate, saying "The berry flavour has a sour taste, but it's different from strawberry chocolate. It's something I've never tasted before."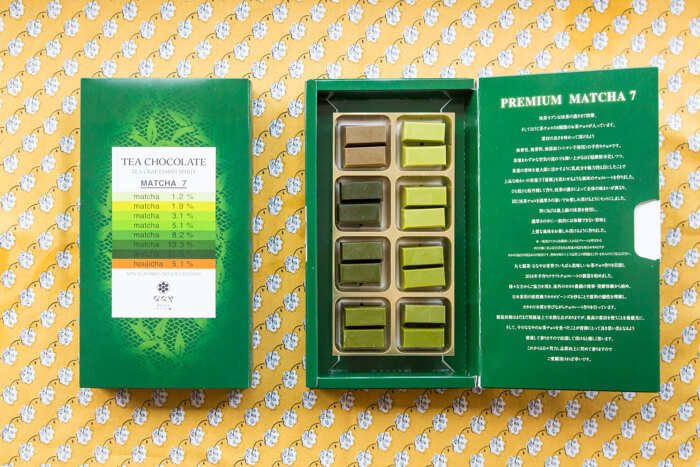 Next on the list is "Tea Chocolate Premium Matcha 7". Costing just ¥1,000 (tax excl.), these chocolates are made by Shizuoka Matcha Sweet Factory "Nanaya," who are known for producing the world's most rich flavoured matcha gelato. These matcha chocolates don't hold back on the milk so as to bring out the fragrance and taste of the tea leaves to the max. The set comes with 7 different matcha chocolates of varying intensity and 1 houjicha flavoured chocolate.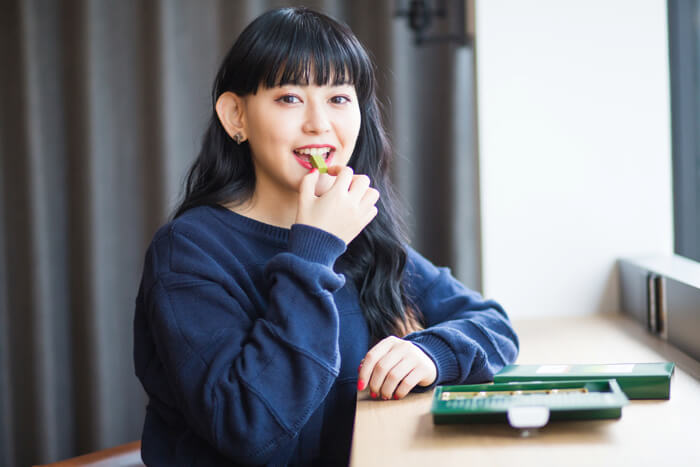 Yurippa expressed her excitement for the delicious chocolate before opening it. "When you open the packaging, the fresh smell of the tea whets your appetite so much you can't wait to tuck in!"
The chocolate and tea leaves have a good combined balance of 3.1%, and the smell and taste of the leaves kicks in with a strong flavour combination of 21%. "The tea leaf combination is different but my impression of the chocolate changed dramatically!"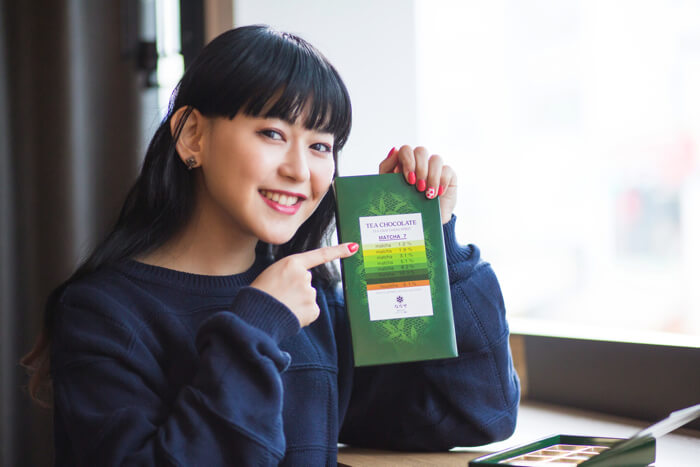 "If you eat the chocolates in order as written on the packaging, you can understand each flavour's intensity much better! This chocolate would go better with hot milk or soy milk than coffee. The richer chocolate flavours are fairly moderate when it comes to sweetness, so if you're on a diet then you can eat them without feeling guilty."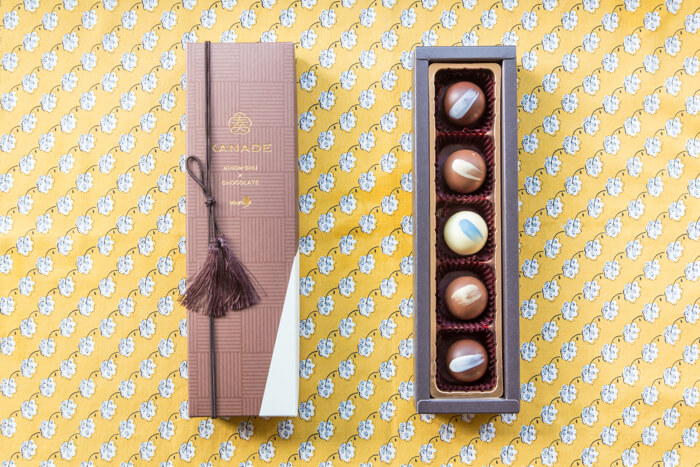 The last pick is from the long-standing chocolate maker Mary Chocolate. The KANADE Japanese Sake Truffles (¥1,000) come in 3 flavours – milk, sweet and white – and are topped with carefully selected Japanese sake. Only the finest sake from Japan is used, such as Gokyo Junmai Sake from Yamaguchi Prefecture. Since the truffles contain alcohol, be wary not to hand them out to minors or people that are driving.
"There's a good balance between the chocolate and sake, and depending on which brand of sake is used, you can enjoy a different flavour on your taste buds from each!"
Yurippa's favourite was the milk truffle topped with Koyama Shuzo. She was very satisfied having recently acquired a taste for sake. "It brings out the enduring qualities of refreshing Japanese sake and a fruitiness. I really want people who like Japanese sake to try these! If you're not too good with sake from Japan, then I recommend the white chocolate truffle with Ichiro from Dewazakura. The subtle fragrance of sake that you can feel inside the smooth texture of the white chocolate makes it really sophisticated."
Yurippa gives friend chocolate to everyone on Valentine's Day, guys and girls. Why don't you try tasting this unique Japanese collection of chocolates recommended by Yurippa with everyone?
Model:Yuri Suganuma @yurippa93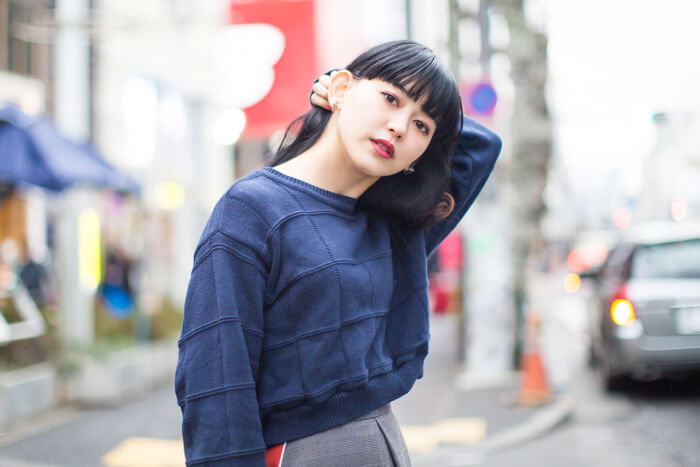 Yuri Sugunuma is a model with a high fashion sense that has been picked up by various magazines. She receives much love and support from girls of the same generation as her to whom she is known by her nickname "Yurippa." She has a huge influence across her social media. Recently, she has stepped into other fields outside of modelling, such as appearing in TV shoots and in music videos. She is skilled in make-up and involved in the development of cosmetics.
Writer:Ryoichi Komaba
Photographer:Haruka Yamamoto
Translator: Joshua Kitosi-Isanga