A new design was added to the series of lip balm included inside "omamoris" (Japanese charms) called "Fuku Fuku Lip"
"Fuku Fuku Lip" is a product which was released in November of 2017 and it has gained a high reputation. From the 6th of January 2018, the new products (17th, 18th, 19th designs) "Fujiyama," "Daruma" and "Hanabi" were added to the series.
You can wear them or give them as a gift to person who are precious to you.
"Fuku Fuku Lip" was created under the concept of introducing "omamori" to many people in a fun manner.
It is a new style of omamori which has a modern design and includes a lip balm inside.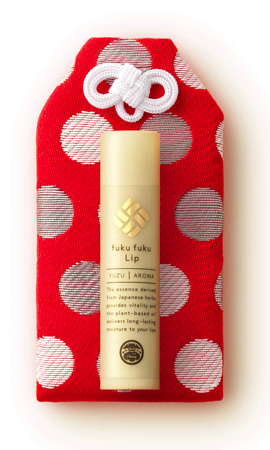 The cuteness of the series gained much popularity and took the first place in the lip balm category sales in November and December.
Luck will come to persons with moist lips. "Fuku Fuku Lip" which brings luck can be used in everyday life or as a gift to foreign guests.
Fujiyama – This product has an illustration of Mount Fuji which is known as the symbol of luck in Japan and a shiny full moon. The product has a premium feel and is suitable to be used as a gift for celebration events.
Daruma – A product which has the pattern of a daruma which is known as the "God of exams." The product has a cute design which is colored in beige and has a red string attatched.
Hanabi – Hanabi (fireworks) are often set off on Lunar New Year in China and is known as a symbol of celebration. The product has a delicate pattern of a golden string and a white string on top of a black colored surface.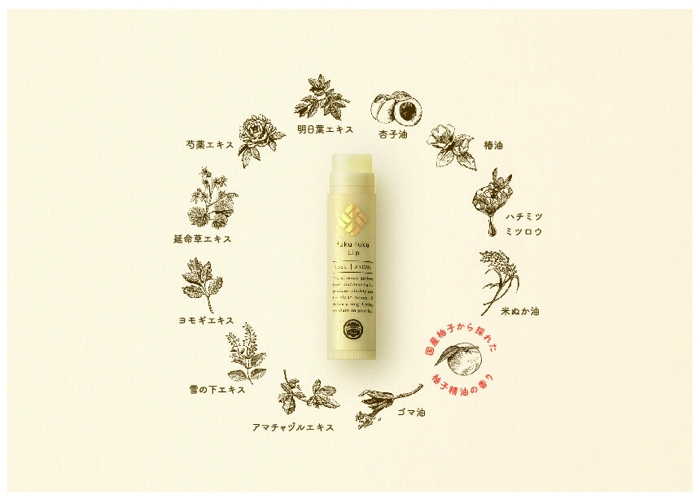 The products have the scent of "yuzu" (Japanese citrus fruit) which has been used in Japan from a long time ago. The products uses the rare essence of yuzu produced in Japan.
Let's call in luck by using "Fuku Fuku Lip."
◼︎Information
Fuku Fuku Lip
Price: 1,080 yen (tax included)
TEL: 03-3239-1635
Available stores: Tokyu Hands, Loft, Isshindo Honpo Tsushin Hanbai's Tokyo Sky Tree Town store, Soramachi store etc…
RELATED ENTRIES
Popular Chichiyasu Chi-bou Fair 2021 Returns to LOFT Locations After Two Years

Household goods shop LOFT is teaming up with beverage company Chichiyasu for the Chichiyasu Chi-bou Fair 2021 at four locations nationwide. The event will run from September 16 until September 29 at Shibuya LOFT, and from October 20 until November 3 at Nagoya LOFT, Umeda LOFT, and Tenjin LOFT. Chi-bou is the name of the adorable character on the Chichiyasu logo.

Chi-bou Drawstring Bag (Set of 2): ¥1,650 (Tax Included)

Chi-bou Gauze Handkerchief: ¥770 each (Tax Included)

Chi-bou T-shirt: ¥2,200 each (Tax Included) *Only available at Shibuya LOFT and Umeda LOFT.

Chi-bou Pouch: ¥1,650 (Tax Included)

Chi-bou Rubber Keychain (Set of 2): ¥1,650 (Tax Included)

Chi-bou A5-size Notebook: ¥385 each (Tax Included)

Chi-bou Mug: ¥1,650 each (Tax Included)

Chi-bou Eco Bag (with Pouch): ¥2,200 (Tax Included)

Chi-bou Masking Tape (Chichiyasu Milk/Boxed Milk): ¥495 each (Tax Included)

 

The Chichiyasu Chi-bou Fair was a popular event held at Shibuya LOFT in 2018 and at Yokohama and Umeda LOFT locations in 2019.

How would you like to buy some of this adorable merchandise?

Information

Chichiyasu Chi-bou Fair 2021

Locations:

Shibuya LOFT 1F, Masaka Stage
Nagoya LOFT 5F, Variety Goods Section

Umeda LOFT 1F, Loft Market

Tenjin LOFT 5F, Variety Goods Section

Running:

Shibuya LOFT: September 16 – September 29, 2021

Nagoya LOFT, Umeda LOFT, Tenjin LOFT: October 20 – November 3, 2021

Hours: Same as LOFT business hours *Shibuya LOFT and Umeda LOFT to close at 18:00 on the final day.

Official Site: https://www.loft.co.jp/

City Hunter Manga Pop-Up Store to Open at Umeda LOFT in Osaka

Anime, manga, and tokusatsu event organiser CRAZY BUMP has announced the opening of a pop-up store centred on Tsukasa Hojo's manga series City Hunter which will run from May 12 to 25.

The pop-up shop first ran in Nagano in Tokyo last month and is now heading to Osaka. It's themed on Ryo Saeba versus Umibozu.

©北条司/コアミックス 1985,版権許諾証AG-301

Information

City Hunter Pop-Up Store: Ryo Saeba vs. Umibozu in Umeda LOFT

Japanese Shop Name: POP UP STORE~冴羽獠VS海坊主墓場の決闘編~in梅田ロフト

Running: May 12, 2021 – May 25, 2021

Where: Umeda LOFT (Floor 1F Market)

Address: 16-7 Chayamachi, Kita-ku, Osaka-shi, Osaka

Opening Hours: 11:00-21:00 (Until 18:00 on May 25)

Entry: Free

Special Page: https://hakabanogarou.jp/archives/17920

Enjoy a Healthy Junk Food Menu at Shibuya LOFT's New Cafe 2foods

Shibuya LOFT opened its new '2foods' cafe on April 15 which serves junk food healthily.

2foods uses absolutely no eggs or milk in their menu – everything is plant based and healthy, making it a haven for vegan foodies, especially in Japan where there aren't as many vegan places as other countries. What's better is that everything's reasonably priced too. There are around 60 menu items to choose from, like curry and soba as well as desserts, organic coffees and lattes, cold pressed juice, and more.

Artist's rendition of the cafe

Curry | ¥1,023 (Tax Included)

A hearty and spicy curry served with brown rice which is better for digestion.

Tantanmen Ramen | ¥968 (Tax Included) | Shibuya LOFT exclusive

A ramen soup with 100% gluten free rice flour noodles, soy milk, sesame seeds, peanuts, soy meat, and other healthy and natural ingredients.

Egg Doughnut Sandwich | ¥528 (Tax Included)

A vegan egg sandwich that doesn't use eggs but tastes just like them.

Gateau Chocolate | ¥528 (Tax Included)

A rich chocolate gateau made with brown rice powder and soy cream.

Information

2foods Shibuya LOFT

Opened: April 15, 2021

Address: Shibuya LOFT (Floor 2F), 21-1 Udagawacho, Shibuya, Tokyo
Opening Hours: 11:00-20:00 
TEL: 03-6416-4025 

Official Website: https://www.loft.co.jp/

Appreciate Kumamoto's Culture at New Tokyu Hands Store in Amu Plaza Kumamoto

Tokyu Hands is opened a new lifestyle shop called Hands Be inside Amu Plaza Kumamoto in front of JR Kumamoto Station April 23. The shop will sell a range of everyday products from beauty to stationery, seasonal, and more, that showcase Kumamoto's culture and craftsmanship. Whether it be for yourself or a gift for someone else, there's something for everybody.

Kumamoto culture

Kurikawa Uchiwa Shoten

Kurikawa Shoten is a specialist in Japanese uchiwa fans that first opened in 1889. Kumamoto is the third biggest producer of uchiwa fans together with Kyoto and Marugame and is the only place passing down the traditional kutani craft of fans. Their fans are durable and long-lasting, enjoyed as gifts at children's birthday parties, weddings, as well as at company commemorations and elsewhere. To celebrate Hands Be's opening, the Kurikawa Shoten is providing fans with original colours exclusive to the new store.

Coffee Arrow

Coffee Arrow is a coffee shop that opened in Hanabatacho in the central ward of Kumamoto back in 1964. Customers can get their hands on a range of original coffee beans, merchandise, and more.

Coming together during these times

BLUE SEED BAG 

"HOLD hands be Happy" is the message written on the recyclable, eco-friendly BLUE SEED BAG which is made using washed blue sheets that were actually used as part of the restoration efforts after the Kumamoto Earthquake struck in 2016. The bags are a reminder that even though many of us can't hold hands with us during the pandemic, we are still connected by our hearts.

Wesign

Javasparrow is a manufacturer and service focused on creating products around "familiarity" and "connection." The Wesign is a set of two lights that connect to Wi-Fi. These unique lights can be used by lovers or family members who live apart or long-distance, so that you know when the other is on or offline, helping everyone feel connected.

Original bandana available for the grand opening

Hands Be is also offering a free bandana for the opening to anyone who spend over ¥3,000 (tax included).

Information

Hands Be Amu Plaza Kumamoto

Opening Date: April 23, 2021

Where: Amu Plaza Kumamoto Floor 3F, Kasuga, Nishi-ku, Kumamoto-shi, Kumamoto

Official Website: https://hands.net/

Japan's leading household goods and stationery chain LOFT has announced the opening of a new branch at the Ito-Yokado department store in Chengdu, China on January 29, 2021. It comes as the company's second store to open outside of Japan following their first overseas branch in the Shanghai commercial district Xujiahui on July 24, 2020.

LOFT first made its face known with the opening of its store in Shibuya back in 1987. The company is known for its concept of "Showcase of Time" as its stores promote browsing and customers taking their time to look the assortment of goods on show rather than simply going to get what they need.

The new overseas branch and its shelves will focus on family households which it is advertising with the slogan "They're Sure To Have Something" (translated from Japanese).

Shuangnan LOFT grand opening promotion designs

LOFT Gift Tins (6 Designs)

LOFT Limited-Edition Tokyo Yellow Series

LOFT Limited-Edition stationery designed by CHALKBOY

Dragon Quest x LOFT Merch Collab

China-Exclusive LOFT Items

Chengdu Ito-Yokado LOFT exclusive grand opening merch design

LOFT Limited-Edition Hair Care & Skin Care Set (Available while supplies last)

LOFT APARTMENT

LOFT grand opening original eco-bag

Shuangnan LOFT will boast over 10,000 specially-select items from trending Japanese cosmetics to LOFT-exclusives, grand opening celebratory items, stationery, character goods, and much more. The store's LOFT APARTMENT section will feature items made in collaboration with over 100 Chinese artists from apparel to accessories.

To commemorate the store's grand opening, the first 10,000 customers to spend over 200 yuan will receive an original LOFT eco-bag for free. Coupons with 10% off  items will also be available on the WeChat mini program between January 29, 2021 and February 21, 2021.

Information

Shuangnan LOFT
Grand Opening: January 29, 2021
Address: Chengdu Ito-Yokado Floor 2F, Er Huan Lu Xi Yi Duan & Yi Du Lu, Shuang Nan Shang Quan, Wuhou Qu, Chengdu Shi, Sichuan Sheng, China
Opening Hours: 9:00-22:00
Official Website: https://www.loft.co.jp/

South Korean Cosmetic Brand CILY Launches Japan Edition Packaging

South Korean cosmetic brand CILY released a new "Japan Edition" packaging for its products at LOFT stores around the country on March 7.

CILY is a South Korean cosmetic brand produced by Kang Taeri. Having much experience with various brands of makeup from her fashion photo shoots, Taeri conceived the brand to offer ease-of-use when applying makeup to the masses. Her brand mimics the beauty of Asian women. Japan's first flagship store opened in Shinsaibashi, Osaka on January 25 this year, which caused the brand to trend on Japanese social media for the power of its products.

The Japan Edition packaging will have pre-sales in Japan. The two-colour chic Korea Edition packaging is available in-store and on CILY's official online shop.

CILY SILKY LIP – ¥1,500 (Before Tax)

This lipstick bears a creamy texture and high tone colouring. Apply for glossy and plump-looking lips.

CILY EYES ON ME – ¥1,200 (Before Tax)

Two mattes and four shimmery and glittery picks make up this collection of 6. Colour your eyes elegantly with this silky powder.

CILY BLOSSOM BLUSH – ¥1,400 (Before Tax)

Though this blush is a powder, it effortlessly slides across the skin with its silky texture.

CILY EVERLASTING MASCARA – ¥1.700 (Before Tax)

Make your eyelashes look natural but with plenty of volume. This mascara keeps your lashes looking beautiful all day.

Get ready for spring with Taeri's beautiful collection.

Information

CILY JAPAN EDITION

Released: March 7, 2020

CILY Japan Official Website: https://cily.jp/

Chuken Mochi Shiba―The Adorable Chubby Puppy Characters Get Their Own Store

The cute character line Chuken Mochi Shiba opened up its very own pop-up shops at LOFT branches across Japan on March 14.

At the same time as SK Japan's chubby puppy character line appeared in 2014, the Shiba Inu boom took over the world. Products in the line are sold mainly at amusement facilities in Japan and it has become a hit not just in Japan but overseas too, especially in South Korea and Taiwan.

The name of the pop-up shop is Marufuku Shoutengai. The first store to open is at the Umeda branch of LOFT which is currently running until April 2. The shops will open sequentially at different branches across the country before closing up in early August.

There will be plenty of merchandise to get your paws on at the Chuken Mochi Shiba-decorated store. Those who spend over ¥1,080 with tax in one purchase will receive a limited-edition postcard. These are available in limited quantities at each store. There are two postcard designs: the spring version will be available from this month until early May and the summer version will roll out in late May until August.

Sakura and Okaka, two characters in the line, are also scheduled to make an appearance at select stores. You will be able to have your photo taken with them.

Join the chubby Shiba Inu at a Chuken Mochi Shiba store near you!

Information

Chuken Mochi Shiba Pop-Up Store

Running: From March 14, 2019

*Beginning at Umeda LOFT. The store will roll out at other LOFT branches sequentially.

Chuken Mochi Shiba Official Homepage:  http://mochishiba.skj.jp/

©2014 SK JAPAN

Tokyu Hands to Open New Branch at Singapore Changi Airport

Tokyu Hands has announced that it will open a new branch at the new Jewel Changi Airport set to open at Singapore Changi Airport in spring this year. This will be the chain's fourth branch to open in Singapore.

Tokyu Hands is a Japanese department store which describes itself as "the one-stop shop chock-full of many products unique to Japan." Its stores stock a wide variety of products, and those visiting the new Jewel branch too can expect to get their hands on a range of items from Japan including high-quality living ware, hobby and lifestyle products and more.

If you're passing through Singapore Changi Airport be sure to pop in for a visit this spring.

Information

Tokyu Hands Jewel (Temporary Name)

Address: 78 Airport Boulevard #02-203 Jewel Changi Airport Singapore 819666

Business Hours: 10:00-22:00 (subject to change)

Opening: Spring 2019

Official Website: https://www.tokyu-hands.co.jp/en/

Maru the Shiba Inu Special Fair to be Held at Shibuya LOFT

Lifestyle department store Shibuya LOFT is holding a special fair for the internet celebrity shiba inu Maru. The event will run from September 6 to 24.

Maru has over 2.5 million followers on Instagram. His calendar that is released every year is so popular it never fails to sell out.

In Store Only: Shiba Inu Maru 2019 Calendar & Shibara Statue Set – ¥8,424 (Tax Included) *20 available (First-Come, First-Served)

Online Only: Shiba Inu Maru 2019 Calendar & Shibara Puppy Statue Set – ¥9,180 (Tax Included) *Available on LOFT's website only

In addition to the Maru merchandise available at the fair, there are also exclusive items made in collaboration with Konatsu's character Shibara. These items come in two sets including a 2019 calendar, ball pen and acrylic diorama. The sets will go on sale on September 8 from 10:00am (JST) and will ship at the end of October.

Shiba Inu Maru Smartphone Ring – ¥1,296 (Tax Included)

Shiba Inu Maru Original Notebook w/ Magnet – ¥1,080 (Tax Included)

There are around 100 lifestyle items to choose from featuring popular photos of Maru as well as original illustrations. Show your support for the pup by picking something up while in Shibuya!

■Information

Maru the Shiba Inu's Special Fair
Running: September 6, 2018 – September 24, 2018

Location: Shibuya LOFT (6th Floor – Art & Design section)

LOFT Official Website: http://www.loft.co.jp/

LOFT Online Store: https://loft.omni7.jp/top

Loft will sell spring sundries related to "cherry blossoms" from mid-January to mid-February.

In Japan, cherry blossoms are thought to be a motif that brings luck. The products noted below are recommended to use as gifts for friends, students preparing for an entrance exam and persons who will starting new endeavors from this coming spring.

 "Haru wo Kotohogu Sakura no Pink (Charley) 378 yen

A bath additive which has the scent of cherry blossoms which brings good luck.

 "Fukufuku Yu" Sakura Usagi (Charley) 216 yen

 "CLEAN" Fabric Spray – Signs of spring (fragrance) 972 yen

A cherry blossom fragrance where you can feel the advent of spring.

"Venus Spa" Perfume Stick – Spring Blossom (Fitz Corporation)

1,620 yen

 "ettusais" Quick Care Coat – Sakura (ettusais) 1,026 yen ※this product will be available from mid-January.

A pink-colored nail beauty essence which coats nails with a thin/transparent vail.

 "Kneipp" Hand Cream – Sakura 75ml (Kneipp Japan) 810 yen ※this product will be available from mid-January

A hand cream that has the gentle scent of cherry blossoms. The letters "Now and Forever" are printed on the product and the product is recommended to use as a gift for students who are going to graduate this coming spring.

Loft-limited "Little Charm" – You're My Treasure Sakura Set (Fragrance) 1,620 yen ※this product will be available from mid-January

A gift set that includes two kinds of limited fragrance hand creams.

 "Amino Mason" Moist Shampoo & Treatment Sakura Limited Kit "(Stella Sead) 3,024 yen ※this product will be available from mid-January

 "bande" Someiyoshino (Nishikawa Communications) 432 yen ※this product will be available from the mid-January

The "Someiyoshino" (a variety of cherry blossom) version was added to this series of masking tape. Your letters and message cards will become gorgeous just by sticking this masking tape on it.

 "DELDE" Pen Porch – Sakura 2 kinds (Sun Star Bungu) 1,491 yen ※Mid-February ※prices noted above include tax

◼︎Information

Haruwo Kanjiru Sakura Zakka Uriba

Date: 2018,01,15 (Mon.) to 02,28 (Wed.)

Stores: Loft stores/sales floors throughout Japan including Shibuya Loft

Original sweets items conveyor-belted in! "SWEETY LOFT"at Ginza LOFT to open

A first in Japan, not a "sushi-go-round" but a "sweets-go-round" named, "SWEETY LOFT" will open in Ginza LOFT.

Ginza LOFT will open Japan's first-ever, "sweets-go-round" event. A 15-meter conveyor belt will roll in original sweets items which Ginza LOFT has carefully chosen.

<Example of sweets items>

Cacao Caramel from "PATH" (Yoyogi Hachiman) 864 yen

Fondant Cacao from "PACHAMAMA" (made by the "cacao evangelist" Ota Tetsuo) 3,024 yen (Sat. limited)

Macadamia nuts Chocola from "Sincere" (Kita sando) 1,296 yen

Bar chocolates (various kinds) from "Minimal-Bean to Bar Chocolate" (Tomigaya) 1,080 ~ 1,512 yen

Mendiants Noir / Blanc (various kinds) from "FOOD FOR THOUGHT" (made by the cooking specialist, Watanabe Yuko) 1,188 yen

Brownie/Financier etc. from "Shigekuniya 55 Bakery" (Koenji)  216 ~ 324 yen

Ginza LOFT original Biscuit from "Parlor Egota"  540 yen

In addition, during the weekends the patissier and chef who created the Ginza LOFT original sweets items to be sold on a limited time offer, will come to this shop to hold a tasting and making event of their original sweets items. These items will also be sold.

<Menu items>

Amazon Cacao Waffle – Lille-style  380 yen

Hot Amazon Cacao  400 yen

Amazon Cacao Tea   400 yen

We are nearing the Valentine's Day season, so here is an event where you can purchase a very rare sweets item to buy for yourself, to give to your precious-one, or to give you inspiration in the art of sweets making.

Why not come round to this very unique, "sweets-go-round" event and satisfy your craving for an awesome sweets experience.

◼︎Information

SWEETY LOFT

Open: 2018 January 15th (Mon.) ~ February 25th (Sun.)

Venue: Ginza LOFT 4th floor Home Solutions Kitchen Studio

Ginza LOFT original tasting and demonstration sale

Time: Every Saturday while SWEETY LOFT is open (13:00 ~ 16:00)

Japan's First Fidget Spinner Pop-up Shop to Open in Shibuya Loft!

Who hasn't heard of fidget spinners by now? The first ever fidget spinner pop-up shop will be opening in Japan this month. They are called "hand spinners" in Japan, and for two days, the "Nippon Hand Spinner Club" will be open in Shibuya Loft.

This is the first pop-up shop in Japan to specialise in fidget spinners. There will be 30 varieties to choose from, and you can even have a go at testing them out. The fidget spinner is a compact palm-sized toy with a bearing in the middle which allows you to spin it. With just one spin, it will continue to go around and around for several minutes. The fidget spinner boom began in America at the end of 2016 and has now found its way over to Japan.

There are numerous ways to play with a fidget spinner besides watching it. You can compete with other people to see how long you can make it spin, and you can even learn how to do tricks with them.

Whether you own a fidget spinner or have never even held one, Shibuya Loft has a big line-up for you to choose from and try. If you're in Tokyo, head on over and find one you like!

■Information
"Nippon Hand Spinner Club" Pop-up Shop

Date/Time: July 28, 2017 to July 29, 2017 – 2pm-8pm both days
Location: Shibuya Loft B1F Entrance

Product Examples:
・Triple Spinner – ¥1,280
Standard plastic fidget spinner.
・Arumitto – ¥2,980 (photo)

Popular light weight fidget spinner made of aluminium.

・Spins – ¥4,298

Highly customizable fidget spinner. Outer parts removable.

※All prices listed include tax.

※Products sold at the pop-up shop are available for purchase on the official "Nippon Hand Spinner Club" website. If you cannot make the pop-up shop, then check their website – https://www.fidgetspinner.biz/)
※Other fidget spinners are also available on the 5th floor of Shibuya Loft.

Related article:Loft Opens New Store in Ginza & Stocks Cosmetic Gift Box Designed by Rina Tanaka

Related article:5-Day Bonsai Appreciation Event to be Held in Ginza