"Real Dasshutsu Game × Dragon Quest" will be held this year too at Makuhari Messe
A real escaping-experience-based game collaborated with the very popular Japanese game "Dragon Quest"called "Daimao Zoma kara no Dassyutsu" will be held at Makuhari Messe's exhibition halls (9 to 11) on the 11th (Sat.)/12th (Sun.)/13th (Mon.)/14th (Tue.)/18th(Sat.)/19th (Sun.) of August 2018.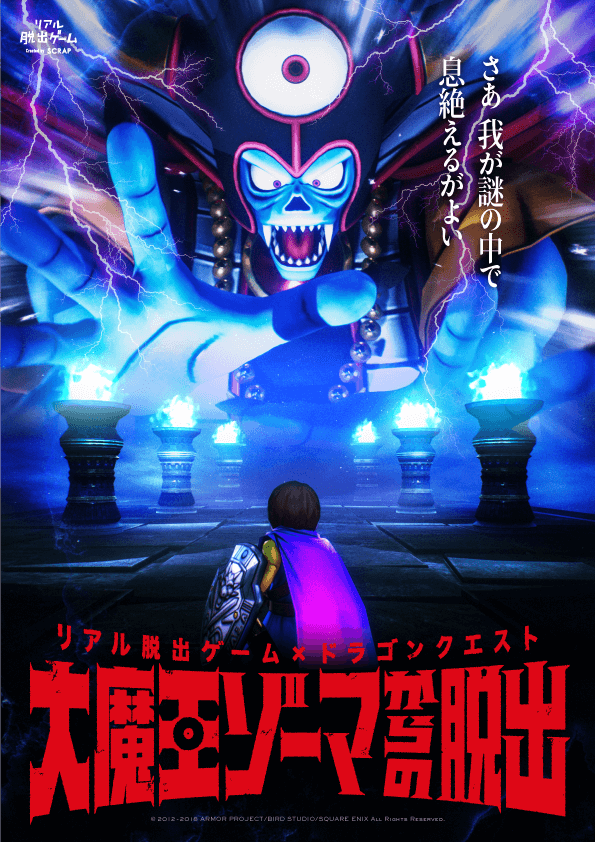 The "Dragon Quest" series is a role-playing game which is loved by many people in Japan and the sales number of the all the titles (the first title was released in 1986) is more than 75 million. More than 4 thousand people visited the venue when the real escaping game, "Ryuo Meikyu kara no Dassyutu" was held in 2016.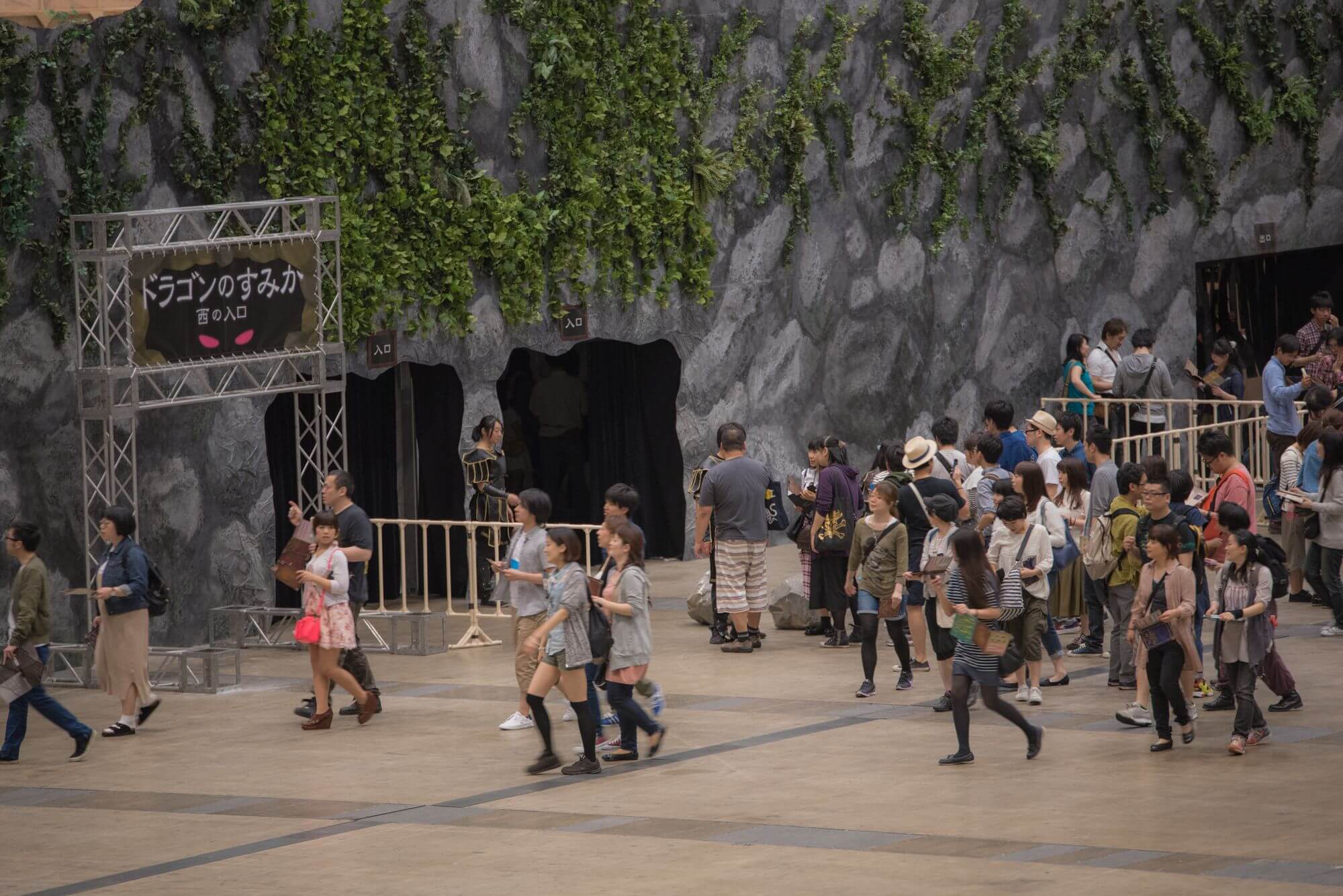 In this game, the participators will tag a team consisting of four members to challenge many quests and fights against the great satan Zoma. Let's enjoy the world of "Dragon Quest" by participating in this game.
Food/drink booths will be installed, and special goods will be sold.
Tickets will be sold from early April and many special events will be held.

The specially installed site announced some quizzes (10th, February to 4th March) and the persons who solve the quizzes can get a ticket (25 groups – 100 persons / lottery basis) so why not give it a try before visiting the venue?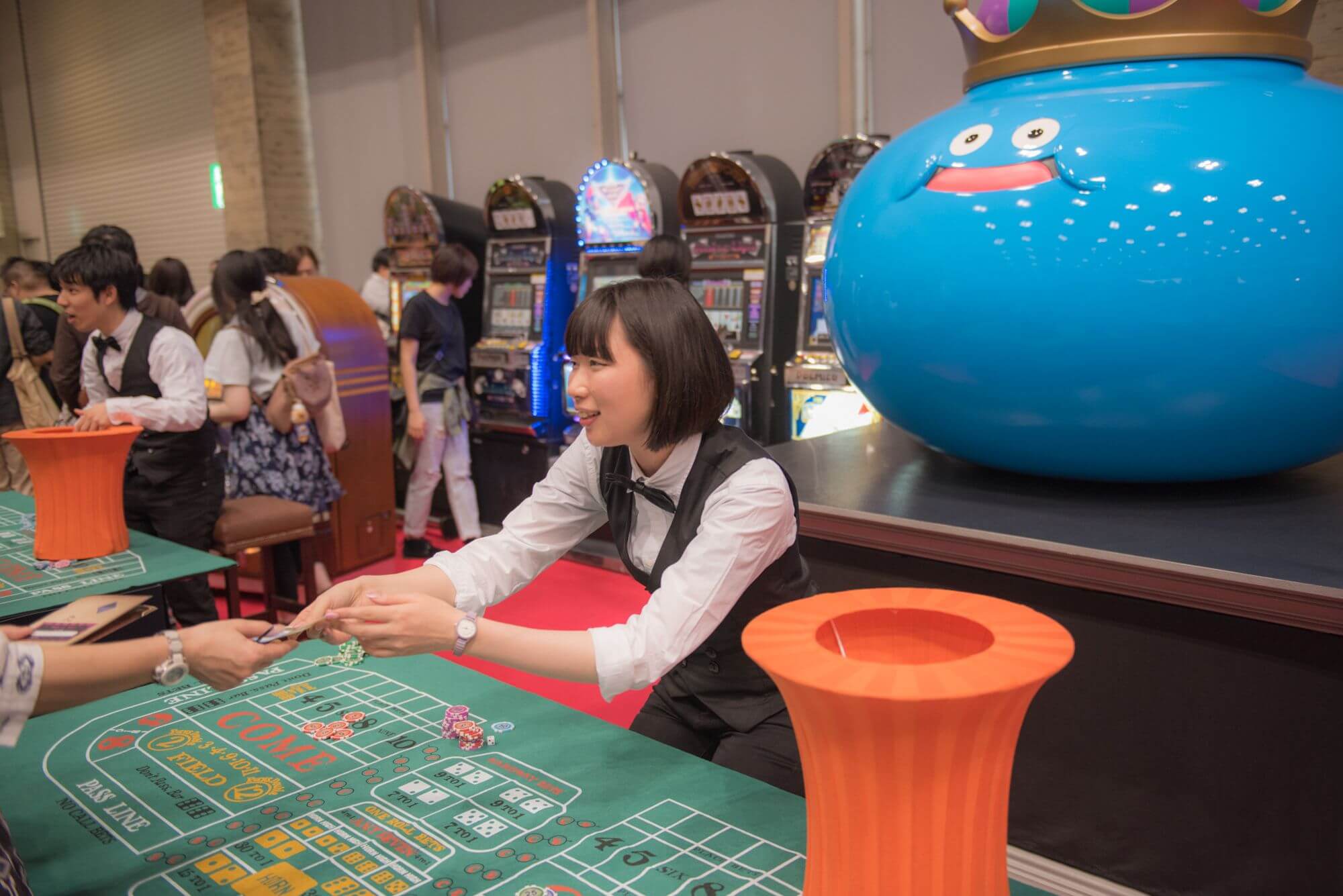 Let's enjoy this realistic experience this coming summer by participating in "Daimao Zoma kara no Dassyutsu!"
◼︎Information 
Real Dassyutsu Game × Dragon Quest "Daimao Zoma kara no Dassyutsu"
Address: Exhibition halls (9 to 11), Makuhari Messe, 2-1, Nakase, Mihamaku, Chiba Prefecture
Date: 2018/08/11 (Sat.), 12 (Sun.), 08/13 (Mon.), 14 (Tue.), 18 (Sat.), 19 (Sun.)
Ticket: released from early April
TEL: 03-5341-4915(week days – 11:00~19:00)
RELATED ENTRIES
Tokyo Revengers Anime Special Event Visual Unveiled

A special event for the wildly popular Tokyo Revengers anime series will be held on December 18, 2021. The first visual for the event has been released!

The new image shows Takemichi, Chifuyu, Peh-yan and the founding members of the Tokyo Manji Gang taking a well-deserved break. Takuya Eguchi, who plays the role of Shuji Hanma, will make an appearance during the evening show. Along with the members of the Tokyo Manji Gang, members of Valhalla will be present too, so it's sure to be a wild time. 

Exclusive merchandise will be sold at the venue, and pamphlets featuring cast photos and special interviews will be handed out. Good luck charms will be on sale, with many seen in episode 22 of the anime series. 

Tickets went on sale December 1 and are available on a first-come, first-served basis. 

©和久井健・講談社/アニメ「東京リベンジャーズ」製作委員会

Information

Tokyo Revengers Special Event at Tachikawa Stage Garden

Date: December 18, 2021

Day Show: Opens at 13:00, Show Starts at 14:00

Evening Show: Opens at 17:00, Show Starts at 18:00

Tickets: https://special.canime.jp/tokyo-revengers-anime/ticket/

*注意事項等の詳細は受付URLからご確認ください。

Live Puzzle Game, 'The Little Wizard and Monsters,' to be Held in Cosplay City Matsudo

Ready to put your thinking caps on? Gather your best friends and head to Matsudo City in Chiba (about 40 minutes from Tokyo Station) for the real puzzle-solving game 'The Little Wizard and Monsters ~Enter the Costume Contest, ya hear?~, taking place from December 4, 2021, until March 27, 2022. During the event, guests will have to search for clues in the area around Yabashira Station on the Shin Keisei Line, as well as the 21st Century Forest and Square Park. 

The 21st Century Forest and Square Park and Yabashira Station are both very familiar to those in their 20s and 30s who love pop culture, and this event was planned in the hopes that people would learn more about the area. While attempting to solve the puzzle, guests will find plenty of very Instagrammable spots and locations perfect for cherry blossom viewing as well!

Information

Live Puzzle Game 'Little Wizard and Monsters' ~Enter the Costume Contest, ya hear?~

Running: December 4, 2021 – March 27, 2022

*Closed Mondays and During New Years Holiday (December 29 – January 3)

Hours: 10:00-16:30

Free to Enter

Official Site: https://nazotoki-plus.com/

Creative Brand HAKU to Hold Stone Exhibition in Nagareyama

For two days only, HAKU, a creative brand known for its underground art experience, will feature some of its unique works at Starts Otakanomori Hall in Nagareyama City, Chiba prefecture.

The inside of the Philharmonic Hall will be transformed with lights and sound to mirror the natural environment surrounding the city. Within this immersive space, images will be projected on the ceiling, walls, and floor, and visitors will be surrounded by the sounds of the river, insects, wind through the trees, and more.

Visitors will be given sensors to track them in real-time, allowing more interactivity with the digital environment. The water flowing through the venue changes its flow based on guest movement. What do you think of this bizarre experience?

Four New Pokemon Manhole Covers Appear in Katori City, Chiba Prefecture

On November 10, 2021, four new Pokemon-themed manhole covers were unveiled in Katori City, Chiba prefecture. These will be the first appearance of the Poke Lids project in both the city and prefecture and each will feature landscapes specific to the area. Pokemon featured in these new covers include Galarian Farfetch'd, Falinks, Florges, and Lotad. 

The Poke Lids project features completely original art, and each serves as a PokeStop in the mobile game Pokemon GO. Many are located in smaller towns and areas, and this has brought more tourism and attention to some of Japan's more charming hidden gems. Going on a pilgrimage to visit these locations has become a popular new fad, so be sure to try it out once Japan opens!

Poke Lid Locations in Katori

Galarian Farfetch'd Poke Lid: 109-14 Sawara, Katori, Chiba

Falinks Poke Lid: 1722-1 Sawara, Katori, Chiba

Florges Poke Lid: 4549-1 Sawara, Katori, Chiba

Lotad Poke Lid: 4053-3 Sawara, Katori, Chiba

©Pokémon. ©Nintendo/Creatures Inc./GAME FREAK inc.
ポケットモンスター・ポケモン・Pokémonは任天堂・クリーチャーズ・ゲームフリークの登録商標です。

VTuber Group NIJISANJI to Celebrate Four Years with 2-Day FANTASIA Event

The massive VTuber collective NIJISANJI will be holding a special 2-day event to celebrate four successful years! The NIJISANJI FANTASIA Event will be held at Pia Arena MM in Yokohama on January 22 and January 23, 2022. Female streamers will perform on Day 1, and male streamers will take the stage on Day 2. Presale tickets are now available by lottery for certain Fanclub members. 

As of October 2021, there are 107 Japanese NIJISANJI members, and a total of 156 members including the company's English, Indonesian, Korean and Chinese members. The group has over 30 million subscribers on YouTube across all members. The group has held a live event each year to celebrate these massive milestones. This year's event will be held in full-scale 3D collaborative costumes for the first time, and sixteen talents will be taking the stage total.

Who is your favorite member of NIJISANJI?

Information

NIJISANJI 4th Anniversary LIVE 'FANTASIA'

Performers: 

DAY 1: Mito Tsukino, Kaede Higuchi, Saku Sasaki, Yukia Shiina,  Uiha Aiba, Rena Yorumi, Inui Toko, Tomoe Shirayuki

DAY 2: Touya Kenmochi, Kanae, Hayato Kagami, Kakeru Yumeoi, Akina Saegusa, Kou Uzuki,  Shellin Burgundy, Kizuki Yashiro

Dates:

DAY 1: January 22, 2022 / Doors Open at 16:00, Show Starts at 17:00

DAY 2: January 23, 2022 / Doors Open at 16:00, Show Starts at 17:00

Location: Pia Arena MM (https://pia-arena-mm.jp/)

Official Site: https://event.nijisanji.app/4thanniv_fantasia

Ticket Information

Individual Member Fan Club Presale Tickets (Lottery)

NIJISANJI Fan Club (Kaede Higuchi, Saku Sasaki, Yukia Shiina, Kakeru Yumeoi) Presale Lottery Registration

Open: October 31, 2021 20:00 – November 7, 2021 23:59

URL: https://eplus.jp/nijisanji-4th-anniversary/fc/

Fan Club Site: https://fanclub.nijisanji.jp/

NIJISANJI Fan Club Presale Tickets (Lottery)

Presale Lottery Registration

Open: October 31, 2021 20:00 – November 14, 2021 23:59

URL: https://eplus.jp/nijisanji-4th-anniversary/fc/

'Reflexion' Serial Presale Tickets (Lottery)

Open: November 24, 2021 12:00 – December 5, 2021 23:59

URL: https://eplus.jp/nijisanji-4th-anniversary/sp/

*Must purchase NIJISANJI Cover Song Album 'Reflexion' 

Purchase Here: https://shop.nijisanji.jp/s/niji/item/detail/NJSJ-033?ima=0932

Dragon Quest Themed Room Opening at Awaji Grand Chariot Hotel

Nijigen no Mori Anime Park, located on Awaji Island in Hyogo Prefecture, brings anime, manga, and game worlds to life. Starting on November 6, a Dragon Quest-themed hotel room will be available to commemorate the six-month anniversary of the park's Dragon Quest attraction! Reservations for the room are now open.

The room itself is called 'The Slime's Cocoon,' and features plenty of decorations from the popular RPG series as well as in-room treasure chests, slime-shaped lights, and more! The walls and windows will be covered with characters and familiar items, so fans won't want to miss this exclusive opportunity!

Guests staying in the room will receive an original yukata only available at Nijigen no Mori. A limited-edition picture frame can be earned by completing a mission asking guests to find a number of hidden medals in the room!

Does this look like the Dragon Quest experience of your dreams?

Information

Dragon Quest Collaboration Room 'The Slime's Cocoon' 

Open: November 6, 2021

Reservations Begin October 23, 2021

Check-in between 15:00-18:00 / Check-out at 11:00

4 Guests Maximum

Address: 2425 Kusumoto, Awaji, Hyogo (Inside the Nijigen no Mori Anime Theme Park)

Reservations/Details: https://awaji-grandchariot.com/

Boat Race Tokoname in Aichi Prefecture to Screen Popular Films at Drive-in Theater

The Boat Race track at BOATRACE Tokonome will be home to a 3-day Drive-in Theater event on November 19, 20, and 21. The vast west parking lot will welcome guests to enjoy three films from the safety and privacy of their vehicles. In past years, the Hamanako, Tokuyama, Naruto, and Mikuni locations have participated. Now, it's Tokoname's turn!

Selected Films

La La Land (with subtitles) – November 19, 2021

© 2017 Summit Entertainment, LLC. All Rights Reserved.

The Secret Life of Pets 2 (dubbed) – November 20, 2021

© 2019 Universal Studios. All Rights Reserved.

A Whisker Away – November 21, 2021

© 2020「泣きたい私は猫をかぶる」製作委員会

This lineup of films can be enjoyed by families, lovers, and friends. The final film, A Whisker Away, is a coming-of-age fantasy set in the city of Tokoname. Visitors can enjoy these films on one of the largest air screens in Japan, at 722 inches. Don't miss some additional boat race content that even beginners can enjoy!

Information

BOATRACE de DRIVE-IN THEATER in BOATRACE Tokoname

Dates: November 19, 20, 21 – Doors open at 18:00, film starts at 19:00

Address: BOATRACE Tokoname West Parking Lot (4-111 Shinkaicho, Tokoname-shi, Aichi)

Official Site: https://boatrace-driveintheater.com

Sanrio Puroland Announces Snow Globe-Themed Christmas Event

This holiday season, Sanrio Puroland will hold its Puro Christmas celebration from November 5 until December 26, 2021. The snow globe-themed event is sure to bring some cheer to the Tokyo area!

Snow Globe Lights

Photo Spots

Puro Christmas Special Greeting

Kitty & Daniel's Party-Party Christmas

Exclusive Menu

Puro Christmas Limited-Time Merchandise

'The Puro Christmas' Musical Show

Guests will be treated to an entire world of Sanrio characters within a glittering snow globe, and each of them will be wearing limited-edition Christmas costumes. Seasonal photo spots and opportunities to spend time with characters will line the space, along with Christmas trees and other holiday decorations!

The special Christmas food menu features a Santa Claus theme and dishes are dotted with red and green. Exclusive snow globe-themed merchandise available for purchase includes keychains, pins, and sweets that are perfect to give as a gift this holiday season. In addition, a special four-day event 'Kitty & Daniel's Party-Party Christmas' will invite guests to enjoy a full buffet while watching a live performance and partaking in a photo session after the meal!

First performed in 2018, 'The Puro Christmas' musical show is making a comeback this year after becoming a big hit with fans. 

© 2021 SANRIO CO., LTD. TOKYO, JAPAN  著作 株式会社サンリオ

Taichi Mukai Releases Music Video for Dragon Quest Anime Opening Theme

Taichi Mukai's newest track Bravest is currently available on streaming platforms worldwide, and serves as the opening theme to the ongoing Dragon Quest: The Adventure of Dai anime series. Now, the official music video has been uploaded to YouTube! 

Fans of the series will take note of the meaningful lyrics, dotted with powerful words about friendship and long journeys. The song hopes to inspire listeners and to give people the strength to keep fighting during difficult times. 

Bravest (Official Music Video)

The video was directed by Tai Nakazawa, who has also worked on music videos for Shota Shimizu, aiko, [Alexandros], and others. He previously directed Mukai's music videos for Get Loud and Celebrate! Keep an eye out while watching to catch a glimpse of the singer wearing pieces from costume designer TOMO KOIZUMI. 

©三条陸、稲田浩司/集英社・ダイの大冒険製作委員会・テレビ東京 ©SQUARE ENIX CO., LTD.

Music Festival Celebrating 10 Years of Senbonzakura Announced

Senbonzakura continues to be one of Hatsune Miku's most popular songs, even ten years after its initial release. To celebrate an entire decade of the song, a special live performance will be held in Chiba featuring a number of popular performers who have performed Senbonzakura sometime over the past ten years. 

The first round of acts have just been announced, and the event will take place at the Maihama Amphitheater in Chiba on November 21, 2021. 

Performers include Vocaloid producer and bassist of Wagakki Band Asa, talented female vocalist +α/Alfakyun., violinist and cosplayer Ayasa, and massively popular YouTuber UMI☆KUUN. Also appearing is Sachiko Kobayashi, an enka singer who performed Senbonzakura at the 66th Kouhaku Uta Gassen New Year special in 2015, and Marasy, a pianist who performed the song in a 2013 Toyota Prius commercial. The MCs for the show include streamer-turned-pro host Hyakka Ryoran and voice actress Saki Fujita, who performs the character voice for Hatsune Miku. 

Those who purchase a ¥30,000 (Tax Included) ticket will receive a commemorative golden happi coat and will guarantee a seat in the first five rows of the venue. The ¥15,000 (Tax Included) ticket will include a pink happi coat. General admission will cost ¥8,500 (Tax Included). 

More information regarding the second round of performers will be released soon, along with more details on exclusive merchandise to be sold at the venue. 

Information

Senbonzakura 10th Anniversary Festival ~The Fearlessly Fashionable Revolution!~

Date: November 21, 2021

Address: Maihama Amphitheater (Chiba)

Doors open at 14:00, show begins at 15:00

Live Performers

Asa/+α/Alfakyun./Ayasa/UMI☆KUUN/Sachiko Kobayashi/Marasy, and more!

MC

Hyakka Ryouran/Saki Fujita

Senbonzakura Festival Site: http://senbonzakurafes.com/

Senbonzakura 10th Anniversary Site: https://whiteflame.jp/10th-senbonzakura/

MUSER FEST.2021 -MUSIC AID- Event Holds Spin-Off Event for One Night Only

Last month's MUSER FEST.2021 -MUSIC AID- event isn't quite over! A spin-off event, ZIP-FM presents LIVE LIVE! Super Collaboration with MUSER FEST.2021, will be broadcast online on October 22 at 21:00. Since August, collaborative live performances have been planned with different guest artists each month on ZIP-FM's LIVE LIVE! With MUSER FEST.2021 program hosted by CHAI. This event is the culmination of these plans and the lineup is sure to get fans pumped. 

Performing artists include YUNA from CHAI, Suzuka and Mizyu from Atarashii Gakko!, Tabu Zombie from SOIL & "PIMP" SESSIONS, and Shingo Suzuki from Ovall. Ryo Kishimoto from fox capture plan will also join the live performance as a supporting artist. An archived stream will be available for two weeks after the live show, and tickets are on sale now on the official MUSER website. 

 

Information

ZIP-FM presents LIVE LIVE! Super Collaboration with MUSER FEST.2021

Broadcast Date: October 22, 2021 from 21:00-22:00

Price: 2,000YELL – ¥2,200 (Tax Included) *Includes access to archive

Buy Tickets: https://muser.link/__b/events/573 

Archive Available from October 23 – November 5 at 23:59

Archive Ticket Sales Period: October 23 – November 5 at 23:59

Official Site: https://muser.link/

Seaside Park Nagoya in Kinjofuto Event Offering Exciting Activities This Fall

Seaside Park Nagoya in Kinjofuto is coming to Makers Pier in Nagoya City on October 16 and 17, as well as October 30 and 31. The event will feature 30 different activities for both parents and children to enjoy, along with workshops where kids can learn new things, such as cardboard crafts and lunch totes. 

For those more adventurous types, bouldering and slacklining will invite guests to stretch and refresh their bodies while enjoying the sea air. Even beginners can safely enjoy some of these more strenuous activities, as instructors will be on site. Plenty of unique experiences will keep little ones busy discovering and exploring. 

 




When the sun goes down, the Night Cinema will begin, and guests can enjoy a movie beneath the stars. How would you like to come and relax by the seaside? 

Information

Seaside Park Nagoya in Kinjofuto

Dates: 

October 16, 17 from 10:00-20:00

October 30, 31 from 10:00-20:00

*After 5:00, all activities except movie screenings will be closed. 

Address: Inside Maker's Pier 

Official Site: https://seasidepark.info/