【TRAVEL Q&A】From Shinjuku to Hakone Hot Spring via Odakyu "Romancecar" Line!
Hakone, Kanagawa is one of the most popular "onsen" (hot spring) towns in Japan. The area is popular among both Japanese people and tourists from foreign countries since it is close to Tokyo and has many sightseeing spots such as Ahinoko (lake), Owakudani (valley) and Hakone Chokoku no Mori Museum.
There are several ways to go to Hakone but I recommend using the "Odakyu Romancecar" (limited express train) run by Odakyu Dentestu which departs from Tokyo. It takes about an hour and 40 minutes and you can go to Hakone direct. In this article, I will inform you of how to ride on the "Odakyu Romancecar" to go to Hakone.
1: How to ride Odakyu Romancecar?
Let's get tickets first. The tickets you must buy are "Joshaken (normal fare)" and "tokkyuken (limited express surcharge)." The "Joshaken" is an Odakyu Dentetsu limited ticket and the fare differs according to the station that you will get off at. "Tokkyuken" is a ticket you must buy when riding on a limited express train which means you must buy this ticket in addition to the "joshaken." There are three ways to buy these tickets.
1) Making a reservation/purchasing the ticket via the Internet
2) Making a reservation/purchasing the ticket at a ticket counter/ticket vending machine
3) Making a reservation on the telephone.
Making a reservation by telephone is not recommendable for those of you from foreign countries since English-speaking staff are not available.
2: How to but a ticket via the Internet?
Using e-Romancecar is recommended when using the Internet to buy a ticket. As a matter of course, you can use a credit card on this web site. You can ride the Romancecar by just by handing out the printed sheet or showing the screen of your smart phone to the staff at the ticket counter. If you are planning to just make a reservation (not paying the fare) on the web site, you must pay the fare by using the ticket vending machine or at the ticket counter before getting on the Romancecar. It is recommended that you buy your ticket beforehand if the date that you are going to Hakone is decided.
3: How to buy a ticket/make a reservation via the ticket counter at the station?
The ticket counter is normally open from 6:30 to 21:00. The ticket vending machines can be used any time (except for when the trains are not running) but credit cards cannot be used. You can purchase tickets for up to 8 persons at once using the vending machine. So, those of you who are planning to go to Hakone with a group of more than 9 people you must purchase your tickets at the ticket counter.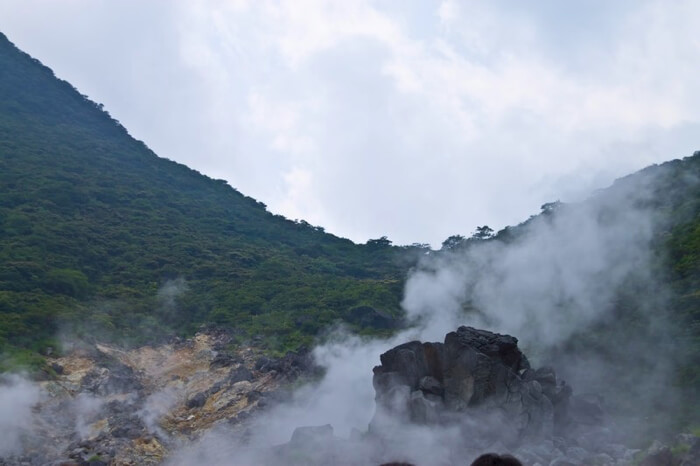 4: Let's get on to the Romancecar!
Now let's learn how to get on a Romancecar. There are several types of Romancecars available – MES (Type 6000), VSE (Type 50000), EXE (Type 30000) and LSE (Type 7000). The fares for all types are the same. You can eat a limited-"bento" (box lunch) if you make a reservation 3 days (AM) before you ride the Romancecar.
Why not experience a ride on the "Romancecar" and enjoy the hot springs in Hakone. Wishing you a pleasant trip! MMN will introduce to you many kinds of "Q&As in Japan."
If you have any questions, feel free to send a message to MOSHI MOSHI NIPPON's FB account!
RELATED ENTRIES
MOUSSY Announces Third Installment of Art and Fashion Venture PROJECT U

High-casual brand MOUSSY launched a new art and fashion venture in March 2021 titled PROJECT U. The third installment of the project is launching on September 10, and has been made in collaboration with artist JUN INAGAWA.

 

PROJECT U was created to bring MOUSSY together with a variety of talented creators and artists, and to see what possibilities could open up from different collaborations. MOUSSY has fused fashion and culture together countless times in the past along with popular characters from Disney and other brands. PROJECT U focuses exclusively on art!

The third installment of PROJECT U will feature plenty of apparel, from T-shirts and hoodies to tote bags and skateboards. JUN INAGAWA helped design these limited-edition items, with some featuring imagery from his 'Otaku x Street' collection, as well as a theme he works with often: destruction and rebirth. Apparel will be available in two unisex sizes.

The SHEL'TTER TOKYO and MOUSSY FLAGSHIP SHOP will also be holding JUN INAGAWA's solo exhibition and accompanying workshop. For more info on the apparel or exhibition, head to the PROJECT U special site!

Information

PROJECT U Third Installment

 

Release Date & Location:

September 10, 2021

MOUSSY Lumine EST Shinjuku, SHEL'TTER WEB STORE

September 17, 2021

The SHEL'TTER TOKYO / MOUSSY FLAGSHIP SHOP, MOUSSY Stores

PROJECT U: https://www.moussy.ne.jp/project_u/

Official Site: http://www.moussy.ne.jp

Yamaha's LovePiano Street Pianos to Appear Along the Hakone Ropeway

The colorfully painted street pianos seen around Japan are set to make an appearance in Kanagawa Prefecture! Two of Yamaha's upright LovePianos will be installed at two stations along the Hakone Ropeway from September 12 until September 25. During this time, anyone can freely play these pianos at Sounzan Station and Togendai Station. From the five distinctly designed LovePiano designs, numbers 1 and 2 will be installed for this event.

LovePiano #1

LovePiano #2

The Hakone Ropeway connects Sounzan Station and Togendai Station, a distance of about 4 kilometers, in 25 minutes. Those travelling this unique cable car line can catch glimpses of Mount Fuji and Lake Ashinoko along the journey.

From March 18 until March 31, one of the LovePianos was installed at Sounzan Station to massive crowds and fanfare. Yamaha Music Japan has continued installing pianos in open spaces such as train stations, airports, and other facilities as part of the LovePiano project, which promotes activities to get the masses interested in piano playing. So far, LovePianos have popped up at over 60 locations, including Shinjuku Station, Shinagawa Station, Sapporo Station, and Osaka International Airport.

LovePiano will also be installed at Odawara Sannomaru Hall and Umemaru Square in the HaRuNe Odawara underground shopping mall from September 5 until the 17th.

Would you want to play one of these pianos in public?

Information

LovePiano

LovePiano

LovePiano Unit 1

Hakone Ropeway, Sounzan Station, 2F cu-mo Hakone

(1300 Gora, Hakone-machi, Ashigarashimo-gun, Kanagawa)

Running: September 12 – September 25, 9:00-16:00

LovePiano Unit 2

Hakone Ropeway, Togendai Station, 1F Event Space
(164 Moto-Hakone, Hakone-machi, Ashigarashimo-gun, Kanagawa)

Running: September 12 – September 25, 9:00-16:00 (September 12, 12:00-16:00)

Official Site: https://jp.yamaha.com/products/contents/pianos/lovepiano/

My Teen Romantic Comedy SNAFU Pop-up Shop to Open in Shinjuku

Romantic comedy anime series My Teen Romantic Comedy SNAFU (shortened to OreGairu in Japanese), is getting a Pop-up shop at the AMNIBUS STORE inside Shinjuku Marui Annex from September 3 until September 19. 

All merchandise sold at the Pop-up shop will feature newly-drawn original illustrations of Yukino Yukinoshita, Yui Yuigahama, and Iroha Isshiki in maid attire. 

Event Pre-sale Merchandise

Pins (Random, 9 designs): ¥440 each (Tax Included) / Box of Pins: ¥3,960 (Tax Included)
*Box contains randomly selected pins.

Acrylic Keychain (Random, 9 designs): ¥715 each (Tax Included) / Box of Keychains: ¥6,435 (Tax Included) *Box contains randomly selected keychains.

1/7 scale BIG Acrylic Stand (3 designs): ¥3,300 each (Tax Included)

Mug (3 designs): ¥1,650 each (Tax Included)

Clear Folder (4 designs): ¥440 each (Tax Included)

Life-size Tapestry (3 designs): ¥10,780 each (Tax Included)

Yui Yuigahama Mug: ¥1,650 (Tax Included)

Event Box Purchase Bonus


Those who buy 1 box of Pins will receive a holographic pin as a special gift!

Those who buy 1 box of Acrylic Keychains will receive a holographic Acrylic Keychain as a special gift!

Limited-edition Event Photos (7 varieties)

For every ¥2,200 spent on event-related merchandise (including tax), customers will receive a random Limited-edition Event Photo.

©Wataru Watari、Shogakukan/My Teen Romantic Comedy SNAFU Production Committee

©渡 航、小学館/やはりこの製作委員会はまちがっている。完

Information

My Teen Romantic Comedy SNAFU Pop-up Shop

Running: September 3 – September 19, 2021

Location: Shinjuku Marui Annex 6F / AMNIBUS STORE (3-1-26 Shinjuku-ku, Tokyo)

Hours: 11:00-20:00

Admission by Lottery: To reduce the risk of transmitting COVID-19 and ease congestion in the store, guests will receive a numbered ticket and will be admitted by lottery. Tickets will be available from 10:40-10:50 from September 3-5. 

AMNIBUS STORE Twitter: https://twitter.com/AMNIBUS_STORE

Details: https://store.amnibus.com/oregairu-shinjuku0101annex/

Official Site: https://www.0101.co.jp/005/

Meiji Marble Chocolate Themed Hotel Room Opens at The Royal Park Hotel Kyoto Umekoji

In celebration of Meiji's popular Marble chocolate, The Royal Park Hotel Kyoto Umekoji is collaborating with the confectionery brand to offer a Marble themed hotel room for guests. The room opened on July 27.

Showa retro-style posters, telephone, and other decorations

Meiji's colourful Marble chocolate was first released in 1961. It turned 60-years-old in February of this year, meaning it has continued to be enjoyed by three generations. Grandparents have passed them onto mothers and fathers, and them to their own children. Now the whole family can celebrate the chocolate in a themed hotel room in Kyoto.


Named the Marble Room, the hotel room is decorated in seven colours just like the chocolates themselves. This includes seven individual pillows on the sofa, balloons, wall decorations, and more. There's even a crane game inside the room where guests can obtain some chocolates for free.

Also inside the room are Showa retro-style posters and a telephone, and guests can watch all of the old Marble commercials on the television which have aired these past 60 years. Guests also receive a free smartphone ring, eco bag, pouch, and other little freebies as part of the plan.

Japanese Michelin Star Chef to Open New Restaurant Kimura Don in Shinjuku

A new restaurant by the name of Kimura Don is set to open inside Shinjuku Takashimaya's Restaurant Square on July 20, 2021.

Kimura Don is a new donburi restaurant produced by Koji Kimura, a chef whose popular sushi bar Sushi Kimura, located in Futakotamagawa, has held two Michelin stars since 2013. His new eatery continues the traditions and techniques honed at Sushi Kimura while spinning innovation into new donburi rice bowl dishes conceived from the many ideas Kimura has conceived over the years.

The donburi to be served recreates that perfect balance between vinegared rice and toppings which Kimura mastered at his sushi bar. Customers can enjoy a range of additions including donburi classics such as meat and fish as well as seasonal ingredients. The restaurant also uses locally grown and reared produce and ingredients that's also environmentally-friendly from Tokyo such as Kinuhari rice from Hachiojo and Akigawagyu beef. This will help to foster a relationship between local farmers and consumers. 

Lunchtime Dishes | ¥3,500 Each | Serving Times: 11:00-17:00 (Last Orders 16:00)

Pick from five different donburi bowls such as tuna, pilchard, and roast beef. Each season will also has its own exclusive dish made with seasonal ingredients. There's also a special option to order a set of two smaller versions of the dishes too for ¥3,800. 

Evening Courses | From ¥12,000 | Serving Times: 17:00-23:00 (Last Orders 22:00)

The evening course line-up is also made up of five different bowls as well as seven seasonal snacks.

Koji Kimura | Comment

"I've been set up in Futakotamagawa for 16 years. I studied how to prepare sushi rice for many years, since it serves as the foundation, so that I could create unique sushi. I have made sushi rice that's unique and draws a line under other restaurants, rice which when combined with toppings explodes with umami flavour. I use this same sushi rice as the basis for lots of innovative donburi dishes, and I'd love for people to enjoy a taste at the first place in Japan to do this."

Satoyama Jujo THE HOUSE IZUMI: Rent Out a Renovated Japanese House in Niigata

Japanese design company Jiyujin launched its new Satoyama Jujo THE HOUSE chain of accommodations this month which offer a single group of guests a one-night stay in an entire house.

The first branch to open is IZUMI which features a fully-renovated Japanese-style house located in the city of Uonuma in Niigata. A gorgeous outlook is offered from the house with an unbroken view of lush forests, rice fields, and Mt. Makihata, which is listed as one of the '100 Famous Japanese Mountains.'

A breathtaking view awaits guests from the open-air bath

The spacious living room

Fully renovated from a 150-year-old private house, the building is supported by beautiful wooden beams and columns, and in the middle the oe, a sunken hearth. This, along with the beams and sashigamoi joints, are made from keyaki Japanese zelkova which is an elm-like tree. This species of tree is rare even in a tree-covered region such as Uonuma. The lumber used for this house was cut, preserved, and dried out for a number of decades before being processed into building material for the house. The heart in the middle of the living room is reminiscent of a time when large families would gather around one and serves to recreate that lifestyle.

The Nishiyama region is known for is production of delicious rice. IZUMI in fact looks out over Kabanosawa, a special and important place of rice production in Nishiyama. This vantage point also gives guests an opportunity to appreciate the hot and cold temperatures of the daytime and evening, the rivers, the shape of the land, and the earth the city sits on. The drastic change in temperatures in the day and night are especially noteworthy as this, along with the basin between the mountains, gives rise to a sea of clouds.

IZUMI sits on a hill that overlooks the rice paddies, making it a perfect location for spotting the sea of clouds. Minamiuonuma's sea of clouds has over a 70% chances of appearing in the autumn and spring seasons.

The number one reason why Japan's old, long-standing, and precious private houses are demolished is due to the cold getting in and it being too dark inside. Even those who want to see them preserved for tradition, including those who live in them already, would rather live in a modern home. That's why Jiyujin has begun a renovation project instead of a demolition one. By refurbishing the houses, the ancient framework can be fixed up and preserved while a range of contemporary amenities are incorporate to fit with modern lifestyles. The Satoyama Jujo accommodations are built so they can be used for over 100 years.

For dinner, there are three options for guests. The first is a dinner at SANABURI which earned itself a Michelin star in Michelin Guide Niigata 2020. The second is a meal at a restaurant that earned the status of Bib Gourmand in the same guide. The third is to prepare your own meal in the house. There are plenty of shops around the station nearby where you can buy local ingredients.

After a delicious meal, guests can take a soak in the open-air tub and enjoy gazing out across the fields and the beautiful mountains which stand almost 2,000 meters high.

Information

Satoyama Jujo THE HOUSE IZUMI

Japanese Name: 里山十帖 THE HOUSE IZUMI

Address: 671-1, Amanosawa, Minamiuonuma, Niigata, 〒949-6433, Japan

Official Website: Opening early July 2021

Access: 7-minutes by car from Jōetsu International Skiing Ground Station (JR Joetsu Line) / 16-minutes by car from Shiozawa-Ishiuchi IC

Life Lessons with Uramichi Oniisan Anime Series Collaborates With Rascal the Raccoon

In promotion of the anime adaptation of Gaku Kuze's manga series Life Lessons with Uramichi Oniisan, a merchandise collection was released in collaboration with Nippon Animation's series Rascal the Raccoon on July 9 at Shinjuku Marui Annex. The items will also be released at Nanba Marui and Hakata Marui on July 24 and August 7 respectively.

A little look at some of the items

Name Badges | 5 Designs | ¥660 Each (Tax Included)

Pins | 8 Designs | ¥440 (Tax Included)

Keyrings | 8 Designs | ¥770 (Tax Included)

Keyrings | 6 Designs | ¥1,100 Each (Tax Included)

Keyrings | 8 Designs | ¥880 (Tax Included)

Acrylic Stands | 8 Designs | ¥880 (Tax Included)

Wooden Reversible Keyrings | ¥660 (Tax Included)

Hand Towel | ¥1,100 (Tax Included)

Onigiri Case | ¥1,320 (Tax Included)

Pass Case | ¥2,970 (Tax Included)

Tote Bag | ¥1,650 (Tax Included)

T-Shirts | Sizes: M, L, XL | ¥3,850 Each (Tax Included)

Exclusive artwork was illustrated for the collection featuring the characters Uramichi Omota, Tobikichi Usahara, Iketeru Daga, Utano Tadano, Kotori-san, and Rascal. The designs are featured on the merchandise sold at the pop-up shops.

©久世岳・一迅社/「うらみちお兄さん」製作委員会 © NIPPON ANIMATION CO., LTD.

Hokusai and Hiroshige Japan Blue Ukiyo-e Exhibition Opens in Shinjuku

The Adachi Foundation for the Preservation of Woodcut Printing is currently holding an exhibition centred on the Japanese ukiyo-e artists Hokusai and Hiroshige at their permanent exhibition in Shinjuku.

Shibusawa Eiichi (1840-1931) was a Japanese industrialist who is often known as the 'father of Japanese capitalism.' In Japan, people have a strong image of him as being a great man of modern history, but in actual fact one third of his life was lived during the same era as when esteemed ukiyo-e artists Hokusai and Hiroshige were alive. The Adachi Foundation's exhibition focuses on the colour blue, one which has roots during that era and has gone on to become a prominent colour in present day Japanese companies.

The immense popularity of bright blue ukiyo-e

Aizuri-e is a type of woodblock print that is printed predominanetly in blue. They were extremely popular in Edo and used Prussian blue, also nicknamed 'Japan blue.' Hokusai used this same colour when creating his famous Thirty-six Views of Mount Fuji, as did Hiroshige, bringing life to the backgrounds and environment.

Japan Blue: Ukiyo-e From Japan to Paris

Hiroshige showcased his work at the second Exposition Universelle in 1867, making it the first time for ukiyo-e to be properly shown to the world, allowing for the spread of Japonisme. Taken aback by how he used the Prussian blue, the people of Europe praised Hiroshige's work and named the colour 'Hiroshige Blue.' It was a turning point for Japan as the country began opening up to the world, enabling them to witness the skills of Japanese craft.

The Adachi Foundation is also hosting the exhibition online in VR for free which is available in both English and Japanese. Visitors can enjoy Hokusai and Hiroshige's work up close.

Information

Japan Blue in Hokusai & Hiroshige's Ukiyo-e: The Period in Which Shibusawa Eiichi Lived

Japanese Exhibition Title:「北斎・広重の浮世絵に見るジャパンブルー _~渋沢栄一の生きた時代~」

Running: June 22, 2021 — August 21, 2021

Address: 3-13-17 Shimoochiai, Shinjuku, Tokyo 161-0033, Japan

Opening Hours: [Tue-Fri] 10:00-18:00 / [Sat] 10:00-17:00

Closed: Sundays / Mondays / Public Holidays

Entry: Free

Exhibition Online(JP): https://my.matterport.com/show/?m=WJVeiudxTHg

Exhibition Online(EN):https://my.matterport.com/show/?m=4qQFG4CDSQU

Promare x Little Twin Stars Merchandise Releases in Collaboration With THE CHARA SHOP

The anime film Promare, Sanrio's Little Twin Stars, and THE CHARA SHOP teamed up to release a collaborative merchandise collection at Shinjuku Marui on July 1.

Wire Keyring Illustrated by Shigeto Koyama | 2 Designs | ¥880 Each (Tax Included)

Mirror Illustrated by Shigeto Koyama |  ¥880 Each (Tax Included)

Mini Towels Illustrated by Shigeto Koyama | 2 Designs | ¥990 Each (Tax Included)

Pin Set Illustrated by Shigeto Koyama | ¥1,320 (Tax Included)

Acrylic Stand Illustrated by Shigeto Koyama | 2 Designs | ¥1,430 Each (Tax Included)

Mug Illustrated by Shigeto Koyama | ¥1,650 (Tax Included)

Tote Bag | ¥2,200 (Tax Included)

Freebies for every ¥3,000 spent on merchandsie

The merchandise collection features adorable designs illustrated by Shigeto Koyama in the style of Sanrio's Little Twin Stars.

©TRIGGER・中島かずき/XFLAG © '21 SANRIO CO., LTD. APPR. NO. S620339

Information

Promare x Little Twin Stars x THE CHARA SHOP
Running: July 1, 2021 – July 13, 2021

Location: Shinjuku Marui Annex (Floor 6F)

Address: 3-1-26 Shinjuku, Shinjuku-ku, Tokyo, 160-0022, Japan
*Opening hours subject to change depending on COVID-19

Cute Little Bird Themed Event Opens at Odakyu Department Store in Shinjuku

The Shinjuku Bird Festival opened on the 11th floor of Odakyu Department Store in Shinjuku, Tokyo on June 30 where it's running until July 6.

Some of the cute bird products to get your beaks on

Piyo Piyo Gao Poncho-chan: ¥8,250 / Piyo Piyo Gao Goggle-chan: ¥5,500

Ikimono Cookie kurimaro collection Cookies: ¥432 Each

Kisuke Paper: Large ¥3,850 / Small ¥2,750 (Available July 3-4 only)

Hoholala Kobo Oven Glove | ¥2,200

m-pool Glass Necklace | ¥4,950

Wild Bird Paintings | ¥1,980 Each

Hoholala Kobo x Oiue-dou Pouches: ¥2,200
 

Free fan for buyers

Free postcard for buyers

Bird lovers will be able to get their talons on everything from accessories to desserts and more. Many of the items are exclusive to the event, and there's also some freebies: the first 100 people to spend over ¥3,000 each day will receive an original fan, and the first 300 people to arrive at the festival each day will get a postcard.

Information

Shinjuku Bird Festival
Running: June 30, 2021 – July 6, 2021

Opening Hours: 10:00-20:00
Location: Odakyu Department Store Shinjuku (Floor 11F)

Address: 1-1-1 Nishi-Shinjuku, Shinjuku-ku, Tokyo

Access: Outside Shinjuku Station's west exit
TEL: 0570-025-888
Official Website: http://www.odakyu-dept.co.jp/


KYARY PAMYU PAMYU meets IMABARI: A Visit to the Historical Sea Route

Imabari is a city in Ehime Prefecture that faces the Seto Inland Sea. Since olden times, it has flourished as an important location for marine traffic. It's home to a bounty of recognised national treasures and historical heritage sights, and is also famous for its production of citrus fruits such as mikan. Japanese pop star, model, and icon Kyary Pamyu Pamyu took a trip to this ancient city to discover its wonder and beauty.

A Visit to the Historical Sea Route

Oyamazumi Shrine

A 'power spot' revered by prominent people

Oyamazumi Shrine has been revered by prominent figures throughout history as a place dedicated to the god of the mountain, god of the ocean, and the god of war. It's home to numerous Important Cultural Properties which are available for viewing by the public such as the armour worn by the military commander Minamoto no Yoshitsune when the Minamoto clan won the Genpei War (1180-1185), armour worn by women, and more. The shrine is also a notable power spot for the ancient tree that has stood there for 2,600 years and is now recognised as a natural monument of Japan. Power spots are places in Japan where the spiritually-inclined draw energy from.

Information

Oyamazumi Shrine

Address: 3327 Omishimacho Miyaura, Imabari, Ehime 794-1393, Japan

TEL: 0897-82-0032

Opening Hours: Sunrise to 17:00

National Treasure Building: 8:30-17:00 (Last Entries 16:30)

Official Website: https://oomishimagu.jp/

Kurushima Kaikyo Service Area

Lip-smacking food aplenty

If you're one for great views, then the Kurushima Kaikyo service area is a must-visit, offering a panoramic look at the Kurushima Strait of the Seto Inland Sea. The service area is very well know particularly for the Jaguchi Mikan Juice, something of a city legend in Ehime where you can enjoy fresh mikan juice straight from a tap. You can also tuck a rice bowl dish made with tachiuo hairtail caught in the Seto Inland Sea that's made to look like Kurushima Kaikyō Bridge, or try Imabari's soul food dish: the Imabari Yakibuta Tamago Meshi, a pork, egg, and rice bowl. Don't pass up the chance to snap a photo at the designated photo spot with the Seto Inland Sea in the back either like Kyary above.

Information

Kurushima Kaikyo Service Area

Address: 3-9-68 Ohamacho, Imabari, Ehime, 794-0002, Japan

Food Court: [Weekdays] 8:00-21:00 / [Weekends & Holidays] 7:00-22:00

Shops: [Weekdays] 8:00-21:00 / [Weekends & Holidays] 7:00-22:00

Outside Shopping Area & Cafes: [Weekdays] 9:00-17:00 / [Weekends & Holidays] 9:00-18:00

Official Website: https://www.jb-highway.co.jp/sapa/kurushima.php

Murakami Suigun Museum

Dedicated to the Imabari heroes who protected the ocean




Murakami Suigun Museum is dedicated to kaizoku—pirates, or lords of the sea—something which conjures to mind villainy or bad guys, but the Murakami pirates were also considered heroes who helped maintain order and protect the sea during the Sengoku warring period of Japan. The museum features many displays of Murakami family treasures including the battle surcoat which the pirate leader wore over his armour, proudly bearing the Murakami family crest. Visitors can wear replicas of this coat, which Kyary tired herself: "Now I'm sorta like a military commander too," she said.

Information 

Murakami Suigun Museum

Address: 1285 Miyakubocho Miyakubo, Imabari, Ehime 794-2203, Japan
TEL: 0897-74-1065

Opening Hours: 9:00-17:00

Closed: Mondays (or Tuesday if the Monday falls on a public holiday) / New Year Holidays (Dec 29-Jan 3)

Official Website: https://www.city.imabari.ehime.jp/museum/suigun/

Roadside Station Yoshiumi Iki-iki-kan

A bundle of fun and entertainment in one place

Roll on up to Roadside Station Yoshiumi Iki-iki-kan to enjoy a shichirin BBQ feast with fresh seafood caught in the Seto Inland Sea while gazing out across Kurushima Kaikyo. This building complex serves as a resting spot and is also the perfect place to purchase local souvenirs including Ehime specialty products. It's also famous for its offering the chance to board a boat to ride around Kurushima Kaikyo, renting out bicycles, and more. You'll also be able to meet Koro-chan, a popular fish who has lived there for 30 years.

Information

Roadside Station Yoshiumi Iki-iki-kan

Address: 4520-2 Yoshiumichomyo, Imabari, Ehime 794-2114, Japan

TEL: 0897-84-3710

Opening Hours: 9:00-17:00

Restaurant: 10:00-16:00 (Last Orders 15:00)

Closed: New Year's Day (and certain days in winter)

Official Website: http://www.imabari-shimanami.jp/ikiiki/

Dolphin Farm Shimanami

Meet the cute and friendly dolphins

Dolphin Farm Shimanami, which is connected to Hakata Beach, is the best and biggest place in Japan to interact with dolphins. Visitors can get close to them and the dolphins will show off their tricks and skills. There's even a car camping area you can stay at.

Information

Dolphin Farm Shimanami

Address: 1673 Hakatacho Kanoura, Imabari, Ehime 794-2302, Japan

TEL: 0897-72-8787

Opening Hours: 9:00-17:00

Closed: On days with bad weath

Official Website: https://www.df-shimanami.com/

Hakata Beach

A white sandy beach rolling out 200-meters 

Hakata Beach is located at the base of Oshima Bridge in Hakata. The beach is famous for its salt which is best tried on their popular sweet-tasting sea salt ice cream.

Information

Hakata Beach

Address: 1668-1 Hakatacho Kanoura, Imabari, Ehime 794-2302, Japan

Sea Bathing: Early July – Late August

Official Website: https://www.city.imabari.ehime.jp/kanko/spot/?a=198

Imabari Towels

High quality towels woven with tradition and technique

Imabari is the biggest producer of towels in Japan. Even their white towels alone have countless types you can choose from, allowing you to pick which level of softness and comfort you want. The iconic brand logo is also impactful, capturing the quality, production, and enthusiasm that the makes have for the product. Kyary herself uses them all the time!

Information 

Imabari Towel

Official Website: https://www.imabaritowel.jp/

Sunrise Itoyama

Need a bike?

Sunrise Itoyama, located in the Imabari Central Cycling Terminal, is a rental bicycle service that has bikes and helmets for everyone's needs. Rent out a bike and ride the Shimanami Sea Route which connects Ehime and Hiroshima with a series of bridges that hop across the islands of the Seto Inland Sea.

Information 

Sunrise Itoyama

Address: 2-8-1 Sunabacho, Imabari, Ehime 794-0001, Japan

TEL: 0898-41-3196

Rent-a-Cycle Details: https://www.sunrise-itoyama.jp/archives/rentacycle/

Official Website: https://www.sunrise-itoyama.jp/

Marutomi

The famous restaurant known to every local

If you want the real experience of Imabari's yakitori soul food, you should visit Marutomi, a yakitori eatery. Imabari yakitori is different from the usual Japanese yakitori as it doesn't come skewered. Instead, the chicken is cut into small pieces and fried that way. One of the most popular ways to have it is with the skin on so the outside is crunchy and the inside succulent. It goes perfect with a cup of sake too.

Information 

Marutomi

2-3-6 Katayama, Imabari, Ehime 794-0063, Japan

TEL: 0898-23-2740

Opening Hours: 17:30-22:00

Closed: Wednesdays

Official Website: https://maru-marutomi.jp/

Imabari Castle

A castle by the sea

Imabari Castle, built by the daimyo Tōdō Takatora, is known famously as one of Japan's three "Castles on the Sea" and was also listed in Japan's Top 100 Castles. When it was first constructed, boats could enter the moat from the ocean. It's a site that breathes the prosperity that Imabari has enjoyed as a significant location for maritime traffic, the same Imabari that the Murakami pirates sought to protect. Head on up to the top of the castle to stand on the observation deck and gaze at an unbroken view of the city.

Information

Imabari Castle

Address: 3-1-3 Toricho, Imabari, Ehime, 794-0036, Japan

TEL: 0898-31-9233

Opening Hours: 9:00-17:00

Closed: December 29 – December 31

Official Website: https://www.city.imabari.ehime.jp/museum/imabarijo/

Kirosan Observatory Park

A breathtaking spectacle to remember

Kirosan Observatory Park is officially recognised by Setonaikai National Park. Standing atop the observation deck fills the eyes with wonder as they gaze upon a panoramic stretch of Imabari, the Seto Inland Sea, and Kurushima Kaikyo all at once. Kyary wrapped up her time in Imabari here as the sunset coloured the sky and sea in warm evening hues.

Information 

Kirosan Observatory Park

Address: 487-4 Yoshiumicho Minamiura, Imabari, Ehime 794-2115, Japan

No Fixed Holidays

Open 24-hours a day

Official Website: https://www.city.imabari.ehime.jp/kanko/spot/?a=182

Imabari Tourism Information: https://www.city.imabari.ehime.jp/kanko/

We hope you enjoyed joining Kyary on her adventures across Imabari, and perhaps she even got you a little curious in wanting to visit the city yourself. It's a treasure trove filled with vistas by the sea, in nature, and in the city itself with its Important Cultural Properties. Food is also a big part of travel for many people, so you can rest assured that your belly will be satisfied in Imabari as you try their speciality mikan, fresh seafood fished in the Seto Inland Sea, and more.

Experience a Front Row Seat of Karuizawa's Tranquil Forests at HOSHINOYA

HOSHINOYA Karuizawa has announced a special summer plan for guests called "Mori no Hotori cafe&Bar ~Suijo no Tokutoseki~" (Cafe & Bar by the Forest ~Special Seats on the Water~). The midsummer evening plan is available for one group per day and takes place at the hotel's cafe and bar which sits by a forest and faces the Kera-Ike Pond. It invites guests to relax under the starry night sky on the water and enjoy the sounds of nature while enjoying drinks and bites to eat.

Japan is known for its summer hot summers. However, Karuizawa enjoys a cooler climate, so evenings dip to around 20°C for a comfortable temperature.

Stargazing on top of the water

HOSHINOYA Karuizawa is connected directly to Karuizawa Wild Bird Sanctuary. At the entrance, by the Kera-Ike Pond, is the hotel's Mori no Hotori cafe&bar which is open all year. The cafe/bar fusion is surrounded by Karuizawa's lush forests, and it's here that guests can enjoy sitting on specially-prepared seats on the water. It will feel like they are walking on water as they approach their seats where they can take their shoes off and sit on the tatami mats to gaze at the stars.

Calm the heart with an enchanting performance

When you walk up the stairs that face Kera-Ike from HOSHINOYA Karuizawa, your ears will be met with the enchanting sound of crystal bowls which add a mysterious depth to the natural sounds of the forest, spiriting guests away to another wonderful world.

Indulgent drinks and food

Guests can pick from a range of drinks and bites to eat scented with fruits, wood, and other natural fragrances of the forest. There arw six drinks to choose from including a gin and tonic made with lindera umbellata, a type of camphor, as well as a whisky made with ripe fruits. Food includes chocolate made from lindera umbellata and kuma bamboo grass, cherry blossom and walut chips, and more.

Information

Cafe & Bar by the Forest ~Special Seats on the Water~

Japanese Plan Name: 森のほとりcafe&bar ~水上の特等席~

Running: July 1, 2021 – August 31, 2021
Book Here: https://hoshinoya.com/karuizawa/

*Bookings must be made 5 days in advance

Requirements: Must be aged 20+ years / HOSHINOYA Karuizawa guests only
Time: 20:00-21:00
Capacity: 1 group of two people per day

Notes: Will not take place if it rains

Official Website: https://hoshinoya.com/