【TRAVEL Q&A】From Shinjuku to Hakone Hot Spring via Odakyu "Romancecar" Line!
Hakone, Kanagawa is one of the most popular "onsen" (hot spring) towns in Japan. The area is popular among both Japanese people and tourists from foreign countries since it is close to Tokyo and has many sightseeing spots such as Ahinoko (lake), Owakudani (valley) and Hakone Chokoku no Mori Museum.
There are several ways to go to Hakone but I recommend using the "Odakyu Romancecar" (limited express train) run by Odakyu Dentestu which departs from Tokyo. It takes about an hour and 40 minutes and you can go to Hakone direct. In this article, I will inform you of how to ride on the "Odakyu Romancecar" to go to Hakone.
1: How to ride Odakyu Romancecar?
Let's get tickets first. The tickets you must buy are "Joshaken (normal fare)" and "tokkyuken (limited express surcharge)." The "Joshaken" is an Odakyu Dentetsu limited ticket and the fare differs according to the station that you will get off at. "Tokkyuken" is a ticket you must buy when riding on a limited express train which means you must buy this ticket in addition to the "joshaken." There are three ways to buy these tickets.
1) Making a reservation/purchasing the ticket via the Internet
2) Making a reservation/purchasing the ticket at a ticket counter/ticket vending machine
3) Making a reservation on the telephone.
Making a reservation by telephone is not recommendable for those of you from foreign countries since English-speaking staff are not available.
2: How to but a ticket via the Internet?
Using e-Romancecar is recommended when using the Internet to buy a ticket. As a matter of course, you can use a credit card on this web site. You can ride the Romancecar by just by handing out the printed sheet or showing the screen of your smart phone to the staff at the ticket counter. If you are planning to just make a reservation (not paying the fare) on the web site, you must pay the fare by using the ticket vending machine or at the ticket counter before getting on the Romancecar. It is recommended that you buy your ticket beforehand if the date that you are going to Hakone is decided.
3: How to buy a ticket/make a reservation via the ticket counter at the station?
The ticket counter is normally open from 6:30 to 21:00. The ticket vending machines can be used any time (except for when the trains are not running) but credit cards cannot be used. You can purchase tickets for up to 8 persons at once using the vending machine. So, those of you who are planning to go to Hakone with a group of more than 9 people you must purchase your tickets at the ticket counter.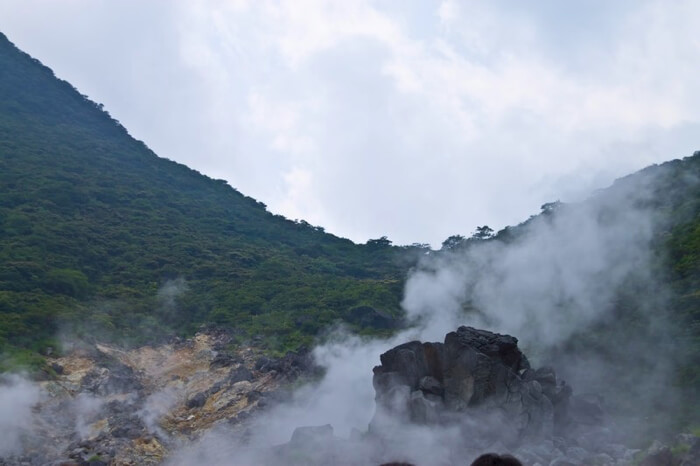 4: Let's get on to the Romancecar!
Now let's learn how to get on a Romancecar. There are several types of Romancecars available – MES (Type 6000), VSE (Type 50000), EXE (Type 30000) and LSE (Type 7000). The fares for all types are the same. You can eat a limited-"bento" (box lunch) if you make a reservation 3 days (AM) before you ride the Romancecar.
Why not experience a ride on the "Romancecar" and enjoy the hot springs in Hakone. Wishing you a pleasant trip! MMN will introduce to you many kinds of "Q&As in Japan."
If you have any questions, feel free to send a message to MOSHI MOSHI NIPPON's FB account!
RELATED ENTRIES
BEAMS fennica to Release Gorgeous Collection in Collaboration With Ainu Crafts

fennica is a fashion label associated with BEAMS that combines traditional Japanese handicraft with new and old designs collected from Northern Europe. The label has announced that it will collaborate with the Akan Tourism Association (法人阿寒観光協会まちづくり推進機構) non-profit organisation to release an all-new collection that incorporates traditional Ainu crafts.

Terry Ellisーthe London-based director of fennicaーand Keiko Kitamura observed Ainu culture in the Lake Akan area in Kushiro, Hokkaido, and have used the creative beauty of young craftsmen and craftswomen who are in charge of next-generation Ainu culture. Overtime they have worked together with the artisans to create an original collection entitled "Ainu Crafts from Lake Akan: Tradition and Innovation" which will be sold on the fifth floor of the Shinjuku branch of BEAMS Japan in the fennica studio and B Gallery from October 12.

The collection incorporates silver jewellery with Ainu patterns, wood-carved cutlery, hamper bags made with traditional materials, and many other lifestyle items familiar to Ainu culture. During the showcasing, there will be other exhibitions related to Ainu in the gallery, as well as talks, live performances, and more.

A special webpage went live on October 1 talking about this collaboration.

The collection's director Terry Ellis commented: "When I was walking around Takiguchi's store Ichigen No Mise, my attention focused on this cutlery. I felt the folklore in its simplicity. Though it's an item to be used, the craftsmanship is incredible. You can't just stop at one, you want to collect more and decorate with them." *Translated from Japanese

Keiko Kitamura, also a director for the collection, commented: "Akan is a rare kind of place, with mountains, rivers, lakes and forests. It has its own shapes and colours because of the light, colours and sounds which change intensely with time and soak into your body. And Ainu art is distinct from the traditional craftsmanship of other countries and regions because in almost all categories you can still produce it even today. There are [Ainu] people who are still continuing to make art for their family to this day. Their still being here is something valuable."

She continues: "Japan's handiwork is in danger of vanishing across all areas of the country. Even if there are no successors, there are people who have been beside them watching, and people who were once involved in the past. So we may barely just make it. Because if this handiwork comes to a stop, it will be no more. We feel a sense of duty to protect this wonderful work."

Information

Ainu Crafts from Lake Akan: Tradition and Innovation

Location: BEAMS Japan – Floor 5F (3-32-6 Shinjuku, Shinjuku Ward, Tokyo)

Running:

<fennica Studio> Product Sales: October 12, 2019 – October 20, 2019 (*AINU CRAFTS products, specially-made fennica select Lake Akan items, and more)

<B Gallery> Lake Akan Exhibitions: October 12, 2019 – October 27, 2019

①Live Event: October 13, 2019 @ 18:00-18:30

Guests: Sister music unit "kapiw & apappo" (Fukuko Gōukon/Emi Shimokura)

②Talk Show: October 20, 2019 @ 18:00-19:30

Guests: Kengo Takiguchi, Hiroyuki Shimokura, Erika Katsuya, Keiko Kitamura, Terry Ellis

*The live event and talk shows are booking-only. Please check the B Gallery website for more details and how to book.

Visit the following website for more details on the participating artisans: https://www.akanainu.jp/karpekuru

New York-Style Cafe & Restaurant Sarabeth's Celebrates 7 Years in Japan With Special Event in Shinjuku

It has been seven years since Sarabeth Levine took her New York-based cafe and restaurant Sarabeth's to Japan back in 2012. To celebrate, the establishment will hold a special one-night event with a commemorative menu.

"Fermented Foods" is the theme of the event, which will see an incredible line-up of premium dishes. There will also be a talk by Sarabeth Levine herself who will be in attendance.

The menu line-up features a range of healthy fermented foods, like pancakes and Eggs Benedict, while drinks options include lemonade with fermented syrup, goishicha tea from Aichi Prefecture, and more. There will also be Sarabeth cookies which you can take home with you.

Information

Sarabeth's Japan 7th Anniversary Special Event

Date: November 5, 2019

Time: Reception 18:30 / Open 19:30-20:45 (subject to change)

Price: ¥3,800 (Tax Included)

Capacity: 50 (Reservation-Only)

Location: Sarabeth's Lumine Shinjuku (Lumine 2 Floor 2F, 3-38-2 Shinjuku, Shinjuku Ward, Tokyo)

TEL:03-5357-7535

Reservations:  https://sarabeths7th.peatix.com

Taiwanese Bookstore Chain Eslite Opens New Outlet in Nihonbashi, Tokyo

Eslite Bookstore is one of the prominent bookstore chains in Taiwan that opened an all-new outlet in Nihonbashi, Tokyo on September 27, 2019 that promotes reading, culture and lifestyle.

This will be the first Eslite Spectrum shopping mall to open outside Greater China. Its concept is "a cultural wonderland for reading and living" under wh ich Eslite has curated Nihonbashi's rich history and culture to promote to the people of Tokyo.

Eslite Spectrum is always in the front row when it comes to the latest in Taiwanese trends, and it's a place I never fail to visit when I travel to Taiwan. When I heard they would be expanding to Tokyo, I couldn't wait for the day of the grand opening to arrive. I made my merry way there, excited and eager to see what kind of place it would be, and what kind of items they would stock.

The outlet is split into 4 different zones: the bookshop zone, the stationery zone, the miscellaneous item and workshop zone, and the restaurant zone. The bookshop features a line-up of carefully selected reading material and book recommendations.

One hundred brands from around the world make up the miscellaneous and eating areas. Half of the brands are Taiwanese, meaning you can get your hands on authentic goods from Taiwan itself.

The building was designed by leading Taiwanese architect Kris Yao, whose concept for the design was "interweaving the old and new." It's a stylish, welcoming building with elements of the traditional Japanese aesthetic in there. The store front has indigo blue noren entry curtains, which is both stylish and quintessentially Japanese.

This new branch of Eslite Spectrum is home to stores setting up shop in Japan for the very first time. There are also many shops here selling items exclusive to Nihonbashi. I'm going to showcase four of the places I was particularly interested in.

Kuo Yuan Ye

Kuo Yuan Ye is a confectionery shop based in Shinlin, Taipei. Since opening, they have continued to use traditional confectionery-making methods, serving sweets with deep, rich flavours.

As well as having maintained tradition, they have also released products in collaboration with rising designers. I encourage you to try their beautiful line-up yourself to taste their long, delicious history.

Sarutahiko Coffee

We have covered Sarutahiko Coffee on MOSHI MOSHI NIPPON in the past when we visited the branch in Ebisu.

The first thing that struck me upon visiting this new branch is how different the interior design is to other places. The design and its concept of "coffee and words" were created by book director Yoshitaka Haba. Quotes pulled from the books can be found written all around the cafe. There is also a space underneath the chairs for storing books. No matter where you look in the cafe, it's nothing less than stylish.

The cafe has their own special hot cakes and original coffee blends exclusive to Nihonbashi. The hot cakes are topped lavishly with mont blanc, giving it an extremely rich taste and one reminiscent of autumn-time. Both the hot cakes and this original coffee blend are limited-time menu options available until November 14, so you'll want to get in there quick.

Wonder Chuan

For the first time ever, long-standing Taiwanese tea store Wonder Chuan arrives on the shore of Japan. The shop takes great care in the growing and brewing of its tea leaves, pouring their heart and soul into every cup.

The Taiwanese oolong tea drank was a similar colour to matcha. It had a sweet flavour and a much smoother taste compared to Japanese oolong. The shop also serves a selection of cocktails made with oolong tea as well as perform traditional tea-making methods for customers. They even have plans to host their very own Taiwanese tea workshops in the future.

Fujin Tree

The last place I want to introduce is Fujin Tree, also a first in Japan. This is another one of my favourites, so I was thrilled when this one was coming to Tokyo too!

It's uncommon to be able to drink wine in restaurants in Taiwan, but the popular Fujin Tree serves Taiwanese cuisine and champagne in style.

Their dishes are packed full of fresh vegetables and fruit. One of their popular picks is their springstar and century egg with spicy minced pork. It's a tasty dish with full, rich flavours that goes well with sake. It's also great with rice. There are many amazing options on the menu, but if you're spoilt for choice then I recommend this one.

Eslite is the bridge between Japanese and Taiwanese that aims to become a hub for Asian culture. Centred around reading, there are countless experiences to look enjoy here. Discover a new side of Nihonbashi by paying a visit.

Writer: Sayuri Mizuno (MOSHI MOSHI NIPPON)

Translator: Joshua Kitosi-Isanga

Information

Eslite Spectrum Nihonbashi

Address: COREDO Muromachi Terrace 2F, 3-2-1 Nihonbashimuromachi, Chuo Ward, Tokyo

Opening Hours: 10:00-21:00 (Fuji Tree is open 11:00-23:00)

No Fixed Holidays

Official Website: http://www.eslitespectrum.jp

ONSEN GUEST HOUSE TSUTAYA to Open in Hakone This November

ONSEN GUEST HOUSE TSUTAYA is a new hot spring and guest house facility set to open in the town of Sokokura in Hakone on November 26. The building is being renovated from an old guest house that has enjoyed a long history of hot springs since the Edo period.

Sokura Onsen is about a 90 minute car drive from the city centre and is considered one of Hakone's "7 Hot Springs," a list that has been around since the Edo period. The place is said to have been used and loved by many military commanders back in the day for the high water yield gifted by the water source.

When the building was first constructed it was known as "Tsutaya Ryokan" and became a famous guest house with not only locals but travellers who would arrive all the way from Tokyo. ONSEN GUEST HOUSE TSUTAYA combines history of both Sokura Onsen and Tsutaya Ryokan.

The renovated building was built 29 years ago. Though it has been revamped, it still maintains a nostalgic air to it in the style of a traditional guest house. It's home to 6 spacious ryokan-type rooms and 46 compact rooms.

There is a space where one can gaze at the river after taking a dip in the hot springs, as well as a lounge with tables which encourages you to socialise with people you have just met. There are male and female open-air baths and indoor baths as well as a cooking space and laundry service for those looking to stay longer.

 The facility offers a retro environment in which each guest can relax and enjoy their own time as they please. Throughout the guest house is original old-fashioned furniture that has been upcycled, including kotatsu tables and shelves, to give that sense of traditional Japanese culture. This has been combined with contemporary art to create a fusion of the old and new.

It is a harmonious combination of a traditional Japanese hot spring ryokan, or inn, and a guest house, which means travellers from abroad will be able to enjoy the beauty of the country's traditional culture.

Escape the noisy city and enjoy peace and tranquillity surrounded in the colours of autumn at ONSEN GUEST HOUSE TSUTAYA

Information

ONSEN GUEST HOUSE TSUTAYA (Sokokura no Yu Tsutaya Ryokan)
Address: 240-1 SokokuraHakone, Ashigarashimo-gun, Kanagawa 250-0403
Arrival: 10-minutes on foot from Miyanoshita Station or 12-minutes on foot from Kowakidani Station, both via the Hakone Tozan Line 
Grand Opening: November 26, 2019 (Bookings begin in late October)

Official Website: https://hakone-tsutaya.com/

New Food Truck Taiyaki Tainoya to Open in Shinjuku Serving Fish-Shaped Cakes

Taiyaki Tainoya is a food truck set to open in front of the first floor entrance of Flags on September 20 which is connected directly to Shinjuku Station's south-east exit.

  

Taiyaki – ¥200 (Tax Included)

The truck will sell taiyaki, a classic Japanese confection which comes in the form of a crispy fish-shaped cake filled with bean paste. The cakes sold here will be made using Tokachi beans from Hokkaido which have a distinct luxurious sweetness to them.

The taiyaki here are made with takeout and gift-giving in mind, so they have been made nice and crunchy so they don't fall apart or become mushy.

The bean paste isn't overly sweet so is easy to enjoy. The beans, which have a strong aroma, are cooked in sugar beet from Hokkaido, and contain a hint of moshio, which is salt you get from burning seaweed.

The sweet bean paste has such a smooth texture that you wouldn't believe that's what it is. If you're a lover of adzuki bean paste or aren't good with sweet things, then this is a bean paste you're going to love.

For an extra ¥30, you can have the taiyaki packed in a cute gift box if you're thinking of giving it to someone. There are six colours to choose from for all occasions, be it a home party or for clients. They are also wrapped with noshi paper and contain message cards. There are seven of these to pick, so you can write your own words to the person.

If a simple taiyaki isn't enough for you, you can also top it with a rich soft-serve ice cream. Pick between Hokkaido Vanilla or Uji Matcha flavours.

If you're getting off at Shinjuku Station, be sure to head out the south-east exit of the JR Line section to find Taiyaku Tainoya.

Information

Taiyaku Tainoya

Address: 3-37-1 Shinjuku, Shinjuku Ward, Tokyo (1st floor entrance of Flags at Shinjuku Station's south-east exit)

Grand Opening: September 20, 2019

TEL: 080-4179-2365

Opening Hours: 11:00-3:00

No Fixed Holidays

Escape From Godzilla at TOKYO MYSTERY CIRCUS Escape Game Theme Park

TOKYO MYSTERY CIRCUS's catalogue of games just keeps on growing. The puzzle and escape game theme park has just announced the return of its escape game Escape From Shin Godzilla which is being held in collaboration with the 2016 film Shin Godzilla.

The event was previously held last April where it ran until October, enjoying huge popularity with over 40,000 escape game-goers. Players took the role of a member of the Kyosaitai―the anti-Godzilla task force―based in Kabukicho, Shinjuku where you will be tasked with solving puzzles to defeat the colossal giant.

The thrilling event returns once more with original visuals created to make it look like Godzilla has really invaded Kabukicho. Tickets are now on sale, and you can pick up exclusive merchandise and themed food at the venue too. Can you defeat Godzilla?

TM&©TOHO CO., LTD. ©SCRAP

Information

Escape From Shin Godzilla

Location: Himitsu Kichi Lab, TOKYO MYSTERY CIRCUS (Floor B1F)

Running: October 4, 2019 – November 10, 2019

Times

Weekdays: 13:20 / 16:20 / 19:20
Weekends & Holidays: 10:10 / 12:40 / 15:10 / 17:40 / 20:10
*The event will end 100 minutes after each starting time

Price
Advance: Single ¥3,300 / Group ¥12,000 / Repeater Group Ticket ¥12,000
Same-Day: Single ¥3,800 / Group ¥14,000 / Repeater Group Ticket ¥14,000
*Same-day tickets will not be available if all advance tickets sell out

 

TOKYO MYSTERY CIRCUS

Address: APM Bldg., 1-27-5 Kabukicho, Shinjuku, Tokyo, 160-0021

Opening Hours: Weekdays 11:30-23:00 / Weekends & Holidays 09:30-23:00

No Fixed Holidays.

Price: Free Entry (*Separate tickets required for games)

Official Homepage (English): https://mysterycircus.jp/en/

Event Page (Japanese): https://mysterycircus.jp/shin-godzilla/

teamLab Now Holding Digital Art Exhibition at World Heritage Site Shimogamo Shrine in Kyoto

With the increase in number of collaborations between contemporary digital art and traditional and historical Kyoto sites, teamLab is getting in on the action with its new digital art exhibition "Digitized Forest at the World Heritage Site of Shimogamo Shrine."

We are joined by Instagrammer Macchan who recently attended the exhibition and who has provided photos for us.

Shimogamo Shrine is a shrine located between the Kamo River and Mount Kōya. It was registered it as a World Heritage Site by UNESCO. The shrine is associated good luck in marriage and welcomes sightseers from Japan and around the world. It can be reached by the 205 Bus from Kyoto Station and getting off at either Shimogamo Shrine (下鴨神社) or Tadasu Forest (糺ノ森前). It's also about a 20-minute taxi ride from Kyoto Station.

This marks the third run of teamLab's "Digitized Forest" exhibition at Shimogamo Shrine, and this year's exhibition has been made even bigger. It is running until September 2, 2019.

Floating by the Rōmon Gate of the shrine are spheres of light which change colour and emit various musical tones unique to the colour when touched by a person. They also react to the other spheres around them, changing to the same colour and letting out the same tone, creating a chain reaction.

Egg-shaped orbs of light can be found dotted around the Tadasu Forest by the shrine which illuminate the trees. Like the light spheres, when the eggs are pushed they change colour and play a musical noise specific to that colour, the sound and tone spreading through the forest.

These objects of light can also be found at Mitarashi Pond where they float on the water. The orbs shine brightly and then fade slowly as if breathing. If pushed by people or blown by the wind they will change colour and emit sound.

The best part about teamLab's art exhibitions is how visitors become part of the exhibition itself by interacting with the installations, offering a much more engaging experience than simply looking. Visit Shimogamo Shrine before the exhibition ends to see digital art meet a traditional Japanese shrine at night.

If you're looking for more sightseeing recommendations for Kyoto then be sure to follow Macchan on Instagram!

Photos by まっちゃん

Information

Shimogamo Shrine
Address: 59 Shimogamo Izumikawachō, Sakyo Ward, Kyoto, Kyoto Prefecture
Official Website: https://www.shimogamo-jinja.or.jp/english/

Digitized Forest at the World Heritage Site of Shimogamo Shrine, Kyoto Art by teamLab – TOKIO INKARAMI
Running: August 17, 2019 – September 2, 2019
Time: 18:30-22:00 (Last Entries 21:30)
Location: Shimogamo Shrine

Price: Weekdays ¥1,300 / Weekends ¥1,500
*Free entry for elementary school children and below. Must be accompanied by a parent or guardian aged 20+.

Official Website: https://www.teamlab.art/e/shimogamo/

Scorch your Senses at the Spicy as Hell and Tasty as Well 2019 Food Festival Round 2 in Shinjuku

Spicy as Hell and Tasty as Well 2019 will be holding round 2 on August 16, 2019 at Okubo Park, Kabukicho in Shinjuku. This will be the event's biggest gekikara gourmet saiten (super spicy festival) Japan has ever seen. 

Food services that represent the spicy foods of the world have all joined forces at Kabukicho in Shinjuku; Asia's largest entertainment district to tinge it with a luminescent spicy red colour. So far, around 0.7 million people with a burning passion for spice have made their way to the spice central to test their tolerance to the range of gourmet spicy dishes. From beginner to mania, the event caters to all levels of spice-lovers. From a tiny touch of spice to spicy as hell, there is a wide range of spice levels to choose from. The dishes served and participating shops are changed each week, so you can enjoy a new spicy experience each week. 

At the 1st Round, spice fans had their fill of Ciao em Cafe's Bún bò Huế. This café, which originates from the outskirts of Tokyo in Hana-Koganei, took part in the event for the first time. One of their signature dishes is the Vietnamese soup, which captured the hearts of many women for its perfectly balanced sweet yet spicy flavour.  Despite being Menya Mazeharu's first time serving at the event, their queues stretched out into the sunset from morning to evening each day .

Round 2 will see Cheese to Gibier Curry Naru Ichizoku and Tokyo spice curry Aka to Kuro spicing up the event for the first time. This is the perfect opportunity to experience Awajishima Curry made with the world's most sense-scorching spices including ghost pepper, trinidad scorpion pepper, and the carolina reaper. Tokyo spice curry serves up red curry dishes made with ingredients traditionally used in natural Chinese food therapy. Their black curries are Kashmiri curries that will leave you feeling satisfied. 

These are just a selection of the vast number of noteworthy spicy dishes. You are bound to find the perfect curry to spice up your life at this event, so please check it out.

Information

Spicy as Hell and Tasty as Well 2019 (激辛グルメ祭り2019)

Venue: Okubo Park, Kabukicho, Shinjuku 

Address: 2-43, Kabukicho, Shinjuku, Tokyo

Access: 3-min walk from Seibu-Shinjuku Station or an 8-min walk from Shinjuku station (JR/ Odakyu/ Keio lines)

Entry: Free to enter, pay for your food and drinks. 

Schedule:

2nd round: Aug 16 ー 21

3rd round:  Aug 23 ー 28

4th round: Aug 30 ー Sept 4 

5th round: Sept 6 ー 11

6th round: Sept 13 ー 18 

* Closed on Aug 15, 22, 29 and Sept 5, 12 to change the shops.

* Open on rainy days (closed during stormy weather).

* Spicy as Hell and Tasty as Well is open for a total of 38 days this year, the longest it has ever run in history.  

Website: https://www.gekikara-gourmet.com/

New Hotel Renovation Hakone Yutowa in Gora Caters to Millennials and Families

Hakone Yutowa is a new hotel in the town of Gora, Hakone that opened on August 11, 2019. This hotel renovation is aimed at millennials (those in their 20s and earlier 30s) and families, offering various different rooms include your typical hotel-type as well as condos. There are also multiple shared public spaces full of fun and relaxation.

Part of the enjoyment at Hakone Yutowa is getting to walk around the site leisurely finding all the little things it has to offer, from the hot spring with its own hot spring source to a communal room so stylish you can't help reaching for your camera to snap photos. The hotel aims to offer guests "an experience in remote Hakone you can't get anywhere else" and it does so by presenting a new style of hotel accommodation.

Hakone Yutowa is about a five-minute stroll along a flat-level path from Gora Station, which is accessed via the Hakone Tozan Railway, meaning it can be accessed easily by those without a car. "Yutowa" is has a combination of meanings: the yu in Japanese means "hot water" which conjures up not only the hot springs but also a warm and welcome stay at the hotel. It is also word play with the word "you." The to means "and" in Japanese and wa is "circle" like a circle of friends. In other words, at Hokone Yutowa, you'll be spending a nice time together with someone special.

The hotel is split into three buildings: the East Wing, West Wing, and Condominium Wing. Each offers "a new style of travel accommodation."

New Style ①

Spa Lounge Nakaniwa and Lively Lounge are two public spaces in the hotel that anyone is free to use at their leisure. Nakaniwa is home to a footbath at the outdoor wooden deck which makes use of the hotel's natural spring source, as well as an open-air fire. Lively Lounge houses around 700 books which guests can pick from before finding a little spot to sit down and relax.

New Style ②

There are two types of rooms: Hotel and Condominium. The Condominium rooms are the first hotel rooms of their kind to be offered in the Gora area. These fancy rooms have their own hot spring bath with a beautiful view. The water in the bath flows directly from the hot spring source.

New Style ③

The all-inclusive plan includes breakfast and dinner as well as free drinks and free use of the communal spaces. Guests do not need to worry about any extra fees as everything is included. There are also other baths available in the hotel including one that makes use of colourful lights.

If you're looking for a hotel with freedom in Japan then take your family, friends or loved one to Hakone Yutowa.

Pop Team Epic Pop-Up Shop Makes its Way to Shinjuku This Month

The Pop Team Epic pop-up shop is set to take to make a return this month. It will open on the sixth floor of Shinjuku Marui Annex and run from August 23 to September 16.

Themed on the the popular manga and anime series, the pop-up shop first appeared in December 2016 and has since popped up many times around Japan over the years. Having been held in various places around Tokyo as well as Nagoya, Fukuoka, Sapporo and Osaka, it is finally making its way to Shinjuku for the first time.

The shop's main visual was drawn by series creator Bkub Okawa. Its design will feature on many exclusive pieces of merchandise at the shop.

Fans of the series have lots to look forward to at the shop, with plenty of cute and hilarious decorations of Popuko and Pipimi and plenty of photo opportunities. Those who spend over ¥3,000 (tax included) at the shop will even receive an original sticker. Only one will be given per person.

More details about the event can be found over at the official Twitter page.

Information

Pop Team Epic Pop-Up Shop

Running: August 23, 2019 – September 16, 2019

Time: 11:00-21:00 (Until 19:00 on September 16, 2019 *Free entry, no planned holidays

Location: Shinjuku Marui Annex 6F (3-1-26 Shinjuku, Shinjuku Ward, Tokyo)

Event Official Twitter: https://twitter.com/pteppopup

Haneda Airport Releases First Bubble Tea Which Passengers Can Enjoy as They Fly

XFLAG STORE + HANEDA is a small branch of XFLAG STORE and is located in Terminal 1 of Haneda Airport. On August 13th, they released three energising bubble tea flavours served in a bottle that you can take on board with you when travelling along domestic air routes. The three bubble tea flavours are; MILK TEA, HOJICHA (a type of green tea) and MATCHA. 

These bubble tea flavours are limited to XFLAG STORE + HANEDA and were created with the intention of providing a splash of energizing fun to tiresome travels. 

As long as you screw the lid on properly, you can store your delicious drink in your bag and even carry it onto your flight so you can enjoy it whilst soaring through the clouds. This is the first time a shop at Haneda airport has ever sold a bubble tea drink with the intention of flight passengers taking it on board with them.

*Drinks and liquids are usually permitted on domestic flights in Japan. Please check the specific rules of your flight by referring to the official website of your airline. 

To commemorate the release of the new bubble teas, XFLAG STORE + HANEDA has launched an Instagram campaign with the chance to win an Amazon gift card worth ¥10,000 (approx. 80GBP/95USD). 

To take part in the Instagram campaign for the chance to win a ¥10,000 Amazon gift card, be sure to take a photo with your XFLAG STORE + HANEDA bubble tea drink and then post the picture on Instagram with the following three hashtags:

#旅タピ #タピオカ #空の上で飲めるタピオカドリンク

Four winners will be selected.

Get your summer holidays off to a soaring start with a beautiful bottle of bubble tea. 

Information

MILK, HOJICHA, MATCHA Bubble Teas

Price: ¥650 (before tax)

Release Date: August 13, 2019 

Available at: XFLAG STORE + HANEDA 

Address: Haneda Airport Terminal 1 South Wing, floor 3 (3-3-2 Haneda Airport, Ota Ward, Tokyo)

*Bubble teas sold may differ in appearance to the images in this article. 

* The MILK Bubble Tea (cup) is also available at XFLAG STORE SHINSAIBASHI. Both the HOJICHA and MATCHA Bubble Tea flavours are limited to XFLAG STORE + HANEDA.

XFLAG STORE Portal Website: https://xfl.ag/soratapi

4 Must-Visit Fireworks Festivals in Kyoto This Summer

Kyoto―also known as the "old capital" and said to be the birthplace of Japanese culture. In its 1,200 year history, this ancient city has given rise to much of what can be considered quintessential Japanese culture. Fireworks are a monumental feat of summer in Japan with countless festivals up and down the country dedicated to them, and Kyoto is no exception.

If you're in Kyoto this summer then you mustn't miss these 4 fireworks festivals.

Kameoka Peace Festival Hozugawa River Fireworks Festival – A Magnificent Arsenal of 8,000 Beauties

This long-running event is held every year to pray for world peace. Its spectacular display features a lineup of fireworks specially selected by the Japan Fireworks Artist Association which aims to evolve the tradition of firework culture. Expect to see the night sky illuminated with a rainbow of colours from the festival's launch of 8,000 fireworks, including the Starmine which shoots a cloud of bright stars into the overhead abyss, as well as some original fireworks crafted for the festival such as the "Kamemaru Hanabi."

▼Kameoka Heiwasai Hozugawa Fireworks Festival (Kameoka Peace Festival Hozugawa River Fireworks Festival)

Date: August 11, 2019

Time: From 19:30
Location: Hozubashi Bridge
Official Website: http://kameoka-hanabi.jp/

Kyoto Nantan City Fireworks Festival – The Spectacular Starmine

Held by the riverbed of the Katsura River, the fireworks festival in Nantan makes use of the opposite shore from the viewing point which makes the fireworks look like they are raining down from the sky like a waterfall. The finale of this festival welcomes the behemoth of all Starmine fireworks which rips across the night sky in a blazing spread. The festival is also held as part of the Bon Festival and so lanterns are let loose down the Ōi River, creating a sight of subtle grace and beauty.

▼Kyoto Nantan City Fireworks Festival

Date: August 14, 2019

Time: From 19:30

Location: Katsura River
Official Website: http://www.yagi-hanabi.com/

Miyazu Toronagashi Fireworks Festival – Floating Lanterns & Fireworks For 400 Years

Held in the city of Miyazu, this festival combines fireworks with floating lanterns and shoryobune―boats adorned with tanzaku paper slips that are sent out to light the way for the deceased as part of the Bon Festival.  Floating lanterns on the water (known as toronagashi in Japanese) in Miyazu began 400 years ago. This year, it was counted as one of Japan's three biggest toronagashi events.

Together with the boat, around 10,000 lanterns are sent into Miyazu Bay, creating a beautiful and majestic atmosphere. Close to 3,000 fireworks are set to illuminate the sky above, leading to an indescribable beauty as the fireworks and lights give off their own light.

▼Miyazu Toronagashi Fireworks Festival

Date: August 14, 2019

Time: From 19:30

Location: Shimasaki Park
Official Website: https://www.kyo.or.jp/miyazu/hanabi/

Ine Fireworks – Fireworks Galore Envelop Ine Bay

Around 1,200 fireworks climb up and over Ine Bay, lighting the calm water surface and the funaya boat houses of Ine with their brilliance. The boat houses themselves are also strung and lined with hanging lanterns.

▼Ine Fireworks

Date: August 24, 2019

Time: 20:15

Location: Ine, Kyoto
Official Website: http://www.ine-kankou.jp/inehanabi/

Did you enjoy our pick? It isn't summer in Japan without fireworks. If you're travelling to Kyoto to catch some sun this year, finish the day off with one of its many fireworks festival―from traditional Kyoto-esque events to large-scale ones with 8,000 fireworks ready to be deployed.