Watch movies in the great outdoors on an uninhabited island in Wakayama
An open-air cinema camping festival titled, "MUJINTO cinema CAMP KANSAI" will be held on the uninhabited island called "Chinoshima" located in Arita-shi, Wakayama Prefecture on the 4th (Fri.) and 5th of May (Sat.), 2018.
"MUJINTO cinema CAMP" is a new type of open-air cinema festival where you can enjoy watching movies in a camping space on an uninhabited island surrounded by rich nature. This year's movie is undecided yet but movies like "Paprica," a masterpiece animation movie created by the movie director, Satoshi Kon and "Big Fish," a movie about the story of a parent/child created by the movie director, Tim Burton were shown last year.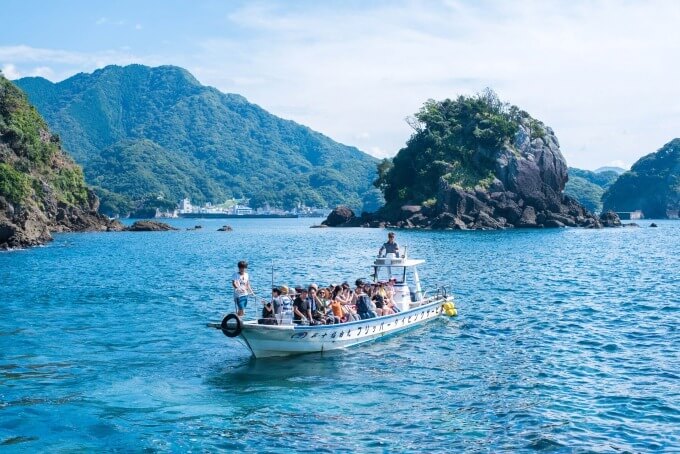 They are also preparing many kinds contents such as a BBQ party, live music, outside activities and a candle-making workshop.
The same festival will be held in the Setouchi Area (the date is undecided). Please check the official site RE detailed information.
Why not spend a wonderful golden week on an uninhabited island?
■Information
「MUJINTO cinema CAMP KANSAI」
Date: 2018/05/04 (Fri.) 05 (Sat.)
Venue: Jinoshima Island (7 minutes on foot from JR Hatsushima, 10 minutes on boat from the port)
Detailed information: tickets will be sold from early March of 2018.
RELATED ENTRIES
BAND-MAID to Hold First Performance at KNOTFEST JAPAN 2023 to be Held at Makuhari Messe

The popular female rock band BAND-MAID will perform for the first time at KNOTFEST JAPAN 2023, scheduled for April 1 and April 2 at Makuhari Messe in Chiba.

KNOTFEST was begun by the American heavy metal band Slipknot, and the festival has been held yearly since 2012. BAND-MAID will perform on Day 1 along with headliners Slipknot, Trivium, and MAN WITH A MISSION.

Tickets for the May shows to be held in the United States as part of the BAND-MAID 10TH ANNIVERSARY TOUR are none on sale. The group managed to bring in over 20,000 fans during their solo U.S. tour in 2022. In addition to performing at Pointfest 2023, Welcome to Rockville 2023, and the Sonic Temple Art & Music Festival, BAND-MAID will also perform six solo shows. With some venues selling out instantly last year, you'll want to snag tickets while you can!

Information

KNOTFEST JAPAN 2023

*BAND-MAID to perform on Day 1, April 1
DAY 1 – ROADSHOW

April 1, 2023
DAY 2 – FESTIVAL

April 2, 2023
Venue: Makuhari Messe International Exhibition Halls 9-11
https://knotfestjapan.com
Official Site: https://bandmaid.tokyo

Fans Asked to Name Blimp Inspired by the Upcoming Film 'Doraemon: Nobita's Sky Utopia'

The film Doraemon: Nobita's Sky Utopia will be released on March 3, 2023. The 42nd Doraemon movie follows Doraemon, Nobita, and his friends as they venture off to find Utopia, a perfect land in the sky where everyone lines in joy and happiness. They do so using an airship with a time warp function on their adventure, and to commemorate the film's release, the Flying Doraemon Project began on January 14. A real-life 17-meter-long Doraemon blimp will soon appear in the sky, and fans are being asked to decide on a name for the craft.

The blimp, inspired by the Doraemon movie, will feature popular characters including Nobita, Shizuka, Suneo, and Gian. The blimp is the largest unmanned airship in Japan.

The message of the Flying Doraemon Project is to convey the feeling that in this day and age, children and adults alike can once again look upward and move forward toward their hopes and dreams.

Fans are asked to contribute ideas for the blimps name during the application period. Check the website for more details!

Natsume Mito to Appear in Upcoming Film 'Kono Chiisana Te'

Natsume Mito will star in the upcoming film Kono Chiisana Te (These Small Hands). The film will debut in theaters on April 8.

The movie is an adaptation of the manga series by Mamora Goda, also known for his works Kira Kira Hikaru and Mori no Asagao. The story follows a father who never cared for his daughter and a daughter who has forgotten her father.

This is the feature-length debut of director Hiroyuki Nakada, who previously worked as an assistant director on films such as Love is Light and Tsukuritai Onna to Tabetai Onna.

<Comment from Director Hiroyuki Nakada>

"What is a father?

This question came to me as I was watching my newborn son sleep.
Does supporting a family financially make a good father?
Can a man be a father in some other way? Can he do something else?
While I was pondering this, I came across Kono Chiisana Te.
I really wanted to find the answer to my question, so I decided to work on plans for this live-action film.

I hope that everyone who sees this film will take some time to think about their families in this fast-paced world."

<Story>
Kazuma, an illustrator, lives with his wife Sayuri and their three-year-old daughter Hina.

One night, while Kazuma is drinking with his work buddies, Sayuri gets into an accident and is hospitalized while out shopping.

Kazuma falls asleep at the bar and Hina wakes up alone the next day. She is rescued by the police and placed in an orphanage.

Given his actions, Kazuma can't take Hina home. Having done nothing to help raise her, he's decidedly unfit to parent. Sayuri doesn't wake up, and time continues to pass.

Desperate, Kazuma gradually realizes that there are people who care for him and want the best for his life. Determined, he sets out to repair his bond with his daughter.

When Kazuma visits, however, all Hina can do is cry. Has she forgotten her father's face?

(C)映画「この小さな手」製作委員会

Information

Kono Chiisana Te (These Small Hands)
Release Date: In theaters nationwide April 8, 2023at Euro Space and other locations
Original Story: Kono Chiisana Te by Mamora Goda / Hiroshi Yoshida
Director: Hiroyuki Nakada
Script: Yusuke Moriguchi
Theme Song: Karen Aoki
Producer: Sho Matsushima
Music: Rhythm & Note
Production: Kono Chiisana Te Production Committee
Distributor: Fulmotelmo Inc.
2022/Japanese/Color/Vista Size/90 minutes

<Starring>
Kouhei Takeda
Renwa Satou, Sei Ando
Chie Tsuji, Natsume Mito, Himena Irei, Kenji Mitamura, Yoko Asaji, Reon Yuzuki, Kanji Tsuda, Yuki Matsushita, Yasufumi Terawaki

SSSS.GRIDMAN Compilation Film Bonuses Revealed

Based on the Tsuburaya Productions Gridman live-action tokusatsu series from 1993, the
SSSS.GRIDMAN anime series aired in October 2018. A sequel, SSSS.DYNAZENON, followed in April 2021.

Ahead of the release of GRIDMAN UNIVERSE, an all-new anime film coming in March, both SSSS.GRIDMAN and SSSS.DYNAZENON will be getting compilation films. Each will only be
in theaters for two weeks.

劇場総集編『SSSS.GRIDMAN』

The SSSS.GRIDMAN film will be in theaters starting January 20. Those buying tickets will
receive a special illustration card with a voice drama created by Akira Amemiya, the director of the SSSS series, while supplies last. The title of the drama is Hinekuremono Demo (Even if You're Cynical) starring Soma Saito (Sho Utsumi) and Hass (Akari Kito).

The newly-revealed illustration card's design features Yuta Hibiki, Sho Utsumi, Rikka
Takarada, and Akane Shinjo happily snapping photos.

SSSS.DYNAZENON will be released for two weeks starting March 10, and those buying
tickets will also get an illustration card and a special voice drama written by Akira Amemiya.

The SSSS.GRIDMAN compilation film is being directed by Yoshiyuki Kaneko, who served as assistant director on the anime series. The film will show a somewhat new interpretation of the story under his new direction. Both compilation films will include extra footage leading
up to the release of GRIDMAN UNIVERSE on March 24, 2023.

©円谷プロ ©2023 TRIGGER・雨宮哲/「劇場版グリッドマンユニバース」製作委員会

Information

SSSS.GRIDMAN Compilation Film
Limited 2-week screenings begin January 20, 2023
Admission Bonus: Illustrated Card with Voice Drama by Akira Amemiya
Official Website: https://ssss-movie.net/

Akiyoshido Cave in Yamaguchi to be Illuminated for Christmas & Valentine Theater Event

The Mine City Tourism Association has announced a Christmas & Valentine's Day event at Akiyoshido Cave, one of the largest limestone caves in Japan. The event will see the natural wonder illuminated by a number of colorful lights. The Christmas event will run from December 21 to 25, 2022, while the Valentine's Day event will run from February 10 to 14, 2023.

Akiyoshido Cave is one of Yamaguchi Prefecture's most popular tourist attractions. The interior will be decorated with colorful lights and unique soundscapes, creating a once-in-a-lifetime setting for visitors. These illuminations and sounds were directed by world-renowned lighting designer Motoko Ishii, known for her work on Tokyo Tower and the Akashi-Kaikyo Bridge.

Information

Christmas & Valentine Theater ~ Akiyoshido Cave 'Fantasy of Light and Echoes'

Dates:
Christmas Theater: December 21 – December 25, 2022
Valentine Theater: February 10 – February 14, 2023
Times: (1) 10:00-11:00 (2) 12:00-13:00 (3) 14:00-15:00
3 events per day

Venue:
Akiyoshido Cave, Shuhocho Akiyoshi, Mine, Yamaguchi

Tickets/Details:  https://karusuto.com/event/christmas-valentine-theater-2022/

Kyary Pamyu Pamyu Returns to America to Perform Only Half a Year After Coachella

On October 29, Kyary Pamyu Pamyu took part in Porter Robinson's Second Sky Music Festival in Oakland, California. The following day, the popular singer also appeared at Porter Robinson + Friends, an afterparty event held in San Francisco. American fans are finding their excitement at a fever pitch as the Harajuku-based artist continues to perform abroad!

Kyary Pamyu Pamyu recently made headlines when she performed an unprecedented 62 songs at Nippon Budokan on October 19 during the final stop on her 10th-anniversary tour. Following this impressive feat, Kyary performed at yet another festival in Japan before hastily returning to the United States following her show-stopping performance at Coachella half a year ago.

Porter Robinson's Second Sky Music Festival was hosted by and featured performances by internationally acclaimed DJ and producer Porter Robinson. Other important figures in the dance music scene also appeared including SKRILLEX and RL GRIME.

The event took place in a large parking lot adjacent to the Oakland Coliseum, home of the Oakland Athletics MLB team. Since the show took place close to Halloween, plenty of decorations could be found, and fans lined up from the early morning to get inside.

Although Kyary's performance was scheduled for quite early in the day, the audience sprawled out as far as the eye could see. As DE.BA.YA.SHI. 2021 began to play, fans began to excitedly call out Kyary's name. In Japan, regulations are in place to stop the spread of the coronavirus, meaning that audience members are forbidden to yell during concerts–but no such precaution exists in the U.S. It was clear that Kyary was beyond excited to hear the audience's enthusiasm, and as the show began, the artist called out "Second Sky," to which the fans responded with excited cries. 

The audience danced wildly to Candy Racer and Dodonpa, two of Kyary's most peppy tracks, which played in succession. The singer did her best to speak English. "Hello! I'm Kyary Pamyu Pamyu from Japan," she began. She then complimented a fan in full Kyary cosplay. "Wow! Nice costume! PONPONPON costume, so nice," she said.

During CANDY CANDY -Remix-, the audience raised their hands high in the air as they followed Kyary's instructions to jump, swaying from left to right. As the audience moved in sync, a number of hit tracks began to play, including Harajuku Iyahoi and Tsukematsukeru. However, nothing could match the excitement of the moment that the intro to PONPONPON began to play. Porter Robinson, who was watching the live performance from the side of the stage, was moved to tears, and everyone could feel how big Kyary's presence was for local fans.

Kyary's performance at the Coachella Valley Music and Arts Festival in April of this year became a hot topic, showing that Kyary is still incredibly popular in the U.S. ten years after her major debut.

In addition to her largest national tour to date, Kyary has made numerous appearances at music festivals in Japan and abroad in 2022. The artist's first overseas performance during her 11th year as a performer was an incredible success and bodes well for Kyary's future.

<Setlist>
2022.10.29 "Second Sky Music Festival"
OP. DE.BA.YA.SHI.2021
1. Candy Racer
2. Dodonpa
3.Invader Invader
4. CANDY CANDY –Remix-
5. Ninja Re Bang Bang –Steve Aoki Remix-
6. Harajuku Iyahoi
7. Tsukematsukeru
8. PONPONPON –Extended Mix-
9. Fashion Monster

2022.10.30 "Porter Robinson + Friends"
OP. DE.BA.YA.SHI.2021
1. Candy Racer
2. Ninja Re Bang Bang
3. CANDY CANDY
4.Crazy Party Night-Pumpkins Strike Back-
5. Kira Kira Killer
6. Isshin Doutai
7. Harajuku Iyahoi
8. Fashion Monster
9. PONPONPON

Information

Kyary Pamyu Pamyu

Chainsaw Man Tokyo Special Division 4 Event and Pop-Up Shop to Open in Tokyo

A story-based digital GPS rally inspired by Chainsaw Man will be held within Tokyo's subway system from November 1 until November 28. Fans of the anime series won't want to miss it!

Participants will be tasked with one vital mission: to find five senior devil hunters who are currently undercover at subway stations around the city.

Participants will download an app from the special website and follow the instructions within to find stamp locations at stations throughout Tokyo. When they reach the designated location, they'll find a special poster, and they'll just need to press a button in the app to earn a stamp. By collecting stamps in all six locations, fans will receive a unique key visual which can only be obtained through this event. 

Pop-Up Shop

During the event period, fans will also find a limited-time pop-up shop inside Ikebukuro Sunshine City. Original collaboration items will be on sale, and a game will be set up with winners able to walk away with unique prizes. From November 1 to November 20, admission to the shop will be by advance reservation only on a first-come, first-served basis to reduce crowding. Reservations can be made through the official website.

©藤本タツキ/集英社・MAPPA

Kyary Pamyu Pamyu and Katy Perry to Perform Together for the First Time at True Colors Festival THE CONCERT 2022

The Nippon Foundation has been supporting people with disabilities in Japan and abroad for over fifty years. To mark this incredible milestone, True Colors Festival THE CONCERT 2022 will be held on November 19 and 20 at Tokyo Garden Theater. The performance aims to inspire fans to express their uniqueness. 

Kyary Pamyu Pamyu will perform as a guest performer on both days of the concert, which stands to be one of the largest live events in the world put on by artists with disabilities.

Kyary became a smash hit with audiences worldwide after Katy Perry praised her PONPONPON music video on Twitter, and the two are said to be fans of one another. This will be the first time that the two pop icons will perform on stage together. 

"I'm looking forward to performing with so many unique artists from around the world," Kyary said in a statement. "I'm so happy that I'm going to live my dream of performing with Katy!" 

Information

True Colors Festival THE CONCERT 2022 

Venue: TOKYO GARDEN THEATER (2-1-6 Ariake, Koto-ku, Tokyo)

Dates: 

November 19 / Doors Open at 16:00, Show Starts at 18:00

November 20 / Doors Open at 15:00, Show Starts at 17:00

Official Site: https://truecolorsfestival.com/jp/program/the_concert/

Hello Kitty Autumn Event 'Apple Halloween 2022' Running Until October 31

HELLO KITTY SHOW BOX, a theater and restaurant offering Hello Kitty-themed shows and meals on Awaji Island, and HELLO KITTY APPLE HOUSE, an apple-shaped observation theater based on the popular character's home, are both currently holding the Apple Halloween 2022 event until October 31! 

Guests can enjoy a mystery-solving event and some adorable photo spots inspired by apples and the Halloween season. By solving certain riddles, visitors will be rewarded with candy!

Come have fun this Halloween with Hello Kitty, friends, and family!

Started in October, the New Show 'HELLO KITTY THE PARTIES' Gets Rave Reviews

HELLO KITTY THE PARTIES, a new show at the theater and restaurant HELLO KITTY SHOW BOX, will run until December 30, 2022. The show features a new theme each month and currently features a jazz band.

October's theme is Happy Halloween Party, and visitors can listen to a number of famous songs while enjoying tasty and healthy dishes packed with autumn flavors. At the end of the performance, a meet and greet with Hello Kitty will be held. November's theme will be Hello Kitty's Birthday Party, while December will focus on a Christmas Party!

Information

Apple Halloween 2022

Running until October 31, 2022

Hours: 11:00-17:00

Venue: Awaji Hello Kitty Apple Land ( 177-5 Nojimahirabayashi, Awaji, Hyogo)

Official Website: https://awaji-resort.com/hellokittyshowbox/

Popular Swimming Anime Free! to Hold 10th Anniversary Event at Saitama Super Arena in Summer 2023

The popular anime series Free! will celebrate its 10th anniversary with a special event at Saitama Super Arena on August 13, 2023. Cast members from the series, including Nobunaga Shimazaki, Tatsuhisa Suzuki, Mamoru Miyano, Tsubasa Yonaga, and Daisuke Hirakawa, will be in attendance. Free! -the Final Stroke- The Second Volume will be released on Blu-ray and DVD on April 5, 2023, and will include a priority purchase application ticket for the special event. Check out the official website for details!

 


The Free! anime franchise, which is loosely based on the High Speed! light novels by Kouji Ooji, began in 2013 and includes three TV series and multiple films produced by Kyoto Animation. The three anime series–Free!, Free! Eternal Summer, and Free! Dive to the Future–have been incredibly popular around the world. The first part of Free! The Final Stroke was released in theaters last year, with the second part hitting theaters in April 2022. Fans won't want to miss out on the exciting 10th-anniversary activities in 2023!

©おおじこうじ・京都アニメーション/岩鳶町後援会2021

Information

Free! 10th Anniversary Special Event

Date: August 13, 2023
Venue: Saitama Super Arena (8 Shintoshin, Chuo-ku, Saitama)
Cast: Nobunaga Shimazaki, Tatsuhisa Suzuki, Mamoru Miyano, Tsubasa Yonaga, Daisuke Hirakawa, more

Free! -the Final Stroke- The Second Volume Blu-ray&DVD
Release Date: April 5, 2023
Price: ¥11,000 (Tax Included)
Official Site: http://fs.iwatobi-sc.com/


Japan's Largest Sake Event TOKYO SAKE FESTIVAL to be Held in Shinjuku in October

Japan's largest sake event, TOKYO SAKE FESTIVAL 2022, will run from October 4 until October 6 at the Shinjuku Sumitomo Building's Triangle Square.

The event's aim is to make sake more mainstream around the world, with the first festival taking place in 2020. Tokyo Sake Festival blends sake with entertainment, showing off the very best of Japanese culture to those who may be new to craft sake. For the third year, former NMB48 member Yui Takano will serve as ambassador. Takano is known for leaving her idol career to manage the sake specialty store Yui Sake Shop. 

Tokyo Sake Festival 2022 is bringing together forty carefully selected sake breweries from around Japan, including Inoue Seikichi, winner of the Champion Sake award at IWC 2022. Tonoike Sake Brewery, winner of Kura Master 2022's President's Award, will also be in attendance. The full lineup can be found on the official website.

Popular influencers and artists from Raphael to BOYS AND MEN and Ukon Takafuji will take the stage during the event, so be sure to swing by if you're a fan of Japanese spirits!

Information

TOKYO SAKE FESTIVAL 2022

Dates: 

October 4: Part 1 13:30-16:30 / Part 2 18:00-21:00
October 5: Part 1 13:30-16:30 / Part 2 18:00-21:00
October 6: 16:00-19:00
Venue: Shinjuku Sumitomo Building Triangle Square
(2-6-1 Nishishinjuku, Shinjuku-ku, Tokyo)

Buy Tickets/Details: https://tokyosakefestival.bitfan.id/

SiM to Hold Streaming Event 'Amazon Music Live: DEAD POP FESTiVAL 2022'

Amazon Music Live: DEAD POP FESTiVAL 2022 was originally held on June 25 and 26, 2022. Those who missed out on SiM's outdoor festival will be able to watch it on the Amazon Music Japan channel on Twitch on August 16 at 20:00 along with exclusive commentary from the members. In addition, Shuhei Igari (HEY-SMITH), GEN (04 Limited Sazabys), and Takuya Yamanaka (THE ORAL CIGARETTES) will appear. 20 artists who participated in the festival will give their personal thoughts on the June event including behind-the-scenes stories.

Fans of Attack on Titan won't want to miss the first live performance of SiM's track The Rumbling, used as the opening theme for The Final Season Part 2.

Prior to the event on the Amazon Music Japan channel, a playlist consisting of songs performed at DEADPOP FESTiVAL 2022 is available on Amazon Music Unlimited. Be sure to check it out!