the GazettE are about to tear the stage apart with their speaker-ripping tunes in a whopping 11 countries, starting this April.
Five-piece visual-kei rock outfit, the GazettE, is a band that's impossible to miss when flipping through the J-visual-kei catalogue (note they easily fills a 55,000-seater venue), — so it's no wonder they're making rounds at some of the most respected venues in America, Europe and Asia starting this spring. They've got 16 dates gorgeously lined up for fans from all over the world, including a performance at one of Paris's largest venues: Le Zenith, as well as New York's PlayStation Theater, the Taipei International Convention Centre and more, spanning across 11 countries.
In 2015, they uncovered their first move with PROJECT:DARK AGE, which consisted the release of their album DOGMA, which was produced in collaboration with 18 creative professionals across the fashion, design, photography, sound, film and stage industries. Needless to say, the album won great international success, achieving top ten positions in 18 iTunes charts across 15 Europe countries, and #1 in five. What follows is their ferocious UGLY EP — watch the trailer here.
Check out their much-anticipated tour dates from the below poster.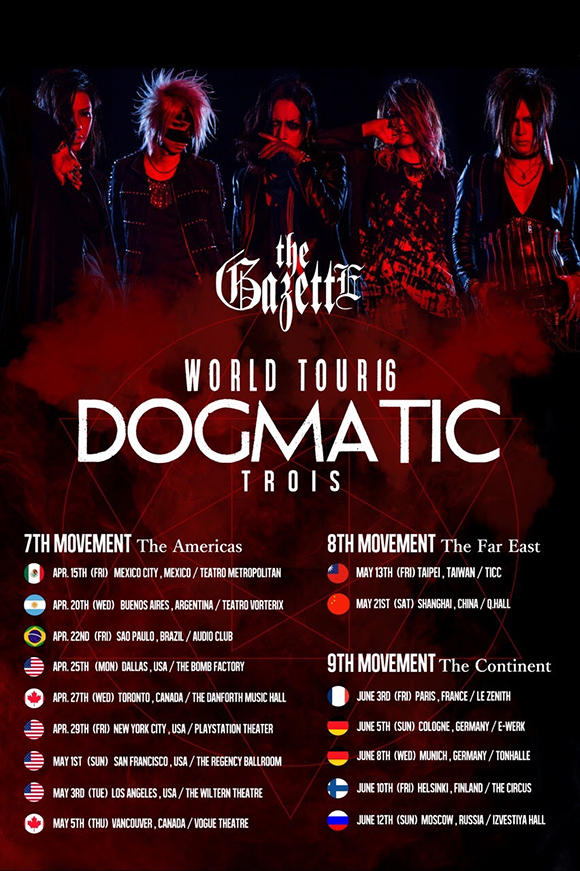 the GazettE are: AOI – Guitar, REITA – Bass, RUKI – Vocals, URUHA – Guitar, KAI – Drums
For more information: http://the-gazette.com
Facebook: http://facebook.com/the-GazettE-Official-255684944526717
YouTube: http://youtube.com/gazetteSMEJ