Experience Hanami in Open-Air Hot Springs at Hoshino Resorts KAI Kinugawa
Kinugawa River in Tochigi Prefecture is about a 2-hour train or car journey from Tokyo. It's immensely popular as an onsen, or "hot spring" site, and is close to World Heritage Sites and places of scenic beauty. The KAI Kinugawa hot spring resort at Kinugawa Onsen is offering a limited-time "Yozakura Dining" plan from April 11th to April 20th. For one night, two people can enjoy a banquet while gazing at the cherry blossom trees in the evening. You can also experience "Hanami Roten" and admire the cherry blossoms in full bloom from the site's famous open air hot springs.
"Yozakura Dining" – admire the cherry blossoms with a springtime meal
Two people can enjoy their own private space to relish in spring dishes while viewing the evening cherry trees. The cherry blossoms cannot be seen from the regular eating spot, but in the special seats offered with "Yozakura Dining," you can look forward to soaking in the colours of evening-time cherry blossoms illuminated with dreamy lights while sat at a table co-ordinated with the colours of spring and set with Tochigi crockery like light-coloured Mashiko ware and traditional kurobane aizome, or "Kurobane indigo-dyed" tableware. Mealtime is different and each person will be tended to individually, so there's no need to worry about other people, allowing you to enjoy a relaxed time and atmosphere.
Time: 2 Slots – 17:30 / 19:30
Price: From ¥30,000 – Includes 1 overnight stay and 2 meals (Costs the price of one person for a room for 2 people. Service tax included.)
Reservations: 1 night for 2 people. 4 people on-site. You must book the plan 5 days in advance of the date you plan to stay.
https://booking.hoshinoresort.com/plans/JA/0000000121/0000000139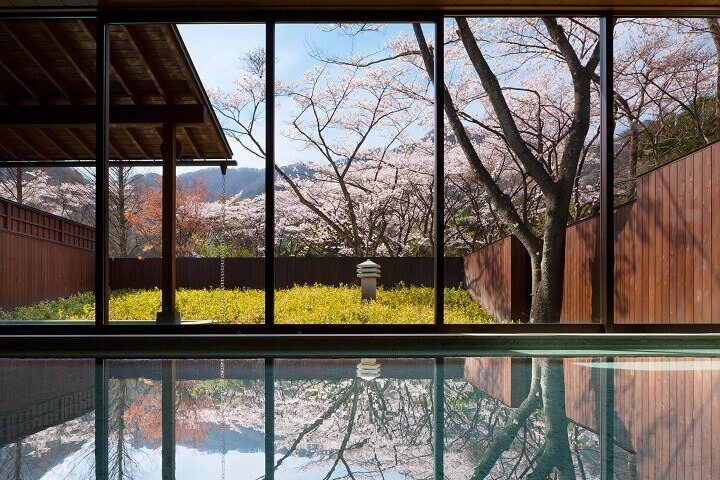 "Hanami Roten" – behold the cherry blossoms in full bloom
At Kinugawa Onsen, you can enjoy the picturesque scenery of Japan's four distinct seasons from the large public baths and open-air baths – from the fresh verdure in summer to the vibrant reds of autumn. The most fantastic experience of the year though is "Hanami Roten" in spring. The rows of cherry trees reflect along the surface of the water in the hot springs, granting a spectacle only observable in spring. As you raise your gaze upwards while submerged in the water, the fully bloomed cherry trees unfold before you. At night, the trees are lit up. The atmosphere changes whether you're in there during the day or at night, offering different experiences to be enjoyed.
Time: 15:00-01:00 / 05:00-11:00 (*illuminations are turned on from sunset until 1am)
Location: Public baths
Reservations: Not required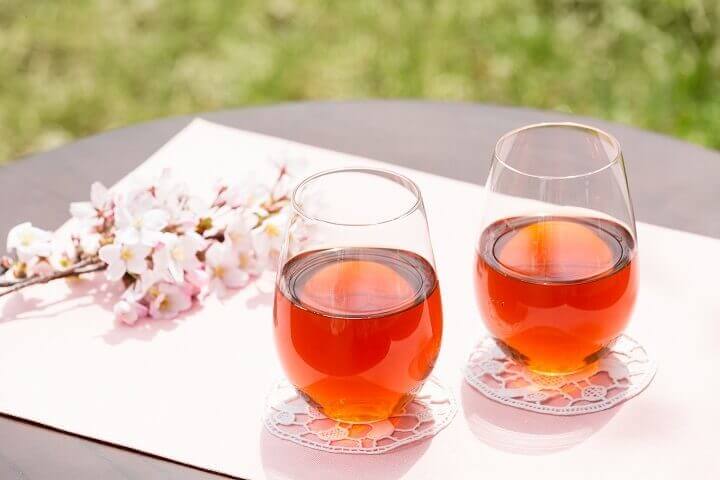 "Haru no Yuagari Drink" – smell the cherry blossoms
Upon emerging from a relaxing bathe, you will be served "Sakura Koucha," or black cherry blossom tea, offered exclusively in spring. Feel the call of spring while savouring the fresh taste of gentle cherry blossom fragrance.
Location: Place where you exit the bath
Price: Free
Reservations: Not required
Have yourself an unforgettable spring in Japan this year at Hoshino Resorts KAI Kinugawa.
■Information
KAI Kinugawa
Address: 308 Kinugawaonsentaki, Nikko-shi, Tochigi Prefecture
TEL: 0570-073-011
KAI Kinugawa Springtime Stays:
RELATED ENTRIES
Kyary Pamyu Pamyu Visits Iwashita New Ginger Museum in Tochigi Prefecture

Iwashita Foods, a staple in Tochigi Prefecture for over 123 years, has teamed up with Kyary Pamyu Pamyu's LOCAL POWER JAPAN Project! The project was launched to energize Japan through the appeal of regional towns and cities, and the singer is teaming up with the company known widely throughout the region for its ginger. Along with a selection of collaboration goods, a meet-and-greet will be held at the Iwashita New Ginger Museum in Tochigi City! Guests will be able to meet the popular mascot character Iwashika-chan in a new Kyary-inspired outfit. 


The LOCAL POWER JAPAN PROJECT aims to bring attention and support to local industries and to inspire more tourism to rural areas that were hit hard by the pandemic. Kyary hopes to enliven local communities by collaborating with companies that have roots in the rural locations she is visiting on her current national tour. 

On January 16, 2022, Kyary embarked on the largest tour of her career, 'Kyary Pamyu Pamyu 10th ANNIVERSARY JAPAN TOUR 2022 CANDY WAVE.' The 30 stops on the new tour include many that Kyary has not visited before, and were chosen based on the singer's desire to perform for fans who may not typically be able to attend one of her shows.


The collaboration logos created for the project were inspired by Kyary's past releases while also keeping the spirit of the original company intact. T-shirts featuring these collaborative logos are available for a limited time, and a portion of the proceeds are given back to fund local development and social programs.

On May 21, Kyary Pamyu Pamyu stopped by the Iwashita Fresh Ginger Museum on the way to her Tochigi concert. The singer was given a tour of the facility by Iwashita Foods president Kazunori Iwashita. A video of Kyary's visit to the museum will be posted to YouTube soon!

The mascot character of Iwashita New Ginger, Iwashika-chan, appeared at Kyary's Tochigi concert held at Tochigi Prefectural Cultural Center in Utsunomiya on May 21, 2022. The adorable deer danced along with Kyary as Tsukematsukeru played to huge fanfare. 

Iwashita New Ginger goods inspired by Kyary Pamyu Pamyu are now on sale at the Iwashita New Ginger Museum and the Iwashita New Ginger Online Shop until June 20. There are limited quantities of T-shirts and other merchandise not available anywhere else, so don't miss out!

The Iwashita New Ginger Museum holds meet-and-greets with its mascot character Iwashika-chan every Saturday and Sunday, as well as on holidays. Typically, the deer appears in seasonal outfits, but during a few appearances in June, she'll appear in a special Kyary-inspired costume!

Information

Iwashita New Ginger x Kyary Pamyu Pamyu LOCAL POWER JAPAN Project Collaboration Goods

On Sale: May 25 – June 20, 2022

Iwashita New Ginger x Kyary Pamyu Pamyu LOCAL POWER JAPAN Project Collaboration T-Shirt

Available in limited quantities starting in late June 2022

Iwashita New Ginger Museum: https://shinshoga-museum.com/
Iwashita New Ginger Online Shop: https://www.shinshoga.shop/shopbrand/ct103

Kyary Collab Ver. Iwashika-chan Greeting

Dates: June 5 / June 12, 2022

Times: 11:00, 14:00 (Twice a day) 

*The greeting at 16:00 will feature the regular seasonal event costume.

Admission: Free

Details: https://shinshoga-museum.com/event/kpp-iwashika-greeting

Rose Garden ~Spring Rose Festival~ Opens at Ashikaga Flower Park in Tochigi

Starting May 9, Ashikaga Flower Park is celebrating spring with the Rose Garden ~Spring Rose Festival~ event. Since April, the Fujinohana Monogatari Ofuji Festival has been drawing guests to the park to see the symbolic wisteria. As the weather warms up, the rose festival will be held at the same time as the Great Wisteria Festival 2022, which is scheduled to end on May 22. 

Guests can enjoy the rainbow-colored world of wisteria and roses, which are at their best until the middle of May. From now until May 15, visitors can also see the flowers lit up each night.

Come visit Ashikaga Flower Park and enjoy 2,500 roses from 500 different varieties!

Information

Rose Garden ~Spring Rose Festival~

Dates & Hours: 

May 9 – May 15 / 8:00-20:30 (Includes Night Illuminations)

May 16 ~ / 9:00-18:00

Official Site: https://www.ashikaga.co.jp/

Fujinohana Monogatari Ofuji Festival 2022 Opens at Ashikaga Flower Park in Tochigi

The Fujinohana Monogatari Ofuji Festival 2022 in Tochigi began slightly ahead of schedule on April 16, 2022.

After temperatures rose to higher than normal over the past few weeks, Ashikaga Flower Park's symbolic wisteria bloomed earlier than expected. If the high temperatures persist, the blooming process will speed up considerably, with some flower clusters growing up to 10cm in a single day.

The park is one of Japan's top destinations for wisteria, boasting 350 trees that typically bloom from mid-April to mid-May. The stunning flowers, which dangle from wooden trellises, come in many colors including violet, blue, pink, white, and yellow. Each color tends to bloom at different times: pink first, followed by purple, white, and then yellow wisteria. CNN praised the massive wisteria tree as looking similar to the "tree of souls in the film Avatar," and the park was the only place in Japan selected as one of the '10 Global Dream Destinations' in 2014.

Information

Fujinohana Monogatari Ofuji Festival 2022

Running: April 16 – May 22, 2022

*Illuminations: April 20 – May 15, 2022
Times: 

April 16 – April 19  9:00-18:00

April 20 – April 22  8:00-20:30

April 23 – May 8    7:00-21:00

May 9 – May 15    8:00-20:30

May 16 – May 22  9:00-18:00

 

*Dates and hours are subject to change depending on blooming conditions.

*Click on the link below to see the current flower status.

Virtual Hanami Event MIKU LAND 2022 YOSAKURA Invites Guests to the Metaverse with Hatsune Miku

MIKU LAND is Hatsune Miku's official VR amusement park. The locale opens sporadically on the Virtual Cast platform, inviting fans of the virtual singer to interact with the star herself and other music lovers from around the world. From April 28 until May 1, the MIKU LAND 2022 YOSAKURA event will invite Vocaloid lovers to the metaverse to enjoy the cherry blossoms and a number of unique experiences. 

Guests can visit Senbonzakura World, Miku's Detective Agency, Rin & Len Kagamine's Post Office in the Sky, and even a virtual haunted house during the event. VTubers Megu Shinonome, Tokino Sora, and Mirai Akari have been chosen as the official ambassadors of the event.

Senbonzakura World

Hatsune Miku's iconic track Senbonzakura, written by Kurousa-P, turns 10 this year. What better way to enjoy it than beneath virtual cherry blossom trees? Even if you can't visit Japan quite yet, enjoy the Japanese shrine atmosphere as you spend time with friends in this gorgeous virtual space.



Miku's Detective Agency

This puzzle-solving attraction invites guests to become assistant detectives by passing a test handed out by Detective Hatsune Miku! Those able to complete the challenge will also receive a limited-edition item.


Rin & Len Kagamine's Post Office in the Sky

This post office in the clouds isn't just a quiet place to relax. Visitors can take on a few different challenges, from mazes to more physical tasks.



Official Ambassadors


Megu Shinonome Comment
"I've been chosen as an ambassador for MIKU LAND! My name is Megu Shinonome, and I'm so excited to work with Miku! MIKU LAND keeps getting bigger and bigger, so I'm wondering what it will look like this spring…I'm looking forward to it! I'll do my best along with my fellow ambassadors Tokino Sora and Mirai Akari to convey the many charms of MIKU LAND to as many people as possible. We can't wait to see you!"

Tokino Sora Comment
"I'm so excited to visit MIKU LAND again! I'll do my best to make this another incredible event, and I'll be sure to enjoy myself as much as possible!"

Mirai Akari Comment
"I've been invited to MIKU LAND to act as the MC for this awesome event! During the SUMMER VACATION event, everyone on Virtual Cast was so kind to me. It was a blast, so I'm really looking forward to this too! I'll be sure to bring some extra excitement, so don't miss it!"

Information

Dates: April 28, 19:00 – May 1, 21:00
Location: Virtual Cast

Official Site: https://mikuland.com/

NAKED's Popular Sakura Artwork Transformed into Company's First NFT

The NFT platform 'Adam by GMO' will offer the creative company NAKED's first piece of NFT art. Sakura Ousai has been featured in the hands-on art exhibition NAKED FLOWERS held in Nihonbashi, Nijo Castle, Hong Kong, and Korea. The NFT will be available in late March and a portion of the proceeds will be donated to support Ukraine.

Since its establishment in 1997, NAKED has constantly produced incredibly unique art installations to fit with the times. Starting with the projection mapping of Tokyo Station in 2012, the company has created unprecedented art and entertainment experiences by combining real space with virtual experiences. The current theme is 'borderless creativity,' and creating NFT art fits into this vision.


NAKED FLOWERS, one of NAKED's signature events, has been held since the New Year 2016. The NAKED FLOWERS experience has now been converted into a piece of NFT art for the first time, and buyers can enjoy these cherry blossoms no matter their location!

The Ryokan Tokyo Yugawara Opens in Kanagawa Prefecture, Features Hot Spring Bath Cafe

The Ryokan Tokyo Yugawara, a traditional-style Japanese inn and hot spring located in Kanagawa Prefecture, will open on March 18, 2022. The hot springs in the area have a storied history, appearing in the oldest collection of Japanese poems from the year 759 AD and loved by great writers such as Natsume Souseki and Ryunosuke Akutagawa. There is also a cafe inviting visitors to enjoy delicious meals as they relax in the springs.

Onsen Dojo operates and plans hot spring facilities, including the 'Ofuro Cafe' brand, resort facilities, and more. The company also provides support for local business investments. 

Cherry Blossom Drone Project 2022 to Bring Hanami to People Around the World

Wishing you could be in Japan to see the cherry blossoms? The Cherry Blossom Drone Project on March 27 will be live-broadcasting some of the most beautiful blossoms in the country to viewers around the world. 

Incredible 4K aerial footage will be available to watch on YouTube LIVE for free from 12:00 until 19:00 on March 27, 2022. No matter where you are, you'll be able to lose yourself in the feeling of spring. 

Three Best Cherry Blossom Viewing Spots Chosen by Sakura Enthusiasts

Breathtaking Mountain Cherry Blossoms at Mount Yoshino in Nara

The First New Sakura Species in Over 100 Years Found in Wakayama Prefecture

A Sea of Cherry Blossoms at Takato Joshi Park in Ina, Nagano Prefecture

McDonald's Japan Offering Sakura Mochi Pie to Celebrate Springtime

McDonald's Japan will start selling the new Sakura Mochi Pie starting March 23, 2022 for a limited time only.

The new pie is inspired by sakura mochi, a traditional wagashi sweet popular during spring. 

Sakura mochi is typically made from mochi rice cakes filled with a sweet red bean paste and wrapped in a pickled cherry blossom leaf. The McDonald's pie is filled with azuki red bean paste and a chewy, sakura-flavored mochi that features bits of pickled sakura leaves.


The packaging will also feature spring designs and each pie costs just ¥150. They will be available until mid-April. 

Hoshino Resort Aomoriya Holds Cherry Blossom Viewing Event Under a Cozy Kotatsu

Hoshino Resort Aomoriya, an inn where visitors are invited to fully enjoy Aomori's culture, will begin its Hanami Kotatsu event from April 1 until May 31, 2022. Guests can enjoy local sake while warming themselves beneath a cozy kotatsu. In the chilly Aomori spring, a kotatsu) will be set up beneath the blooming trees for visitors to comfortably view the cherry blossoms. Hot-water bottles will also be available for rent if guests can a little too cold!

April in Aomori is spring according to the calendar, but it's still quite chilly. Nevertheless, the people of Aomori look forward to flower viewing to overcome the cold winter and enjoy the long-awaited arrival of spring.

Three Fun Additions to Make Cherry Blossom Viewing More Fun

1  A Traditional Umbrella with a Sakura Pattern

Next to each kotatsu is a row of Japanese umbrellas with cherry blossoms painted on them, spreading the pink cherry blossom imagery all around. When opened, the umbrellas are covered with cherry blossoms, making you feel as if you are under the cherry blossoms in full bloom.

2 Choose a Local Sake and Sake Cups for a Flower Viewing Sake Tower

Choose your favorite local sake and three sake cups to make a sake tower! Guests can choose from 10 Aomori sake brands, each with unique aromas and flavors. 

3 Cherry Blossom Patterned Cotton-Filled Hot Water Bottle for Extra Warmth

To keep extra warm beneath the kotatsu, a cotton blanket with a cherry blossom pattern and a hot-water bottle are available for rent. Doesn't it sound heavenly?

Limited Edition Flower Miffy Goods Featuring a Cherry Blossom Theme Now on Sale

Flower Miffy, a flower shop inspired by the popular Dutch picture book Miffy, has begun selling a new series of cherry blossom-inspired items! A limited number of postcard sets are also being offered as purchase bonuses. 

Flower Miffy Glass – Sakura Gradient Pink / Pearl: ¥1,595 (Tax Included)

Flower Miffy Sakura Plate: ¥2,090 (Tax Included)

Flower Miffy Mini Towel – Sakura Pink / Ivory: ¥770 each (Tax Included)

The series features original artwork, and fans of Miffy can get their hands on unique glassware, cherry blossom plates, and mini-towels. 

Those spending ¥3,300 (including tax) or more will receive a set of two limited edition postcards. The offer will end as soon as they're gone!

*Offer does not apply to flower arrangements.

Illustrations Dick Bruna Ⓒ copyright Mercis bv,1953-2022 www.miffy.com

Information

Cherry Blossom Series

Release Date: February 10, 2022

Where to Buy: Flower Miffy Shops Nationwide, Flower Miffy Online Shop

Official Site: https://benelic.com/flowermiffy/

Q-pot CAFE Introduces Cherry Blossom Inspired Seasonal Menu

To celebrate the arrival of spring, Q-pot Cafe is introducing a cherry blossom-themed menu for a limited time!

Cherry Blossom Romantic Dress Cake  Plate with Drink: ¥2,100 (Tax Included)

Enjoy this pink cherry blossom mousse and pure white whipped cream to celebrate the end of the gloomy winter season.

Rich pistachio mousse, strawberry pulp, fragrant almonds, and fluffy genoise come together in a scrumptious melt-in-your-mouth explosion of flavor.

Romantic Berry Blossom Tea: ¥850 (Tax Included) / Set Menu +¥200 (Tax Included)

A play on Q-pot Cafe's popular Flower Garden tea, the Berry Blossom Tea has a rich cherry blossom aroma with raspberries and milk added. 

Romantic Berry Blossom Tea with Bottle: ¥1,296 (Tax Included)

Take-out drinks in patterned bottles are also available! By bringing the bottle with you, the Berry Blossom Tea will be discounted to ¥750 (tax included). 

Information

2022 Q-pot Cafe Seasonal Menu

Location: Q-pot Cafe Omotesando

Available: March 1 – April 14, 2022

Online Reservations Open

Cherry Blossom Viewing Themed Café "Nintama Rantaro Chaya" to Open in Tokyo and Osaka

Two limited-time-offer collaboration cafés named "Nintama Rantaro Chaya" are coming to Tokyo and Osaka! The Tokyo location is now open, and the Osaka location is scheduled to open on February 18. Based on the long-running anime series Nintama Rantaro, this cafe invites guests to enjoy the falling cherry blossoms set to bloom in the spring. While the series hasn't found much popularity outside of Japan, it premiered in 1993, and continues to be a big hit with kids and adults alike!

Reservation Bonus: Original Sticker Sheet (3 varieties)

Drink Order Bonus: Original Coaster (20 varieties)

Menu

[Bento Team] Piping Hot Dashi Udon and Onigiri Bento Set

[Bento Team] Mountain & Seafood Bento

[Dumpling Team] Chicken Meatball Set

[Teahouse Team] Chouji & Isaku's Chazuke Set

Desserts

[Bento Team] Cherry Blossom Viewing Sweets Set

 [Dumpling Team] Two Peas in a Pod Anmitsu

 [Dumpling Team] Shaved Ice and Sweet Dango Set

 [Teahouse Team] Traditional Garden Plate

Drinks

Free Tea 

Shinbei's Dango Latte / Rantaro's Matcha Milk / Kirimaru's Shiny Lemon Soda

Fourth Grade Transforming Drink / Fifth Grade Purple Sweet Potato Milk Tea / Sixth Grade Matcha Lemonade

Original Merchandise

Pin (20 varieties, random)

Acrylic Keychain (20 varieties, random)

Acrylic Pin (20 varieties, random)

Acrylic Stand (Bento Team, Teahouse Team, Dumpling Team)

Clear Folder Set (Set of 3)

10-piece Sticker Set A, 10-piece Sticker Set B





The cafe menu has been divided into three 'teams': the Bento Team, the Dumpling Team, and the Teashop Team. Characters have been divided into these three teams, and many of the available dishes are based on everyone's favorite aspiring ninjas! Original merchandise and special offers will be available at the cafe as well, with the items featuring newly-drawn illustrations for the event.

©尼子騒兵衛/NHK・NEP

Information

Cafe Nintama Rantaro Chaya 2022

Location/Dates: 

Tokyo: 

BOX cafe&space Tokyo Solamachi / February 10 – April 3, 2022
Tokyo Skytree Town Solamachi 1F #8 (1-1-2 Oshiage, Sumida-ku, Tokyo)


Abeno-ku, Osaka:

Abeno contact / February 18 – March 27, 2022
Abeno Q's Mall 4F (1-6-1 Abenosuji, Abeno-ku, Osaka)

Reservations Now Available
Reservation Fee: ¥715 (Tax Included) *Includes bonus
Cafe Original Merchandise Available until April 3 at 23:59
https://nintama-cafe.jp/online_store 

Official Twitter: https://twitter.com/nntm_cafe (@nntm_cafe )

Official Site: https://nintama-cafe.jp/