【Tokyo Stroll】Collecting a Goshuin Stamp at Ōmiya Hachiman Shrine – Tokyo's Foremost Hachiman Shrine
In this regular article series, we introduce you to 'power spots' and goshuin at shrines on the outskirts of Tokyo. This time, our navigator Ellie visited Ōmiya Hachiman Shrine which you can reach from Shibuya Station via the Keio Line and Inokashira Line. Take the train to "Nishi-Eifuku Station" and it's a 7-minute walk from there. The shrine is the third largest in Tokyo after Meiji Shrine and Yasukuni Shrine.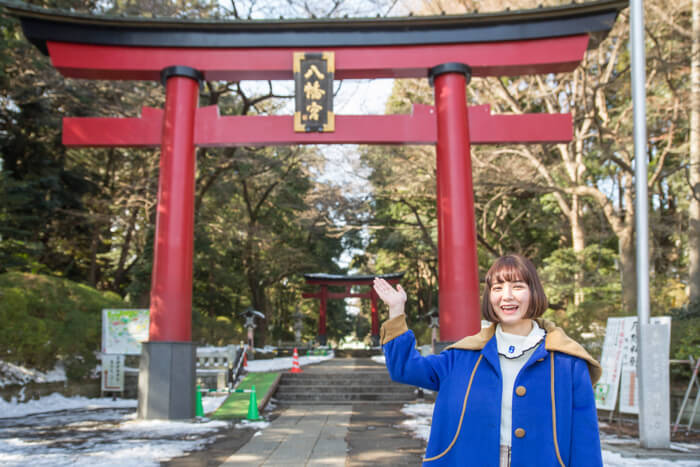 Ōmiya Hachiman Shrine has a long history – this year marks 955 years since it was established. There are numerous Kami (gods) enshrined here, including Emperor Ōjin, who also goes by the name Emperor Taichu which translates to 'center of the womb.' He is a Kami of household harmony, marriage, conception after a shrine visit, easy childbirth, and child rearing. The shrine gets the nickname "Tokyo's Belly Button" for being located in the center of the city. It's famous as a 'power spot' where one can return to the womb.
This sacred tree is called Kyosei no Ki, or "Tree of Symbiosis." A nutmeg tree, it gets its name from the parasitic inuzakura flowering cherry that grows from it, living in a symbiotic relationship. Because the two trees have continued to live together mutually as one, many people visit the tree to pray for family happiness.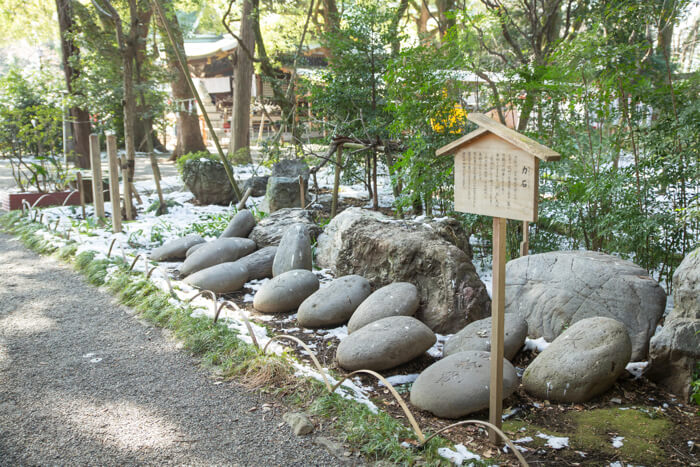 This is another power spot at the shrine: the chikaraishi, or "power stones." During the Edo period, these stones were offered to compare the strength of the divine. There are 14 stones of varying weights and sizes, from 101kg to 187kg.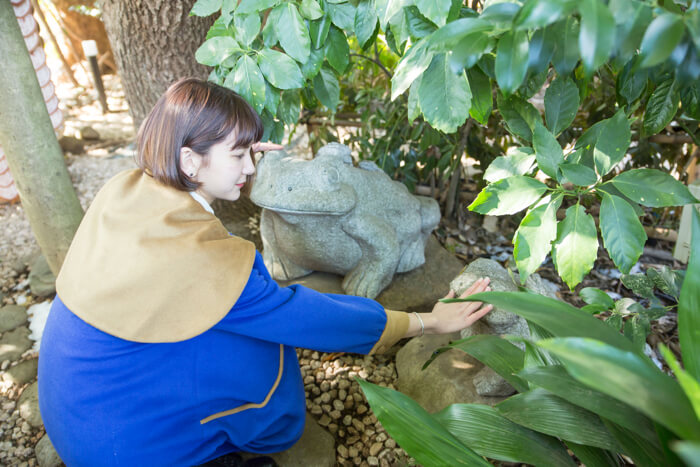 Another popular power spot is the "Happy Gaeru" – large stone frogs placed which, if you stroke, are said to bring happiness.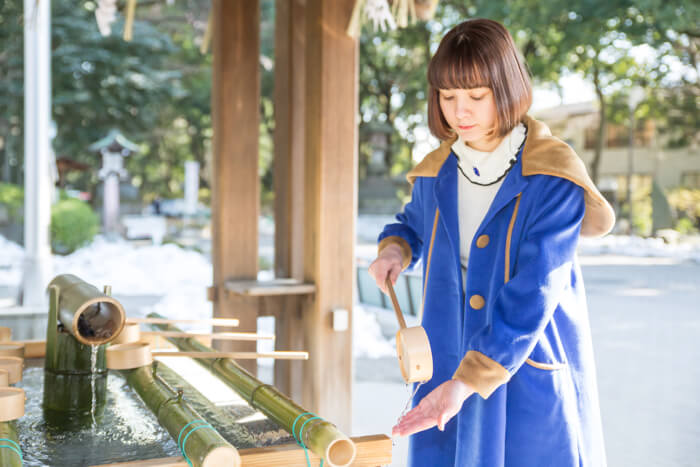 Before praying at a shrine, it's customary to cleanse yourself at the temizuya (water basin) before heading in. First, pick up the ladle and hold it with your right hand and rinse your left hand.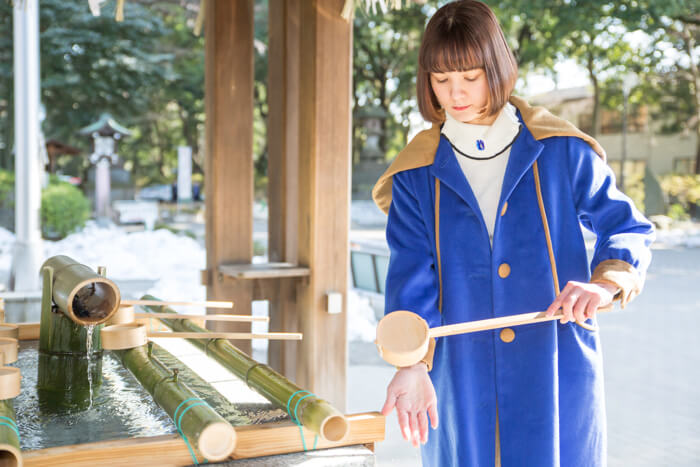 Do the same thing but this time hold it with your left hand and rinse your right.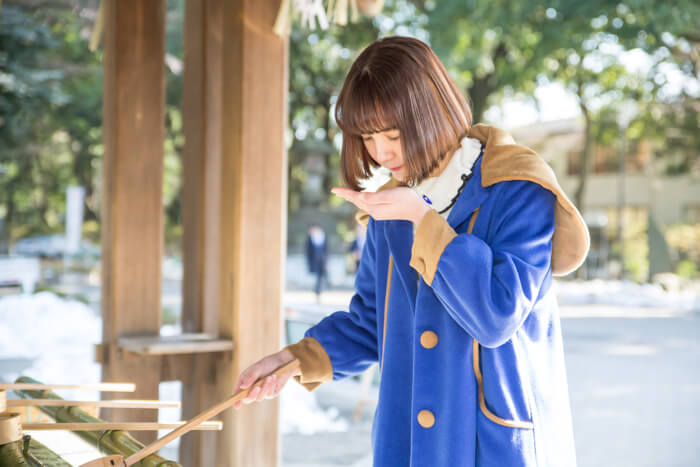 Afterwards, take the ladle in your right hand once more, pour some water into your left hand and rinse your mouth with it. Make sure not to bring the ladle to your mouth and don't swallow the water. Spit the water next to the fountain – never directly into it. Rinse your left hand one more time.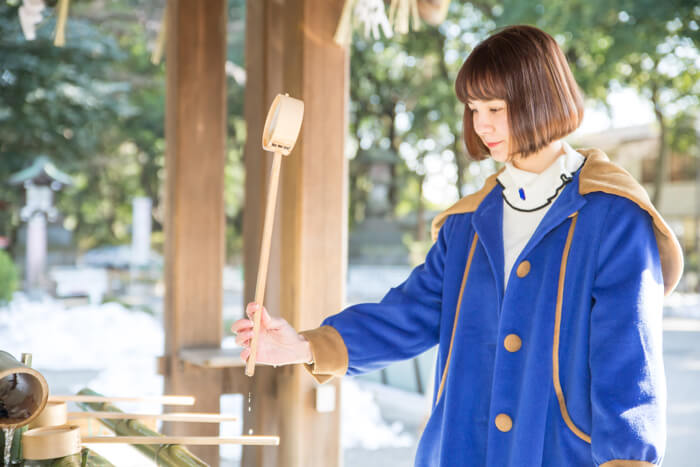 Lastly, take the ladle with both your hands and pour out the remaining water from it next to the fountain. Once your 'temizu' session is complete, return the ladle neatly to its original upside-down position so it's ready for the next person to use. Let your wet hands dry naturally, don't use a handkerchief or hand towel.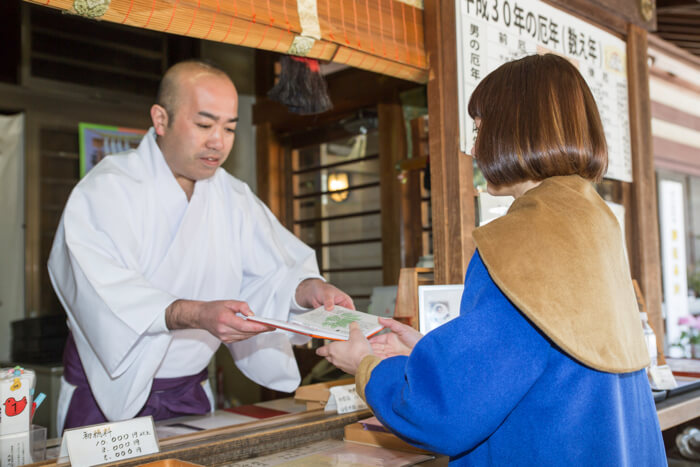 You can't receive your goshuin stamp straight away, so it's best to wait on the goshuin reception before you make your way to the main shrine. (Make sure you get your stamp after you have prayed!)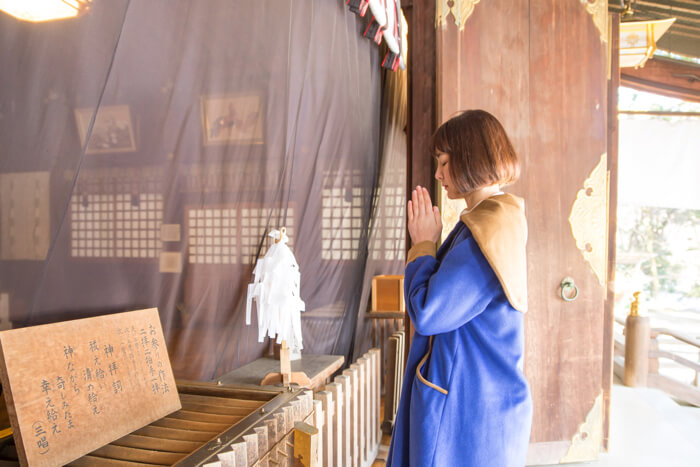 It's time to pray. Firstly, perform two deep bows at a 90°angle. Bring both hands to your chest and open them up shoulder-width apart. Clap twice. Keep your hands together and pray. Once you have finished praying, bring your hands down and perform one last deep bow.
We successfully received another goshuin stamp in our book. It costs just ¥300 to receive one.
Did you enjoy this Tokyo Stroll? Ōmiya Hachiman Shrine is also known as one of the three big shrines of Musashi Province. It brings good fortune to childbirth, child rearing and marriage, so it was a shrine we wanted to recommend for women. The power spots in the spacious shrine grounds are perfect for refreshing your mind.
■Information
Ōmiya Hachiman Shrine
Address: 2-3-1 Omiya, Suginamu-ku, Tokyo
TEL: 03-3311-0105
Access: 7-minutes on foot from "Nishi-Eifuku Station" and 10-minutes on foot from "Eifukucho Station" via the Keio Line and Inokashira Line
Website: http://www.ohmiya-hachimangu.or.jp/
Model: Ellie
Writer: Ryoichi Komaba
Photographer: Haruka Yamamoto
Translator: Joshua Kitosi-Isanga
Outfit: Aymmy in the batty girls