Enjoy a well-deserved relaxing coffee break in your busy day with the new NYASA marshmallows now available at select New Style stores affiliated with Village Vanguard. These marshmallows are guaranteed to cure your stress a hundredfold.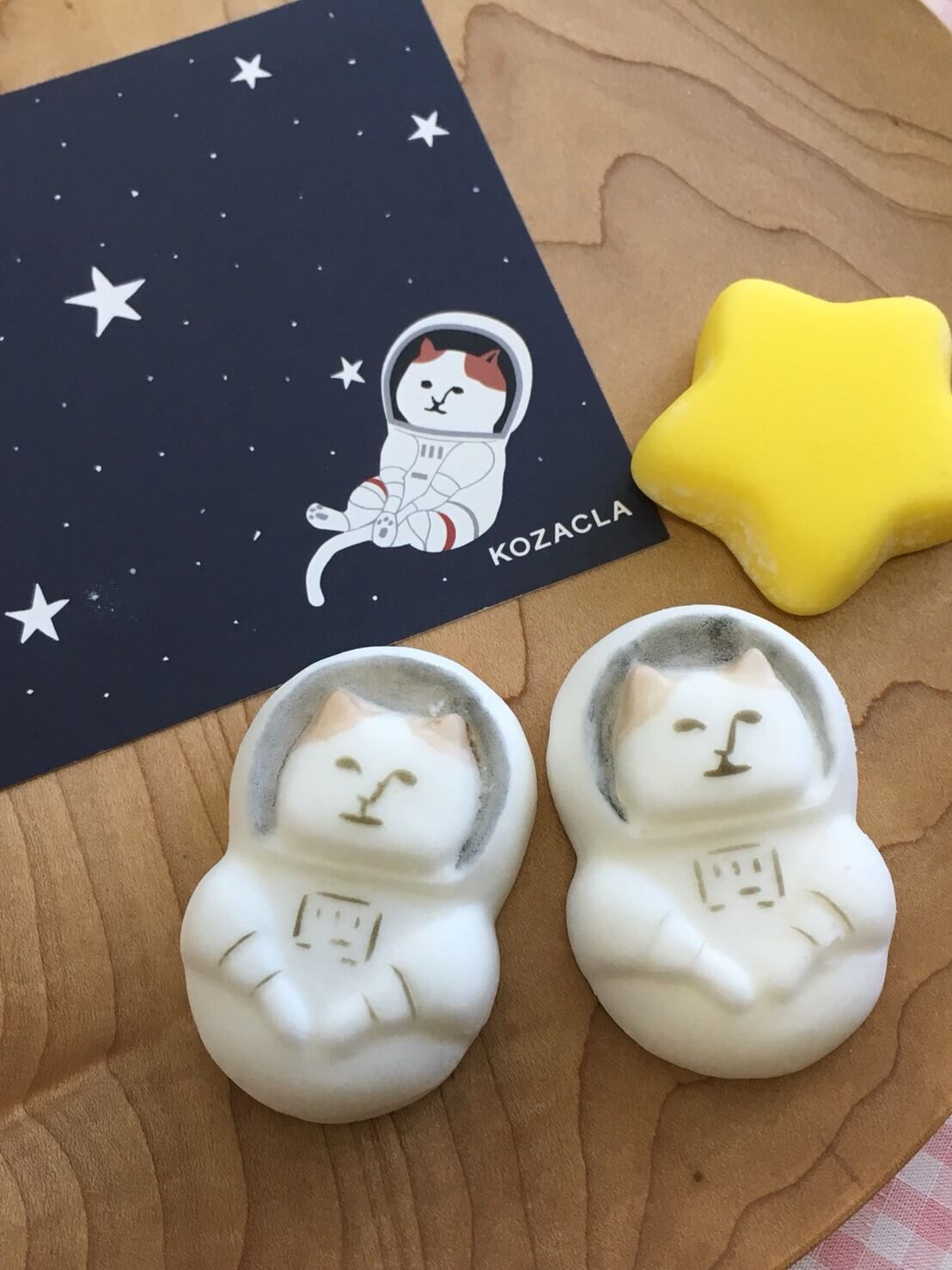 Nya is of course the Japanese onomatopoeia for a cat meowing. These marshmallows can of course be enjoyed as they are, but they're even more delicious combined with coffee. Place your astronaut kitty into your mug of coffee for it to melt and become sticky and chewy!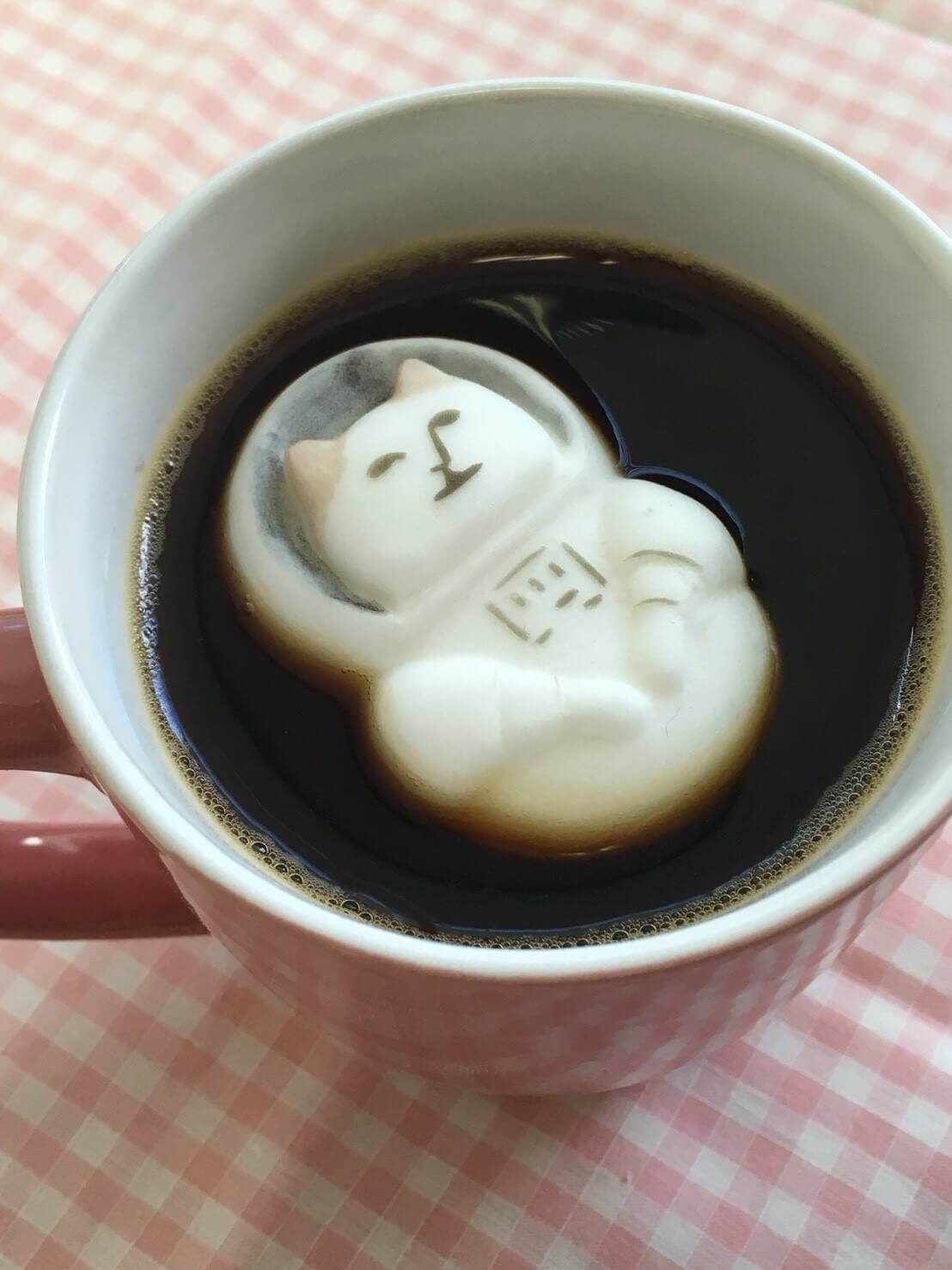 Online reviews of NYASA comment on the irresistible facial expression of the space kitty when it starts to melt.
Try combining one with your favourite hot drink!
■Information NYASA Marshmallow
Price: ¥1,600 (tax excl.)
Available Stores:
New Style Aeon Mall Moriokaminamin
New Style Aeon Mall Mito Uchihara
New Style mallage SHOBU
New Style Aeon Mall Tsurumiryokuchi
New StyleAeon Mall Hamamatsu Ichino
New Style Aeon Mall Niigata Minami
New Style Aeon Mall Kofu Showa
New Style Aeon Mall Kashihara
New Style Aeon Mall Omuta
*For enquiries regarding stock and products, please contact stores directly.
RELATED ENTRIES
McDonald's Japan to Release Custard Pudding Flavoured McShake

McDonald's Japan is teaming up with Ezaki Glico to bring Glico's popular "Pucchi Purin" custard pudding dessert to McDonald's McShake®. The "Pucchin Purin McShake" will be released at all McDonald's branches around Japan for a limited time starting on April 13, 2020.

The collaboration comes at the right time as Glico has revamped its popular Pucchi Purin dessert.

The new Pucchin Purin McShake incorporates everything that's delicious about McShake, including its creamy texture and subtly sweet taste, and combines it with the milky Pucchi Purin pudding with all its caramel goodness, creating a drinkable dessert.




It also comes with some additional caramel sauce (available while supplies last) which only adds to the tempting sweetness of the drink. Add as much or as little as you like.



Pucchin Purin McShake is available in a small only, with cups featuring an original design. This is a must-try for fans of McShake and Japanese custard puddings, known as purin.

Mister Donut Japan to Launch New Matcha Doughnut Series

Mister Donut Japan is set to release a new limited line of matcha doughnuts in collaboration with Gion Tsujiri and Toshi Yoroizuka at all branches in Japan from April 10, 2020.

Following the success of Mister Donut's previous collaborations with the two companies, named "misdo meets Gion Tsujiri" and "misdo meets Toshi Yoroizuka" respectively, this new collaboration sees all three companies come together for the first time to co-develop the matcha doughnuts. The triple team's matcha creations are the fitting way to celebrate Mister Donut's 50th anniversary as Gion Tsujiri brings the best Uji matcha from Kyoto and Uji-born pastry chef Toshihiko Yoroizuka brings his skill set.

Pon de Ring Uji Matcha Chocolate Almond

The classic chewy Pon de Ring laced with Uji matcha and coated in chocolate. It's finished with a sprinkling of Uji matcha powder and crunchy almonds.

Pon de Ring Uji Matcha Milk Crunch

The matcha-ness is turned up with this Pon de Ring, which is not only mixed with Uji matcha, but coated with Uji matcha chocolate. It's served with a snowfall of milk crunch pieces., highlighting the velvety texture of the doughnut while adding crunch.

Pon de Ring Uji Matcha & Chocolate Cream

This doughnut is made into a sandwich, with Uji matcha whipped cream and chocolate cream. The Uji matcha chocolate adds a richness to the overall flavour.

Pon de Ring Uji Matcha Doughnuts

Running: April 10, 2020 – Early June 2020

Available: At most Mister Donut branches in Japan

Tiramisu Chocolate Whip

The dough of these tiramisu doughnuts are combined with cocoa. This one is filled with chocolate whipped cream, a tiramisu, and milk crunch pieces for an amalgamation of tasty flavours and textures.

Tiramisu Uji Matcha Whip

The chocolate whipped cream of the previous doughnut is replaced with Uji matcha whipped cream for this luxurious delight. The cream is also embedded with almonds.

Uji Matcha Chocolate Pie

The name speaks for itself: a lovely layered pie of Uji matcha chocolate and chocolate cream.

Tiramisu Doughnuts & Chocolate Pie

Running: April 10, 2020 – Early May 2020

Available: At most Mister Donut branches in Japan

These Breathtaking Doughnuts Will Turn Your Home Into an Authentic Cafe Experience

With most of us cooped up indoors, that desire to go and relax in a cafe with some coffee and cake just keeps on growing. "gmgm," a doughnut shop in Koenji, Tokyo that specialises in "flower doughnuts," is very aware of this, and so they opened an online shop on Saturday to allow for people to enjoy that authentic cafe experience from their own home.

gmgm, the flower doughnut shop

Nana Yui, an artist of dried flower art, opened gmgm in June 2019 as the sister store to HANABAR, a bar in Ikebukuro, Tokyo where drinks are served topped with beautiful dried flower art. At gmgm, the beautiful flower art combines harmoniously with the antique furniture and decor. It's a popular doughnut shop whose doughnuts are beautiful enough to be given as gifts.

Earl Grey x Rose: ¥500

Cream Cheese Strawberry x Safflower: ¥500

The doughnuts gmgm is offering to ship out on their website include their five regular doughnut flavours and some limited-time flavours, all of which are nothing short of cute works of art.

Customers who order on the shop by April 30 will also receive a free dried flower and a tea turns blue. Those who order more than 8 will receive that plus a pressed viola flower you can eat.

You can also make ice cubes with flowers in them and set your table like in the cafe's photos for a really luxurious tea time!

Information

gmgm

Address: 3-60-10 Koenjiminami, Suginami, Tokyo

Opening Hours: [Weekdays] 14:00-20:00 / [Weekends & Public Holidays] 12:00-20:00

Closed: Mondays
TEL: 03-6877-0537

Official Website: https://www.gmgm.info

Tadanori Yokoo Releases Art Book Collection of His Late Beloved Cat Tama

Since his cat Tama passed away in 2014, Japanese graphic designer and illustrator Tadanori Yokoo has drawn 91 pieces of his beloved feline companion. Those pieces have been compiled into a new art book entitled Tama, Kaetteoide ("Come Home, Tama").

Tama was a famous cat amongst fans of Tadanori Yokoo, who would feature him on his Twitter page and blog from time to time. Yokoo's love for Tama was also well-known amongst his followers. Tama was a stray cat and appeared in Yokoo's garden. In the 15 years Yokoo took care of him, Tama's affection warmed the hearts of both the artist and his family of fans.

The 91 pieces that Yokoo created of Tama since his passing were originally never going to be seen by anyone. But this year, on the seventh anniversary of Tama's death, Yokoo has decided to publish them.

Tama, Kaetteoide – ¥2,200 (Before Tax)

The collection features not only art pieces, but diary and written entries too that Yokoo occasionally wrote about Tama. Yokoo's Twitter page become a diary for the artist, where he expressed his sadness and loneliness after losing his cat, which has received much attention with his followers. The book includes the diary entries from when Tama was alive to his death and up to 2018.

Editor's Comment

When Yokoo met with Yoko Ono, he said of his work, "I didn't draw this as artーI drew it as a love letter to my cat," to which she responded, "And that's exactly why it's art." I too believe that if a piece of art moves a person's heart, then that in itself makes it art. Featured in this book are many of Yokoo's diary and written entries about his beloved Tama. But it also begs the question to people what is love, what is life, and what is death? It's a treasured illustrated collection for people, and above all one you can't help adoring. I believe this book will add something to the lives of every art fan, of every cat lover, and every person who kindly buys themselves a copy."


An exhibition showcasing all of the illustrations in the book is set to take place at Nishimura Gallery in the near future. The exhibition has been postponed as a result of the coronavirus outbreak, but you can check the gallery's official website for when the event will next be rescheduled.

Grab These Adorable and Delicious-Looking Kirby Figures at Japan's Game Centres

The second batch in a series of Kirby figurines, based on the Kirby's Dream Land game series, began rolling out at game centres across Japan on March 26, 2020. They are part of the "Palcolce collection," a line of palm-sized figures themed around desserts.

Three figures make up the second batch of the series, which includes Kirby standing atop a Star Block shortcake holding a bright-red strawberry, another of Waddle Dee climbing a cupcake on chocolate ladder, and Kirby flying through the sky on a cheesecake Warp Star.

A third batch is also planned drop in the near future.

Collect all three from arcades throughout Japan to create a truly kawaii Kirby scene!

©Nintendo / HAL Laboratory, Inc. KB19-3661

Information

Kirby – Paldolce collection vol.2

Release Date: Rolling out March 26, 2020

Figures: 3

Available: Amusement centres throughout Japan (*select branches not participating)

Official Website:  https://bpnavi.jp/s/toru/pc/prizes/81933

McDonald's Japan Releases Citron and Pistachio Flavoured Macarons at McCafé by Barista Branches

McCafé by Barista branches of McDonald's in Japan released two new flavours in their macaron series on Wednesdayーpistachio and citronーwhich will be served for a limited time until the end of August this year.

 
The pistachio and citron flavours join McCafé by Barista's colourful macaron series alongside vanilla, raspberry, and chocolate, which cost just ¥150 each.

The pistachio flavour is filled with a pistachio powder-dusted pistachio cream, giving the crunchy macaron a deliciously nutty flavour and fragrance.


The citron macaron is filled with a refreshing and sour lemon cream. Both of the new flavours are the perfect treat for the start of spring and going into the summer season. They're even better with one of McCafé by Barista's high quality coffees.



McCafé by Barista is also serving the "Special Macaron Set" for ¥500 which comes with any two macarons of your choice and a medium hot or iced latte.

Information

Macaron Pistachio / Macaron Citron

Serving: March 25, 2020 – Late August 2020 (subject to change)

Available: McCafé by Barista in Japan

McDonald's Japan Official Website: http://www.mcdonalds.co.jp/

Cat-Shaped Bread Shop Neko Neko Shokupan Re-Releases Neko Neko Packs Due to High Demand

Due to high demand from customersーselling out their previous limited stock in February in this yearーNeko Neko Shokupan re-released its popular "Neko Neko Packs" once more on March 20, again with limited stock.

What's inside the Neko Neko Pack?


Neko Neko Pack A & B – ¥1,000 Each (Before Tax) / Available: From March 20, 2020 while supplies last


Neko Neko Pack is available in two versions, A and B. Both contain one piece of cat-shaped bread, jam, and an original folder.

The texture of the jams differ between both versions: 'A' is smooth sweet bean paste while 'B' is mashed sweet bean paste. The specific bread that is included in the pack is not sold separatelyーyou need to buy yourself a full Neko Neko Pack.

Quality flavour guaranteed at Neko Neko Shokupan


The shop's "shokupan," a style of bread loaf, is made with 100% milk, giving it rich and milky flavour and moist, chewy flavour. No water is used for baking this bread, only milk, which is sourced from Hokkaido. It also contains honey, fresh cream, and butter to give it a sweet, melt-in-the-mouth taste.

Their cute arrangements of the bread are super popular

Kids and adults alike can enjoy eating at Neko Neko Shokupan with the many variations the bread can be served in, like face decorations with a chocolate pen. You can see lots of different original arrangements on Japanese social media like Instagram.

Neko Neko Shokupan's kawaii, high-quality bread is a must-try, so be sure to visit your closest branch when visiting Japan.

Information

Neko Neko Pack

Release Date: March 20, 2020 (while supplies last)

Available: Most Neko Neko Shokupan branches in Japan

Official Website: https://nekoshoku.jp/

Succulent Strawberry Drinks & Desserts Served Up at GELATO PIQUE CAFE

GELATO PIQUE CAFE branches in Japan began their "Strawberry Fair" on Wednesday serving up drinks and desserts made using seasonal strawberries.

What is GELATO PIQUE CAFE all about?
"Desserts for adults" is the concept at GELATO PIQUE CAFE, a cafe brand developed by GELATO PIQUE which specialises is comfy loungewear. The cafe, which has branches in Tokyo, Osaka, Nagoya, and elsewhere in Japan, serves comfort food and is interested in the health and happiness of its guests. Their menu is overflowing with ideas, with all options made using only the best selected ingredients.

The enticing line-up is nothing short of kawaii, and screams springtimeーfitting for the season as Japan celebrated Vernal Equinox Day yesterday, the first day of springーwith sweet and sour strawberries adorning their crepes, smoothies, gelatos, soft serve ice creams, and more.

Strawberry Mille Feuille Crepe – ¥830 (Before Tax)

Topped with a whole strawberry, this mille feuille-inspired seasonal crepe is made with an in-house crafted strawberry cream, mille feuille puff pastry, and vanilla gelato. The strawberries used are a mix, all grown in Kumamoto Prefecture, including yuubeni, koinozomi, koiminori, and others. Much love and care is put into growing strawberries in Kumamoto, making them sweet and delicious.

White Strawberry & Red Strawberry Gelato – ¥460 (Before Tax)

This two-coloured serving of gelato ice cream is made with sweet-smelling white strawberries and a brand of red strawberry from Fukuoka called amaou. No strawberry lover will be able to resist this pick.

Strawberry Smoothie – ¥590 (Before Tax)

Enjoy a cold strawberry smoothie made from seasonal strawbs, milk, and honey. Indulge in the refreshing sweetness of the strawberries, and enjoy the cute pink flavour of the beverage.

Strawberry Milk Soft Serve Ice Cream – ¥450 (Before Tax)

Or grab yourself a cone of soft serve ice cream to enjoy the combination of flavours: sweet and sour strawbs and sweet, creamy milk.You can also get a mix together with the light blue vanilla flavour.

Information

Strawberry Fair

Running: March 18, 2020 – May 31, 2020

Location: GELATO PIQUE CAFE (Participating Branches: atré EBISU, LUMINE Ikebukuro, Mitsui Outlet Park Makuhari, Mitsui Outlet Park Kisarazu, Mitsui Outlet Park Jazz Dream Nagashima, Gotemba Premium Outlets, Nagoya LACHIC, Mozo Wonder City, Namba Marui, Mitsui Outlet Park Hokuriku Oyabe)

Official Website: https://pique-cafe.com/

*Strawberry variety is subject to change depending on production conditions

Shirasagi Coffee: Ehime Prefecture's Cafe Releases Springtime Cherry Blossom Menu

Shirasagi Coffee, a cafe in Ehime Prefecture, has released a new seasonal menu full of strawberries and cherry blossoms to commemorate the spring season.

Shirasagi Coffee's logo features a heron, a reference to a legend that says the locals of Matsuyama in Ehime noticed that a white heron healed its injured leg by bathing in the hot springs of Dōgo Onsen, one of the oldest hot springs in  Japan. The cafe was renovated using furniture made from scrap wood from when Dōgo Onsen was built. It's an artistic cafe that has garnered much attention from both locals and tourists.

Thick-Cut Natural Yeast Toast

This thick-sliced bread is provided by Panya Uzu, a bread shop also in Matsuyama, Ehime. Perfect for breakfast or lunch, it's topped with a cherry blossom jam and mascarpone cheese cream.

Top: Cream Soda / Right: Cherry Blossom Tea Latte / Left: Cherry Blossom & Strawberry Mint Sour

This line-up of three drinks are made using seasonal strawberries grown in Ehime Prefecture.

Sweet Bavarois

Bavarois is a classic dessert at Shirasagi Coffee, and this one is made using matcha grown in the village of Shingu in Ehime and is coated in a cherry blossom cream.

Spring Madonna Parfait

This limited-time parfait is stacked with 12 different ingredients of varying textures and flavours, including cherry blossom, as well as Ehime strawberries, chestnuts, and matcha. It's the culmination of Ehime's springtime ingredients.

Takeout Drinks

Mini Parfait

The cafe also serves mini parfaits, drinks and other items for takeout. Pick something out and go and observe the cherry blossoms for Hanami at Dōgo Park.

Information

Shirasagi Coffee

Address: 2F, 12-1 Dōgoyunomachi, Matsuyama, Ehime Prefecture

Opening Hours: 08:00-18:00 (from 07:00 on weekends and public holidays)

No Fixed Holidays

Closest Station: Dogo Station via Iyotetsu

Official Website: https://shirasagicoffee.com/

*Open everyday until 22:30 from March 23, 2020

*Table reservations available on weekdays

*Breakfast-only until 11:00

Tea & Chocolate Brownie Released by Dandelion Chocolate and IYEMON SALON ATELIER

Dandelion Chocolate and IYEMON SALON ATELIER have joined sticky fingers to bake up their new "Tea & Cocoa Brownie" which is now being served at IYEMON SALON ATELIER KYOTO and Dandelion Chocolate Kyoto Higashiyama Ichinenzaka.

This collaboration came about to celebrate 1 year since IYEMON SALON ATELIER KYOTO opened. The chocolates fuse IYEMON SALON's tea with Dandelion Chocolate's organic, single origin bean to bar chocolate.

Tea & Cocoa Brownie (Uji Matcha/Houjicha) – ¥1,800 (Before Tax) *Contains 2 of each flavour

The two different flavoured brownies, Uji matcha and houjicha, are filled with a ganache made from Japanese tea and carefully selected chocolate from the Dominican Republic. The chocolate has a strong, rich flavour like that of coffee and cherries, but is still easy to get without it tasting overwhelming. The brownies are also vegan-friendly and gluten-free, containing no eggs, dairy products, wheat, or white sugar. They are the perfect accompaniment to both tea and a mild-tasting sake.

The vegan lifestyle is slowly gaining recognition in Japan, so don't miss this chance to treat yourself to some melt-in-the-mouth vegan delights.

©Dandelion Chocolate Japan

Vegan Almond Caramel Sponge Cake Now Available at TOKYO BANANA in Tokyo Station

TOKYO BANANA WORLD released a new vegan-friendly almond caramel flavour of its popular Tokyo Banana sponge cakeーthe official souvenir sweet of Tokyoーat the TOKYO BANANA store on the JR side of Tokyo Station on March 15, 2020.

This is TOKYO BANANA's first vegan-friendly sweet. It's made from 100% plant-based ingredients while keeping 100% of the product's delicious flavour. That includes almond milk, which is promoted for its health and beauty benefits, and delicious caramel.

TOKYO BANANA Almond Caramel Sandwiches – Box of 4: ¥680 (Tax Included) / Box of 8: ¥1,200 (Tax Included)

Other ingredients include beat sugar, which is made from beetroot, a subtle banana flavour, and crunchy roasted almonds, all wrapped together in a bite-size sponge cake.

The product is both vegan and vegetarian friendly, containing no eggs or dairy products.

This tasty snack is available only at TOKYO BANANA in Tokyo Station, so be sure to pop buy and pick some up if you're travelling through there.

Information

Tokyo Banana Almond Caramel Sand

Released: March 15, 2020

Available: TOKYO BANANA (JR Tokyo Station)

Official Website: https://www.tokyobanana.jp/ 

Tokyo's Pokémon Cafe Reveals Cherry Blossom Aloha Pikachu Cake & Latte

The Pokémon Cafe in Nihonbashi Tokyo is bringing two new "Sakura Aloha Pikachu" items to its menu this spring for a limited time. They will be served between March 14 and April 19.


The Pokémon Cafe previously served up a cherry blossom Aloha Pikachu-inspired dessert and latte last year too to celebrate one year since the cafe opened. This year, they've changed their designs.

Sakura Aloha Pikachu Fruit Sandwich Cake – ¥1,738 (Tax Included)

Sakura Aloha Pikachu Latte 2020 – ¥770 (Tax Included)

The fruit sandwich is filled with flurry strawberry cream and fruits, while the latte features cute latte art of Aloha Pikachu who has a fluffy cherry blossom afro.

Don't miss these seasonal picks at Tokyo's Pokémon Cafe this year.

© 2020 Pokémon.©1995-2020 Nintendo/Creatures Inc./GAME FREAK inc.
Pokémon, ポケットモンスター, and ポケモン are trademarks of Nintendo, Creatures Inc., and GAME FREAK inc.

Information

Pokémon Cafe (Nihonbashi, Tokyo)

Address: Nihonbashi Takashimaya SC East Bldg. 5F, Nihonbashi, Chuo Ward, Tokyo
Opening Hours: 10:30-22:00
Closed: When Nihonbashi Takashimaya SC East Bldg. is closed

Reservations: https://www.pokemoncenter-online.com/cafe/reservation.html

*Reservations can be made online only