MMN Festival 2018 – Laforet Harajuku: Natsume Mito, Saki Shibata & More to Perform on March 24th and Other Stage Details!
The "MOSHI MOSHI NIPPON FESTIVAL 2018 in SHIBUYA" (MMN Festival) finally arrives next week on Saturday 24 March and Sunday 25 March.
This year's MMN Festival will move away from the Tokyo Metropolitan Gymnasium and take place around the Shibuya and Harajuku area! We will deliver Japanese culture to the world to the fullest in the form of music, fashion, food, tourist experiences and more from Shibuya.
This year's MMN Festival is free for all to enter! But don't forget: you must register in advance to attend.
This year's main locations are Laforet Museum Harajuku, Tower Records Shibuya, SHIBUYA CAST., and Onden Shrine. All locations are free to enter upon registering in advance.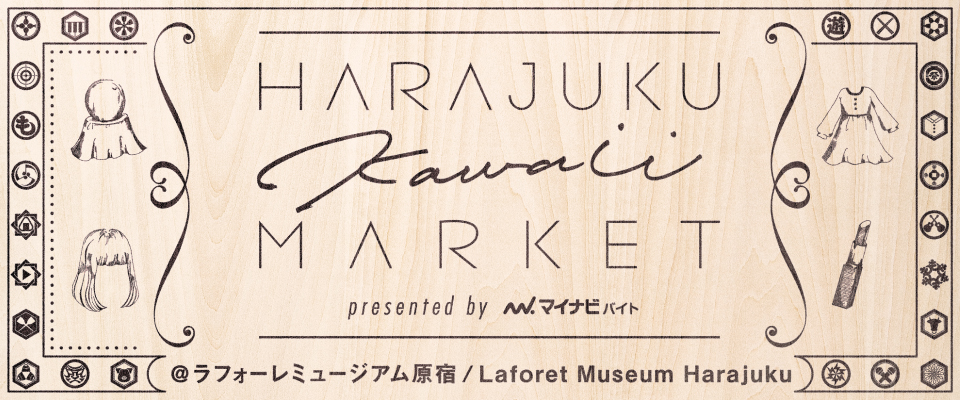 Let's take a detailed look at the stage content and performances you can look forward to at Laforet Harajuku on 24 March.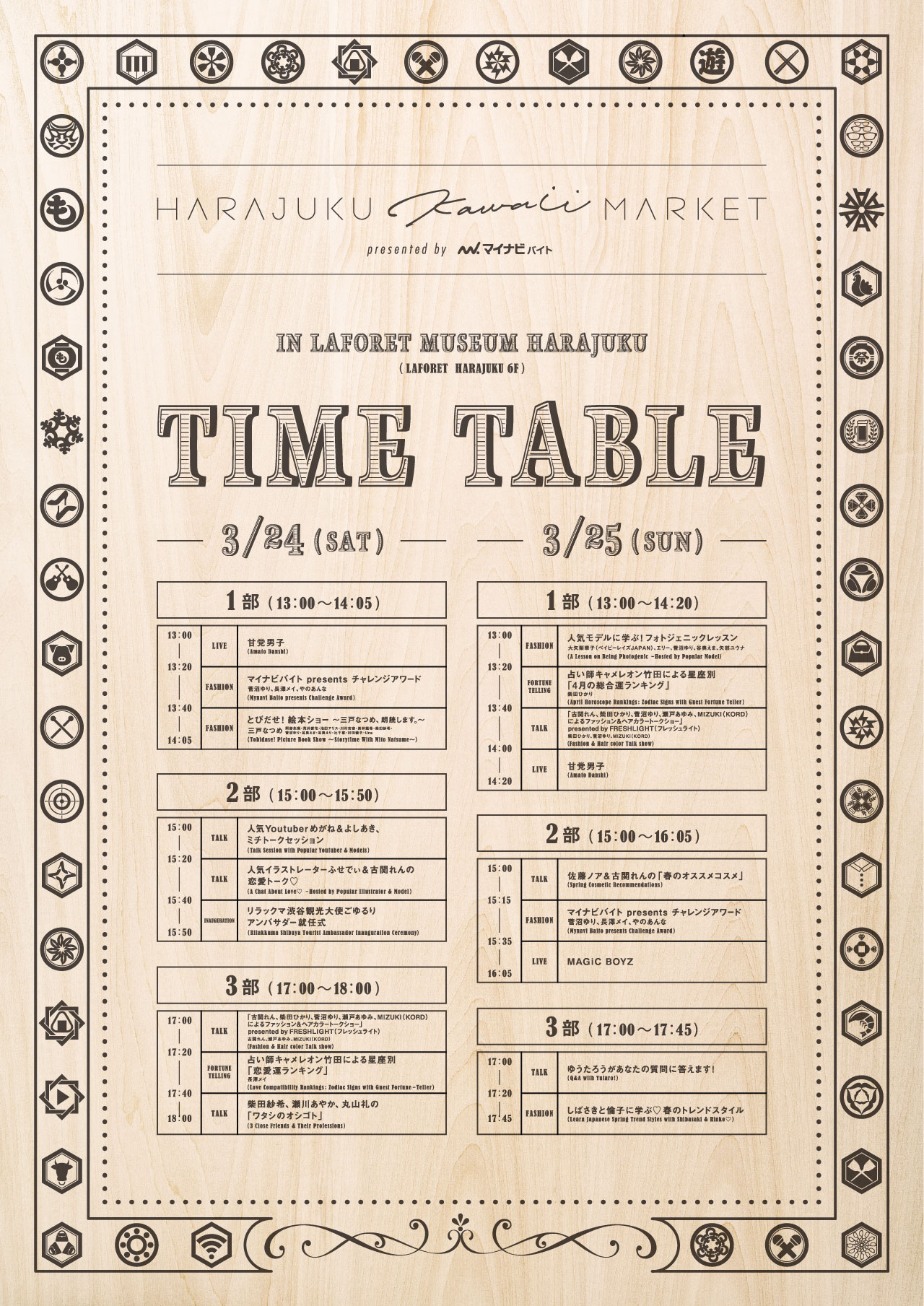 <Slot 1 – 13:00 Start>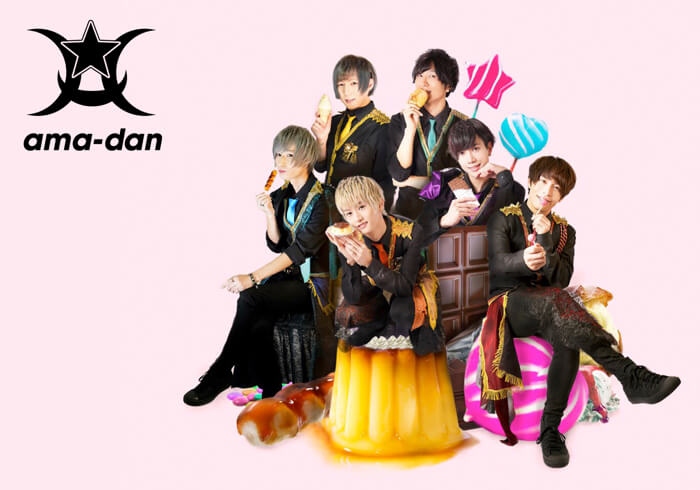 LIVE: Amato Danshi
Amato Danshi is a six-member idol group whose concept is themed on the world's trending sweets. Their songs, too, are laced with sweets, such as Shu Cream (Cream Puff) and Taiyaki. The group are also recognised for giving food reviews in their songs. A book on sweets is scheduled to be released from them in May. Their performance is a must-see as they head towards expanding their activities. Also, a café called "Amato Café" will open at SHIBUYA CAST. for the festival selling sweets recommended by the members! Sweet lovers must make sure to check out the performance and the café.
FASHION: Mynavi Baito presents Challenge Award
Mynavi Baito are known for their slogan Suki wo, baito ni ("Make your passions your job"). They are a website that posts information about part-time jobs. At MMN Festival, the company are set to present a project titled "Big Challenge of the Youth" which will have students enrolled in design schools get involved in creating kawaii part-time job outfits to promote to the world! The outfits will be exhibited on stage at the Harajuku Kawaii Market where models Yuri Suganuma, Mei Nagasawa and Anna Yano will dress in them. You will be amazed at how much these fashionable outfits will exceed your expectations. Look forward to an exciting stage event created by the youth of today.

FASHION: Tobidase! Picture Book Show 〜Story Time With Natsume Mito〜
Performers: Natsume Mito, Yuri Suganuma, Ema Tanioku, Eri Tanioku, Aino Kuribayashi, Chie Tsuji, Abe Akari, Saki Shibata, Rinko Murata, Manaka Arai, Alice Ikeda
Natsume Mito will host and participate in her very first fashion show. The show's theme is centered on her favourite book, Bulldog Tantei to Kieta Hoshi by Tomonori Taniguchi (BUNKEIDO Co., LTD.)
The stars have disappeared from the sky. During this time, a letter arrives for the bulldog detective to search for the lost stars. He accepts and heads out to find them. The detective is able to locate them, but why did they disappear, and who sent the letter…? This exciting story is full of heart and can be enjoyed by kids and adults alike. The unique stage show will bring to life the world of the story through fashion. Natsume Mito will read the book aloud and models will take to the stage to thrill the audience. This stage performance is a must-see.
<Slot 2 – 15:00 Start>
TALK: Talk Session With Popular Youtuber Megane & Models Yoshiaki and Michi
Youtuber Megane has over 330,000 subscribers on her Youtube channel "MEGANET WORK." Her content centers on make-up and she is popular with teenage girls in Japan.
Megane will be joined by brother and sister model pair Yoshiaki and Michi who have growing popularity for their unique content online. They have also been picked up on TV. The three of them will host a talk show where they will dig deep and discuss secrets you'd normally not get to know about them.
Each of them is also taking questions from people for the talk session. They might even answer your question! Use this opportunity to ask them and this and that which you normally wouldn't be able to.
Send your questions here: https://goo.gl/forms/uDAJAry9rUUM40au1
TALK: A Chat About Love♡ – Hosted by Popular Illustrator Fusedy & Ren Koseki
Illustrator Fusedy, who released the manga Kimi no Ude no Naka wa Sekaiichi Atatakai Basho in February to popular success, will hold a talk on love with model Ren Koseki, who has appeared on TV and radio and has over 100,000 followers on Twitter. Fusedy's books depict love in the way that it pierces girls' hearts, and it's so realistic it hurts. Fusedy will also talk about Ren'ai Gaku ("Love Studies") from the manga, and there will be a Q&A session with both of them where they will offer love consultation to people that send in their questions prior to the talk. If you're having doubts or difficulties with love, then why not use this opportunity to receive advice?
Send your love consultation questions here: https://goo.gl/forms/05ofoTaKi94bkBy43
INAUGURATION: Rilakkuma Shibuya Tourism Ambassador Inauguration
Internationally loved character Rilakkuma is celebrating his 15th anniversary this year. Because Shibuya has been named a city for international tourism and culture, Rilakkuma has been appointed an official tourism ambassador for Shibuya city! An inauguration ceremony will be held on stage.
 <Slot 3 – 17:00 Start>
FORTUNE-TELLING: Love Compatibility Rankings: Zodiac Signs with Chamereon Takeda
Mei Nagasawa, who is a lover of all things spiritual, will have her fortune told in relation to romance and work by Chamereon Takeda. Chamereon Takeda has published 18 books to date. She has become famous for her predications which are so on point you'll end up laughing. She currently has over 50,000 followers on her official LINE account, and she has appeared on TV, radio and in magazines.
In addition, the constellations will be ranked on stage in relation to love! This is your opportunity to see and experience a fortune-telling by the real-life Chamereon Takeda, who you normally have to book to see. It promises to be a fantastic stage performance. Her fresh and humour-filled dialogue can be enjoyed even with beginners to fortune-telling. Look forward to it.
TALK: Saki Shibata, Ayaka Segawa, Rei Maruyama – "My Profession"
Saki Shibata, Ayaka Segawa and Rei Maruyama are all close friends in their personal lives. Each of them is active in a certain field: one is a performer, another is an artist and nurse, and the other is a model. In this talk, the three of them will mutually discuss their lines of work. Rei Maruyama is popular for her jokes, such as about girls she catches glimpses of, as well as impersonating comedian Ryuji Akiyama. So, you might get to hear her jokes! The three of them will also chat honestly and frankly about their private lives, so don't miss out on a chance to get to know them in a way you can't on social media!
<Free Entry to MOSHI MOSHI NIPPON FESTIVAL 2018 in SHIBUYA>
To register, place visit the Peatix website below and follow the instructions. Upon completing your registration, you will receive a QR Code from Peatix that you must take with you and present at each area on the day of the event.
Click here to register.
*Upon registering, you will be signed up as a MOSHI MOSHI NIPPON Member where you will receive newsletters and other information. You will also be signed up to Omotenashi Platform.
Those that register for the event in advance will receive an original bag as thanks. There are 1,500 bags available on a first-come, first-served basis. You will find in them one of either popular products from KitKat Chocolatory: the "KitKat Chocolatory Moleson" (¥500) or the "KitKat Chocolatory Moleson Matcha" (¥500). Bear in mind that stocks are limited, so don't forget to sign up early!
■Information
MOSHI MOSHI NIPPON FESTIVAL 2018 in SHIBUYA
Locations: SHIBUYA CAST. / Tower Records Shibuya / Laforet Museum Harajuku / Onden Shrine
Dates: Saturday 24 March – Sunday 25 March
Time: 11:00-21:00 *Times differ at each area
Official Event Website:https://fes18.moshimoshi-nippon.jp/ja/
Free Pre-Registration:http://mmnf2018.peatix.com