Odakyu Electric Railway Hold "Sakura Campaign" – Get Timely Information on the Best Cherry Blossom Times!
Odakyu Electric Railway are holding a cherry blossom campaign aimed at foreign visitors to Japan from March 19 to April 22.
The Odakyu Lines is centered around the Hakone and Kamakura areas which are home to many gorgeous cherry blossom sites. Every year, the number of foreign visitors coming to Japan to see the country's cherry blossoms in spring increases. This is especially the case in Hakone, a popular spot with a longer cherry blossom season than even Tokyo.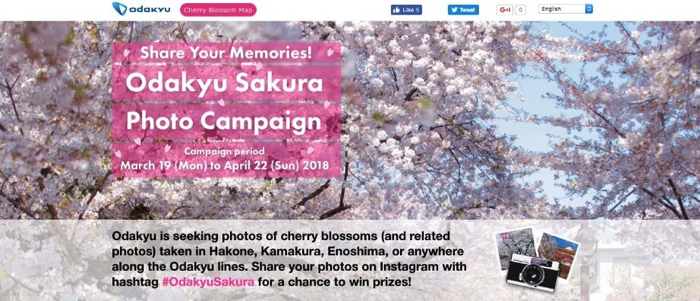 This year, information about the cherry blossoms will be made available on the Odakyu Lines in Japanese, English, Chinese (Simplified and Traditional), Korean and Thai. Using the map allows you to see information related to recommended cherry blossom locations along the train lines and offers timely news on when the flowers are in full bloom.
In addition, during the campaign, presents will be given out in numerous locations such as the Odakyu Sightseeing Service Center and information desks in the Hakone area.
If you present the photos that you have posted in the 12 locations around the area on your smartphone or tablet you can receive a pair of cherry blossom themed chopsticks completely free.
*The chopsticks are limited in quantity. Please note that the times when they are handed out may be limited between each location.
Discover the wonder of cherry blossoms along the Odakyu Lines!
■Information
Sakura Campaign
Running: 19 March 2018 – 22 April 2018
Website: https://odakyu-season.jp/
Chopstick Hand-Out Locations:
Odakyu Sightseeing Service Center Shinjuku
Odakyu Travel Center Shinjuku South Exit
Odakyu Sightseeing Service Center Odawara
Hakone Tozan Railway – Hakone-Yumoto Station Ticket Window / Gora Station Ticket Window
Hakone Gora Park Shop
Hakone Tozan Bus – Togendai Information Center
Hakone Kankosen – Moto Hakone Port Ticket Window / Hakone Sightseeing Cruise Port Ticket Window
Hakone Ropeway – Owakudani Station Ticket Window / Togendai Station Ticket Window
Enoshima Electric Railway – Fujisawa Concierge